For as long as Erin Ireland can remember, she has adored animals and ardently sought out delicious food, but it wasn't until almost 10 years ago that her two greatest passions harmoniously collided.
Now, the owner of To Live For, a new plant-based bakery & café, she is committed to channeling her love for all living things into creating vegan pastries and making them as accessible as possible to her local Vancouver community.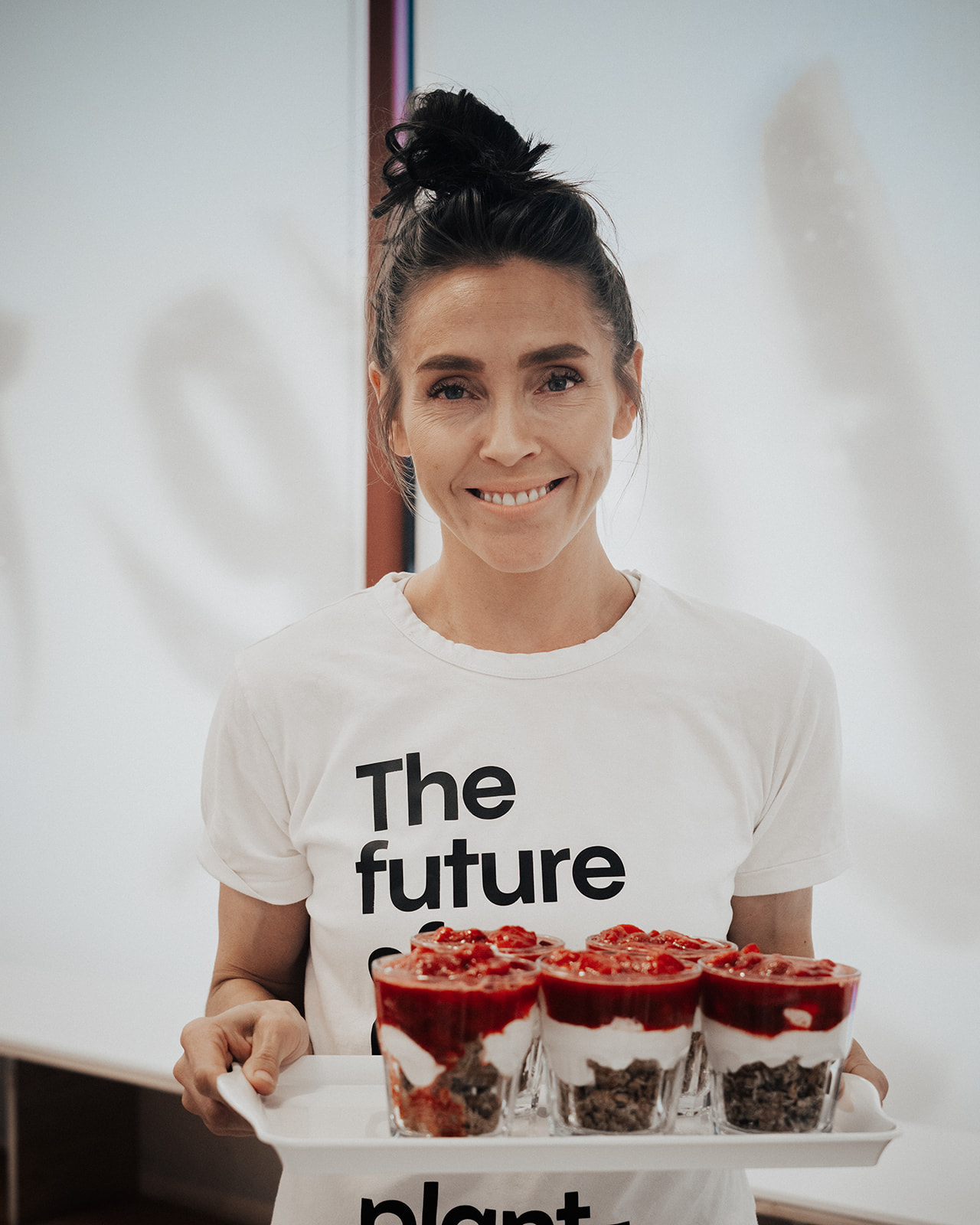 Courtesy of Erin Ireland
Beginning her career as a food reporter whose recommendations suited carnivores much more than the plant-based community, Ireland garnered a substantial readership and following on social media long before her vegan values emerged.
During this time, she also kick-started her baking journey: crafting the first recipes for her now-legendary banana bread and lemon loaves, acquiring space in a commissary kitchen, and attracting over 70 wholesale customers.
For the love of animals
At the age of 30, Ireland's trip to a dairy farm for a work assignment and her subsequent viewing of Shaun Monson's Earthlings brought her to an ethical standstill. After witnessing the behind-the-scenes reality of animal agriculture, her animal-lover instincts and meat-heavy diet were suddenly, fundamentally, and painfully at odds.
After months of grappling with how to align her newfound values with her growing online audience and baked goods company, Ireland decided to try a stealthy approach. First, she fell quiet about her wholesale treats online and went to work adjusting her recipes.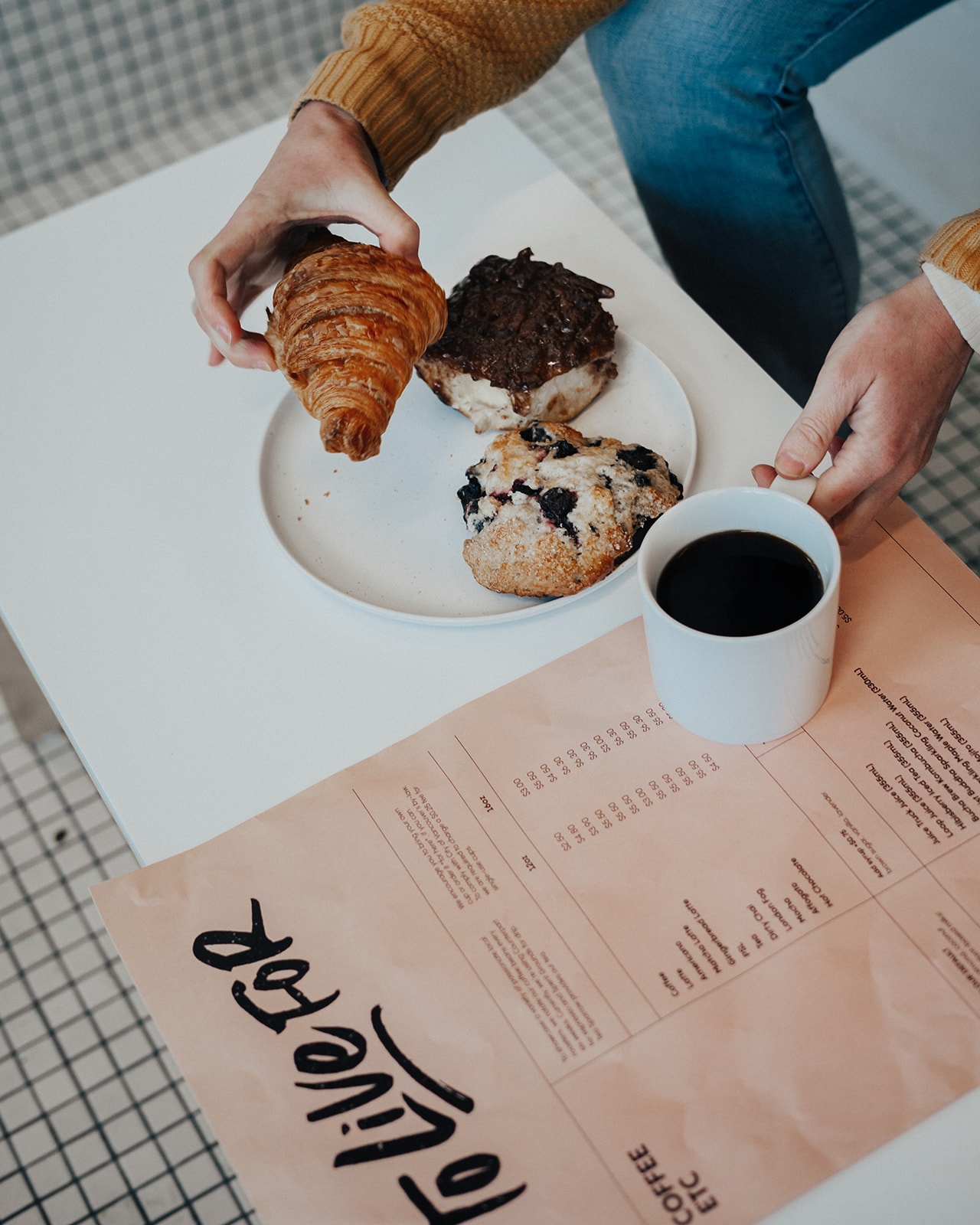 Courtesy of Erin Ireland
Once she'd successfully rid them of animal products, Ireland simply emailed her distributors to tell them she'd made "some changes" and to "see attached" regarding the new recipes. "Nobody asked any questions; I didn't lose any customers," she says.
From there, Ireland's passionate belief in plant-based baking took hold, and the seeds for To Live For Bakery & Café solidified their roots.
Bakery and beyond
When walking into Ireland's bright and bustling East Vancouver space, customers are greeted by a heartwarming wall-sized mural of two rescue cows. "They're why we do what we do," Ireland says, reminiscing about that first trip to a dairy farm. Befittingly, the café's to-go cups are printed with a graphic of a cow and Ireland's rescue dog, Effie, that prompts: "Why love one, but eat the other?" Ireland's powerful vegan ethics are grounded in care, community, and anti-speciesm, and she prides herself in practicing exactly what she preaches.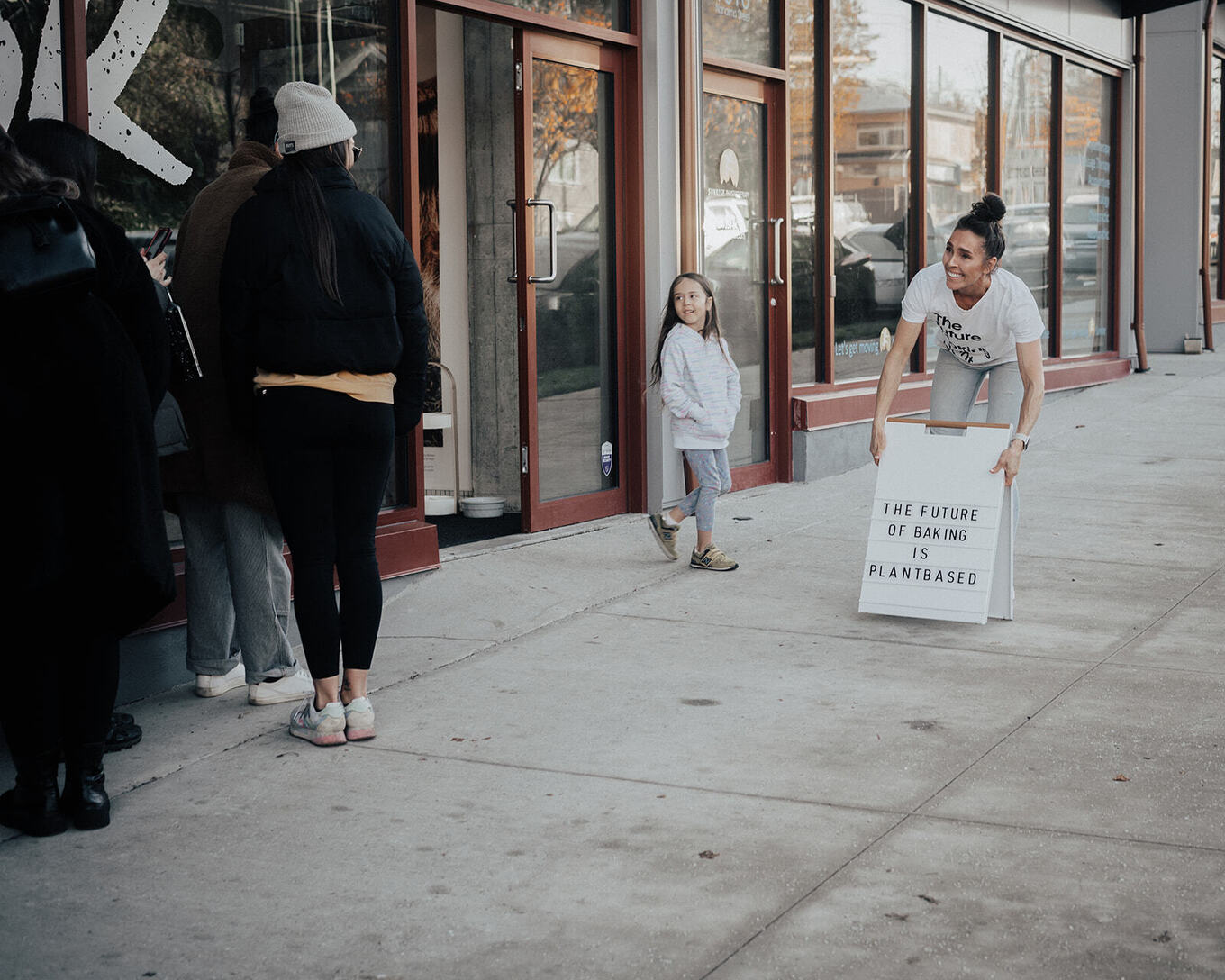 Courtesy of Erin Ireland
The mother of two rescue dogs as well as two young children, Ireland warmly refers to To Live For's brick-and-mortar as her "fifth child." "When I'm not here, I want to be here," she says.
Since opening up shop, she has devoted herself to being as present as possible in its growth—quite literally, as she's in the bakery recipe testing, cake decorating, learning to be a barista, creating social media content, and serving customers almost every day since opening.
What does a day in the life of such a busy, plant-powered superwoman look like? Though she admits she loves spontaneity and embraces days that are "full of surprises," Ireland states she has come to cherish the most customary tasks and moments in her daily routine.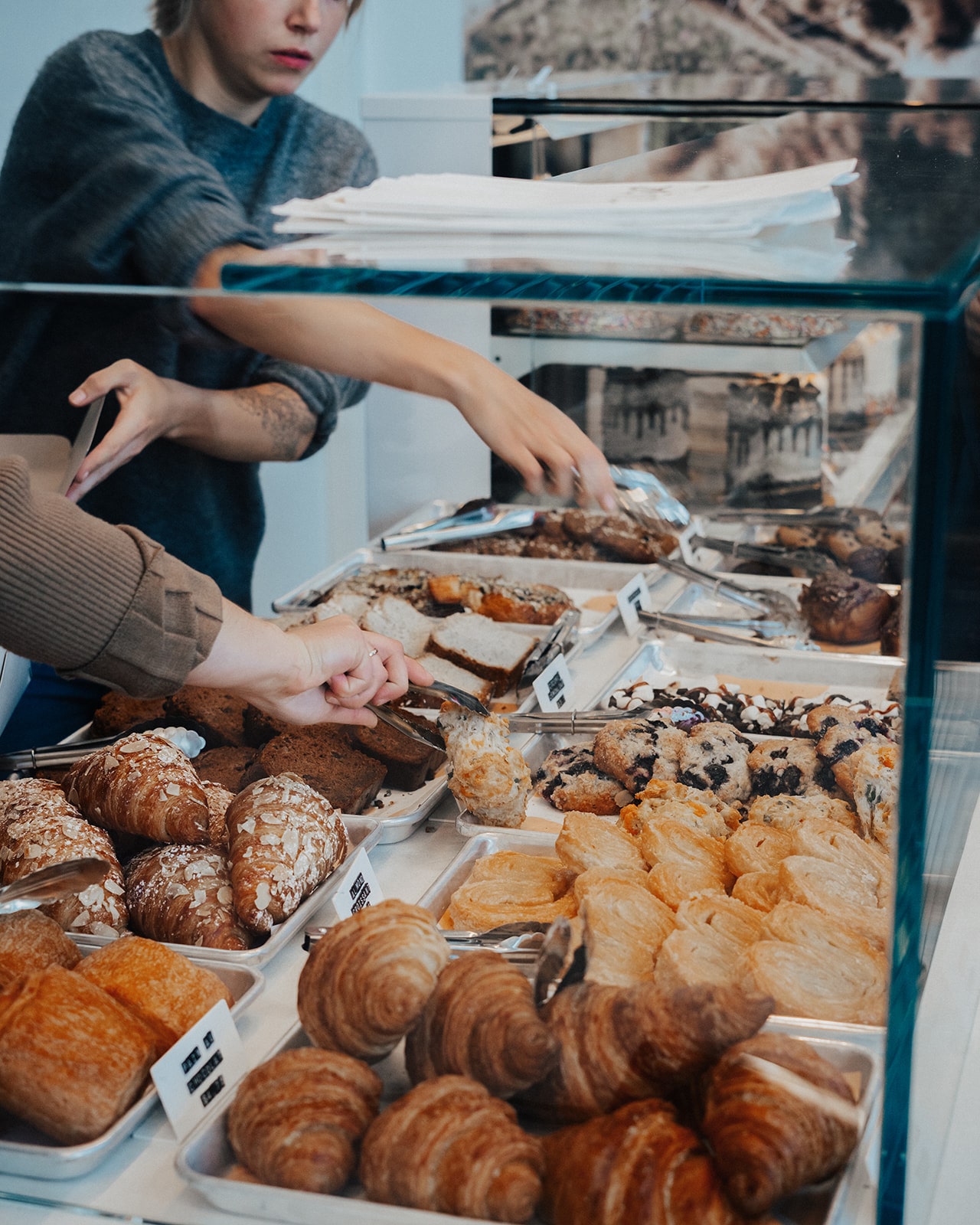 Courtesy of Erin IrelandCourtesy of Erin Ireland
6:30am to 9am: The bakery is pretty much always on her mind, Ireland confesses, but when she first wakes up, her priorities are getting herself and her kids ready for the day and making sure her two pups, Effie and Suri, get in a good walk.
"I'm such a morning person," Ireland professes. "For years I'd get up super early to go for a run, visit a coffee shop, and be home before my partner woke up … now life is different."
"I'm embracing slower mornings because of how precious this time is with my kids—watching them wake up is one of my day's highlights."
Every morning, Ireland whips up her own take on a London fog tea sweetened with a healthy dose of maple syrup and a generous splash of Earth's Own Barista Oat Milk. For her kids, it's time for three-ingredient pancakes or "daddy avocado toast"—avocado and tofu mashed together on toast.
9am: After dropping off her six-year-old daughter Roen at school, Ireland spends the morning with River, her three-year-old. Once a week, Ireland hands off her youngest to the grandparent-on-duty for extra bonding time before she's dropped off back at the bakery.
9:30am to 2:45pm: If it's not one of her two days off (or it is, but someone on her staff needed their shift covered), Ireland arrives at the bakery and immediately shares a video on Instagram of the cake fridge and the pastry counter, stocked with the day's delicious offerings.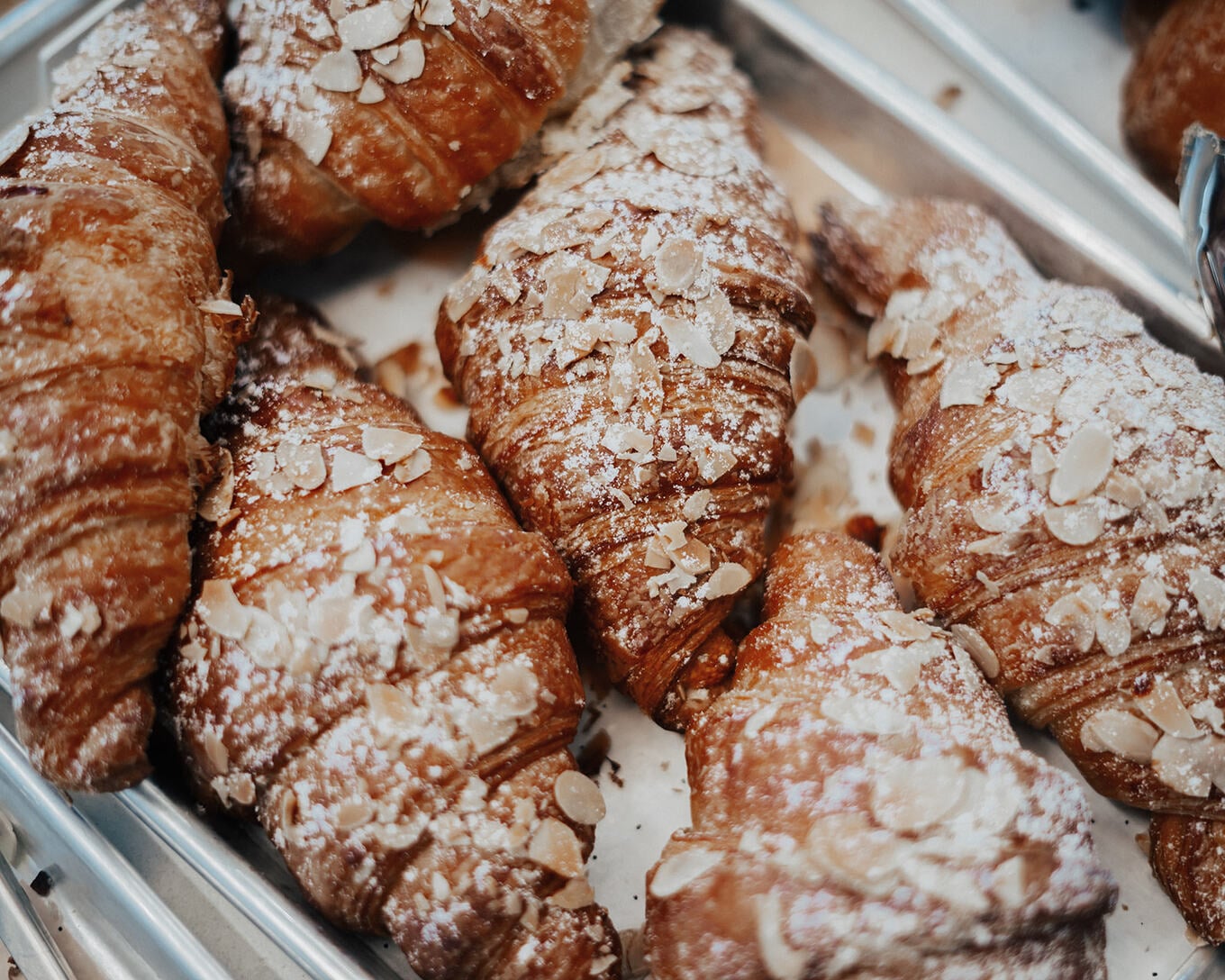 Courtesy of Erin Ireland
Next, she checks in with the bakery and front-of-house teams, replies to @tolivefor.bakery's Instagram messages and Google reviews, has meetings with the bakery's managers, and begins assisting customers.
3pm: Ireland vacates the bakery briefly to go pick up her eldest daughter from school, then heads straight back so both girls can enjoy their favorite snack. Right now, it's a pain au chocolat for Roen and a cake pop for River.
4pm: The whole family heads home and Ireland starts thinking about dinner. If it's an order-in kind of night, her favorite restaurant at the moment is Aleph Eatery. "They do amazing Middle Eastern food," she raves. "I love ordering their shish kebab bowl for takeout. It's got marinated soy curls on rice with pickled things, hummus, and roasted potatoes."
5pm: If she still has the energy left, Ireland begins dinner prep. Ideally, she has a new recipe in mind to try, but some days it's more of a fridge-clean-out situation—roasting all of their aging veggies and tofu to pile atop a grain and drizzle with sauce.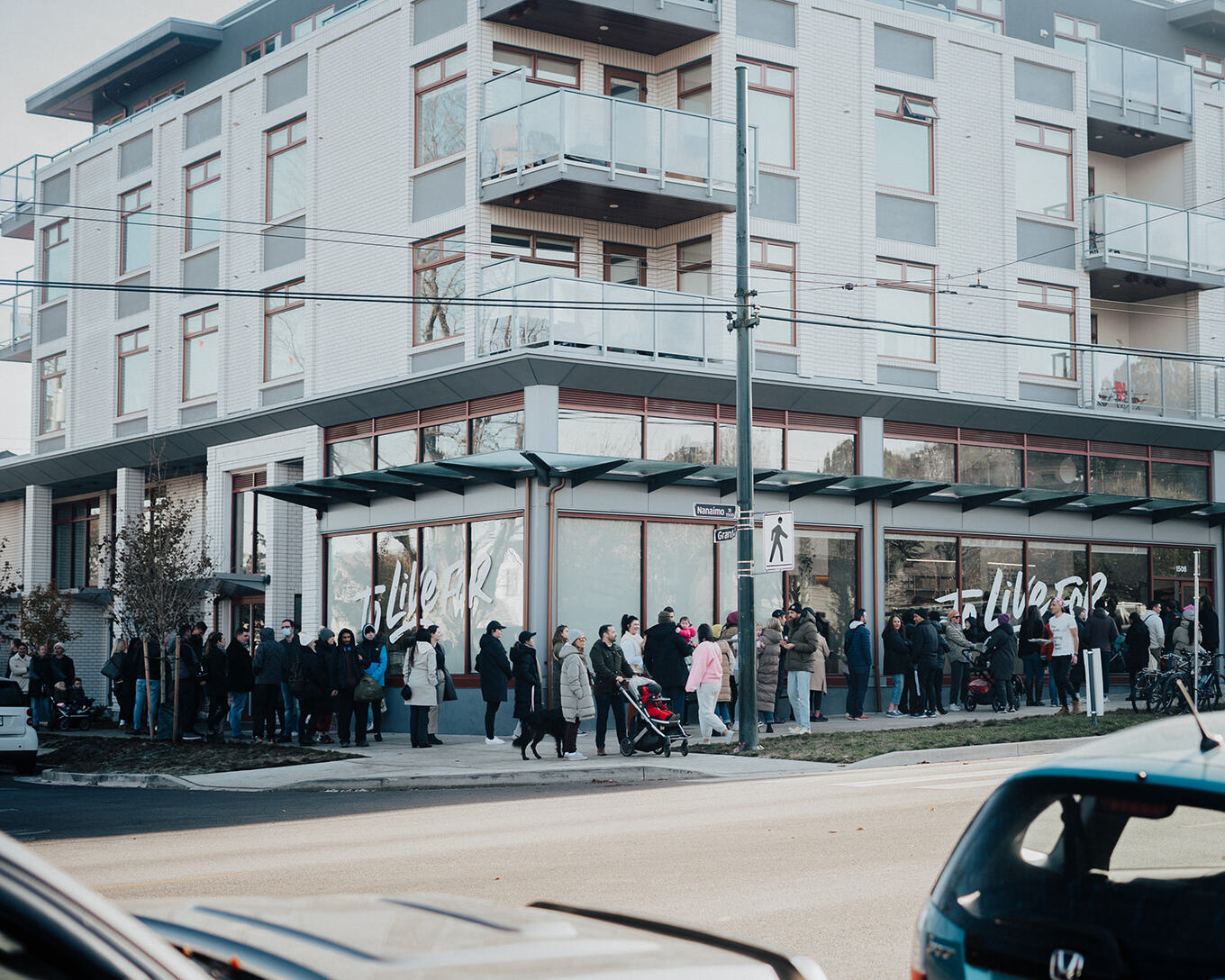 Courtesy of Erin Ireland
When she's not trying a new recipe or ensuring nothing goes to waste, Ireland returns to family staples: Greek potatoes, tofu souvlaki, Greek salad, or spaghetti with marinara loaded with veggies and vegan grounds.
If she's in need of ingredients, Ireland rallies her pups for a quick walk to her neighborhood produce market.
6pm: Depending on the weather, Ireland and her family spend the rest of the evening lounging around the house or at a playground where the local kids like to gather after dinner. On beautiful summer nights, it's almost always the latter!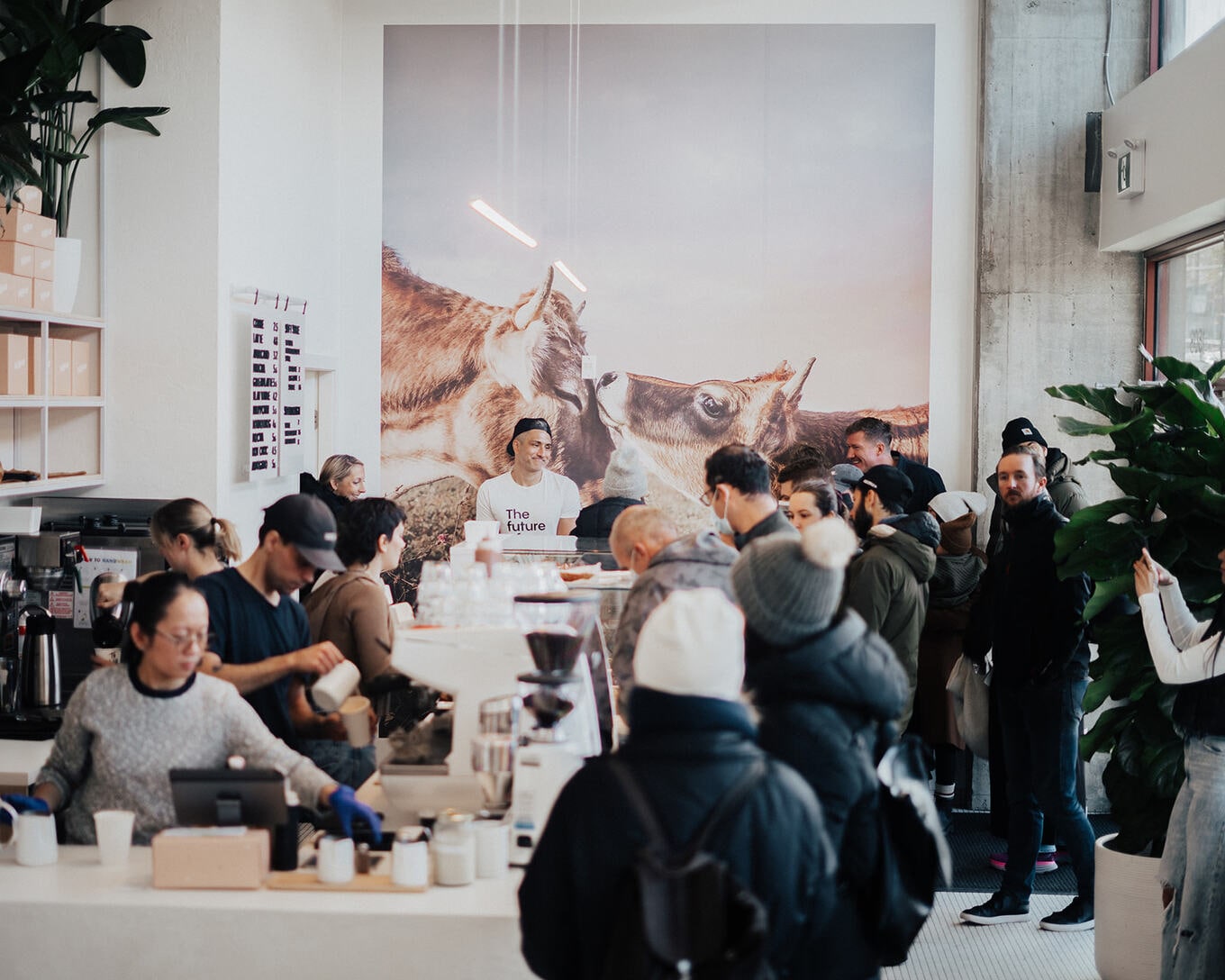 Courtesy of Erin Ireland
7pm to 11pm: The gears start to slow and Ireland readies her kids for bed. Ideally, her daughters are asleep by 8pm, but she confesses they've been quite the night owls recently.
As she waits for them to drift off, Ireland joins them in bed to listen to a storytime podcast. She always makes sure to brush her dogs' teeth and get herself ready for bed beforehand just in case she drifts off as well (she admits this happens pretty often).
If she doesn't fall asleep, Ireland sneaks away for kid-free time with her fur babies and husband, Darren, usually ending the night watching a show on the couch or talking about their plans for the bakery.
Connecting with her community
In some ways, To Live For has pushed Ireland and her staff completely out of their comfort zones. In others, it has felt like a return to home. Having worked in the hospitality industry for nine years in her youth, Ireland admits she has a passion for customer service. "I love making those in-person connections with people," she says. "It's so special to talk to people … and meet other fellow passionate vegans and vegan families."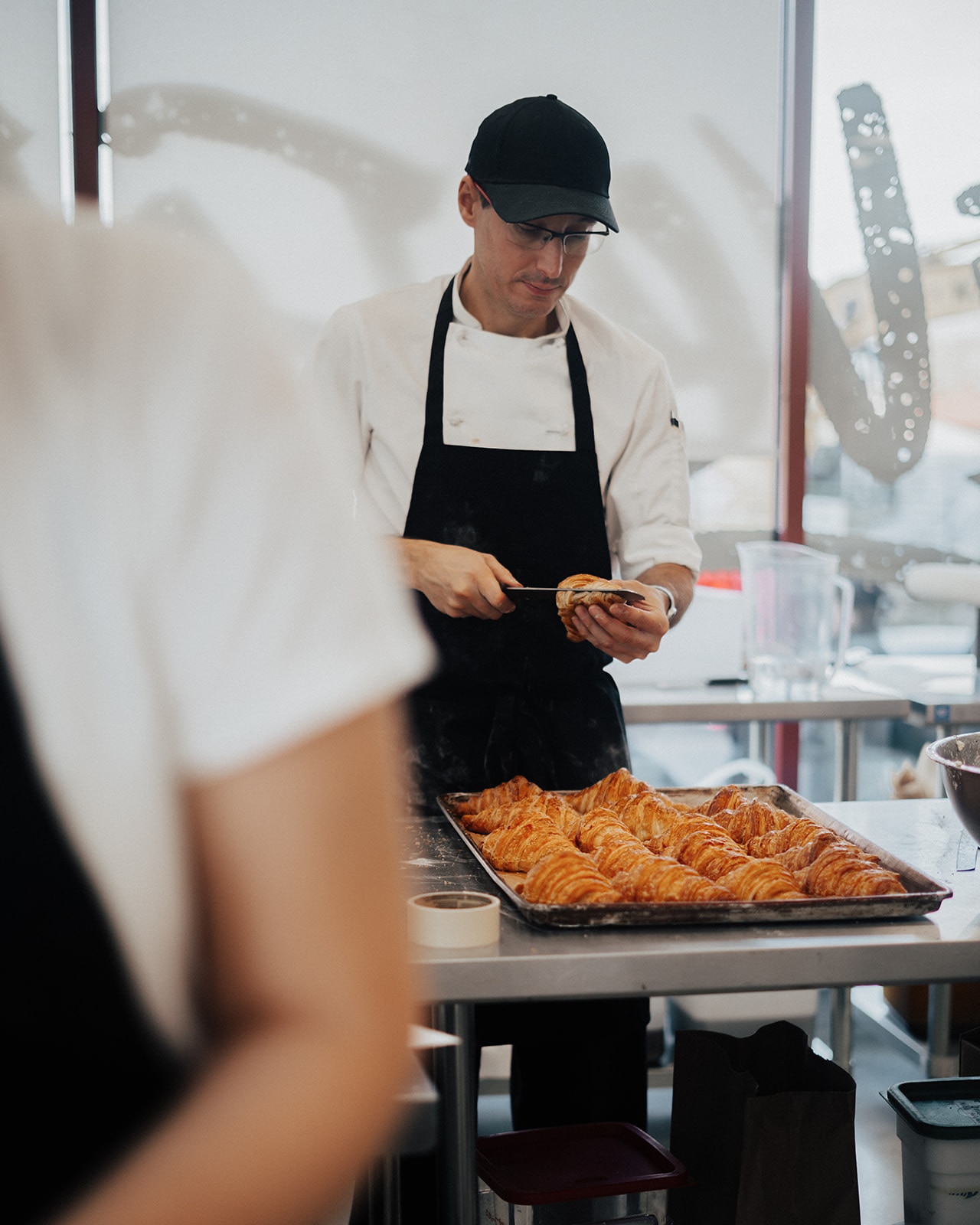 Courtesy of Erin Ireland
That being said, she acknowledges there's been a "huge learning curve" to transitioning her wholesale business into a storefront operation. Mainly, she's felt a little frustrated trying to figure out how much of everything to make each day, and how things like holidays will impact their sales.
Nevertheless, she is happy to be at the café helping out as much as possible and figuring things out with her team. "It's fun to work with the staff," she attests. "I think it helps when they see how much I care."
Ireland also plans to extend her support to others in her community through a vegan mentorship program, taking on "a few pre-vegans per month," and being "available to them every week to help them on their vegan journeys by answering questions and providing resources" (follow her on Instagram to get updates on this exciting opportunity).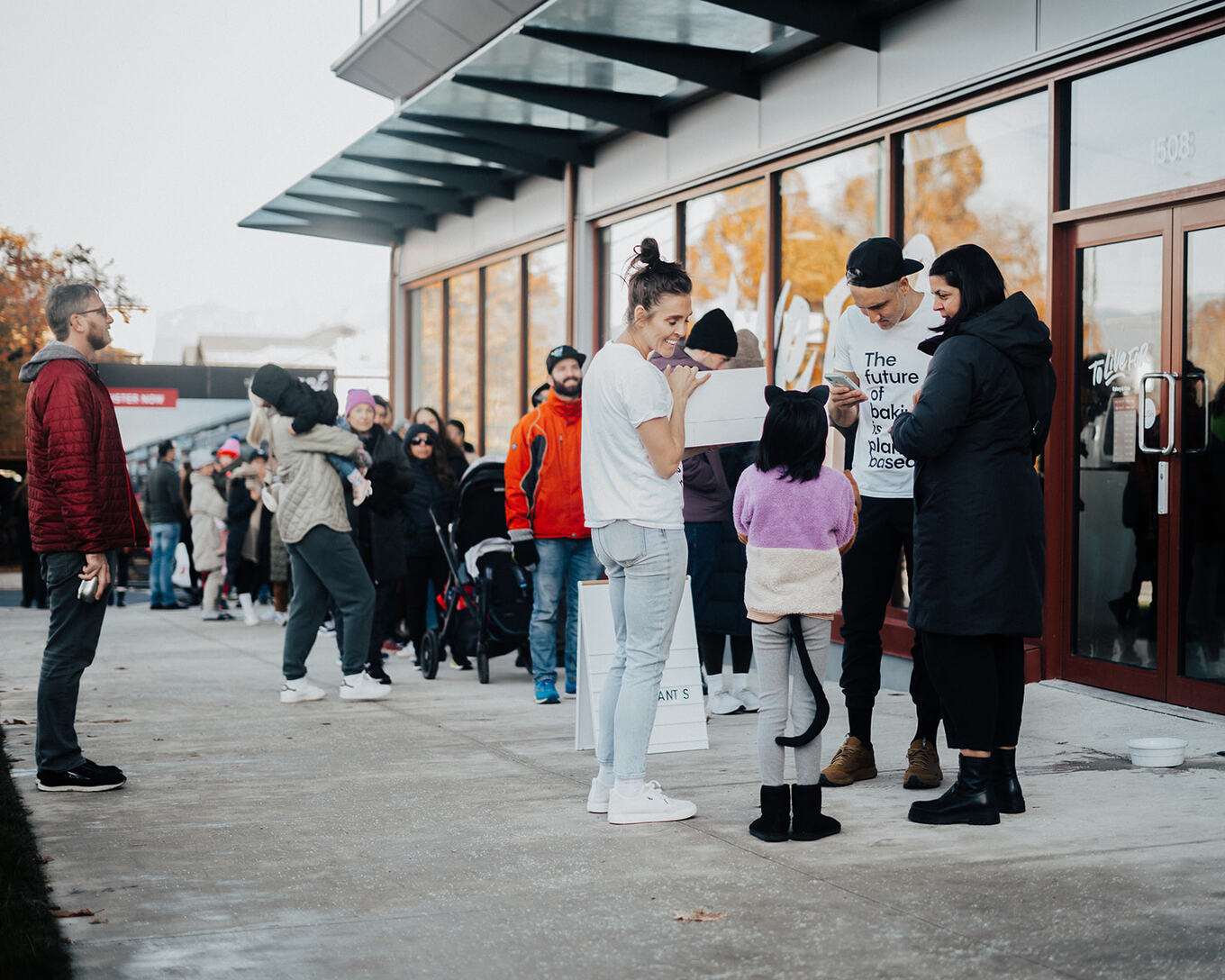 Courtesy of Erin Ireland
To Live For Bakery & Café is located in the Grandview-Woodland area of East Vancouver, and has been accepting visitors with open arms since November of 2022. If you're planning a trip, be warned: you'll want one of everything. We're talking flaky sausage rolls, seasonal croissants, chive and cheese scones, summer soft-serve, cinnamon rolls covered in candied walnuts, and their best-selling croissant breakfast sandwich featuring Just Egg, Violife cheese, and lots of arugula—all washed down with a creamy matcha, dirty chai, or iced caramel latte.
If the down-and-around-the-block line that continues to assemble every weekend is anything to go by, To Live For's mission—to prove that plant-based food can be just as delicious (if not more delicious) than traditional baked goods and pastries—is already a triumph.
Ireland and her team are committed to wowing their community and beyond as they continue to expand their menu and treat their doggy regulars with the same care and enthusiasm as their human counterparts.
For more on vegan entrepreneurs, read: