Hollywood's hottest ice cream boutique, Dear Bella Creamery, is a whimsical vegan ice cream shop with two locations in Southern California, carrying a tantalizing array of swoon-worthy flavors and other frozen delights. Each storefront in Los Angeles and Costa Mesa is painted in pastel pinks and blues with sprinkles doubling as decor and a topping option.
As fun as the Dear Bella brand presents itself, operating the business takes drive, commitment, and a vision. Co-founders Belina Wei and Alice Cherng have put in the time, money, and forward-thinking into their growing vegan ice creamery, and we were so curious as to what the day-to-day looks like for these Taiwanese American, vegan women business owners.
We've interviewed this duo before, but the conversation was mostly centered around flavor innovation (with flavors like Taiwanese Pineapple Cake and Cookie Monsta, how could we not?). For this Day in the Life series, we interviewed Cherng and asked how she lives her life on the day-to-day. What's it like running two locations 45 miles apart from each other (and two hours in rush hour traffic), how does she juggle work and being a mom, and what does she eat to fuel her demanding days?
Here's a behind-the-scenes look at vegan entrepreneur life from Alice Cherng of Dear Bella's Creamery.
Who is Alice Cherng?
Alice Cherng is a mom and the co-founder of Dear Bella Creamery (formerly Cocobella's). She and her friend Belinda Wei opened the flagship location in 2017 just off Hollywood and Vine, becoming not only the city's first all-vegan ice cream shop but also introducing Angelenos to flavors they'd never seen before, at least in ice cream.
Vietnamese-inspired flavors lined up amongst familiar favorites along with Instagram-worthy inventions like Unicorn Magic—a now archived flavor that consisted of bright pink vanilla ice cream studded with rainbow sprinkles and marshmallows, swirled with gluten-free animal crackers.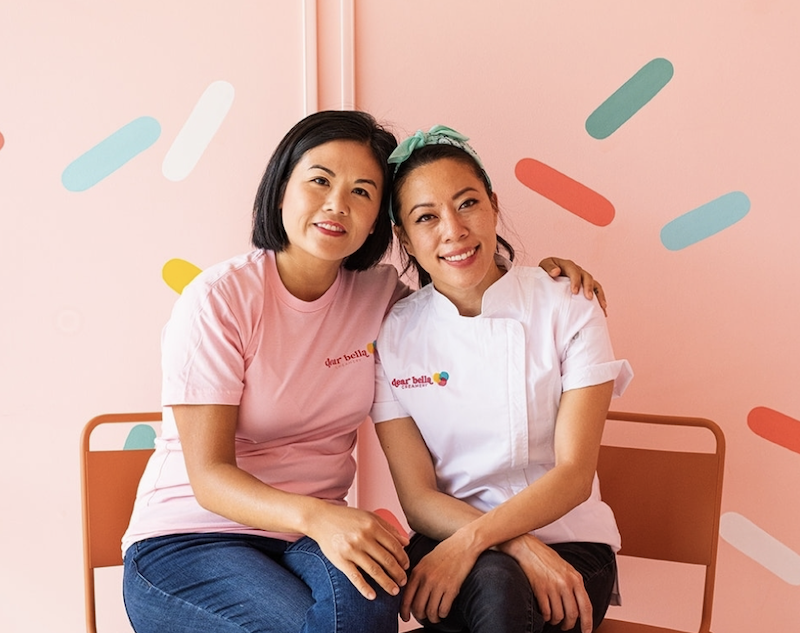 Dear Bella Creamery
"Together, we created Dear Bella Creamery to fulfill the most imaginative cravings with better-for-you ingredients," Cherng explained.
Cherng and Wei used their professional strengths to build the business—Wei was a pastry chef and Cherng was (and still is) a working CPA. However, Cherng had her fair share of culinary knowledge. Earlier in life, she attended New York's Natural Kitchen Cooking school and focused on nutrition and macrobiotic cooking. She was keen to taste test and assist Wei with flavor innovation in addition to overseeing business development, finances, and marketing. Together, they created not just a one-hit wonder, but a sustainable concept that survived the pandemic and continued to grow.
Before launching Dear Bella, Cherng had over 10 years of experience as an accounting consultant for small to large businesses, working everywhere from Supperclub Los Angeles to entertainment giants like Warner Bros. and Walt Disney. She met Wei after serving as a Manager at Cafe Gratitude, a vegan restaurant in LA. The two's employment didn't overlap, but co-workers told them they should meet, and a chance run-in at a local downtown restaurant left them chatting for hours over a scoop of vegan black sesame ice cream Wei had prepared. From there, both of their lives pivoted to opening Dear Bella's, though Cherng has continued her work as a CPA.
A daily snapshot
Cherng starts her day with priority number one: her daughter. In the morning, she helps her prepare for preschool, drops her off, and returns home to get work done or attend virtual meetings. At some point, she'll nosh down her go-to breakfast: non-dairy yogurt with fruit and granola.
She explained that her days can be all over the place—sometimes it's hours on the computer while others are full of work or personal errands. Cherng gets a break in the evening for family time. By 6pm, she'll cook dinner, go on a family walk with the dog, watch cartoons with her daughter, then go through her daughter's bedtime ritual. After 8pm, she and her husband will watch television while Cherng catches up on any personal messages and social media.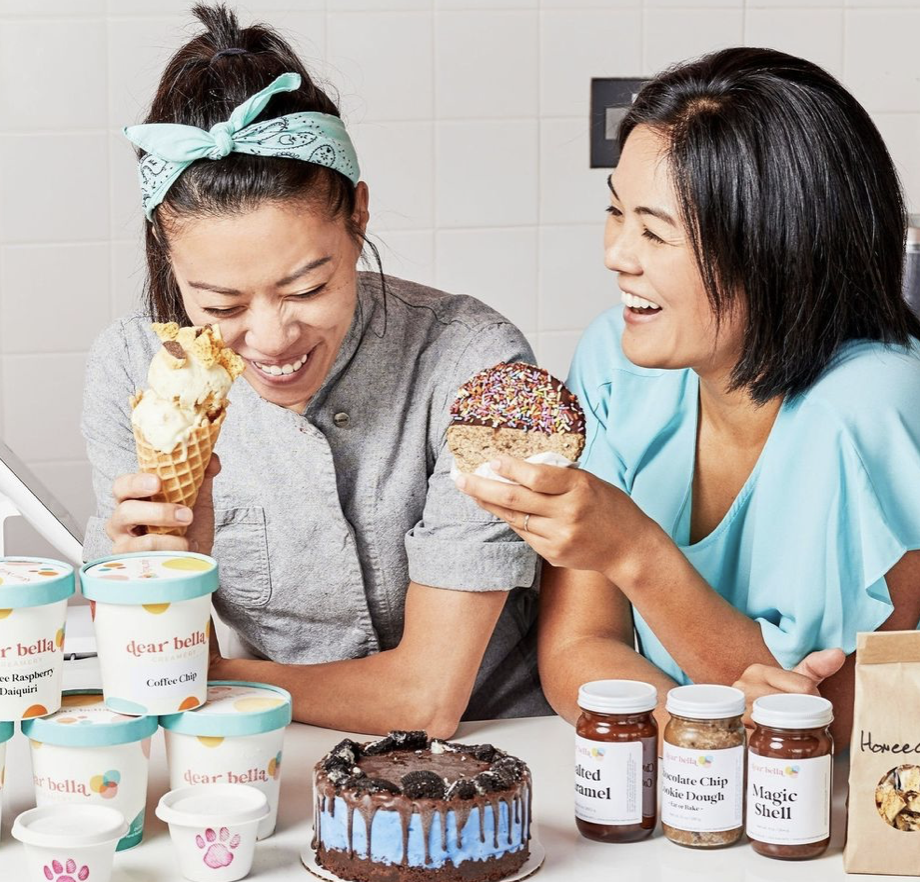 Dear Bella Creamery
We wanted to know what her go-to meals were outside of taste-testing new ice cream flavors. At home, her staples consist of tofu and vegetable stir-fries, pasta with vegan meatballs, and a hearty dish of plant-based sausages with peppers and mashed potatoes. If she's dining out, she gravitates toward restaurants serving Chinese food, noodle soups, or a really good brunch.
To follow Cherng's work, visit a Dear Bella Creamy in Hollywood or Costa Mesa and follow the company on Instagram (@dearbellacreamery) for the latest flavor options and specialty frozen treats.
For more on vegan entrepreneurs, read: