Owning a bakery is demanding—there's excruciatingly early mornings, supply chain issues, a team to oversee, and customers to wow. Owning a bakery that's also open to nationwide shipping is an entirely different beast. Thanks to some daily meditation and a passion for really good cookies, Celine Ikeler-Reeder of Karma Baker makes it work.
Ikeler's dedicated vegan and gluten-free bakery launched in a northern Los Angeles suburb in 2014, but the demand for quality allergen-friendly baked goods coupled with her almost-too-cute-to-eat confections made it clear that a single storefront wasn't enough. Karma Baker was one of the first vegan bakeries on our radar to offer shipping (pre-pandemic), which sounds great for business, but also demanded that she and her husband and business partner, Arek, learn how to scale and manage an exponential amount of orders.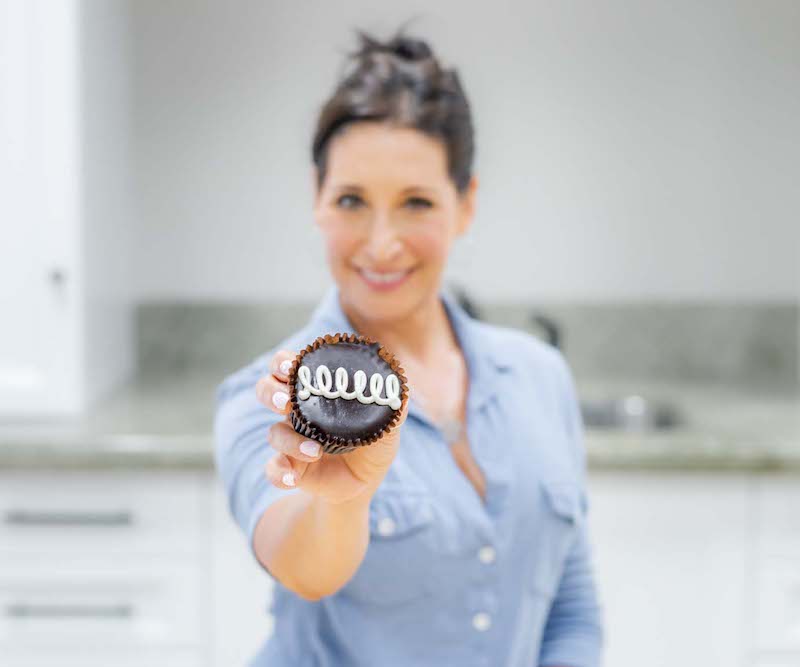 Celine Ikeler
How does she juggle online orders, daily bakery operations, and creating some of the cutest cookies and cakes in LA? She took a break from her busy schedule to let us know what a day in the life looks like.
Tea, meditation, and yoga
Nearly 10 years into the business, Ikeler has built a capable team who can whip up batters and buttercreams without her immediate oversight, so her mornings don't start with turning the bakery lights on (anymore).
6:30am: While not immediately needed at the bakery, Ikeler is still an early riser and welcomes the day with her husband over a hot cup of tea with a splash of almond milk. Since Arek goes into the bakery most days, he's up before her and brings her the tea. "He is my anchor and completely takes care of me!" Ikeler gushed.
6:45am: Warm beverage in hand, Ikeler checks in on the team at the bakery to support and ensure "everything is cool."
7am to 8am: Assured there are no metaphorical business fires to put out, she and Arek dedicate an hour to meditation. "We are die-hard Dr. Joe Dispenza followers," Ikeler said. I truly believe we couldn't be as successful as we are without this practice."
8am to 10:30am: When Arek jets off to the bakery, Ikeler gets in a really hot yoga session (105 degrees Fahrenheit hot) at her local studio.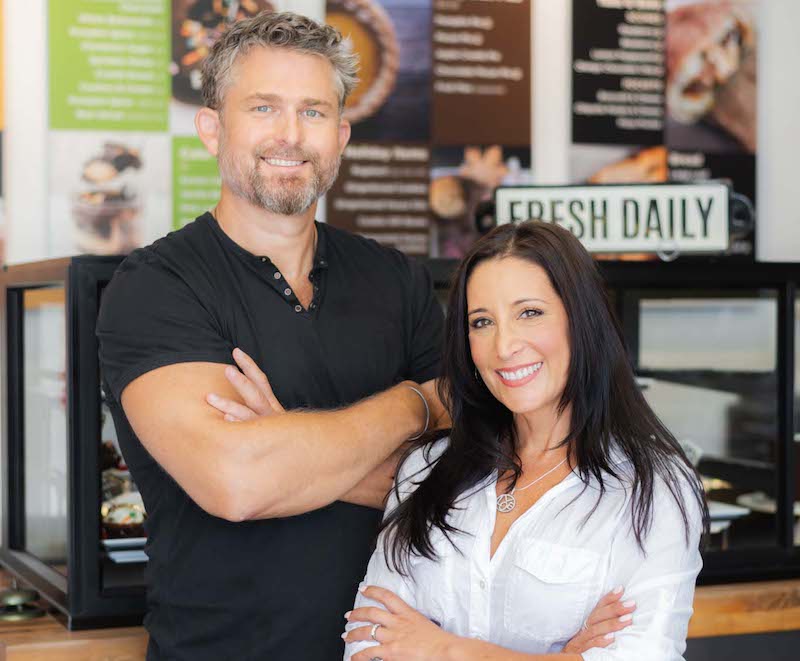 Celine Ikeler
You may notice breakfast hasn't come into the picture yet, which is intentional. Ikeler subscribes to practical intermittent fasting and typically doesn't eat until noon. More often than not, that meal is a piece of gluten-free toast topped with a JUST Egg foldable and salsa.
10:30am to 5pm: Ikeler gets to work. While some days require her presence at the bakery, Ikeler prefers to get her work done at her home office. "I get distracted so easily and there is always so much going on at the bakery," she explained. No longer the one sifting gluten-free flour or piping ganache, Ikeler's work is done on the computer. She'll review kitchen reports from her staff, order ingredients, manage incoming orders, and work on creative projects (we're always thrilled to see what adorable goodies she dreams up for major holidays).
However, she's not totally hands-off from the storefront. When things get busy later in the week, she goes in to support her team. "Whatever they need to get the job done, I will take care of. Every day it could be something different, so I keep myself flexible," Ikeler explained.
5pm: As difficult as it is to stop working, the pair try to leave the shop at this time to get a jump on their evening routine. They enjoy cooking dinner together and trying new recipes, but they're also content with sticking to their basics like a simple yet delicious gluten-free pasta primavera or a slightly more elaborate vegan lasagna (made with gluten-free lasagna noodles). When they need to clean out the fridge, a big kitchen sink-style salad topped with Violife's vegan feta never fails to please.
6pm: After dinner, the duo will take a walk around the neighborhood and chat about their day.
7pm: The phones go off, they get into bed, and lights out around 9pm to prepare for another early wake-up call.
Why vegan and gluten-free?
Karma Baker isn't vegan and gluten-free because it's trendy—for Ikeler, it's a necessity. Fifteen years ago, she got tested for food allergies after having a hunch that food was to blame for her constantly runny rose. The results came back and affirmed her suspicions—she was allergic to eggs, dairy, wheat, and beans. She eliminated these foods from her diet and immediately and felt a world of difference. She also didn't eat much meat, so getting rid of that wasn't a significant hurdle for her.
"After a few weeks I felt so good and knew I was on the right track … I never looked back," Ikeler said.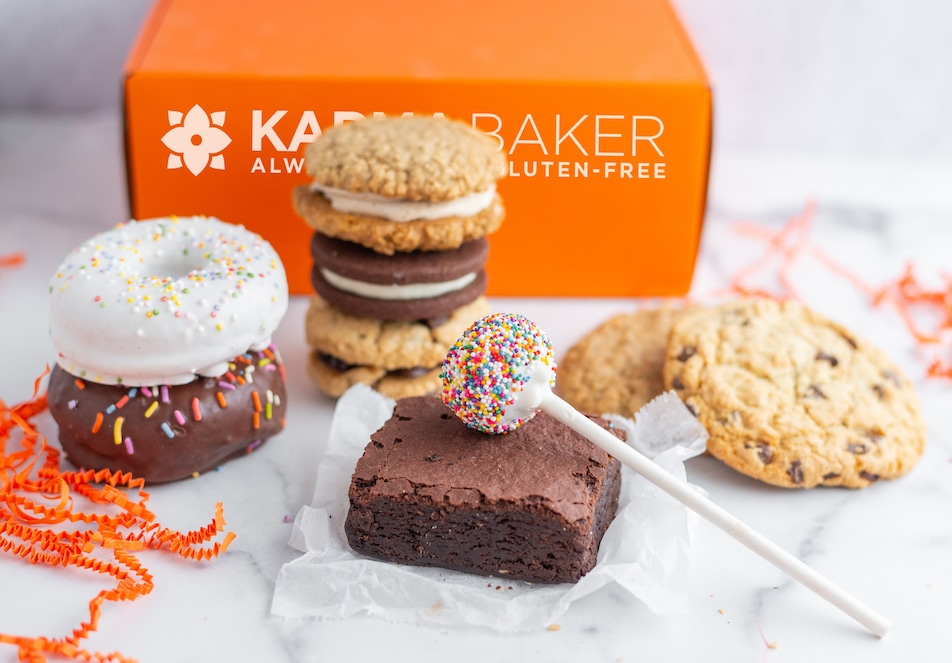 Celine Ikeler
While she felt better than she had in a long time, she still craved baked goods—cookies specifically. "I'm a serious cookie addict," she professed. At the time, there were no easy vegan substitutes for common baking ingredients like butter and eggs, and vegan and gluten-free baked goods had yet to step into their full potential.
"I had had some pretty bad vegan cookies and cakes over the years," Ikeler said.
Her desire for a really good cookie ultimately led her into the kitchen where she eventually mastered cookies, brownies, and cupcakes. Prompted by friends and family who tried her sweets and encouraged her to start a bakery, she took the leap.
"I looked at it as a way to change peoples' minds about their food. I think most people have one bad taste of something and they swear off it; they definitely don't feel inspired to try it again. But I wanted to wow people and have them be amazed that it didn't have eggs or butter or cream," Ikeler explained.
Karma Baker is located in Westlake Village and serves everything from giant vegan cake doughnuts to daily cake slices and full-sized brownie cakes (and cookies, of course). Those outside of driving range (or who simply can't bear LA traffic) can order these goodies as well as custom cakes and other treats via the bakery's online shop for nationwide shipping.
For the latest sweets, follow the bakery @thekarmabaker.
For more on vegan bakeries, read: