Vegan cheese has been around for a while. And although many companies rely on tried and true ingredients such as cashews and cultures to replicate the taste and texture of traditional dairy cheese, a few companies are now testing the waters with never-done-before ingredients—including vegetables.
Vegan cheese brand Rind is one of these companies. Next year, the company plans to launch vegan cheeses made with red bell peppers and parsnip. The expansion of its veggie cheese line follows the launch of its Carrot Cheese Slices earlier this year which won a SoFi Best New Product award for its innovation.
"When we first launched our carrot cheese, we wanted to create a unique line of cheeses featuring a significant amount of real vegetables," Rind co-founder Dina DiCenso tells VegNews.
"We launched carrot cheese first because carrot is a popular and healthy vegetable. Several years ago, while developing and testing recipes, we discovered that parsnip worked very well for cheese," DiCenso says. "And red bell pepper is not only a favorite vegetable of Rind's staff, but [it] also lends itself to more savory cuisine."
Like Rind's Carrot Cheese Slices, both of the upcoming vegan cheese products use plant-based ingredients entirely sourced in the United States, and production will take place in the country, too, in an effort to further minimize the products' carbon footprint.
Co-founded with vegan fashion designer and entrepreneur Joshua Katcher, Rind's veggie cheeses can be found at restaurants and select retailers nationwide, as well as online at Vegan Essentials. Rind also plans to introduce new vegan cream cheese products with vegetables in the new year.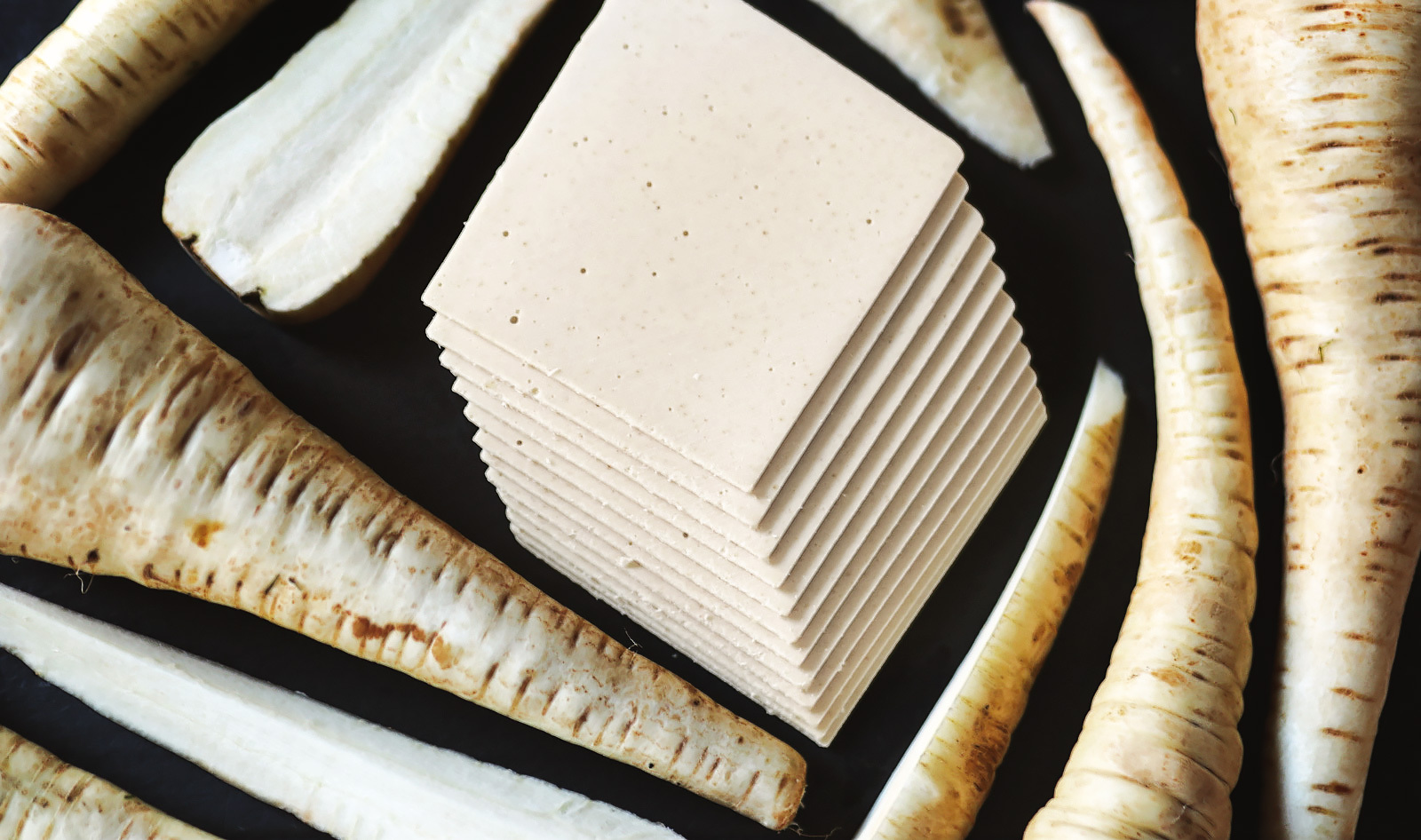 RIND
Rind's vegan cheeses also have the unique distinction of being offered inside Whole Foods Market's dairy cheese cases at six NYC stores.
"We have additional vegetables in mind for future expansion of the line and are excited to roll out parsnip and red bell pepper in addition to the carrot in retail- and foodservice-sized slices, shreds, cream cheeses, and convenient snack-sized portions in 2023," DiCenso says. "Along with the expansion of the veggie line, we're excited about unveiling our new branding and packaging for it in the coming months."
Grounded Foods puts cauliflower in vegan cheese
Also made out of vegetables—in this case cauliflower—vegan cheese brand Grounded Foods has created Cheese Free Cheese Sauce, an alternative to Velveeta that is both vegan and made from natural ingredients. For its approach to vegan cheesemaking, Grounded Foods founders Veronica Fil and Shaun Quade developed a novel fermentation process that leverages cauliflower and hemp.
Unlike nut- or coconut oil-based alternatives, Grounded cheeses are primarily made from hemp seed and imperfect cauliflower and are designed to recreate the sensory experience of eating traditional dairy cheese. "It's the taste for us," Fil said in a statement. "That comes first with everything we do. We firmly believe that it's possible to satisfy people's craving for dairy cheese using existing, natural, and underutilized plant resources—stuff that comes from the ground."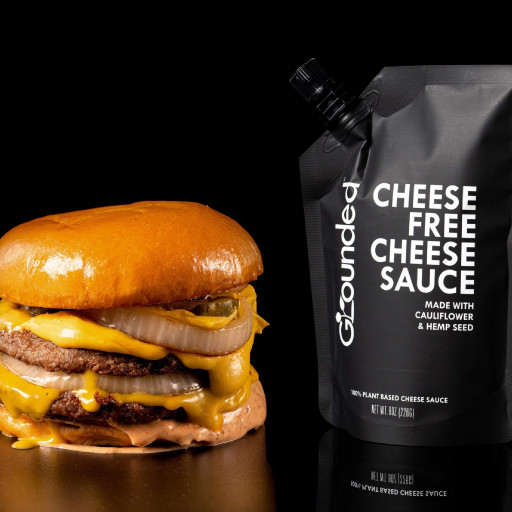 Grounded Foods
Grounded's squeezable cheese sauce and cream cheese are available at a number of retailers nationwide, including Sprouts Farmers Markets, Whole Foods, Bristol Farms, Gelson's, Harmon's, Festival Foods, and Pete's Fresh Market.
Misha's incorporates carrots, jalapeños, and shallots
Vegan cheese brand Misha's has gained a following for its tubs of creamy, spreadable almond- and cashew-based cheeses. And many of them are flavored with herbs and vegetables, including Seven Point Five, flavored with strawberries, habanero, and jalapeños; Black Truffle, made with shallots and truffle oil; and smoky Lox, flavored with a blend of dill, capers, and roasted carrots.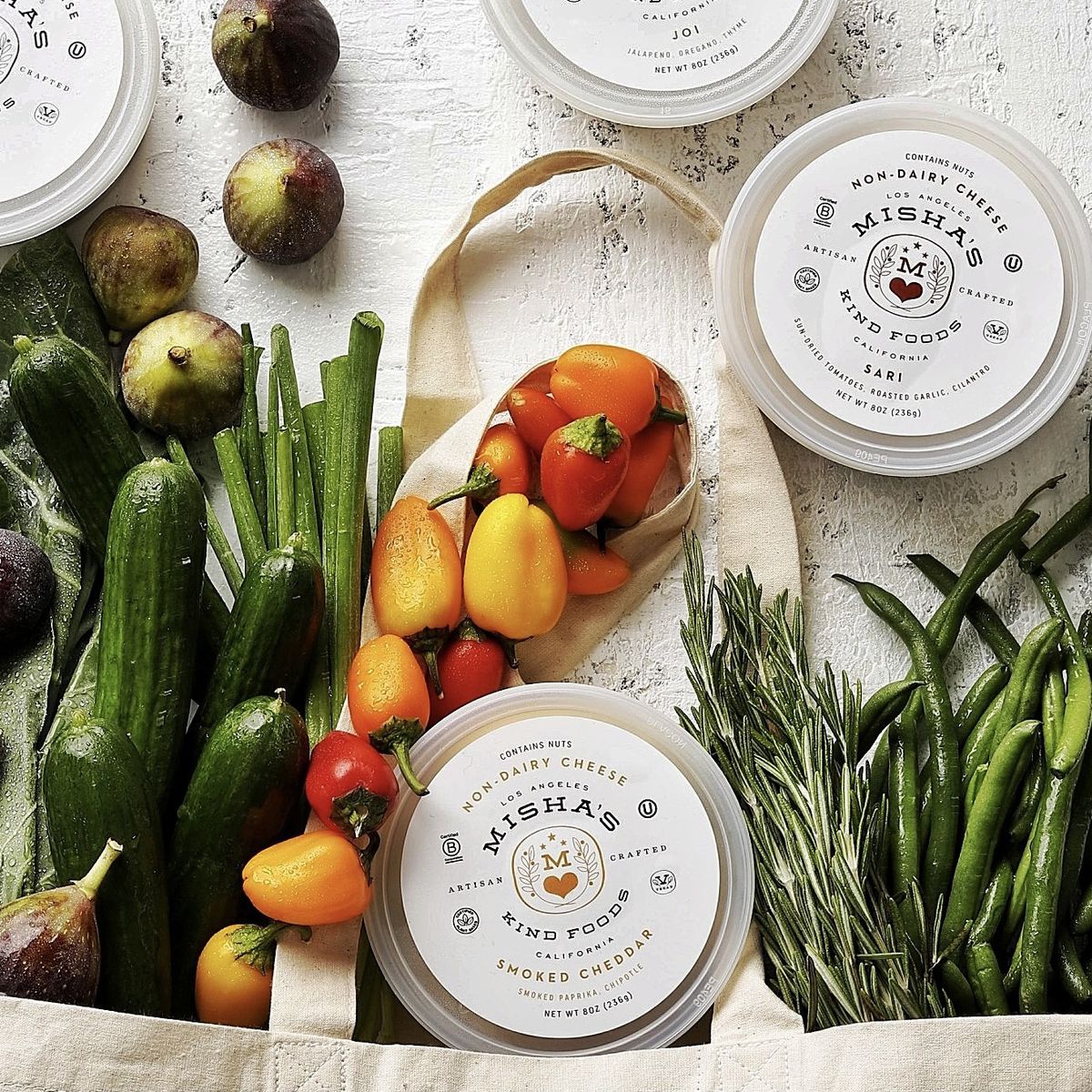 Misha's Kind Foods
Founded by Chef Ian Martin and Aaron Bullock in 2018, Misha's raised a $3 million seed investment round last year with support from Jay-Z through his firm Marcy Venture Partners as well as NBA all-star Chris Paul and branding firm Lisa Shamus & Partners. "We are here to serve the large community of cheese lovers, plant-based and not. Everything we make is kind to your body, kind to the planet, and kind to your wallet," Bullock said in a statement.
Misha's can currently be found at retailers such as Whole Foods Markets, Bristol Farms, Raleys, Erewhon, Mother's Market Kitchen, and Lassen's. Currently, the company is looking to raise an additional $5 million in a post-seed round to develop new products, expand its team, and grow its retail footprint.
For the latest vegan news, read: