The culinary scene in communities of color is inherently vibrant, undoubtedly distinct, and unapologetically Afrocentric. And now that this sector of the population is reducing its consumption of animals faster than any other demographic, a new generation of leaders and entrepreneurs are helping spread the plant-based love with their communities and beyond—accentuated with that same cherished ethnic flare.
Supporting diversity
In recent years, there is a new wave of Black-owned vegan restaurants that are popping up around the country. This means that showing your support for Black business owners is now easier than ever. And with that, you'll be able to experience cuisines that are as diverse and multi-faceted as Black culture itself. From bakeries and burger joints to soul food and Caribbean and African eateries, the Black vegan scene is the ideal canvas for different flavors and plant-based ingredients to shine.
Black-owned vegan restaurants
Major cities from New York to Los Angeles offer no shortage of Black-owned vegan restaurants to choose from. Join us as we eat our way across the country on a soul-food and health-food tour, starting with these 25 Black-owned vegan restaurants.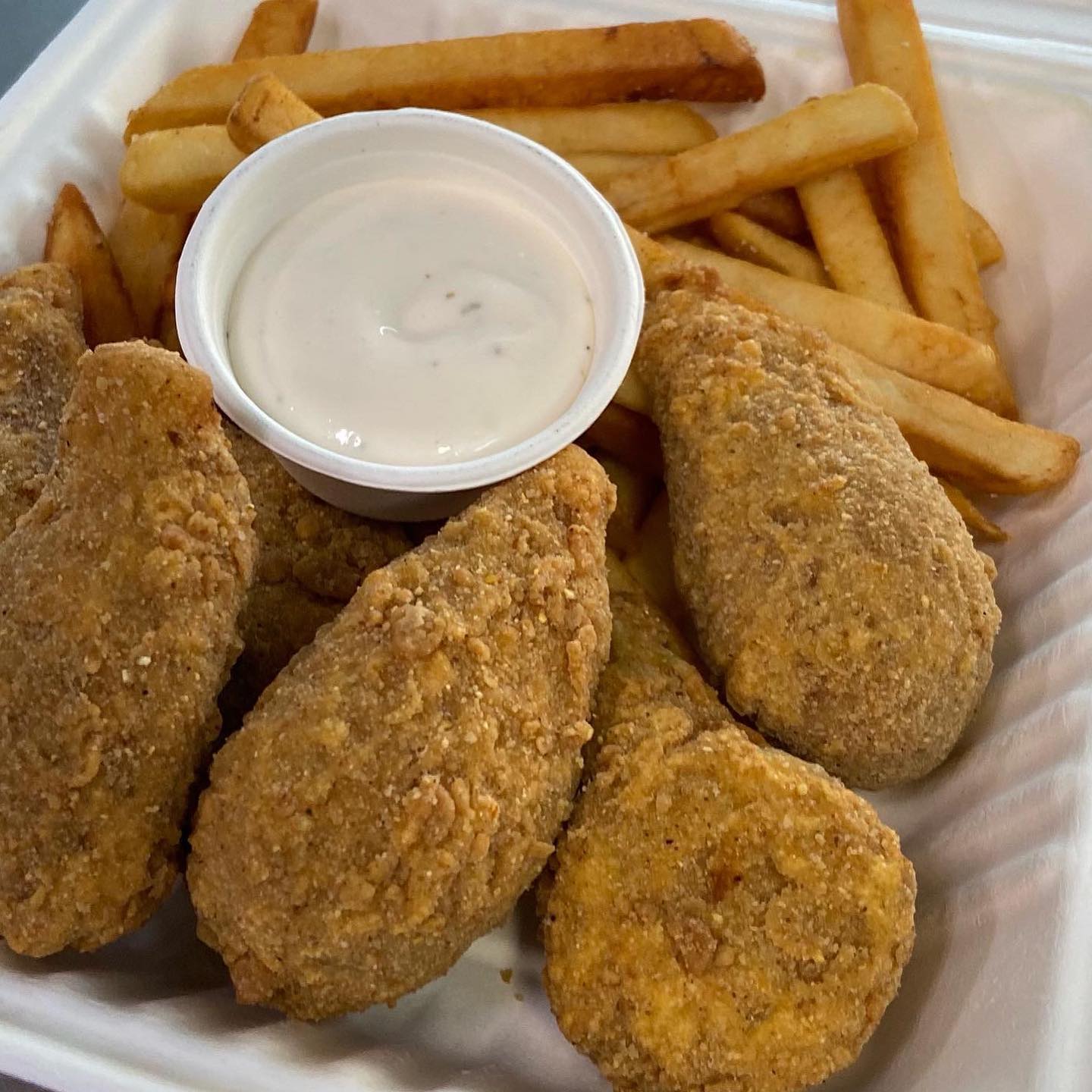 Compton Vegan
1 Compton Vegan in Los Angeles, CA
Specializing in vegan comfort food, Compton Vegan founder Lemel Durrah allows his customers to dig into creamy vegan Buffalo chicken mac and cheese drizzled with housemade ranch, or succulent BBQ jackfruit ribs served with mac and cheese, baked beans, collard greens, and cornbread. Find the Compton Vegan food truck in the greater Los Angeles area.
Learn more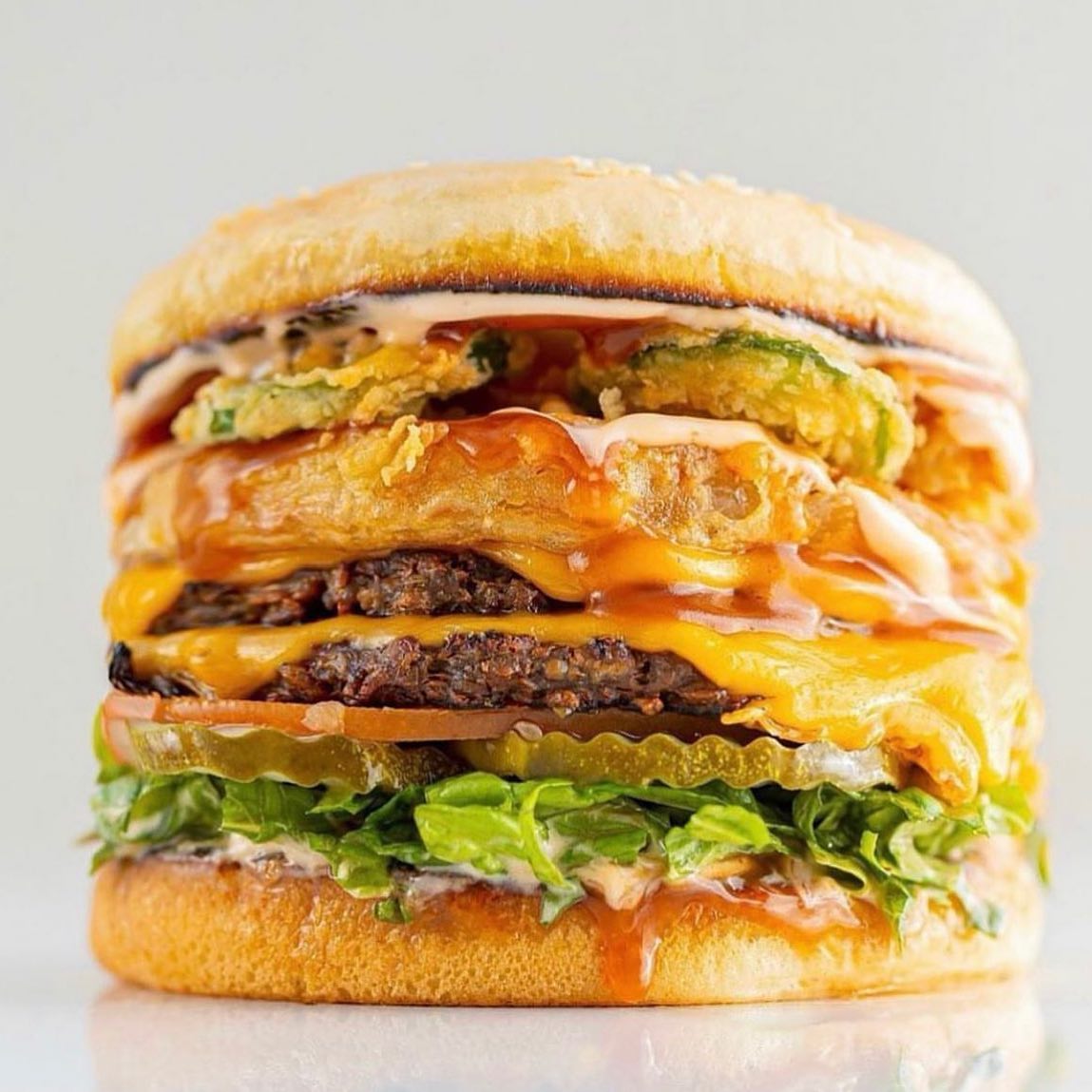 Vurger Guyz
2 Vurger Guyz in Los Angeles, CA
Founded by four former NCAA athletes as a project to promote healthy eating, Vurger Guyz serves next-level burgers from a food truck that tours Los Angeles every day of the week. Favorites include the ultra-indulgent Vurger piled high with lettuce, fried onions, pickles, tomato, fried jalapeños, vegan American cheese, and your choice of sauce.
Learn more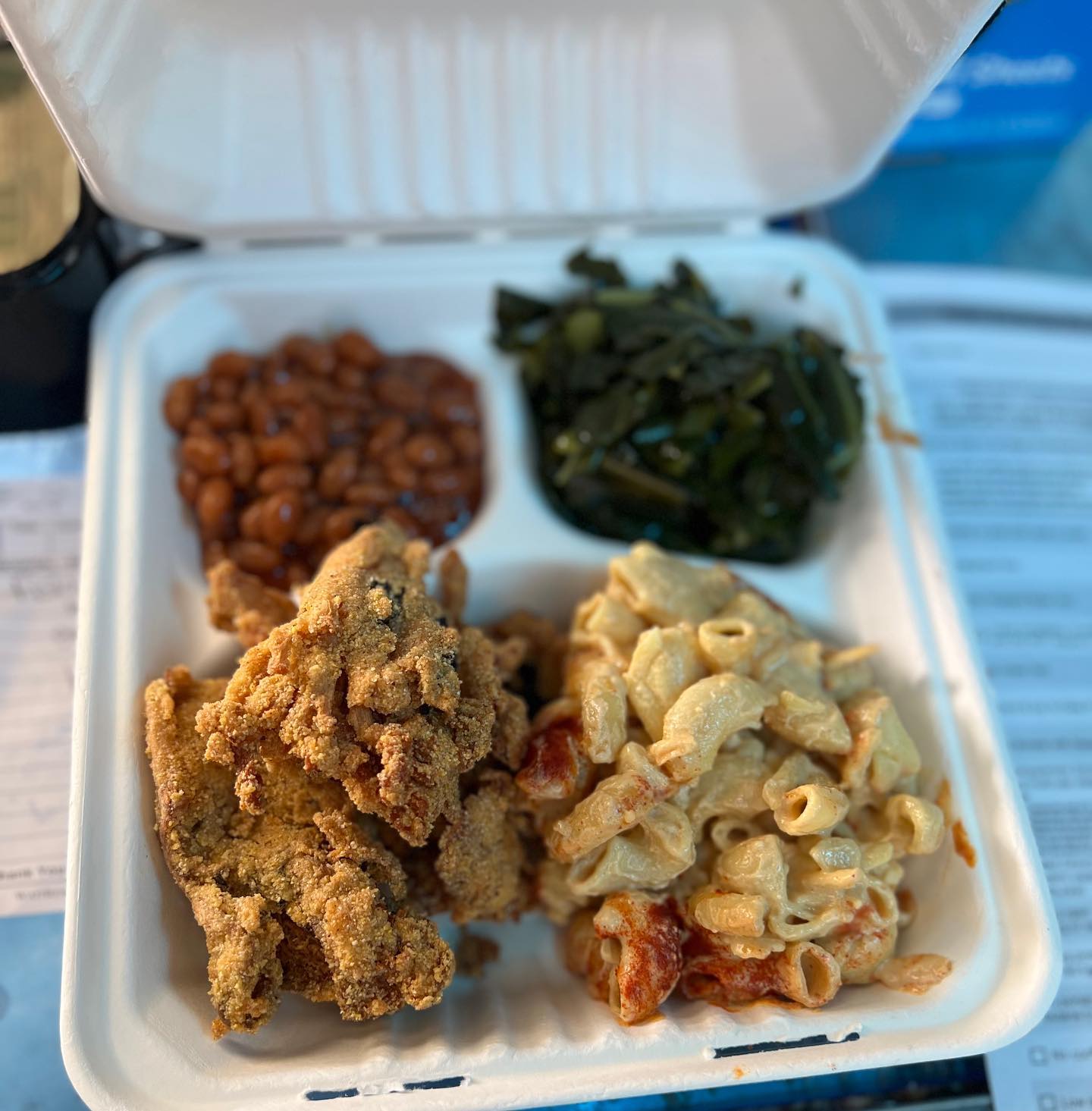 Centric Eats
3 Centric Eats in Los Angeles, CA
Centric Eats is on a mission to promote a healthy love for plant-based food with its giant oyster-mushroom fried chicken and mac and cheese. By keeping it real with fresh, whole food ingredients, they say their comfort dishes are "made from the soul for the soul."
Learn more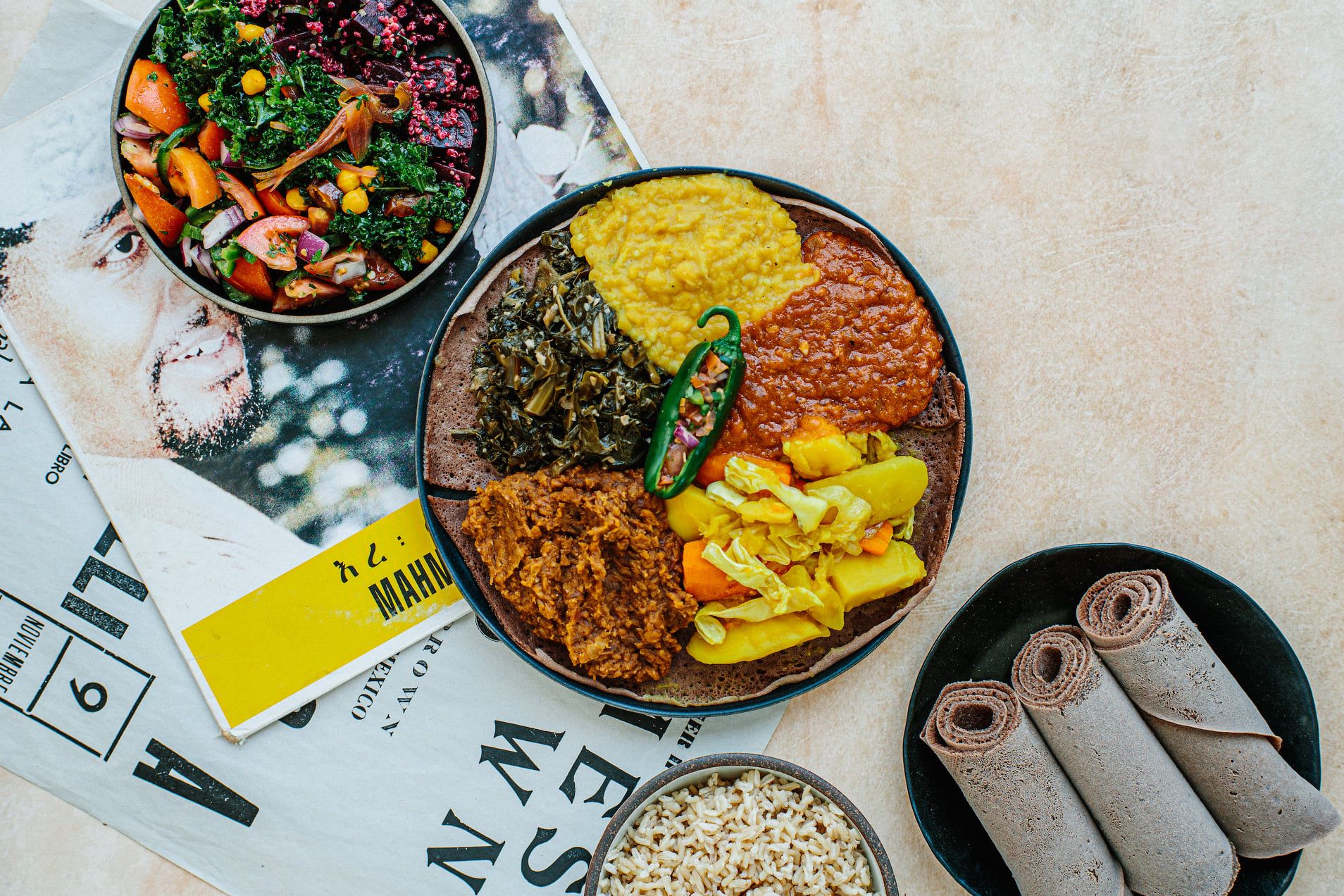 Aszla
4 Azla in Los Angeles, CA
Founded by a mother-daughter duo in a food hall near the University of Southern California, Azla specializes in mix-and-match meals consisting of authentic Ethiopian wots, salads, and injera, allowing local students to grab affordable vegan grub in between classes.
Learn more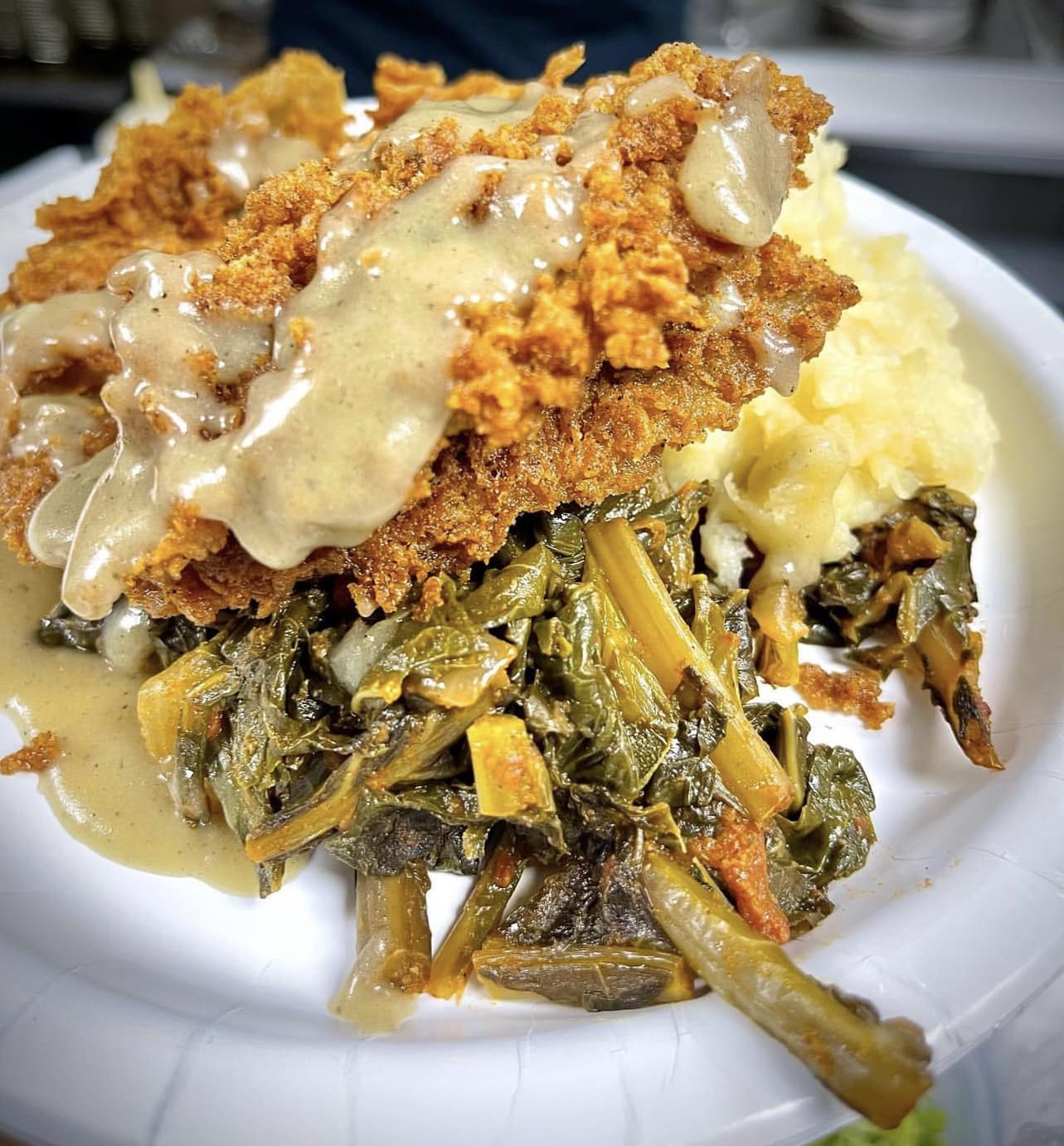 Souley Vegan
5 Souley Vegan in Oakland, CA
Chef Tamearra Dyson has been cooking up vegan soul food since she was 18 years old. With Souley Vegan, she continues to impress locals with her Southern-inspired meals such as New Orleans okra gumbo with grits, Jambalaya with house-made seitan, and seitan shrimp po' boys.
Learn more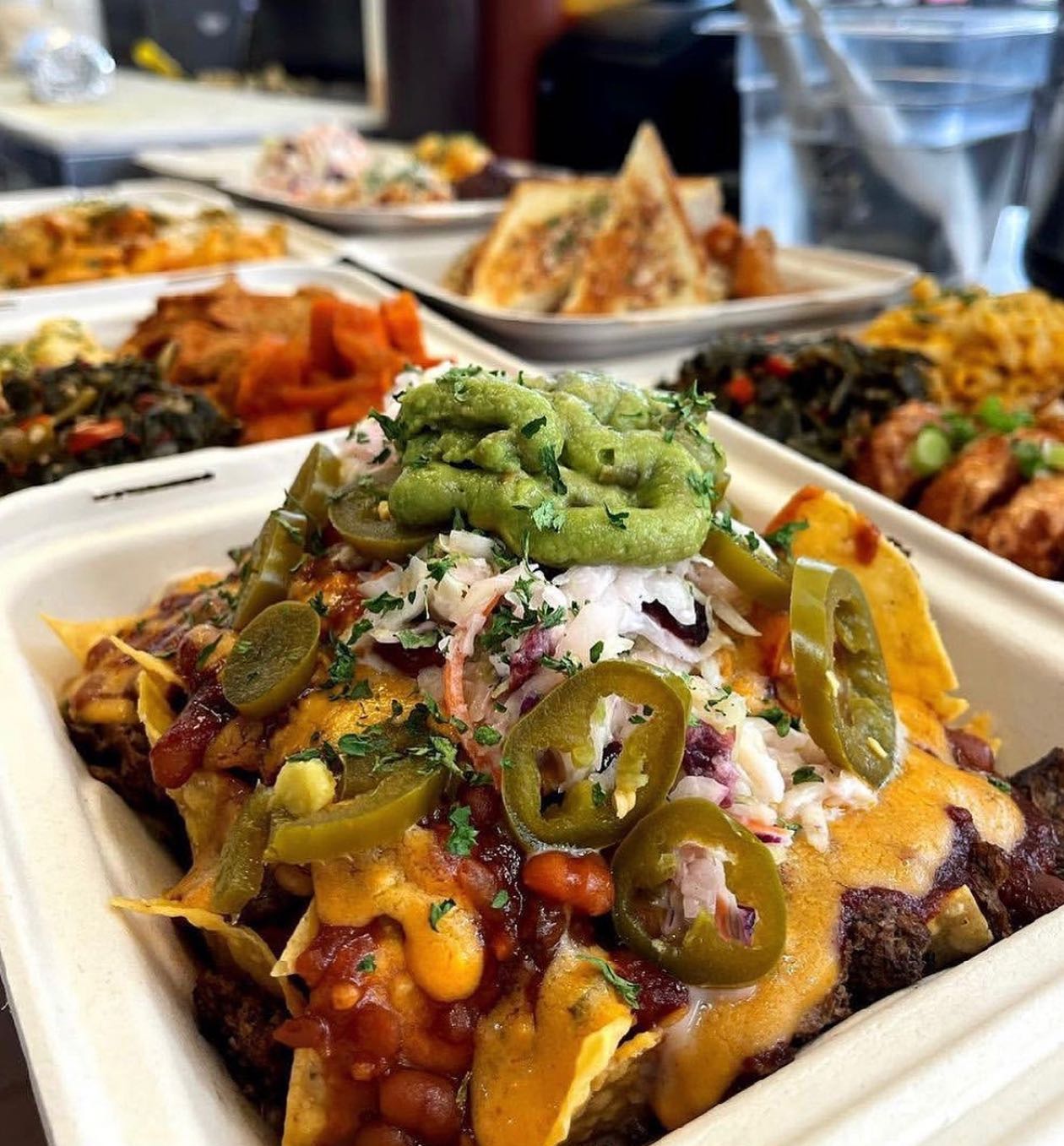 Vegan Mob
6 Vegan Mob in Oakland, CA
Toriano Gordon combined his talents as a rapper, social media entertainer, and chef to create Vegan Mob, a vegan BBQ and soul food pop-up—which was an instant hit, selling out within six hours on opening day. Gordon serves classics such as shrimp and sausage gumbo, and plant-based brisket served with cajun potato salad and BBQ baked beans.
Learn more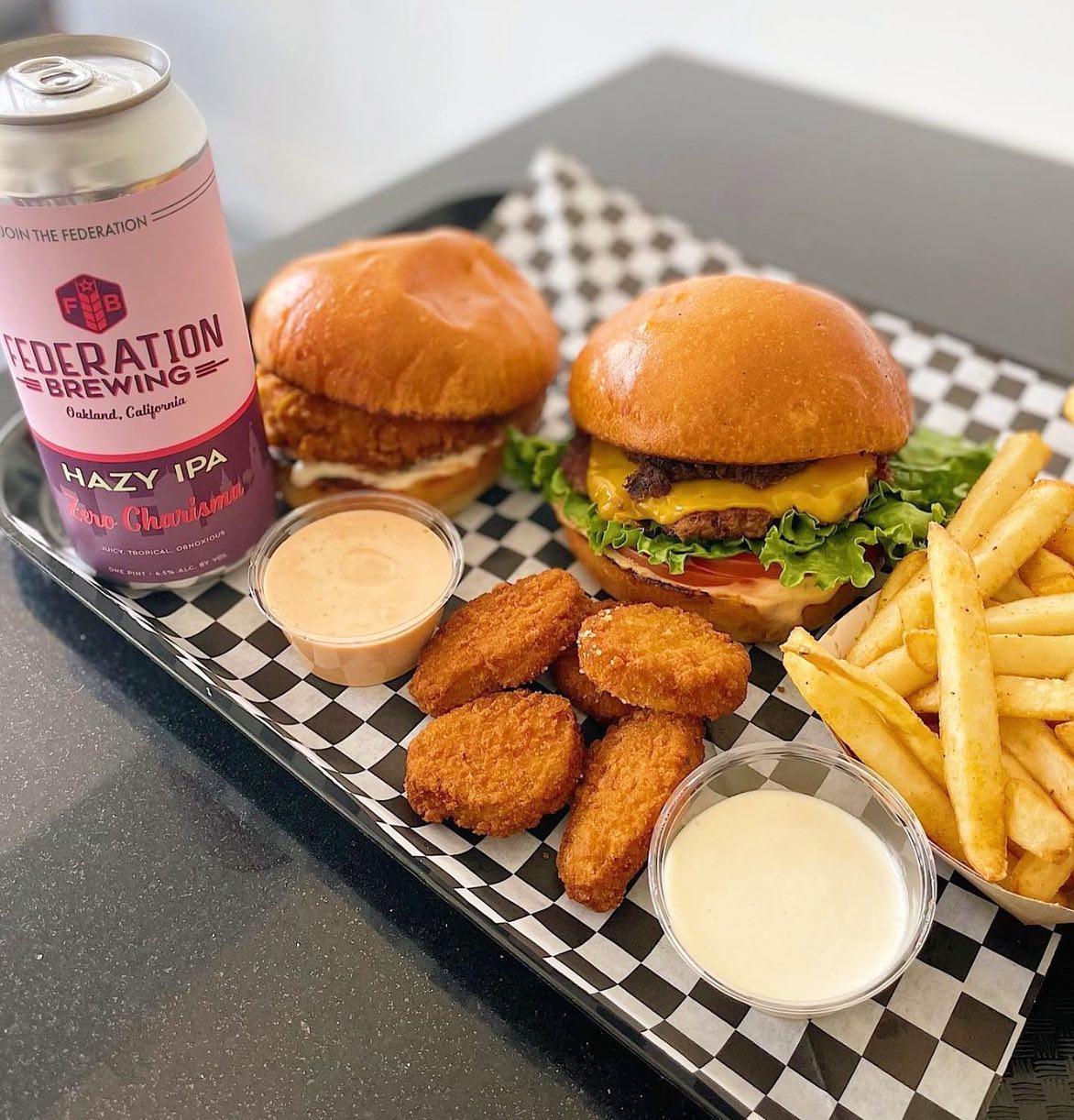 Malibu's Burgers
7 Malibu's Burgers in Oakland, CA
If you're looking for a place to go for classic American fast food, Malibu's Burger is where it's at. Think double Impossible burgers, vegan chicken sandwiches, grilled cheese, and milkshakes—all of which are vegan, of course.
Learn more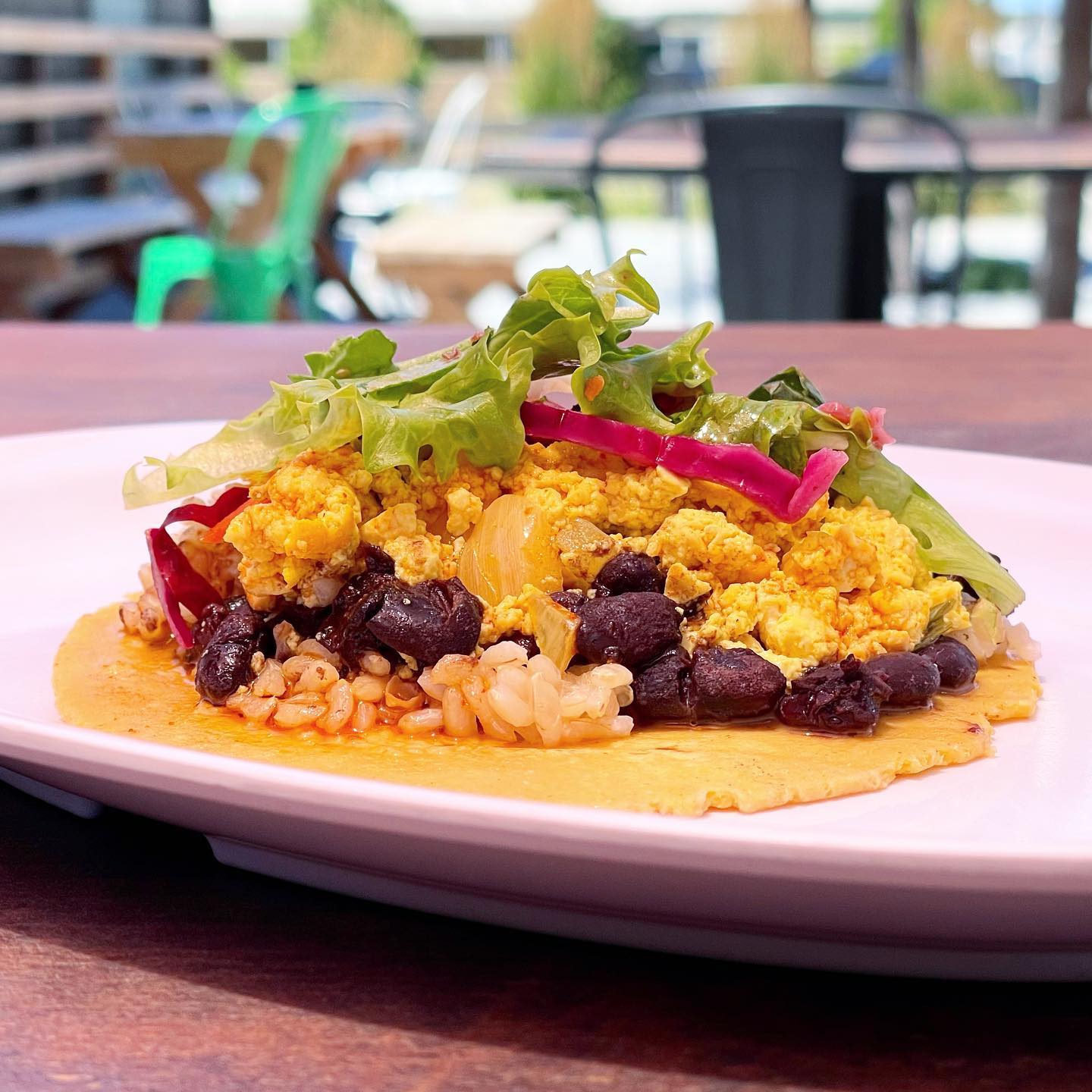 Veg on the Edge
8 Veg on the Edge in Santa Cruz, CA
A fast-casual restaurant created by Nigerian owner Akindele Bankole, Veg on the Edge might just be the only vegan, gluten-free, and kosher West African restaurant in the world. Bankole takes traditionally meat-heavy West African eats and subs in mushrooms, beans, and tofu instead to create truly hearty vegan meals.
Learn more
Simply Pure
9 Simply Pure in Las Vegas, NV
Simply Pure is run by vegan chef and nutritionist Stacey Dougan, who serves Mama Mia Lasagna, Nachos Grande, and Jicama Chili Cheese Fries in her mission to inspire others to embrace plant-based foods.
Learn more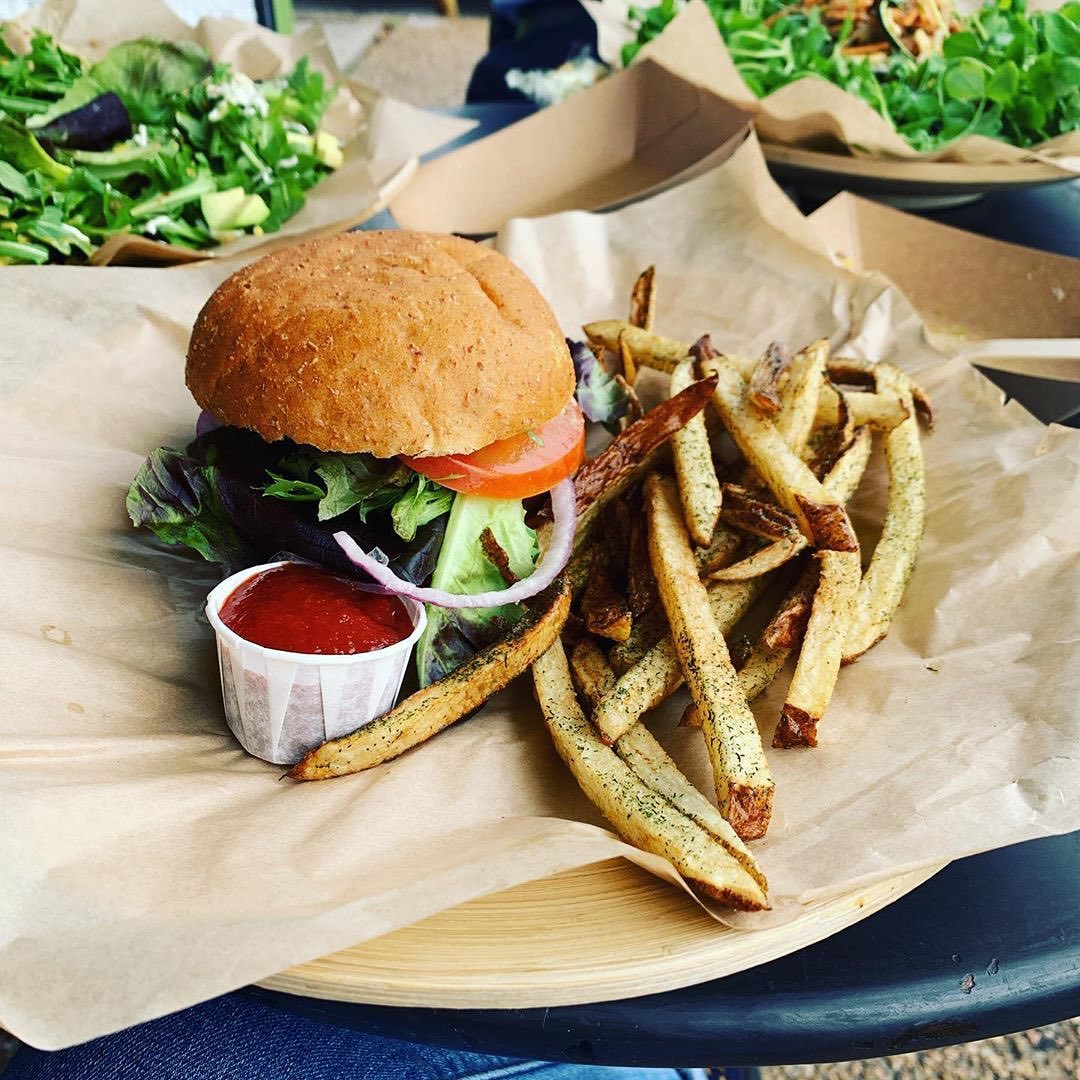 Green Seed Vegan
10 Green Seed Vegan in Houston, TX
Owned by Matti Merrell and Rodney Perry, Houston's popular Green Seed Vegan outgrew its roots as a food truck, adding a brick-and-mortar outpost in 2012 with an expanded menu of fresh-pressed gourmet paninis, cold-pressed juices, and immune-building smoothies.
Learn more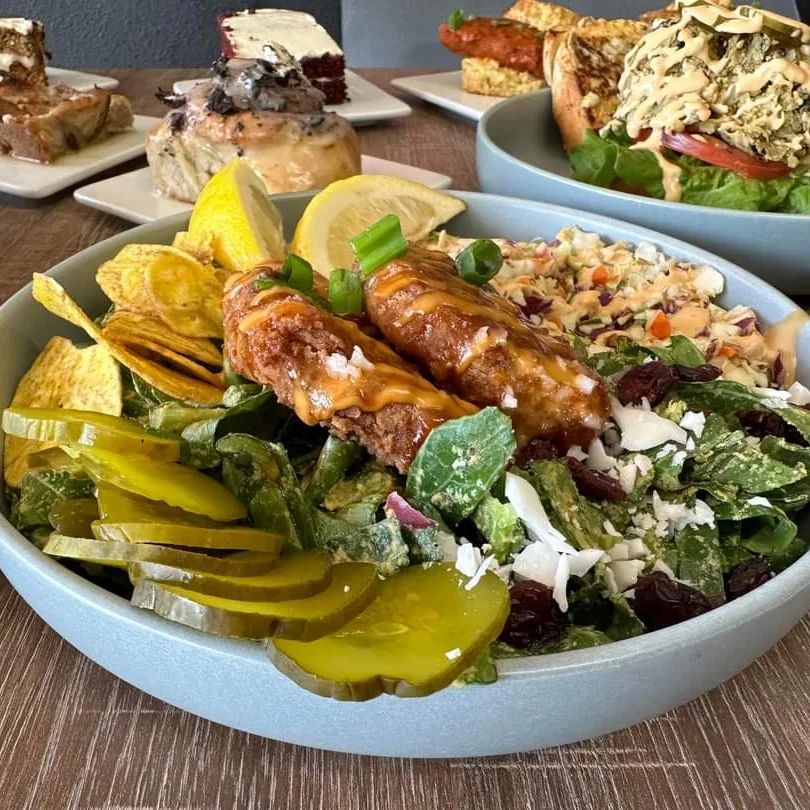 Dajen Eats
11 DaJen Eats in Eatonville, FL
Crowned Best Caribbean Restaurant in Orlando in 2018, DaJen Eats offers crowd-pleasers such as Jamaican Jerk BBQ Jackfruit Sliders with pineapple broccoli slaw and "honey" ginger chipotle cauliflower bites in her colorful Florida cafe.
Learn more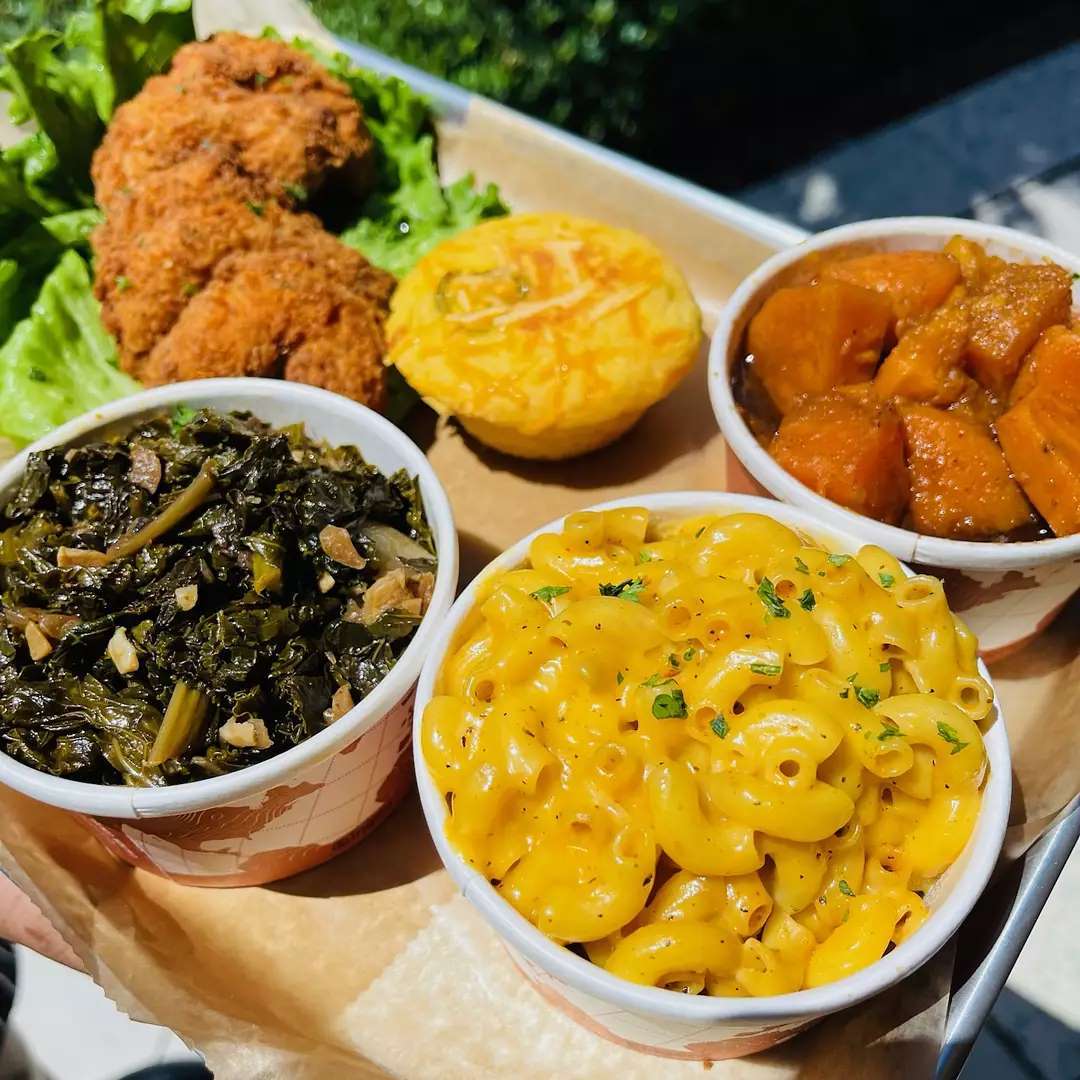 The Rabbit Hole
12 The Rabbit Hole in Pompano Beach, FL
Billed as serving elevated vegan comfort food, The Rabbit Hole offers a variety of plant-based dishes from around the world that are modern adaptations of classics, such as the "Smoke in the Woods" Southern BBC Platter featuring citrus marinated barbecue spare ribs, mac and cheese, and corn on the cob; Buffalo Shrimp battered and tossed in buffalo sauce; and Boneless Wyngs that are triple batters, seasoned, and fried to golden perfection.
Learn more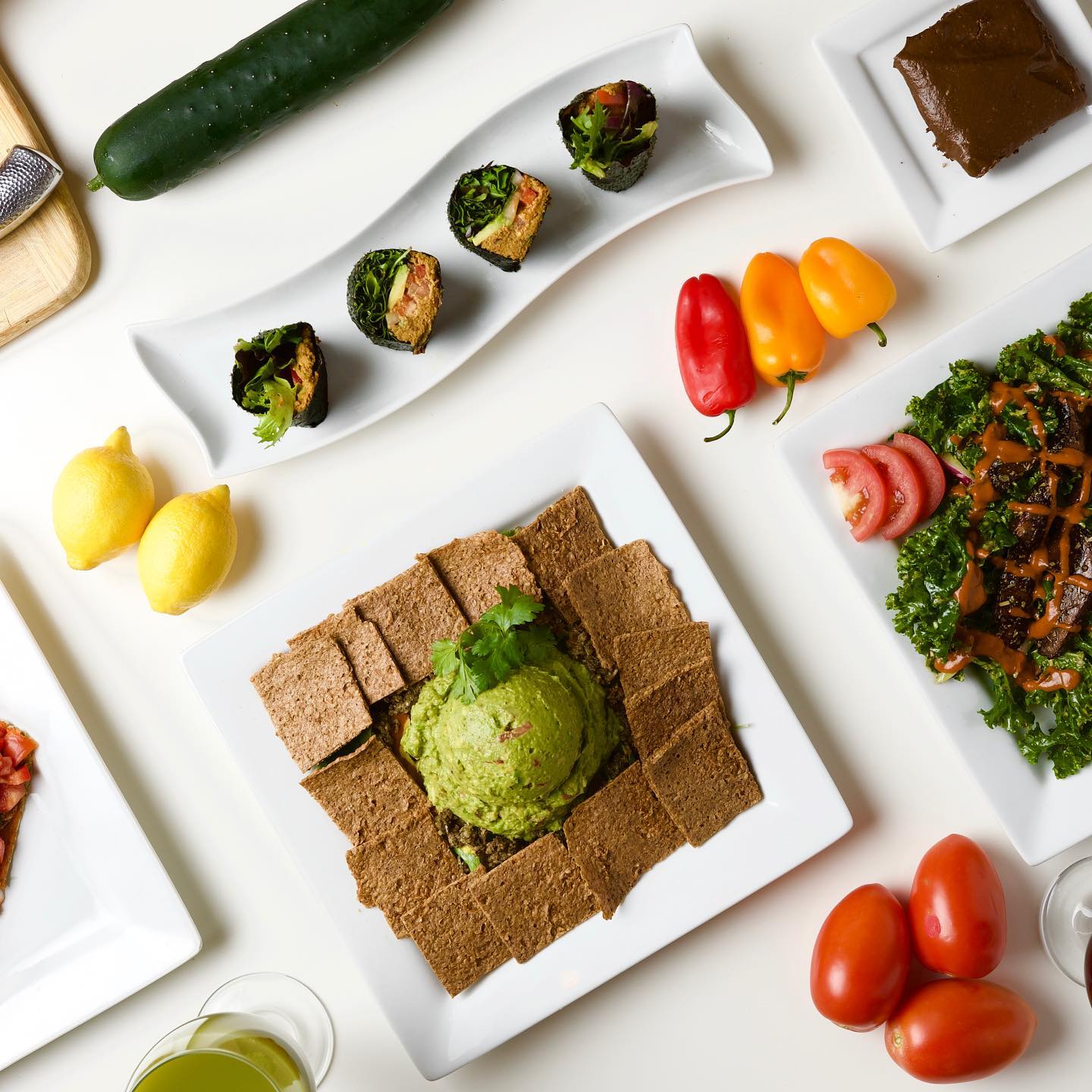 Lov'n It Live
13 Lov'n It Live in East Point, GA
Located 10 minutes from Atlanta, Lov'n It Live believes in food as medicine and offers a menu that caters to the commitment of high quality, nourishing, organic vegan dishes with collard rolls, seaweed soup, lentil burgers, and stuffed avocados.
Learn more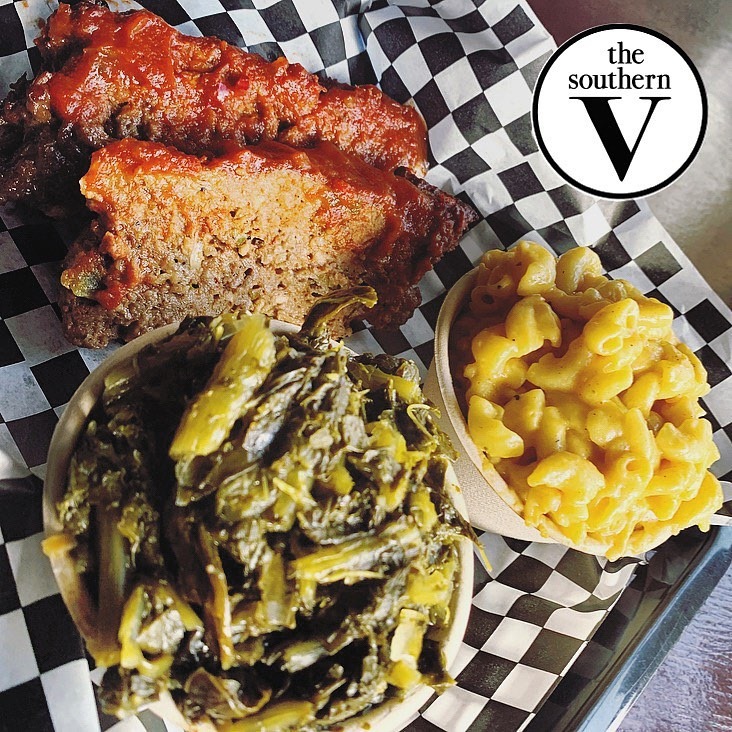 The Southern V
14 The Southern V in Nashville, TN
Run by husband-and-wife team Clifton and Tiffany Hancock, The Southern V serves up Southern favorites vegan-style, such as crispy fried chicken, chicken and waffles, and silky mac and cheese—with the aim of making vegan food accessible to all.
Learn more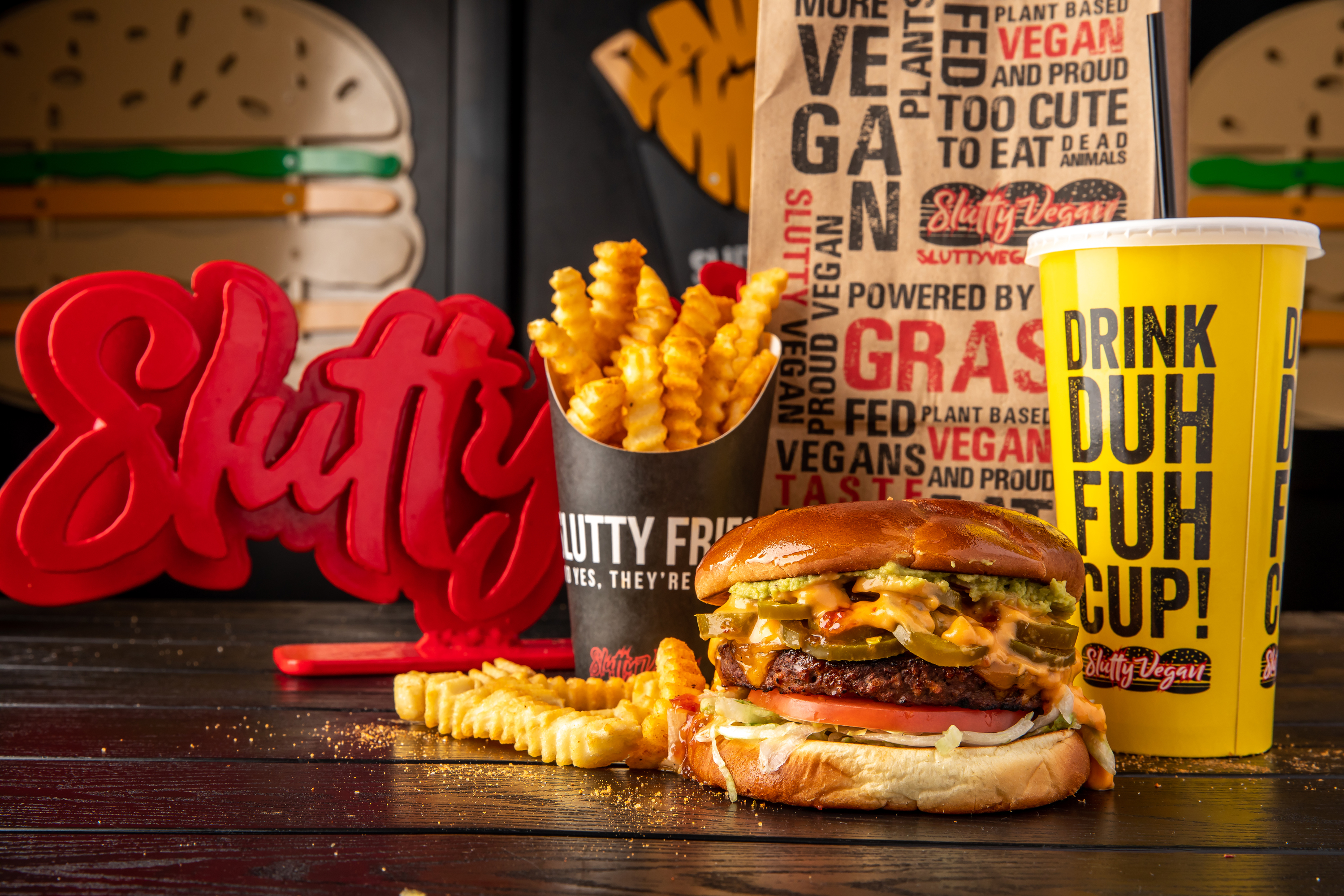 Madelynne Boykin
15 Slutty Vegan in Atlanta, GA
Arguably one of the fastest growing vegan chains, Slutty Vegan is a Black-owned empire established by entrepreneur Pinky Cole. The Slutty Vegan concept features a menu of "sluttified" fast-food dishes with names such as the fully loaded Super Slut and Philly cheesesteak-style Hollywood Hooker.
Learn more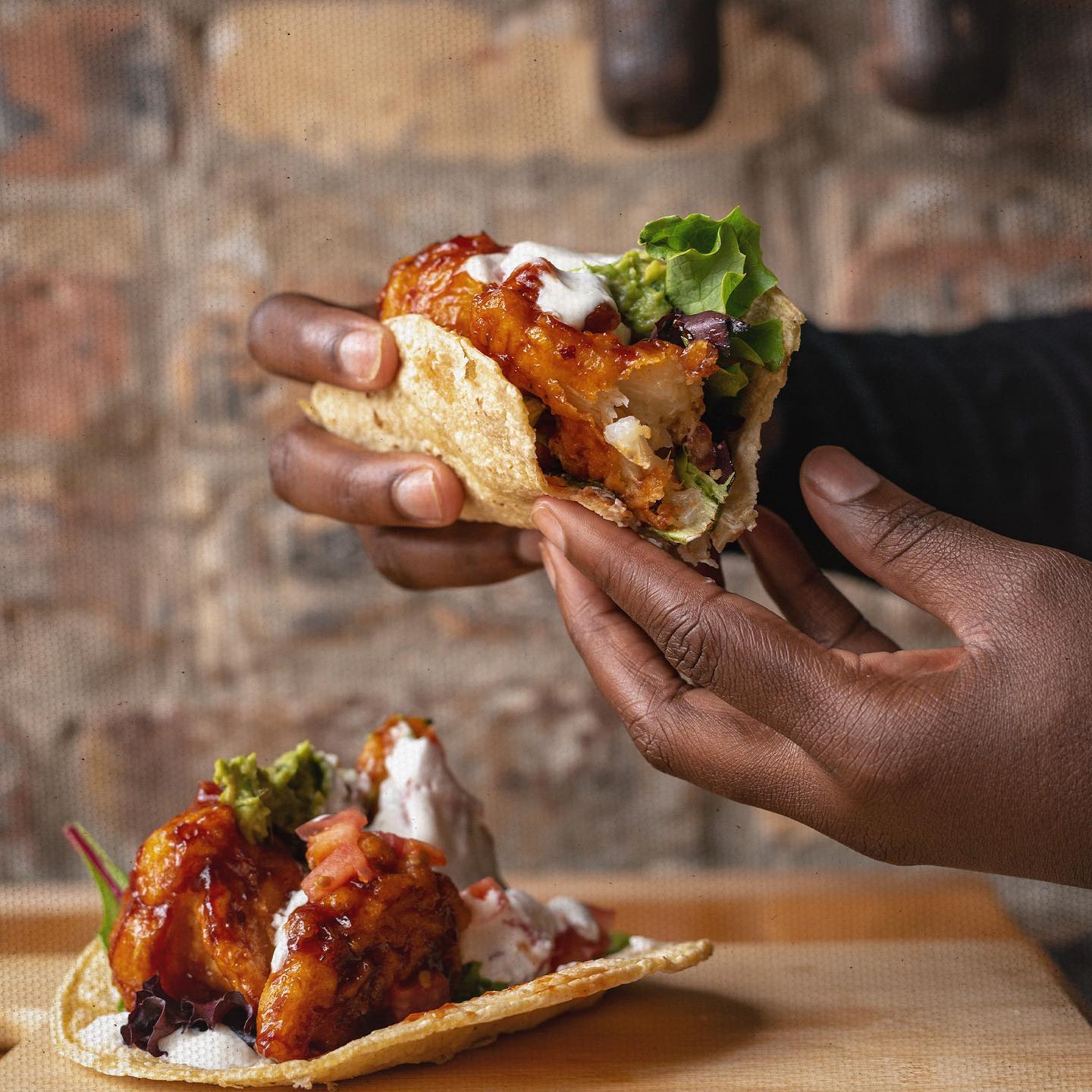 Majani
16 Majani in Chicago, IL
At Majani, husband-and-wife owners Tsadakeeyah and Nasya Emmanuel are vegan and catering veterans who serve soul food such as BBQ cauliflower, jerk tofu, and Sunday brunch at communal tables in this charming cafe.
Learn more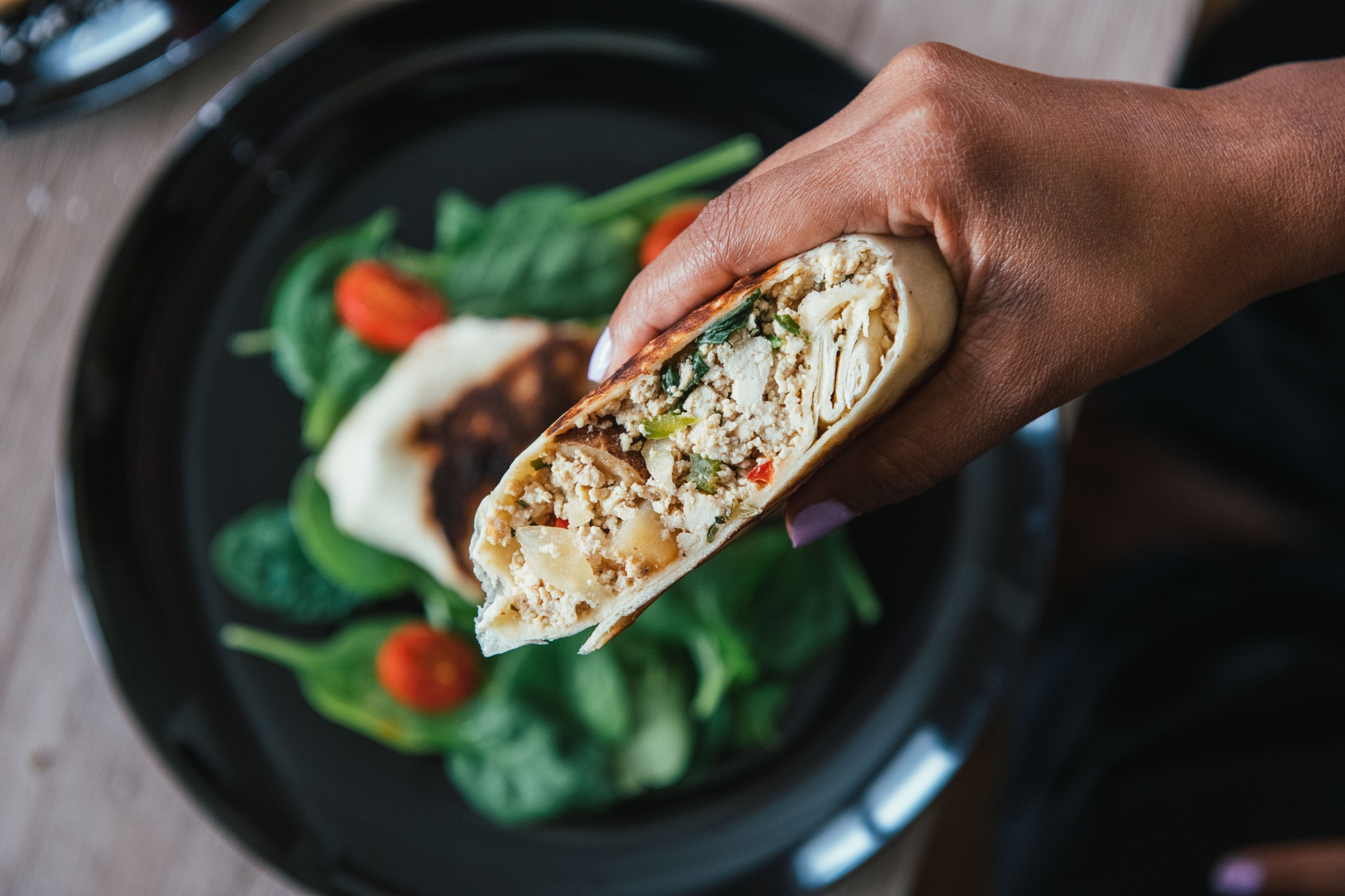 NuVegan Cafe
17 NuVegan Cafe in Washington, DC
Founded by Vernon and Lynn Woodland, NuVegan has four locations in DC, Maryland, and Virginia. With an aim to make vegan food appealing to everyone, the Woodlands craft creative takes on fried chicken sandwiches and cheeseburgers while also serving up healthy sides such as herbed quinoa and ginger-spiced tofu in their cafeteria-style cafe.
Learn more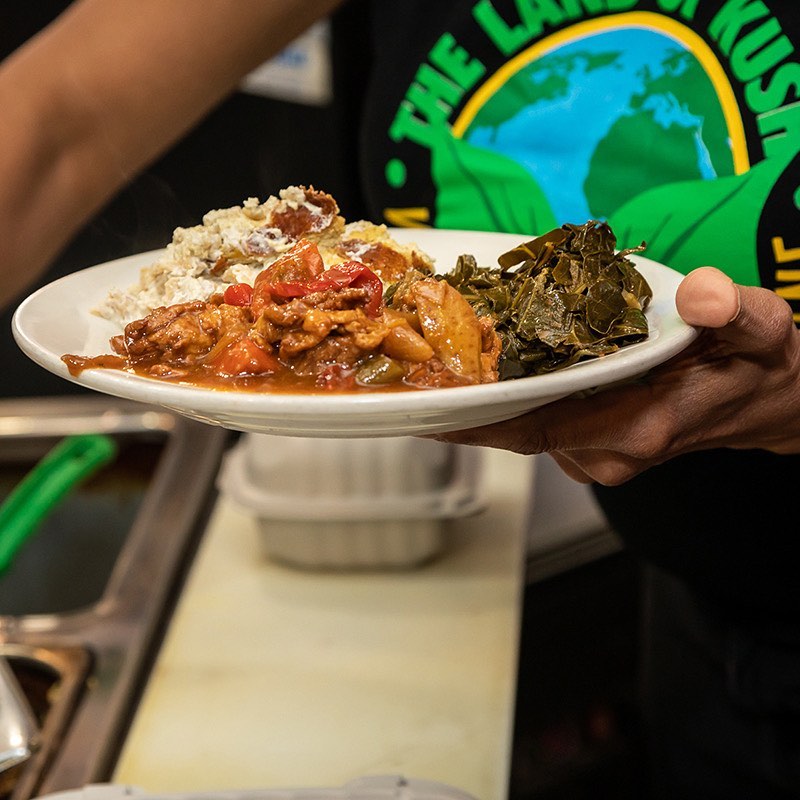 The Land of Kush
18 The Land of Kush in Baltimore, MD
Named after an ancient African civilization, The Land of Kush is a longtime all-vegan spot that feeds your spirit with soul-food classics such as black-eyed pea fritters, crab cakes, and carrot tuna.
Learn more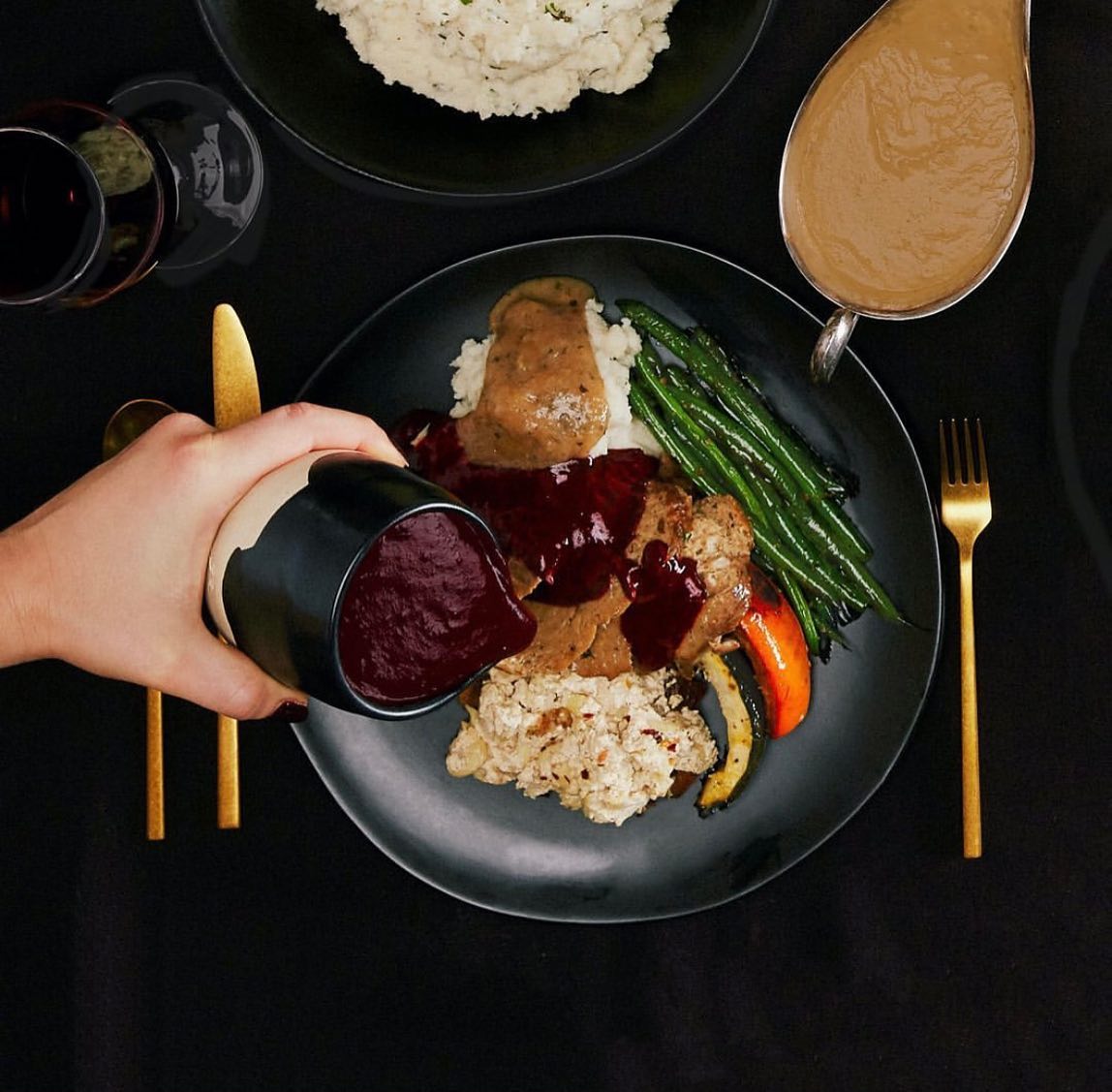 Plum Bistro
19 Plum Bistro in Seattle, WA
Life-long vegan Makini Howell is a superwoman in Washington's culinary scene for her creative vegan dining concepts, including upscale restaurant Plum Bistro, where she serves sophisticated dishes such as avocado scallop ceviche, black truffle gnocchi, and crispy cauliflower steak.
Learn more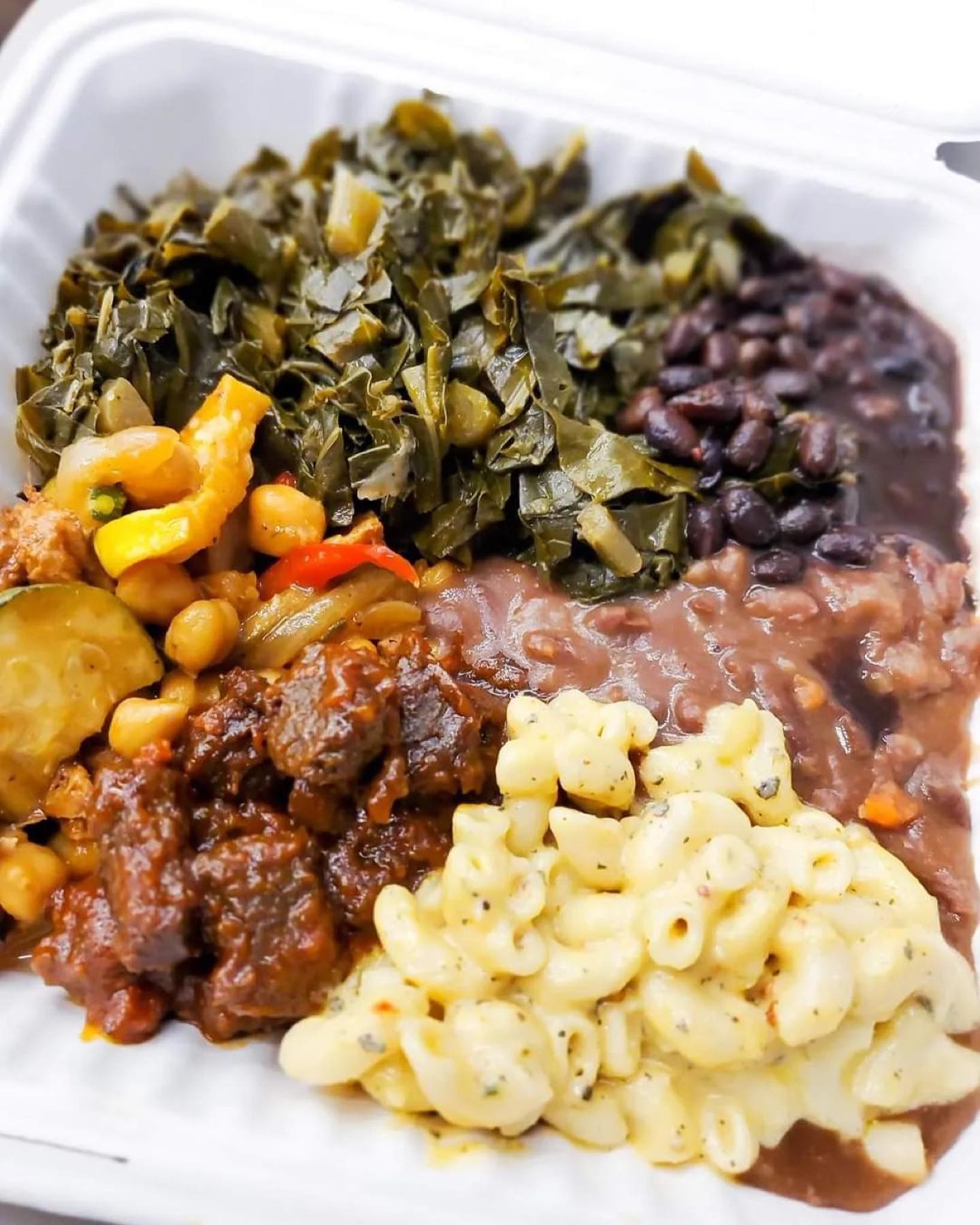 Belmont Vegetarian
20 Belmont Vegetarian in Worcester, MA
This popular takeout spot, Belmont Vegetarian, specializes in a "soulful Belmont twist on Jamaican and American inspired dishes" with robust plant-based entrées such as vegan BBQ chicken and lamb, plus hit-the-spot pasta dishes such as mac and cheese and spaghetti with meatballs.
Learn more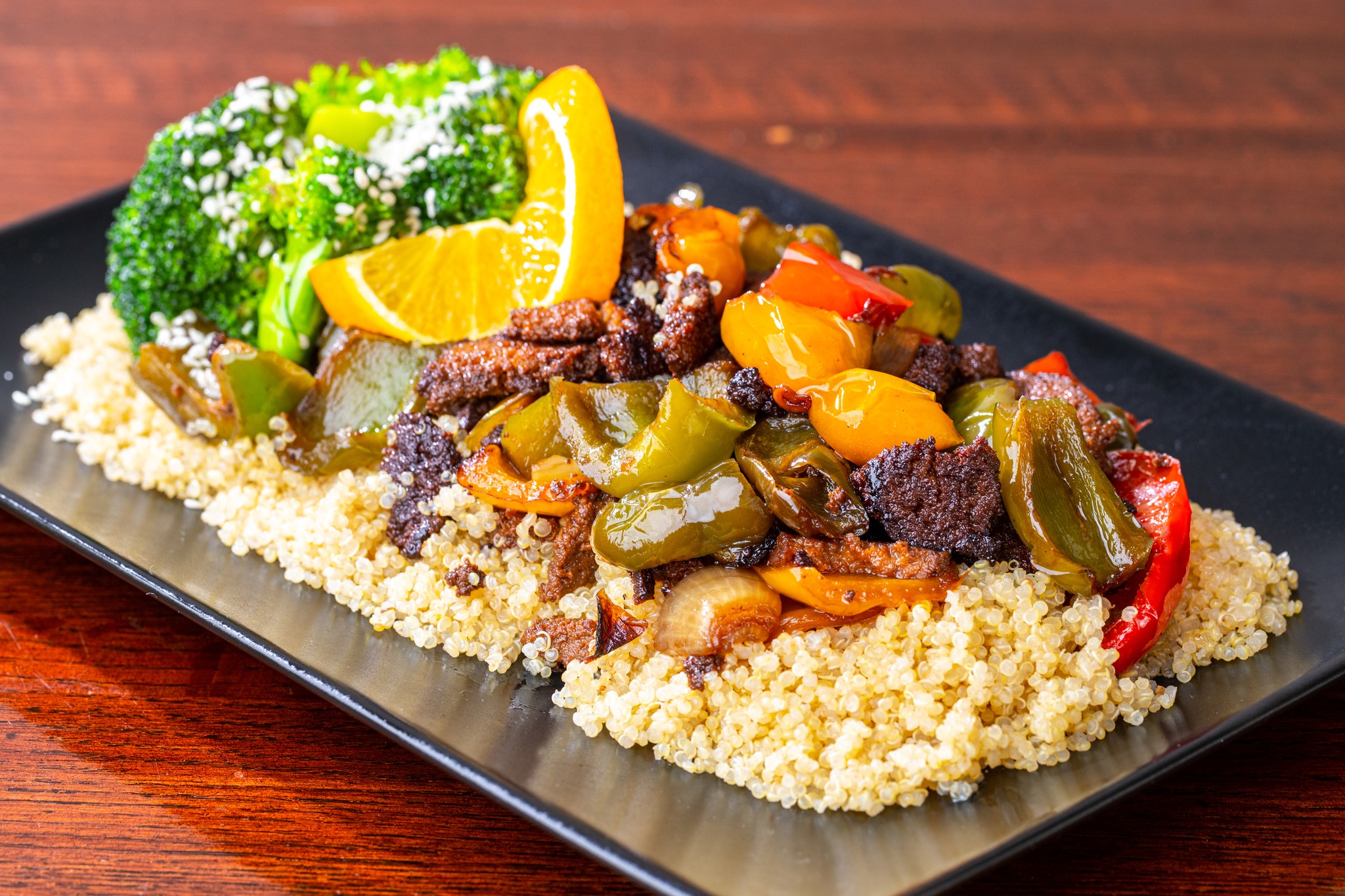 Detroit Vegan Soul
21 Detroit Vegan Soul in Detroit, MI
What started out as a catering company for partners Erika Boyd and Kirsten Ussery has grown into a thriving business. Detroit Vegan Soul provides comfort food such as full-bodied seitan pepper steaks, Bacon Ranch Tofu Wraps, and a Soul Platter featuring mac and cheese, smoked collards, maple-glazed yams, black-eyed peas, and cornbread.
Learn more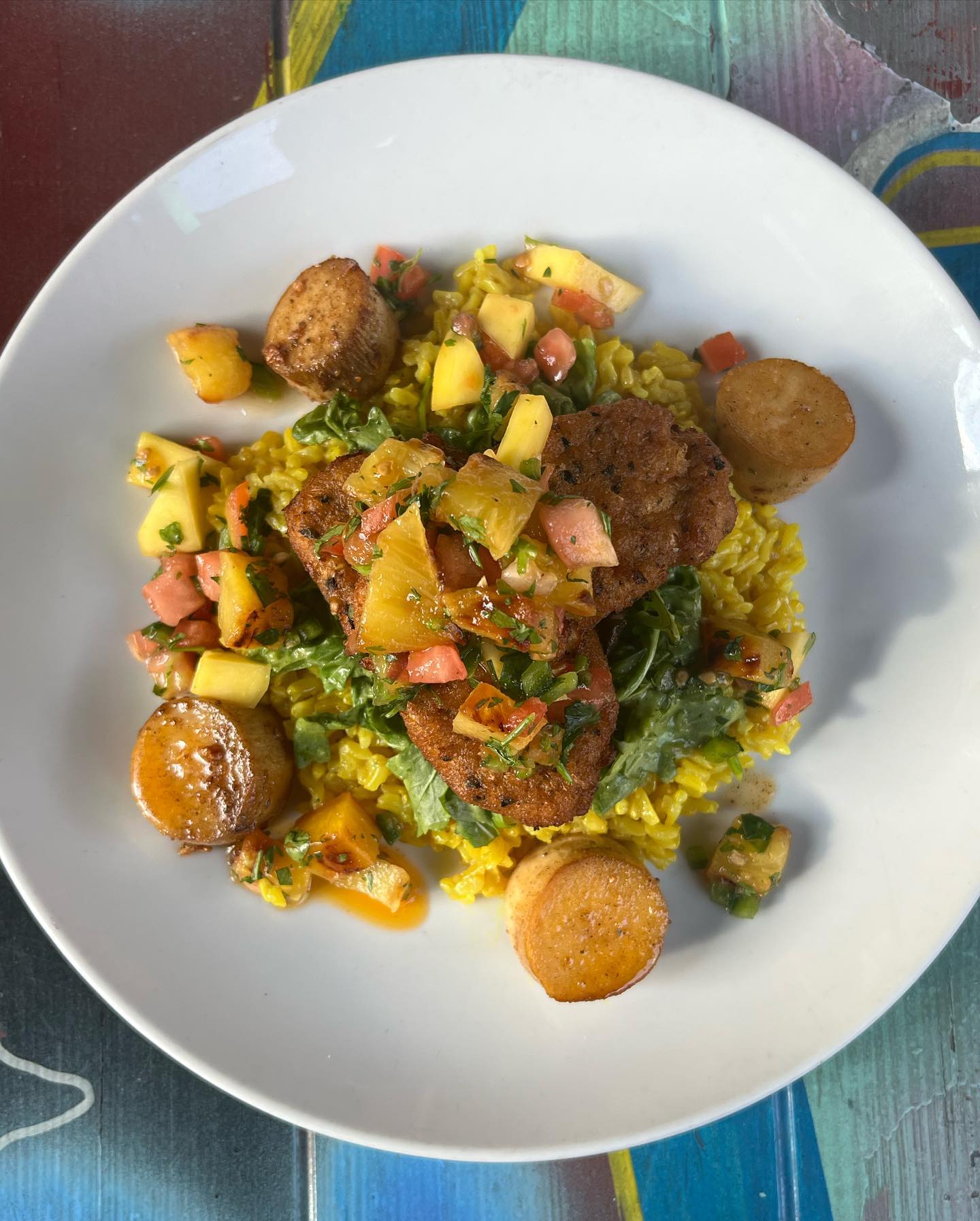 Urban Vegan Kitchen
22 Urban Vegan Kitchen in New York, NY
Co-owned by Pamela Elizabeth of New York's Blossom restaurants, Urban Vegan Kitchen is part restaurant, part lounge that celebrates the flavors of the American South with fried okra and hush puppies alongside American classics such as burgers and BLTs.
Learn more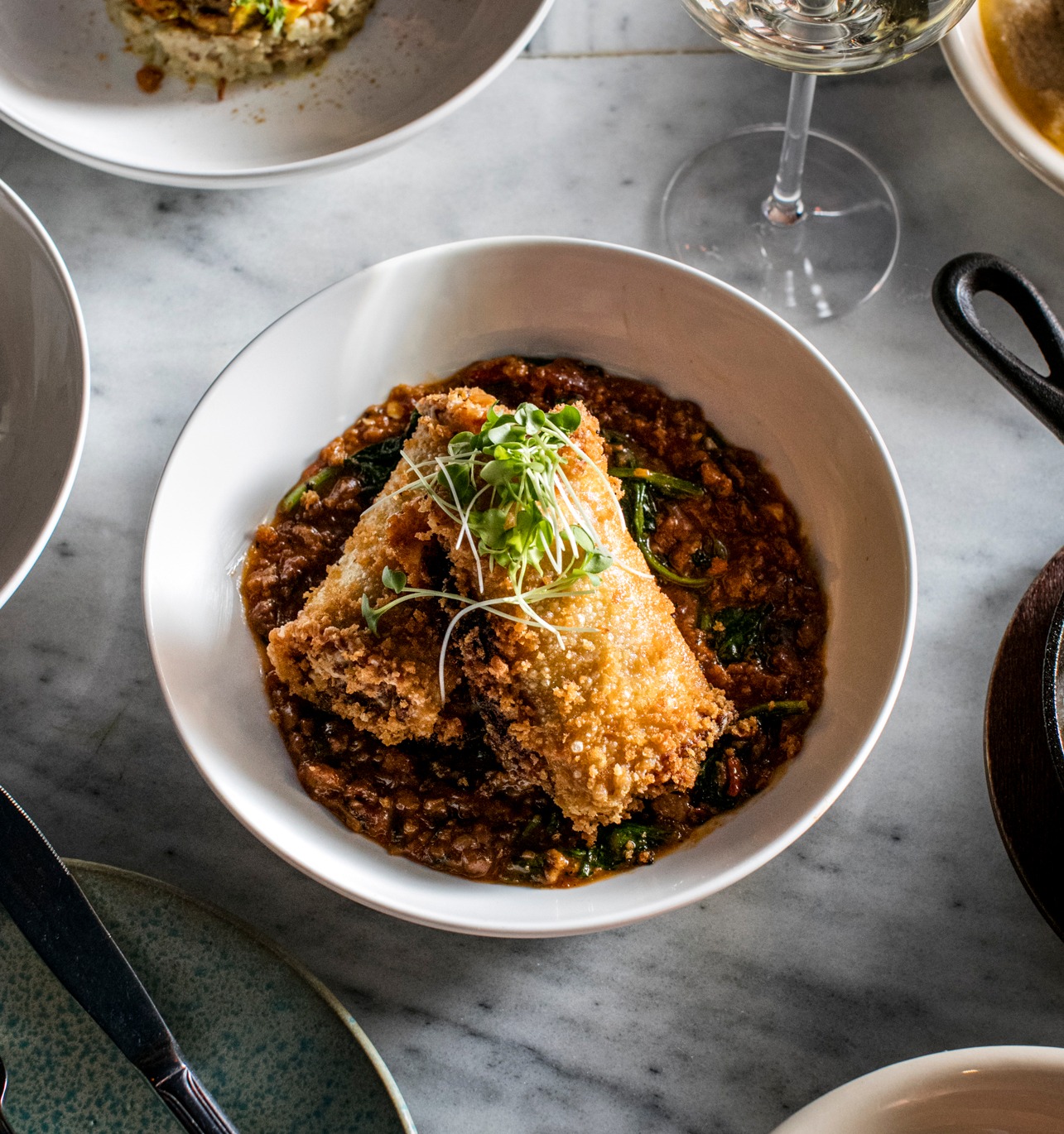 Cadence
23 Cadence in New York, NY
A vegan restaurant with Southern soul, Cadence executive chef Shenarri Freeman taps into her Virginia upbringing to spotlight soul food through the lens of health and sustainability with dishes such as smoked grits with fried oyster mushrooms, collard greens stuffed with succotash, and Southern fried lasagna with pine nut ricotta.
Learn more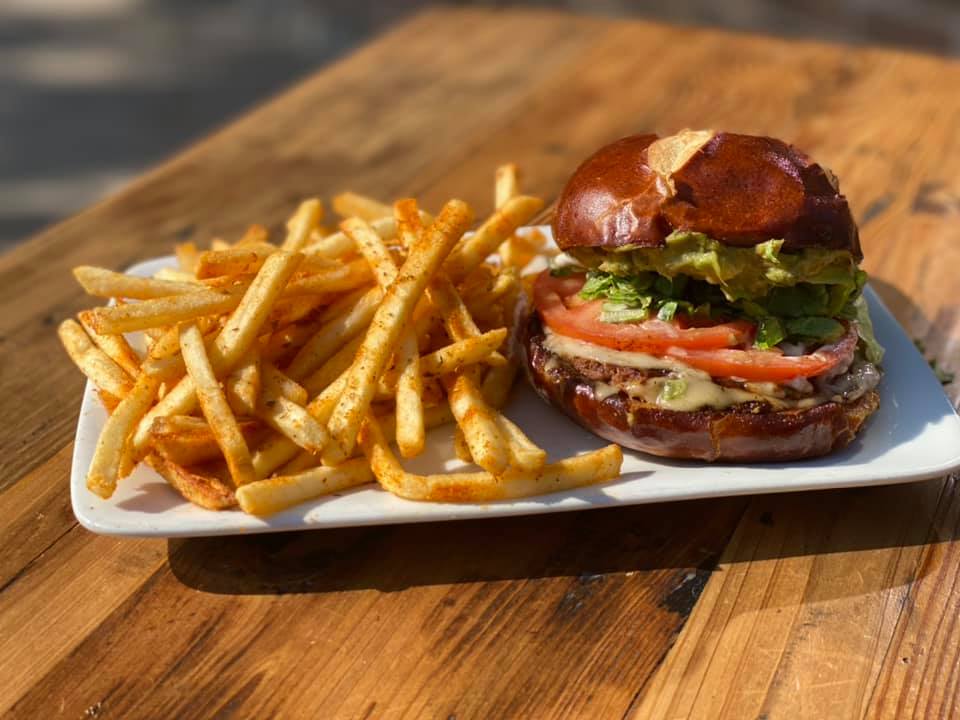 Trio Plant-Based
24 Trio Plant-Based in Minneapolis, MN
Founded in 2018 out of a mission of racial justice, Louis Hunter is now the sole owner of Trio, making it Minnesota's first Black-owned 100 percent plant-based restaurant. With classic soul food, burgers, wraps, cauliflower wings, and more on the menu this restaurant is a must-stop in Minneapolis.
Learn more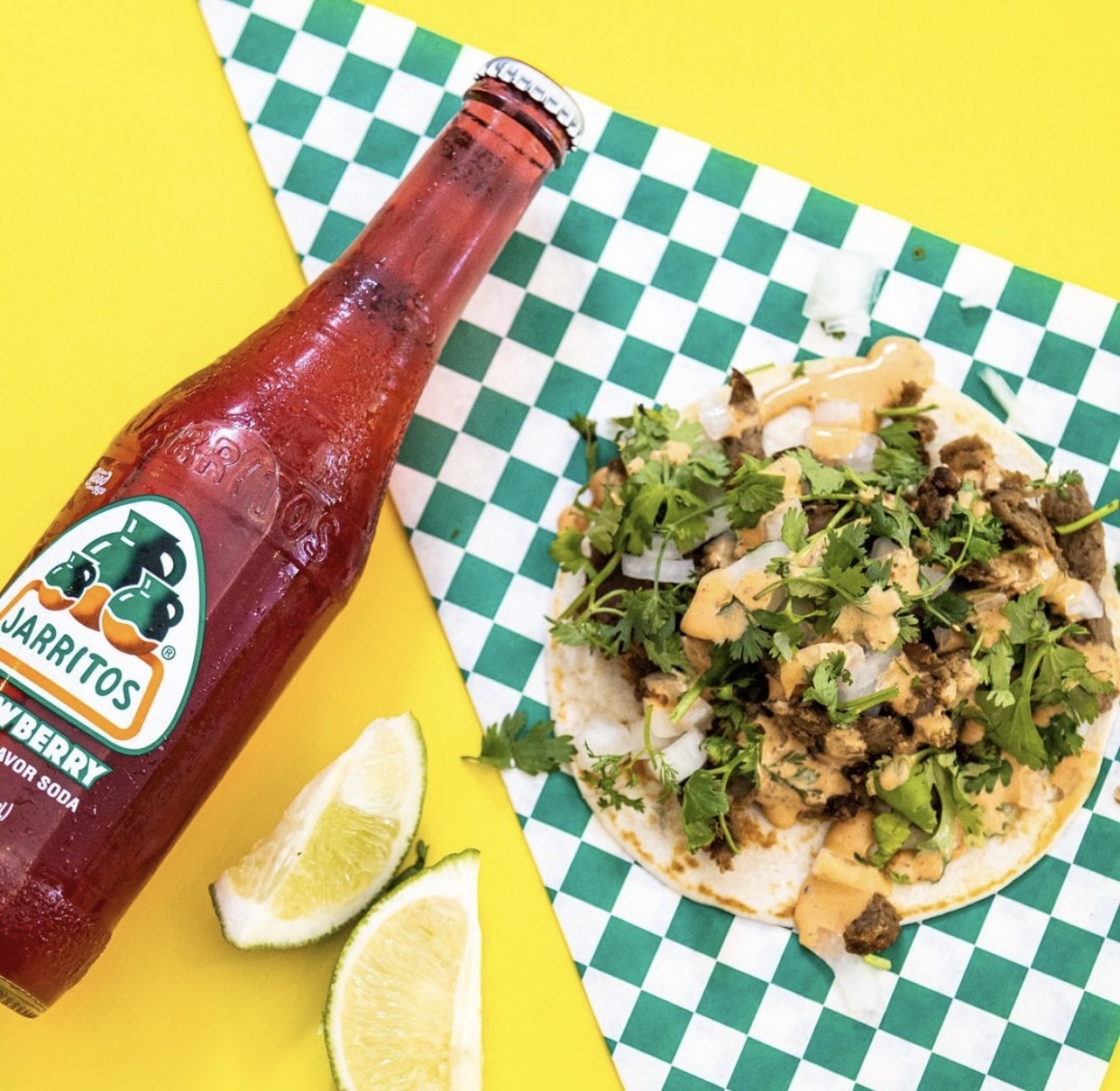 Chi Chi Vegan
25 Chi Chi Vegan in Atlanta, GA
Founder Chris Hodge made history after opening Atlanta's first brick-and-mortar vegan taqueria. Opened in 2020, the taco shop became an instant favorite thanks to its selection of vegan tacos (think carne asada, fish, and chicken and pineapple) and can't-miss Mexican-style street corn.
Learn more
For more Black-owned vegan businesses, read: