This month, New York City-based vegan burger hotspot Jerrell's Betr Brgr is opening a new location in Hoboken, NJ. Open until 4am on Fridays and Saturdays, Jerrell's Betr Brgr has come to be known as the it-spot for late-night munching. Its comfort food menu offers burgers featuring Impossible patties piled high with fixings such as vegan cheese, plant-based bacon, chili, jalapeños, and Jerrell's special sauce; along with waffle fries, oat milk soft serve, and shakes.
Jerrell's Betr Brgr owner Jerrell Obee founded the vegan burger joint because he wanted to offer a burger option that made customers feel good about themselves and the planet. "We love burgers—like real ones. But we also love this planet and know that we won't be eating [animal-based] burgers for much longer if things keep going the way they're going," the company's website states.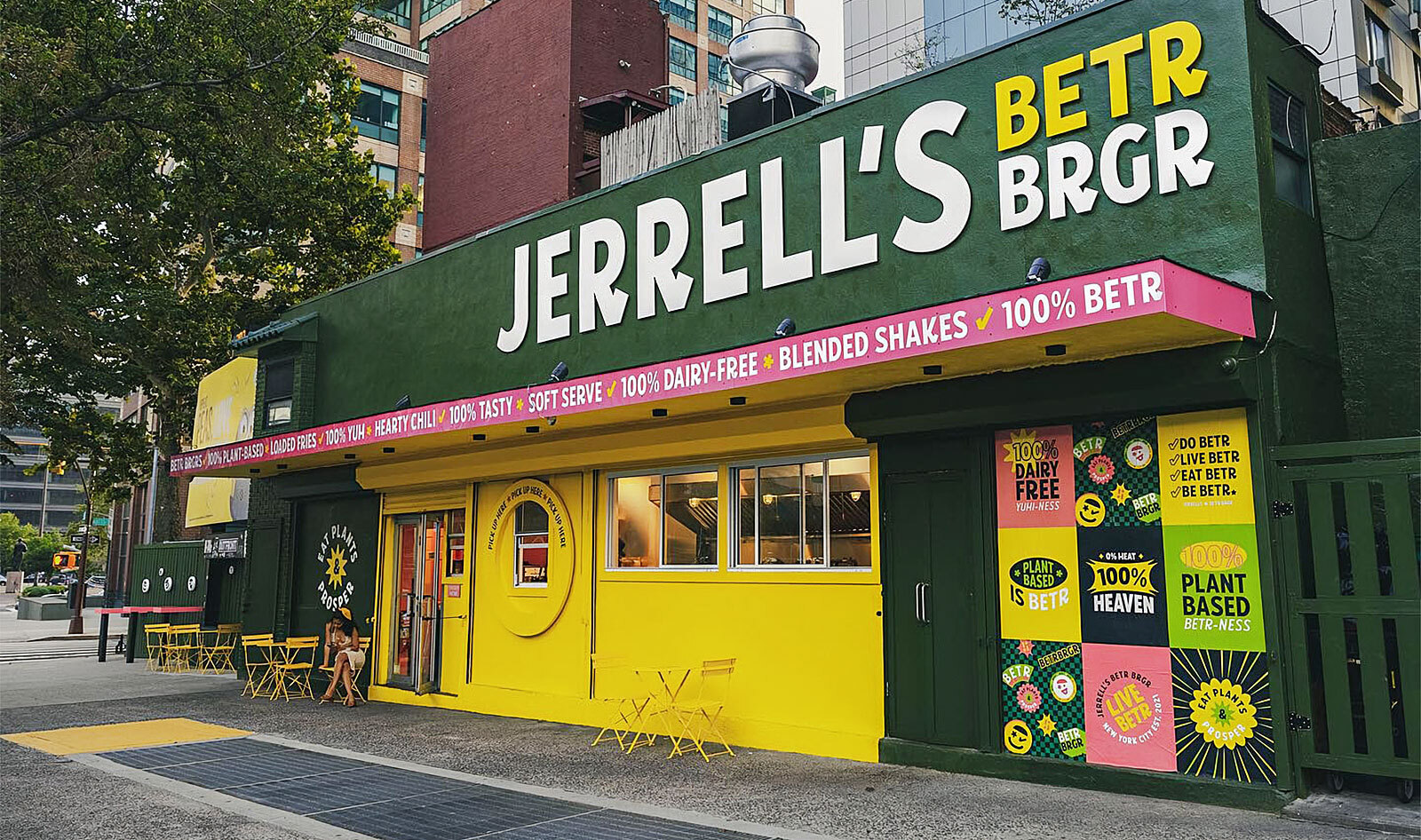 Jerrell's Betr Brgr
Betr Brgr cites major environmental benefits to replacing beef with plant-based meat, including , using 87 percent less water, 96 percent less land, and cutting water contamination by 92 percent.
Better vegan burgers
Obee opened the first location of Jerrell's Betr Brgr in the Soho neighborhood of New York City in 2021. Since then, the brand has amassed a cult following, with nearly 13,000 followers on Instagram and 12,000 followers on TikTok.
Obee believes that what sets his restaurant apart from others is having a really good vegan burger. "One of our missions was to have the title of best vegan burger in NYC," Obee tells VegNews. "According to Bloomberg, we have accomplished that. We are just so excited to have the opportunity to expand our reach further than just Manhattan."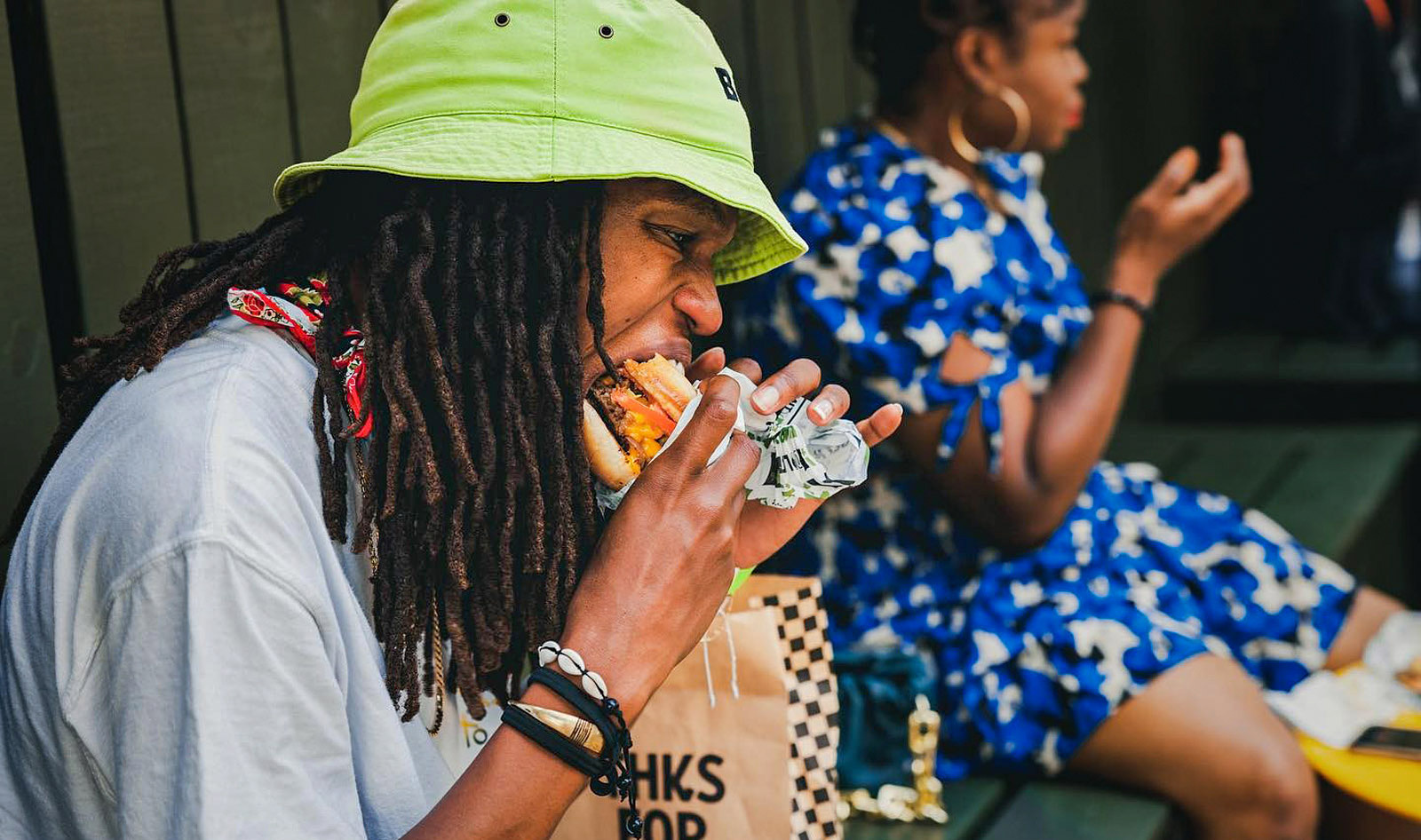 Jerrell's Betr Brgr
Though the team was originally looking at Brooklyn or Queens for its next move, Hoboken felt like the right home for the second location. "I chose Hoboken because Hoboken is an amazing place," says Obee, who previously worked as the managing director of facilities for the NY Waterway ferry company and Hoboken's Lackawanna ferry terminal was one of his locations.
"I became really familiar with Hoboken and fell in love with the neighborhood," he says. "I'm so happy I got to return to Hoboken and am super excited to be here."
Jerrell's Btr Brgr also hopes to expand to other NYC boroughs in the future, such as Brooklyn and Queens.
Slutty Vegan empire expands
In recent years, it seems that vegan burgers have fully penetrated the mainstream. One vegan chain making its mark is Atlanta, GA-based vegan burger eatery Slutty Vegan, which opened its first brick-and-mortar restaurant in 2019 to a crowd of 1,200 customers waiting to bite into hand-helds such as the provocatively named Sloppy Toppy, One Night Stand, and Fussy Hussy.
In less than six years, founder Pinky Cole built a $100 million business with her catchy slogans, signature vegan burgers, and vibrant energy.
Most recently, Slutty Vegan chain announced a third metro Atlanta location on Georgia Tech's campus, set to open next month.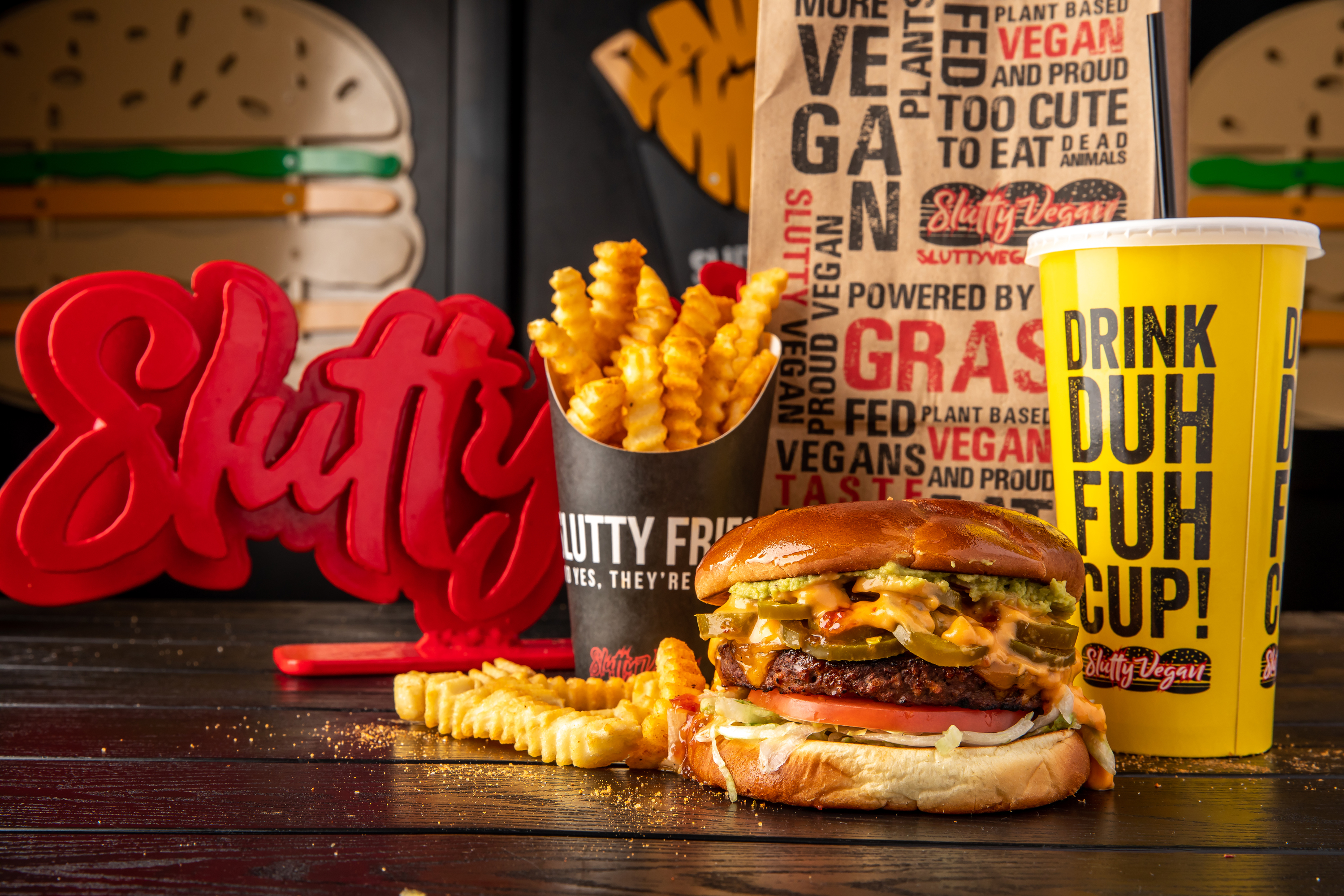 Madelynne Boykin
"We're so excited to grow with another location in our home city," Cole said in a statement. "This restaurant will sluttify campus with all the favorites and a menu that's ideal for a college student."
The new outpost will be the brand's ninth brick-and-mortar location, opening on the heels of its Harlem, NY location, which is soon to debut. The chain also has outposts in Athens, Georgia, Birmingham, AL and Brooklyn, NY, and is planning its first drive-thru concept for Columbus, GA later this year.
Celebrities get in on vegan burgers
Celebrities have also gotten into the vegan burger business. Last year, comedian and actor Kevin Hart opened vegan fast-food chain Hart House in Los Angeles.
The restaurant aims to compete with the likes of McDonald's with its American comfort classics remade with a plant-based twist, including burgers, chicken sandwiches, nuggets, French fries, and oat-based milkshakes, all made without high fructose corn syrup or preservatives.
Hart House
The Hart House brand is built around an assumption that fast food is not only moving in the plant-based direction but that this shift is inevitable and necessary. As such, the approach at Hart House is that the food is indulgent and familiar but not marketed around being vegan.
"I [wanted] to create a plant-based fast-food chain. Kind of really embrace the generation now … and put that option into the world of fast-food places that we've grown to love today," Hart explained on an episode of talk show The Late Late Show with James Corden.
"The goal is to see Hart Houses right smack dab in the middle of where you would see a McDonald's, a Burger King, a Chick-Fil-A, [and] a Wendy's [so] people can have the option for a plant-based taste, as well."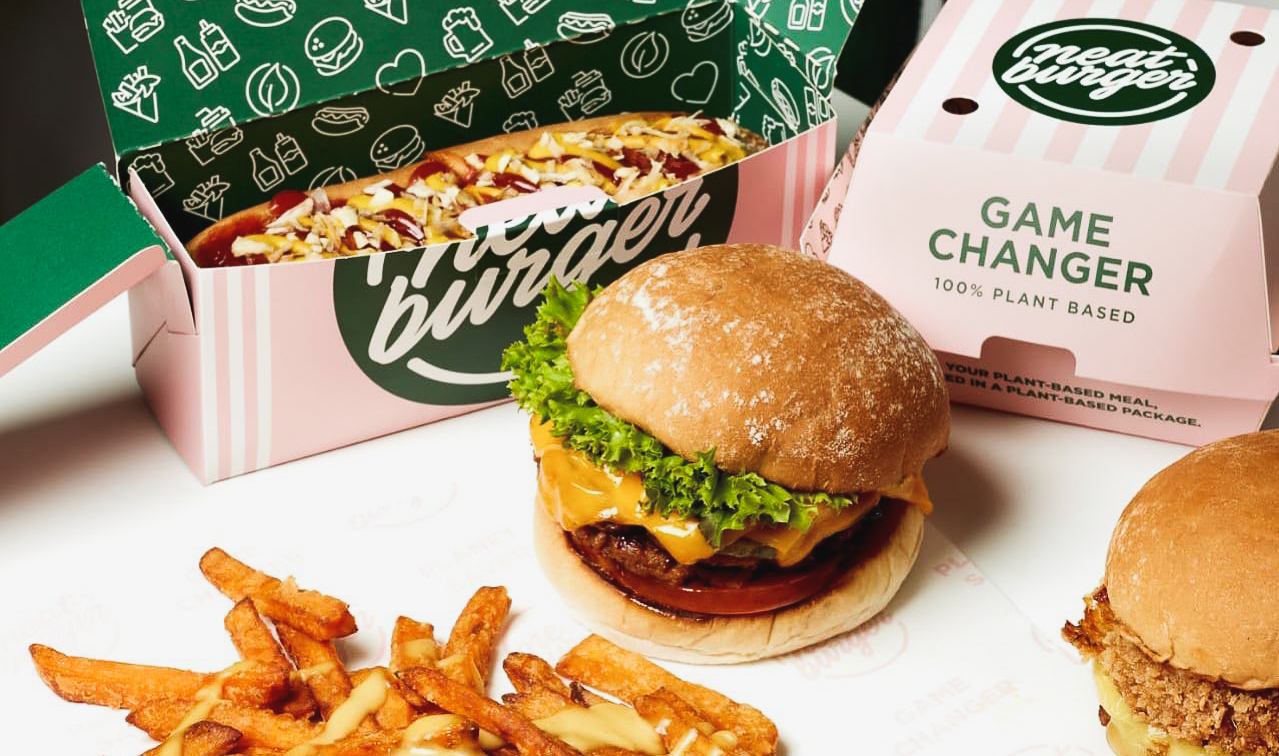 Neat Burger
Formula One race car driver Lewis Hamilton and actor and environmentalist Leonardo DiCaprio are also supporting vegan burgers as key backers of the London-based vegan fast-food chain Neat Burger, which opened its first United States location in New York City last year.
Founded in 2019, the shop serves typical fast-food fare made vegan, including plant-based cheese burgers, chicken burgers, hot dogs, tater tots, ice cream, and milkshakes, along with kids meals.
"Disrupting our food system with sustainable alternatives is one of the key ways we can make a real difference in reducing global emissions," DiCaprio said in a statement. "Neat Burger's pioneering approach to alternative-proteins is a great example of the type of solutions we need moving forward."
For the latest vegan news, read: