Soup is one of the oldest dishes in the world. In fact, experts believe that even Neanderthals ate soup (likely in the form of a meat broth), and they went extinct about 40,000 years ago. It's no surprise soup has remained a staple in society. To this day, the dish remains a delicious way to use up ingredients, keep us nourished, and warm up our insides at the same time. There's nothing like curling up with a comforting bowl of soup, slicing up some crusty bread (essential for dipping), and getting cozy, especially during the winter months.
So if you're feeling in the mood for a hot bowl of goodness, we've rounded up all of the best vegan soup options near you. And for the days when you just don't want to leave the house (we have all been there), we've also included some of our favorite recipes.
What makes soup vegan?
Soup is one of the easiest dishes to make vegan. This is because it can be made out of virtually any ingredient that you want (seriously, in Tokyo, even chocolate ramen soup is a thing). While many soups include animal products like chicken or dairy yogurt, these ingredients are far from essential when it comes to a hearty, comforting soup. If you're after a creamy texture, potatoes or sweet potatoes are a great addition, thanks to their naturally thicker texture. But you can also add dairy-free milk or cream if you prefer. For thinner soups with a clearer appearance and more watery texture, all you need is your favorite vegetables and some liquid stock.
Vegan soup at restaurants
Soup is a quick, easy, and comforting lunch option to enjoy at home, but it's also one of the best ways to start a meal out, which is why a number of restaurants offer it as an appetizer or starter option. Unfortunately, a number of soups on mainstream restaurant menus contain dairy cream or animal ingredients. But not all of them! Here are a handful of popular US restaurant chains that offer vegan soup options. And of course, it's always worth checking out a few local vegan restaurants to see if they offer more choices.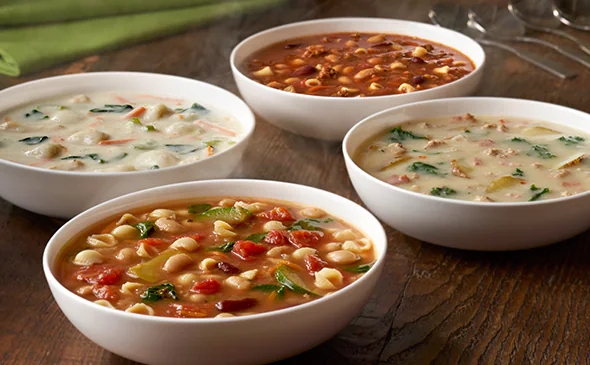 Olive Garden
1 Olive Garden
For a family night out, Olive Garden is a popular choice. And luckily, if you're heading there as a vegan, you won't have to survive on breadsticks alone. The popular fast-casual chain offers a handful of plant-based options, including Spaghetti with Marinara Sauce and, to start, a hearty bowl of minestrone soup, which features vegetables, beans, and pasta in a tomato broth.
find it here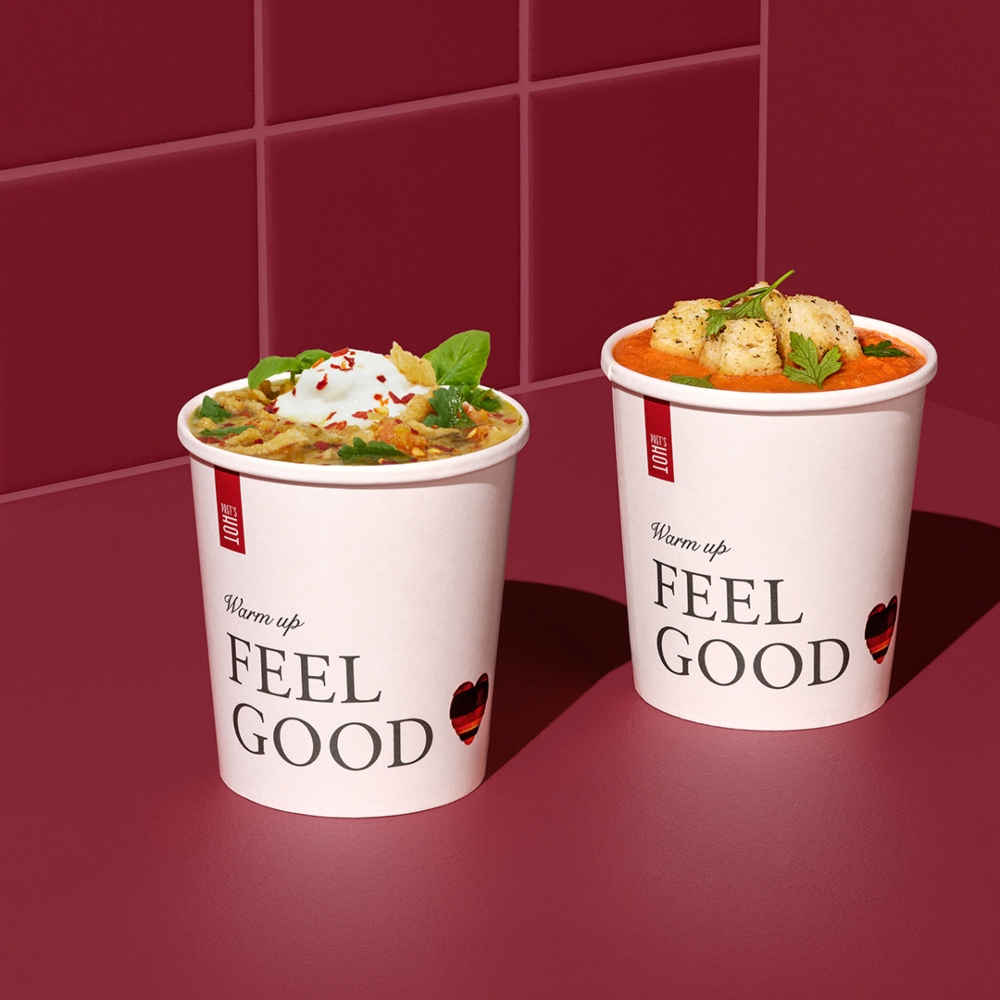 Pret A Manger
2
Pret A Manger
While it's a British coffee shop staple (and on virtually every corner in London), Pret A Manger also has several locations in the US. If you happen to live nearby, you'll be pleased to know there are a few vegan options on the menu, including a small selection of veggie soups, including the Moroccan Lentil Soup and the Roasted Veggie Harvest Soup.
find it here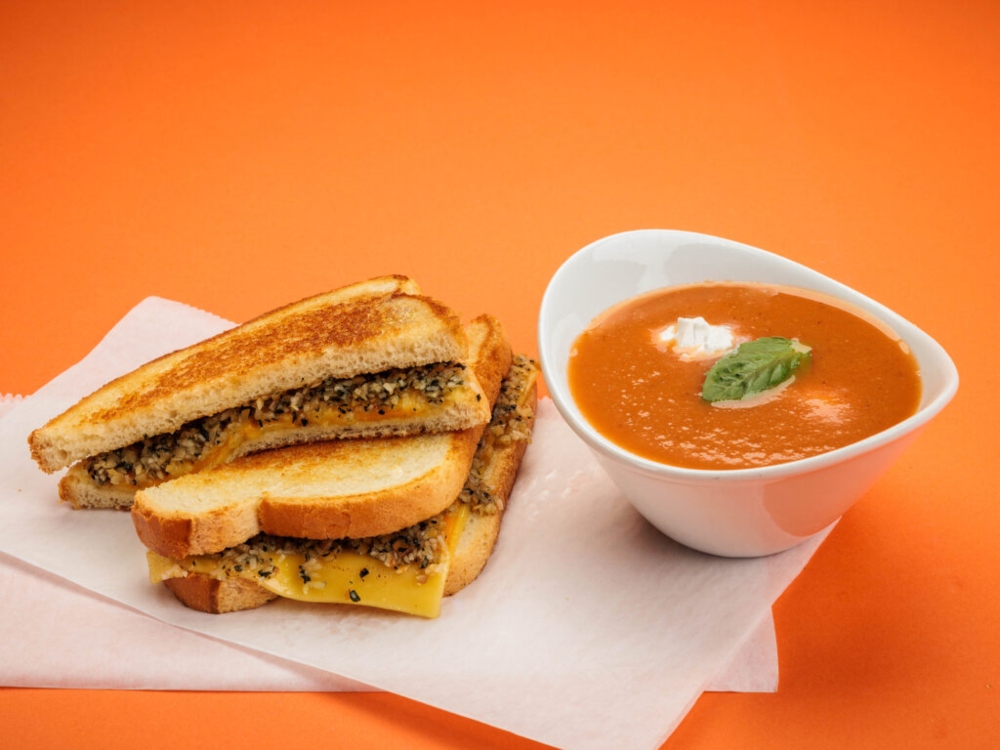 Native Foods
3
Native Foods
Back in the 1990s, Native Foods started out in Palm Springs, CA. And since then, this 100-percent plant-based joint has also branched out to Oregon, Colorado, and Illinois. The menu is often changing, with new chef's specials and seasonal offerings. This winter, a tomato bisque is on offer, which you can order alongside an equally comforting pesto grilled cheese sandwich.
Find it here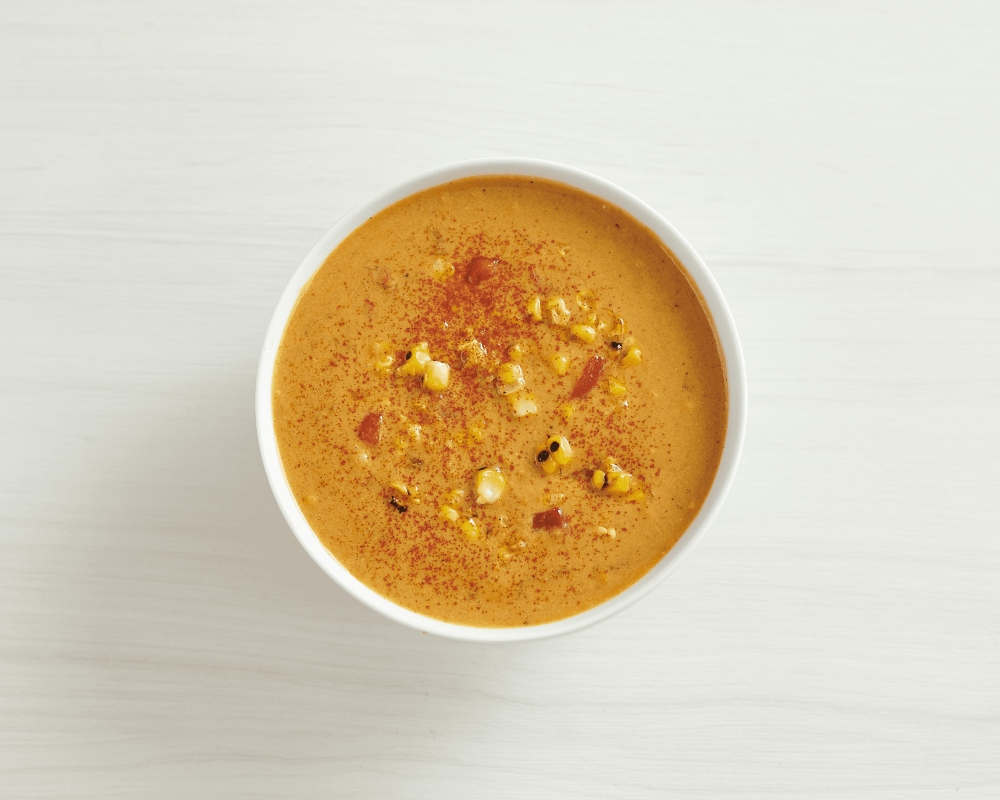 Veggie Grill
4
Veggie Grill
When it comes to vegan food that caters to every mood and preference, there's nowhere like Veggie Grill. On those days when you're in need of a wholesome pick-me-up, order the Smokey Corn Bisque soup, which consists of coconut milk, roasted corn, red peppers, spices, and more.
Find it here
Vegan soup at supermarkets
One of the easiest, and often most affordable, vegan options to find on supermarket shelves is, you guessed it, soup. Here are some of the best options you can grab next time you head to the grocery store.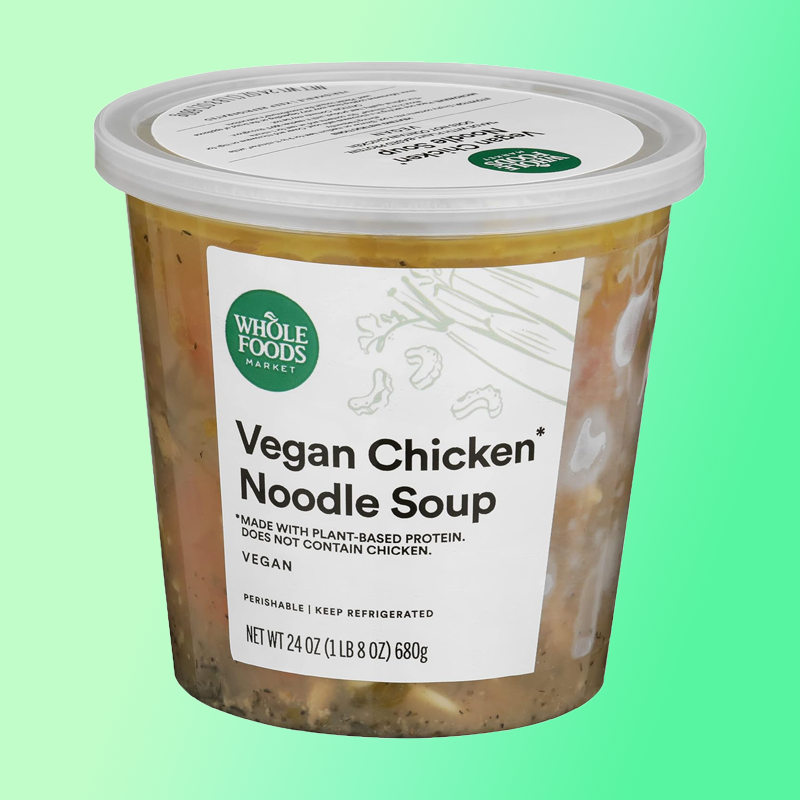 Whole Foods
1 Whole Foods
One of the most popular soups in the US is chicken noodle soup. But, unfortunately, as the name indicates, this broth isn't usually vegan. That's unless you're in Whole Foods Market, where you grab a tub of vegan chicken noodle soup from the deli counter, alongside a number of other veggie-based options.
Check it out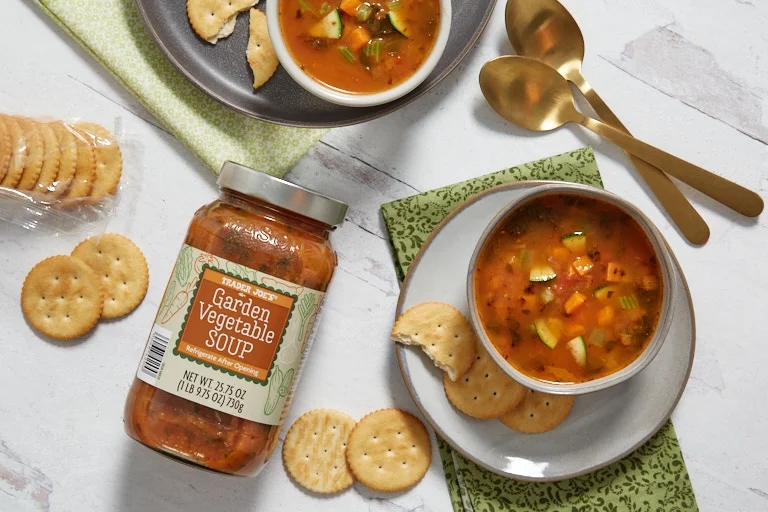 Trader Joe's
2 Trader Joe's
Trader Joe's offers a number of hearty soups, including its own Organic Lentil Vegetable Soup, which you can pick up in-store for less than $2 a can. Its Garden Vegetable Soup, which is loaded with sweet potatoes, carrots, onions, tomatoes, zucchini, and more nutritious veg, is also vegan.
Check it out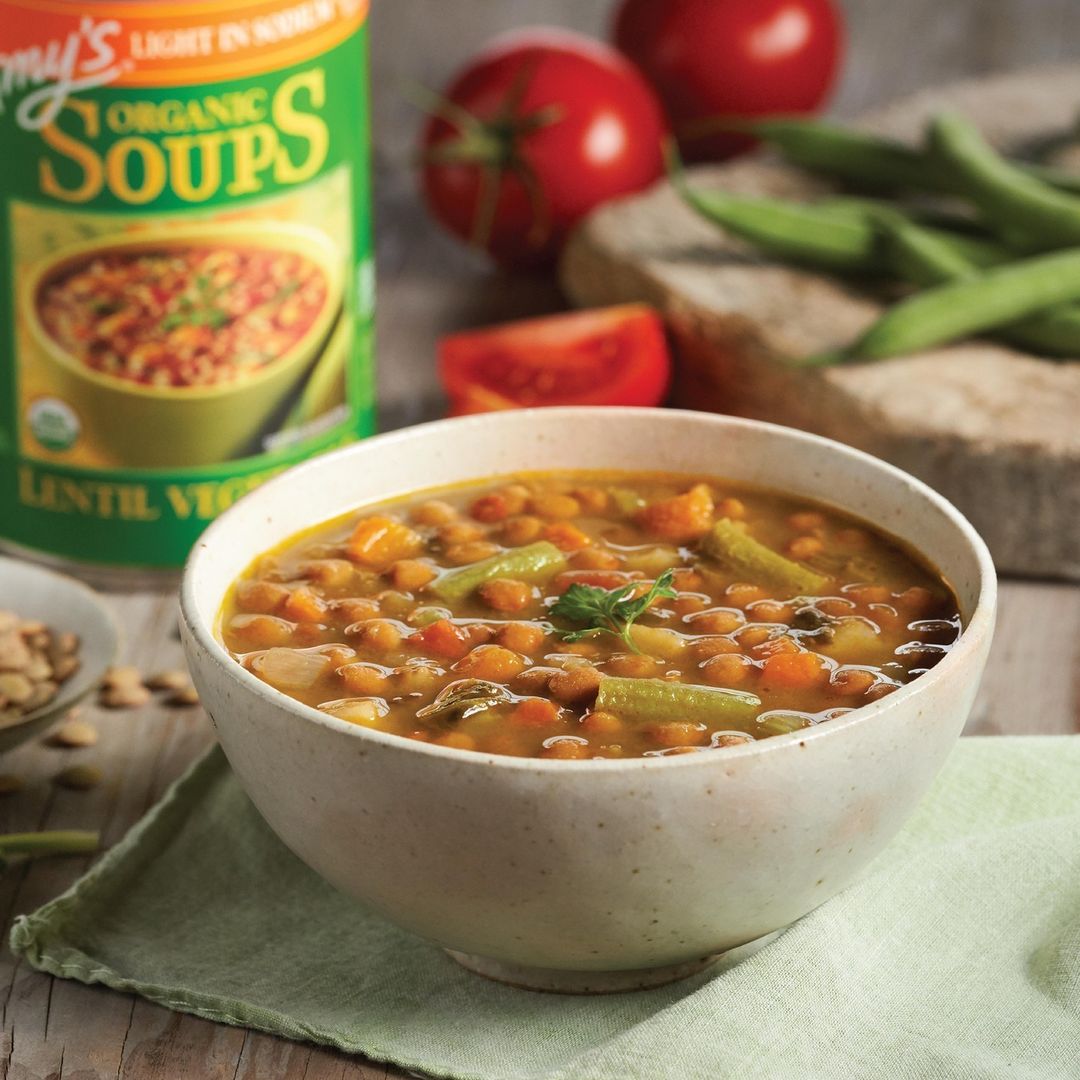 @amyskitchen/Instagram
3 Walmart
Again, if you're craving chicken noodle soup but don't fancy the actual chicken part, you can grab a can of Garden's Plant-Based Chick'n Noodl' from Walmart. The supermarket giant also offers vegan soup from Amy's, Pacific Foods, and Campbell's, as well as vegan miso soup from Annie Chun's.
Check it out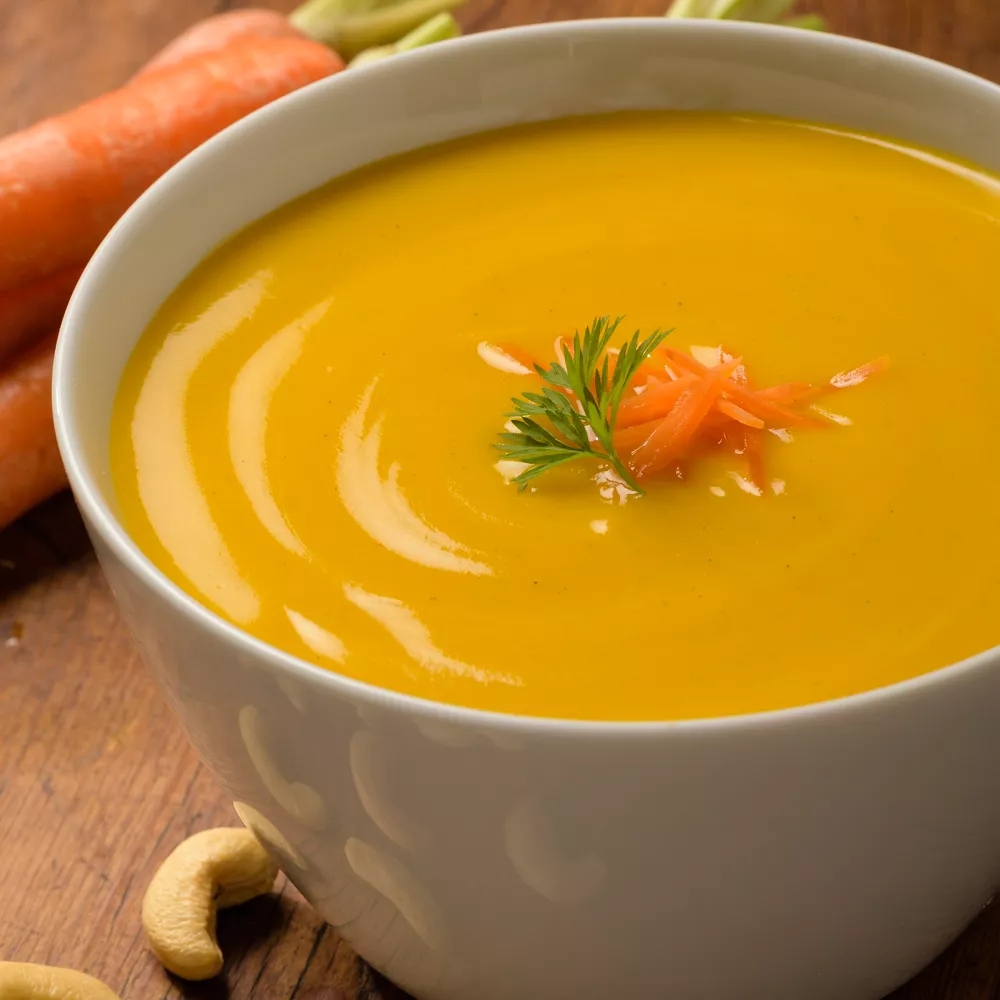 Pacific Foods
4 Target
Target's range of vegan soups is very similar to Walmart's. You can grab a vegan creamy Cashew Carrot Ginger soup from Pacific Foods, for example, or if you prefer something with a little kick, try Amy's Organic Plant-Based Gluten-Free Tortilla Soup. For something a little meatier, the chain also stocks Gardein's new Plant-Based Be'f & Vegetable soup.
Check it out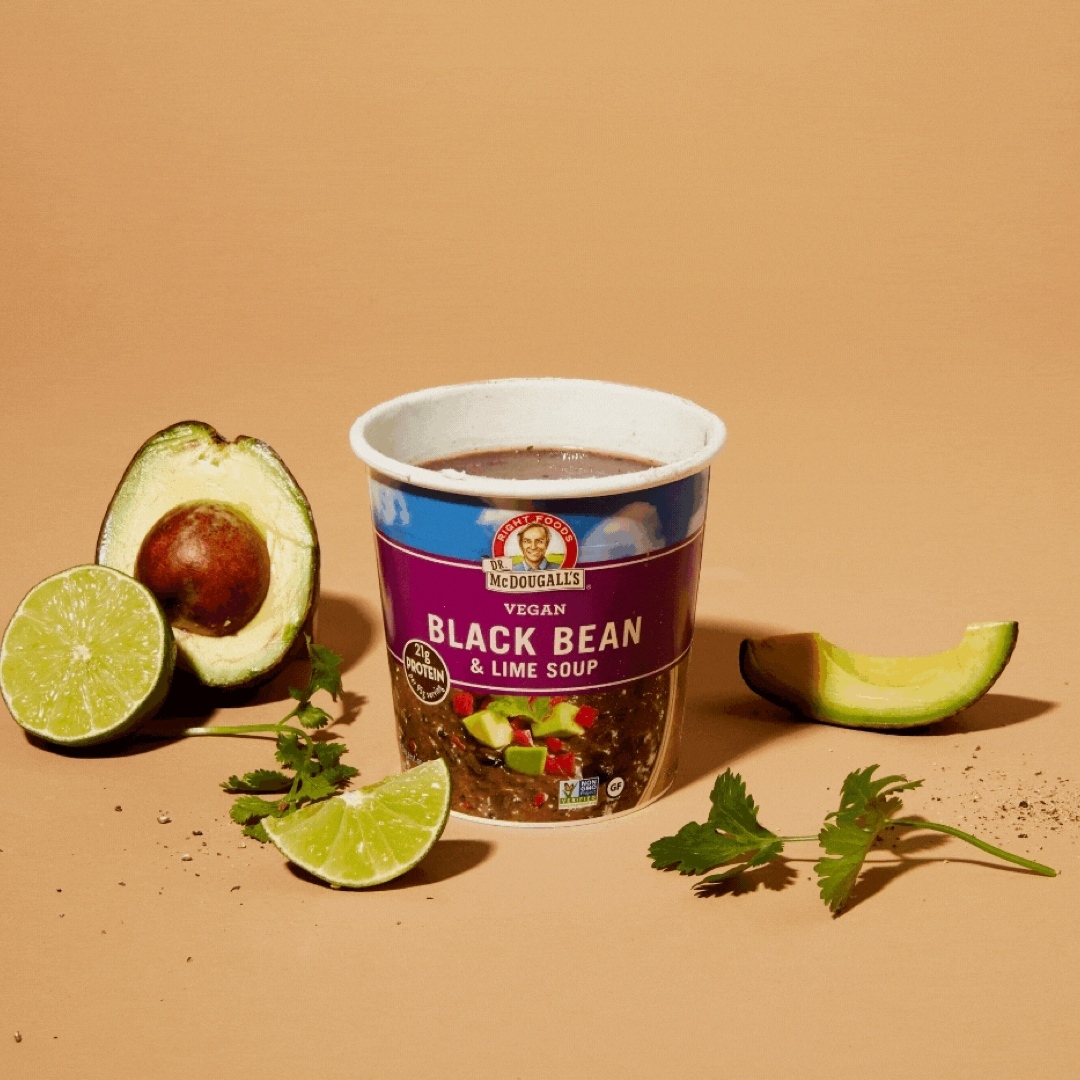 @rightfoods/Instagram
5 Kroger
If you fancy something a little different from the standard veggie soups that are usually on offer, but you still want to prioritize nutrition, Kroger offers Dr. McDougall's range of wellness soups. You can grab everything from Vegan Pad Thai Noodle to Vegan Black Bean & Lime to Hot and Sour.
Check it out
Best vegan soup recipes
While restaurant soups and store-bought options all have their place, there's nothing like a hearty, comforting bowl of homemade soup, cooked exactly to your liking (because it was cooked by you!). If you're in the mood for soup, but you're not sure what kind to make, here are some of our top suggestions.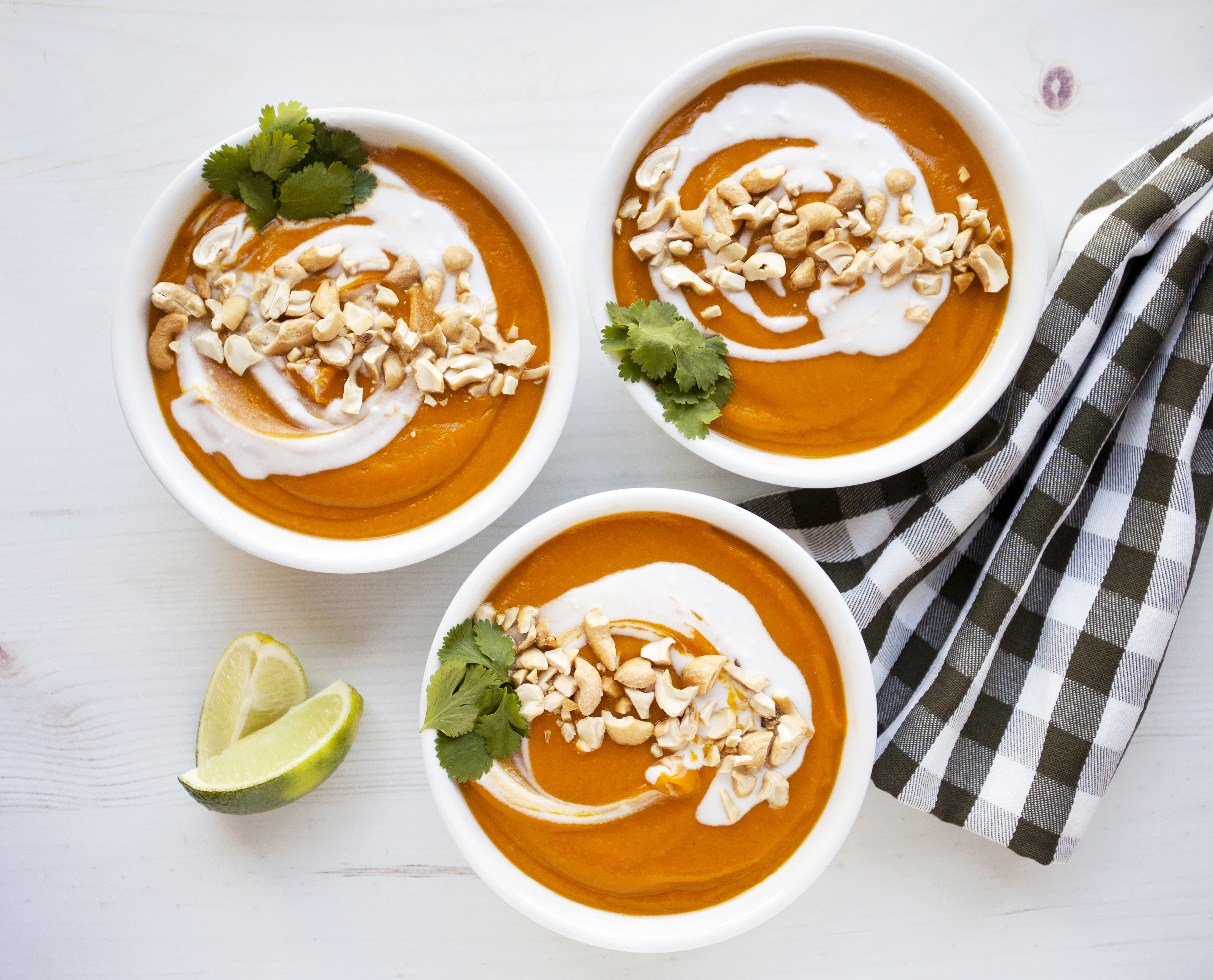 Amy Angela
1 Carrot Ginger Turmeric Soup
Packed with nutrients (thanks to carrots, sweet potatoes, onions, and ginger), this soup is ideal for those days when you're feeling a little under the weather. Serve with crusty bread to nourish yourself back to top form again.
Get the recipe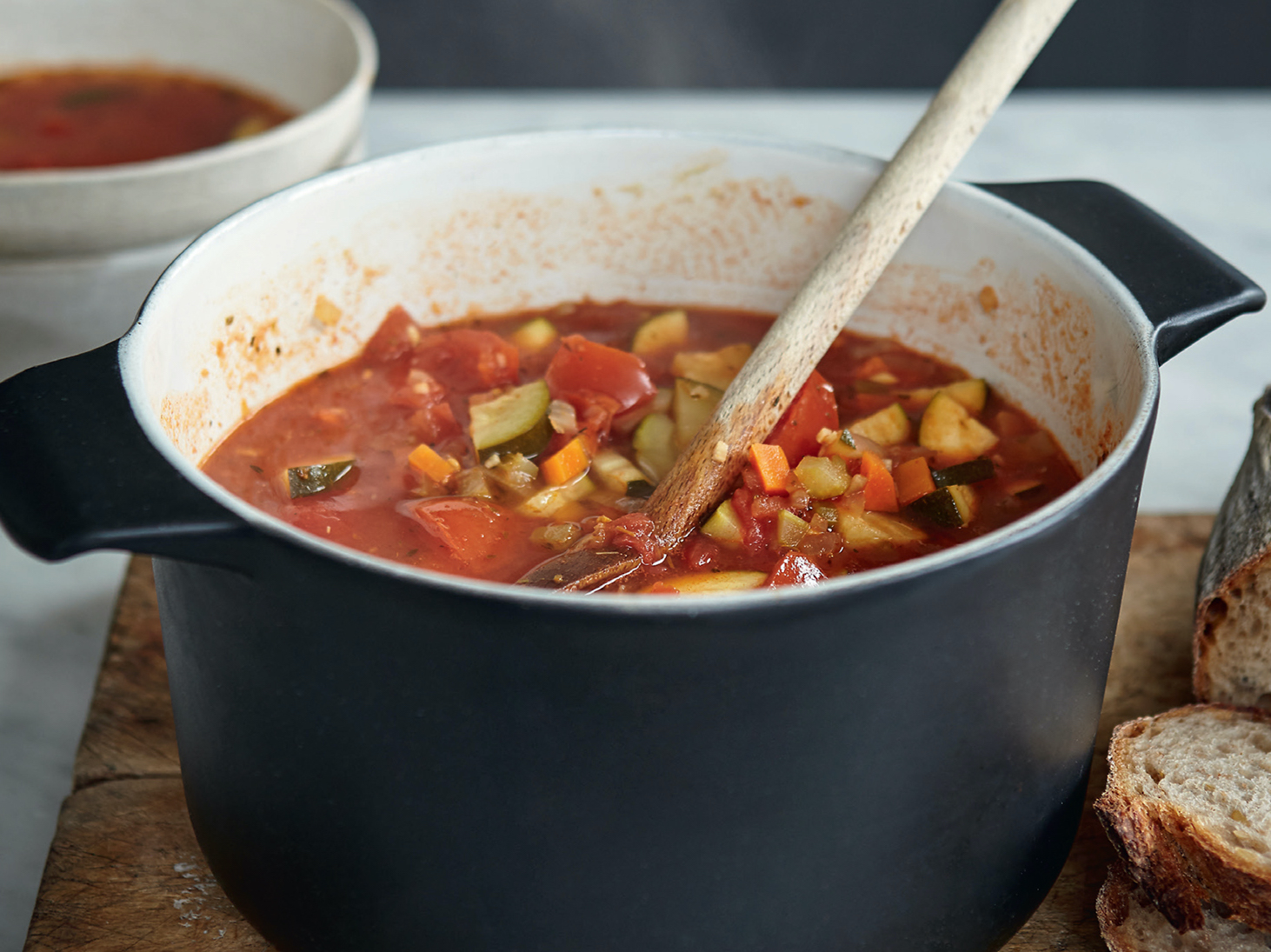 Nassima Rothacker
2 Italian Vegetable Soup
No one does comfort food like the Italians. On chilly, drizzly winter days, this vegetable-loaded soup is guaranteed to make you feel well cared for, cozy, and warm inside.
Get the recipe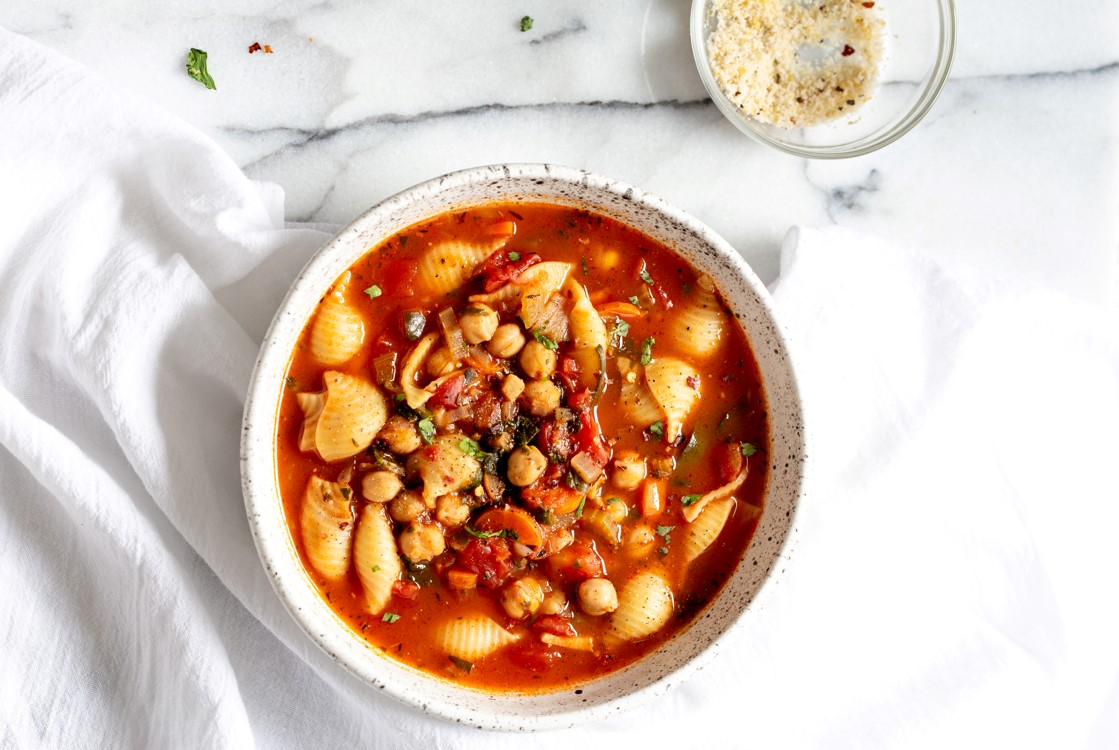 Richa Hingle
3 Instant Pot Minestrone Soup
If you have an Instant Pot, you're going to want to give this easy, quick minestrone a whirl. It's great for those days when you just want something nutritious, without having to prepare a big meal.
Get the recipe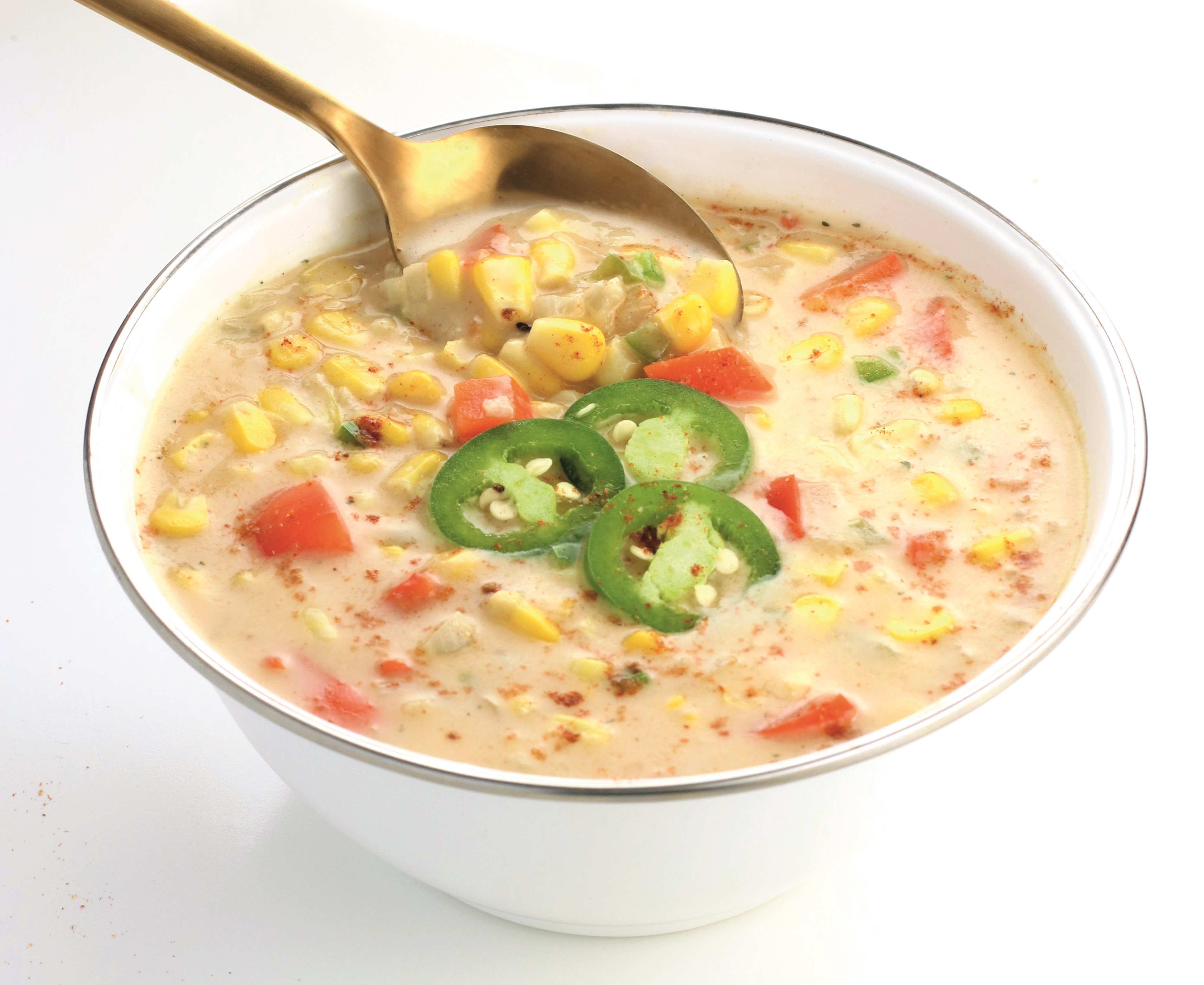 Sam Turnbull
4 Sweet and Spicy Corn Soup
If you love a little bit of heat in your food, this sweet and spicy corn soup, which calls for jalapeños for an extra kick, is right up your street. It's also quick to make, and it won't break the bank either.
Get the recipe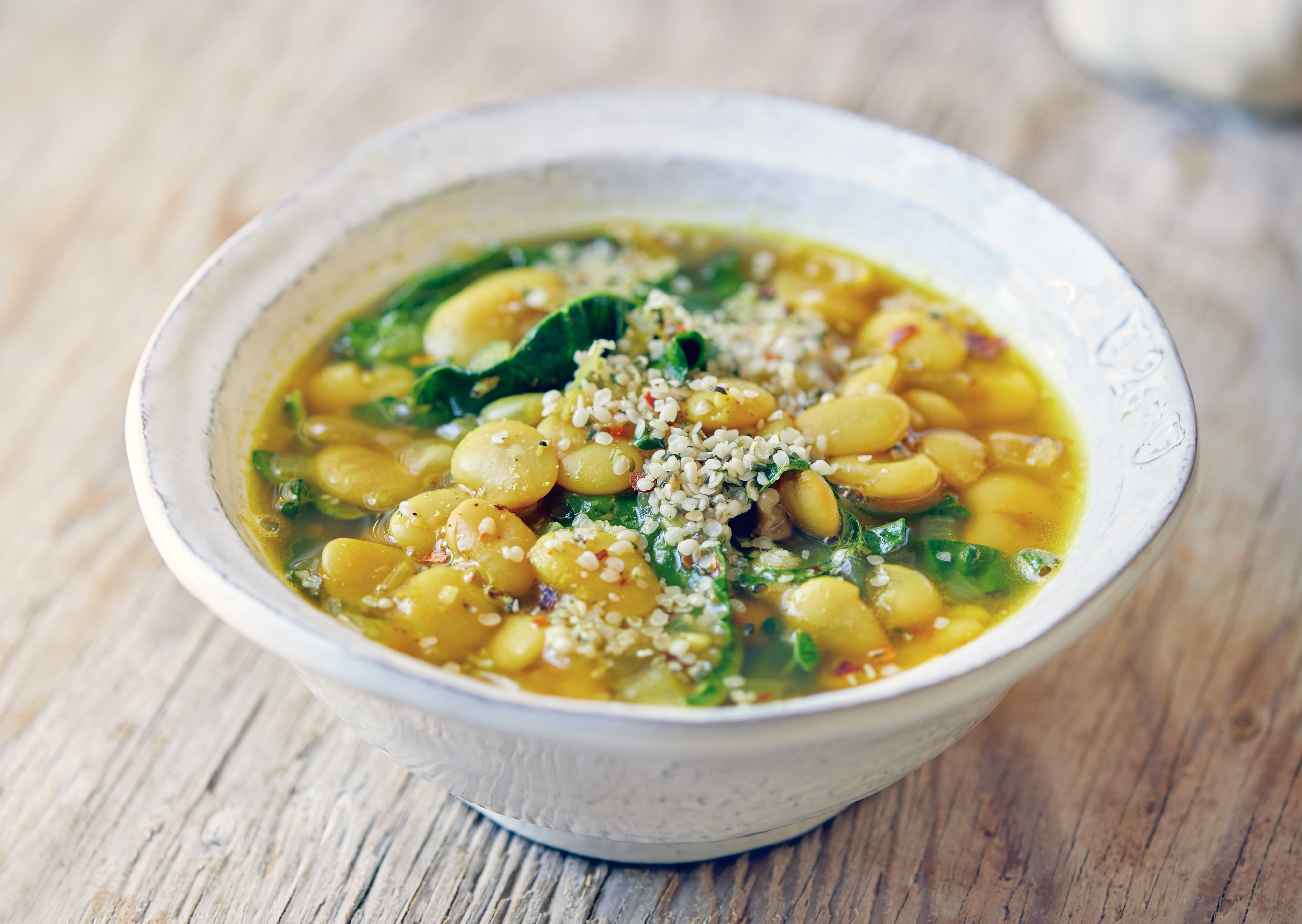 Oliver Barth
5 Garlicky Butter Bean Soup
For the days when you feel like your insides need a little bit of comfort and healing, treat them to this nourishing bowl of garlicky butter bean soup. For an extra boost of nutrition, serve with a topping of your favorite leafy greens.
Get the recipe
For more on vegan food near you, read: