Trader Joe's has become a cult-favorite grocery chain for a reason. From constantly keeping its customers on their toes with new product launches to making a firm commitment to reducing its plastic usage for the benefit of the environment, this chain knows how to stay ahead of the trend. Read on for your definitive list of all the vegan items at this iconic grocery chain you need to add to your cart.
Trader Joe's launches new vegan products
Trader Joe's has reigned as king of snacks for years, thanks to its exclusive private label goods. And many of those snacks have long been vegan.
And while Trader Joe's products have a reputation for passing in and out of the store relatively quickly, over the years the popular grocer has carried plant-based products such as dairy-free cheesecakes, vegan ranch dip with a coconut-milk base, ultra-high protein vegan burger patties, and four packs of deliciously sweet and fluffy vegan vanilla cupcakes. While these products may no longer be on the shelves at the grocer, they have been replaced by numerous new and exciting products.
And Trader Joe's has big plans for the future with plans to add even more vegan seafood to the chain's offerings. Amy Gaston-Morales, category manager of Deli, Frozen Meat, Seafood, Meatless, and Fresh Beverage at Trader Joe's revealed, "We don't have options yet within our stores for a plant-based seafood product but there are crab cakes out on the market or scallops or tuna replacements. So we're really looking more at the seafood to make sure that we've covered all the proteins that customers are familiar with and bringing in the best versions of those."
Vegan products at Trader Joe's
While we can't wait to see what's next from this cult-favorite grocery chain, for now, we are turning our attention to the currently offered, over 70 plant-based products on the shelves and in the freezer aisles at Trader Joe's.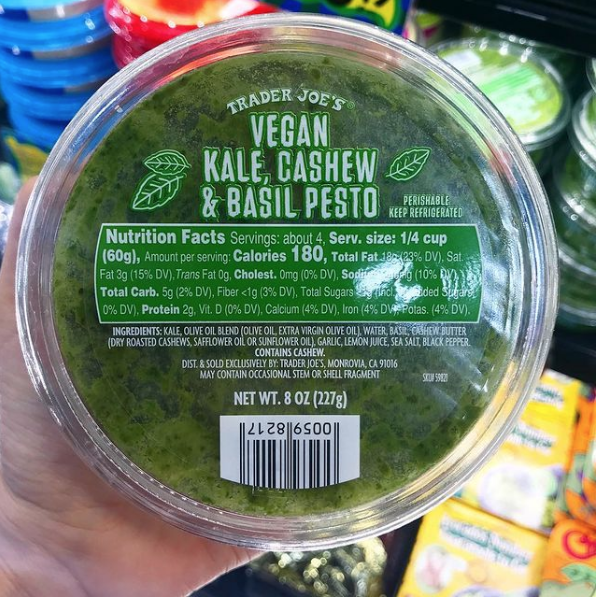 VegNews
1 Vegan Kale, Cashew, and Basil Pesto
From stirring into fusilli pasta to spreading on toasted baguettes, this flavorful vegan, dairy-free pesto is an absolute must-buy.
Trader Joe's
2 Vegan Salmonesque Spread
All the flavor of smoky salmon, without the fish. Dress up those morning bagels with this salty, creamy caper- and dill-studded fish-less spread.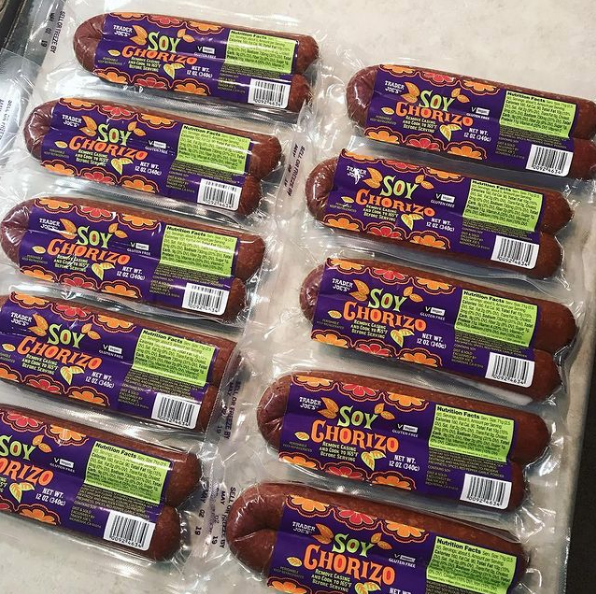 @laveganmami/Instagram
3 Soy Chorizo
Add this to a vegan breakfast burrito with potatoes, tofu scramble, avocado, and salsa. You'll thank us later.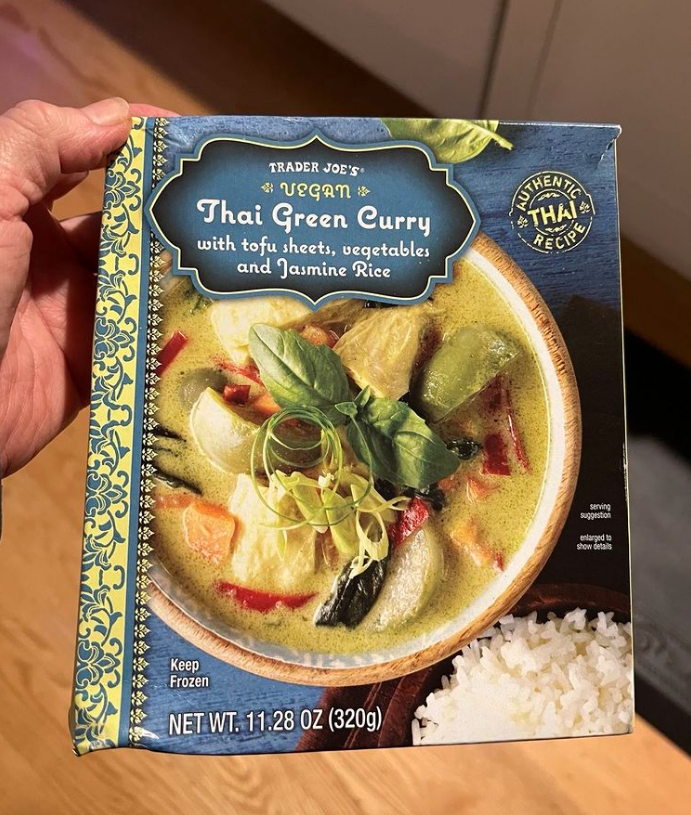 @crandel53/Instagram
4 Thai Green Curry
Made with tofu sheets, vegetables, and fluffy Jasmine rice; this easy dinner or lunchtime meal is packed with flavor.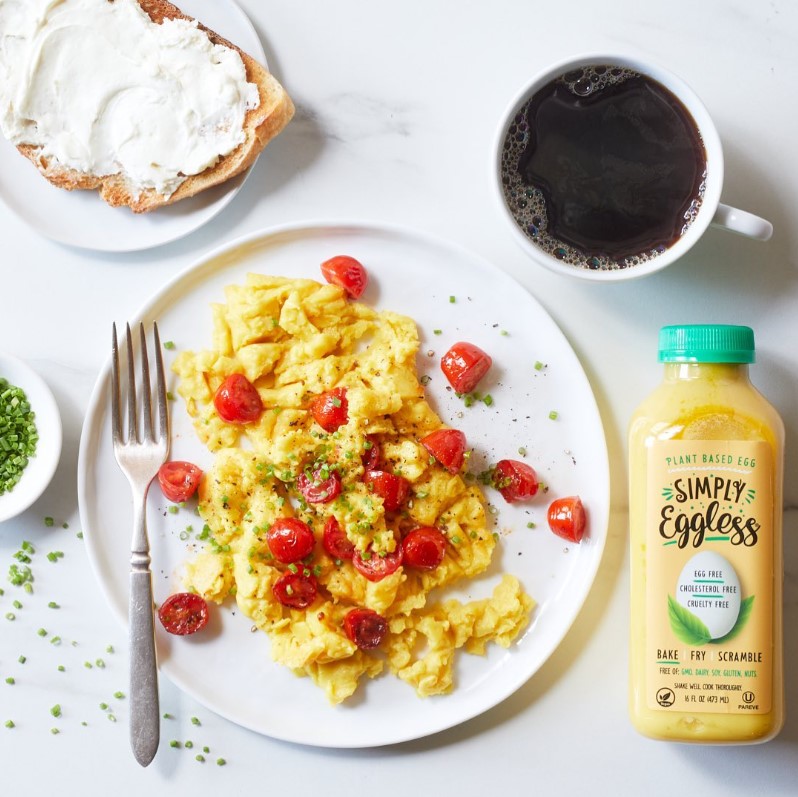 Trader Joe's
5 Simply Eggless Egg Scramble
This eggless scramble, once shaken and cooked well, makes a wonderfully fast breakfast scramble. Try it layered into breakfast burritos and added to English muffin breakfast sandwiches.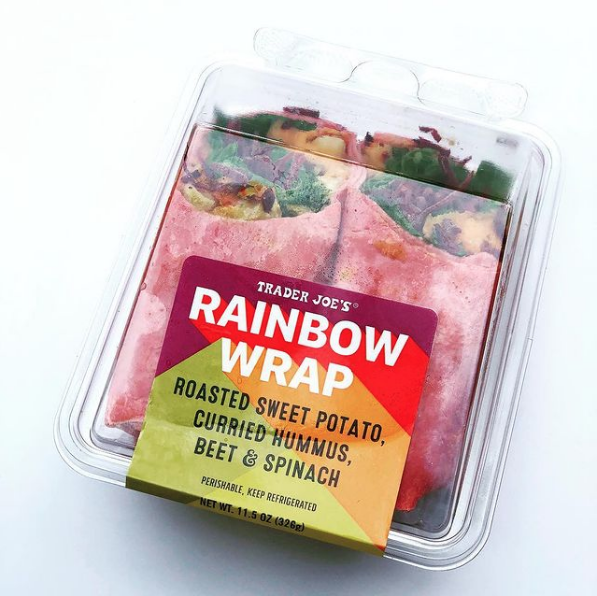 @onmyveganish/Instagram
6 Rainbow Wrap
On your lunch break? Grab this veggie-filled, ready-to-eat wrap.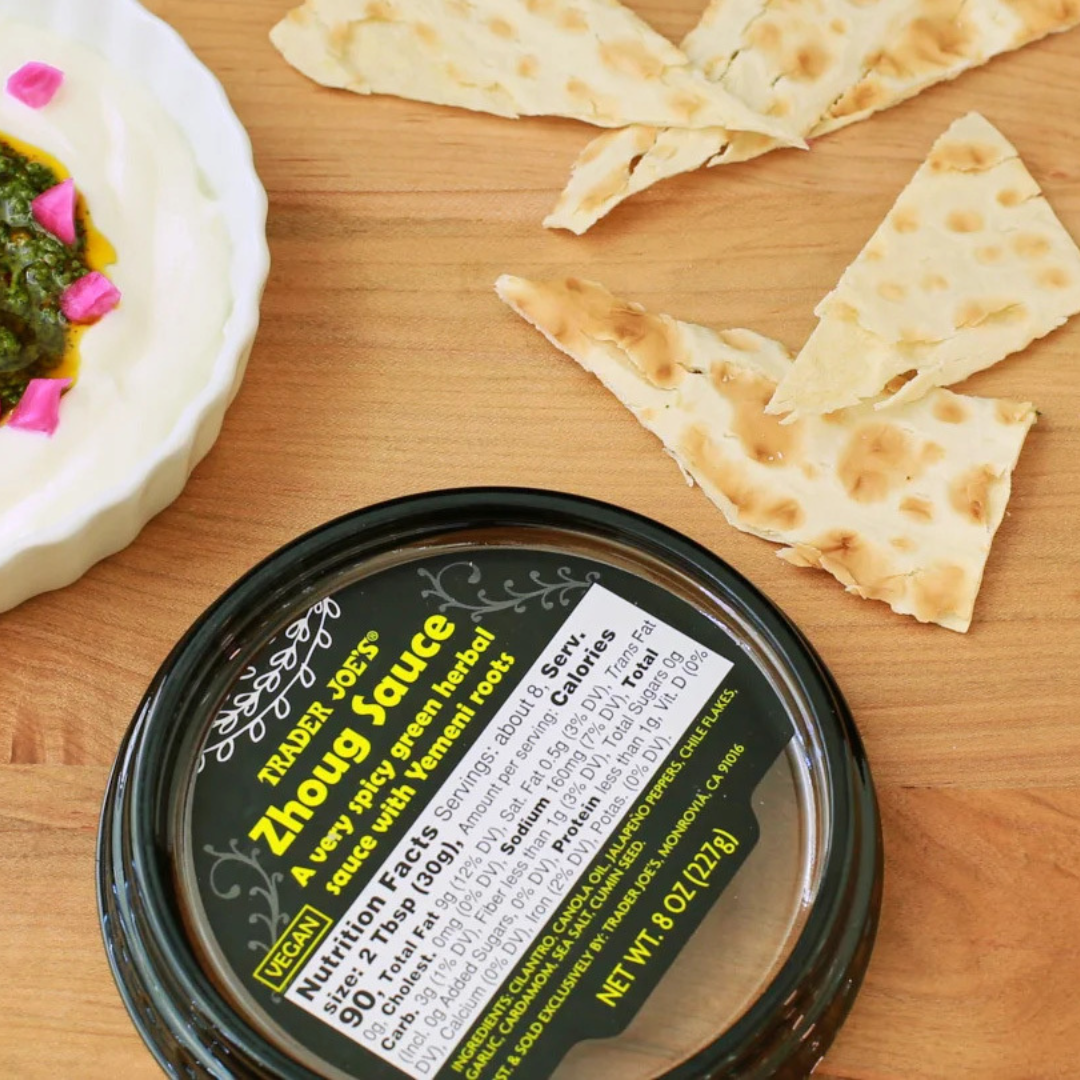 Trader Joe's
7 Zhoug Sauce
This Yemeni-inspired sauce features fresh cilantro, spicy jalapeños, garlic, cardamom, and sea salt.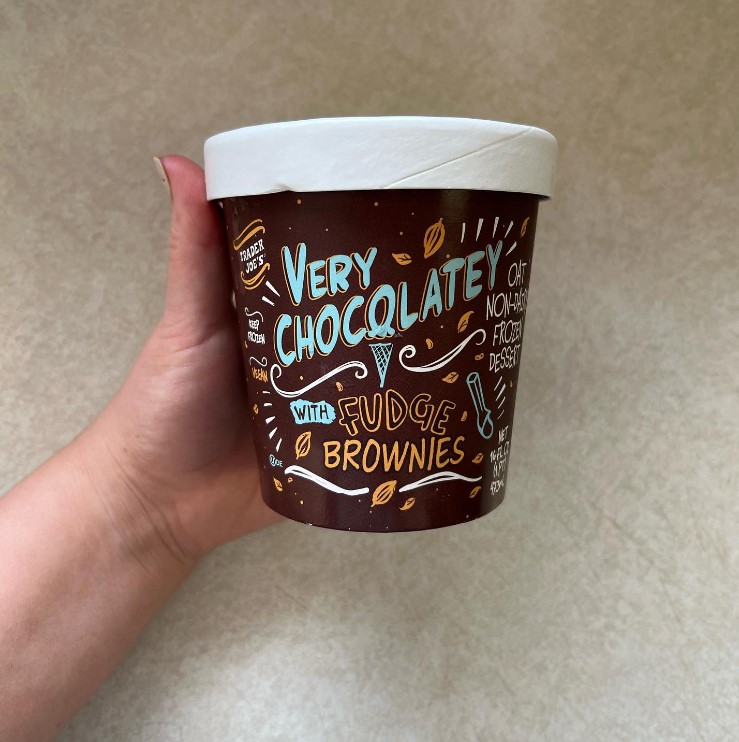 @nottherealtraderjoe/Instagram
8 Very Chocolatey Ice Cream
Savor the fudge brownies studded throughout this rich, oat-based, dairy-free ice cream pint. Want to up the chocolate factor? Drizzle with vegan chocolate magic hardshell for one dreamy dessert.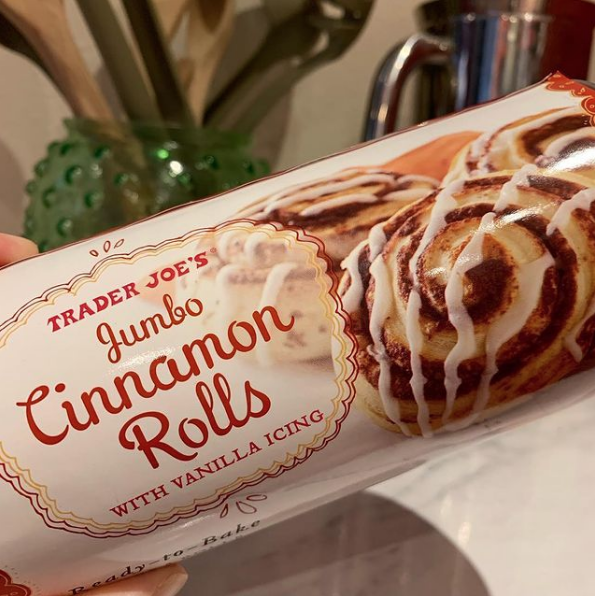 @ap_vegan
9 Trader Joe's Jumbo Cinnamon Rolls
Yup, these cinnamon rolls are accidentally vegan. Look out for the seasonal pumpkin version that appears every fall.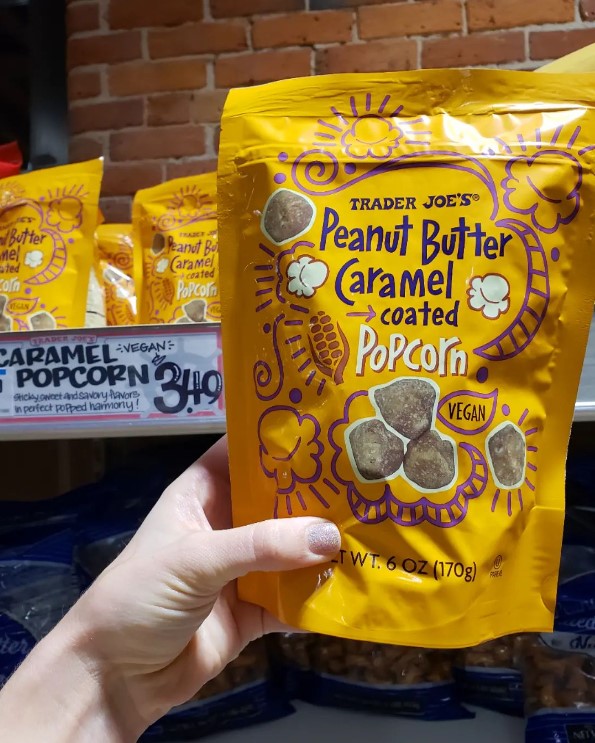 @vegexpertboston/Instagram
10Peanut Butter Caramel Coated Popcorn
Trader Joe's maintains its title as the go-to snack spot with these sweet, salty, crunchy caramelly bites. Our next movie night will definitely involve these snacks.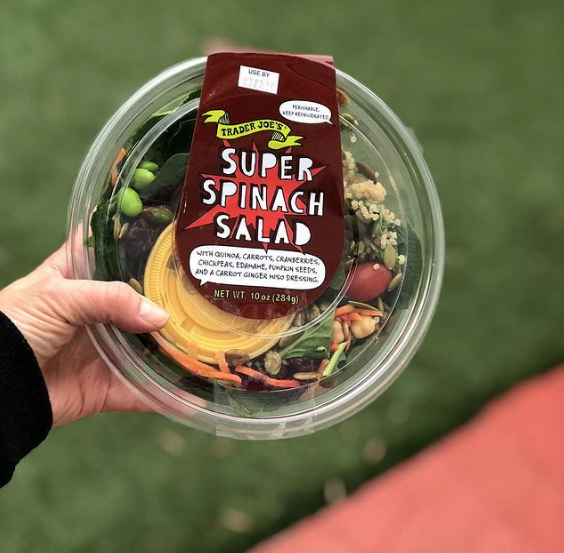 Spork Foods
11 Super Spinach Salad
Quinoa, carrots, chickpeas, spinach, pumpkin seeds, and edamame are doused in a carrot ginger miso dressing for a colorful and healthy lunch.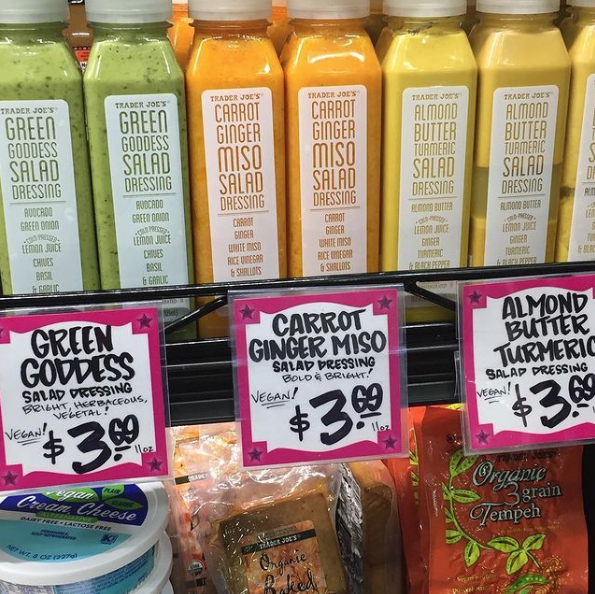 @kimberleigh.coyne/Instagram
12 Salad dressings
Almond Butter Turmeric, Green Goddess, or Carrot Ginger Miso? Don't worry; they're all delicious.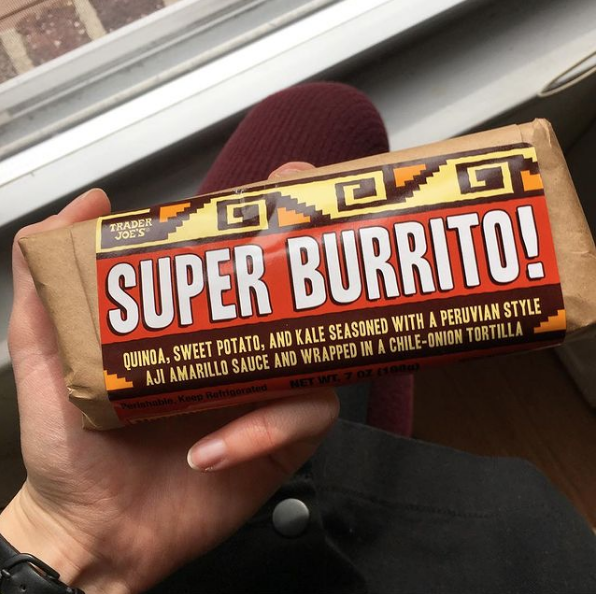 @the1azyvegan/Instagram
13 Super Burrito
Is there anything better than a big, filling, veggie-loaded burrito? We're going with no.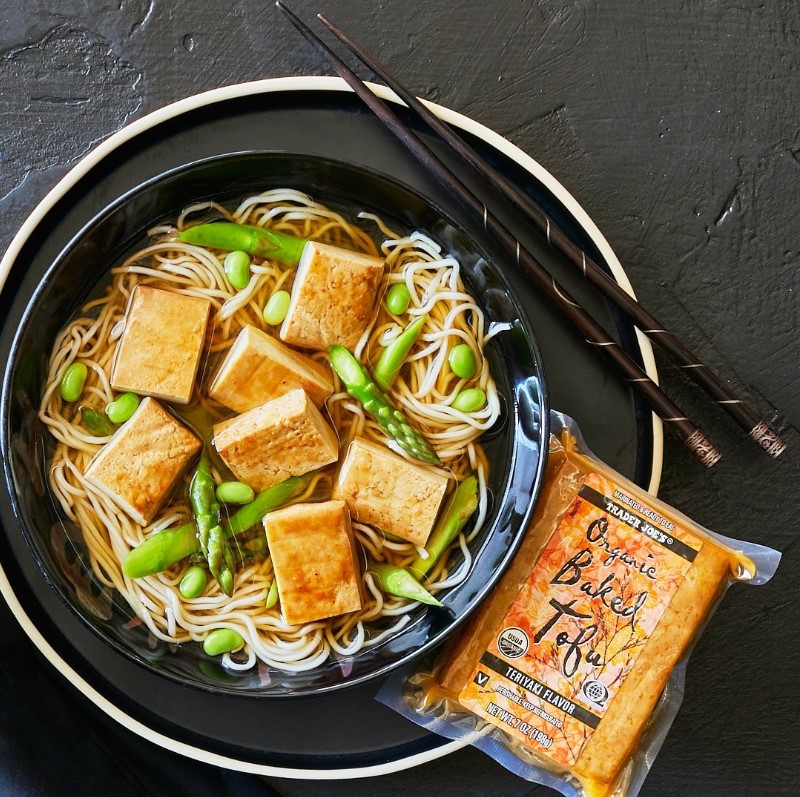 Trader Joe's
14 Teriyaki Organic Baked Tofu
If you're feeling lazy or in need of convenience, buy this pre-baked and seasoned sweet and savory tofu.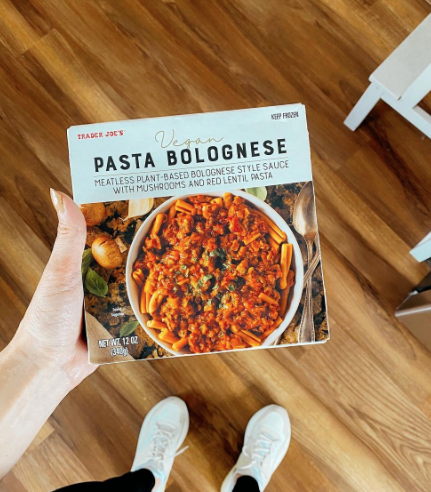 @veganreviewsatoz
15 Vegan Pasta Bolognese
Red lentil pasta and a meaty, rich mushroom-based bologense style sauce make this a great go-to for tasty frozen meals.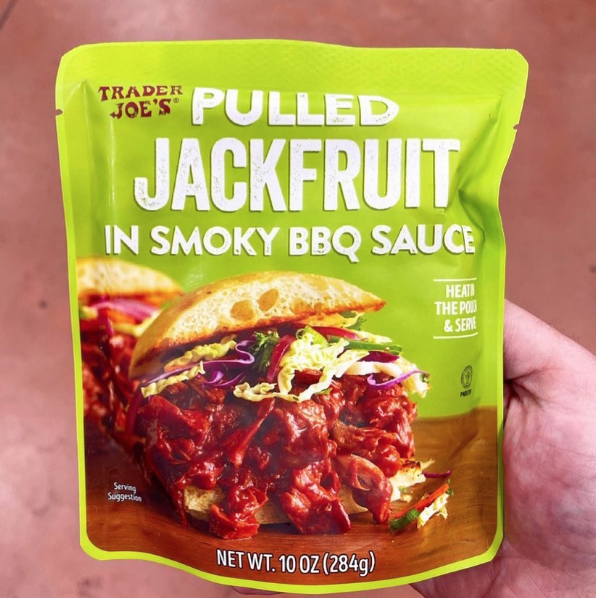 @traderjoesveganitems/Instagram
16 Pulled Jackfruit in Smoky BBQ Sauce
This heat, pour, and serve protein option is delicious in sandwiches, bowls, tacos, burritos, and so much more!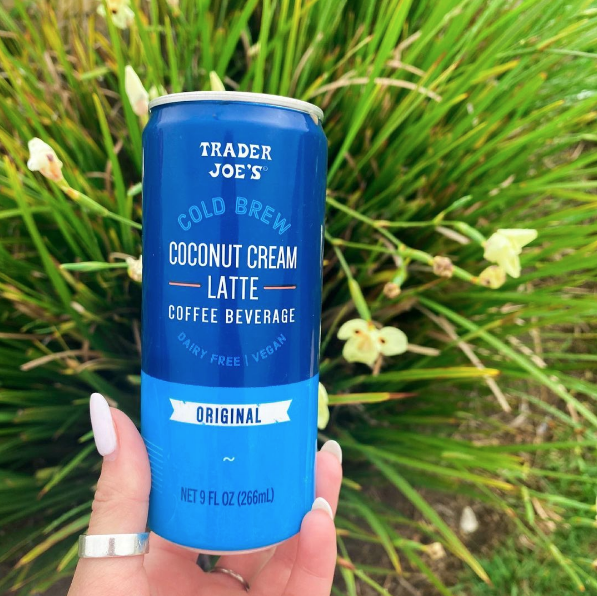 @kookingwithkayla
17 Cold Brew Coconut Cream Latte
Mornings on the go have never been easier. This dairy-free canned latte option helps us get up and going in the morning.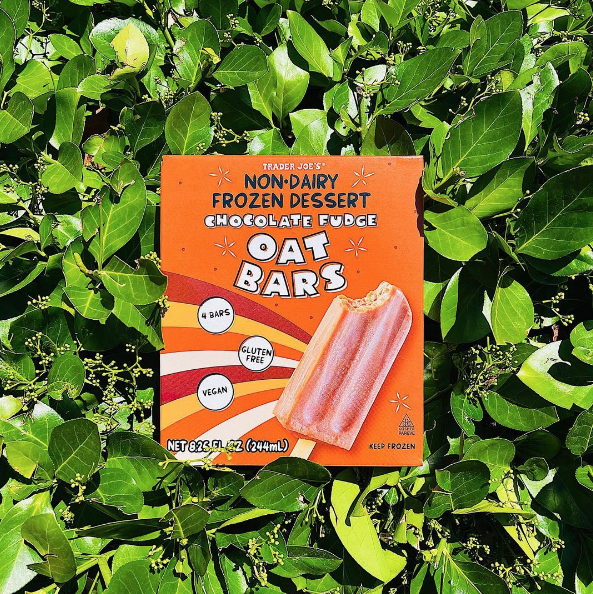 @traderjoesmemphis
18 Chocolate Fudge Oat Bars
These dairy-free fudge bars have oat milk to thank for their deliciously creamy texture. Keep a box in the freezer for a sweet treat at the end of a long day.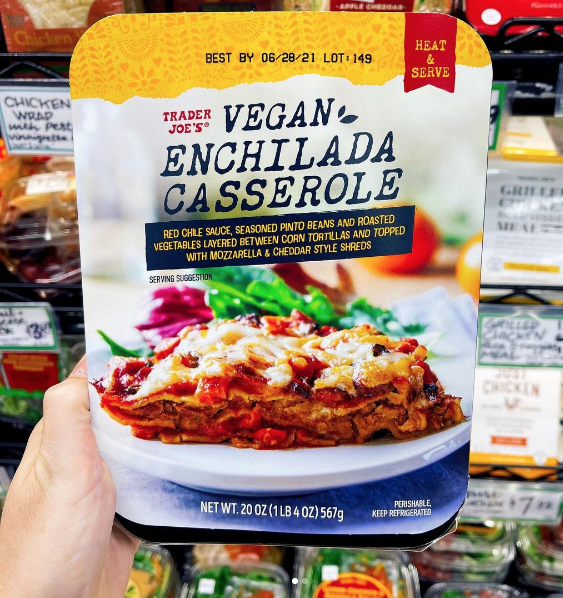 VegNews
19 Vegan Enchilada Casserole
Red chile sauce, seasoned pinto beans, roasted vegetables all layered between corn tortillas with vegan mozzarella and cheddar make for a convenient meal.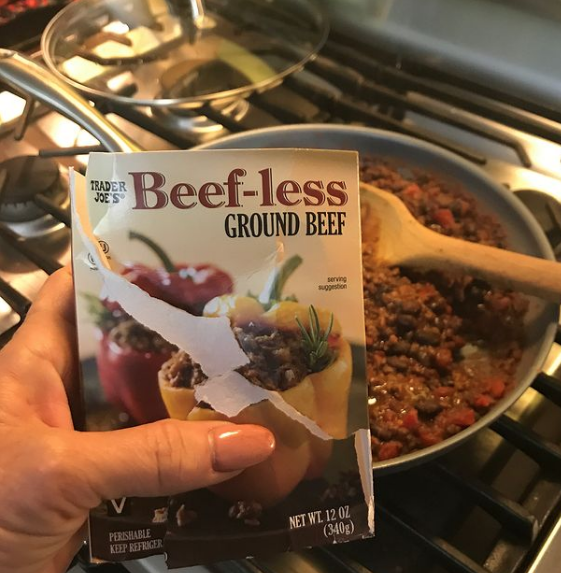 @the.vegan.diva
20 Beefless Ground Beef
Add these meatless crumbles to a shepherd's pie or into your pasta sauce for a hearty meal.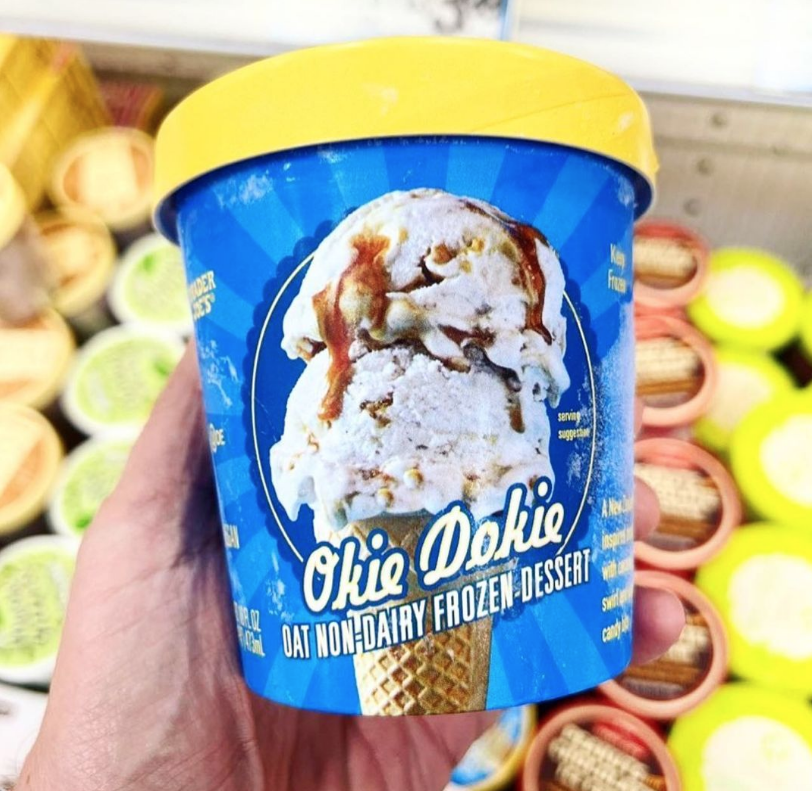 @bigboxvegan
21 Okie Dokie Ice Cream
This creamy, oat-based ice cream pint is packed with the flavors of an oatmeal cookie and dairy-free caramel.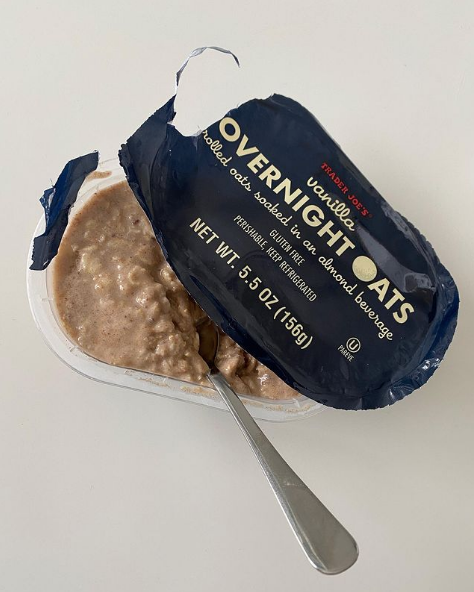 @eating_vegan_mpls
22 Overnight Oats
These vanilla-flavored, almond milk soaked overnight oats make the perfect on-the-go meal for busy weekday mornings.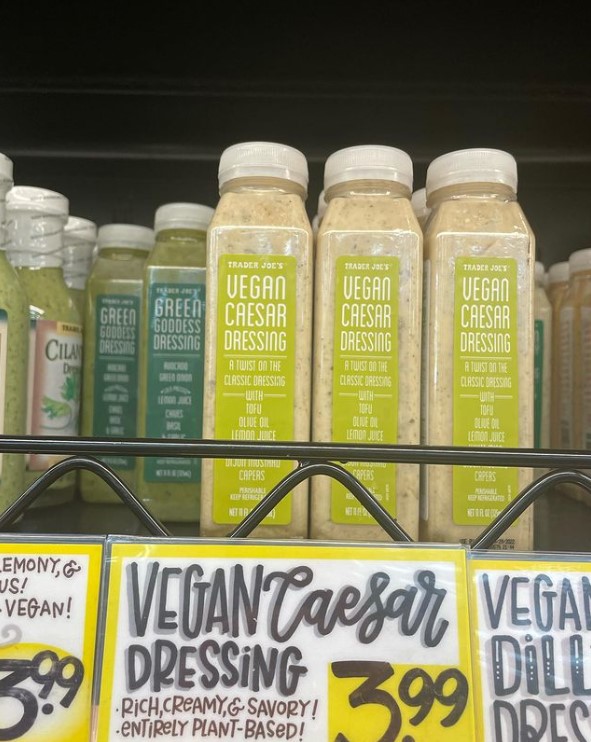 @vegan_mitt/Instagram
23 Vegan Caesar Dressing
Made from a blend of tofu, olive oil, lemon juice, white miso, dijon mustard, and capers, this tasty salad dressing is making eating our vegetables tastier than ever.

@fitveganjos
24 Impossible Foods
The 12-ounce package of plant-based beef is available in the refrigerated or frozen section for $7.99 (price may vary by location).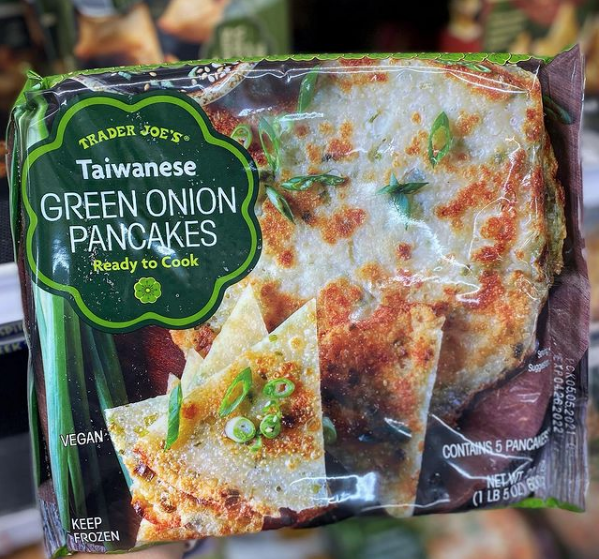 VegNews

25 Green Onion Taiwanese Pancakes
These flaky, Asian-style vegetable pancakes can be found in the frozen food section of the popular grocer.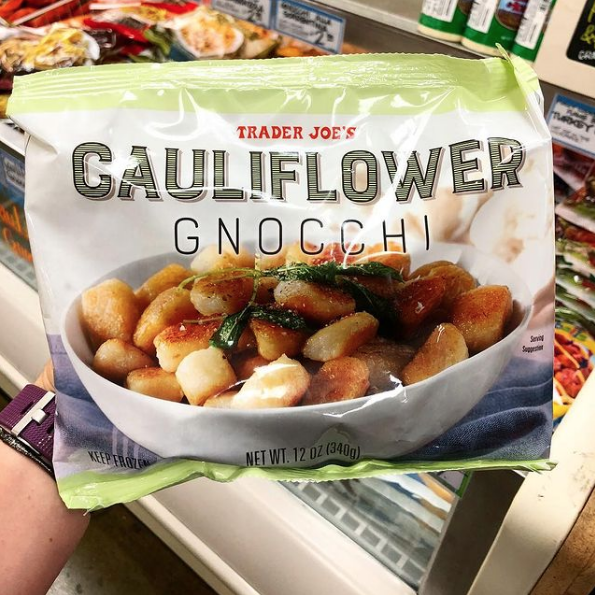 Sarah McLaughlin/VegNews
26 Cauliflower Gnocchi
The key with this essential is to totally ignore the cooking instructions on the package. Throw these on a baking sheet in the oven or in your air fryer to get them nice and crispy.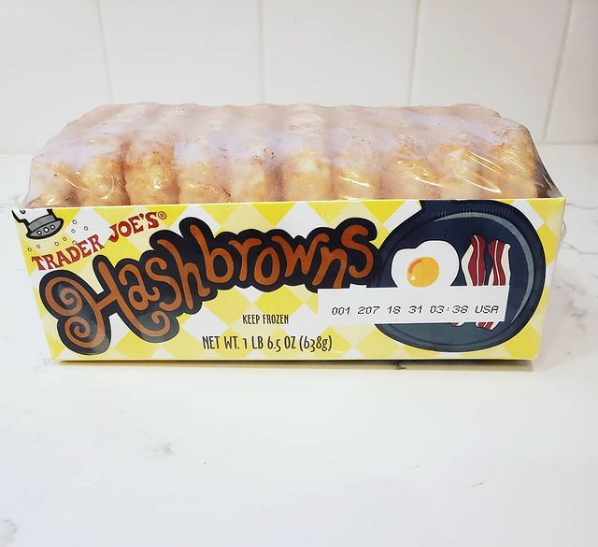 @bethanybuysthings
27 Hash Browns
There's nothing better than crispy, buttery hashbrowns on a weekend morning.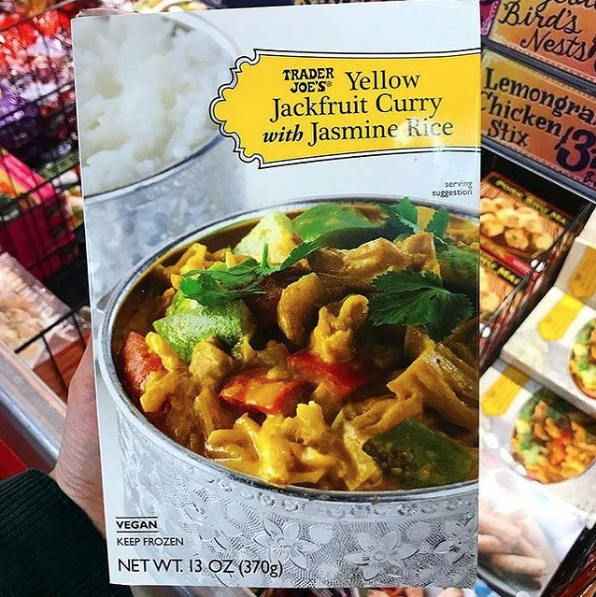 Sarah McLaughlin/VegNews
28 Yellow Jackfruit Curry With Jasmine Rice
Weeknight frozen meals don't have to be boring. This spicy curry features meaty jackfruit and flavorful vegetables.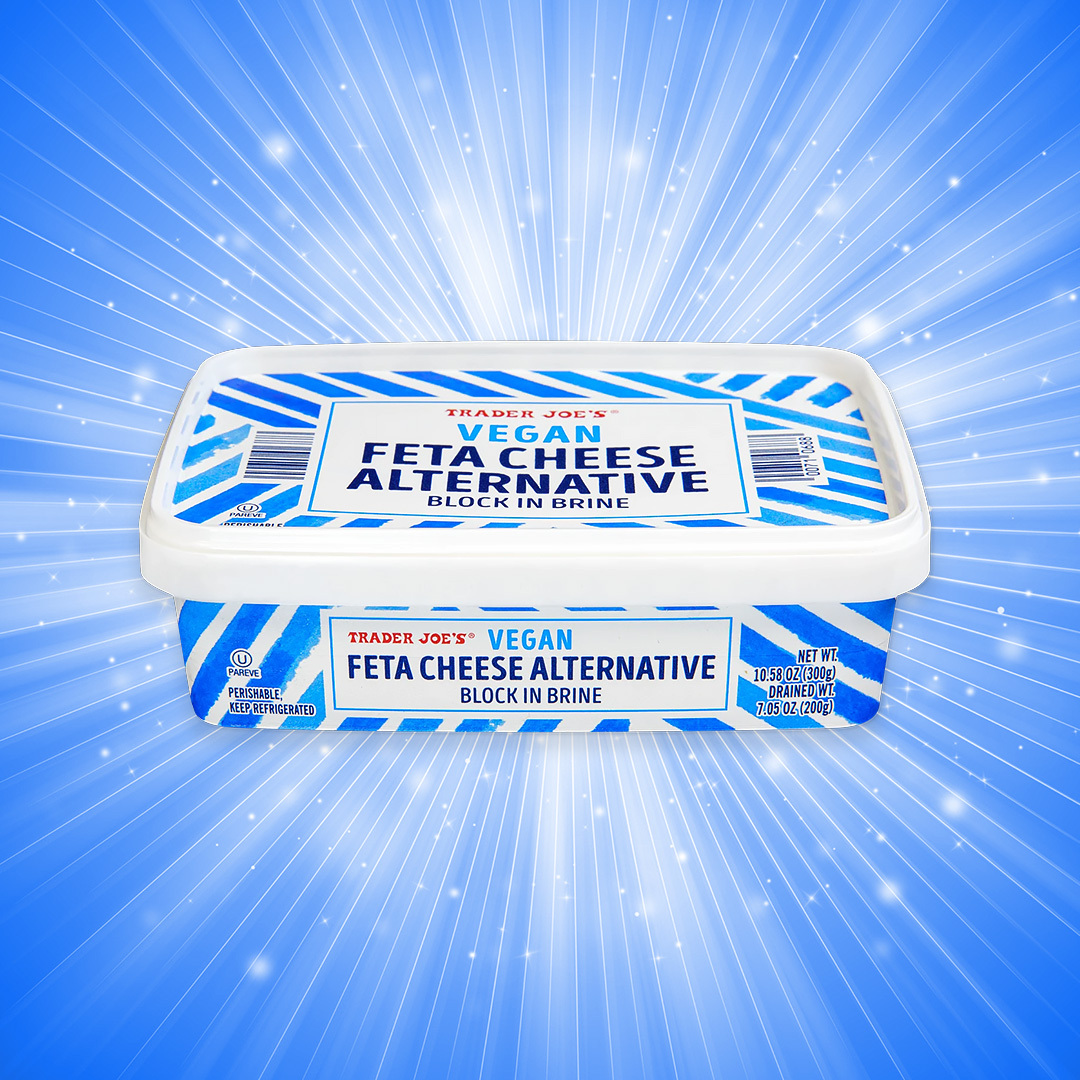 Trader Joe's
29 Vegan Feta Alternative
This tangy, crumbly block of vegan cheese in brine is perfect for making fresh salads, crumbling over pasta, or tossing in a wrap.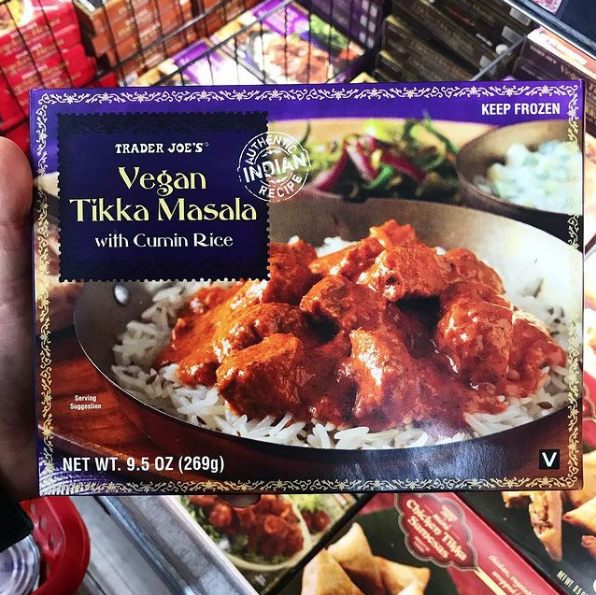 VegNews
30 Vegan Tikka Masala
When that Indian food craving strikes, we're reaching for this convenient plant-based meal.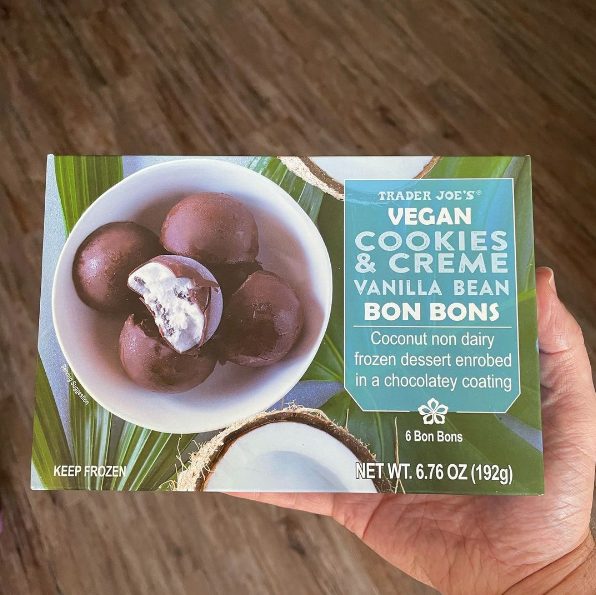 @brianc1995_irishactor
31 Cookies & Creme Vanilla Bon Bons
Bite-sized desserts make it seem okay when we devour half the box.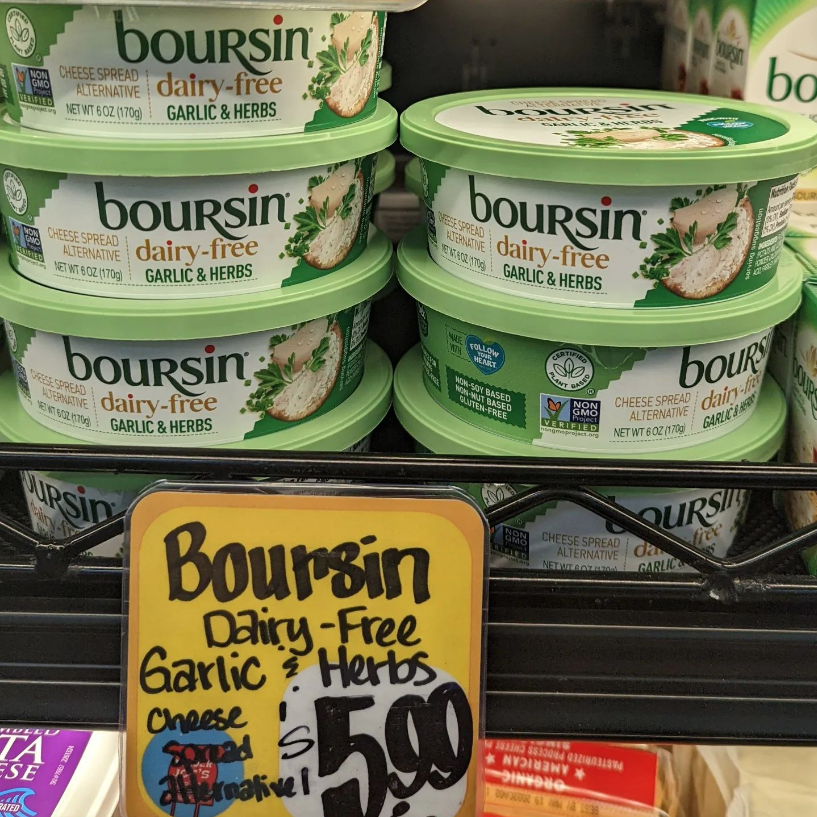 VegNews
32 Vegan Boursin Cheese
This cult-favorite cheese debuted a vegan option and you can find it at Trader Joe's.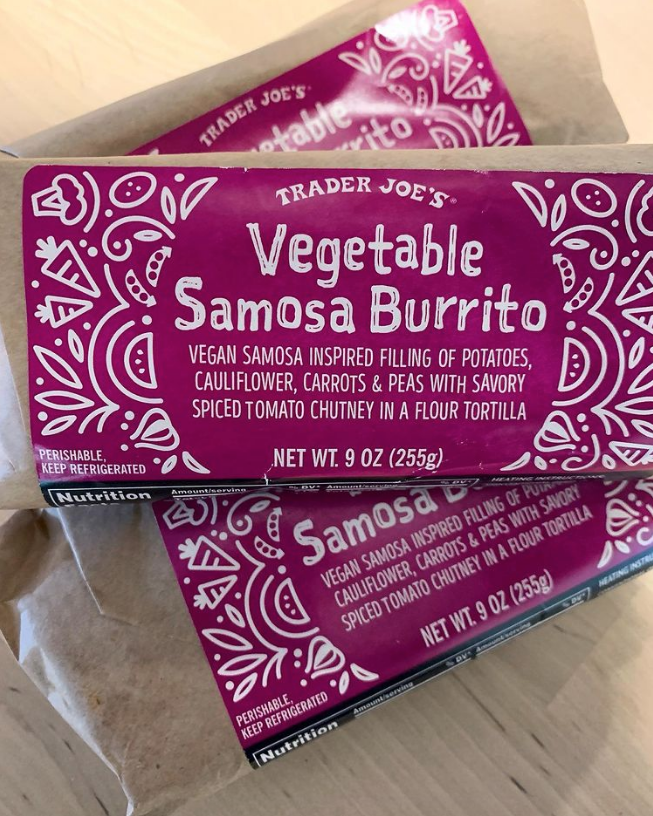 VegNews
33 Vegetable Samosa Burrito
The vegan samosa-inspired filling of these hearty burritos gets an extra dose of flavorful heat from a rich and savory tomato chutney.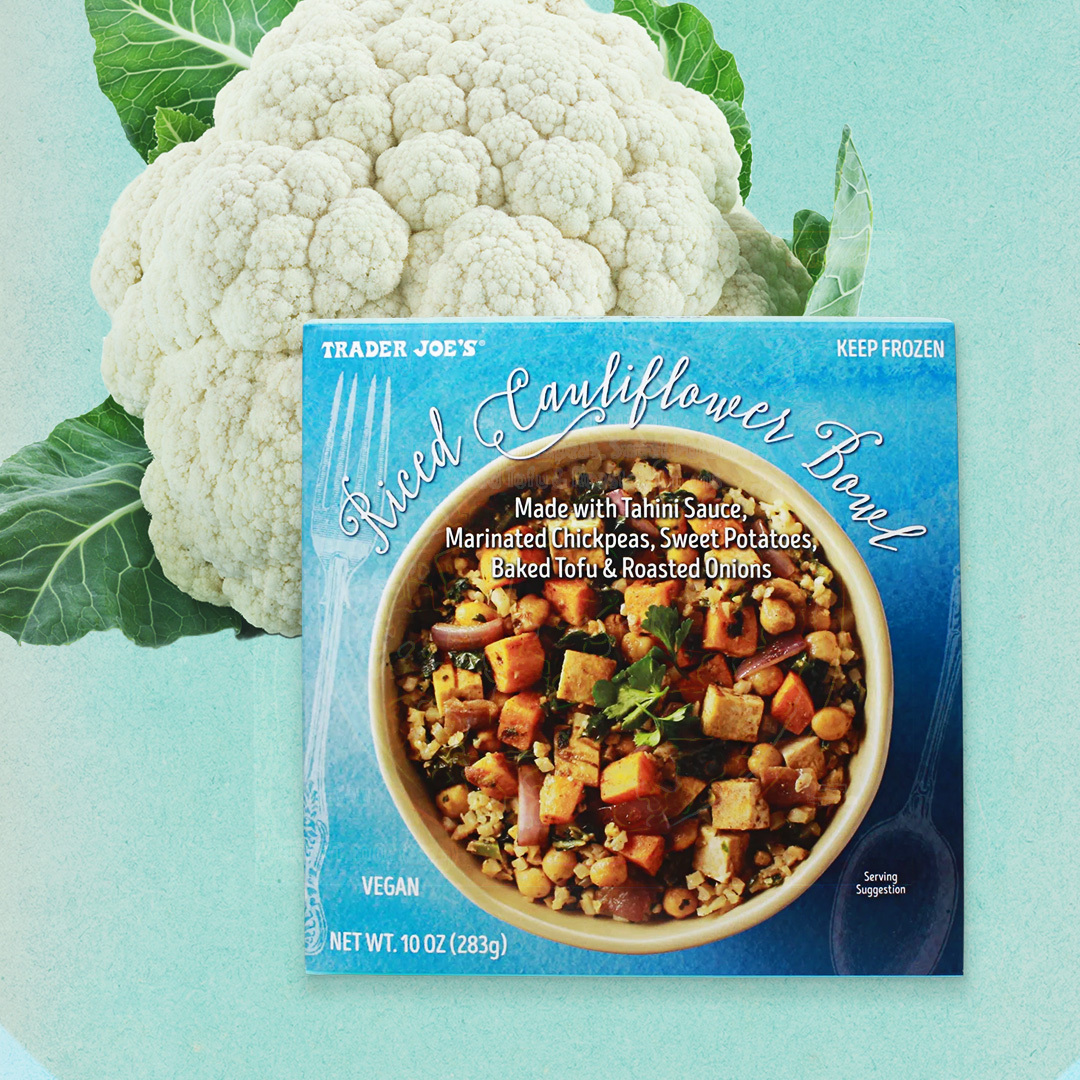 Trader Joe's
34 Riced Cauliflower Bowl
Tahini sauce, chickpeas, baked tofu, cauliflower rice, roasted onions, sweet potatoes … what more could you want?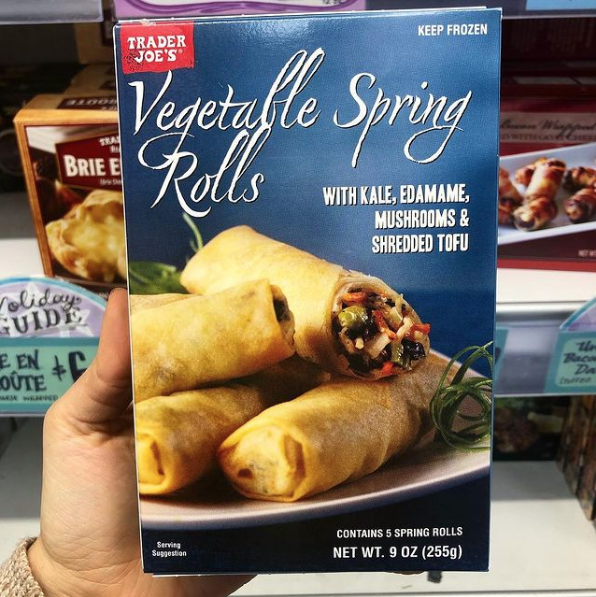 VegNews
35 Vegetable Spring Rolls
An oldie, but a goodie! We love these savory, appetizer-ready bites.
VegNews
36 Chicken-less Mandarin Orange Morsels
Before Beyond the Original Orange Chicken hit Pandra Express, these sweet, sticky meatless nuggets satisfied our cravings. (And we're still keeping them stocked.)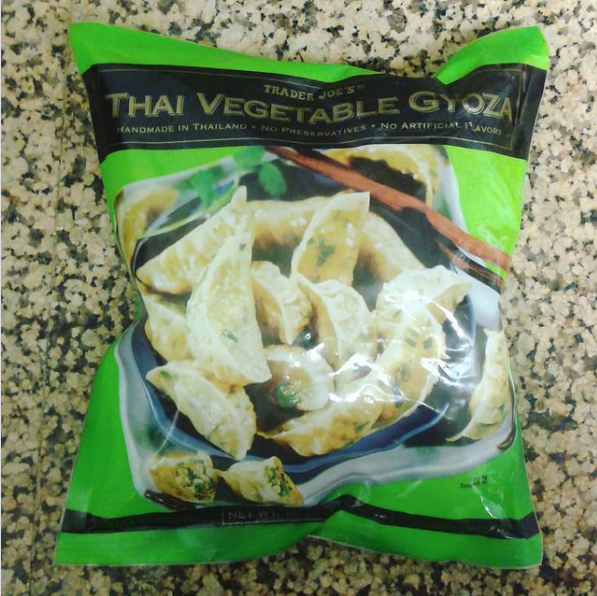 @bethanybuysthings
37 Thai Vegetable Gyoza
Fry these up in a pan and dip in a ginger-infused soy sauce for the ultimate lazy meal.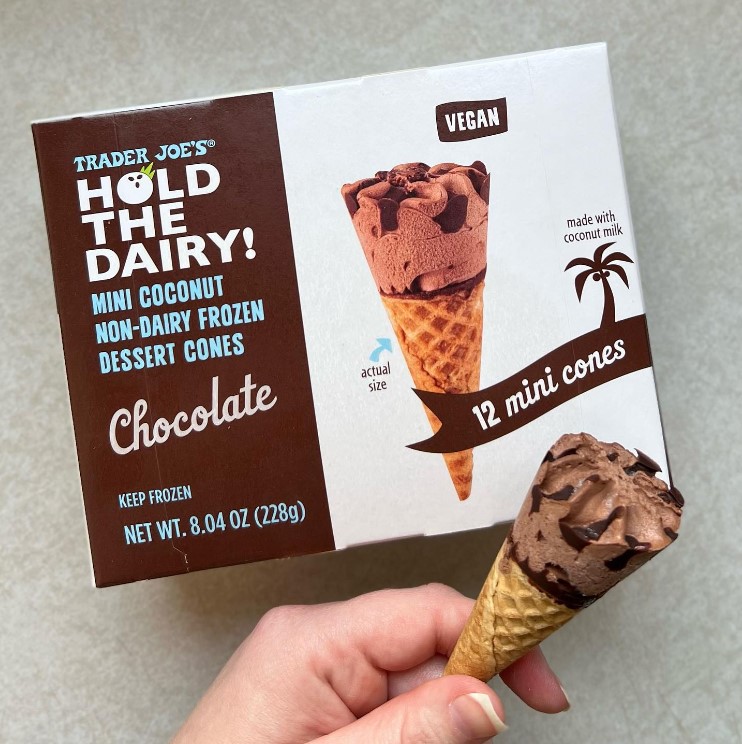 @nottherealtraderjoe
38 Non-Dairy Frozen Dessert Cones
Our dessert cravings just got the best answer! Each package of these mini frozen desserts contains 12 cones filled with coconut-based chocolate ice cream and fudge swirls.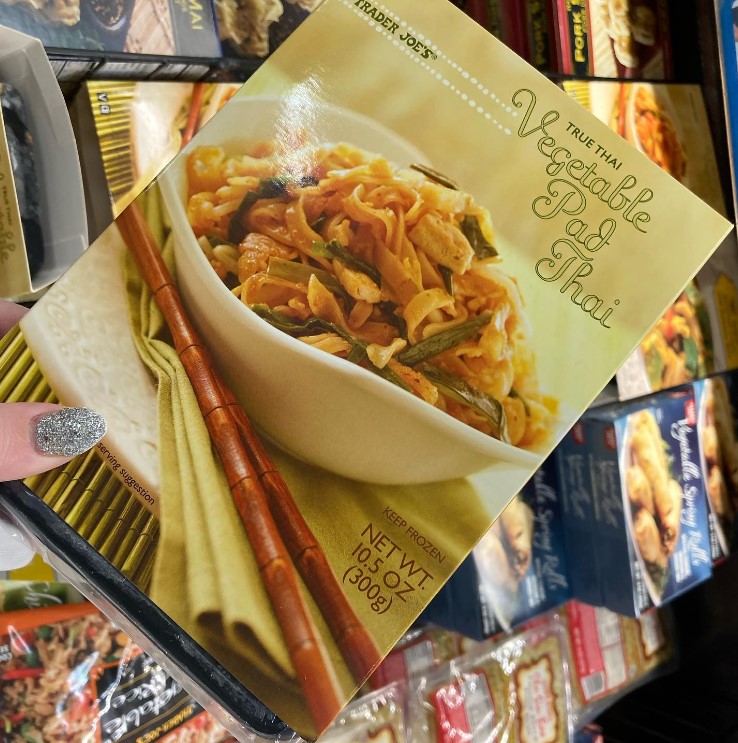 @togetherwevegann
39 Vegetable Pad Thai
Grab a box of these noodles for whenever your craving for Thai food strikes.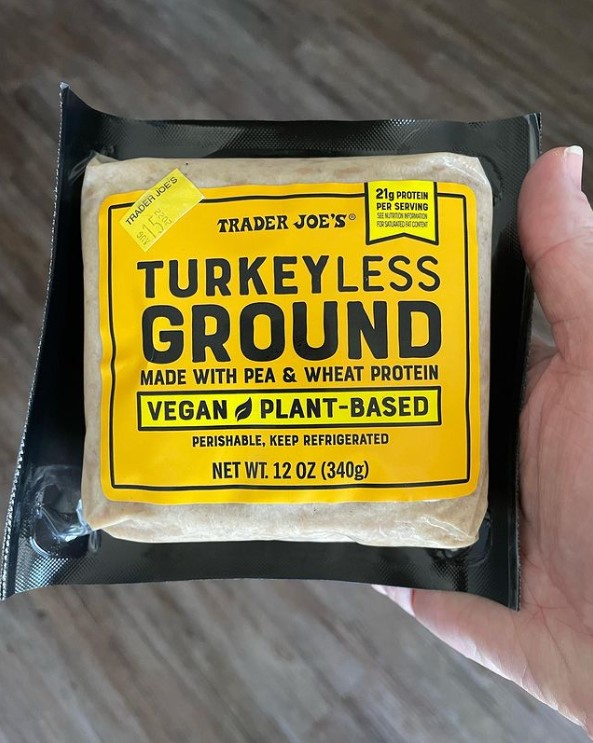 @brianc1995_irishactor
40 Turkeyless Grounds
Whether you're using this for taco night, layering it into enchiladas, making vegan meatloaf, or testing out your own vegan version of a Crunchwrap, this plant-based turkey ground meat will add satiating protein.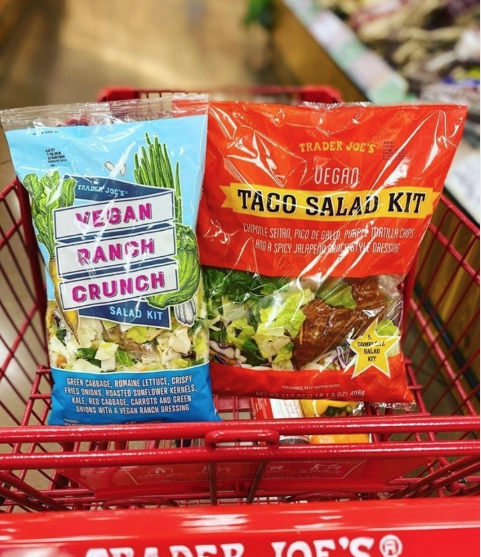 @dairyfreefinds
41 Vegan salad kits
These pre-made, ready-to-go salad kits make dinnertime easier than ever! Toss in your favorite plant-based protein and you are ready to go.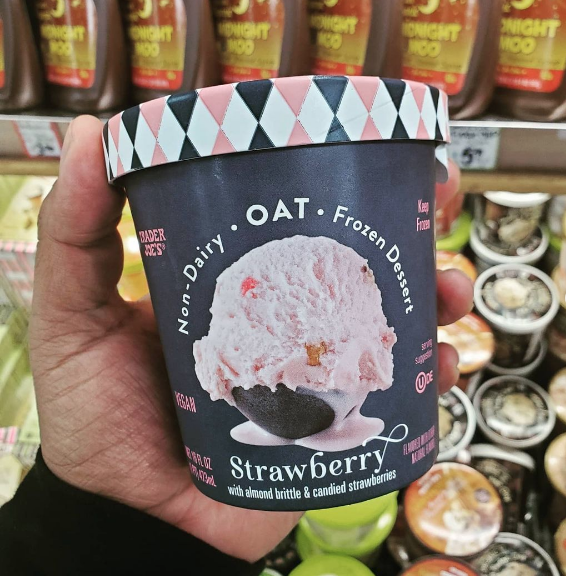 @hottesome
42 Oat Milk Strawberry Ice Cream
Studded with almond brittle and candied strawberries, each bite of this dairy-free ice cream tastes just like summer (no matter the season).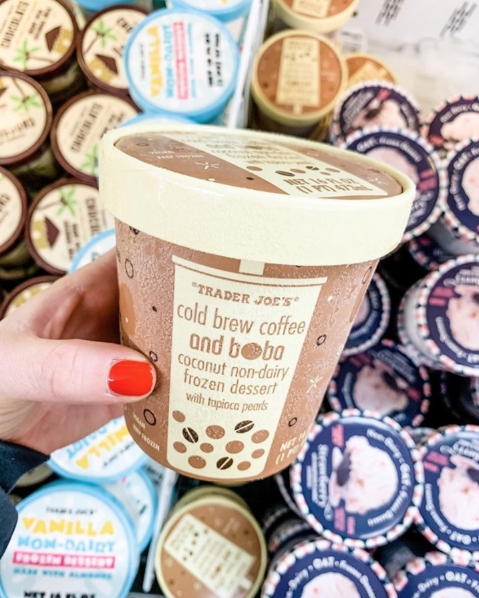 @traderjoes_addict
43 Cold Brew Coffee and Boba Coconut Ice Cream
Coffee + ice cream + boba = perfection.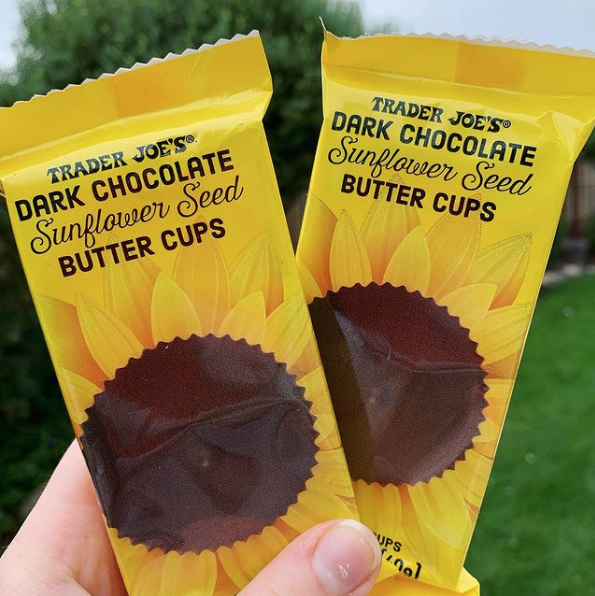 @vegangrocerygrabs
44 Dark Chocolate Sunflower Seed Butter Cups
These are often conveniently located near the registers, so just try to resist tossing one of these dairy-free treats in your basket.
VegNews
45 Chewy Chunky Chocolate Chip Cookies
The toughest decision here is whether to get the Peanut Butter Chocolate Chip or Chewy Chocolate Chip with Walnuts.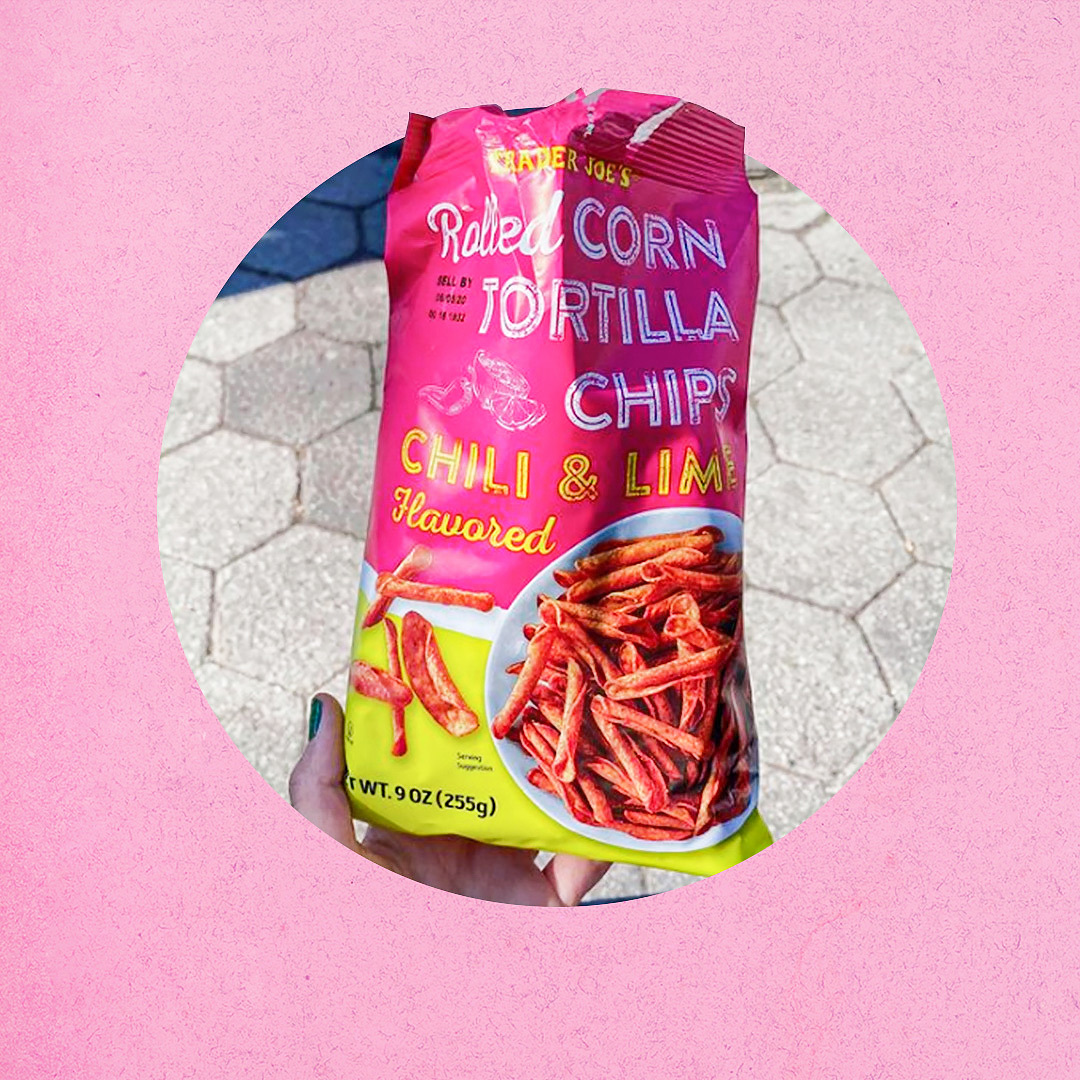 @becomebetty
46 Chili and Lime Rolled Tortilla Chips
If you're a fan of Takis, you'll love these fiery corn-based snacks.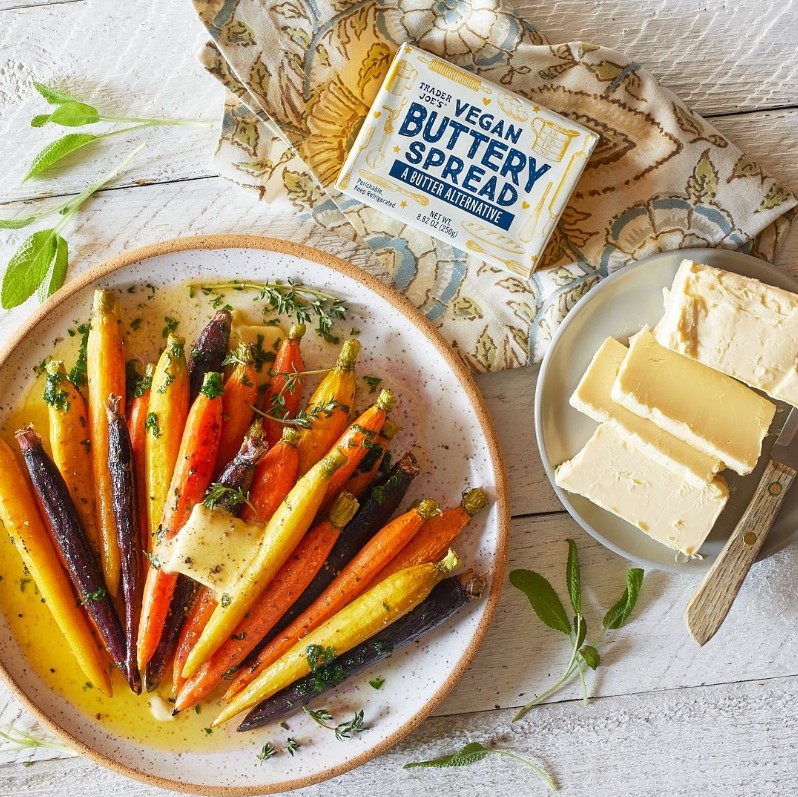 Trader Joe's
47 Vegan Buttery Spread
Stock up on all the staples, including butter, at the popular grocer. This meltable, spreadable buttery spread is perfect for baking, roasting, and more.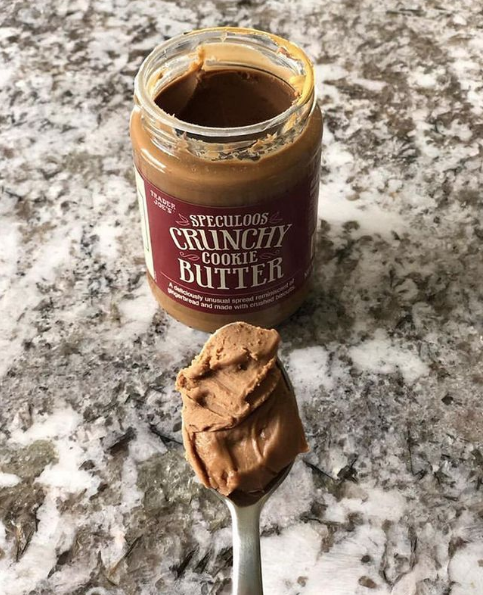 @traderjoesgems
48 Speculoos Crunchy Cookie Butter
This is an OG Trader Joe's favorite that has always been deliciously vegan.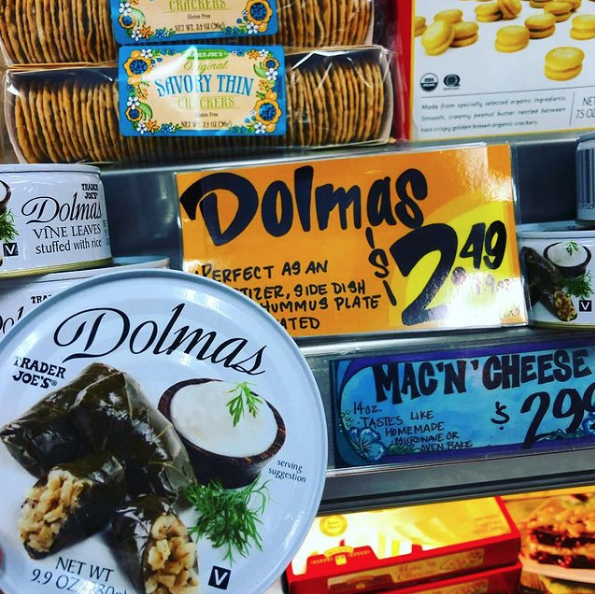 @traderjoiene
49 Dolmas
Add these rice-stuffed grape leaves to your artisanal cheese platter at your next dinner party.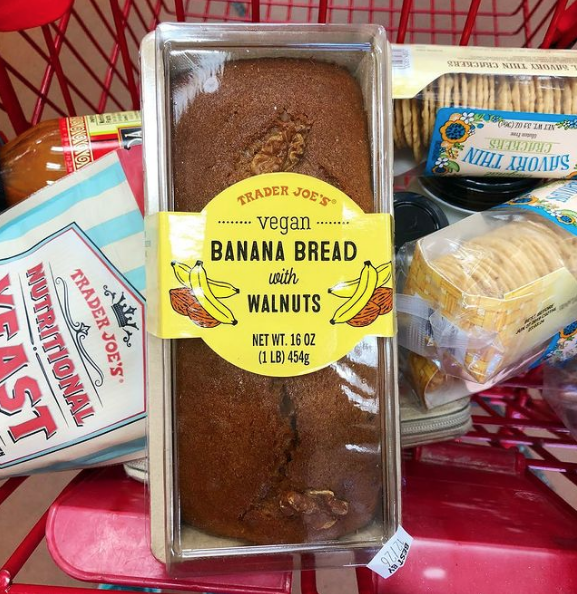 VegNews
50 Vegan Banana Bread with Walnuts
Chewy, nut-studded, bakery-fresh banana bread is just one grocery trip away.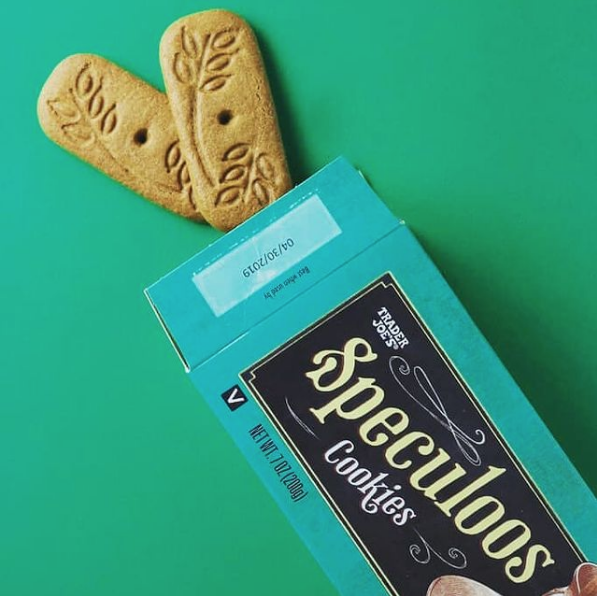 Speculoos
51 Speculoos Cookies
Enjoy these crunchy, irresistibly sweet biscuit cookies at your afternoon tea time.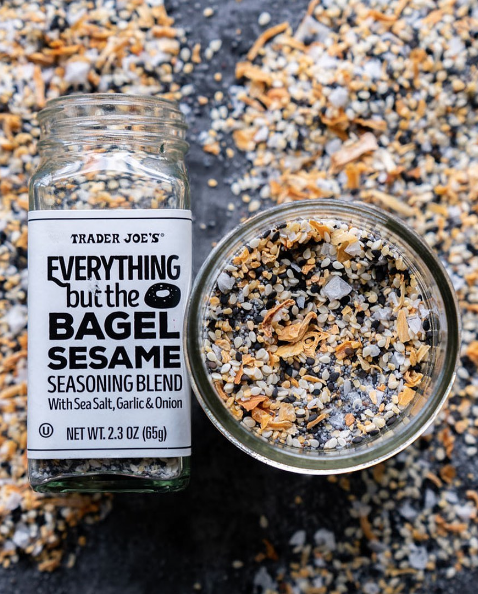 Trader Joe's
52 Everything But the Bagel Seasoning
If you have yet to try this seasoning to top your avocado toast, you seriously need to get yourself to the closest Trader Joe's.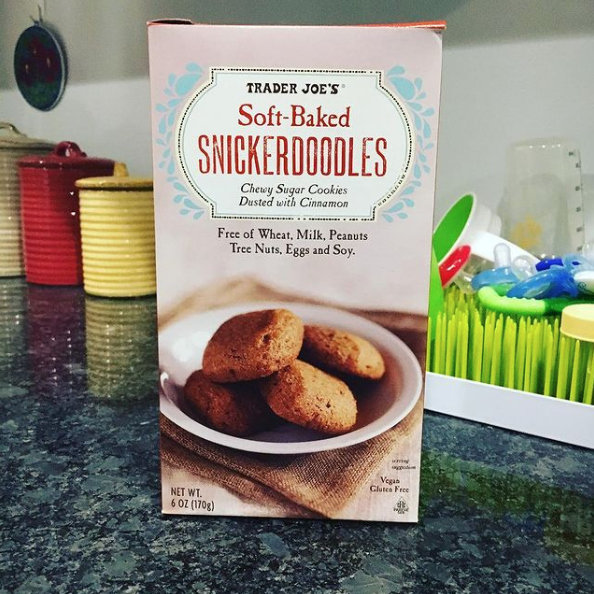 @theimpressionablevegan
53 Soft Baked Snickerdoodles
These chewy, nostalgic, cinnamon sugar-coated cookies pair perfectly with hot chocolate.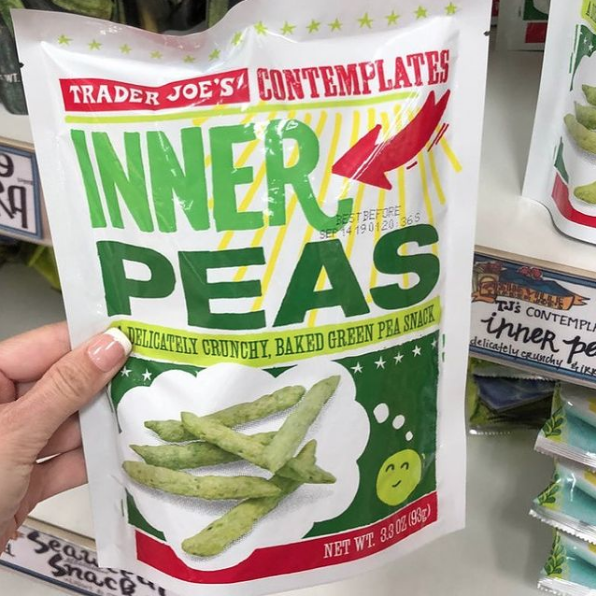 VegNews
54 Inner Peas snacks
These pea-based crispy snacks are super kid-friendly and are prefect for school.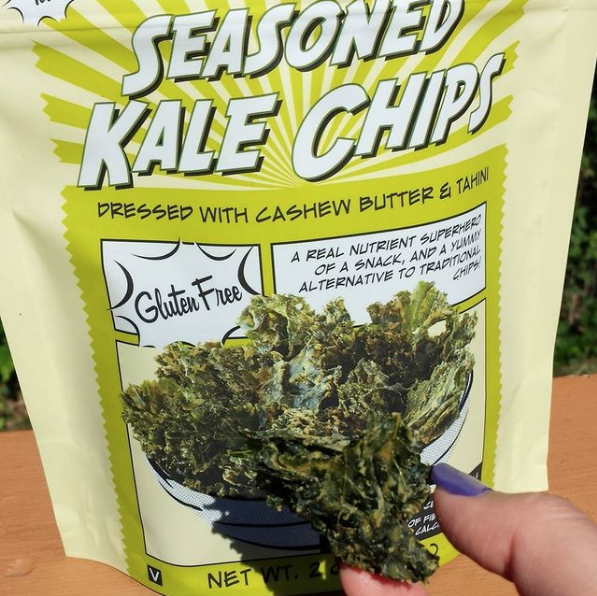 @theveggienut
55 Seasoned Kale Chips
Each leaf of crunchy kale in this bag of chips is doused in a creamy mixture of cashew butter and tahini.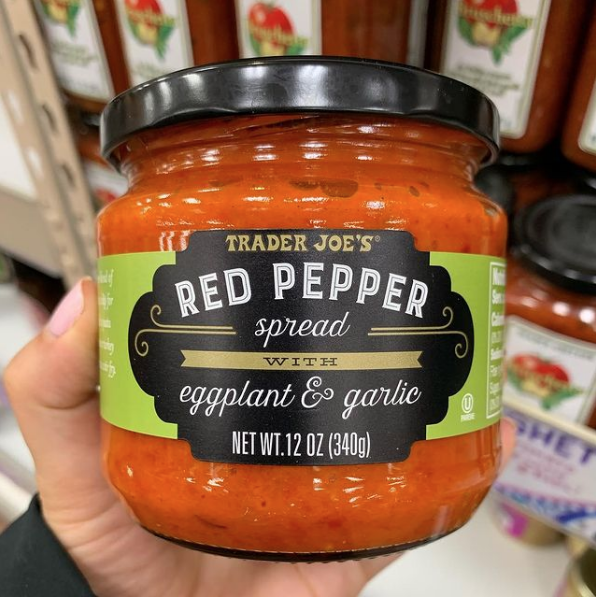 @traderjoesglutenfreevegan
56 Red Pepper Spread with Eggplant and Garlic
Dip this spread in one of Trader Joe's myriad of vegan-friendly crackers or serve with dolma.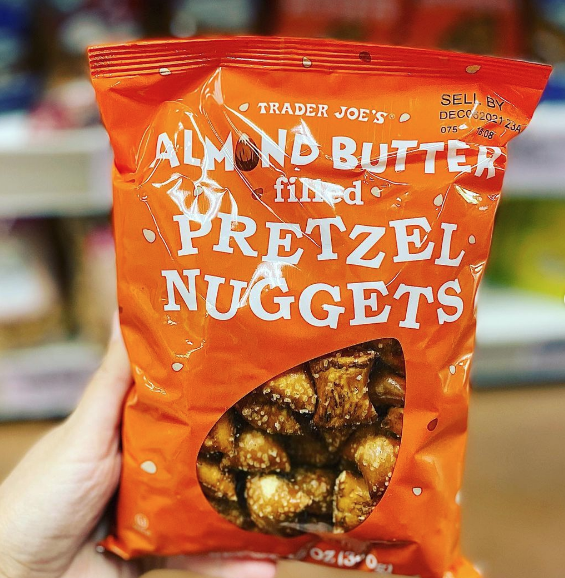 @trader_joes_treasure_hunt
57 Almond Butter-Filled Pretzels
These crunchy, salty, nutty bites are packed with protein and healthy fats and are great to keep on hand when running errands.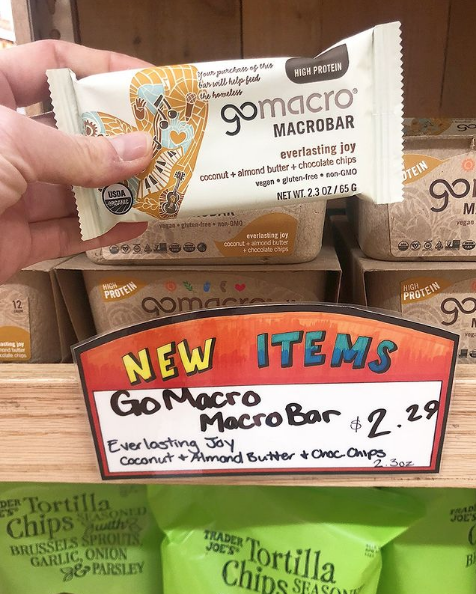 VegNews
58 Go Macro Bars
You can even stock up on your favorite protein bars in the aisles of this vegan-friendly market.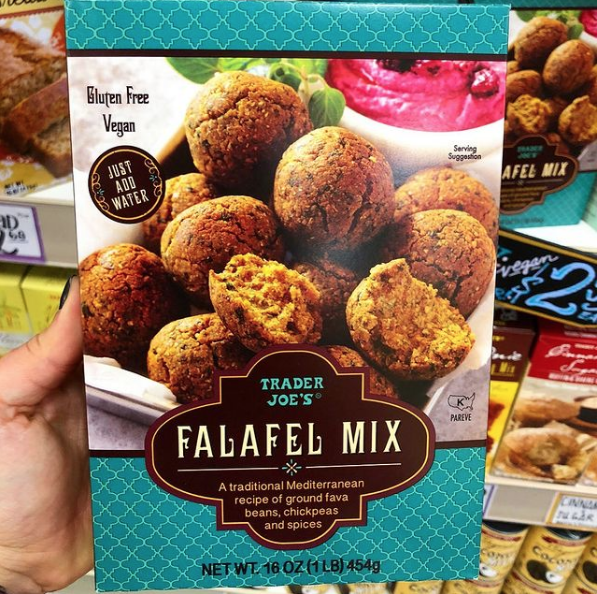 VegNews
59 Falafel Mix
For a healthier take on this classic Mediterranean dish, bake these falafel balls instead of frying them.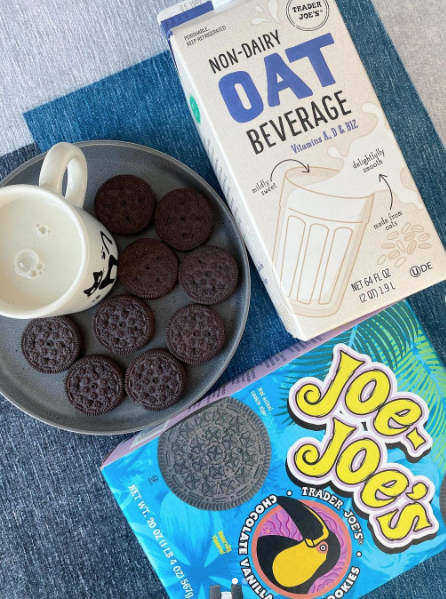 @reinspired
60 Joe-Joe's
It doesn't get much more classic than these storebrand Oreo sandwich cookies.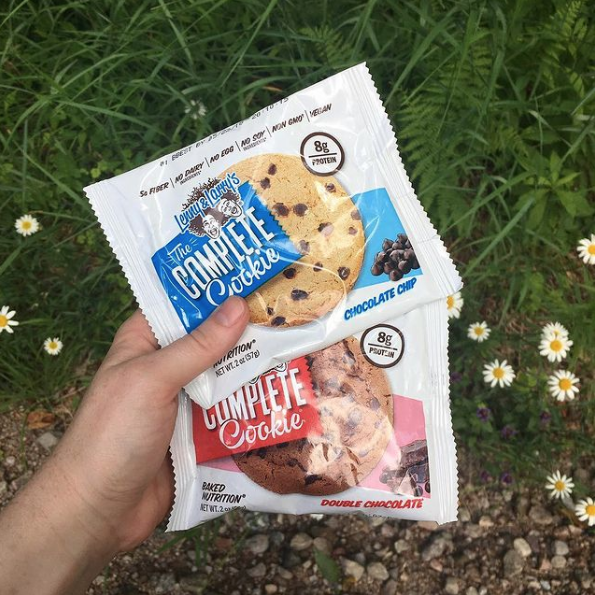 @waking.up.vegan
61 Lenny and Larry's Complete Cookies
Even these popular, protein-packed cookies have found their way onto the shelves at TJ's.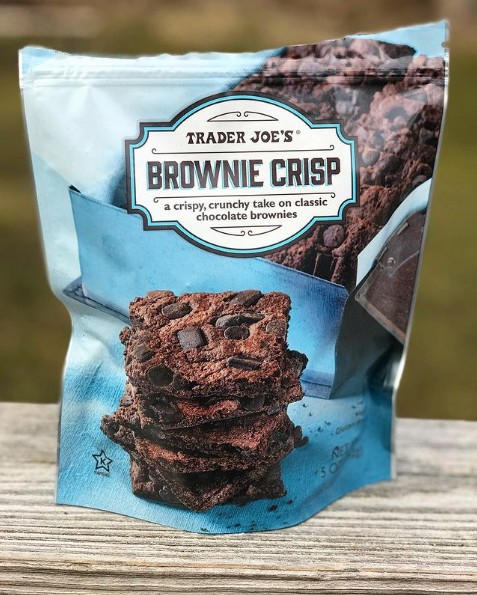 Trader Joe's
62 Brownie Crisps
Somewhere between a brownie and a crunchy cookie, this delicious sweet treat was born.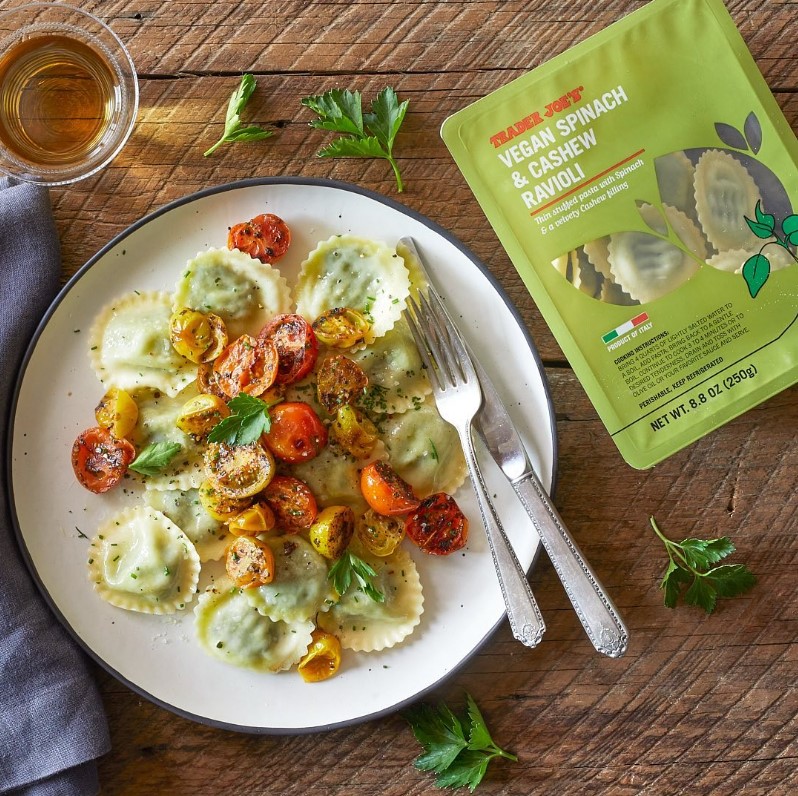 Trader Joe's
63 Vegan Spinach & Cashew Ravioli
Delicately stuffed with a savory, cheesy spinach and vegan ricotta mix, each of these circular ravioli bites is bursting with flavor. Pair with your favorite simple vegan-friendly tomato sauce for a quick and easy dinner.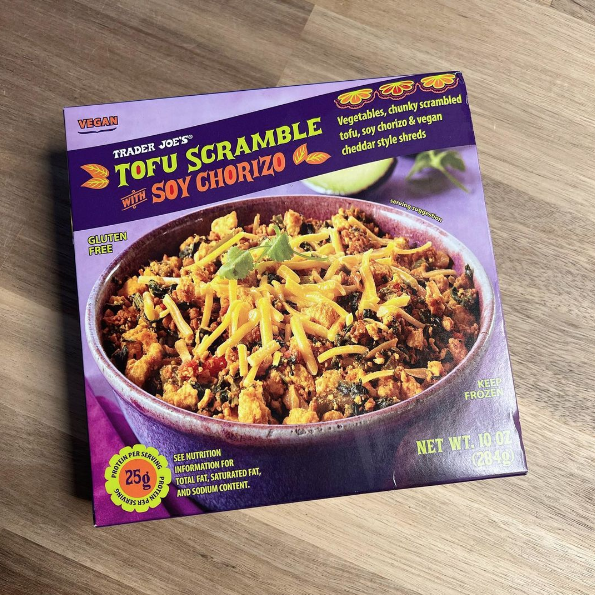 @veg_she
64 Tofu Scramble with Soy Chorizo
Vegetables with chunky vegan scramble, soy chorizo, and vegan cheddar shreds come together to make this simple and tasty breakfast bowl.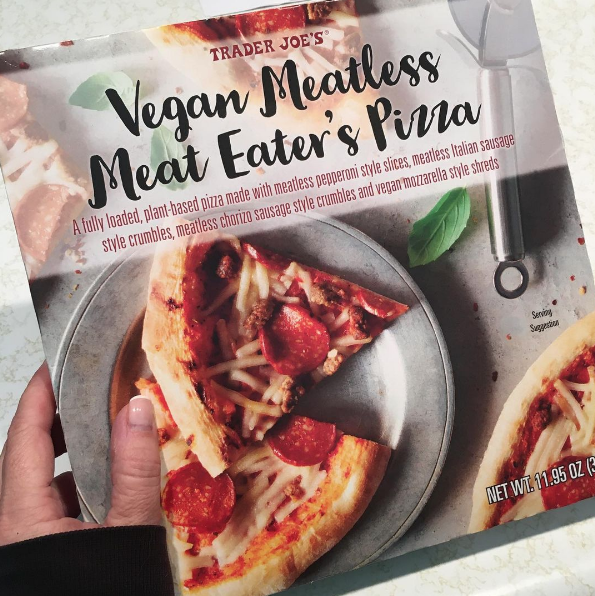 @jodyyodedode
65 Meatless Meat Lover's Pizza
A fully loaded plant-based pizza with meatless pepperoni slices, Italian-style sausage crumbles, chorizo-style crumbles, and vegan mozzarella makes the perfect lazy weeknight dinner.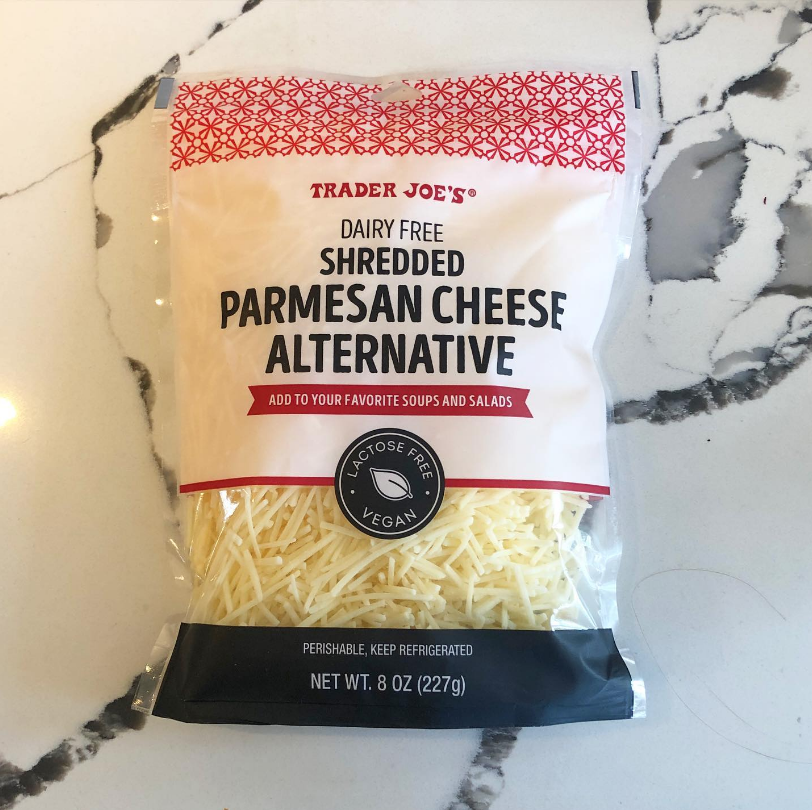 @lovestoryvegan
66 Trader Joe's Vegan Shredded Parmesan Cheese Alternative
This dairy-free cheese is primed and ready for sprinkling over pastas, soups, and salads.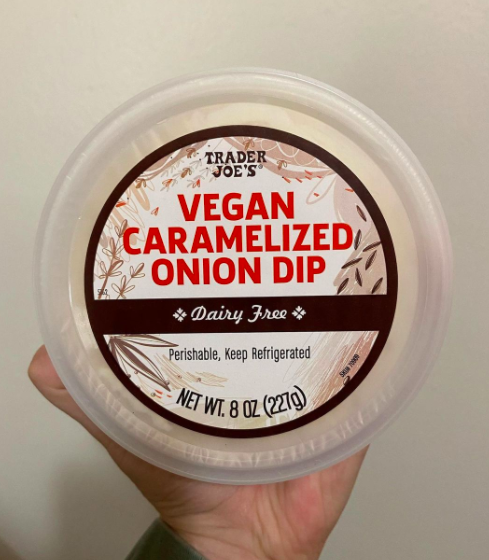 @thevegantastetester
67 Vegan Caramelized Onion Dip
This cream cheese-like dip is packed with flavor and pairs perfectly with pretzels, salty pita chips, and fresh veggies.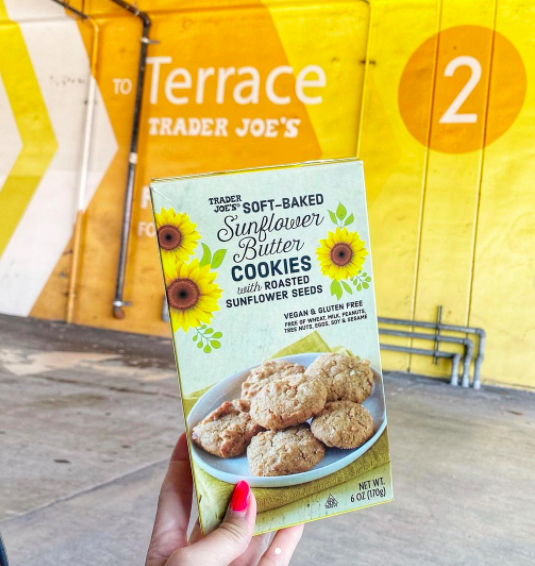 @vegan.dynamite
68 Soft-Baked Sunflower Butter Cookies
These soft and chewy cookies feature roasted sunflower seeds for added crunch. Plus, they're allergen-friendly. Vegan cookies for all!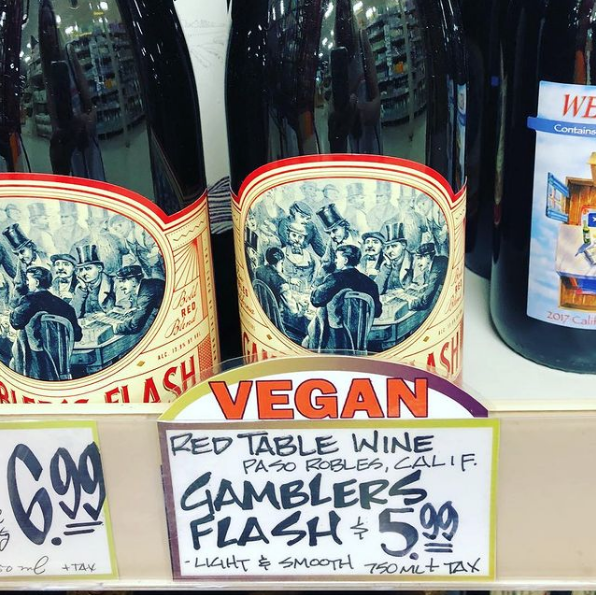 VegNews
69 Gambler's Flash Red Wine
Did you know not all wine is vegan? Don't worry. This one is!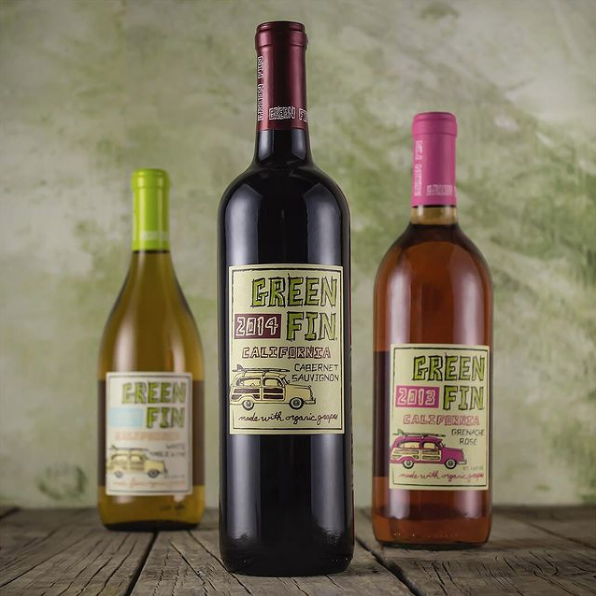 Green Fin
70 Green Fin wines
Choose between red, white, or rosé from this vegan-friendly winery.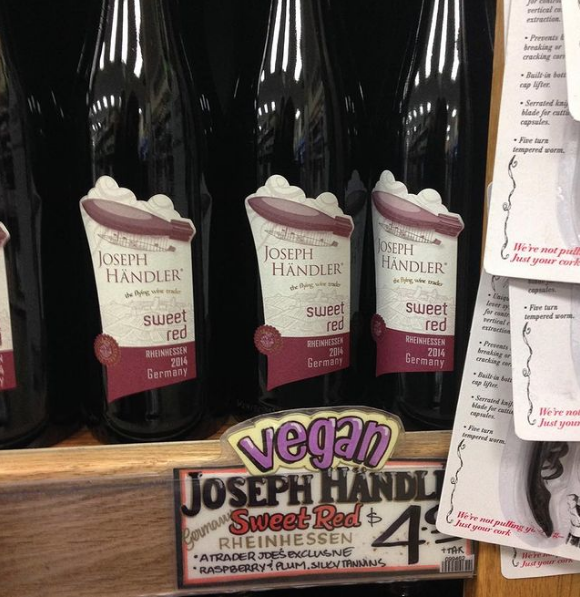 VegNews
71 Joseph Handler red wine
Many Trader Joe's have even begun to handily label which wines are vegan, such as this red.
For more vegan products at Trader Joe's, read: