Gone are the days of flipping through cookbooks for recipe inspiration. Now, all you need to do is have a quick scroll on TikTok and you'll be raring to start cooking a new dish within minutes. While there are plenty of vegan cooking tutorials on TikTok, many of the recipes that go viral aren't plant-based. But don't worry, we've found some of the best non-vegan TikTok recipes, many of which have millions of views already, and figured out how to help you veganize them. Pans at the ready? Let's cook.
The Best TikTok Recipes and How to Make Them Vegan
1 One Pan Lasagna
One of the key elements of lasagna is layering up the pasta. But if you don't have the time or the energy, you can just do it all in one pot and add one single layer of sheets over the top, like this TikTok recipe. It's super easy to make lasagna vegan, especially this one, because it also doesn't call for any bechamel sauce. Just swap out the mince for a plant-based alternative, and use a dairy-free cheese. Need more guidance? Find a tasty, quick, and easy vegan lasagna recipe here.
2 Cheesy Potato Pancakes
Is there anything more comforting than cheesy potatoes? We'll answer for you: no, there isn't. This TikTok recipe makes the classic treat even more delicious by squashing mashed potato, cornstarch, sugar, and cheese together into small cakes, and then frying them until golden brown. Want to make it vegan? Just swap out the cheese for a dairy-free alternative (for more guidance on the best options, follow our ultimate guide to vegan cheese).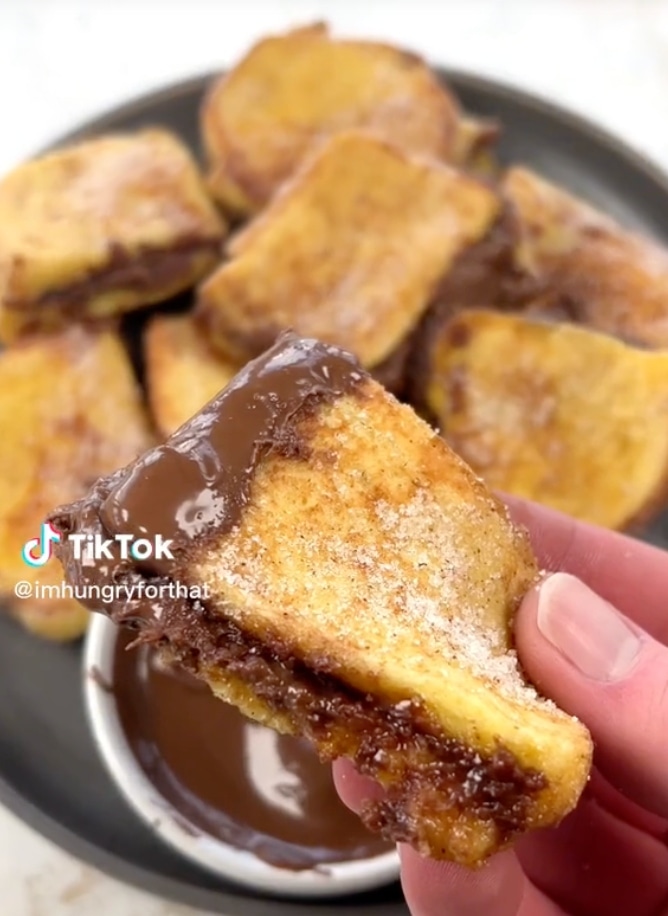 Imhungryforthat/TikTok
3 Nutella-Stuffed French Toast
French toast is already the ultimate brunch-time treat, but this TikTok recipe takes it up a level by adding creamy, rich Nutella into the mix too. Unfortunately, traditional Nutella isn't actually vegan, but you can find plenty of copycat dairy-free hazelnut chocolate spread brands on the market. Follow our guide to vegan Nutella for all the options out there! This French toast recipe also calls for eggs, but they aren't a necessity. For all the taste of this recipe, without the animal products, try this dairy-free 'Nutella' French toast bake by Up Beet Kitchen.
4 Swedish Meatballs
Swedish meatballs aren't just for IKEA trips; they're also delicious when they're homemade, too (arguably even more so). While this TikTok recipe uses meat, this recipe by Veganosity walks you through how to make very similar delicious, authentic vegan Swedish meatballs using soy curls. If you'd prefer to just make the gravy and buy the meatballs separately, several plant-based brands, like Beyond Meat, for example, offer ready-made plant-based options.
5 Italian Stuffed Bread
This delicious-looking stuffed bread TikTok recipe packs in all of the Italian favorites, like mozzarella, pesto, and prosciutto, into one mouthwatering bite. If you want to do something very similar, but without the animal ingredients, then simply swap in plant-based alternatives. There's Miyoko's vegan pourable mozzarella, for example, and to replace the prosciutto, this guide talks you through all the best plant-based ham options on the market. Don't forget that some pesto contains parmesan, which isn't vegan, but it's easy to make your own instead. Why not try this simple vegan kale pesto recipe?
6 Big Mac Burger
Craving that signature Big Mac taste? You don't need to head down to the golden arches. This TikTok recipe combines all of the fast-food giant's signature ingredients in one tasty wrap instead, which makes for a quick, easy, and satisfying lunch. To make it vegan, just swap out the ground beef for a vegan alternative (follow our guide to meatless ground beef for ideas), and use dairy-free cheese.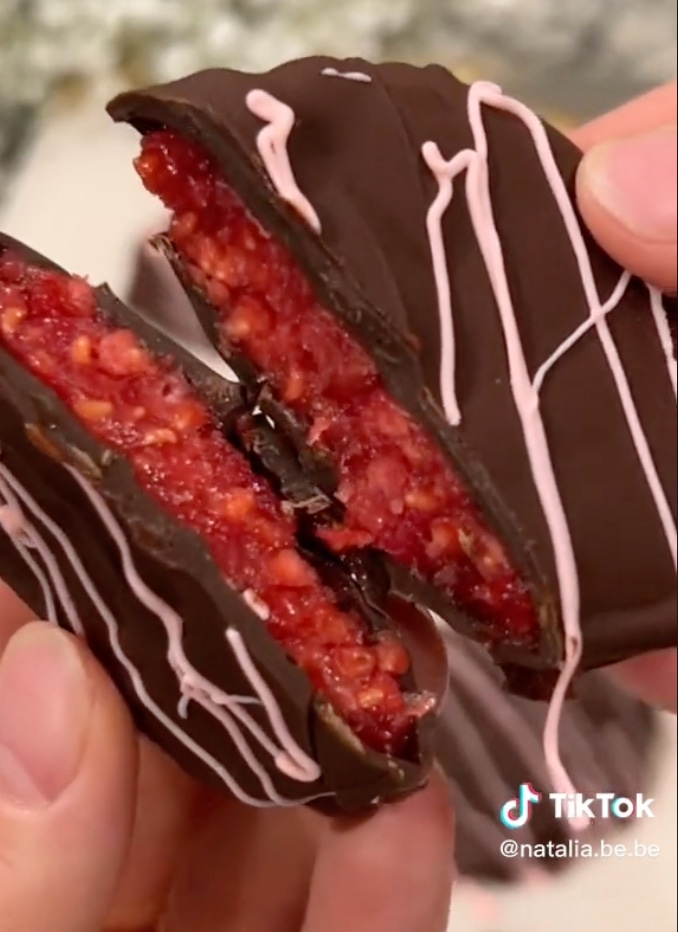 Nataliabebe/TikTok
7 Chocolate-Covered Raspberries
To make the tasty, bite-size chocolate-covered raspberries in this TikTok recipe vegan, simply opt for maple or agave syrup instead of honey, and use vegan milk chocolate or dark chocolate for the coating. Top tip: these make a great gift!
8 Korean Corn Dogs
This popular Korean street food has become a favorite all over the world—it's deep-fried, sweet, salty, and deliciously crispy too. While this TikTok recipe isn't vegan, this recipe by Mary's Test Kitchen is! While it appears complicated at first glance, it's actually pretty easy to make, so you don't have to miss out on all that crunchy indulgence.
9 Brown Butter Brownies
After watching this TikTok recipe, we really felt like we could smell that delicious brownie scent through the screen. If you're craving the real deal too, try this recipe for vegan brown butter brownies by Hungry & Frozen. They're pretty much everything you want from a brownie: crispy on the outside, moist on the inside, and super chocolatey.
10 Garlic Butter Chicken
Ok, so at first glance, it really seems like this TikTok recipe for garlic butter chicken just can't be made vegan. But stick with us, or rather, stick with recipe blog Make It Dairy Free. The latter has put together this succulent, ultra flavorful recipe for vegan garlic butter chicken using, again, soy curls, as well as vegan butter. (Need tips on which vegan butter to use? Follow our comprehensive guide!)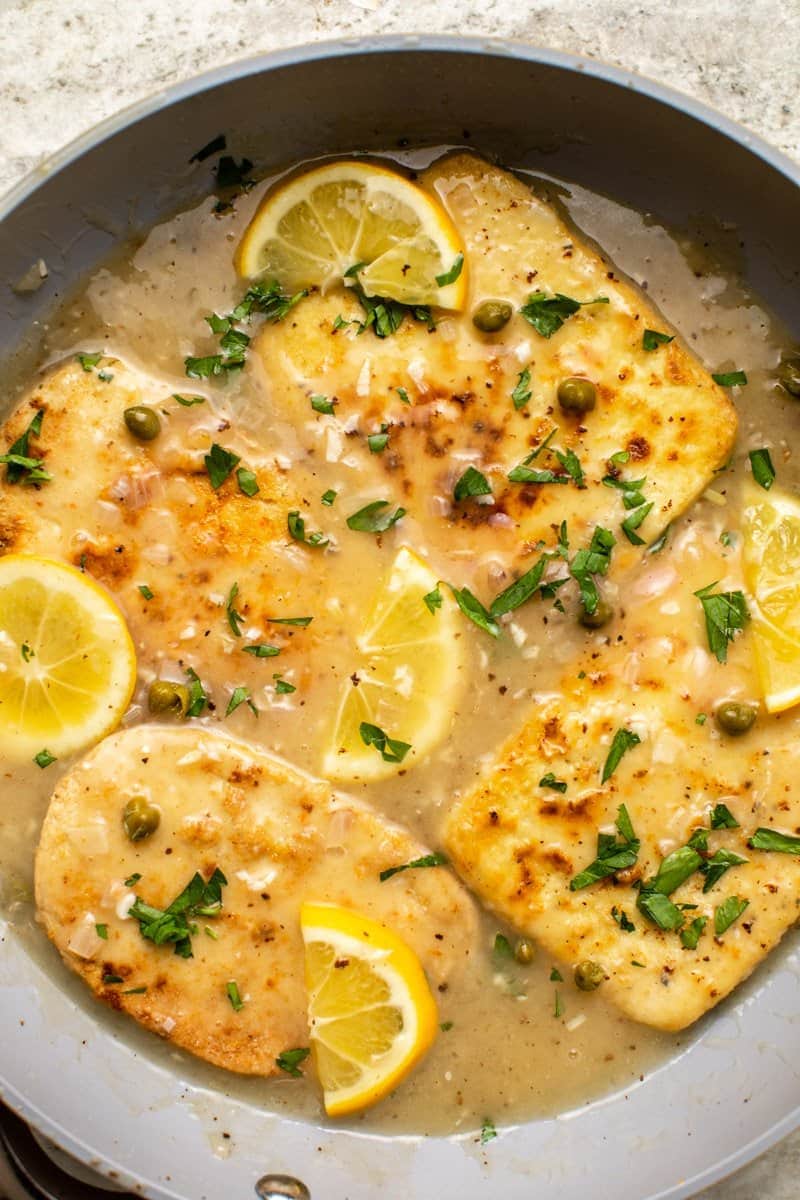 From My Bowl
11 Chicken Piccata
Piccata usually refers to meat (and in the case of this TikTok recipe, chicken) which has been smothered in flour and browned, before served in a lemony, buttery sauce. But you don't have to use meat at all to recreate the flavors of this Italian dish. Instead, you can use tofu, just like this recipe by From My Bowl.
12 Red Braised Pork Belly
There's no getting away from it, fatty, tender pork belly is the key ingredient in this TikTok recipe. But if you're not down with eating pork, but you are down with how delicious this looks, then good news for you: it is possible to make this dish vegan. This recipe by East Meets Kitchen will talk you through how to make a very similar meal using jackfruit, which, when cooked, has a convincingly pork-like consistency.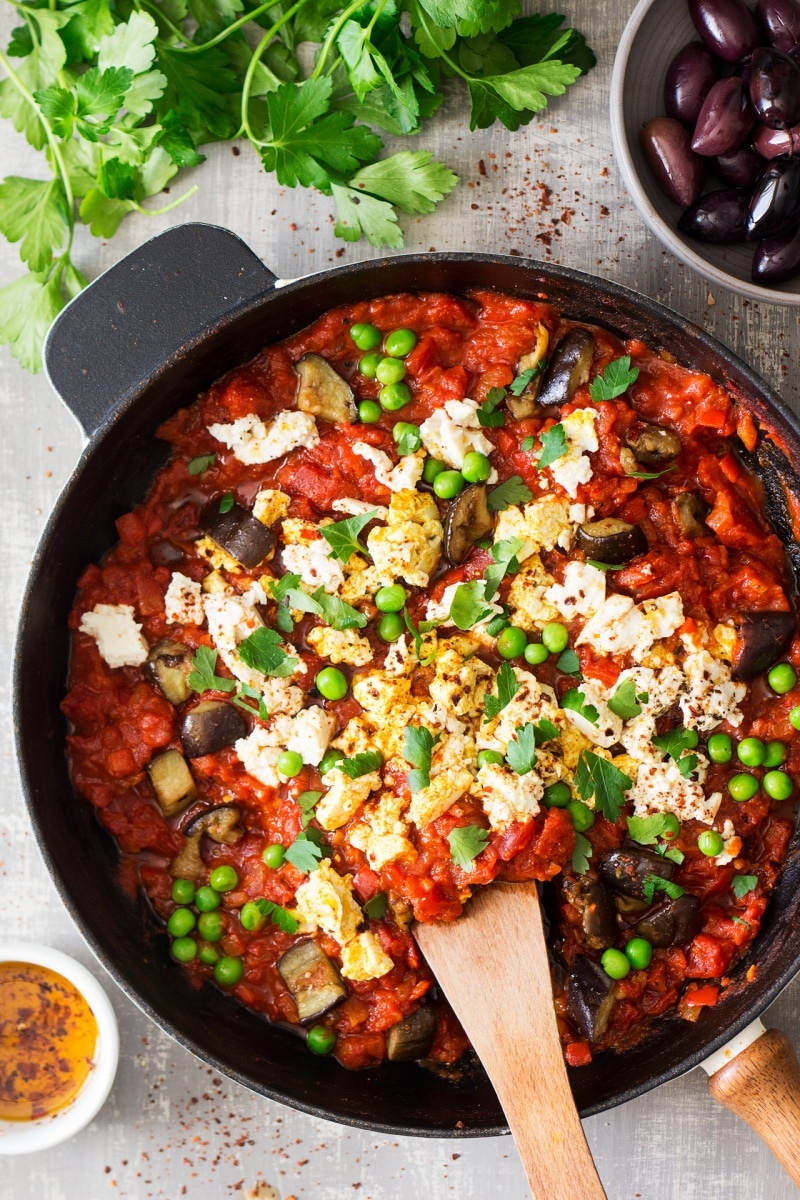 Lazy Cat Kitchen
13 Shakshuka
A staple in many North African countries, like Morocco, Tunisia, Libya, and Algeria, shakshuka is traditionally cooked in one pan (just like in this TikTok recipe) with tomatoes, spices, peppers, and eggs. That last ingredient is, clearly, not vegan. But that said, you can elect to leave this part out and just enjoy the rich sauce with bread if you desire. Alternatively, you could swap in silken tofu instead, just like this recipe by Lazy Cat Kitchen.
14Creamy Chicken Pasta
It might seem like a dish called creamy chicken pasta would be difficult to veganize, but good news! That's not the case. You can follow the steps in this TikTok recipe, but instead of chicken, use tofu or a plant-based chicken alternative (find our recommendations here!). And instead of cream, opt for a vegan alternative (or use a thick, creamy barista oat milk, for example).
15 Red Velvet Cupcakes
Usually, traditional baking recipes call for eggs, milk, and butter, and this TikTok recipe for red velvet cupcakes is no different. But there are simple vegan swaps you can make, so that you can still get the same delicious result, just without the animal products. For advice on vegan baking swaps, follow our ultimate guide to egg, milk, and butter substitutes.
For more on vegan cooking, read: