When you think of France, you likely think of a few things. First up, Paris. Next, exquisite wine. Then, maybe chic fashion comes to mind. But at some point, you're going to think about cheese. And for good reason: the country produces more than 1,000 different types, and the food is a big part of the French national identity. In fact, research suggests 96 percent of French people regularly eat cheese. And who can blame them? It's indulgent, it's flavorful, it's satisfying. But there's one hitch. As it's made with dairy milk, it's not vegan.
But in recent years, there has been a significant dairy-free cheese boom. The global market is worth nearly $2.5 billion, and now, you can find vegan versions of American cheese, cheddar, and Italian cheeses, like Parmesan and provolone, on grocery store shelves. And next to them, there are, of course, a heck of a lot of French vegan cheeses, too.
Here's everything you need to know about French vegan cheese, including the best, most authentic brands to buy it from. Plus, what do the French actually think about the plant-based shift in cheesemaking?
What is French cheese?
To be French, quite simply, a cheese must have its origins in France. Some of the most famous examples of French cheeses include brie, camembert, Roquefort, and comté, which is made with unpasteurized milk. The country's journey with cheese began back in the 13th century. And while it's a food commonly associated with excess and luxury, it was actually peasants, predominantly women, who pioneered many of the French cheeses we know today.
The legend goes, for example, that camembert was invented by Mari Harel, a peasant dairymaid from Normandy. She first learned cheesemaking techniques from a priest fleeing the French Revolution but adapted the process a little. She removed the cream from the recipe, but perhaps the biggest amendment she made was in the packaging. She choose to parcel up her cheese in small wooden containers, which made them easier to transport.
Monks also invented many French cheeses. Brie, for example, gets its name from the Priory of Rueil en Brie.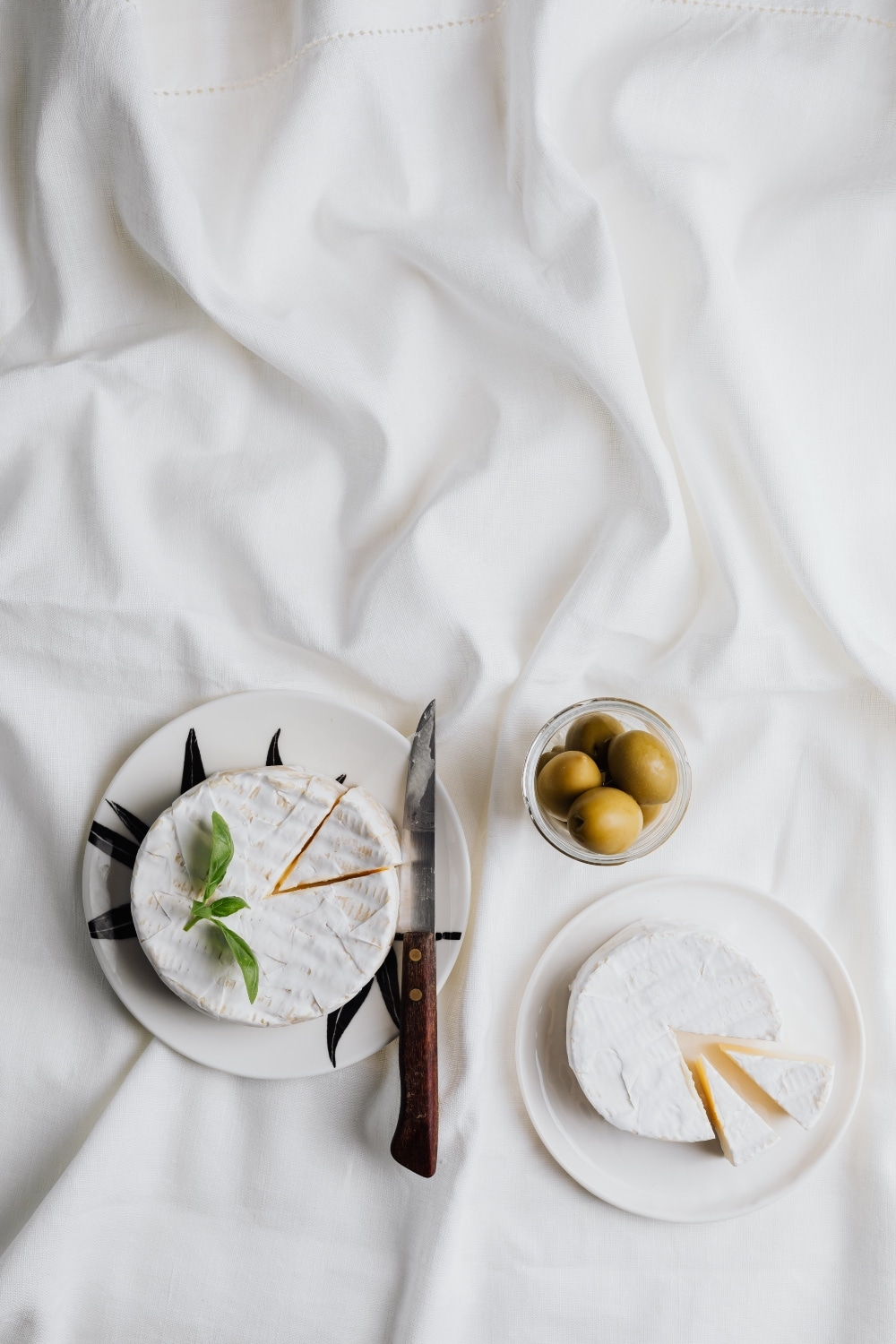 Pexels
How is French cheese different from other cheese?
There are many, many different types of French cheese—some estimates say around 1,200. It's one of the country's cultural cornerstones and a big part of the cuisine. But there are many things that bind all of the different varieties together, and make them different from say, English or Italian cheese.
For starters, a lot of the soft cheeses have the same distinct wheel shape, which is often still packaged in Harel's small wooden box packaging. Other harder cheeses may take the shape of a wedge or a log. But presentation aside, the way they're eaten is also different from other countries.
In India, paneer cheese is enjoyed in curry. In Italy, mozzarella is slathered over pizza. In the UK and America, cheese is often served with crackers. But according to the French language site French Together, this never happens in France. For the most part, it notes, cheeses are eaten on their own, but they are often also accompanied by wine, bread, nuts, and fruit.
And there's another big difference that separates French cheese from many other cheeses: mold. "The rind is full of different kinds of bacteria (the cheese-making kind, not the disease kind)," notes French Together. "Some people consider it even a bit nutritionally beneficial, like eating the skin of an apple."
How does vegan French cheese compare to traditional French cheese?
For some time, vegan brands struggled to get the taste and texture of cheese exactly right. The old soy-based products of the 1990s tasted kind of like cheese, but not quite. Let's be clear: those days are gone. Now, just like traditional cheesemaking, vegan cheesemaking is considered an art. And in France especially, plant-based cheese pioneers are meticulous about their recipes and techniques so that the end result mimics almost the exact taste, texture, and look of real dairy-based French cheese.
Nour Akbaraly, for example, is the founder of the plant-based cheese brand, Les Nouveaux Affineurs. According to Hemispheres, he spent a long time studying fermentation, researching cheesemaking techniques, and meeting with microbiologists, chefs, and dairy producers, to create high-quality French vegan cheeses that are just like the real thing. "Many products and this is really mainstream, are non-fermented and are very, very highly processed. We wanted to do something very clean-label," he said. Akbaraly's products are made with organic soybeans and cashew nuts, which are fermented for around six weeks.
And as innovation and research continue, French vegan cheese is only going to keep getting better. Last year, for example, Paris-based food-technology startup Standing Ovation raised $12 million to scale up microbial fermentation technology that it uses to create dairy-free casein, one of the main proteins in milk that is vital in the cheesemaking process.
"Standing Ovation's technology represents a paradigm shift for the animal-free dairy market," said Eric Archambeau, co-founder of Astanor Ventures, which led the startup's funding round. "Casein is the holy grail for the production of alternative options that match conventional products in nutrition, taste, and texture yet it has remained notoriously difficult to create."
Jay&Joy
What do the French think of vegan French cheese?
French people are renowned for their love of real meats and cheeses. But the needle is starting to move a little, according to new research. In 2022, one poll by YouGov revealed that around 26 percent of French consumers were ready to try a plant-based diet for one month. This is up from 2019, when the same poll was conducted and only 12 percent were willing to try the lifestyle.
Mary Carmen Iriarte Jähnke, who founded the French plant-based creamery Jay&Joy, can attest to the fact that things are changing in France. People were skeptical of her vegan cheeses at first, but she told Hemispheres that she is now making double the amount of products that she was making last year to keep up with demand. And despite her success, she's still working on new techniques all the time. "We need to give the best product ever to the people who are used to the best product ever," she told the publication.
Who is making vegan French cheese?
From small artisanal fauxmageries to mainstream vegan cheese brands, there are quite a few places out there to source vegan French cheese from. Without further ado, here are some of the best. Get your glass of merlot at the ready.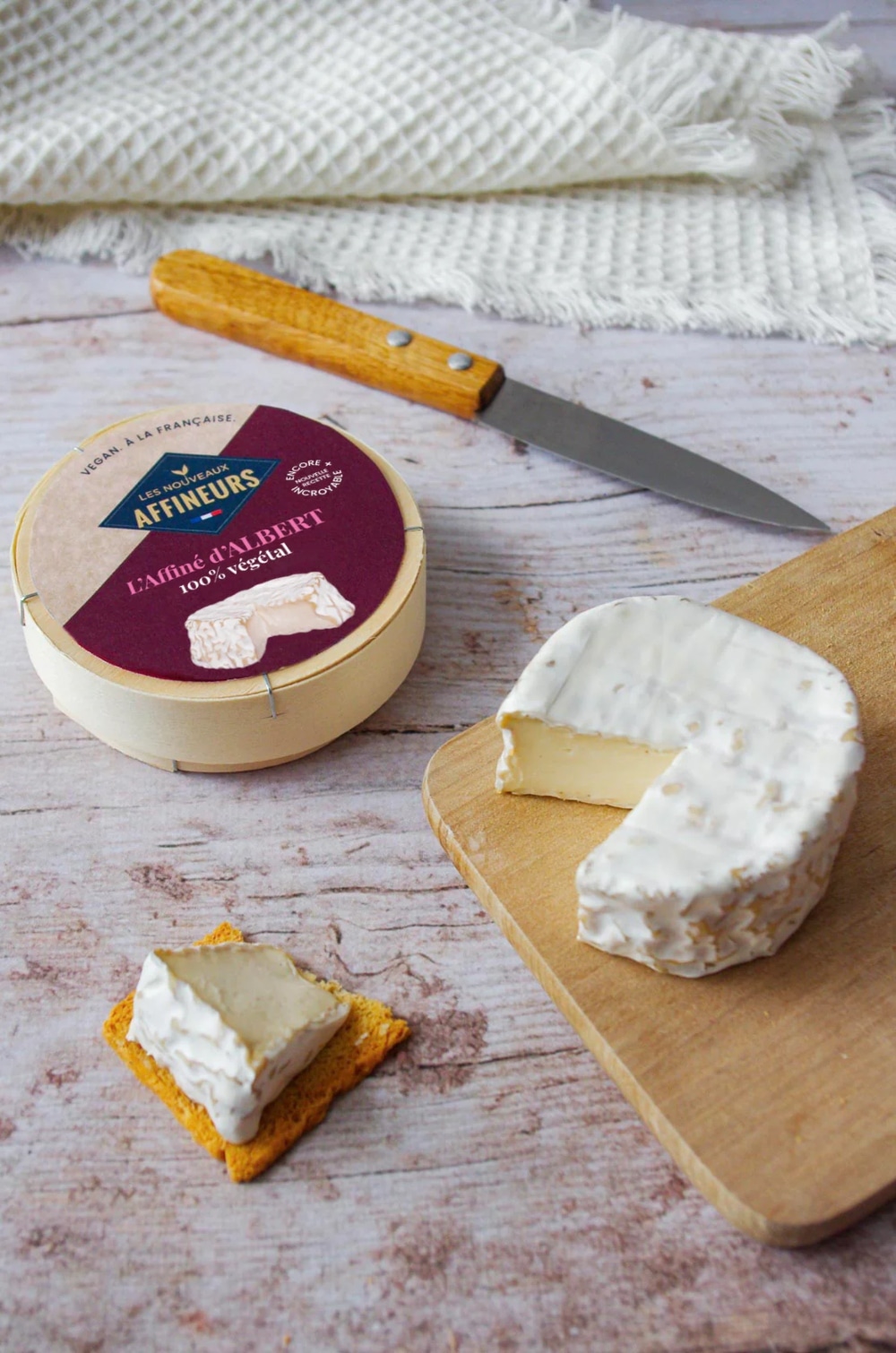 Les Nouvelles Affineurs
1 Les Nouvelles Affineurs
As we touched on previously, Les Nouvelles Affineurs, which is located in Paris, has a strict and well-researched vegan cheesemaking process. And that's why all of its products both look and taste, well, délicieux. For a smooth, creamy, sweet taste, try the brand's young L'Affiné d'Albert.
Check it out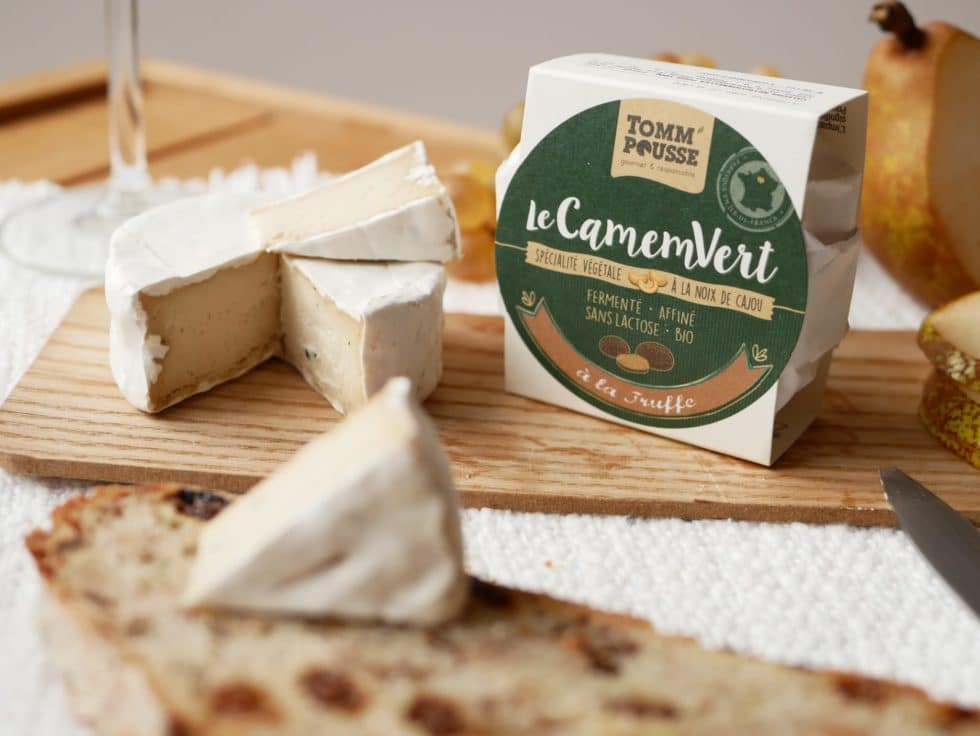 Tomm'Pousse
2 Tomm'Pousse
In Trappes, you can find gourmet plant-based cheese brand Tomm'Pousse. But while it's based in north-central France, each of its cheeses, which include varieties of Camemvert and The Rusty, are made in Paris. Like Les Nouvelles Affineurs, its products are made with organic, fermented, and matured cashew nuts for that realistic mouthfeel and texture.
Check it out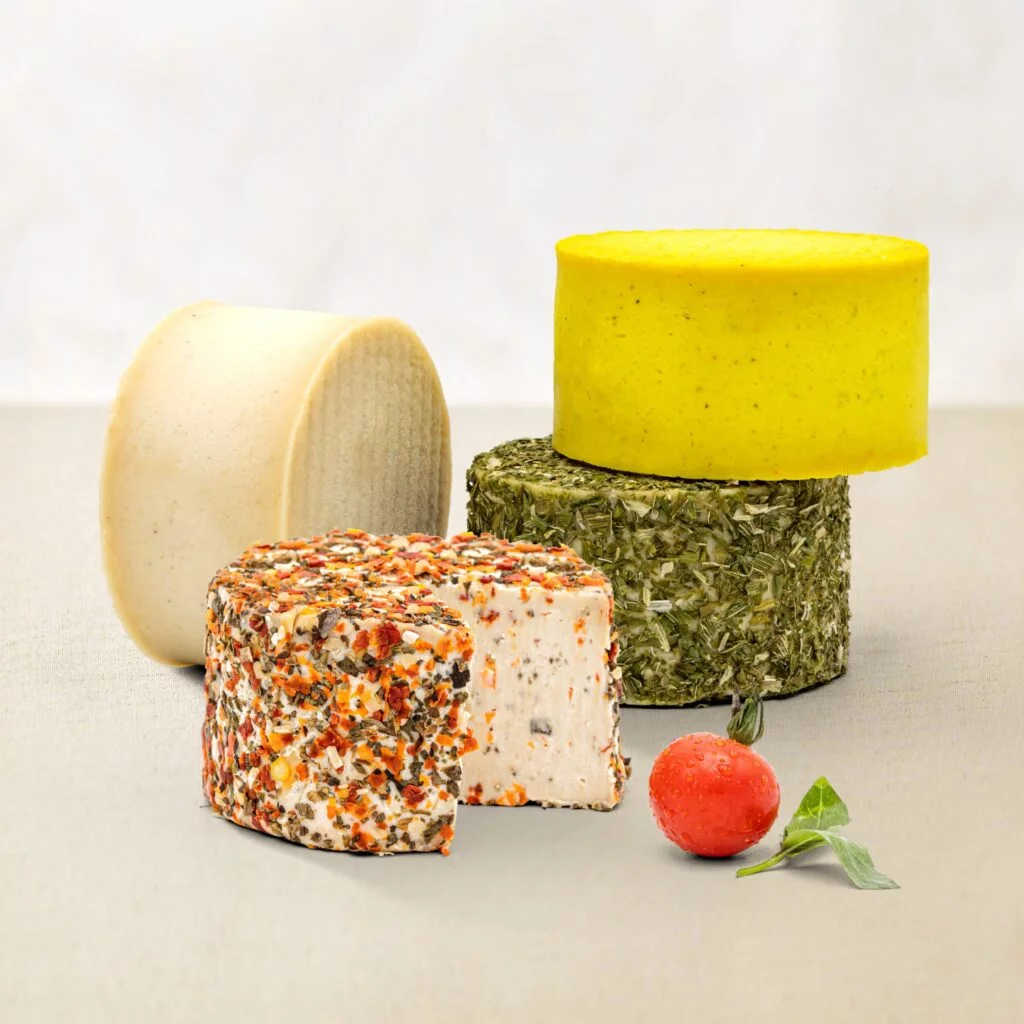 Petit Veganne
3 Petit Veganne
At Petit Veganne (which, in English, means "little vegan") you can find a plethora of plant-based cheeses, like Petit Bleu Organic and Petit Frais with Organic Garlic. Again, they're made with cashew nuts. The brand sources its nuts from Vietnam, which it claims produces a superior product due to a mechanical hulling process.
Check it out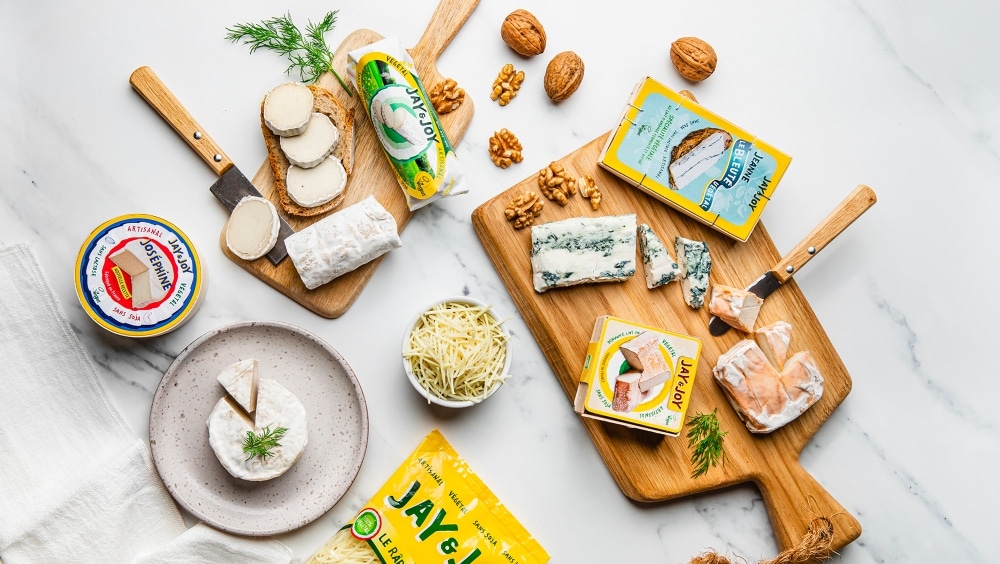 Jay&Joy
4 Jay & Joy
As outlined above, Jay & Joy is a well-established and respected vegan creamery in France. It's particularly famous for its matured versions of plant-based cheeses, like melty Jeanne, which mimics blue cheese in taste and texture, and Josephine, which has a beautiful velvety rind.
Check it out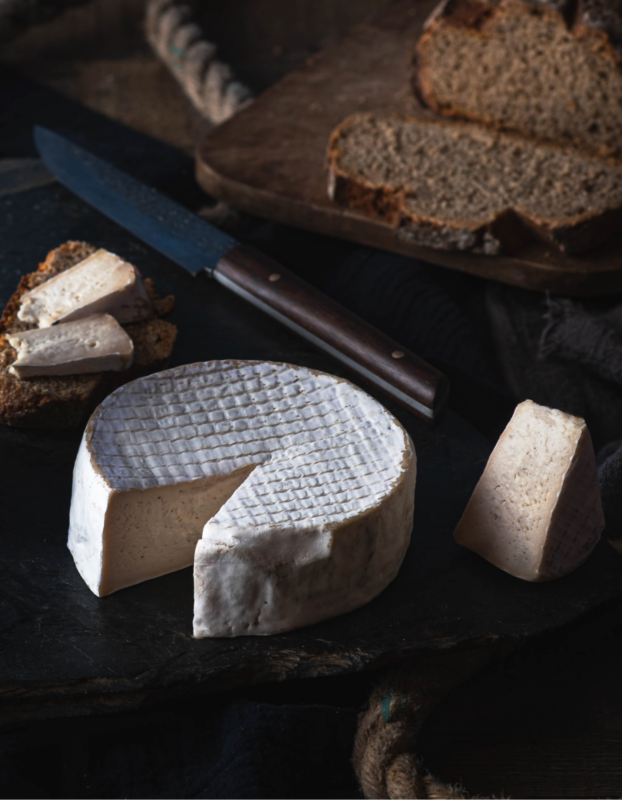 Tyk Affinage
5 Tyk Affinage
Again, Tyk Affinage makes its products using the French vegan cheesemaking ingredient of choice: organic cashew nuts. The result is a range of creamy, refined, flavorful products that are just like dairy-based ripened cheeses. Its signature product is the smooth and refined La Petit Boucan, which is named after the artisanal's brands founder, Manon Boucand.
Check it out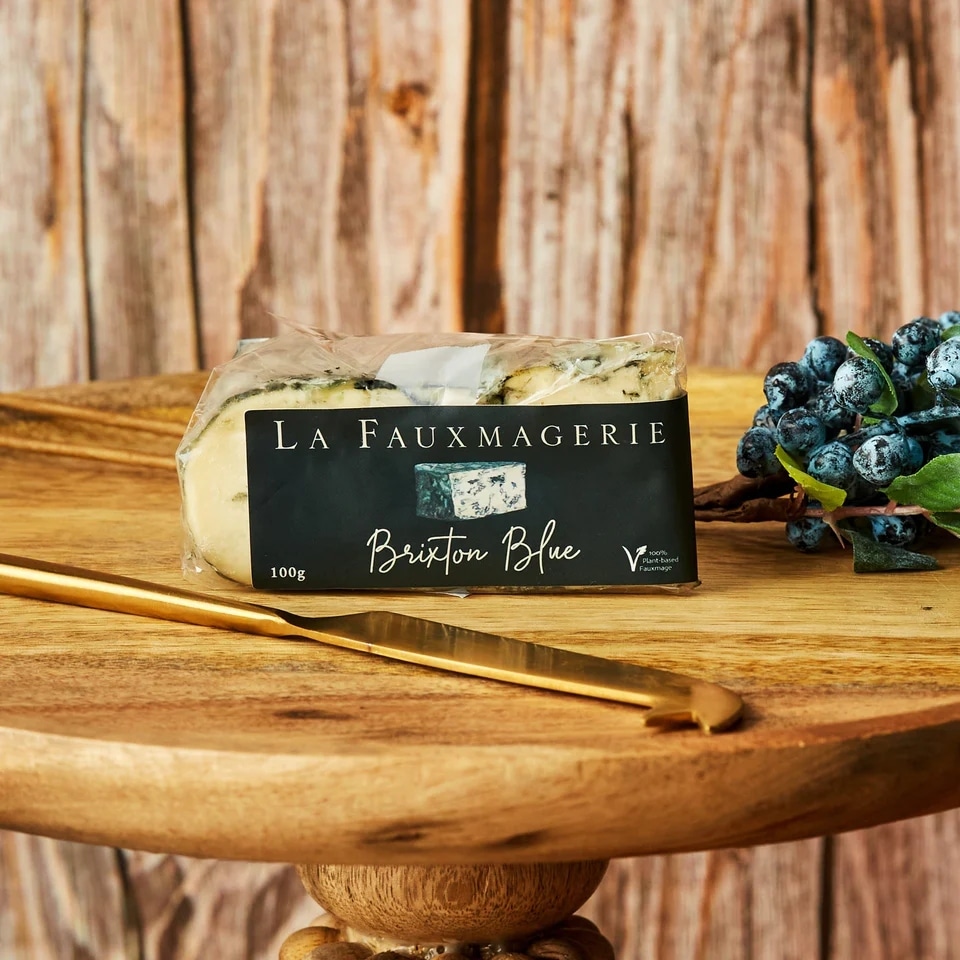 La Fauxmagerie
6 La Fauxmagerie
Outside of France, you can also find French cheeses at La Fauxmagerie in London, UK. It's the country's first-ever vegan cheesemonger, and it specializes in French vegan cheese, with a little British twist. For example, there's Brixton Blue, which is named after a popular London district but aged with penicillium roqueforti to get that French-style mold and deliciously pungent smell.
Check it out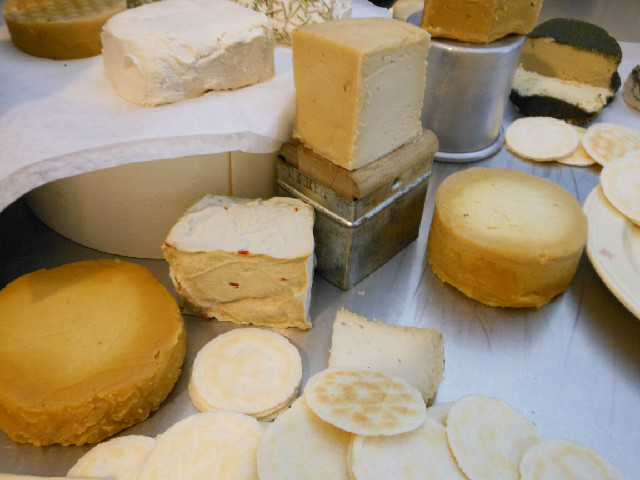 Vromage/Facebook
7 Vromage
You don't have to book a flight to Europe to sample French-style vegan cheese. Across the Atlantic, on Los Angeles' Sunset Boulevard, you can find Vromage (the name is, of course, a spin on fromage, the French word for cheese). While the menu is consistently changing, one thing is guaranteed: you'll find great quality, delicious vegan versions of French classics, like brie and fromage blanc.
Check it out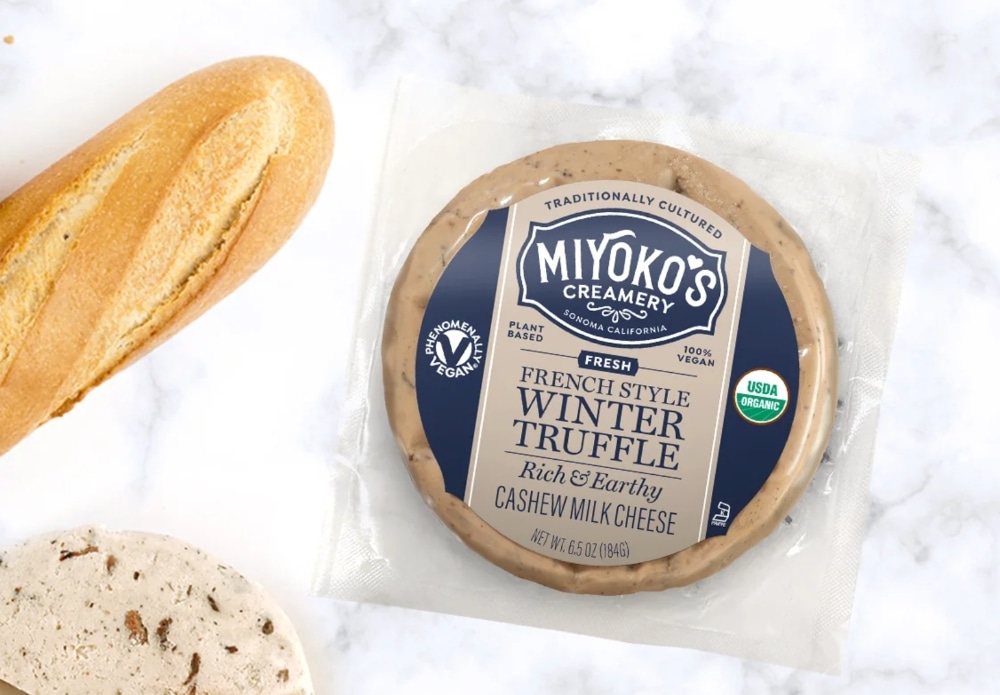 Miyoko's Creamery
8 Miyoko's Creamery
Miyoko's Creamery has always prided itself on using traditional cheesemaking techniques to make superior, elevated plant-based cheese products. Many of its vegan cheese wheels, like Double Cream Classic Chive, Winter Truffle, and Herbes De Provence, are cashew milk-based, and reminiscent of traditional French cheese.
Check it out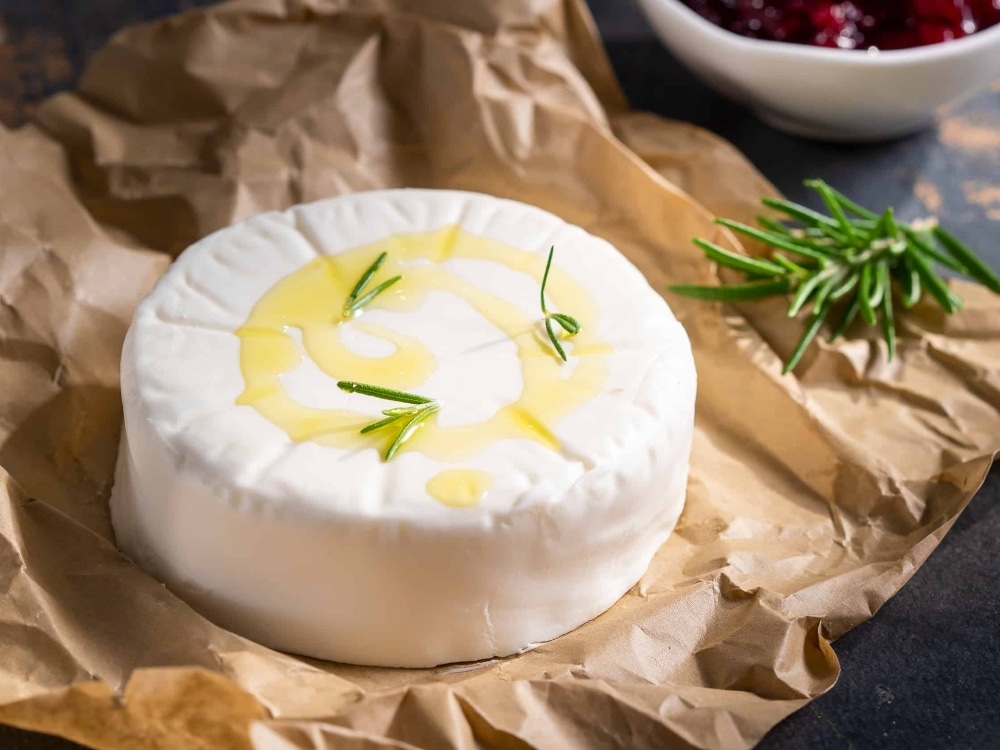 Violife
9 Violife
Greek brand Violife is perhaps one of the more well-known and accessible vegan cheese brands, particularly in the US and the UK. But while you can grab mild slices, shreds, and cream cheeses from the brand, another option is Le Rond, which is made with coconut oil and designed to mimic camembert.
Check it out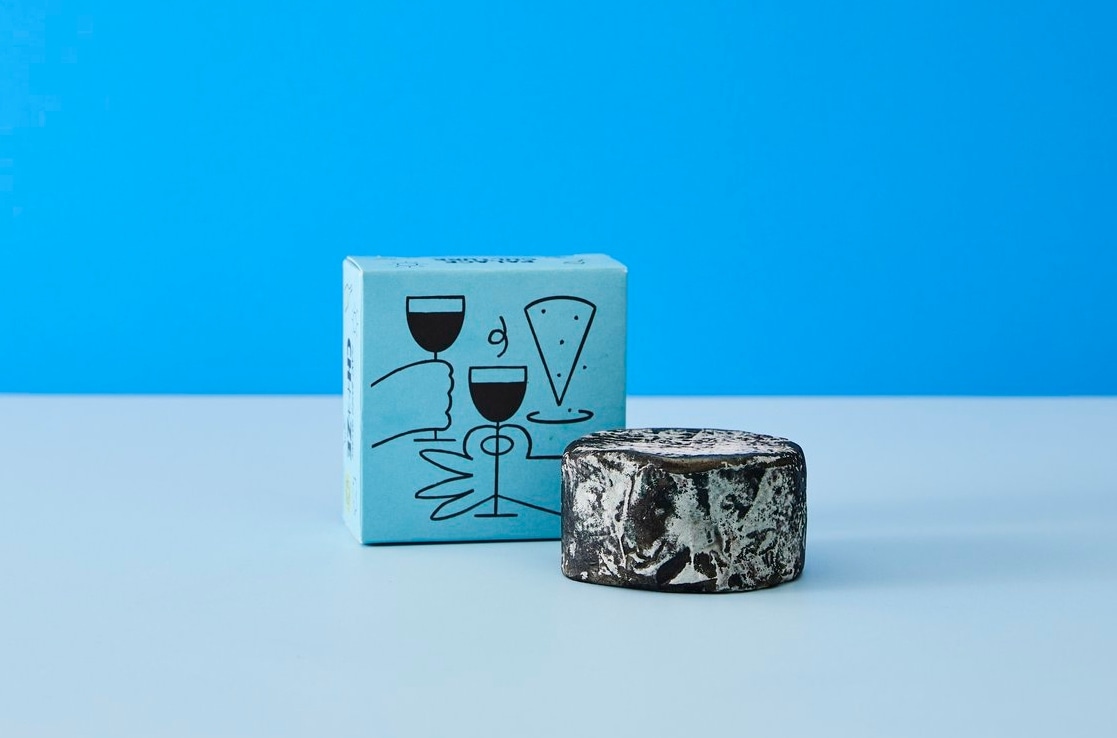 Palace Culture
10 Palace Culture
British plant-based cheese brand Palace Culture started in Crystal Palace, in London, when Mirko Parmigiani was trying to think of a way to prevent his four-year-old dairy-intolerant son from missing out on cheese. His creations were so delicious, he decided to make a business out of them, and now his nut-based cheeses are distributed across the UK. For French-style options, there's aged Sacré Bleu, Truffled Camemvert (which, true to form, has a moldy rind and is made with live cultures), and Roqueforti Bleu, which is infused with sweet red wine.
Check it out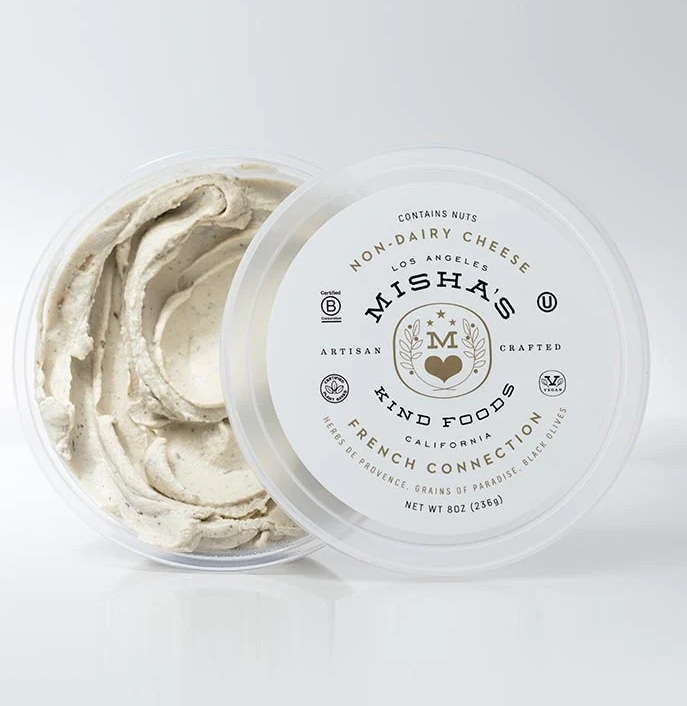 Misha's Kind Foods
11 Misha's Kind Foods
According to Los Angeles-based Misha's Kind Foods, just one taste of its French Connection creamy, plant-based cheese will transport you all the way to Europe. It's a mix of several different inspirations, but the flavor and texture is closest to that created by Boursin, a crumbly Gournay cheese brand developed in Normandy.
Check it out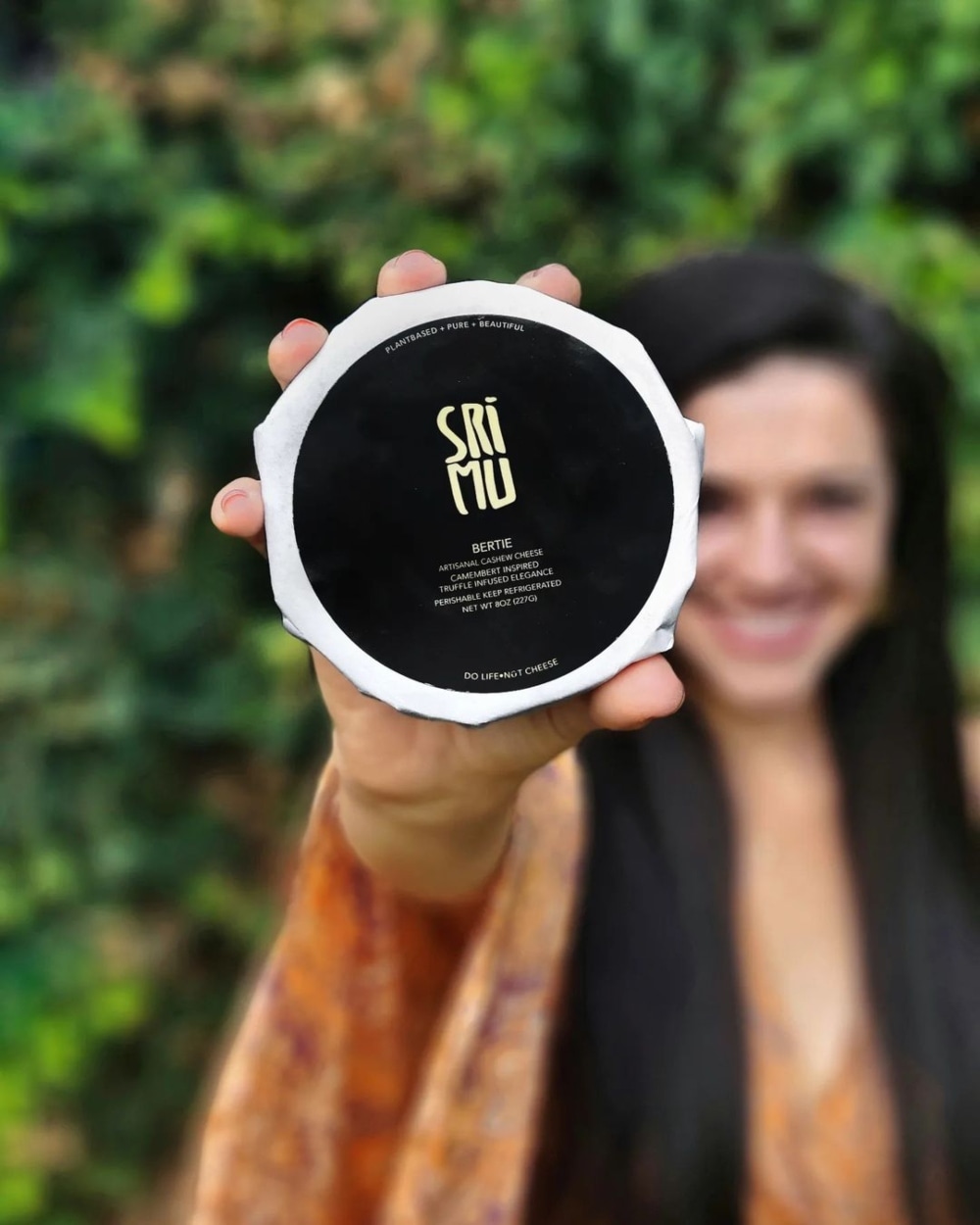 @srimudolife/@chloepnina/Instagram
12 Srimu
Again, SriMu proves that a plane ticket isn't necessary to enjoy authentic French-style vegan cheese. Made with cultures and organic cashews, the US brand's range of "NOT Cheeses" includes Bertie, a decadent plant-based cheese wheel inspired by camembert. "It transmits the intimate bustle of a Parisian Bistro," notes the brand.
Check it out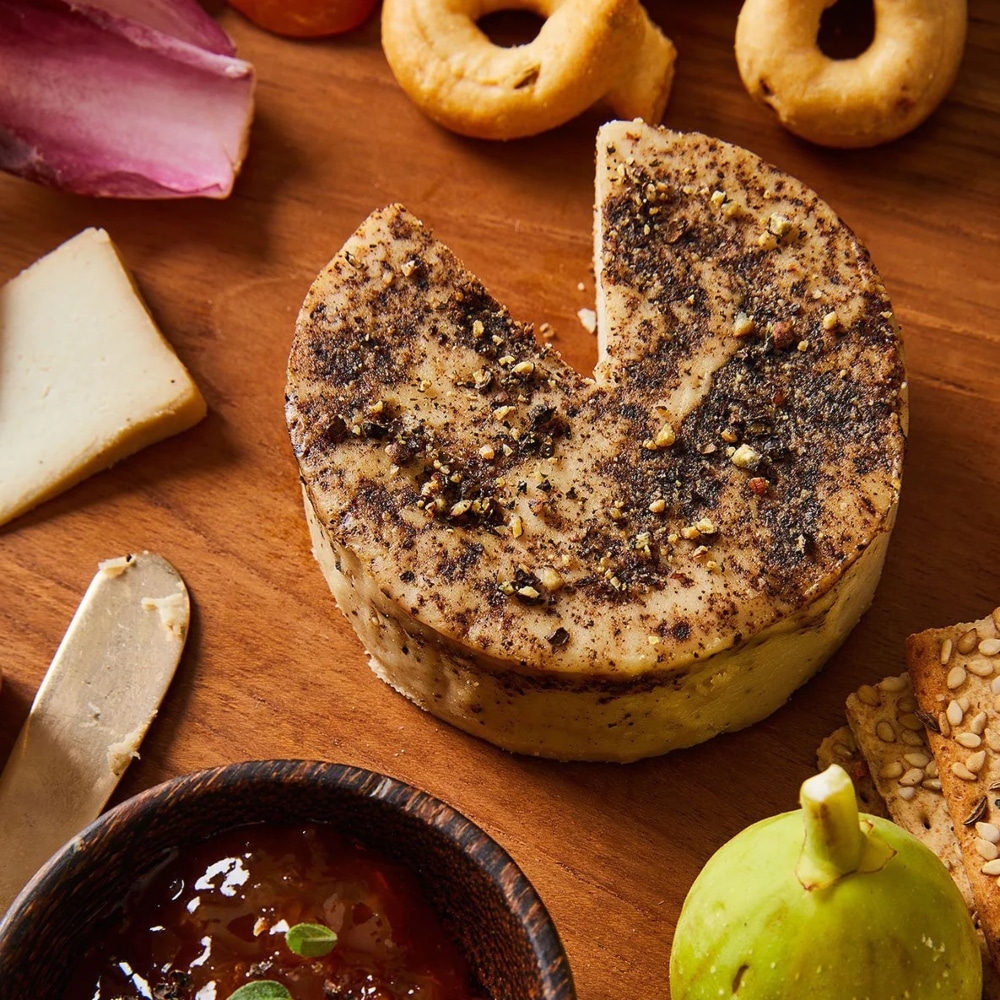 Treeline
13 Treeline
New York-based Treeline covers all the bases with its wide range of vegan cheeses. For lovers of milder flavors, there are the classic shreds and slices. But for those who enjoy a deeper flavor profile, it also offers a number of artisanal French-inspired products, like the Classic Aged Artisanal, Bloomy Rind (complete with small, round wooden box packaging), and True Blue Cashew Cheese.
Check it out
For more vegan cheese, read: