Pi Day is one of the most underappreciated and unrecognized holidays. Honored by pi(e)-lovers every fourteenth of March, the unofficial holiday was first coined by physicist Larry Shaw in 1988 to celebrate pi—the mathematical constant of 3.14. March 14 also happens to be Albert Einstein's birthday—coincidence, we think not. Today, middle school teachers and pie aficionados everywhere celebrate by indulging in pies of all kinds—pizza pie, fruit pie, cottage pie, hand pies … it's all fair game. In anticipation of one of our favorite food holidays (and to raise a glass to Einstein—who was a vegetarian, after all), we've done a deep dive through Instagram to find the 14 most drool-worthy vegan pies to spark excitement for Pi Day.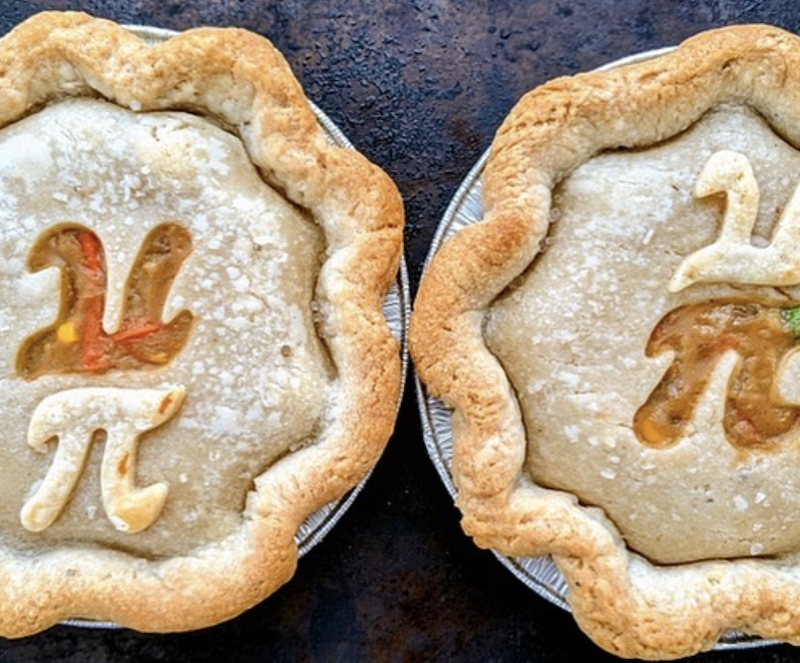 Prairie Vegan Pies
1 Veggie Pot Pie from Prairie Vegan Pies
Well, we definitely know what's for dinner on Pi Day. Each pie features buttery, flaky, thick vegan pastry stamped with the universal sign for pi. Underneath this melt-in-your-mouth golden crust lies a medley of vegetables smothered in a creamy bechamel sauce. These pies are available for pre-order and pick-up for those who live in the greater Cinncinati, OH area.
Find out more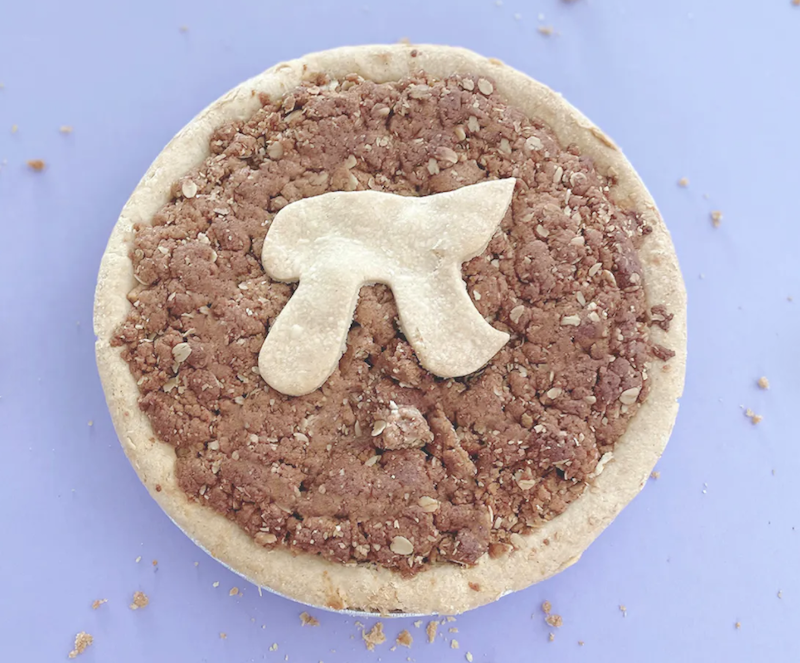 Erin McKenna's Bakery
2 Vegan, Gluten-Free Dutch Apple Pi from Erin McKenna's Bakery
Few things in life are more perfect than the quintessential apple pie. A mound of gooey, caramely apples are layered into a tender pastry just begging to be adorned with a scoop of vegan vanilla bean ice cream, or in Erin McKenna's case, a mound of cinnamon-spiked buttery brown sugar oat crumble. These pi-marked pies are available for nationwide shipping in the US via Goldbelly. Find out more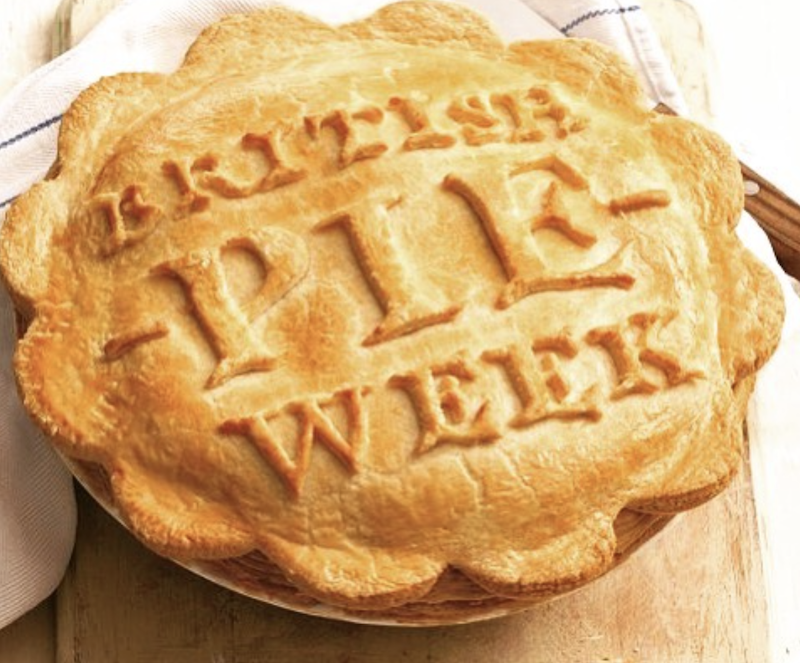 Purely Pies
3 Savory Pot Pie from Purely Pies
No matter what vegan filling is encased in this gorgeously buttery crust, we want it. UK vegans are in for a treat. Individual pies and hand pies are available in several stockists throughout the country and are also available online for shipping.
Find out more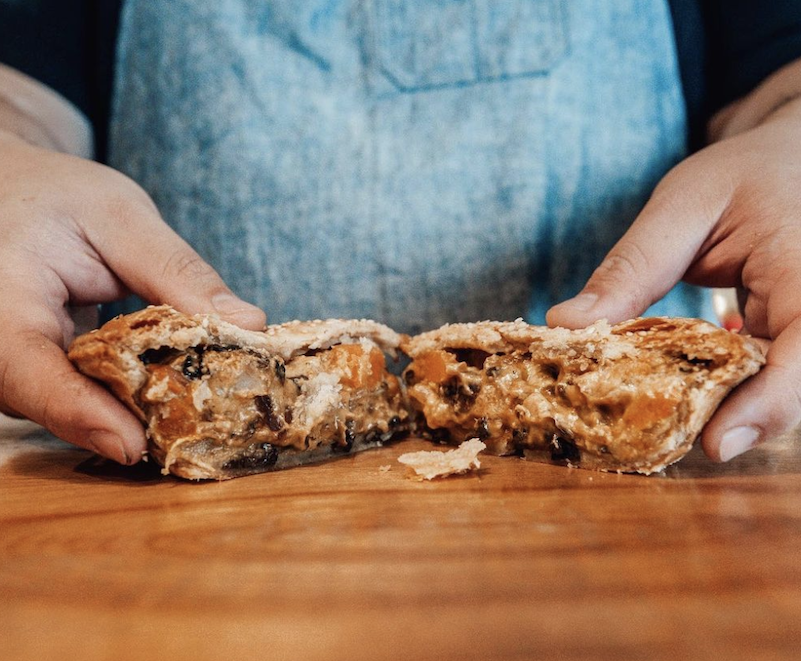 Pop Pie Co.
4 Roasted Veggies & Yellow Curry Hand Pie from Pop Pie Co.
This Aussie hand pie company has branched out into both sweet and savory plant-based options. Southern California residents can stop by the Costa Mesa or San Diego location to stock up on these slightly spicy, deliciously buttery Thai Yellow Curry hand pies. No judgment if you eat two in one sitting. Don't live in the SoCal area? Pop Pie Co Executive Chef Gan Suebsarakham shared his secrets with us on how he makes the perfect vegan pie crust.
Find out more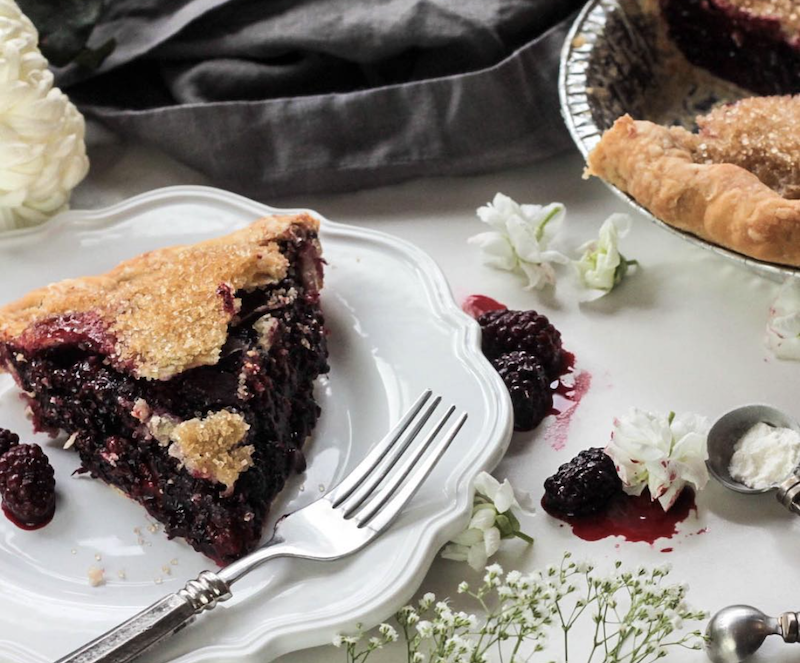 The Pie Bar
5 Marionberry Pie from The Pie Bar
If you've never had a marionberry pie before, you need to make your way to Long Beach, CA and visit this quaint community pie shop. With multiple sweet and savory vegan options, this bakery makes it possible to eat pie for breakfast, lunch, dinner, and dessert. Swing by on Pi Day for deals on slices and whole pies to go.
Find out more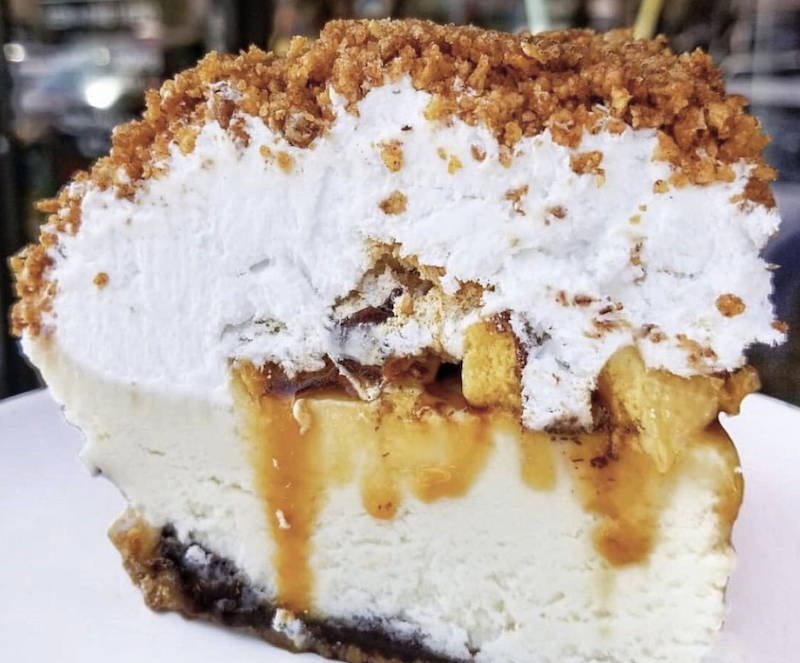 Magpies Softserve
6 Fried Soft-Serve Ice Cream Pie from Magpies Softserve
This vegan-friendly soft-serve shop whips up some of the most unique pies we've ever had the pleasure to devour. The kitchen concocts seasonal variations on its ice cream pies, but as tempting as they are, we can't kick our fried pie habit. This delicious monstrosity of creamy, crunchy, salt-meets-sweet goodness starts with a graham cracker crust lined with fudge sauce which is filled with corn almond soft-serve, topped with homemade vegan honeycomb, layered with a mountain of whipped cream, and crowned with fried candied cornflakes. These pies are available by the slice and whole (if you pre-order) in all three Magpies locations.
Find out more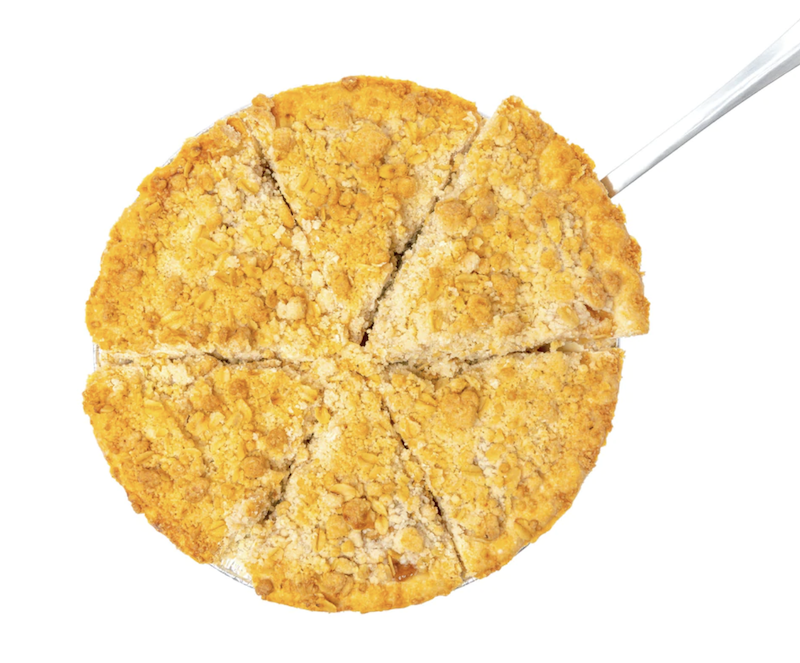 Giselle's Vegan Kitchen
7 Apple Crumb Pie from Giselle's Vegan Kitchen
Yes, we're including another apple crumb pie on this list, because the beauty of pie is you can freeze one and save it for later, and we simply could not decide between Erin McKenna's and Giselles. Both are simply outstanding, and both happen to be gluten-free. This best-seller is available for nationwide shipping online and for pickup at the boutique bakery's adorably whimsical Laguna Niguel, CA storefront.
Find out more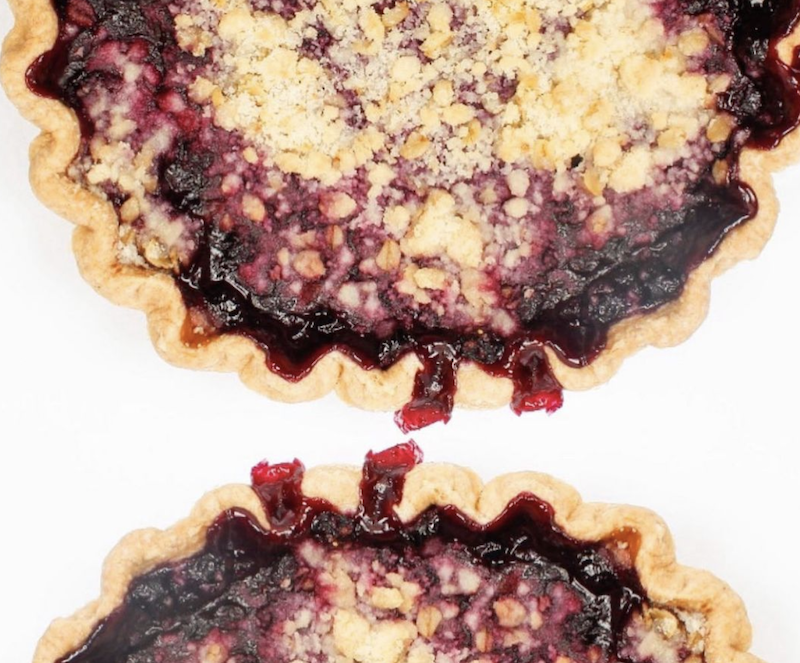 The Pie Hole
8 Vegan Blueberry Pie from The Pie Hole
Blueberry pie often gets overlooked, but The Pie Hole does this flavor justice. Each slice or whole pie features perfectly crimped, thick crust edges and a scattering of sweet crumble that's light enough for the blueberry filling to truly shine. Pick up at one of the many locations in California or order online for nationwide delivery.
Find out more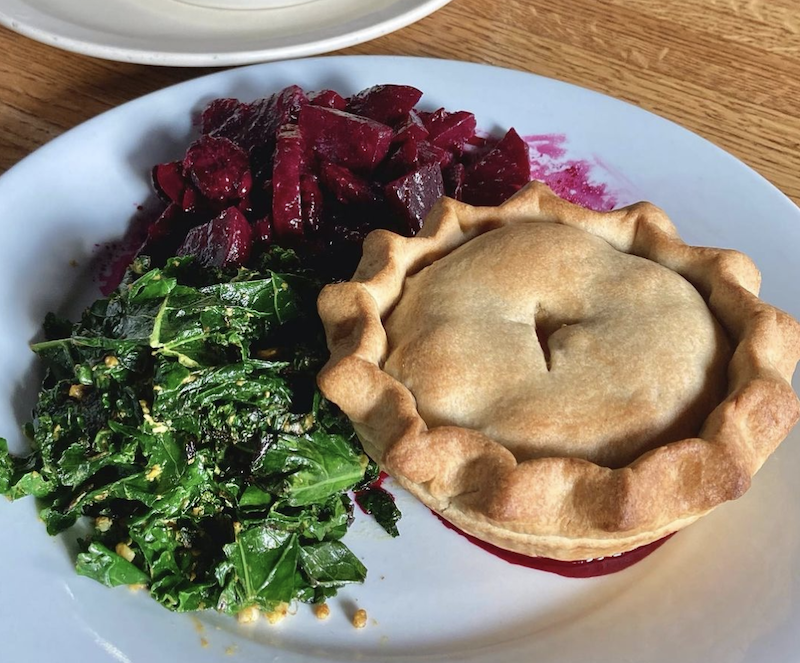 Follow Your Heart Market & Cafe
9 "Chicken Pot Pie" from Follow Your Heart Market & Cafe
This Los Angeles vegan institution is better known for its Vegenaise, but Canoga Park and Greater LA locals flock to this 50-year-old market and cafe for its hearty, diner-style eats. The individually sized vegan chicken pot pies are a popular choice on the expansive menu. While you're at it, order a slice of one of the many sweet pies for dessert.
Find out more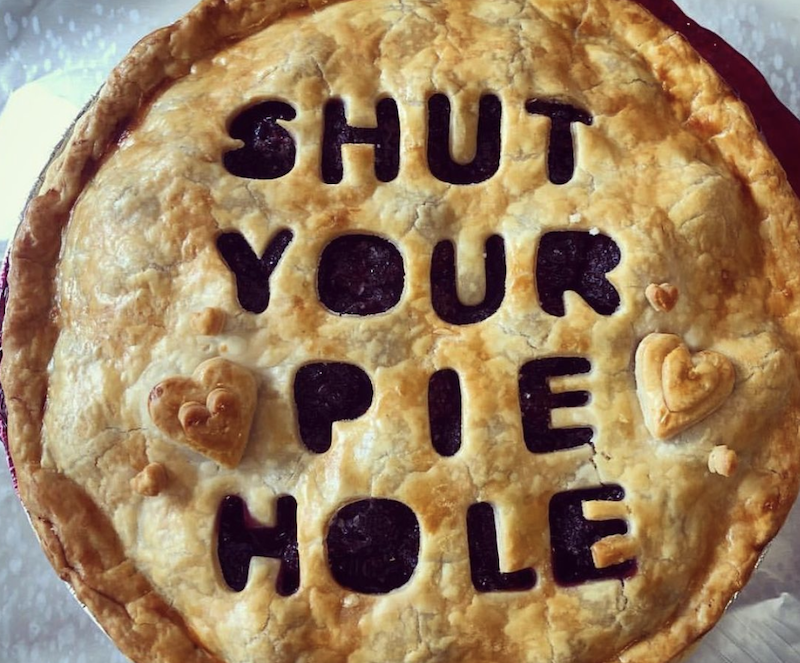 Two Birds Baking Company
10 Cherry Pie by Two Birds Baking Company
While known for her cupcakes, this independent Orange County, CA baker occasionally tempts her Instagram followers with a stunning fruit pie. Forget sending a card to say how you feel, send pie instead.
Find out more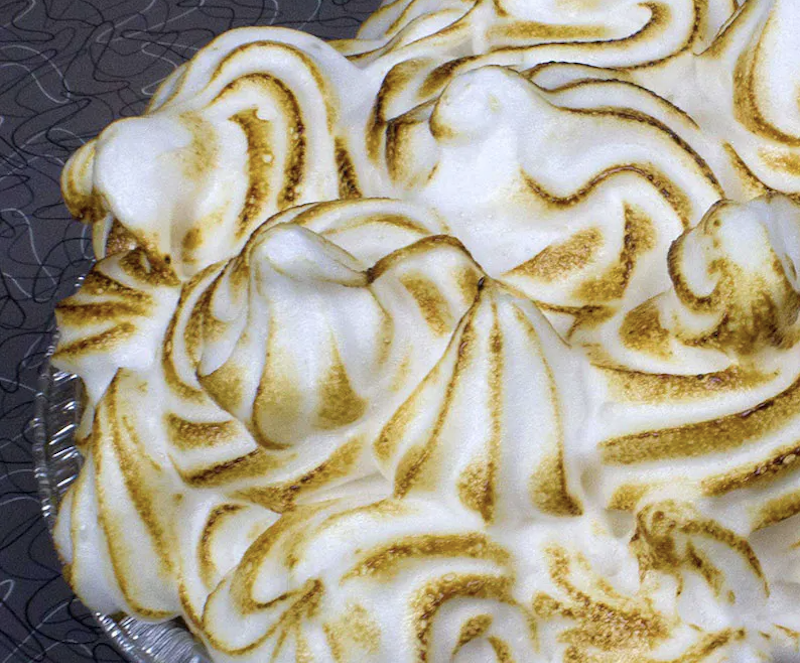 Veggie Galaxy
11 Mile High Lemon Meringue Pie from Veggie Galaxy
Even those on Team Cake can get on board the pie train with this tart-yet-sweet mashup. Made by a longstanding vegan diner in Cambridge, MA, this classic features a crumbly graham cracker crust, a silky lemon and passionfruit custard, and gravity-defying puffs of torched meringue towers. Welcome to Team Pie.
Find out more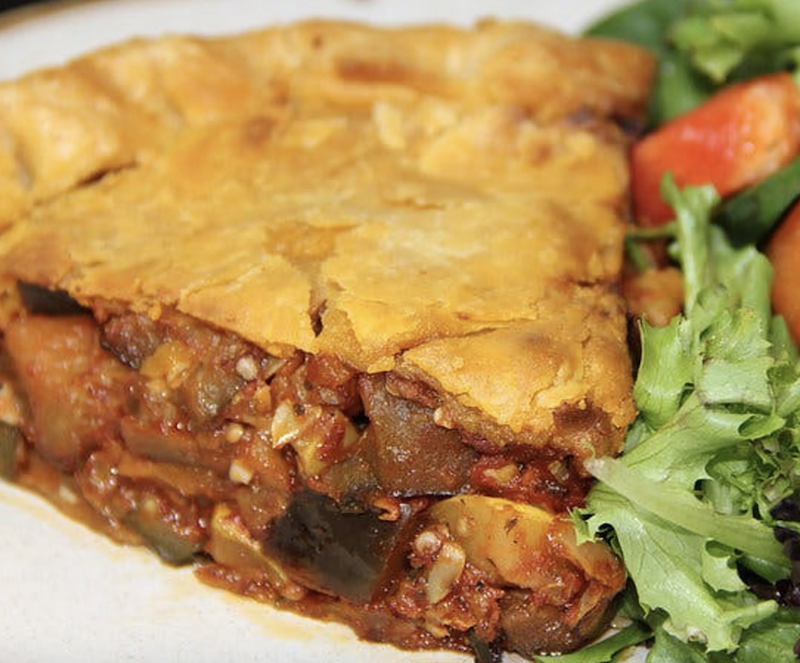 Dangerously Delicious Pies
12 Ratatouille Pie from Dangerously Delicious Pies
You won't miss the meat (or vegan meat alternative) in this dense, flavor-packed savory vegetable pie. The Washington, D.C.-based pie bakery offers a number of plant-based options for anyone craving something sweet or savory packed into a flaky pie crust. Stop by the store or order for nationwide shipping via Goldbelly.
Find out more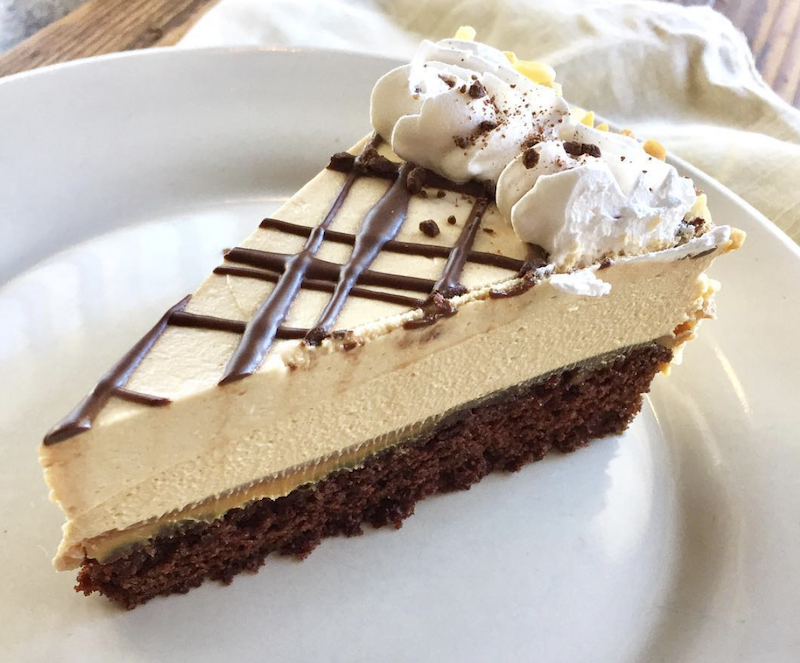 Cafe Sunflower
13 Peanut Butter Chocolate Mousse Pie from Southern Sweets Bakery
Billowy, flavor-punched peanut butter mousse sits atop moist vegan chocolate cake to create this decadent cake-meets-pie mashup. Find it at Atlanta's Cafe Sunflower or go straight to the Decatur, GA bakery to buy the whole pie.
Find out more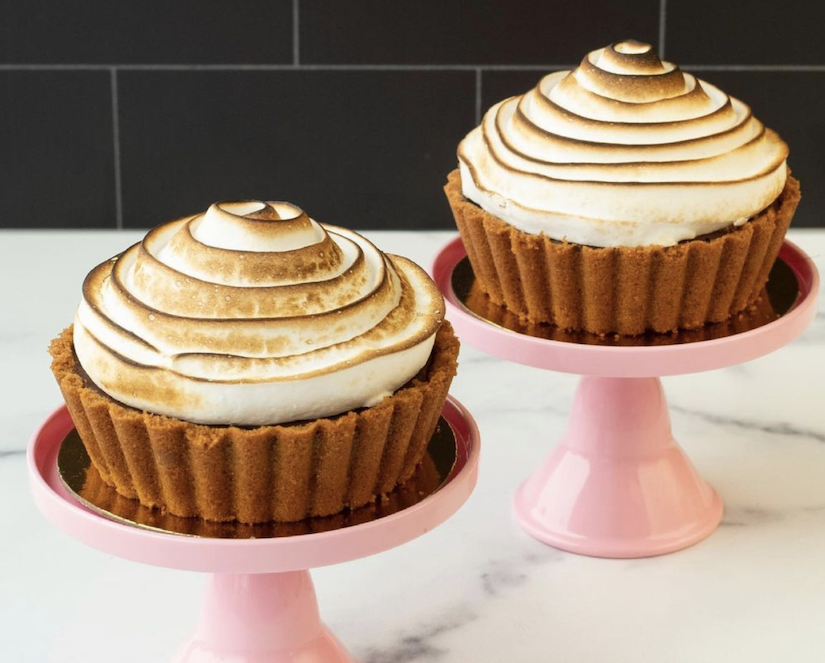 Vegan Treats
14 S'more Pie from Vegan Treats
This award-winning vegan bakery in Bethlehem, PA showcases all the tastes and textures of classic s'mores in a much cleaner bite. The treats combine a crumbly Speculoos crust layered with fluffy Speculoos marshmallow mouse, rich chocolate ganache, and pillowy toasted meringue. If it's sold out, don't fret—the shop cranks out a number of vegan pies that will satisfy the most demanding of sweet tooth cravings.
Find out more
For more vegan treats, read:
8 Vegan Cakes That Ship Nationwide
16 Cookies That Ship Nationwide
25 Exceptional Treat You Can Find on Etsy