Candles are one of the unnecessary homegoods items we can't live without—particularly during the fall and winter seasons. Instead of relying on them to light up a room, we depend on them to light up our spirits during the holiday season. This year, we're decorating our kitchens, living rooms, offices, and even bathrooms with Thanksgiving-scented candles to extend the joy of this food-centric holiday. From pumpkin pie to savory rosemary and sage fragrances, pick up these vegan-friendly candles to make every day smell like a home-cooked vegan Thanksgiving meal.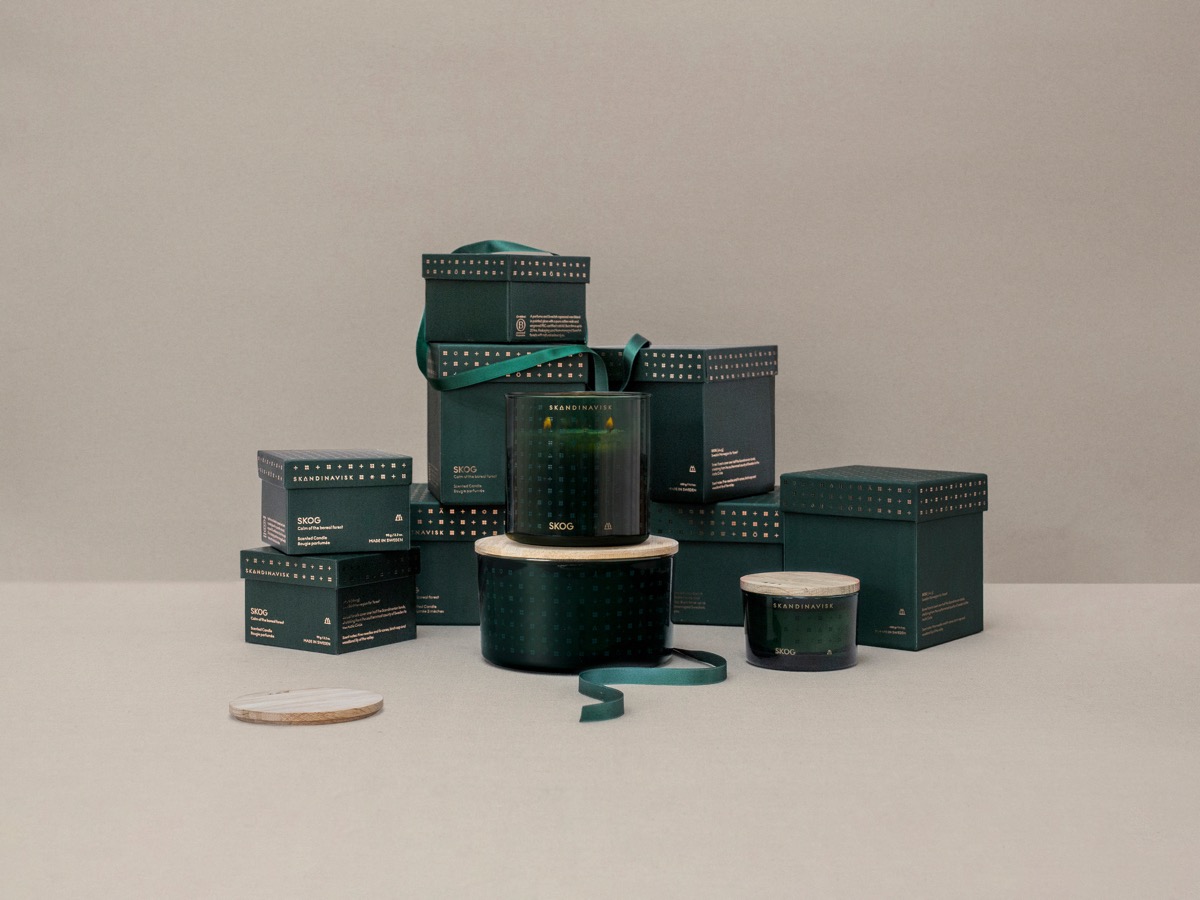 Skandinavisk
1 Skandinavisk
Light up your entire home with these gorgeous Scandinavian-inspired candles from this luxe Danish-brand. The pine-y scent of the Boreal forest wafts delicately through the air as this long-burn candle casts its subtle glow. The minimalistic design and responsible sourcing and production practices are just the icing on the cake.
Find it here
SONA Home
2 SONA Home
With aromas of fragrant spices, bold florals, and woodsy notes, this nutmeg-clove-apple scented candle made from soy and mineral wax is the perfect addition to your home this fall. Encapsulated in a aubergine-hued, glass jar, this candle is made to burn for 60 hours.
Find it here
P.F. Candle Co.
3 P.F. Candle Co.
Found online and at many homegoods boutiques, the food-scented varieties of these candles are appealing without being too overpowering. Start off with the fresh aroma of Apple Picking, set a cozy mood with the Spiced Pumpkin, and serve the main course as you light the Rosemary candle.
Find it here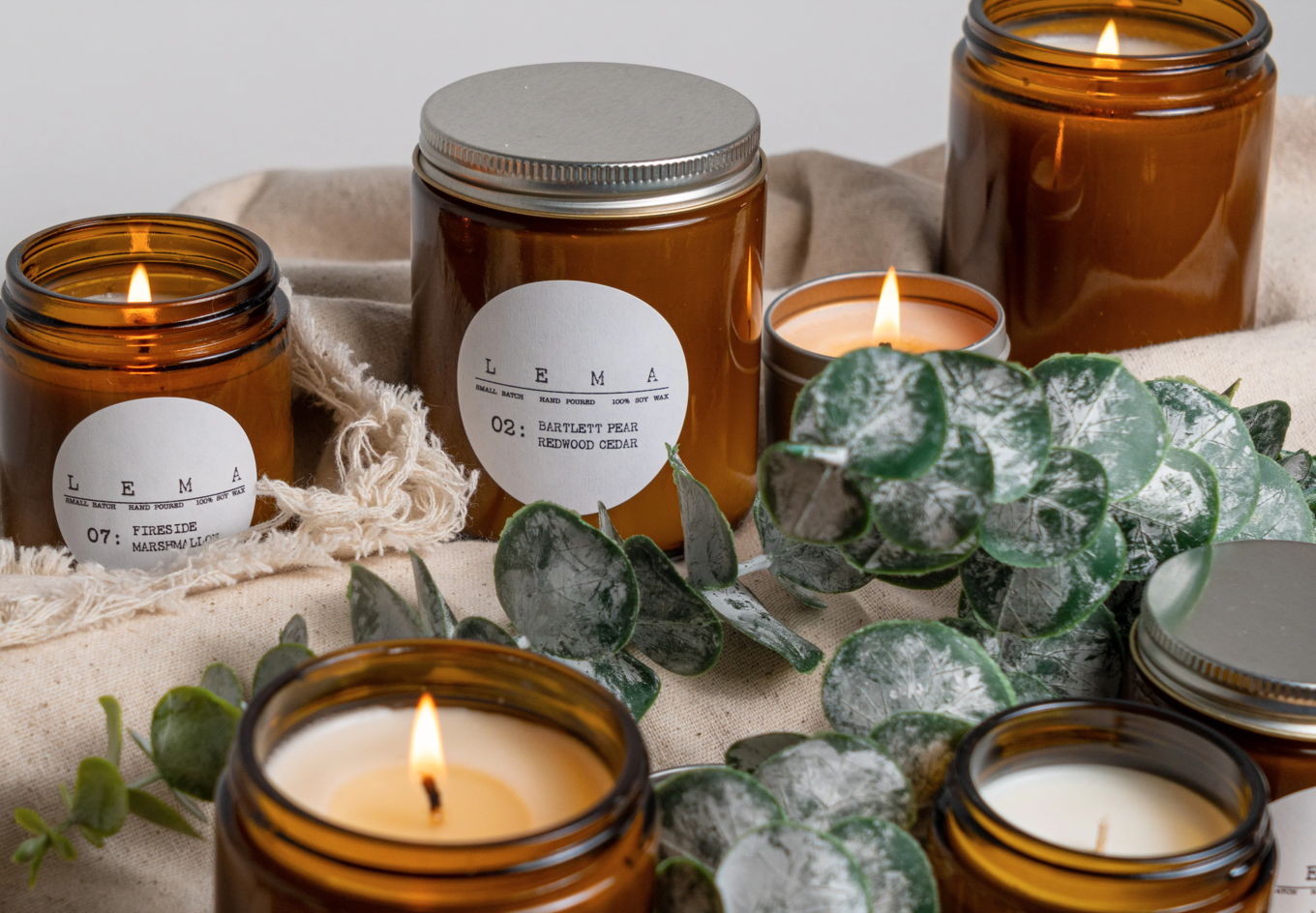 Lema Candles
4 Lema Candles
Not only are these candles totally vegan, but they also donate a portion of proceeds from every candle sold to animal rescues. Bonus? The company is women-owned! Scents like Bourbon Pecan Hazelnut Coffee and White Sage Citrus will be carrying us through this fall.
Find it here
Aerangis
5 Aerangis
As you light this No. 0324 candle, you'll be enveloped in an enchanting symphony of scents that evoke nostalgia and relaxation. Notes of aged leather, woody undertones, and subtle hints of vanilla blend seamlessly, creating an olfactory experience like no other. Crafted using eco-friendly, natural materials, this candle aligns perfectly with the ethos of responsible consumption.
Find it here
Scent Lab
6 Scent Lab
Want to craft your own perfect fall scented candle? Scent Lab uses AI and a analytics-driven quiz to help you find your perfect candle from scent to aesthetic. We're hooked on the personalization of each of these beautiful candles that come labeled with our names and personalized scents.
Find it here
Wax Buffalo
7 Wax Buffalo
The entire fall collection of these pure soy wax candles is ultra-dreamy. Choose between autumn, classic pumpkin, the orchard, or driftwood, and get ready to drift into a cozy dream space. Each candle is a work of art, hand-poured with care and infused with the rich scents of fall: from the spicy notes of cinnamon and nutmeg to the earthy undertones of cedar and pine.
Find it here
Soy Much Brighter
8 Soy Much Brighter
Worried about your guests getting along? With fun names such as Autumn + Eve, Pass the Cider, All Nogged Up, and 'Tis the Season for Making Out, these incredible scented candles double as ice breakers among your omnivore and vegan guests before you all sit down to your plant-based feast.
Find it here
Noa Lux
9 Noa Lux
As you light this luxe candle, you'll be transported to a cozy maple syrup cabin in the heart of the forest. The warm, inviting scent of maple syrup and cream blends seamlessly, filling your space with a nostalgic and homely ambiance. Whether you're looking to embrace the spirit of autumn or add a touch of indulgence to your space, this candle will certainly bring the cozy vibes.
Find it here
Here at VegNews, we live and breathe the vegan lifestyle, and only recommend products we feel make our lives amazing. Occasionally, articles may include shopping links where we might earn a small commission. In no way does this effect the editorial integrity of VegNews.