Snow's on the ground and there's a certain chill in the air. Whether you love the winter or are eagerly awaiting blue skies and short sleeves, you'll have to eventually leave the warmth of your blanket and set down your hot cocoa to step outside. When you do, leave the dreary hues and boring puffer jackets that ruin all of your outfits inside, and instead, turn to faux-fur coats!
From daring electric blue to trendy heart prints and muted pinks, there's an endless assortment of fun jackets to keep you warm but also add some serious style to your cold-weather wardrobe. Not sure where to find your next warm-weather staple? Read on for our favorite faux-fur coats this season. But before we get to that, let's take a closer look at the fur industry, and why real is out and faux is in.
Is fur still fashionable?
Fur used to be a fashion week staple. But in recent years, brands such as Chanel, Gucci, Prada, Canada Goose, and Versace, plus major retailers Bloomingdale's, Macy's, and Nordstrom, have denounced the fabric once and for all. Even Kopenhagen Fur, the largest fur auction house in the world, announced it was closing in 2020. And in 2021, popular fashion magazine ELLE committed to banning fur from its 45 print editions and 46 websites.
All of this, alongside several fur farming bans around the world, has had a major impact on the market. Today, the industry is firmly in decline. In fact, in November 2022, research by the animal welfare organization Four Paws found that in the decade between 2011 and 2021, European fur imports fell from €318.8 million to €107.8 million. "The latest figures show a decade of decline and are damning for the fur industry," said Thomas Pietsch of Four Paws in a statement.
Is faux fur cruelty-free?
Unlike real fur, faux fur options are not associated with animal cruelty. This is because no animals are slaughtered to create them.
In the fur industry, animals like mink, foxes, rabbits, and chinchillas are raised on factory farms in cramped cages. These conditions can lead to physical health problems, but also extreme mental distress. Research suggests that some animals even turn to self-mutilation or cannibalism as a result of not being able to express their natural behaviors in their natural environments.
After they have endured the cages, fur farm animals are often gassed or electrocuted, reports the Fur Free Alliance, so their pelts can be used for fashion. But this doesn't have to be the reality, because faux fur coats are warm, cozy, stylish, and available in abundance. Without further ado, here are some of our top picks.
The best faux-fur coats to wear this winter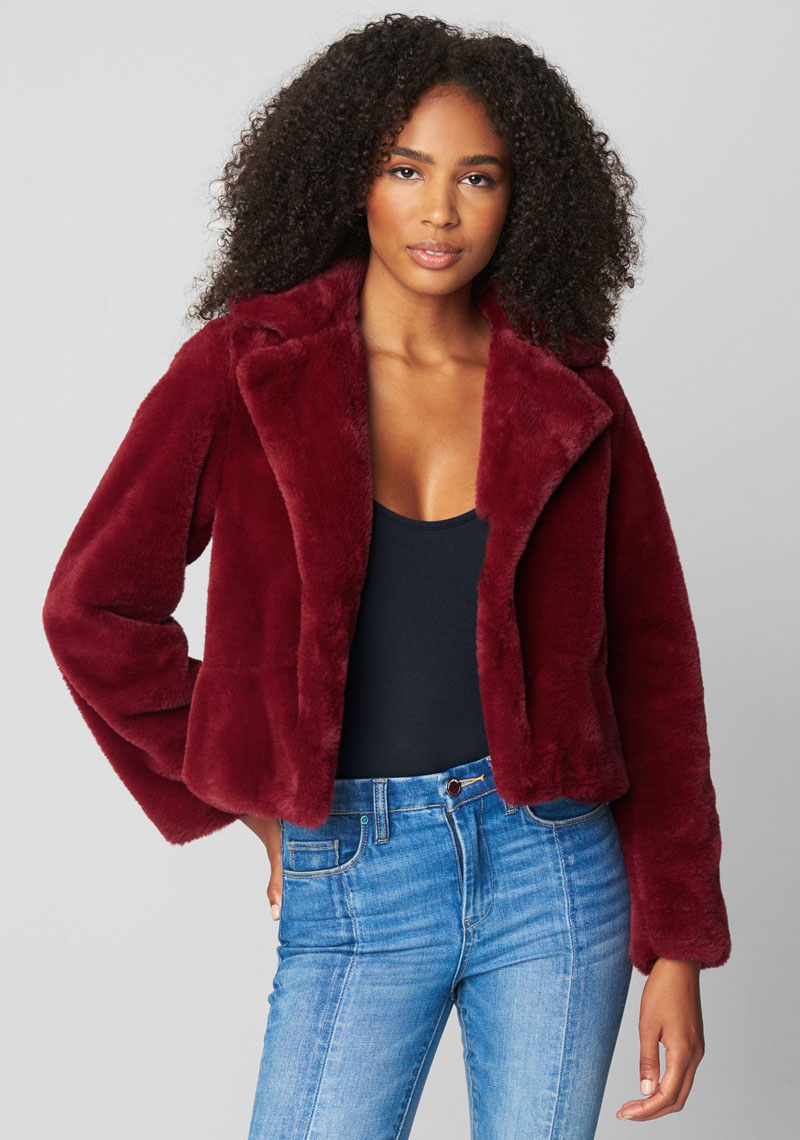 1 Blank NYC More Amour Jacket
For a quick to-go coffee run or a stroll around the neighborhood, this easy-to-wear, super-soft jacket instantly creates a put-together look no matter if you're wearing leggings or actual pants.
Check it out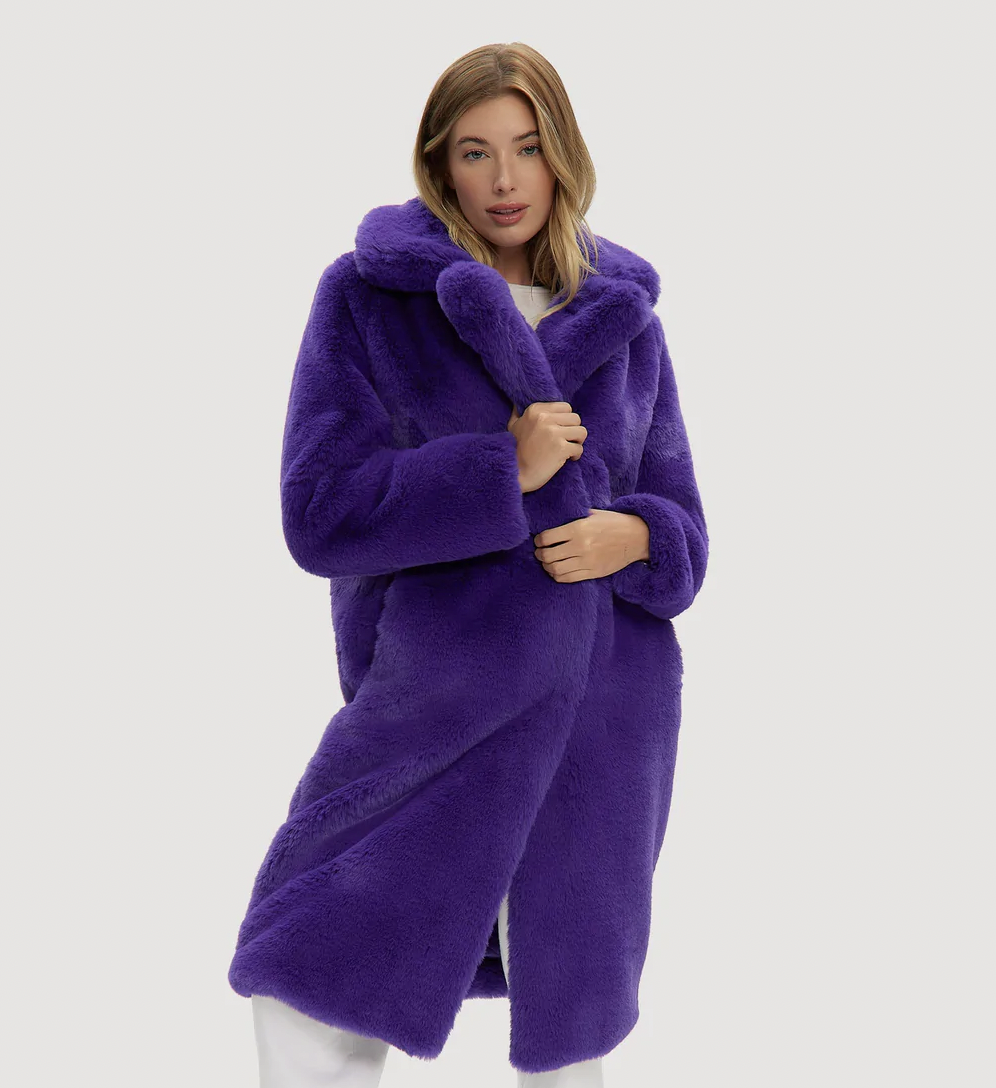 Noize
2 Noize Savannah Maxi Coat in Amethyst
When the temps are arctic, wear a chunky knit, add a warm scarf, and grab this beautiful purple, cozy maxi coat. Need something a little more subtle? The plush faux fur also comes in caramel.
Check it out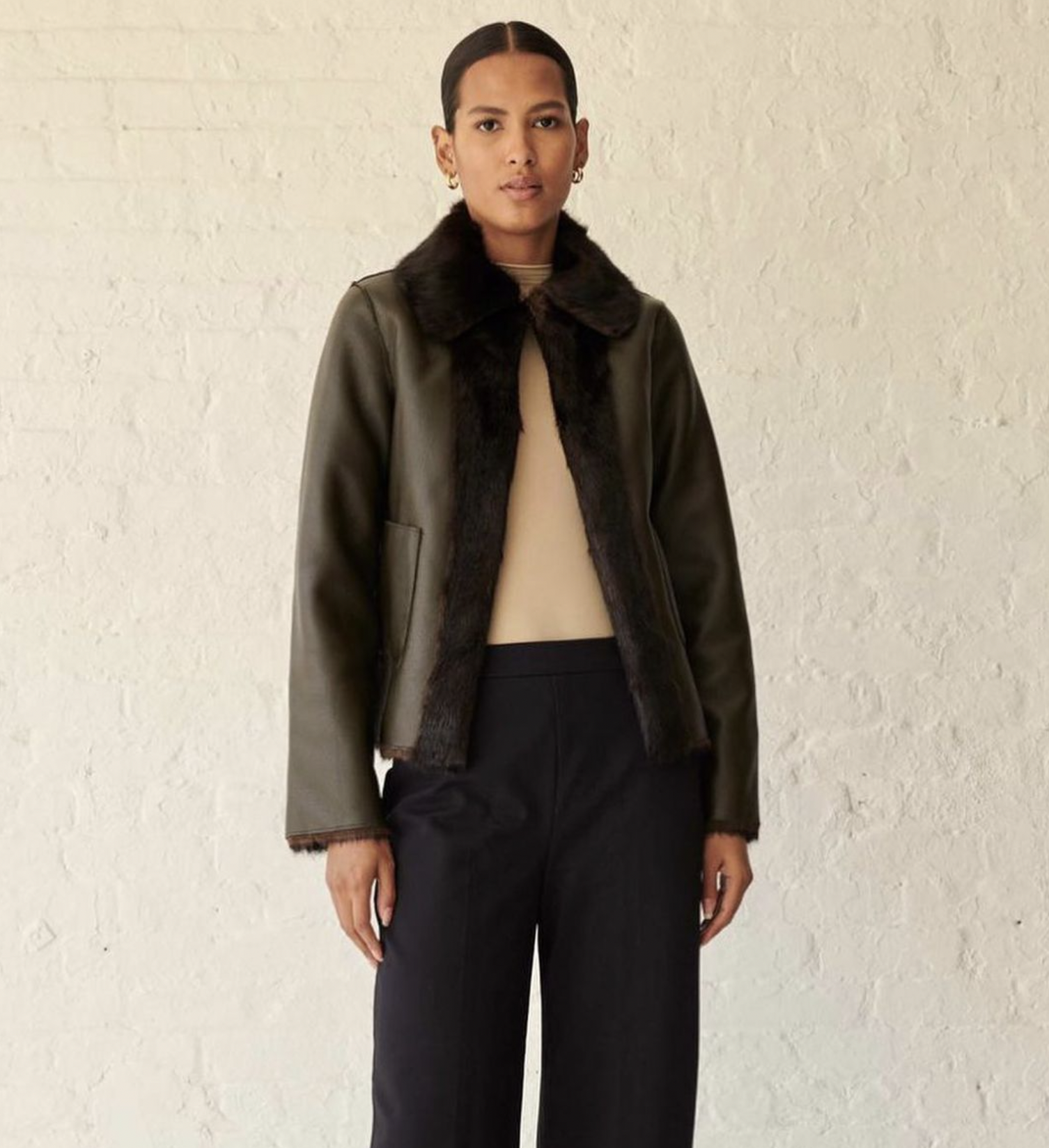 Marei 1998
3 Marei 1998 Rose Reversible Jacket
Everyone loves a two-in-one and this versatile reversible coat is both classic and modern making it fit for whatever mood strikes. The fluffy brown shearling brings a luxe edge to dresses and jeans while the black vegan leather is ready to add a biker-chic aesthetic to every ensemble.
Check it out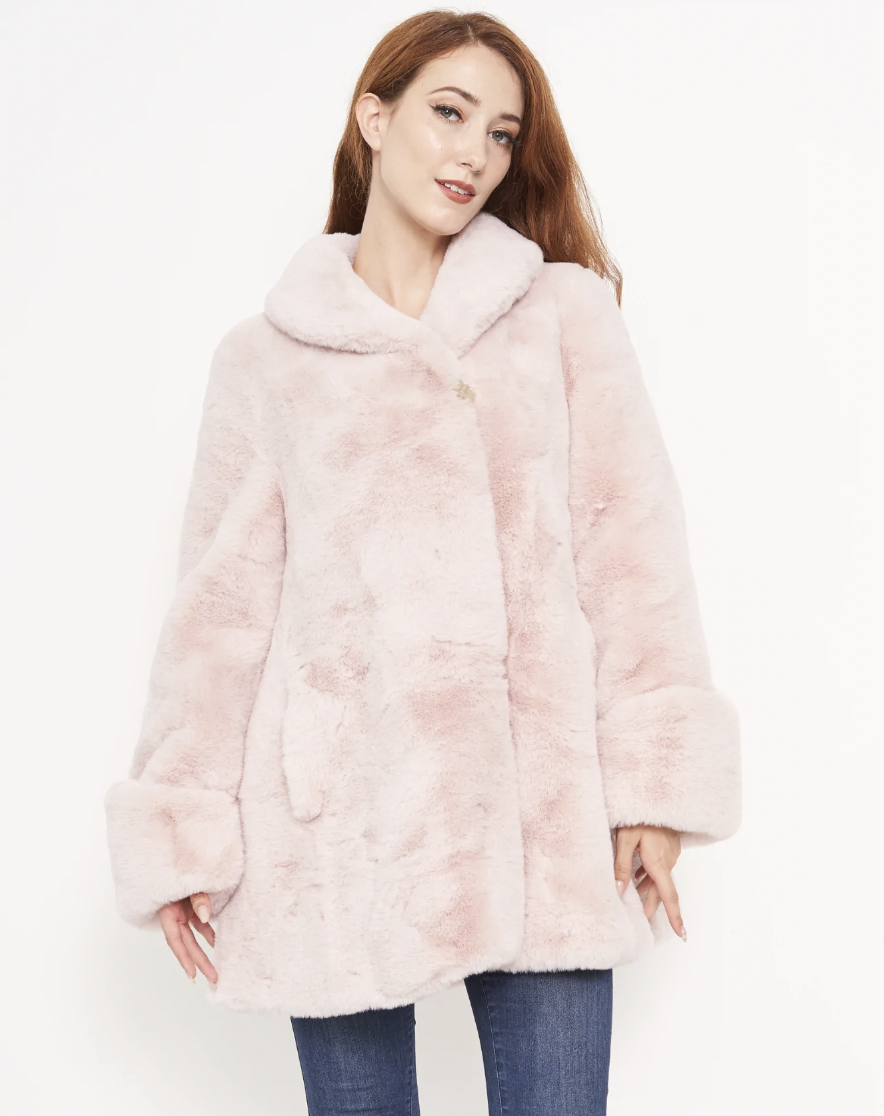 Furious Fur
4 Furious Fur Selena Swing Coat
Exuding both comfort and glamour, this luxurious offering from Toronto-based women-owned brand Furious Fur is the chicest choice for the season. Add a touch of '60s glam when attending fancy dinners and galas. Très chic!
Check it out
Donna Salyers
5 Donna Salyers' Fabulous-Furs Latte Faux Suede & Faux Fur Alpine Hooded Coat
Iconic faux-fur designer Donna Salyers knows how to make a great coat. Case in point: a trend-setting full-length option sure to be a closet staple for years to come. The faux-fur trim adds texture and dimension to step up any ordinary outfit.
Check it out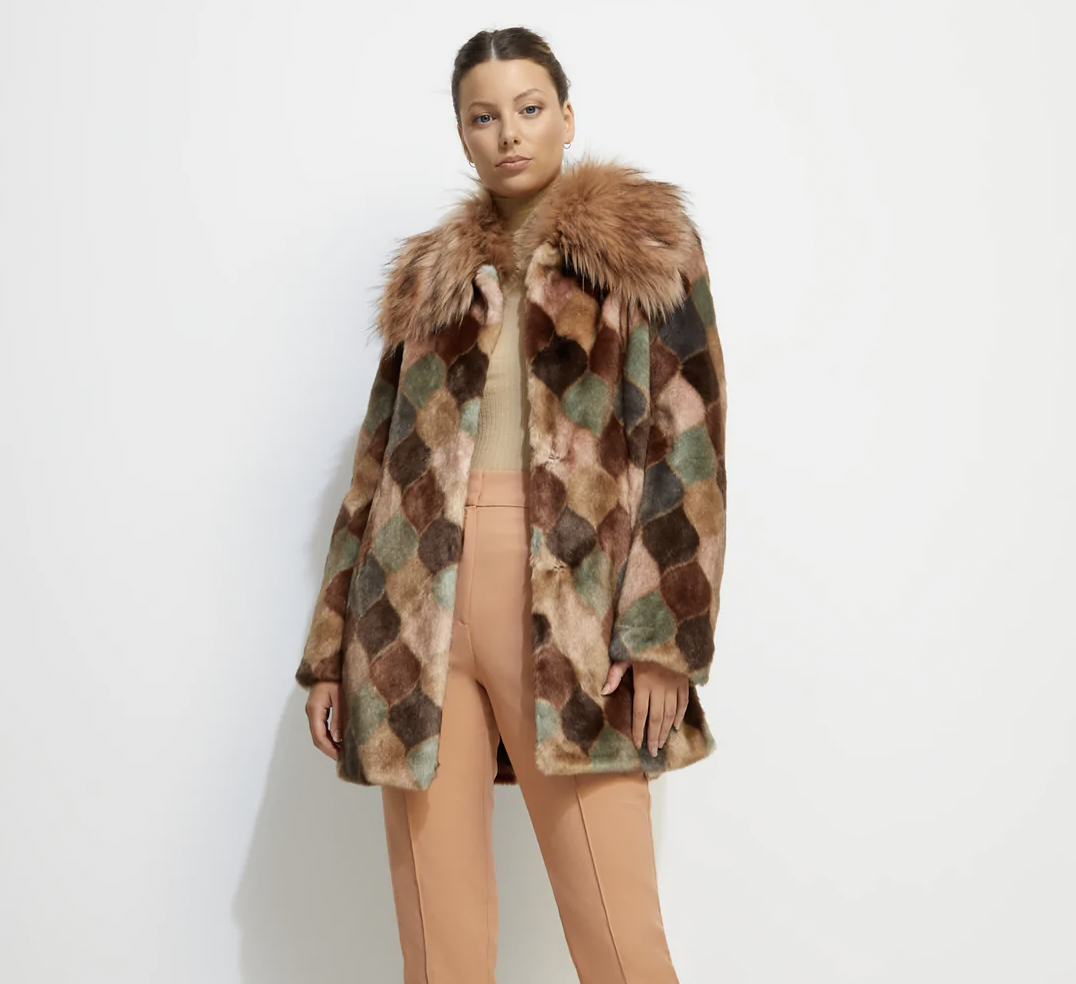 Unreal Fur
6 Unreal Fur Casablanca Coat
This vintage-inspired coat from Australian coat makers Unreal Fur is a versatile option for complimenting a date-night dress or looking fabulous while walking your companion animal.
Check it out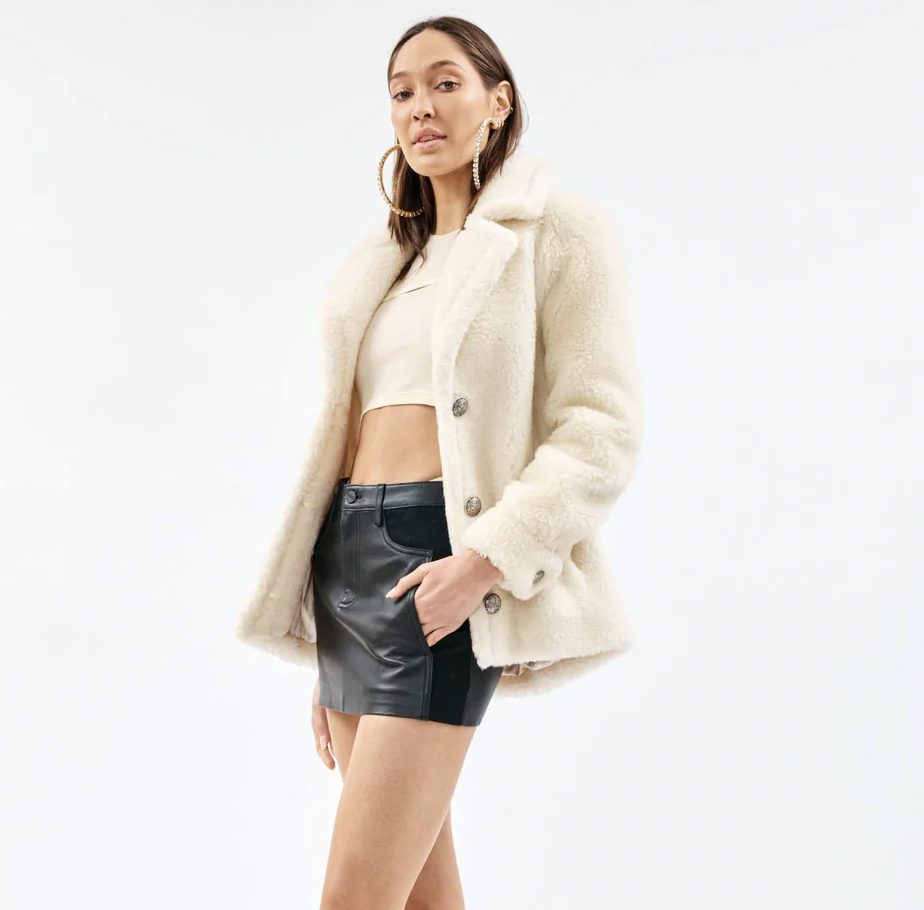 Faz Not Fure
7 Faz Not Fur Three Button Cuddle
Designed in Geneva and made in Paris, this faux shearling teddy jacket from the luxury vegan brand Faz Not Fur is the perfect answer to looking cute without sacrificing comfort. The silver military buttons add a distinctly unique touch to the brand's version of the popular teddy coat.
Check it out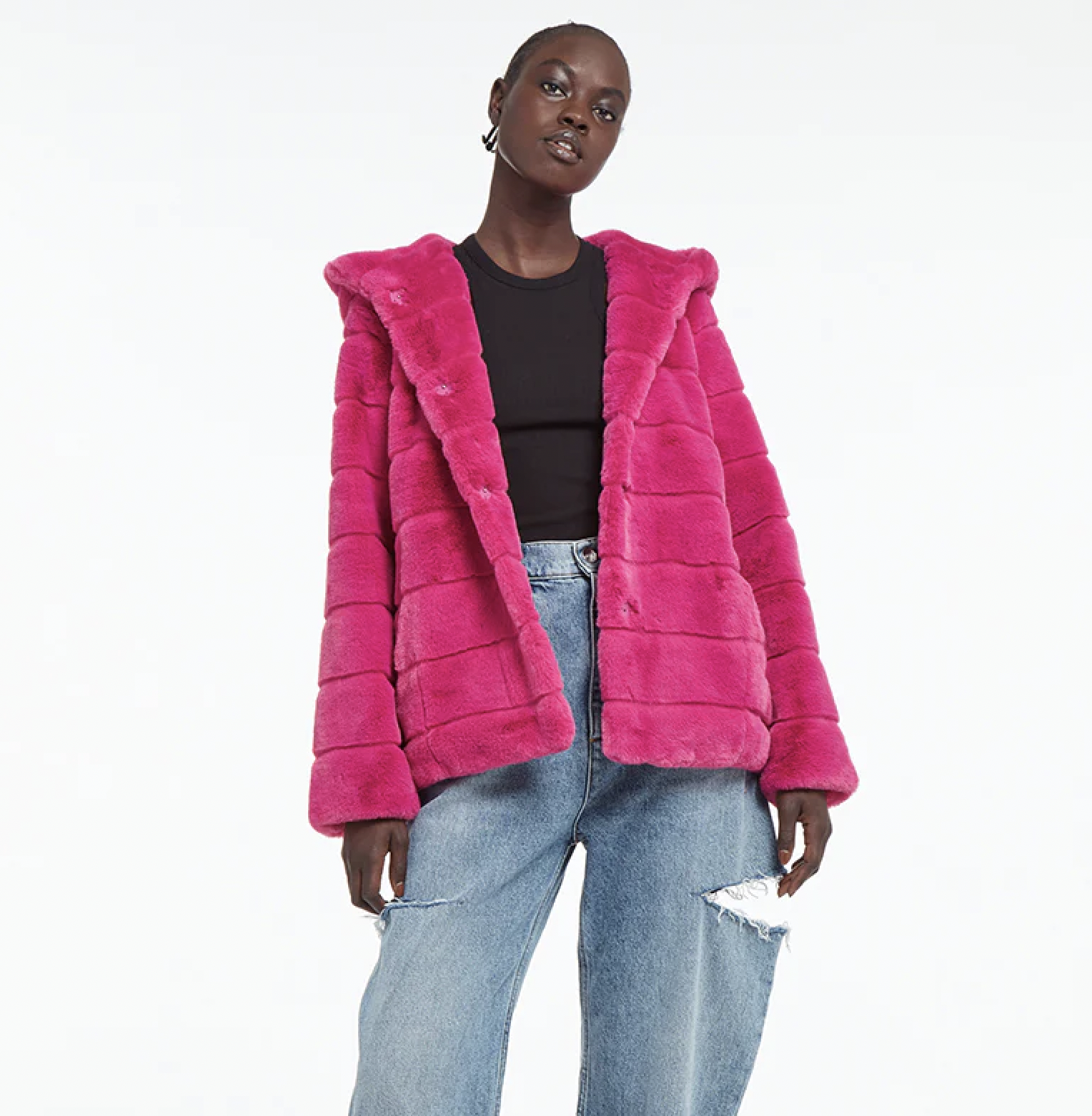 Apparis
8 Apparis Goldie Coat in Confetti Pink
Want to make a statement with just about any outfit? This organically dyed, bright pink colorway from faux-fur experts Apparis is the answer. Add to a standard white tee and high-waisted jeans for the ultimate cool girl look.
Check it out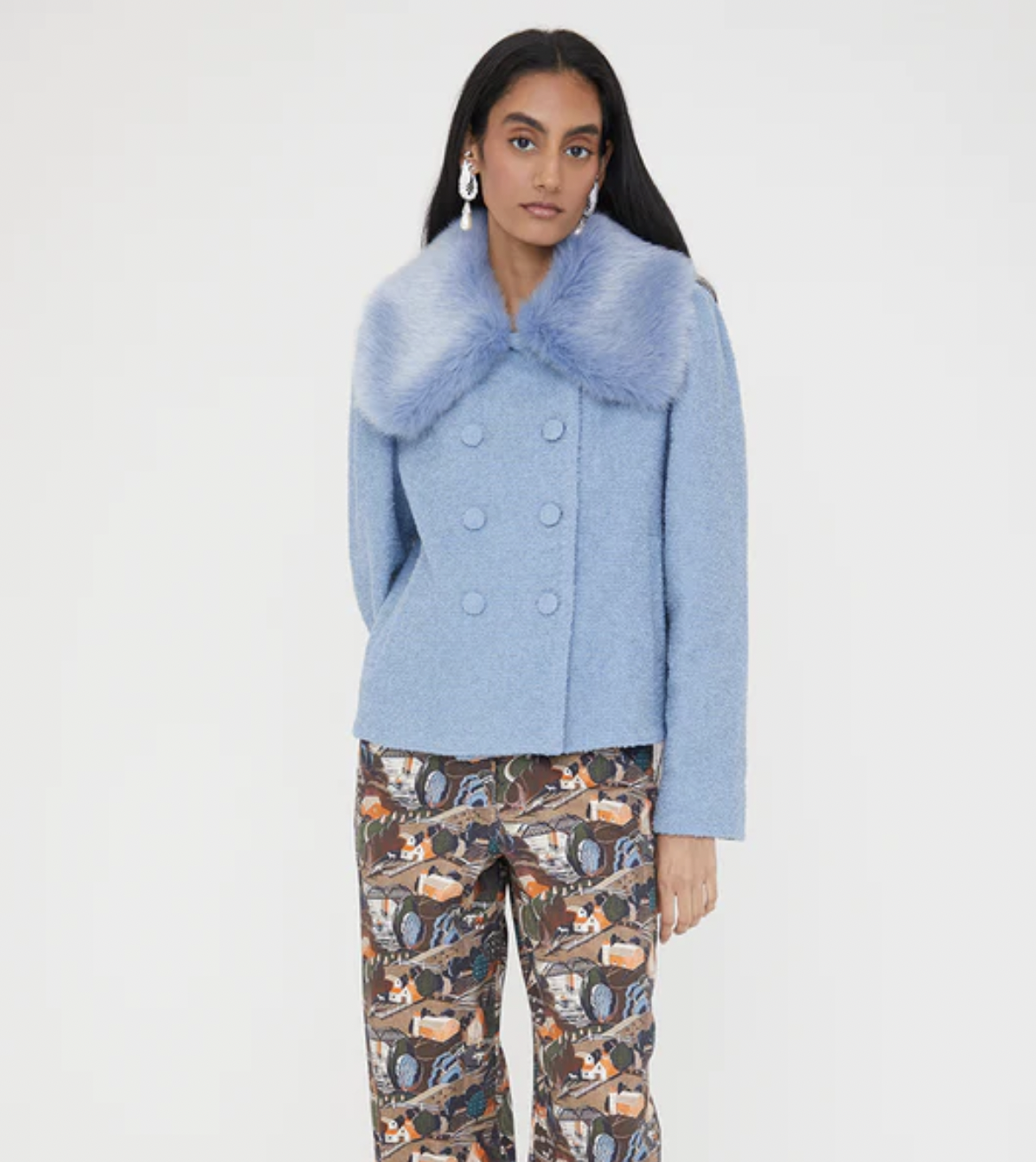 Shrimps
9 Shrimps Jager Jacket in Blue
London-based designer Hannah Weiland founded her brand Shrimps back in 2013, and since then, she has made a name for herself in the faux fur industry. This sweet and stylish blue Jager jacket will keep you looking chic and feeling cozy all winter long.
Check it out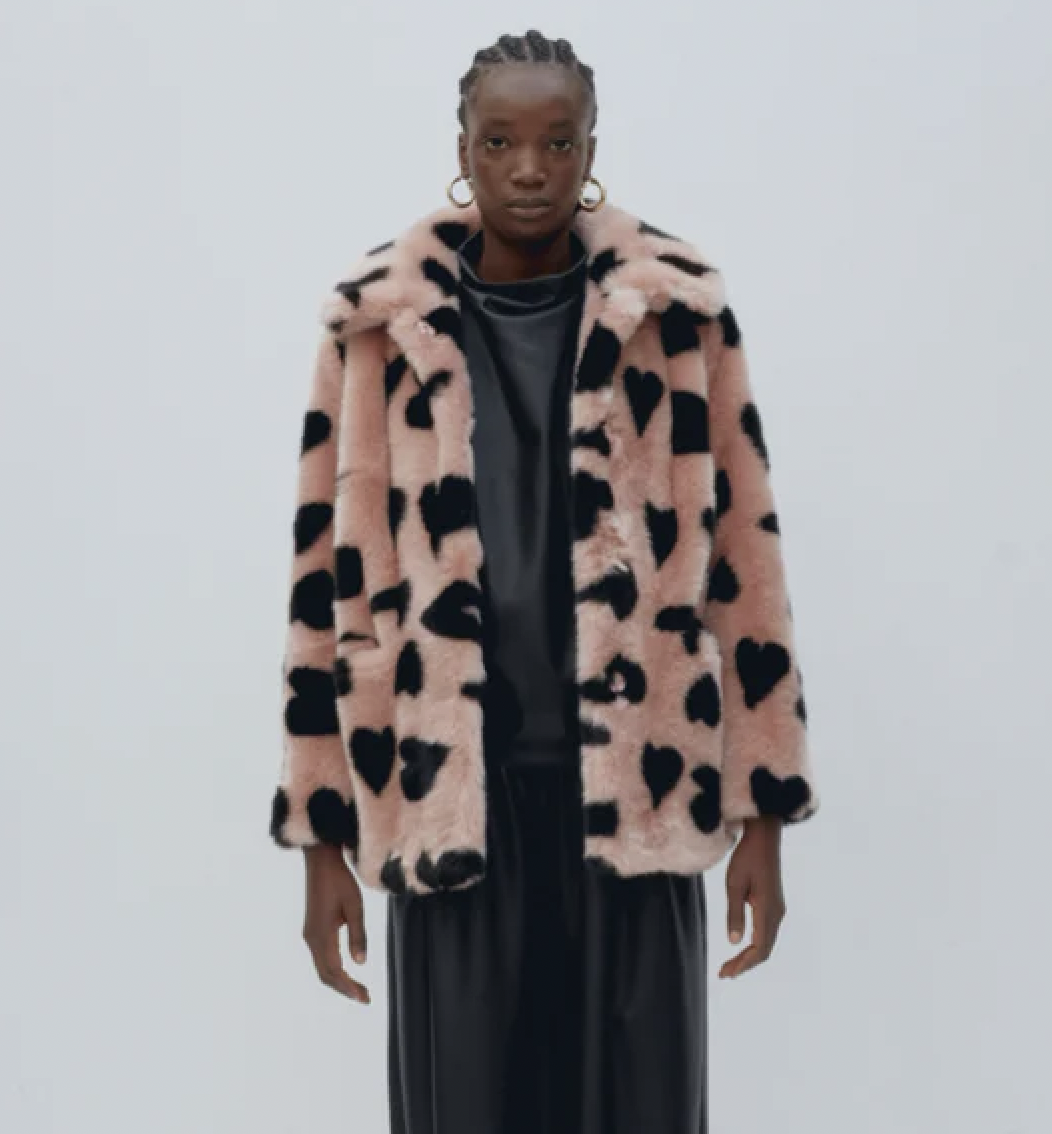 Jakke
10 Jakke Tilly Faux Fur Jacket Hearts
For an ultra-cool '70s moment, add some retro patterns to your daily wardrobe. Sustainable and fur-, leather-, and wool-free clothing company Jakke features charming black hearts over a blush pink in this roomy, oversized design. Pair with light-wash flared denim, a cream turtleneck, and pointed boots, and prepare to turn heads. Groovy!
Check it out
For more on vegan fashion, read: