It has been nearly 30 years since actor James Cromwell played the role of Arthur Hoggett, a compassionate farmer who adopts Babe the piglet and raises her on his farm in the film Babe.
Throughout the film, Cromwell's portrayal of Hoggett was understated but powerful, as he supported Babe's determination to become a sheepdog—all the while helping viewers connect with the piglet on a deeper level. Cromwell's role in Babe earned him critical acclaim and a nomination for Best Supporting Actor at the Academy Awards. He went on to have a successful career in film and television, appearing in a wide range of roles that showcased his versatility as an actor.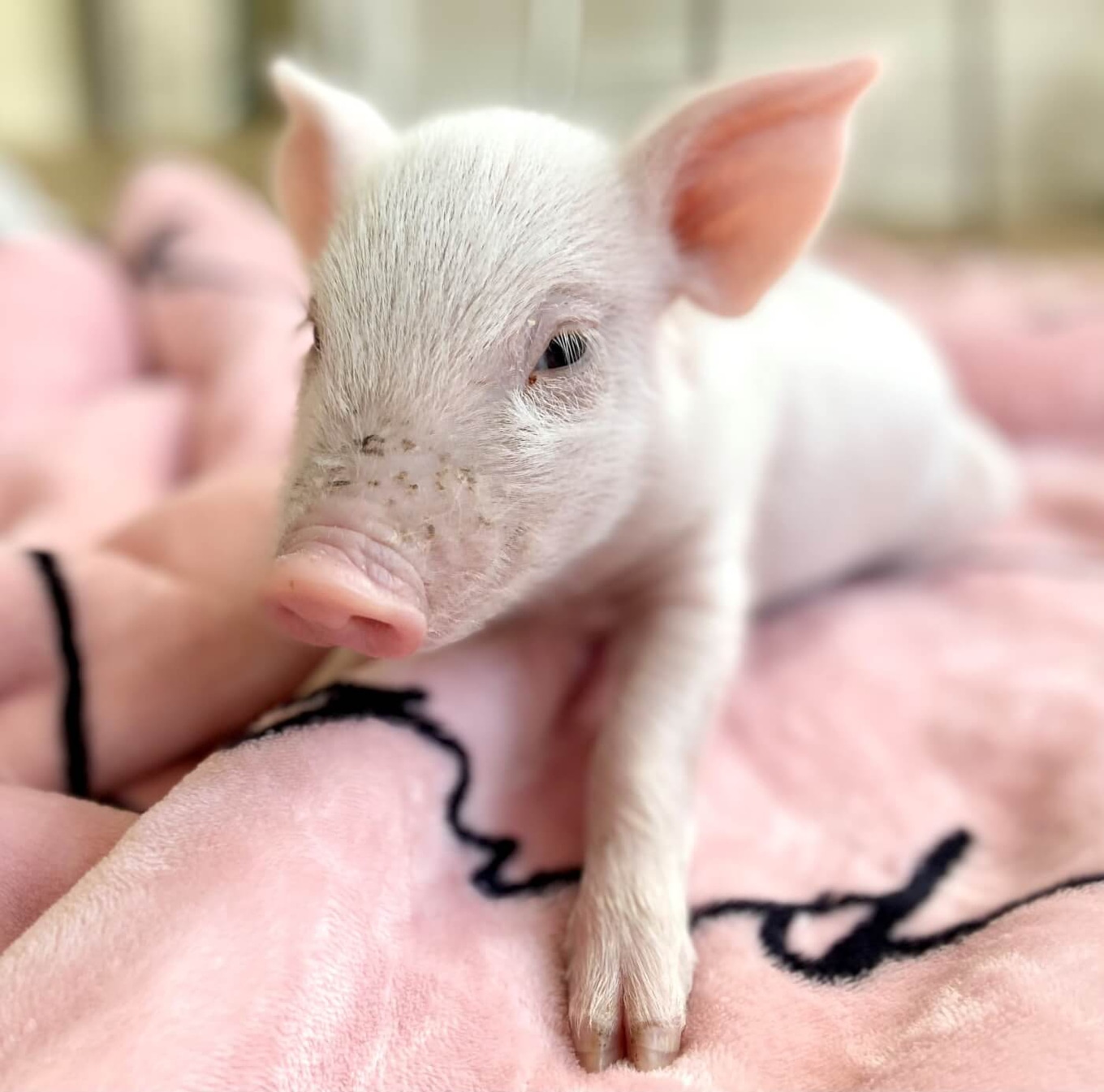 PETA
Fast-forward to 2023, and the 83-year-old actor is bringing his role as Hoggett together with his passion for veganism to help a real life piglet live out his dreams. This month, Cromwell helped rescue the piglet, who had fallen out of a truck taking him to be fattened for slaughter ahead of Easter.
"Having had the privilege of witnessing and experiencing pigs' intelligence and inquisitive personalities while filming the movie Babe changed my life and my way of eating, and so I jumped at the chance to save this real-life Babe," Cromwell said in a statement.
The piglet's name? Cromwell decided to call him "Babe."
A pig named Babe
Cromwell went vegan 28 years ago during the filming of Babe after being vegetarian since 1975. In rescuing the real-life Babe, Cromwell aims to bring attention to the pork industry, where the sensitive animals are routinely subject to cruel practices.
Approximately 129 million pigs are slaughtered in the US each year, and piglets born into the industry have their tails docked, their baby teeth cut, their ears notched, and males are castrated, all without painkillers.
"Every pig deserves to live in peace and joy at a sanctuary, choosing when to frolic, where to forage, and how to spend their time, yet few do," Cromwell said.
With help from Cromwell, Babe the piglet will live out his life at Indraloka Animal Sanctuary in Dalton, PA, alongside other animals rescued from slaughter at the 100-acre sanctuary.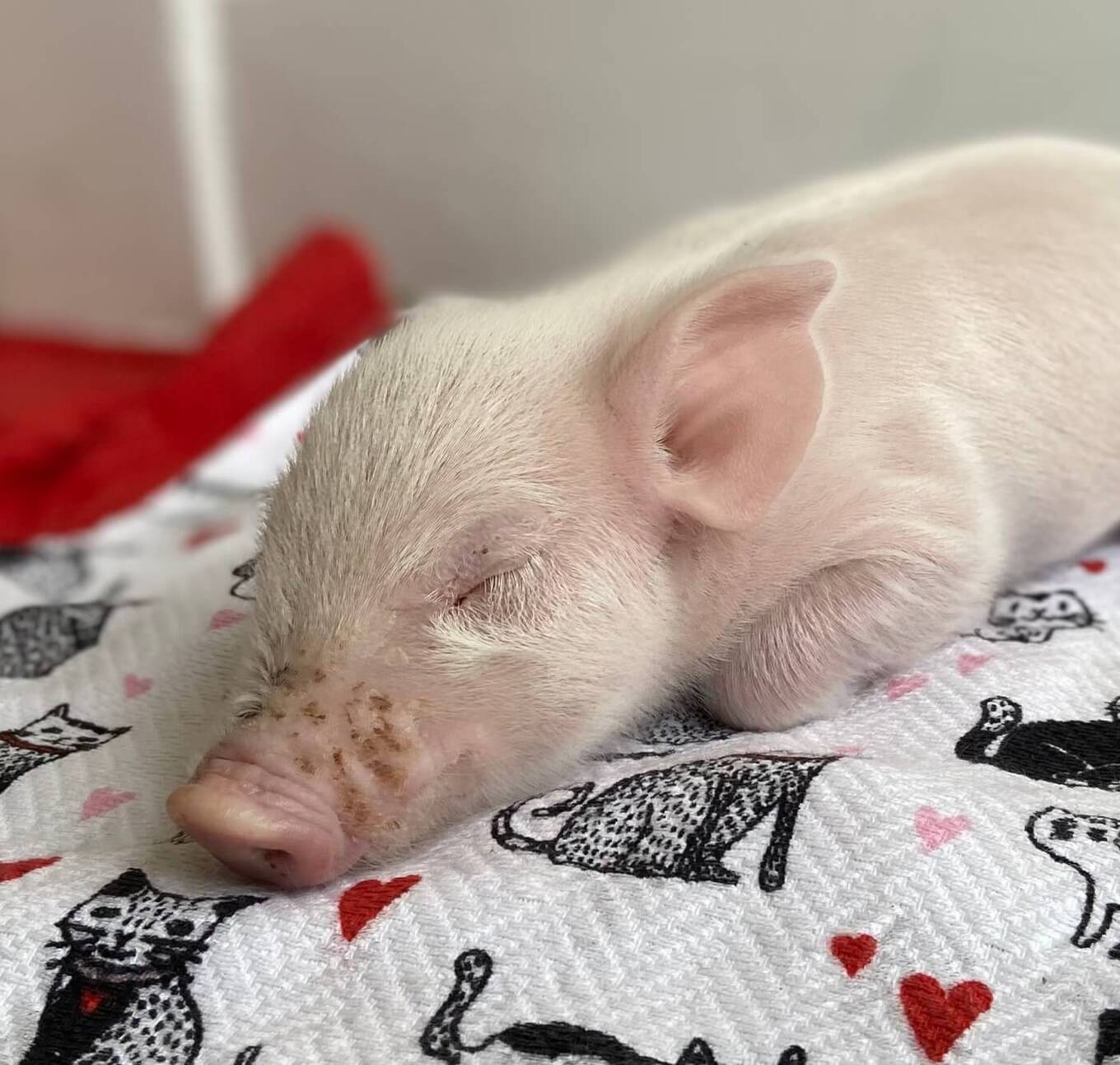 PETA
Cromwell hopes his involvement in Babe's rescue spotlights that these animals deserve to be treated compassionately, a belief the 83-year-old actor extends to other living beings through his activism efforts.
James Cromwell's vegan activism
Ever since making the vegan connection with Babe in the '90s, Cromwell has used his fame to bring awareness to a number of issues. Most recently, the actor joined a campaign organized by the People for the Ethical Treatment of Animals (PETA) to demand that coffee chain Starbucks drop its policy to charge up to 80¢ per beverage for substituting vegan milk.
In May, Cromwell superglued his hand to the counter of a Starbucks location in New York City in protest of the surcharge, which has been dropped in several countries–including the United Kingdom and Germany—but has yet to be extended to the US.
"All over the world, in Great Britain, in France, they give these things away, no charge for it," Cromwell said in a video PETA released of the protest. "Here, there's an exorbitant charge. Why? Why, when it's so important now to address climate change? There's no reason for it except greed."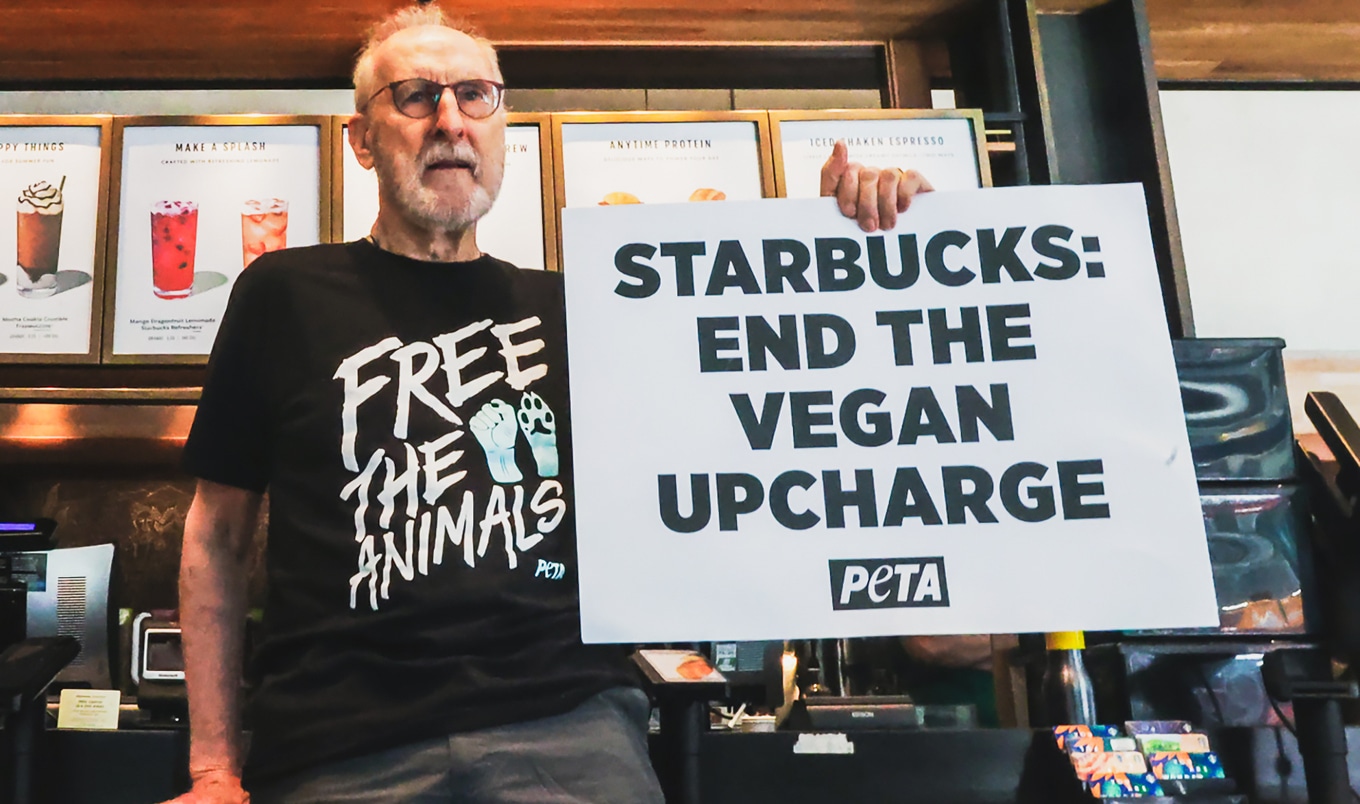 PETA
While his involvement in the Starbucks campaign did not lead to Cromwell being arrested, the Succession actor has been arrested multiple times for fighting for animal rights. In fact, in a recent interview with Page Six at the season four premiere of the hit series, Cromwell revealed that he stopped counting how many times he has been arrested for the cause. "Oh, I lose track," he said. "Seven or eight times, maybe more."
Throughout his decades-long career, Cromwell has also engaged in campaigns to stop SeaWorld's exploitation of marine animals, end scientific testing on dogs, and remove animal products from nostalgic foods. In another Easter-related campaign, Cromwell took Peeps to task in 2020 when he sent a letter to David Yale, president of the candy brand's parent company Just Born Quality Confections.
In the letter, Cromwell asked Yale to replace gelatin—an ingredient typically sourced from the collagen of pigs—in Peeps with a vegan-friendly substitute. Yale responded to the letter, stating that Peeps could not find a suitable alternative, to which Cromwell responded with a second letter.
"People are more informed than ever before about the ingredients in their food, and children—as well as kind adults—are horrified when they find out that their favorite bright and happy Peeps involve harming their animal friends," Cromwell wrote.
"The market for vegan ingredients is rapidly expanding, and fantastic vegan gelatin is already available … and it would be in your company's best interests—since today's consumers are increasingly demanding animal-friendly vegan options," he wrote.
For the latest vegan news, read: