British green energy entrepreneur Dale Vince is known for being one step ahead of the rest when it comes to sustainability. His new venture, EcoJet, is pushing the envelope even further, this time in the aviation industry.
Vince established Ecotricity, the United Kingdom's first green energy company, in 1995, marking the beginning of his quest to revolutionize traditionally carbon-intensive industries. He is also known as the chairman of Forest Green Rovers, a soccer club celebrated for its eco-conscious operations, which includes a sustainable stadium that serves only plant-based food.
EcoJet, which will be Britain's first electric airline, is Vince's latest venture and reaffirms his commitment to demonstrating the feasibility of complete decarbonization.
Slated for takeoff next year, EcoJet will initially operate a 19-seater plane on a route between Edinburgh and Southampton. Although the planes will run on kerosene-based fuel for the first year, plans are already underway to retrofit them with engines that convert green hydrogen into electricity.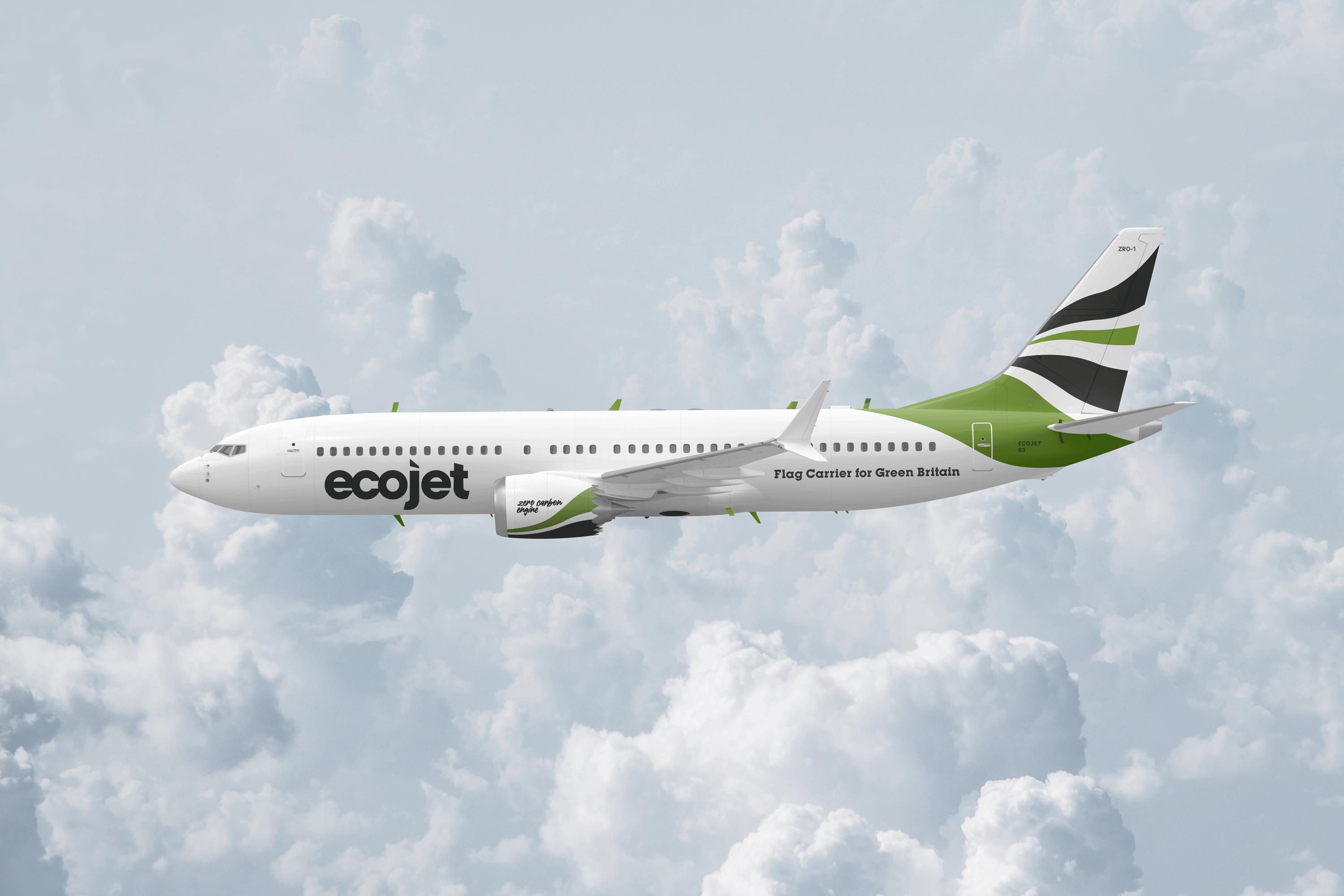 EcoJet
Vince's pragmatic approach involves getting the planes in the air and swapping the engines when the technology becomes available, an important step in keeping up the momentum of the project.
EcoJet is also hitting the sky with another sustainable initiative: its inflight meals. In line with Vince's vegan ethos, the airline will serve plant-based meals to its passengers.
"We want to prove that one of the last frontiers [of decarbonization] can be broken and that it's not insolvable," Vince told British publication The Guardian.
"A lot of people seem to think that people who are eco-conscious want everyone to live a life of self-denial in a cave," Vince said. "Green living is not about giving things up—everything we like to have in this life can be done in a net-zero life."
Airlines add plant-based meals
EcoJet is not alone in its mission to offer environmentally friendly inflight dining options. This week, Green Rebel, Indonesia's leading plant-based protein brand, announced its partnership with Malaysian budget airline AirAsia to introduce vegan and vegetarian versions of beloved Southeast Asian dishes on its regional inflight menus.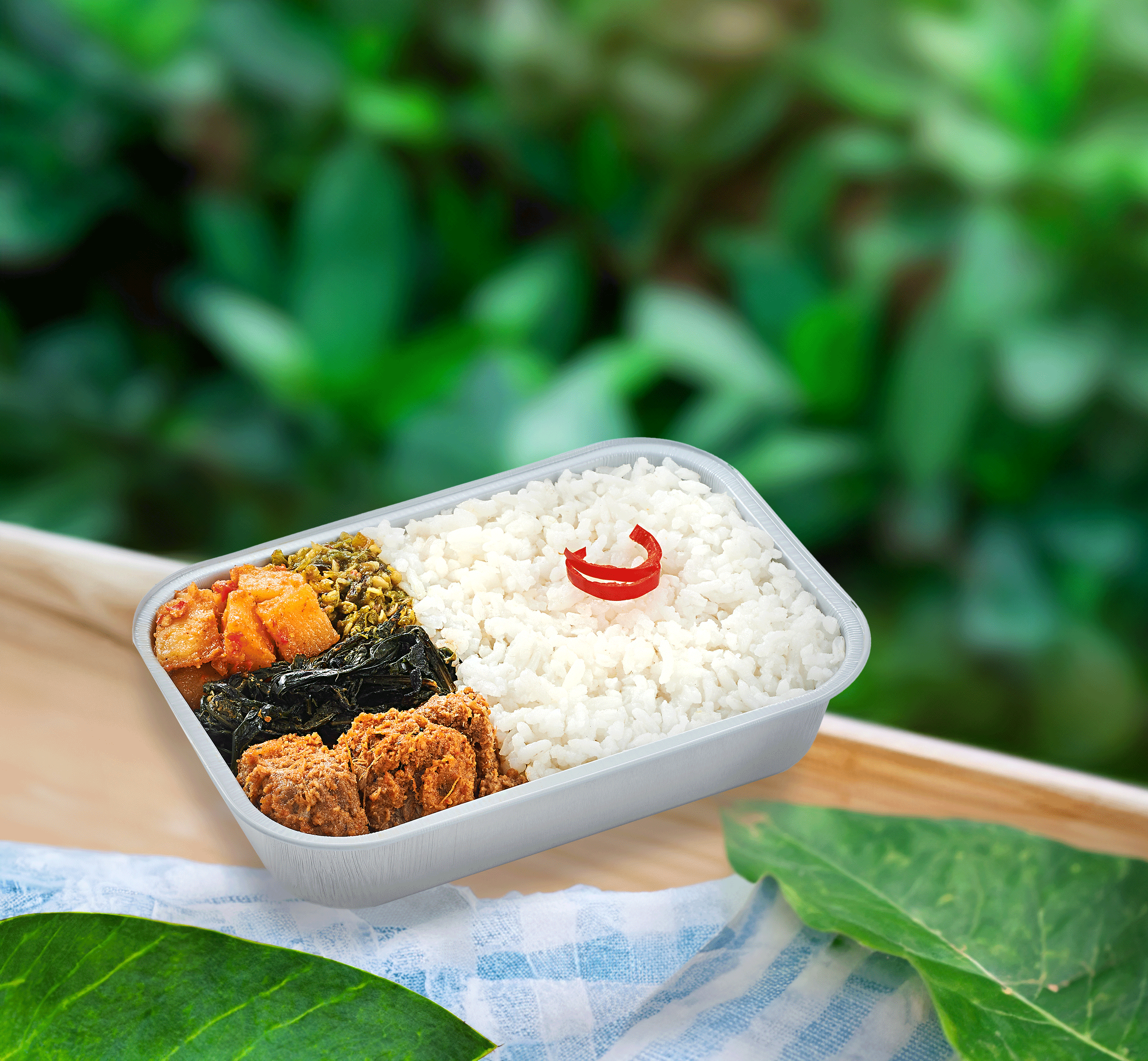 Green Rebel
From July 18th on, AirAsia passengers can order plant-based meals tailored to their route, including vegan Pak Nasser's Plant-Based Nasi Lemak for Malaysia routes and vegetarian Guilt-Free Sisig on Philippines routes. Starting July 22, passengers on select routes in Indonesia will have a choice between vegan dishes Nasi Rendang and Rendang with Coconut Rice.
Green Rebel's proprietary plant-based protein substitutes animal protein in these dishes, making them suitable for a wide range of passengers, including those looking for halal options. They also carry a much lower carbon footprint according to Green Rebel co-founder and CEO Helga Angelina Tjahjad.
"We discovered that our meatless beef has 91-percent less global warming potential than local beef, and similarly our meatless chicken has 84 percent less global warming potential than local chicken," Tjahjad said in a statement.
When compared to animal-based meats, Tjahjad noted, Green Rebel's plant-based proteins slash carbon emissions by 90 percent, water use by 72 percent, land use by 90 percent, and overall energy use by 81 percent.
AirAsia is aligned with the Paris Agreement's 1.5-degree Celsius policy and has pledged to limit its greenhouse gas emissions as much as possible. Specifically, it aims to slash carbon emissions per aircraft by 221 metric tons by 2050. The airline's partnership with Green Rebel allows it to make significant progress here.
Sustainability in the sky
Meanwhile, in the United States, major airlines are also working to slash their emissions with various initiatives. One example is United Airlines, which is lowering its environmental footprint by investing in Sustainable Aviation Fuel (SAF) and pledging to reduce greenhouse gas emissions by 100 percent by 2050.
Through its partners, United is also working to make electric flights a cost-effective and sustainable travel option in multiple cities, including Chicago and San Francisco.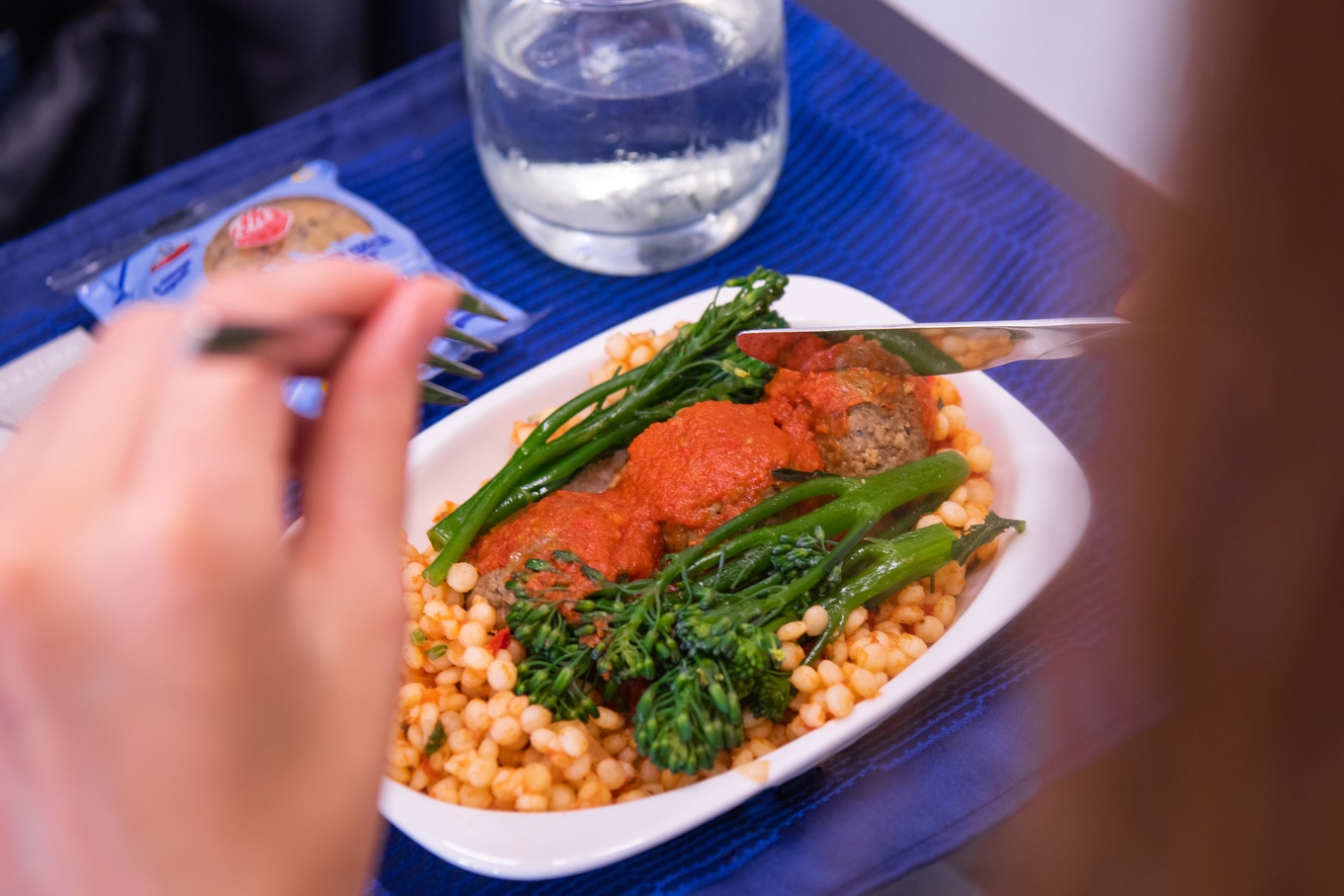 United Airlines
Although not completely vegan like EcoJet, United has been exploring more eco-friendly food options with an ongoing partnership with Impossible Foods. Last summer, the airline added Impossible Meatball bowls to first-class menus on all domestic flights more than 800 miles in the continental United States.
It also added Impossible's plant-based sausage as a plant-based meat option in omelets served at its United Polaris airport lounges in Chicago, Los Angeles, San Francisco, and Newark.
Earlier this summer, the airline also added a vegan bagel—stuffed with mung bean-based Just Egg—to its breakfast menu for flights that exceed 1,190 miles.
United Airlines
Overall, the decision for major airlines to serve plant-based meals inflight signifies the recognition that environmental responsibility extends beyond fuel source—a core principle that Vince worked into EcoJet from its launch.