If you live in Los Angeles, you might be aware of Erewhon Market, which is, without a doubt, one of the most luxurious grocery stores in the region. Frequented by A-listers, it's known for its minimally processed, organic food options and a slew of ready-to-eat dishes at its hot food bar. Arguably, one of its most famous ready-made offerings is its Organic Kale With White Bean Salad.
Loved by mega-influencer Emma Chamberlain, in particular, the vegan-friendly salad is described as "vibrant" and "tangy" by Erewhon, but it's also priced at nearly $20 per pound, which isn't unusual for this costly grocery store, but a little steep for most of us non-celebrities.
But the good news is there are many copycat recipes on the internet, and, recently, renowned American journalist Katie Couric added her own version to the mix.
"Erewhon is that fancy grocery store in Los Angeles, where all the celebrities go," Couric said in a new video posted to Katie Couric Media, before starting to make the recipe, which was created by recipe blogger Kathleen Ashmore, who runs the blog Kat Can Cook.
According to Ashmore and Couric, massaging the kale is key to making this salad as delicious as the one you'll find in the luxury aisles of Erewhon.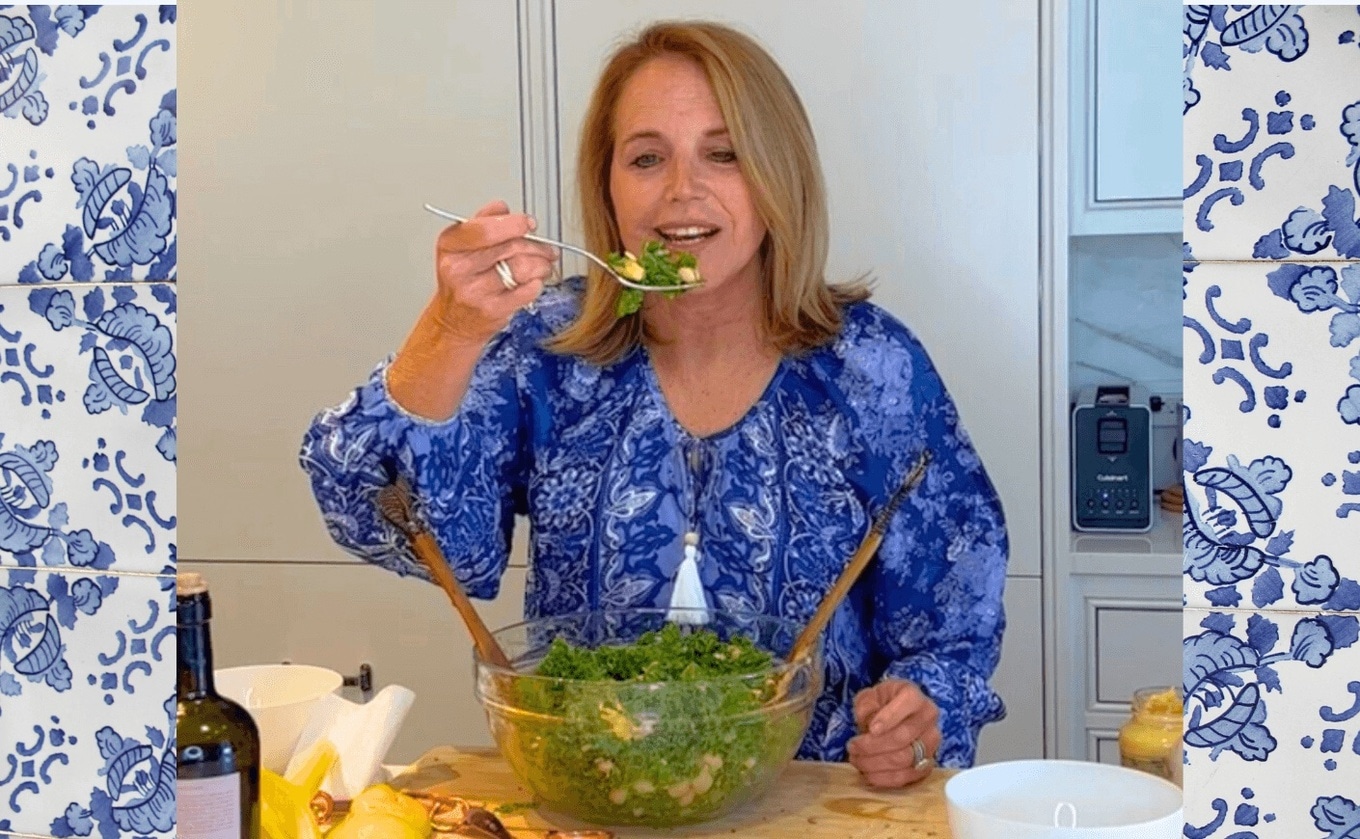 Katie Couric Media
First step? Massage your kale
"You take six cups of kale. You have to massage it," Couric says in the video. "It makes such a difference when you massage your kale. When you massage it, it's a lot less. When I thought, 'Six cups?' I thought, 'Too much.' But when you massage it, it actually goes down in volume."
Massaging kale also helps to tenderize the leafy greens, but an important note: you shouldn't do it too much. According to leading food magazine Bon Appétit, you should rub those leaves together until they just start to wilt, else you'll end up with mushy kale instead.
"You want to massage the leaves to the point where you can feel a crisp and resistance in the bite, but aren't struggling to tear away or chew," Bon Appétit states. "It should feel more crispy than rubbery."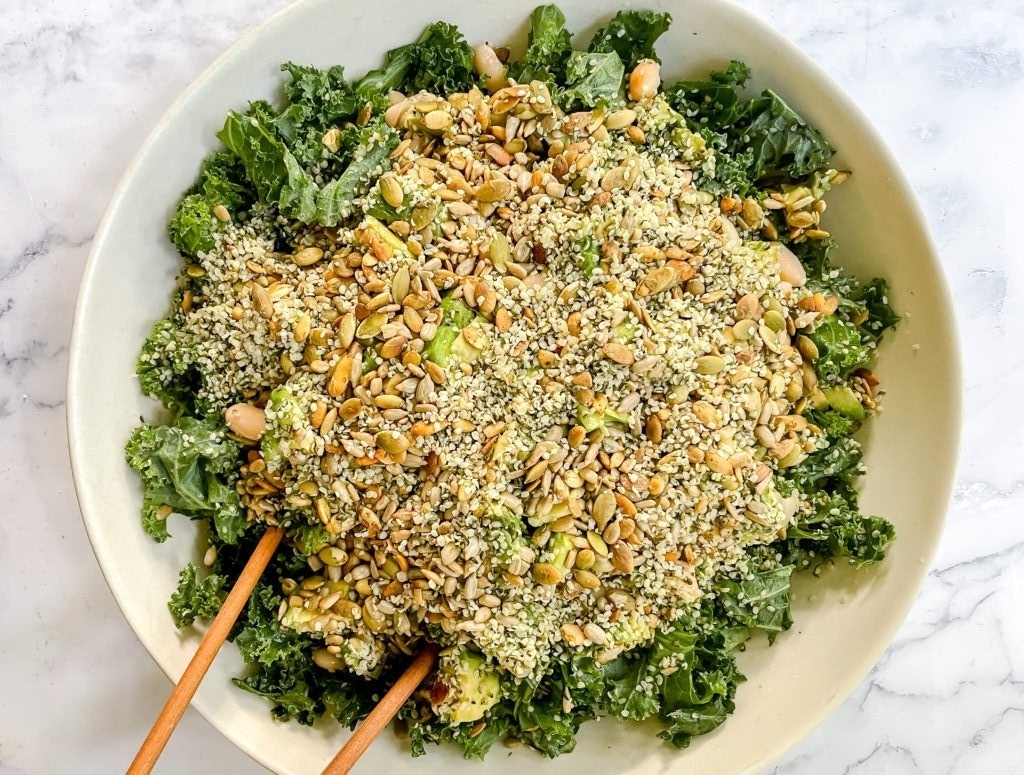 Kathleen Ashmore
How to make Erewhon's kale and white bean salad
After massaging the kale, Couric whisks one-third of a cup of olive oil, the juice of one lemon, two teaspoons of Dijon mustard, a tablespoon of maple syrup, and some salt and pepper.
After that, she adds the dressing to the kale, tosses the leaves, and then adds chopped avocado, white beans, sunflower seeds, and pumpkin seeds. Couric doesn't add hemp seeds, but you can also opt to add these if you prefer.
"I'm very excited because I need to eat calcium, and white beans and kale are both high in calcium," Couric says, before declaring the meal "delicious."
Like many plant-based whole foods, kale is a great nutritious ingredient choice. As well as calcium, it's also a source of fiber, protein, potassium, vitamin B6, and iron. White beans are also a good source of protein, iron, vitamins, and minerals, too.
Celebrities enjoy vegan recipes
Couric enjoys making recipes, and she often shares her versions on Katie Couric Media. While they are not always vegan-friendly, she does often recommend dishes without meat. On her list of "Favorite Summer Dinner Recipes," for example, the popular journalist recommended a corn and bean salad, which she made with green onions and jalapeños from her own garden, as well as grilled pineapple slices.
And she's not alone. Several celebrities are a fan of vegan cooking. Earlier in the summer, for example, Kim Kardashian shared a vegan pizza recipe on Poosh (the wellness blog founded by her sister Kourtney Kardashian).
"Kim has a special knack for creating the most delicious comfort foods out of clean ingredients and making fully vegan dishes," the post on Poosh reads. "When she shared this colorful, loaded pizza recipe with us, we couldn't wait to try it."
The recipe features a cauliflower crust, Violife mozzarella cheese, and heaps of vegetables like artichokes, broccoli, zucchini, and arugula.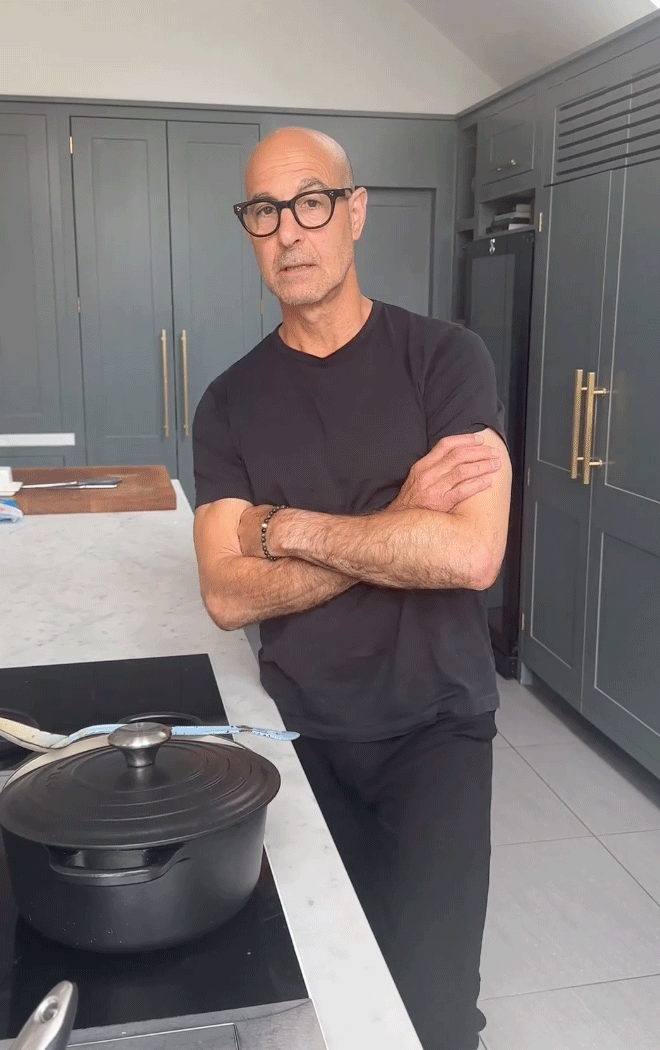 Stanley Tucci/Instagram
Stanley Tucci—who is known for his Italian heritage and love for traditional Italian food—also shared a family recipe on Instagram recently, which was totally vegan. The actor made a soup with garlic, onions, potatoes, zucchini, tomatoes, string beans, and marinara.
"I made this afternoon some string bean minestra—which means 'soup' in Italian—and basically, it's this incredibly easy thing that my grandmother and my mother always made, and now I make it," Tucci said in the Instagram video. "It's a very light, light soup but absolutely delicious."
While Couric, Kardashian, and Tucci aren't completely vegan, plenty of celebrities, including Billie Eilish, Natalie Portman, Lewis Hamilton, Venus Williams, and Heather Rae El Moussa, have made the leap. Find our list of 36 vegan celebrities here!
For more on vegan celebrities, read: