Up until the early 2000s, if you saw kale on a plate, it was in the form of a garnish. Technically edible but almost always left untouched, kale was viewed as many view parsley—pretty to look at but not something to eat. In its raw state, it can be a mouthful—crunchy, rough, and even a bit woody if you tackle the stem.
But at the start of the new millennium, things began to change. According to Google Trends, kale steadily amassed more searches from about 2007, followed by a steep climb in 2010 that peaked in February of 2014. Kale chips were no longer a snack for crunchy granola-type individuals, and massaged kale salads found their way onto chef-driven café menus. Kale even became a key ingredient in smoothies, giving spinach a run for its money.
Like tofu or Brussels sprouts, it's all about the preparation when it comes to kale. Once you know, you can transform this highly cruciferous dark leafy green into something palatable, craveable even.
If you still haven't found your go-to kale recipe or if you're looking to shake things up, try one of these vegan kale recipes to take advantage of this seasonal produce in its prime.
Kale benefits
As a category, dark leafy greens are blessed with high-nutrient value. Plants such as collards, spinach, bok choy, and kale are high in fiber, low in fat and calories, and provide an abundance of vitamins and minerals.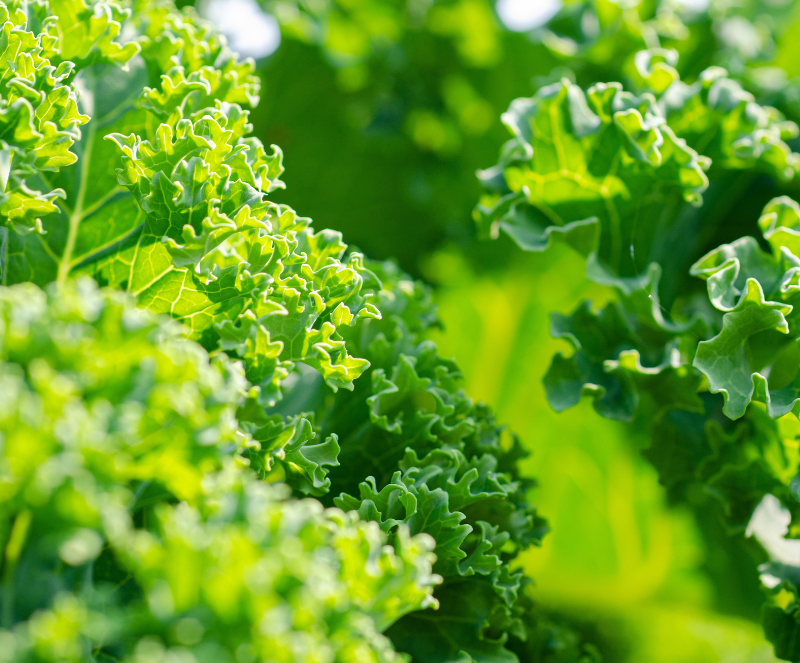 Canva
According to the Mayo Clinic, one cup of chopped, raw kale contains 33 calories, three grams of protein, three grams of fiber, and notable amounts of calcium, potassium, vitamin B6, and iron. These nutrients not only provide your body what it needs to function, but the fiber and protein also provide satiety, meaning you'll stay fuller for longer.
Nutrition aside, another benefit of kale is that it can stand up to heat. Unlike spinach that wilts and significantly shrinks in volume when sautéed, kale doesn't shrink as much. When steamed, baked, sautéed, or fried, kale retains some of its structural integrity, providing a pleasant chew and just enough texture to keep a meal interesting.
Types of kale
Most grocery stores carry two types of kale—curly and lacinato (the latter is also referred to as dinosaur or Tuscan kale). Curly kale tends to be the most popular. It's defined by its large, wide leaves with tight ridges that tend to curl in on one another. It's extremely crunchy on its own and best served softened by massaging, marinating, blending, or applying heat.
Lacinato kale is long and thin, and the leaves are flat and narrow. While still rough in its raw state, lacinato kale is more delicate than curly kale and doesn't come with as tough of a bite. Lacinato kale also wilts a bit more readily than curly kale, so keep that in mind when determining how much you'll need for a soup or stir fry—err on the side of buying more.
13 vegan kale recipes
From crispy kale chips to tangy kale slaw, here is just a taste of what's possible with kale as a star ingredient.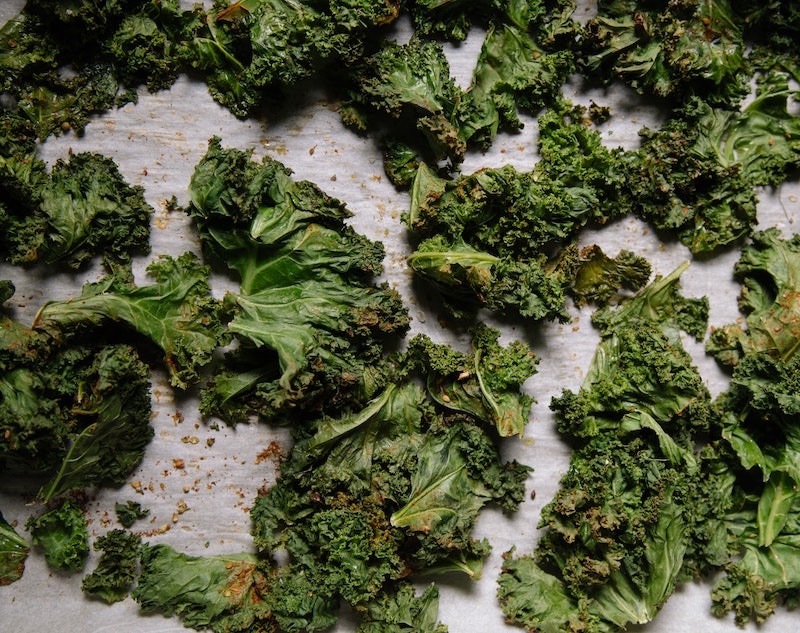 Charles Deluvio
1 Cheezie, Crunchy Kale Chips
In 2011, Gwyneth Paltrow published a book called Notes from my Kitchen Table that included a recipe for kale chips. Later that year, she made the recipe on multiple daytime television shows including Ellen. Paltrow certainly did not invent the concept of the kale chip, but we have to credit her for giving them a slight boost in popularity.
This version of the kale chip was not dreamed up by Paltrow, but it's equally snackable in its own right. Seasoned with a thick paste of tahini, nutritional yeast, chipotle powder, and cayenne, these delicate, crispy bits of kale would definitely be GOOP-approved. Pro tip: make sure your kale is completely dry before seasoning. Damp kale will always result in limp chips.
Find out more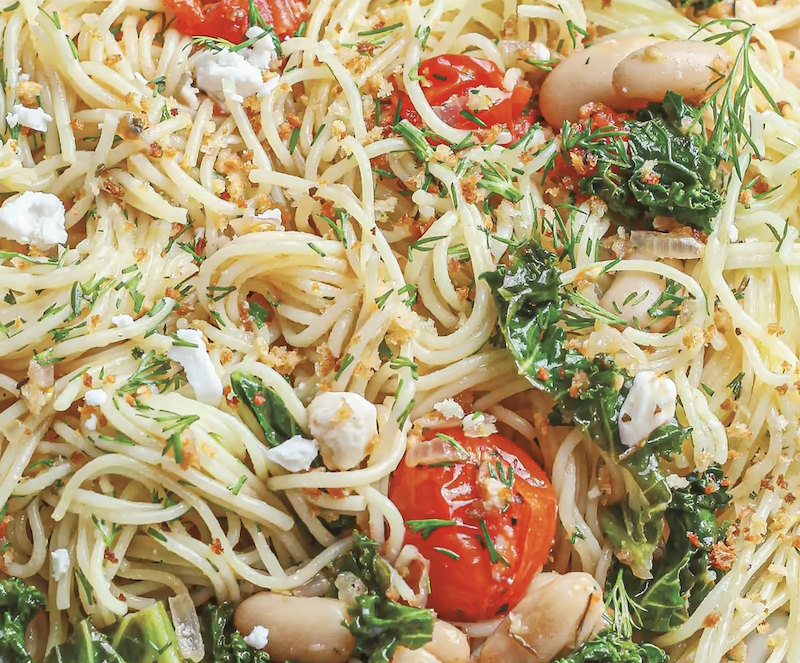 Jannet Gronnow
2 Angel Hair Pasta with Lemon, Kale, and Feta
This summery pasta dish is laced with fresh vegetables and plenty of flavor. Thinly sliced kale adds a pop of green amongst bright cherry tomatoes, creamy cannellini beans, briny vegan feta, and light angel hair pasta tossed in a lemony butter sauce.
Find out more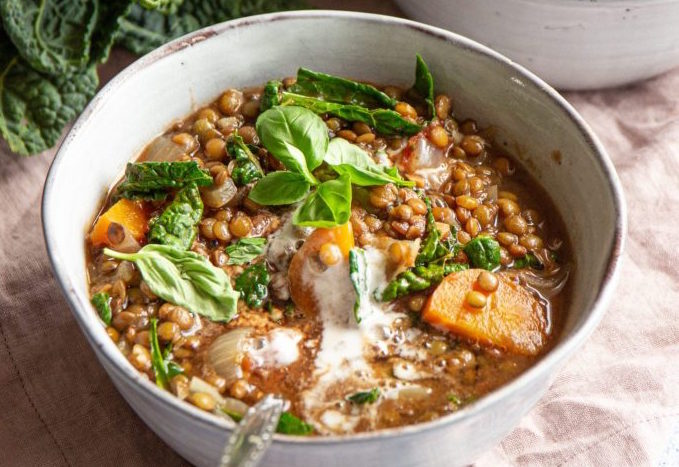 Claire Power
3 French Lentil and Kale Stew
Made for the colder months, this hearty stew of protein-packed lentils and sturdy kale is satiating enough for a meal on its own. Serve with a thick slice of buttered crusty bread for a nourishing and soothing meal on a blustery winter day.
Find out more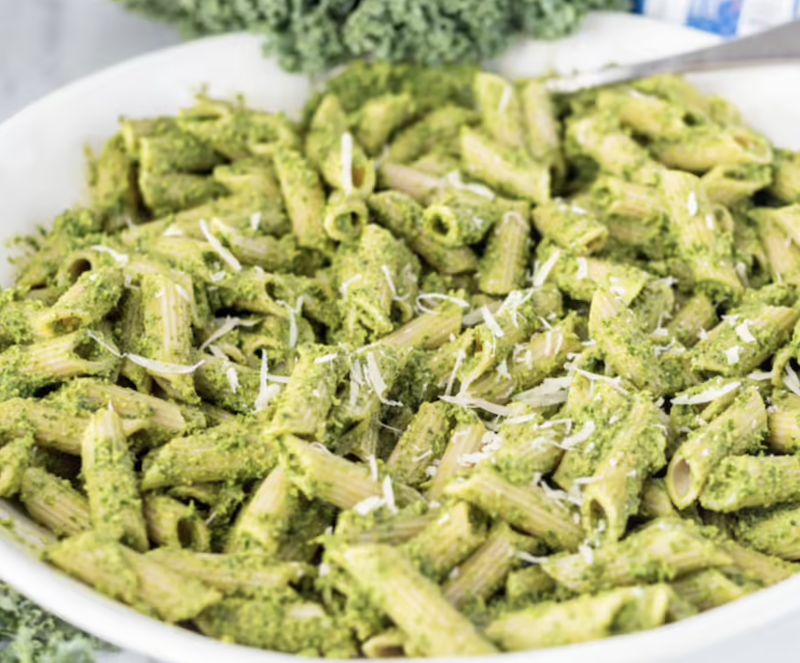 Danielle Keith
4 Two-step Oil-Free Kale Pesto
Pesto is not confined to basil and pine nuts—you can make pesto out of almost any leafy green and nut. This version combines equal parts kale and basil with almonds and nutritional yeast for an earthy, slightly cheesy, and deliciously complex pesto that's great on everything from pasta to pizza.
Find out more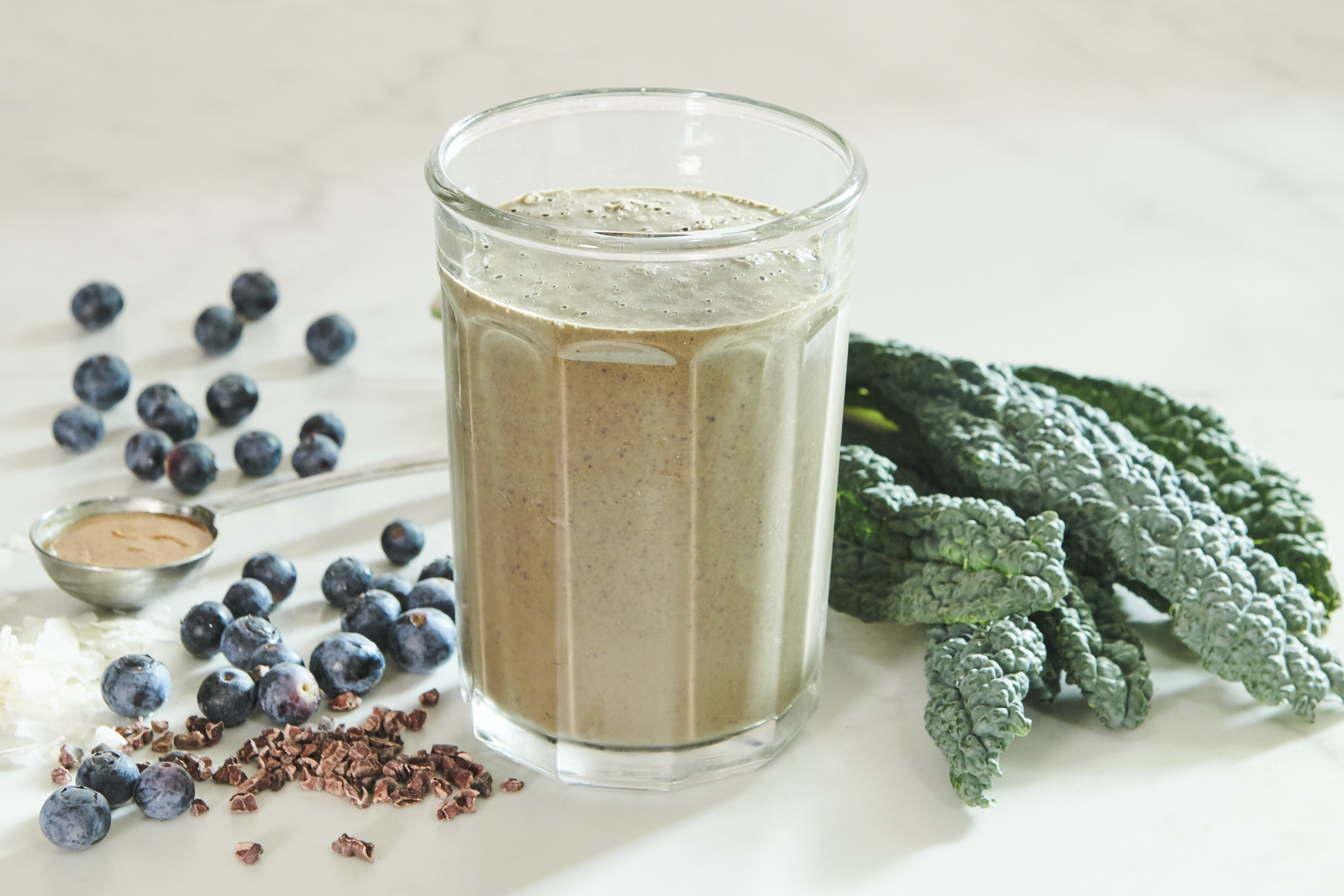 Matt James
5 Chocolate Smoothie with Kale and Blueberries
There's a lot to this smoothie—açaí, almond milk, almond butter, cacao nibs, and blueberries—you won't taste the kale. It leans toward fruity with just a hint of chocolate flavor. Pile in as much kale as you can handle to sip up those essential nutrients.
Find out more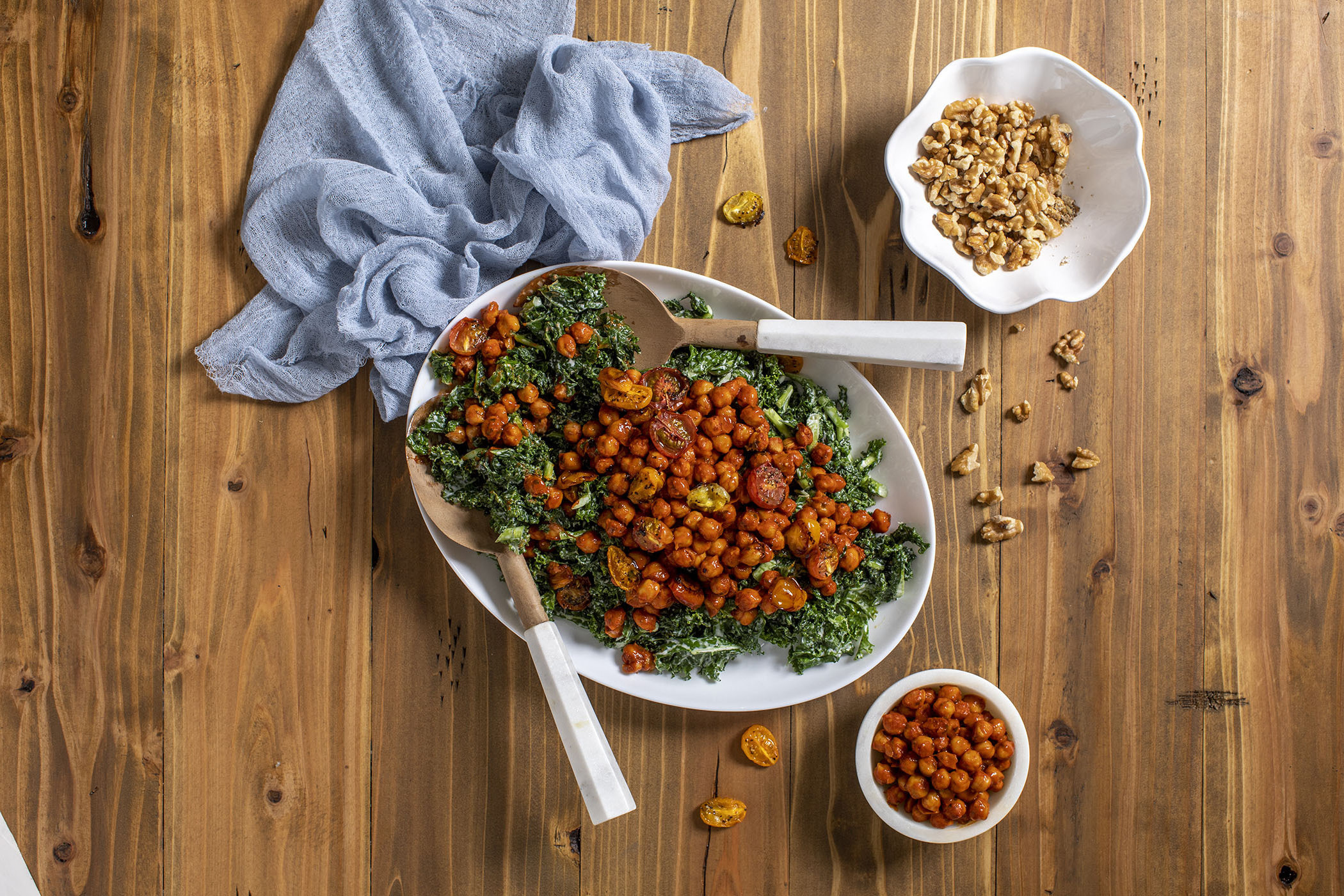 Shanika Graham White
6 Vegan Buffalo Roasted Chickpea Salad
One way to soften crunchy kale is to toss it with a creamy dressing and let it sit in the fridge for an hour or two. Unlike other lettuces, kale doesn't get soggy, it tenderizes. Coated in creamy vegan ranch or maple tahini, a bed of kale is the perfect vessel for crunchy, spicy roasted chickpeas.
Find out more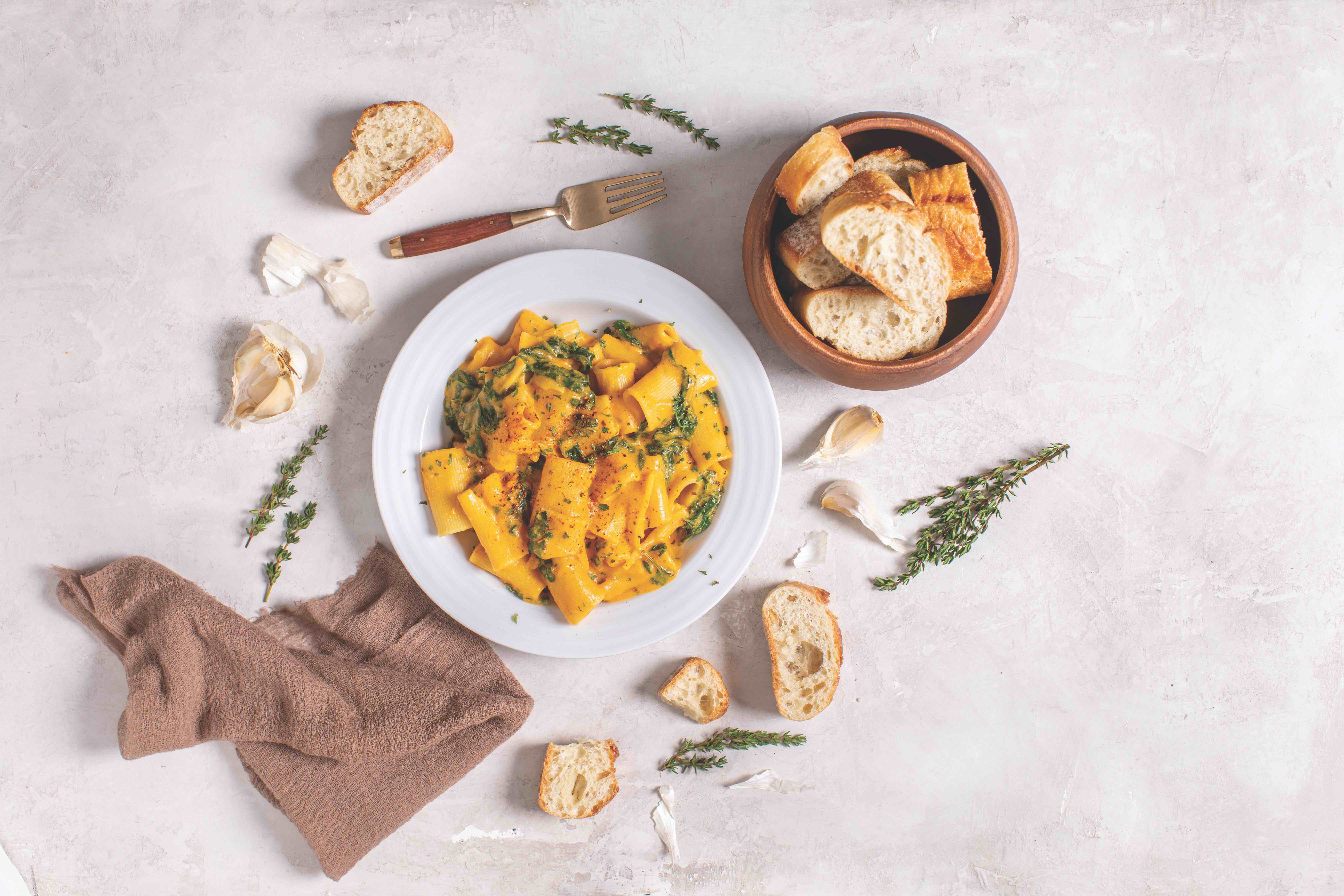 Shanika Graham White
7 Vegan Cajun Coconut Sweet Potato Rigatoni with Kale
Two full cups of roughly chopped kale are folded into this decadently thick and luxuriously creamy coconut and sweet potato sauce. The wide tubes of thick rigatoni pasta cling to this incredible, slightly spicy sauce, leaving little behind. This would be fantastic served with cascatelli pasta, as well.
Find out more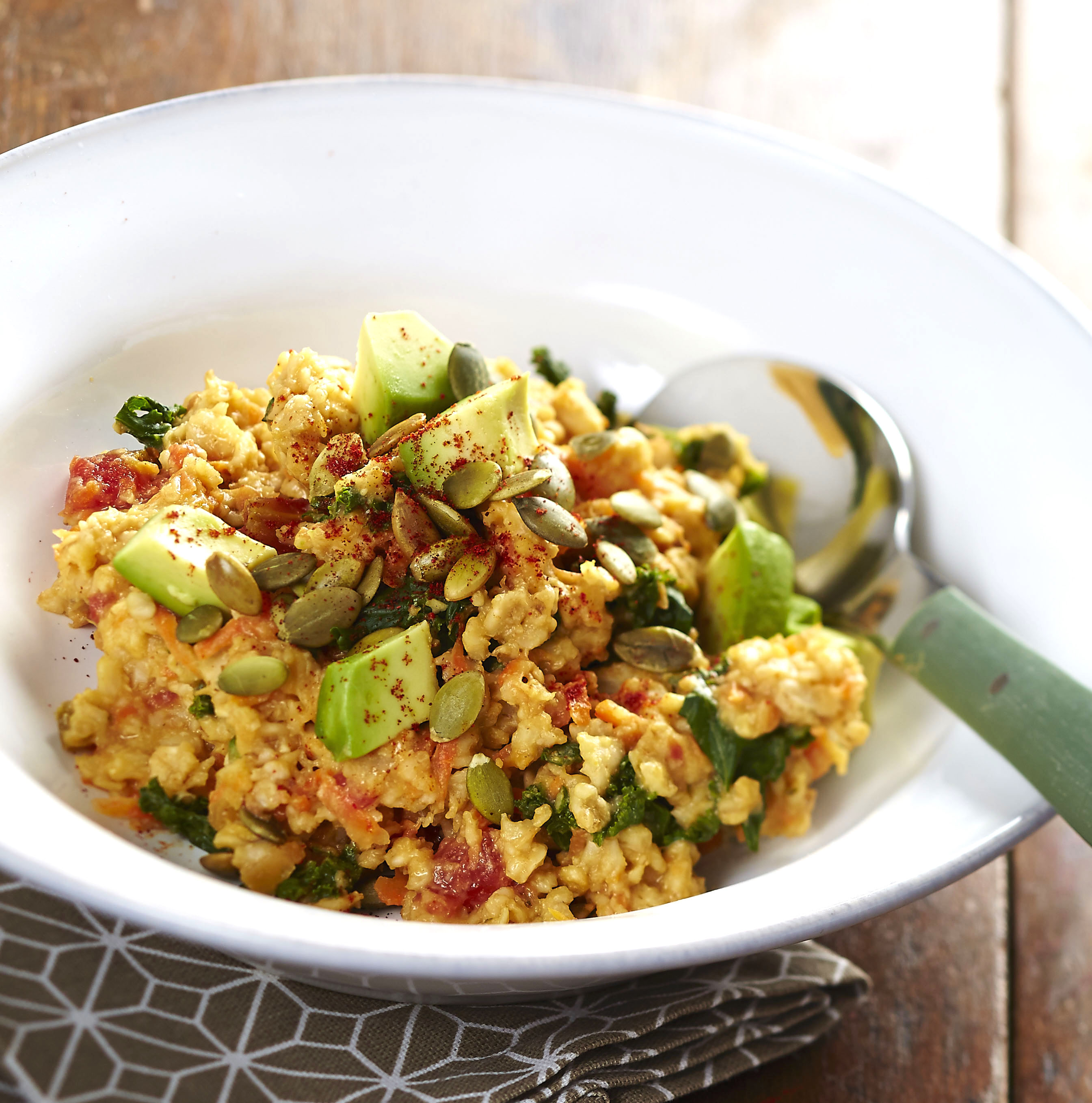 Stephanie Romine
8 Cheezy Vegan Oatmeal with Kale and Pumpkin Seeds
Savory oats should be more of a thing. While oats are most commonly served in sweet applications, the fact is that oats are grains, and we typically enjoy savory grains. Flavored with nutritional yeast and paprika, this bowl of oats pairs well with slivered kale, chunks of avocado, and crunchy pepitas. There is no faux pas for enjoying oatmeal for breakfast, lunch, and dinner.
Find out more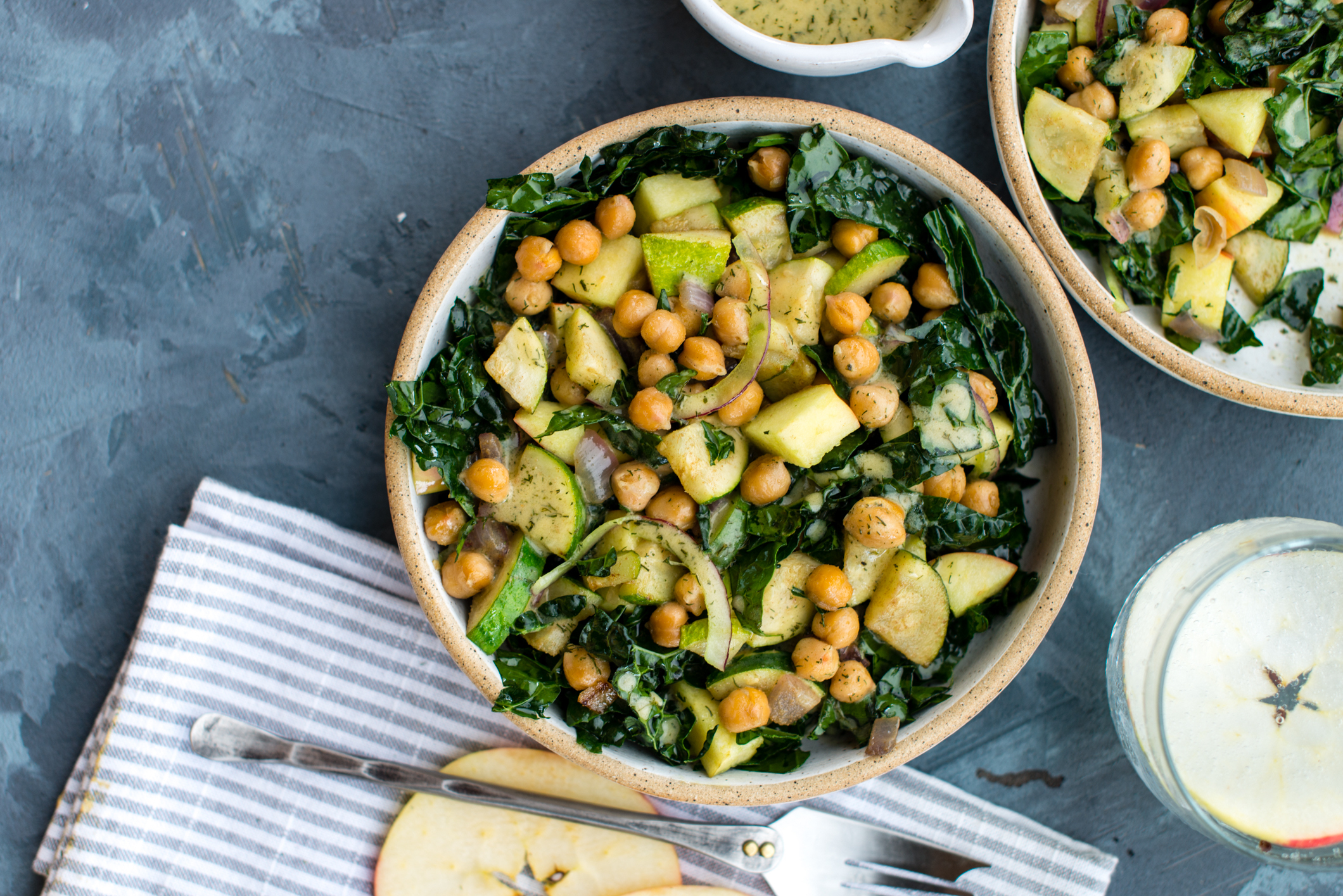 Caryn Jeanne Carruthers
9 Apple Chickpea Kale Salad with Dill-Mustard Dressing
Vibrant, juicy, and herbaceous, this salad is ideal for office lunches and picnics alike in that it will brighten your day and satisfy your hunger pangs. Here's to no more sad salads and actually enjoying a healthy lunch.
Find out more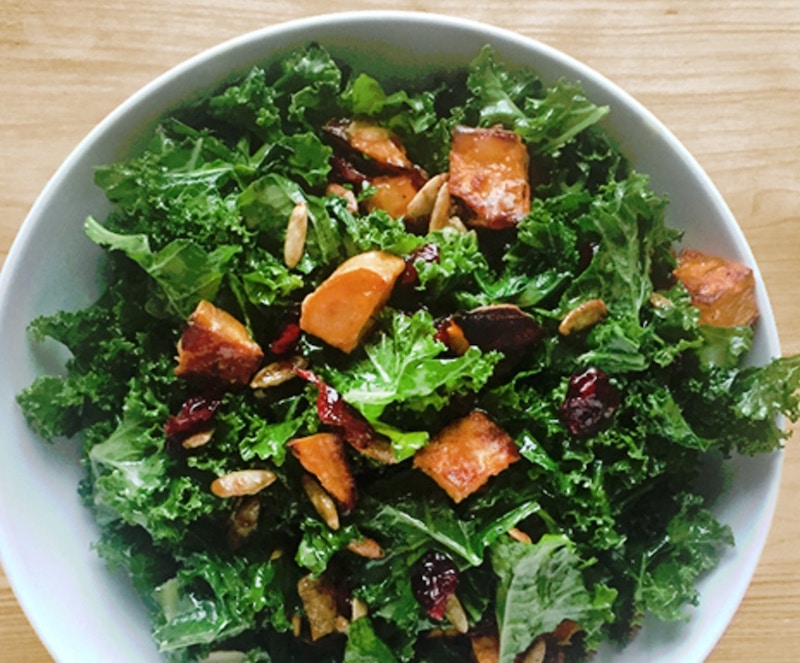 Rachel Morris
10 Warm Kale Salad with Roasted Sweet Potato
We're not ashamed, we love a hot salad. There's a time and a place for crisp, cold romaine, but when the weather is less than ideal, a warm, nourishing, and filling kale salad with tons of roasted and caramelized sweet potato bits is exactly what we crave. Tossed in a pan for two minutes, the warmed kale immediately softens and absorbs the thick, luscious maple tahini dressing. This is one of those salads we never tire of.
Find out more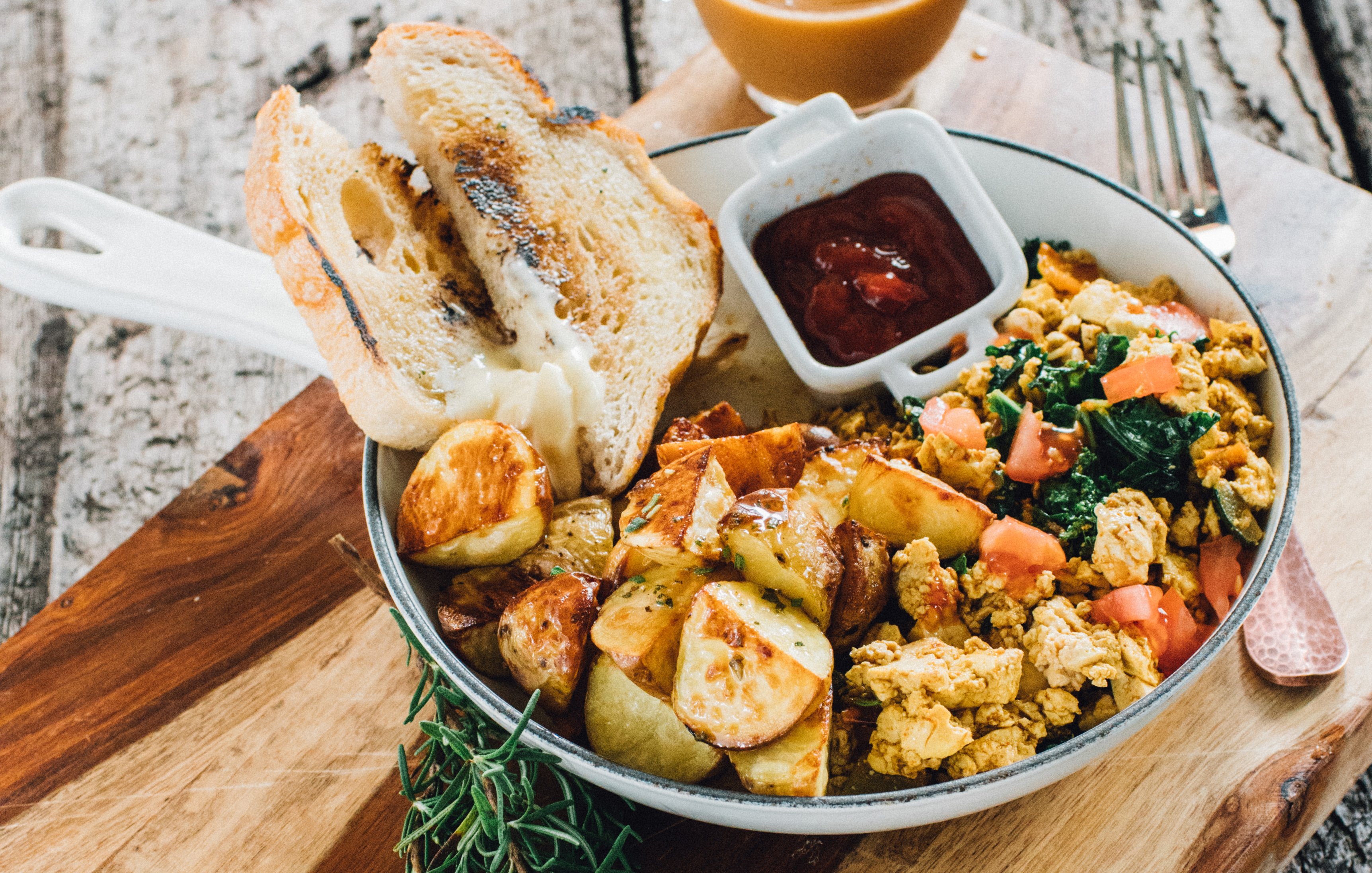 Hollan Hawaii
11 Curry-spiced Vegan Tofu Scramble
We love a savory brunch that can double as dinner. We love it even more that this is a two-step, one-pan meal. Chopped kale complements crumbled, curry-seasoned tofu and zesty diced red peppers for a protein-packed main dish that's excellent with a side of herbed roasted potatoes or buttered toast with jam.
Find out more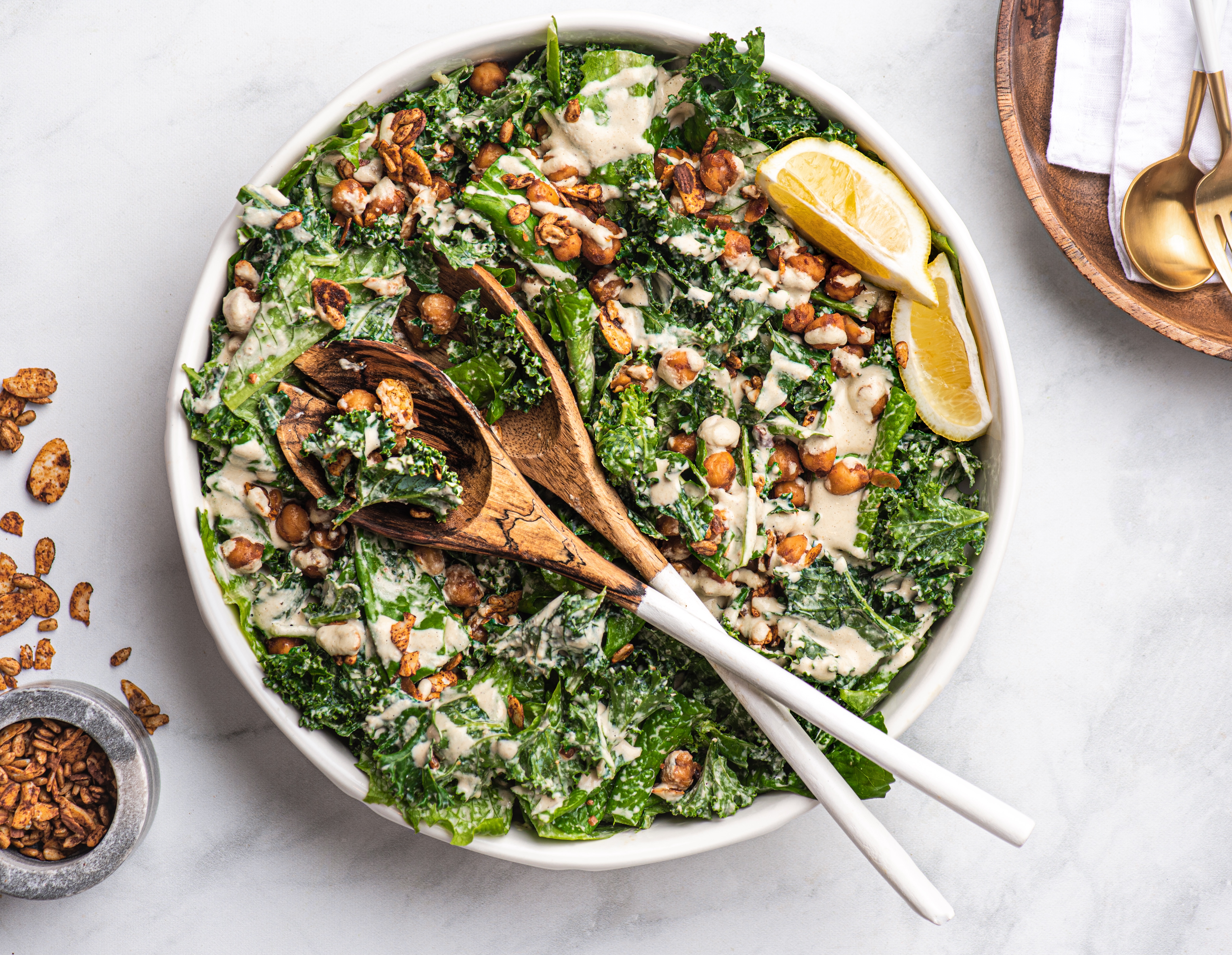 Ashley Madden
12 Vegan Tahini Caesar Salad with Smoked Chickpeas
Caesar salad is timeless, but one made with kale in lieu of romaine makes this classic dish trendy. Tossed with a nutty tahini-infused vegan Caesar dressing, sweet-and-spicy chickpeas, and umami-forward vegan bacon bits, this salad reminds us of why the Caesar salad has prevailed.
Find out more
Natalia KW
13 Kale Slaw with Barbecue Walnut Crumble
Both cabbage and kale are cruciferous vegetables; it shouldn't be a surprise that kale can stand in to craft a cool and crunchy coleslaw. Loaded with smoky walnut crumble and coated in a tangy, not-too-sweet seasoned mayo dressing, this is one side everyone will ask for seconds of.
Find out more
For more healthy vegan recipes, read: