Americans like it spicy, research suggests. In 2022, one survey by Instacart reported that around 74 percent of people in the US like to eat hot sauce with their food. Interestingly, another study from 2021 suggested that New Mexico, Louisiana, and Texas are the states with the highest number of spicy food lovers.
Given that Americans are embracing the heat more than ever, it's no surprise that the spicy sauce market is growing. In 2022, the global hot sauce industry was valued at almost $3 billion, and by 2030, it's set to exceed more than $5 billion. But what about vegan spice fans? Can they indulge in hot sauce, too? The answer: absolutely.
Is hot sauce vegan?
Most hot sauces on the market are vegan. This is because they're usually made with just a few key ingredients like chili peppers (of course), as well as other herbs and spices, sugar, salt, vinegar, and garlic. That said, it's not a guarantee. Some products do list ingredients like honey as a sweetener, for example, and in sauces like Sriracha, fish is sometimes added to the recipe.
Vegan-friendly hot sauce brands to look out for include: Frank's RedHot, The Spicy Shark, Flying Goose, and Cholula. For more, you can find our guide to the best spicy sauces and chili peppers here.
10 spicy vegan dishes perfect with hot sauce
If you're one of the millions of people in the US and around the world who love their dishes to pack in a little extra heat, you really need to try one of these delicious spicy vegan recipes. But first, you need to decide: Just how hot are you willing to go?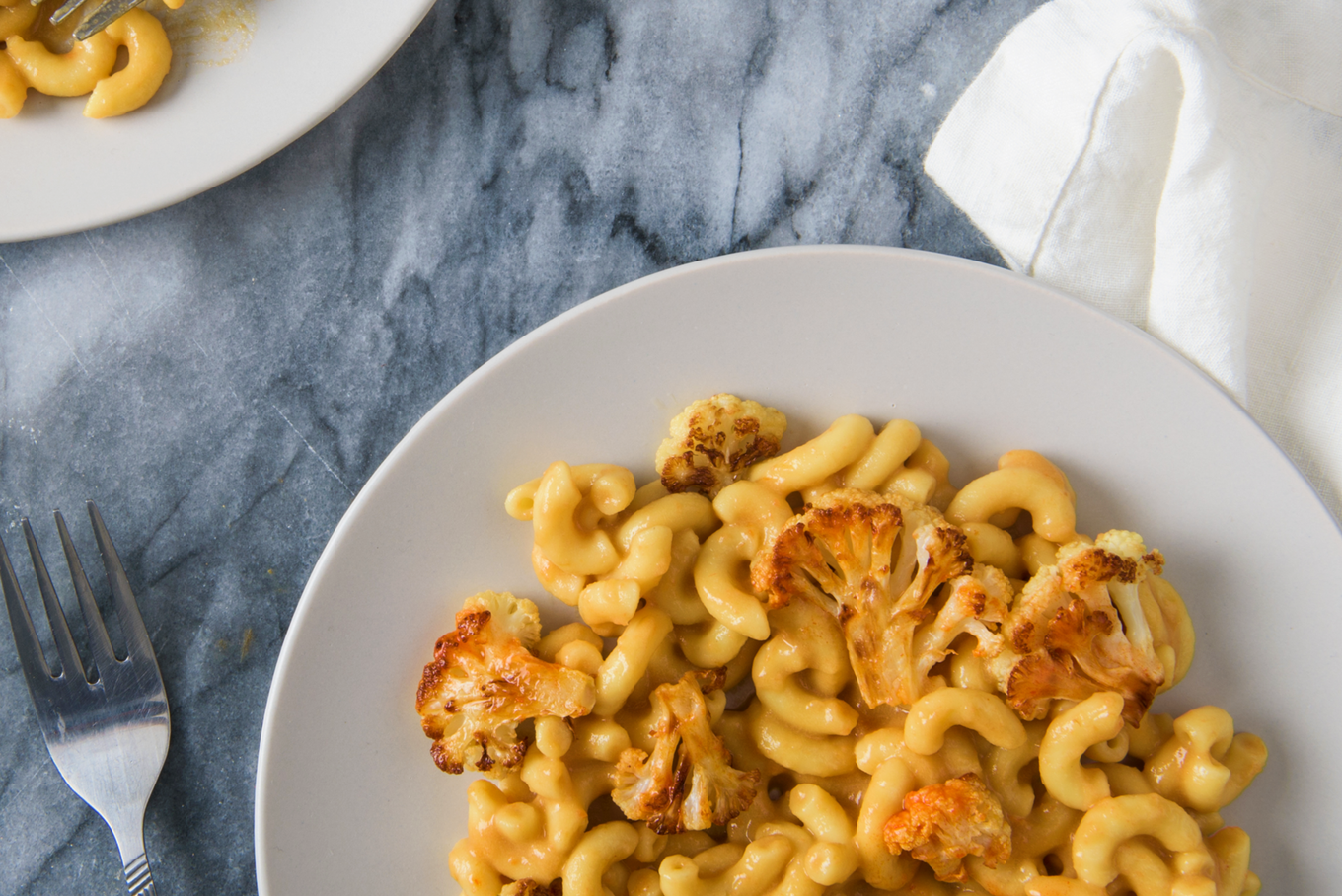 Robin Robertson
1 Spicy Cauliflower Mac and Cheese
Mac and cheese is a creamy and comforting classic. But arguably, like with most recipes, adding a little extra heat only makes this already near-perfect dish even better. The extra spice in this dish comes from the buffalo cauliflower, which is baked and mixed with hot sauce, butter, vinegar, and paprika.
Get the recipe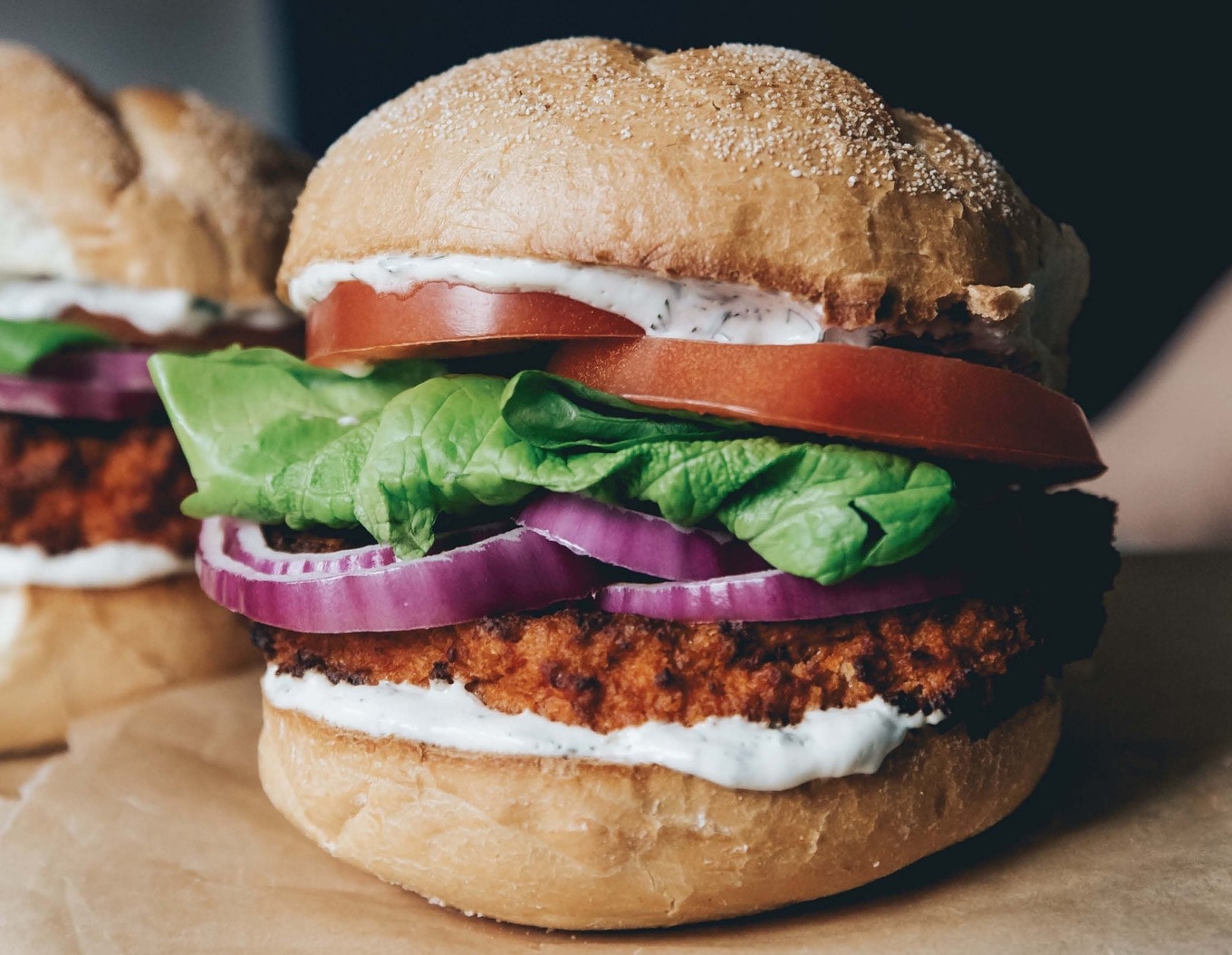 Lauren Toyota
2 Buffalo Cauliflower Sandwich
Again, cauliflower, which is the perfect blank canvas for a bit of spice, is the star of the show in this recipe. Make it extra crispy with panko-style bread crumbs before basting in a mix of buffalo hot sauce and melted butter. The results are mouth-wateringly good.
Get the recipe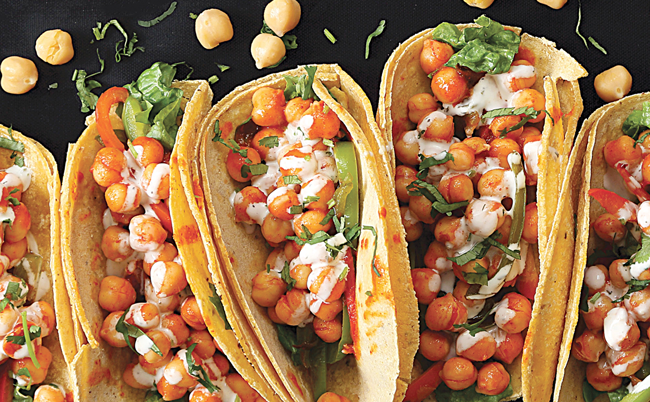 Richa Hingle
3 Spicy Chickpea Tacos
Taco Tuesday is a great opportunity to bring the heat. These chickpea-filled tortillas combine two types of hot sauce, making them the perfect spicy treat. Don't forget the cooling side of ranch—you're going to need it.
Get the recipe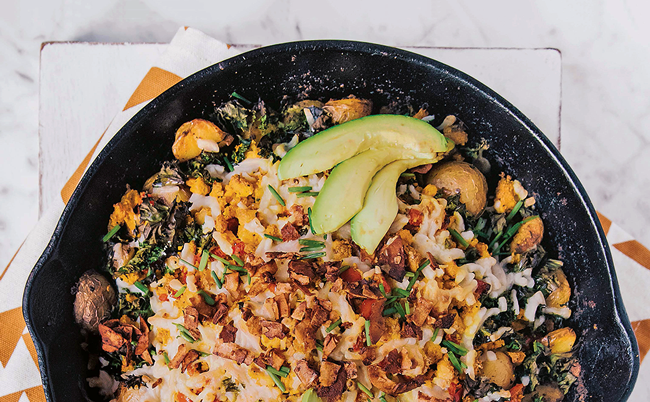 Lauren Toyota
4 The Ultimate Vegan Breakfast Skillet
Bookmark this recipe for days when you've got plenty of time to make a delicious, ultra-filling breakfast. This flavor-packed dish contains a mountain of tofu scramble, roast potatoes, and plenty of toppings, including vegan cheese, avocado, and coconut bacon, all of which is topped off with your favorite hot sauce.
Get the recipe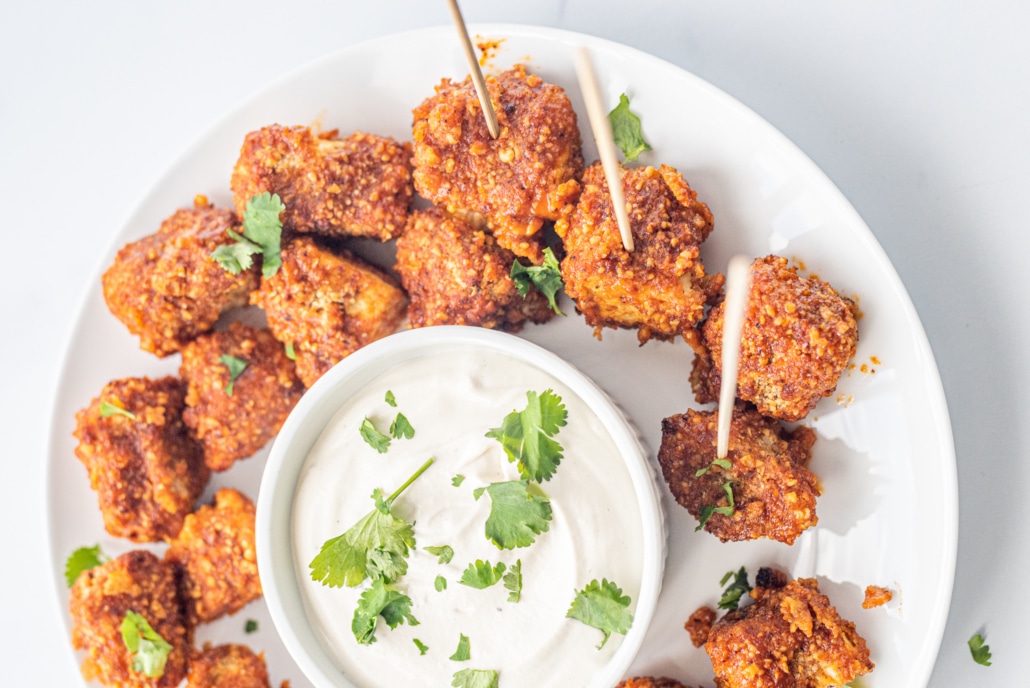 Danielle Keith
5 Air-Fried Tofu Poppers
Chicken nuggets, who? These air-fried tofu poppers are just as crispy, meaty, and satisfying as the childhood classic. Plus, they're extra-spicy thanks to the half a cup of hot sauce in the recipe. Serve with a fresh cilantro garnish and a lot of sour cream.
Get the recipe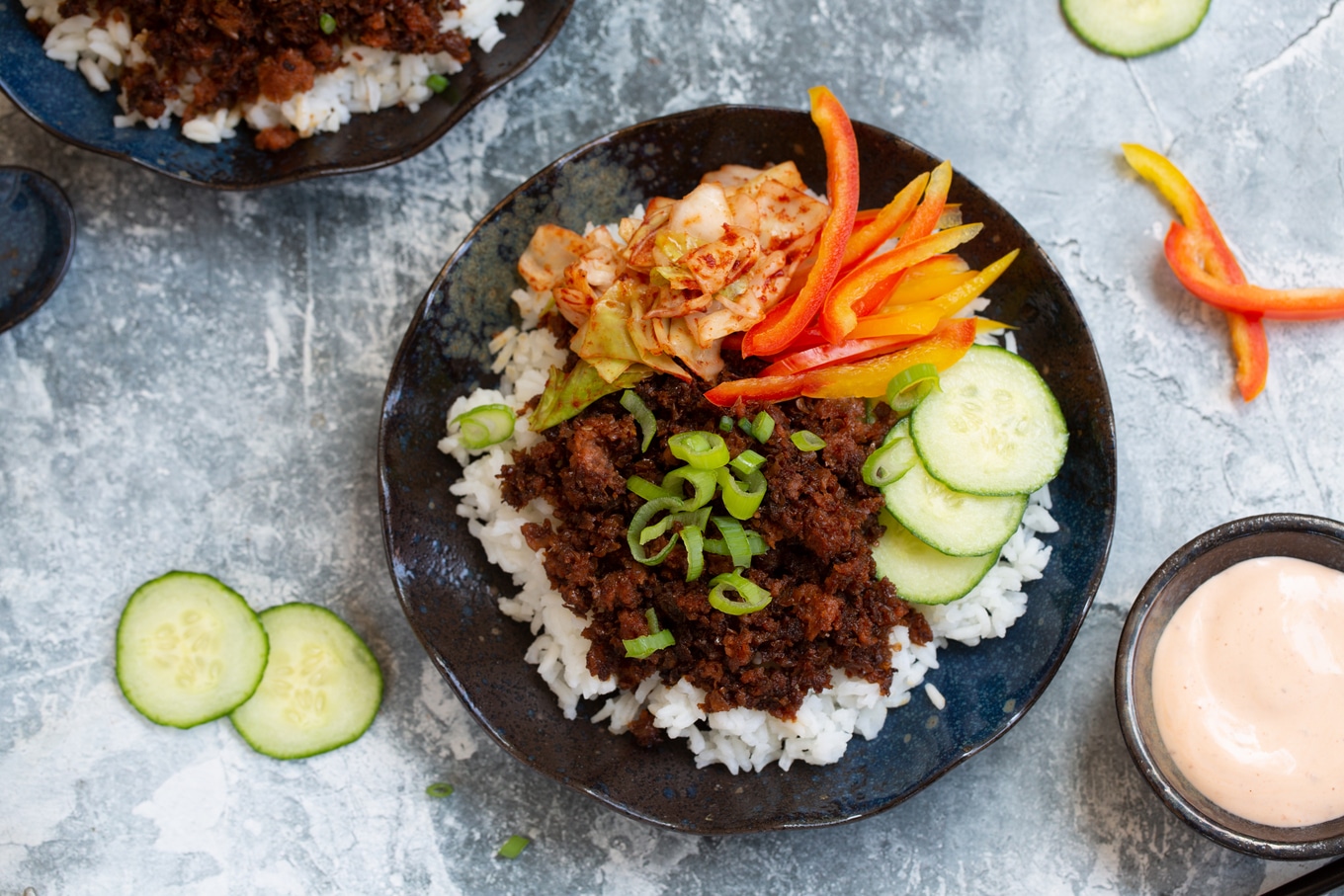 Nava Atlas
6 Korean BBQ Bowls
This Korean BBQ bowl is already packed with flavor, but if you need a little extra kick, don't be shy about mixing in some of your favorite hot sauce into the recipe. It also tastes delicious with a little stir-fried sesame broccoli, and, of course, you can't forget the kimchi either.
Get the recipe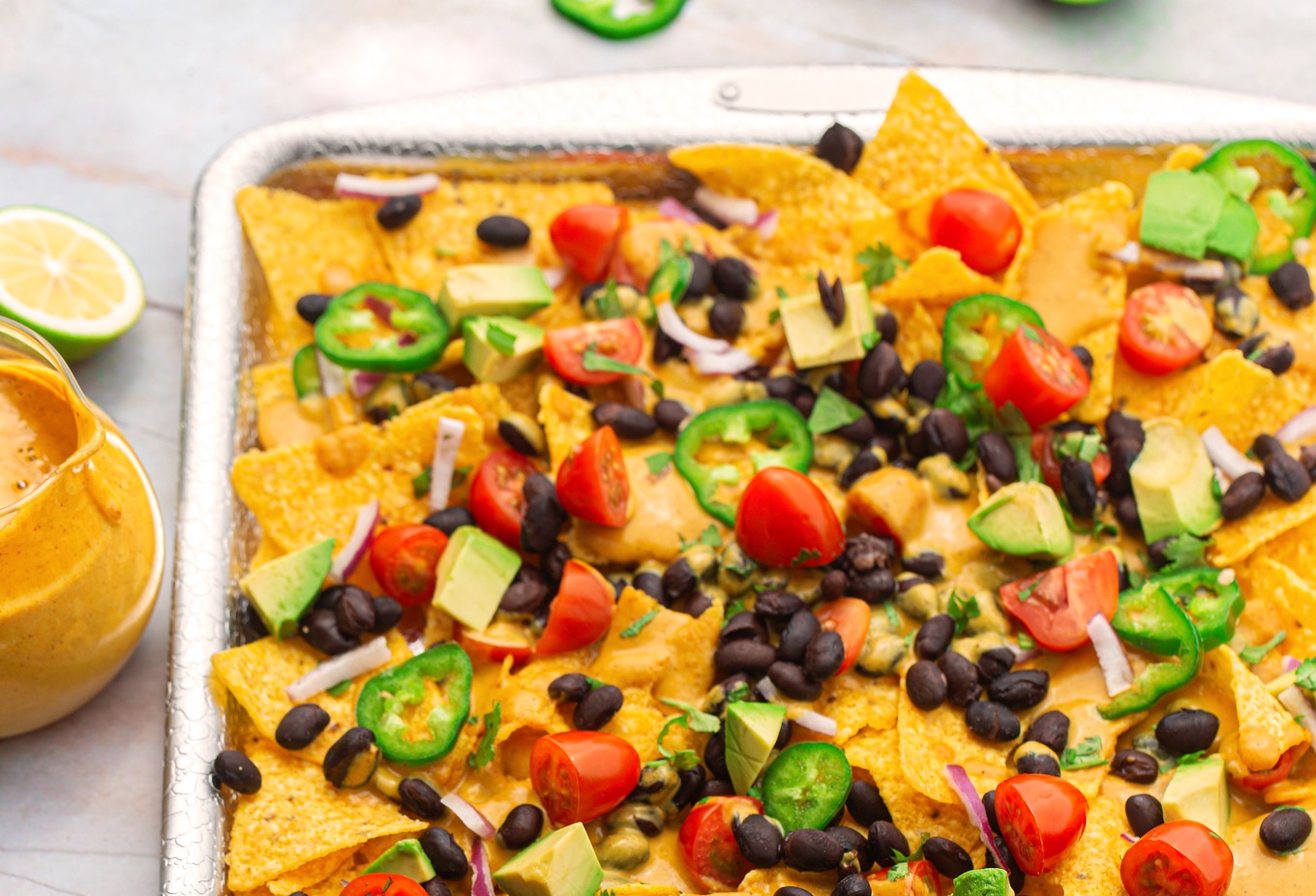 Hannah Kaminsky
7 Loaded Cheesy Vegan Nachos
You can't go wrong with a plate of loaded cheesy vegan nachos. You just can't. But you can make them even more delicious by drizzling some hot sauce over them, and by adding jalapeños (for even more of a kick), olives, refried beans, or anything else that takes your fancy.
Get the recipe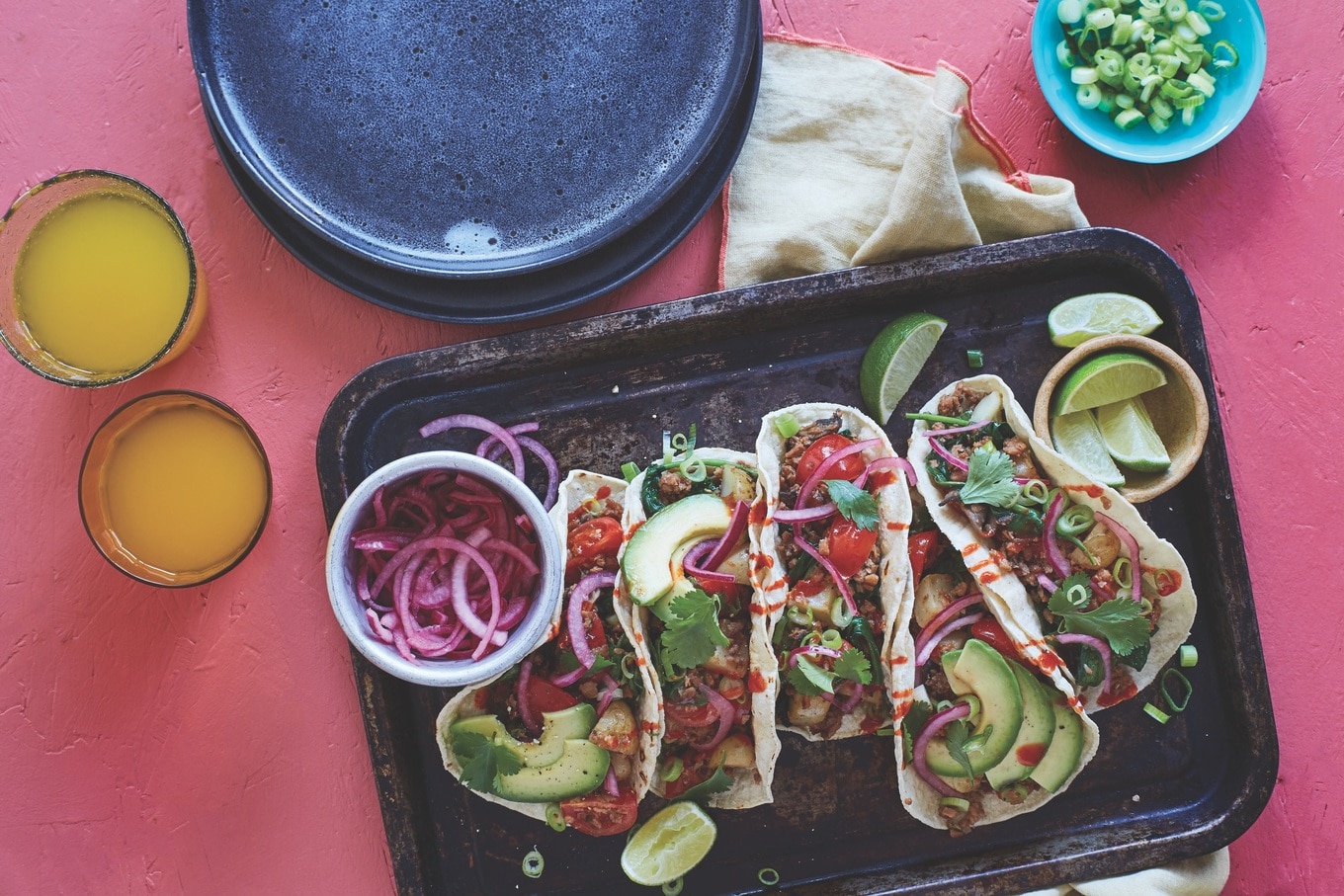 BOSH!
8 Mushroom-Sausage Breakfast Hash Tacos
Eating tacos for breakfast is guaranteed to set you up for a great day, especially when they're filled with potatoes, vegan sausages, mushrooms, spinach, avocado, and a generous helping of hot sauce.
Get the recipe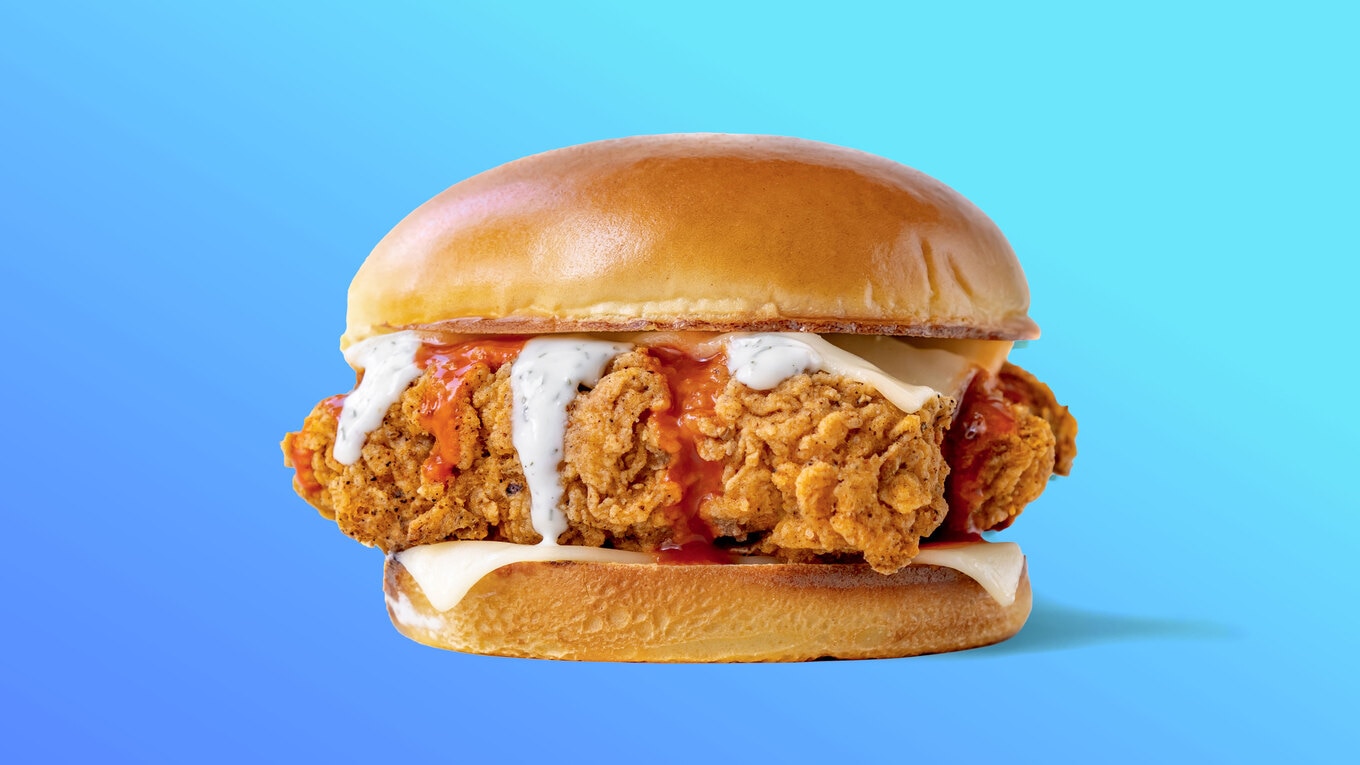 Brian Watson
9 Copycat Whataburger Chicken Strip Sandwich
Fast-food chain Whataburger isn't known for its vegan options, but that doesn't matter, because you can make them yourself (and they'll arguably be even tastier anyway). All you need is some vegan chicken, some batter mix, burger buns, and plenty of hot sauce and vegan ranch.Get the recipe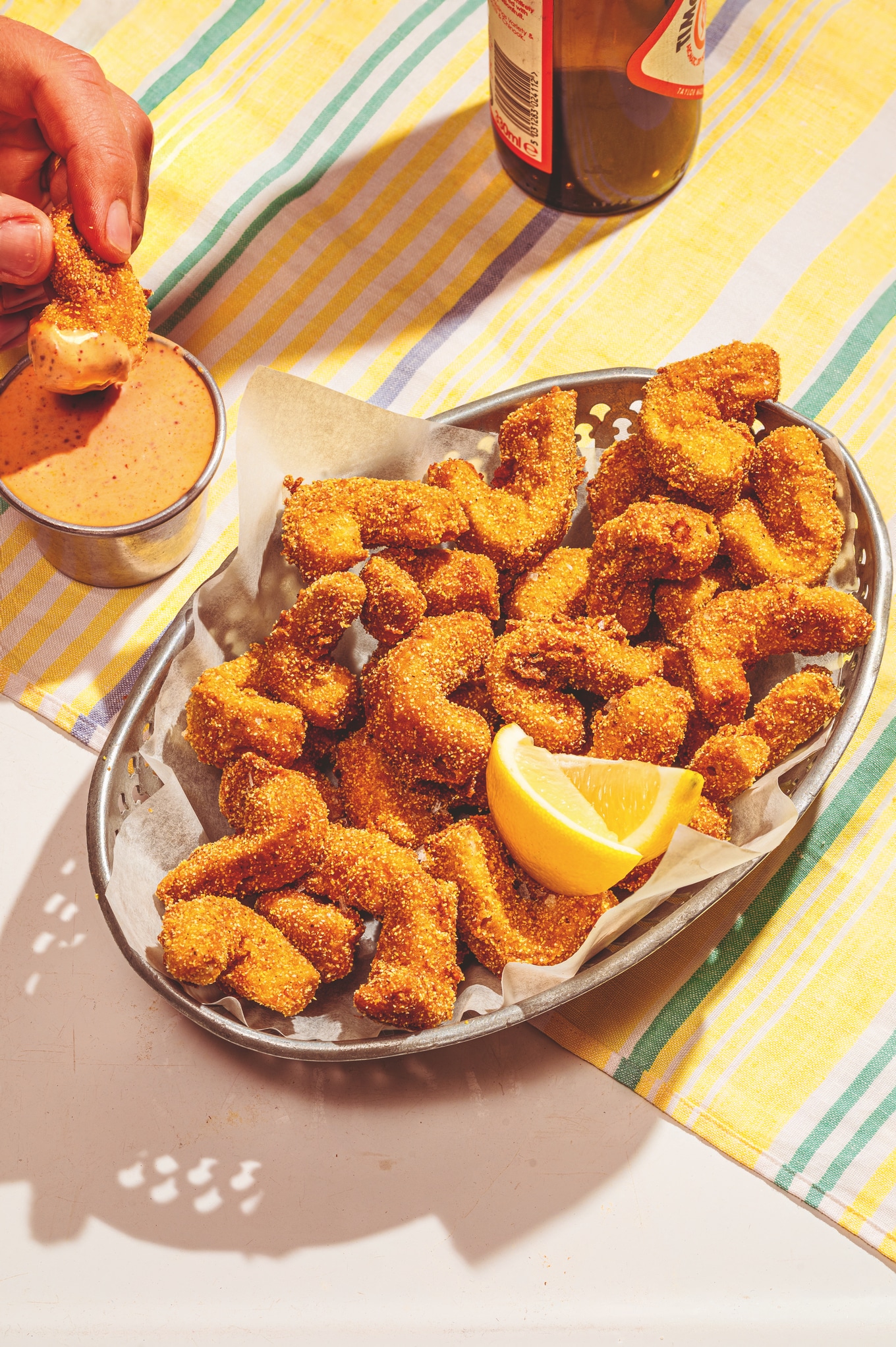 Anything You Can Cook, I Can Cook Vegan
10 Vegan Cajun Fried Shrimp with Rémoulade
Transport your taste buds to New Orleans with this vegan cajun fried shrimp recipe, which swaps out shellfish for battered oyster mushrooms. The accompanying slightly spicy rémoulade calls for a teaspoon of hot sauce, as well as vegan mayonnaise, vegan horseradish cream, and vegan Worcestershire sauce.
Get the recipe
Here at VegNews, we live and breathe the vegan lifestyle, and only recommend products we feel make our lives amazing. Occasionally, articles may include shopping links where we might earn a small commission. In no way does this effect the editorial integrity of VegNews.