Food + Recipes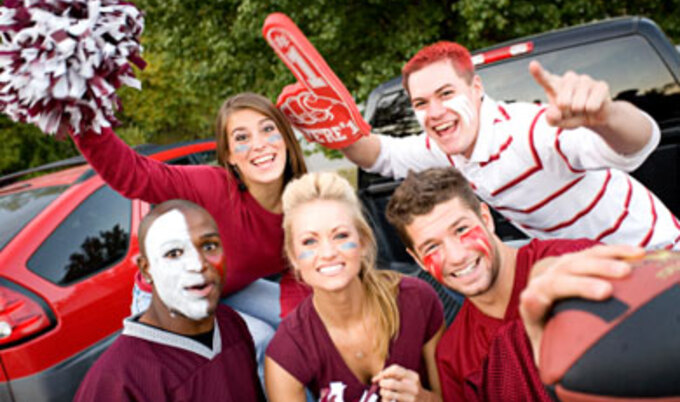 How to Tailgate Like a Vegan Pro
No matter the team you root for, tailgate like the pros with VN's vegan tailgating guide.
---
It's a shame that the time between Thanksgiving and New Year's Eve has a monopoly on the term "the holidays," because those of us for whom college never really ended (in our hearts, at the very least) or who are all but fanatic about football, the real holidays start at the first signs of fall and last well past January 1. We're referring to football season, or, more appropriately, tailgating season. It's the time of year when we don our goofiest fan apparel, sing fight songs with pride, and deck every hall with the fiercest of team colors. No matter what team you root for, we've got the game plan you need to score at your vegan tailgate.
Kegs, Not Eggs
True, non-fair-weather fans rise with the sun on game day, and the brisk fall air makes for the perfect time to throw a kegs-not-eggs party. At morning tailgates, you want to be sure to fill your troops with enough sustenance to last the day—accomplished with dishes such as tofu scramble, Savory Biscuits and gravy, sausage breakfast casserole, or roasted potatoes. Breads and muffins are excellent for sharing with large groups, so the night before whip up some Banana Bread, a Chocolate Chip Loaf, or, for something especially autumnal, Date, Walnut, Pumpkin and Banana Oat Muffins. And no kegs-not-eggs party is complete without mimosas!
The All-Star Tailgate
Football and tailgating brings people together—it's a time for celebration with like-minded people, whether the common ground be veganism, a shared hatred for the enemy team, or both. Take advantage of the communal atmosphere of a tailgate to introduce fellow fans to new vegan eats. When planning your menu—and always plan ahead before the big game—choose foods that won't melt if it gets hot, that are easily transported and set up, and that can be effortlessly devoured. Dips are a surefire way to please a crowd, such as salsa, spinach dip, or veggie dip. Grilling is always a tailgating must, so break out the veggie kabobs (which you can marinate the night before) and vegan hamburgers or veggie dogs, and don't forget the ever-important Chili Dog Sauce. Also great for sharing, consider black-bean casserole or a hearty chili. As far as dessert goes, don't over think it—Game Day Football Cookies, sugar cookies with team-colored frosting, or brownies are all crowd pleasers. And of course, the reason why tailgating was born: beer. Bud Light, Natural Light, Miller Lite, and The Original Blue Moon are all cruelty-free favorites that will you send you right back to the glory of your college days.
A good tailgater knows that just as important as the menu at a tailgate are the games played. There are always the old favorites of bags and washers (toss bags or washers into an object), and, naturally, throwing around a cruelty-free football of your own. And don't forget plenty of trash and recycling bags for an easy clean up once you realize that kick-off is moments away. Have a very merry football season!
Want more of today's best plant-based news, recipes, and lifestyle?
Get our award-winning magazine!
Subscribe