Breakfast can stump a lot of new vegans. Even long-term vegans can get stuck in a rut, bored by monotony. Generally speaking, most of us are sleep-addled and hungry for something that we can't put our finger on. Not everyone prepares an Instagram-worthy mini mason jar of overnight oats they can just "grab and go!" and the harsh sounds of blending a green smoothie make us cringe. These store-bought breakfast staples reliably offer nutrients, comfort, and satiety on any given morning. Here are the best vegan breakfast foods to stock up on.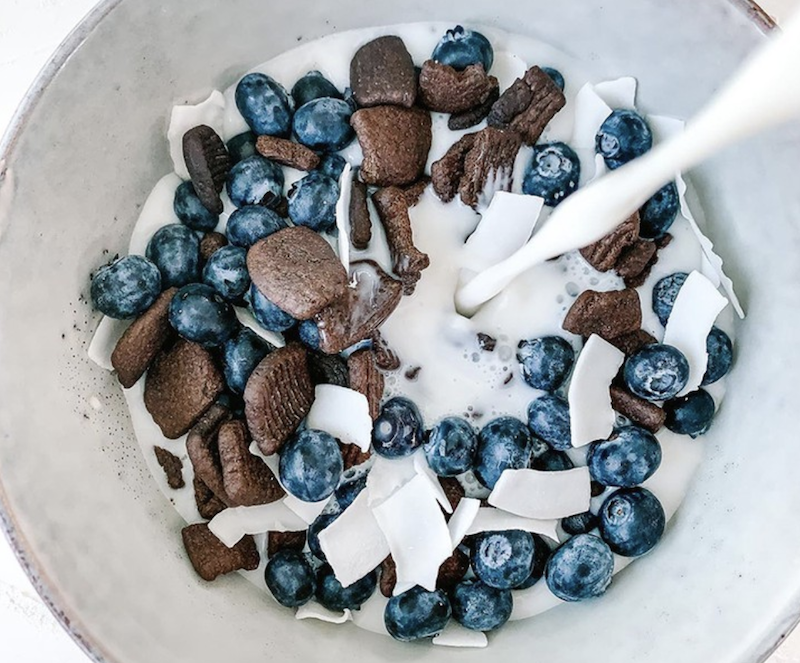 Catalina Crunch
Cereals
1 Catalina Crunch
This cereal tastes like "kid" cereal, but for adults. It's sturdy and stands up to any plant milk you down it in, so while you may have to rush out the door, you don't have to worry about scarfing down your cereal for fear of it getting soggy. The Dark Chocolate is a staple in our cupboards. Bonus: just a half cup contains 11 grams of plant-based protein.
Learn more here
2 Puffins
If there's a child in the house, you'll be fighting over this cereal. Sure, the adorable puffin is marketed toward kids, but there is no age limit to the satisfaction Peanut Butter Puffins provide.
Learn more here
3 Purely Elizabeth Granola
Embrace the vegan hippie stereotype and pour yourself a satisfying bowl of granola. Any brand will do, but before you buy, check the ingredients to ensure the mix is honey-free. We love Purely Elizabeth's Blueberry Hemp flavor over vegan yogurt or straight from the bag.
Learn more here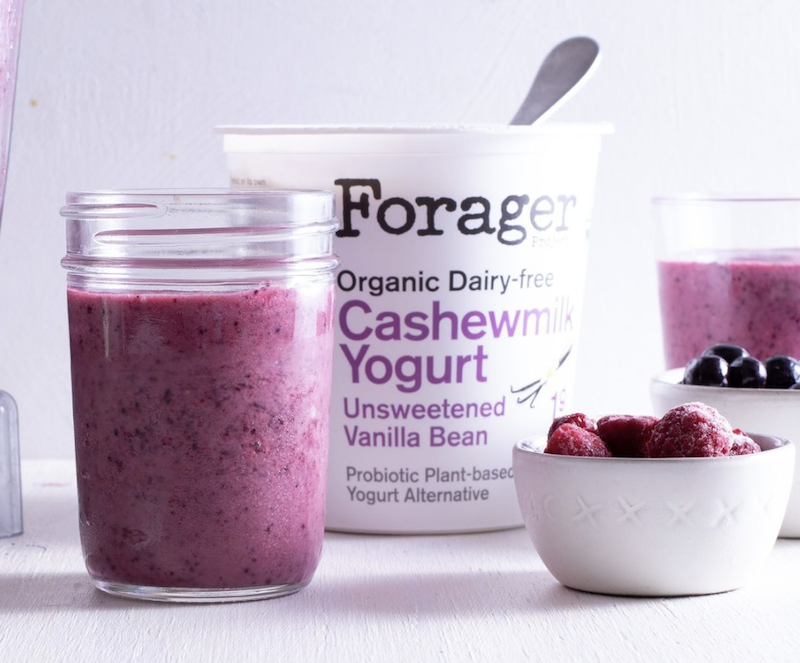 Forager
Yogurts & Cream Cheese
4 Forager
Former Yoplait lovers, check out Forager's flavored cashew milk yogurts. The Blueberry flavor is outstanding, with Vanilla Bean not far behind. The brand also offers high-protein and drinkable yogurts.
Learn more here
5 Silk
The dairy-free giant has mastered the art of yogurt. Choose between soy-, oat-, and almond-based varieties as you endure back-to-back morning Zoom calls. Top with honey-free granola and your favorite fruit for a quick and easy breakfast. Flavors include Peach, Strawberry, Vanilla, and more.
Learn more here
6 Kite Hill
Greek yogurt enthusiasts, meet the vegan counterpart. Kite Hill's decadently thick and creamy almond milk-based Greek yogurt deserves a spot in your fridge. Both the Plain and Vanilla varieties are unsweetened—providing a tart canvas for berries, granola, or a drizzle of maple syrup.
Learn more here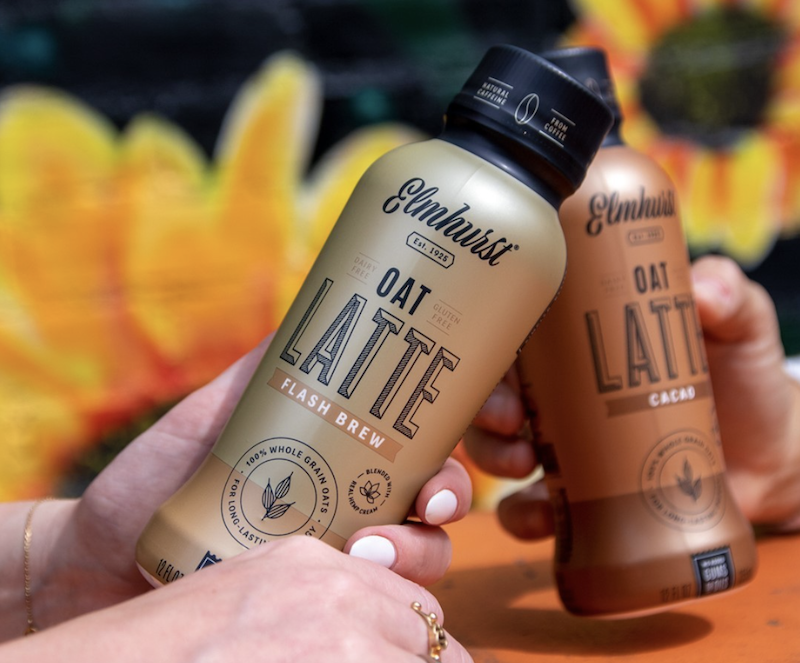 Elmhurst
To-Go Lattes
7 Elmhurst
When the coffee shop line is too long, grab an Elmhurst Flash Brew Oat Latte or Matcha Oat Latte instead. Both options are creamy and caffeinated, which is sometimes all we need in the morning.
Learn more here
8 RISE Brewing Co.
We like to keep a variety of RISE canned coffee drinks in the fridge at all times. Quicker than making yourself a pour-over or even pushing the button on your Nespresso machine, these single-serve beverages provide the caffeine jolt you need in a variety of flavors. Favorites include London Fog, Nitro Cold Brew Coffee, and Oat Milk Mocha.
Learn more here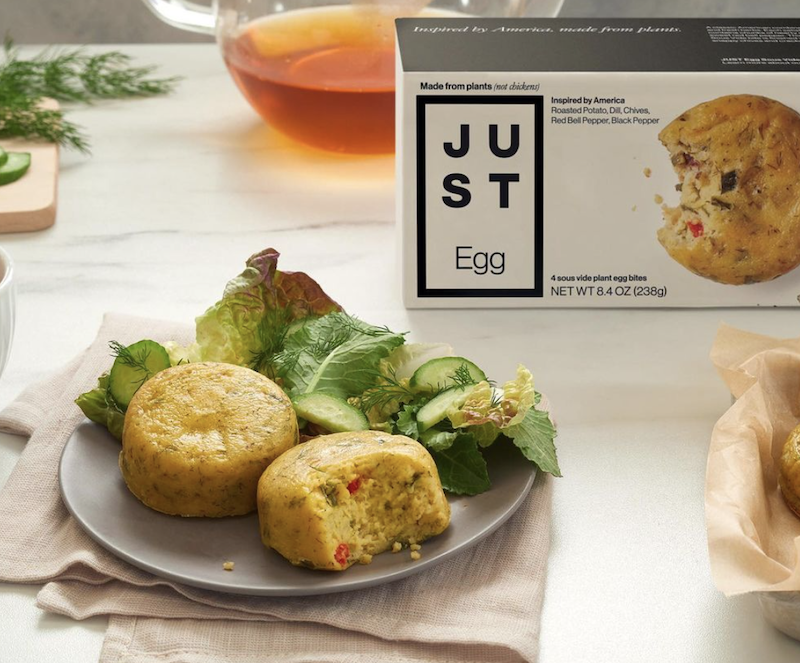 Eat Just
Frozen
9 JUST Egg
These mung bean-based egg patties are a game-changer. Use them to top toast, sandwich between a bagel, or cover with sliced avocado and salsa for a filling yet minimal-effort morning meal.
Learn more here
10 Alpha Foods
There's something primally satisfying about a microwave breakfast burrito. Both the Original Breakfast and Veggie Breakfast options scratch this itch. Vegan sausage, cheddar, and tofu scramble? Check.
Learn more here
11 Van's Waffles
Not all of Van's products are vegan, but we can't get enough of the ones that are. The Original, Blueberry, and Gluten-Free Apple Cinnamon frozen waffles have satiated us on many lazy Sunday mornings (especially when topped with nut butter and/or banana slices).
Learn more here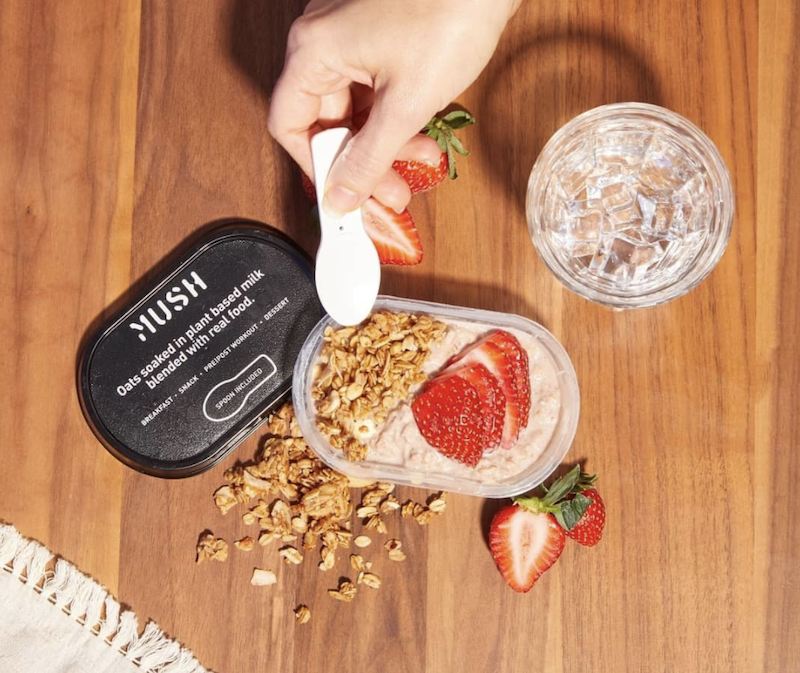 MUSH
Oatmeals
12 MUSH
Yes, overnight oats are easy to make, but they involve a level of preparation that doesn't always happen. These packaged overnight oats are a go-to simply because they can be found in a plethora of coffee shops and cafés. It's comforting to know that you don't have to settle for a slightly stale plain bagel if you're famished and on the go.
Learn more here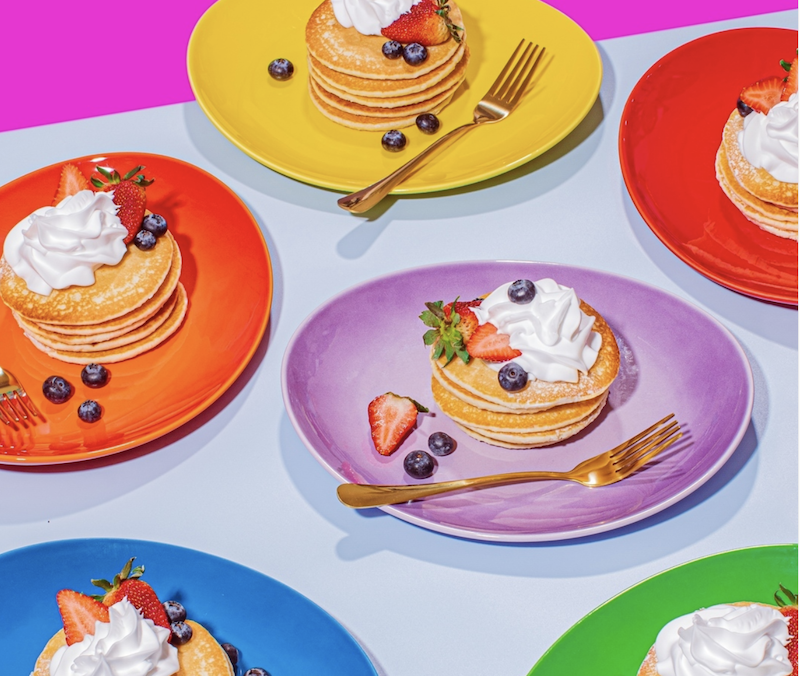 Partake Foods
Mixes
13 Partake Breakfast Mixes
Whether you're in the mood for fluffy waffles or confetti-sprinkled pancakes on a gloomy Sunday morning, these gluten-free pancake mixes are exactly what you need. Keep a bag on hand and just add water for near-instant joy. Pro tip: you can make muffins from the mix, too!
Learn more here
14 Bisquick Original Pancake & Baking Mix
Before intentionally vegan baking mixes existed, there was Bisquick Original. While it may not produce the best vegan pancakes you've ever had, it still reminds us of childhood sleepovers and tastes of nostalgia.
Learn more here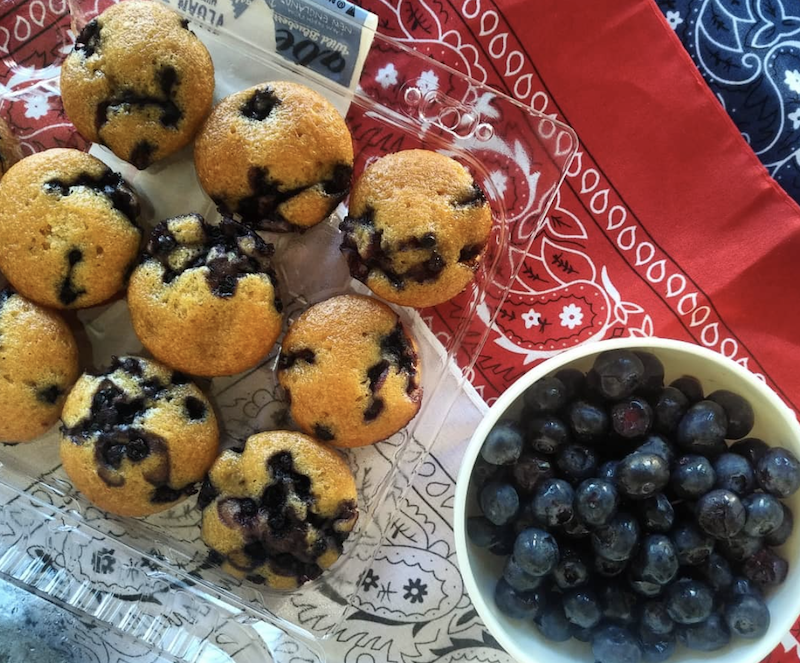 Abe's Muffins
Baked Goods
15 Abe's Muffins
Fair warning: these mini muffins can be addictive. They're sweet, moist, and come in a variety of flavors from basic Blueberry to sinful Devil's Food. Pop a few before you dash out the door.
Learn more here
16 Whole Foods Vegan Croissants
Find these flaky, buttery pastries in Whole Foods' prepared frozen section. While we're still spending much of our time at home, we love to heat one of these up in the oven, brew a strong cup of coffee, and pretend we're sitting outside our favorite vegan-friendly café.
Learn more here
17 Zen Bakery
We're not sure how these Costco-sized muffins weigh in at under 300 calories each, but we're thankful for them. These minimal-ingredient muffins are lightly sweetened with white grape juice and made with whole wheat flour, but the taste is anything but "healthy." Favorite flavors include Carrot Cake and Banana Nut.
Learn more here
For more vegan breakfast, read:
8 Easy Vegan Breakfasts to Make Before School
Energizing Vegan Matcha Chia Pudding
Vegan Freezer-Friendly Breakfast Burritos