Starting in April, new vegan sausage patties by Chicago-based company Nature's Fynd will roll out at Whole Foods Market locations across 10 states. The meatless breakfast patties are made with an innovative protein the company calls "Fy Protein" which got its origins in thermal hot springs found in the Yellowstone National Park.
"The innate versatility and natural texture of Fy Protein enables us to create delicious vegan foods that appeal to our customers," Thomas Jonas, CEO and Co-founder of Nature's Fynd, said in a statement. "We are delighted to launch our innovative Fy-based Meatless Original Breakfast Patties at Whole Foods Market stores—this furthers our mission of nourishing people and nurturing the planet."
Prior to its Whole Foods launch, Nature's Fynd vegan sausage (along with its Fy-powered dairy-free cream cheese) were found only at a handful of retailers, including Berkley Bowl in Northern California and Fairway Markets in New York City, and Mariano's in Chicago. Whole Foods decided to add Nature's Fynd to its shelves to give customers an exciting new plant-based option.
"At Whole Foods Market, we are always looking for innovative and trending products to add to our shelves. With Nature's Fynd, we have found a delicious breakfast option to add to our growing meat alternatives category that we believe our customers will love," Parker Brody, Senior Global Category Merchant of Center Store at Whole Foods Market, said in a statement. "We are excited to bring Nature's Fynd Meatless Breakfast Patties to our stores and look forward to introducing them to our customers."
Nature's Fynd Meatless Breakfast Patties will be available in original flavor in the refrigerated section of Whole Foods stores in California, Arizona, Washington, Oregon, Idaho, Hawaii, Nevada, New York, New Jersey, and Connecticut.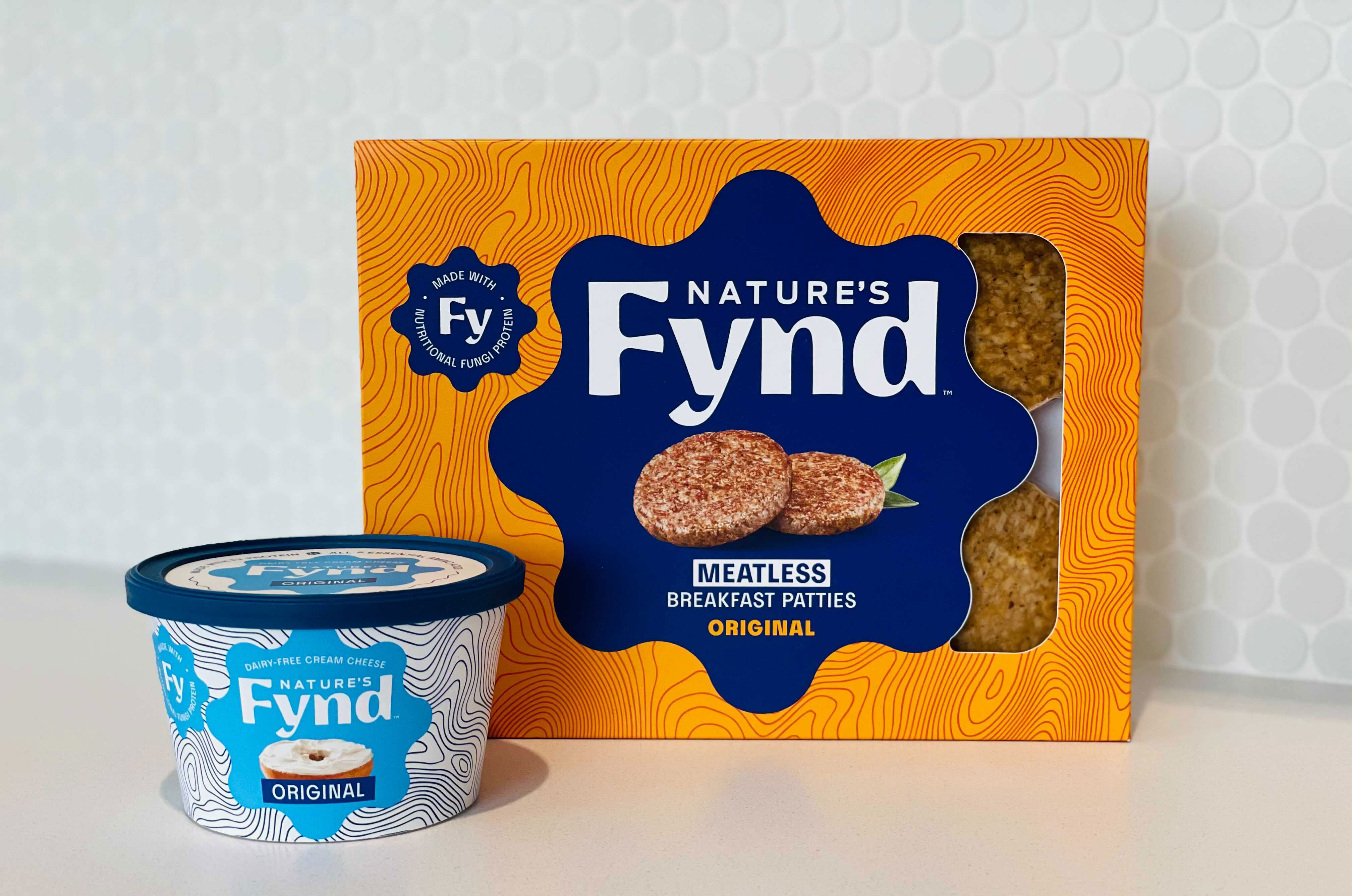 Nature's Fynd
Making meatless meat and dairy-free cheese from microbes
So what does Yellowstone National Park have to do with meatless breakfast sausage? In 2008, Nature's Fynd co-founder Mark Kozubal, PhD, stumbled upon the microbe—called Fusarium strain flavolapis—while researching fungal life forms that can survive extreme conditions for NASA. Kozubal isolated the microbe from a sample he collected without harm to the environment and together with the team at Nature's Fynd, created a fermentation technology that produced Fy, an animal-free complete protein that contains all 20 amino acids, vitamins, minerals, and fiber. Nature's Fynd now uses Fy as the base for consumer products, including its Meatless Breakfast Patties (which it offers in Original and Maple flavors) and animal-free cream cheese (available in Original and Chive & Onion flavors).
Microbial fermentation is an emerging third pillar in the world of creating alternatives to traditionally produced animal products, next to plant-based and cell-based (or cultivated) approaches. In 2021, this sector secured $1.7 billion in investments, which is nearly three times the $600 million it raised in 2020.
The largest player in this space is Perfect Day, which has harnessed the power of precision fermentation to create animal-free whey that it is commercializing in various ways. The Urgent Company, its consumer goods subsidiary, offers Brave Robot vegan ice cream and cake mix, and Modern Kitchen vegan cream cheeses all made with Perfect Day's animal-free whey. The company also partners with foodservice providers and other businesses to help modernize their product lines with its innovative animal-free protein.
General Mills
To that end, General Mills unveiled Bold Culture last year as its first animal-free cheese brand. This year, Natreve—a wellness brand that offers both vegan and animal-based nutrition products—will release a MOOLESS protein powder line extension that features Perfect Day's animal-free whey.
Creating animal-free whey is one piece of the puzzle in recreating dairy without cows. The other major component is casein and San Francisco-based New Culture closed a $25 million series A round last year to help it commercialize its animal-free version. New Culture makes its animal-free casein by inserting DNA sequences into microbes that instruct them to express target proteins after feeding on a sugar solution. These are formed into clusters of casein proteins (called "casein micelles") just like animal-based casein and are eventually harvested to make cheese that's identical to its dairy counterpart but without the need to exploit cows. Armed with new funding, New Culture aims to get its innovative, animal-free cheese into pizzerias this year.
For more about animal-free meat and dairy products, read:
Startup Raises $120M to "Liberate Food Chain From Dependency on Animals"
Coolhaus Ditches Dairy With Help From Perfect Day's Animal-Free Whey
With New Startup, Africa Joins the Growing Animal-Free Dairy Movement