New brand Feastables—which is co-founded by YouTube sensation Jimmy Donaldson (known as "MrBeast")—recently kicked off its launch with the release of a vegan chocolate bar line that comes with a Willy Wonka-esque twist. The new vegan chocolate bars are available in Original, Almond, and Quinoa Crunch flavors.
Co-founded by Donaldson and consumer goods industry veteran Jim Murray, the Feastables brand is inspired by the YouTuber's larger than life persona. As such, each chocolate bar purchase comes with a code that can be redeemed for instant prizes. Ten winners will be selected to compete in the upcoming "MrBeast's Chocolate Factory"-themed YouTube video. Overall, the contest offers $1,000,000 in prizes and offers.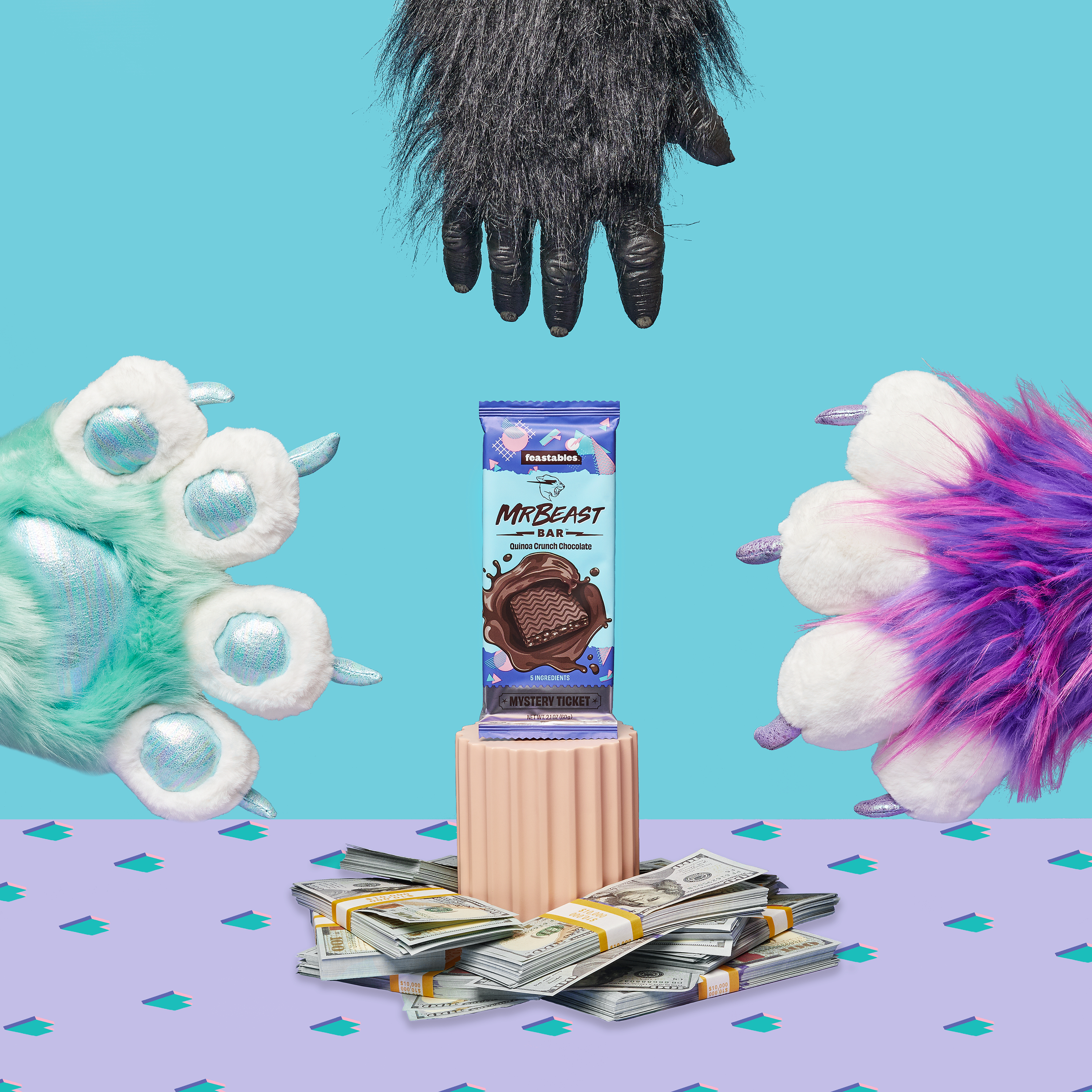 Fresh Take Studios
"Feastables is setting out to build the most engaging brand through the kind of spectacle, fun, and contests that only MrBeast can deliver," Murray told VegNews. "Our consumers can expect each interaction with Feastables to be a ticket to the spectacle and deliver an experience like no other brand." The contest ends on April 15 and Murray says the production "will be MrBeast's biggest video yet."
The chocolate bar promotion follows another initiative in November when Donaldson partnered with Virtual Dining Concepts to bring a plant-based category to his MrBeast Burger brand. In that promotion, Donaldson gave away 100,000 Impossible Burgers during launch week and now offers the plant-based patty in four builds at his virtual MrBeast Burger restaurant.
MrBeast makes better chocolate bars
It was important to the co-founders to create Feastables' first chocolate bars with minimal ingredients—with a base of only four ingredients: sugar cane, cocoa bean, cocoa butter, and sunflower lecithin—to be suitable for everyone. "Feastables is focused on making high-quality, great-tasting products accessible to as many people as possible, including those with dietary restrictions," Murray said. "By formulating our first bars without dairy, Feastables is encouraging everyone to participate in the fun and engaging brand."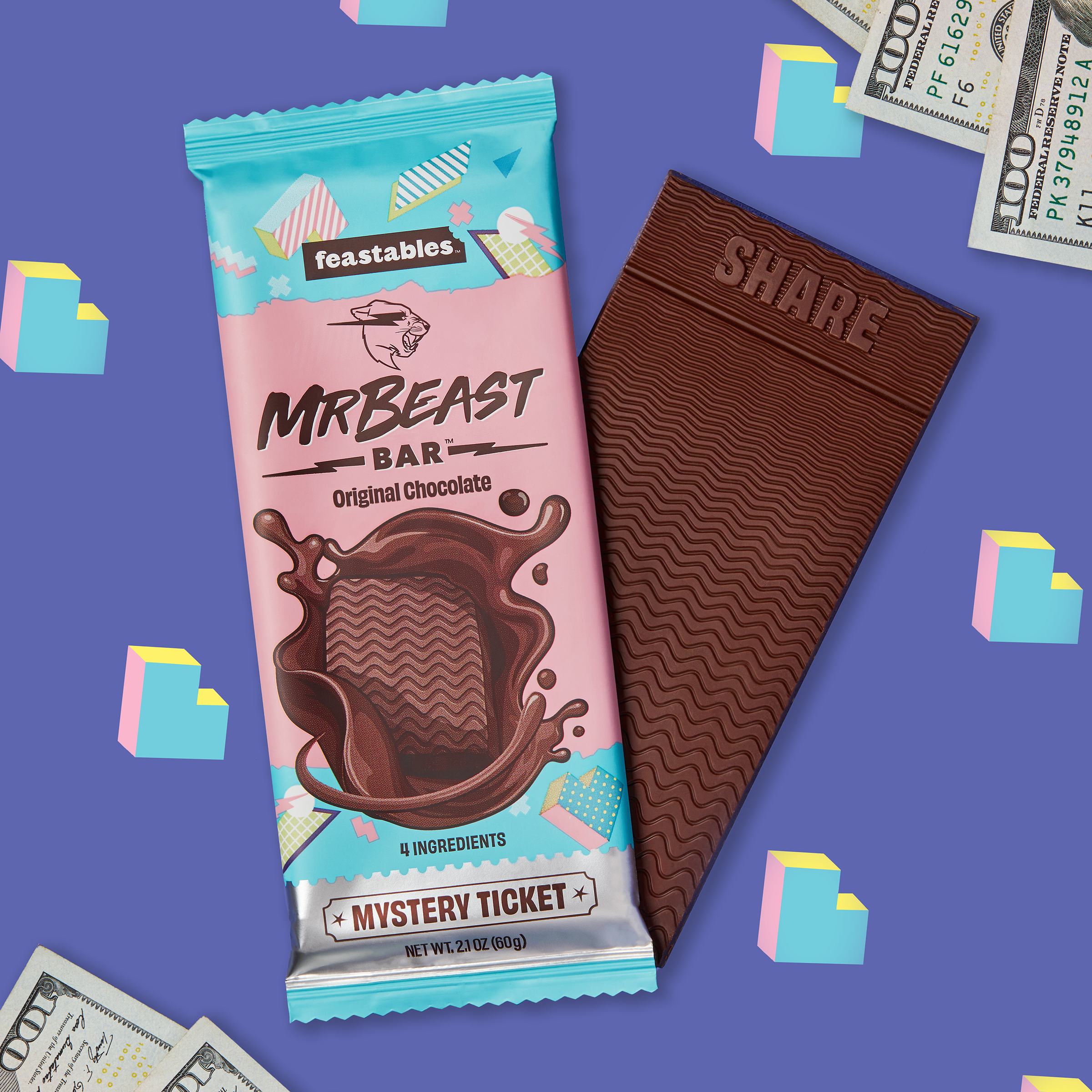 Fresh Take Studios
The vegan chocolate bars are also divided into smaller "share" and larger "devour" portions to give them extra character. "Chocolate is fun—what is more fun than a delicious, sharable chocolate bar? The difference is, we created an option that is made with higher-quality ingredients, without sacrificing taste," Murray said. "The MrBeast Bar tastes like chocolate clouds and is made with rich, organic cacao. Like all upcoming Feastables products, the ingredients are ethically sourced and sustainably delivered."
While the omission of dairy already helps with the chocolate line's sustainability metrics, the Feastables brand works with Rainforest Alliance to support ethical chocolate sourcing, partners with TerraCycle to improve access to recycling, and uses EcoCart—which facilitates carbon-neutral shopping experiences. The brand also supports Beast Philanthropy, the YouTube star's philanthropic organization, through food and cash donations.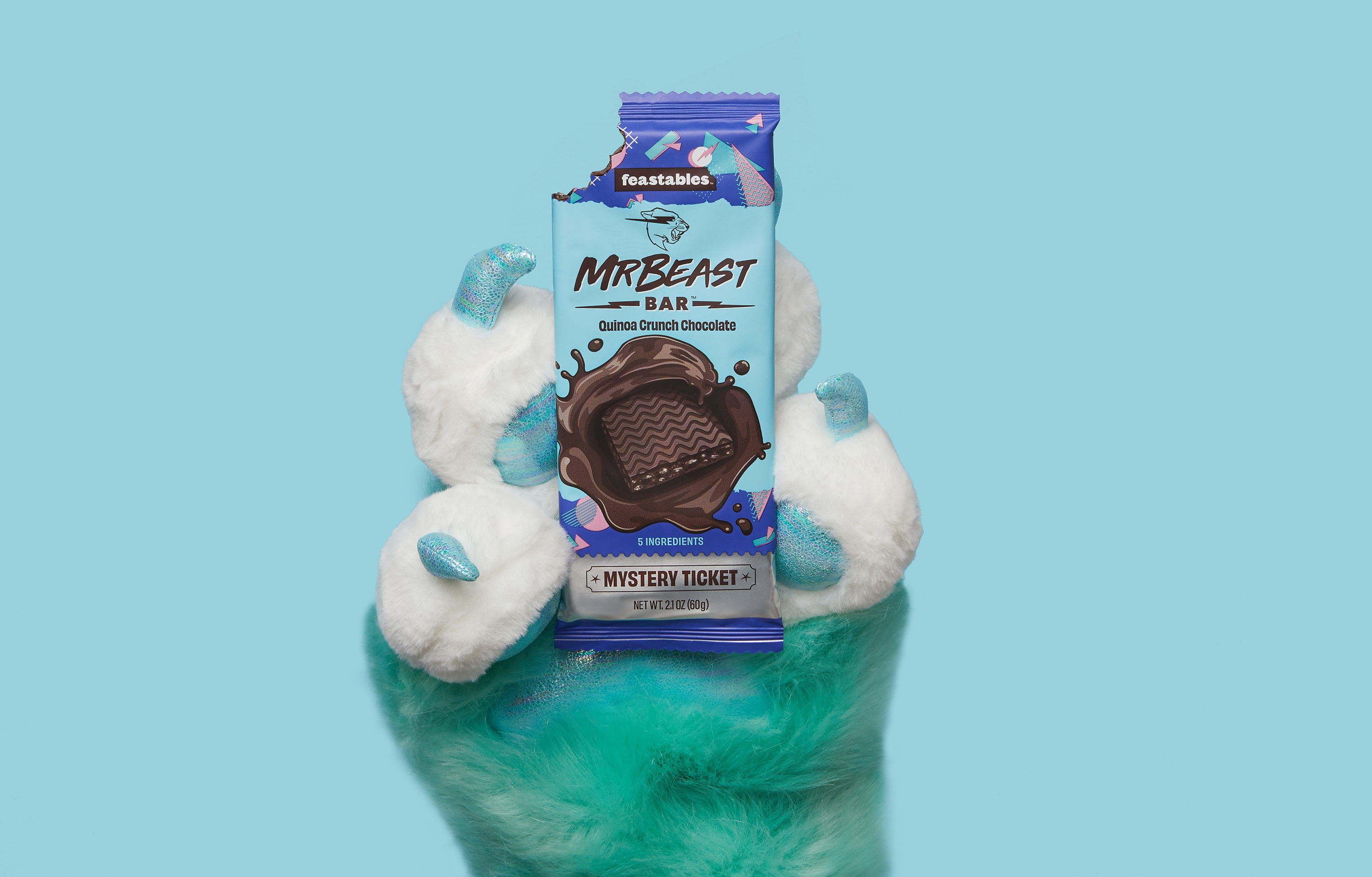 Fresh Take Studios
Is the future of snacking plant-based?
Murray came to the Feastables brand with a decade of experience in the consumer packaged goods (CPG) space. He formerly worked as the Senior Manager of Global Nutrition Group Finance and Strategy at PepsiCo before moving on to RxBar, where he rose to the position of president within two years. While Feastables is not ready to announce any future product lines—or whether they will be vegan like their flagship chocolate line—Murray is basing the development of the brand on trends he is noticing in the CPG space.
"There are a few trends in the CPG space, including plant-based, low/no sugar and carbs, [and] clean label. The underlying element is consumers are more aware of what they are eating and are demanding better products," Murray said. "Feastables is setting out to make high-quality products more accessible to as many people as possible. We've started with our great-tasting, simple, plant-based bars and will continue to launch and test new concepts to deliver great food to our audience."
Other celebrity-founded brands have doubled down on these trends, as well. Noah Schnapp—who plays Will Byers on Netflix series Stranger Things—recently released a dairy-free Nutella-inspired cocoa hazelnut spread under his brand TBH (which stands for "to be honest"). Last year, legendary music producer Jermaine Dupri launched JD's Vegan, a dairy-free ice cream line available in Atlanta-inspired flavors at Walmart.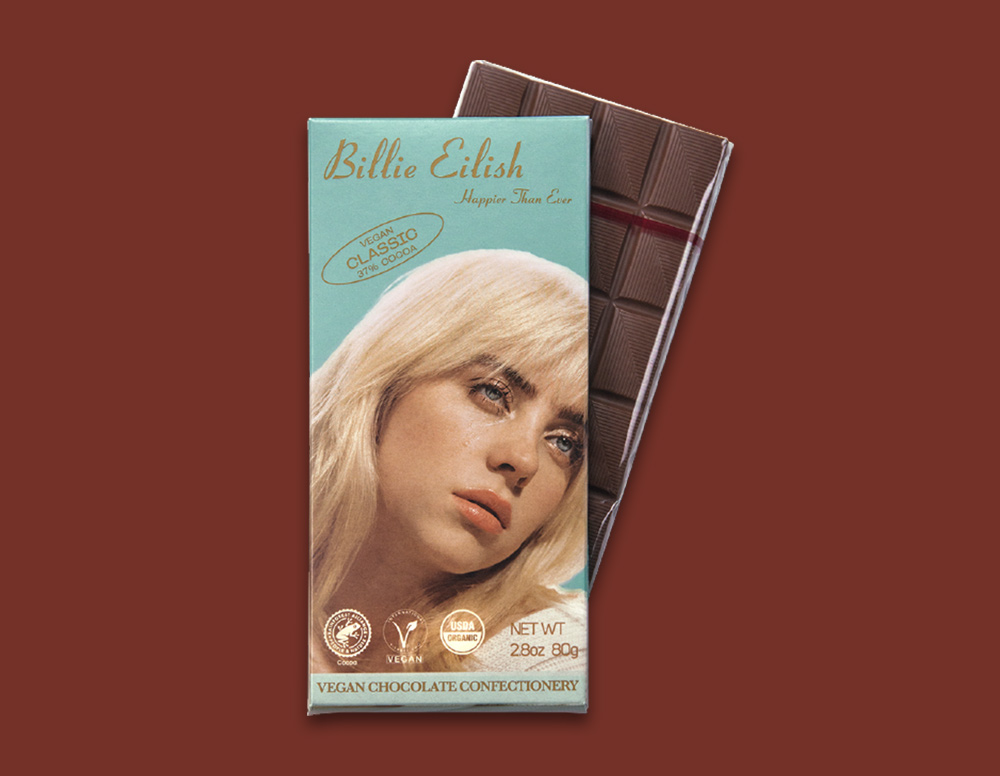 Musical artist Billie Eilish put her hat in the plant-based snacking game with the limited launch of a vegan milk chocolate bar (which uses rice milk to replace dairy) named after her most recent album Happier Than Ever. Last week, the Jonas Brothers released new vegan snack Rob's Backstage Popcorn, a sweet and salty creation they've been enjoying backstage for years.
And snack brand PeaTos is so convinced that the future of snacking is plant-based that it is currently reworking its entire portfolio to be free from animal products. The brand is specifically taking aim at Frito-Lay to remake plant-based versions of classic snacks such as cheese curls, onion rings, and more.
For more about vegan chocolate, read:
Is Hershey's Launching Its First Vegan Oat Milk Chocolate Bar?
Cadbury's New Vegan Chocolate Shop Tells Haters to "Eat Their Words"
The VegNews Guide to Vegan Chocolate