Starting tomorrow, California-based company Impossible Foods will make its entry into the United Kingdom with both its plant-based chicken nuggets and pork-free sausage products. These plant-based meat products will first appear on the menu of select restaurants and chicken shops, including Chicken Cottage, Halo Burger, Le Bab, MEATliquor, and Patty&Bun, before hitting 300 menus later this month.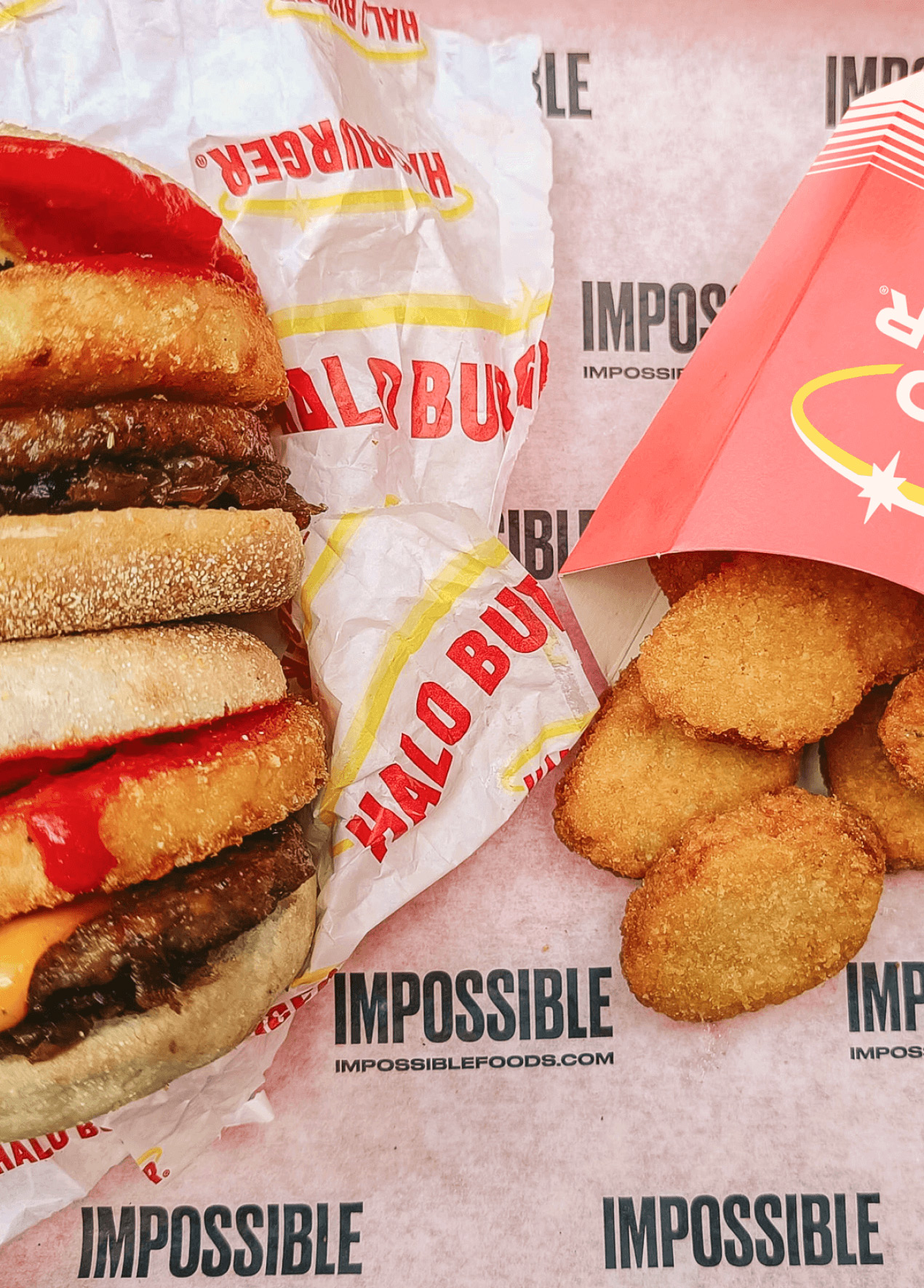 Impossible Foods
While Impossible Foods is best known for its beef alternative Impossible Burger, the company is quickly expanding its product line to create alternatives for other animal products—with the ultimate goal of making food animals obsolete by 2035. Impossible Foods broke into the plant-based chicken category with the launch of its nuggets last summer at 150 restaurants in the United States, including Joyland in Nashville, TN; Fuku in NYC; and Red Rooster in Harlem, NY and Miami, FL. Soon after, Impossible's nuggets made their way onto the menu at Burger King for a limited time test and to AMC theaters, where movie-govers in 37 states can now find the plant-based snack.
Impossible Foods' entry into the UK brings its plant-based chicken to a whole new demographic, one where animal-based chicken is the most-consumed protein per capita. "The UK has a unique and unrivaled chicken shop culture that we're confident our nuggets will compete in because first and foremost they taste better, and they're also better for you and better for the planet," Impossible Foods new CEO Peter McGuinness said in a statement. "And there's more to come—later this year we'll be expanding to supermarkets and rolling out additional products. We can't wait for our friends and fans in the UK to finally taste our products."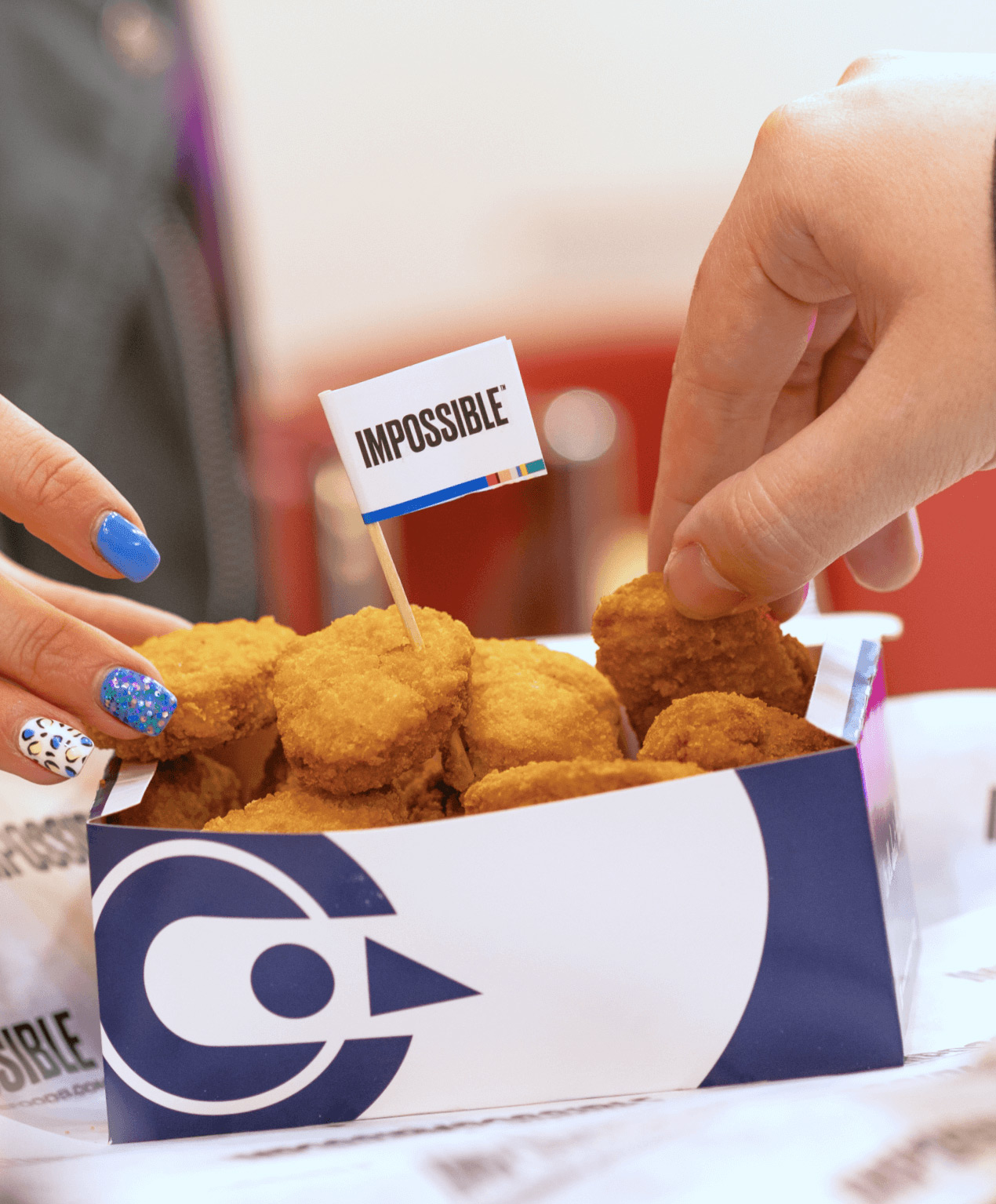 Impossible Foods
How Impossible Foods fits into UK's chicken culture
The UK is known for its love for American-style chicken and is home to the world's first vegan chicken shop, Temple of Seitan, which drew a massive crowd, despite inclement weather, when it opened in January 2017. Since then, vegan chicken options have expanded around the country and Impossible's entry into the UK is getting a warm welcome from its restaurant partners, including pub chain Hungry Horse which will add the plant-based nuggets to its menu at 250 locations later this month.
"At Hungry Horse, we're big on getting together, and our customers come to us for the generous and unique food creations in a 'home away from home' environment," Robert Calderbank, business unit director for Hungry Horse, said in a statement. "We're so excited to bring the Impossible 'Chicken' Nuggets to our pubs and really believe these will deliver on that promise, tantalizing the taste buds of our customers across the country, we can't wait."
Impossible already has some compelling data about UK consumers when it comes to their chicken preferences. In a test it conducted with 214 British participants in January, its plant-based chicken nuggets were preferred two-to-one when compared to their animal-based counterparts.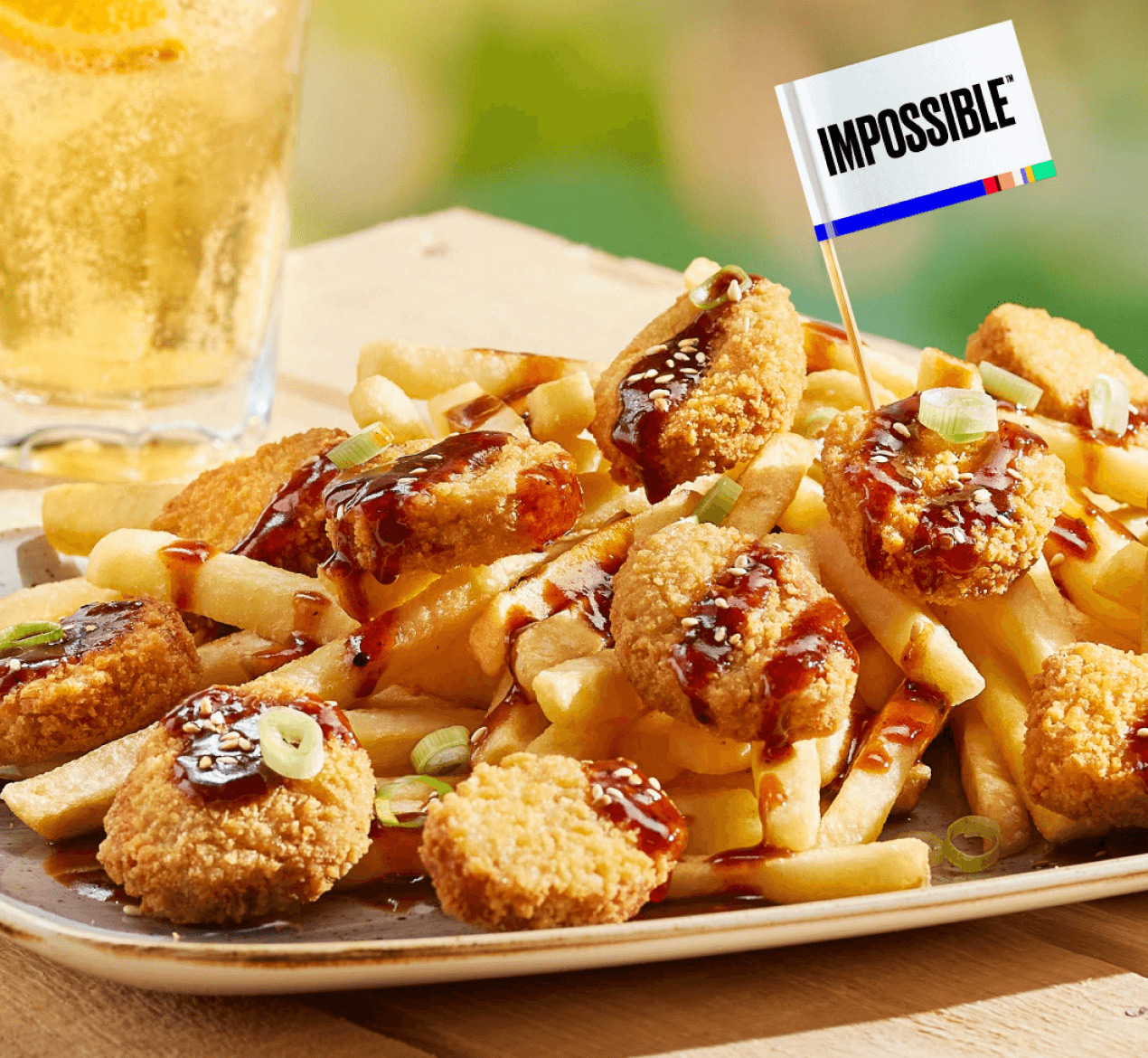 Impossible Foods
Plant-based chicken celebration
To celebrate its UK debut, Impossible Foods teamed with fictional TV character Chabuddy G (played by Asim Chaudhry), a star on BBC's hit mockumentary People Just Do Nothing, to host its "Chicken Paradise & Sausage Palace" launch party. The party will take place tonight at popular gourmet kebab restaurant Maison Bab where hundreds of guests will be among the first to taste Impossible Foods' vegan chicken and sausage in the UK.
"From the beginning our goal at Le Bab was to offer a new kind of kebab, fusing global influences with amazing ingredients, always with a mind to sustainability," Stephen Tozer, co-founder of Le Bab, Maison Bab, and Kebab Queen, said in a statement. "Impossible's products are extraordinary. I first tried Impossible years ago and it blew my mind. I've wanted to collaborate with them ever since, so this is a bit of a dream come true. I'm absolutely certain that their plant-based meats are going to fundamentally change the way the world eats."
As part of its mission to improve the global food system, Impossible Foods aims to launch its products everywhere that meat is sold and the UK is the fourth market Impossible Foods has expanded to outside of the US in the last nine months after New Zealand, Australia, and the United Arab Emirates.
For more about plant-based chicken, read:
KFC Just Launched Vegan Fried Chicken at More Than 4,000 Locations
The Ultimate Guide to the Best Vegan Chicken Brands
Veganuary Founder Raises $14M To Take Chickens Out of the Food System