Professional basketball player Jayson Tatum—a star player on NBA team Boston Celtics—is getting into the vegan gummy candy industry with the launch of Side Step Sweets. In partnership with industry experts and investors, Tatum developed the brand in response to a lack of healthful and inspired candy options. Under the brand, Tatum is first launching gummy candy line Small Wins as a better treat for kids, made using natural colors and flavorings and with only 4 grams of sugar per serving.
"As a dad, I want to give my four-year-old son the world, but I also want to be mindful of the potentially harmful options out there," Tatum said. "I helped develop Small Wins because I wanted parents, such as myself, to feel good about satisfying their child's sweet tooth. Small Wins is the first step in our goal of bringing better-for-you products to the market."
Small Wins gummies will be available in Sassy Strawberry, Perfect Peach, Whimsical Watermelon, and Groovy Green Apple flavors through the company website later this year. Visitors to the trade show Sweets & Snacks Expo in Chicago next week will be able to try the vegan gummy candies before they launch to the general public.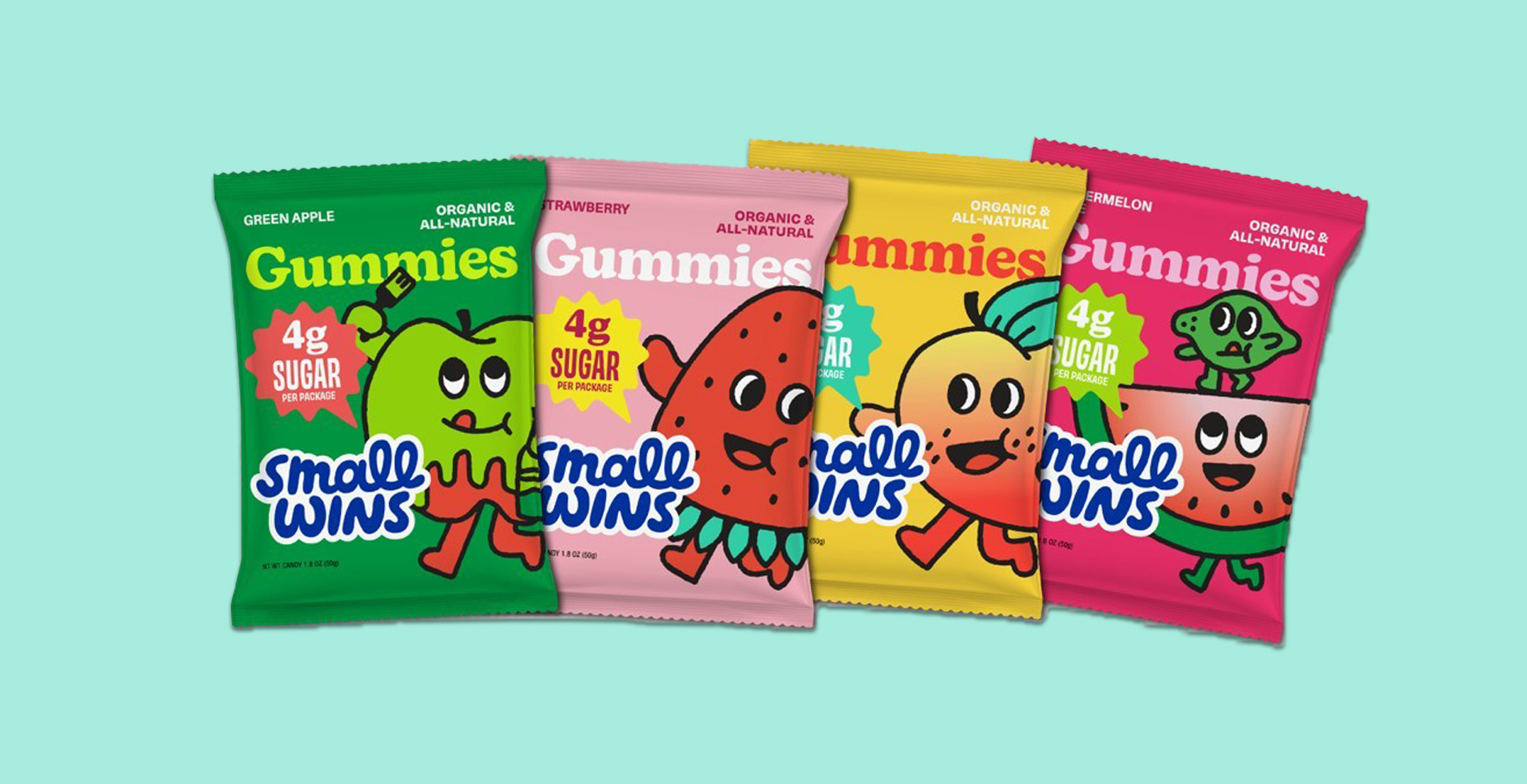 Side Step Sweets
Vegan gummies galore
Gummy candies—such as Haribo gummy bears—are traditionally made with gelatin, which is derived from the connective tissue of animal bones, most commonly from pigs. Since this ingredient is off putting to many for ethical and religious reasons, new gummy candies made with plant-based substitutes such as fruit-derived pectin have become more popular in recent years.
German brand Katjes will also be showcasing its vegan gummies at the Sweets & Snacks Expo next week. The brand has been perfecting its gelatin-free formula for the past decade and proudly embraces its vegan status. "Essentially this means we are not putting slaughterhouse waste into our sweets," Katjes Head of Marketing Eliza Jahn said in a statement. "We like to proudly say, 'these are sweets you don't have to kill for.'"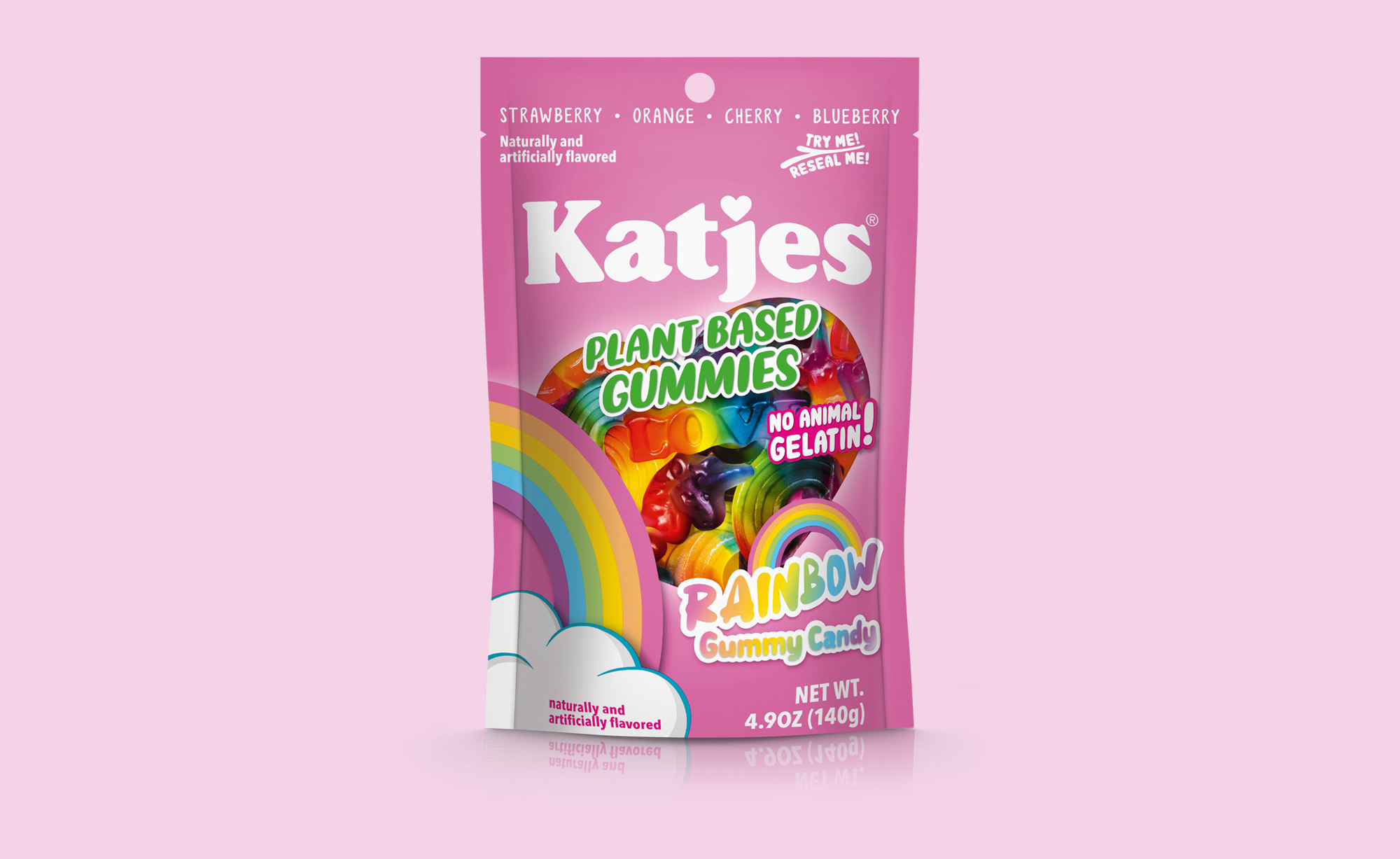 Katjes
Katjes made its entry into the United States in May 2021 through a national launch at Walgreens where its colorful vegan gummies (which come in unicorn, fairy, and heart shapes) are available in three varieties: Rainbow, Sour, and Love & Stars (a red, white, and blue tribute to its US launch). This year, the brand is launching a fourth flavor themed around female empowerment and will announce additional retail distribution.
NBA stars get into vegan snacks
Tatum's entry into the sweet world of vegan snacking follows the launch of Husk, a vegan popcorn brand developed by chef R.C. Mills and Scottie Pippen—an NBA legend who played for the Chicago Bulls for 12 seasons. Pippen and Mills developed the vegan brand over the course of several years with a mission to deliver a better-for-you snack for adults and children alike. Husk came to market in 2021 with six unique flavors made with wholesome ingredients: Moringa; Yacon and Turmeric; Cayenne and Ginger; Coconut Water and Matcha; Kale and Broccoli; and Spirulina and Dragon Fruit.
And while he doesn't (yet) own a vegan snack brand, NBA star JaVale McGee is an investor in Outstanding Foods, a plant-based brand known for its innovative snacks such as pig-free pork rinds and recently released dairy-free cheese balls. Last year, McGee—who has been vegan since 2016—partnered with Outstanding Foods on the #HellaHotChallenge, a spicy chip-eating competition that brought awareness to McGee's JUGLIFE organization, which is on a mission to bring healthy living through clean water to communities in need.
NBA star Chris Paul is also a vocal supporter of vegan food and snacks and frequently works with various brands. Paul is part of a group of 14 athlete investors and ambassadors of Beyond Meat and has worked with the brand ever since he went vegan in 2019.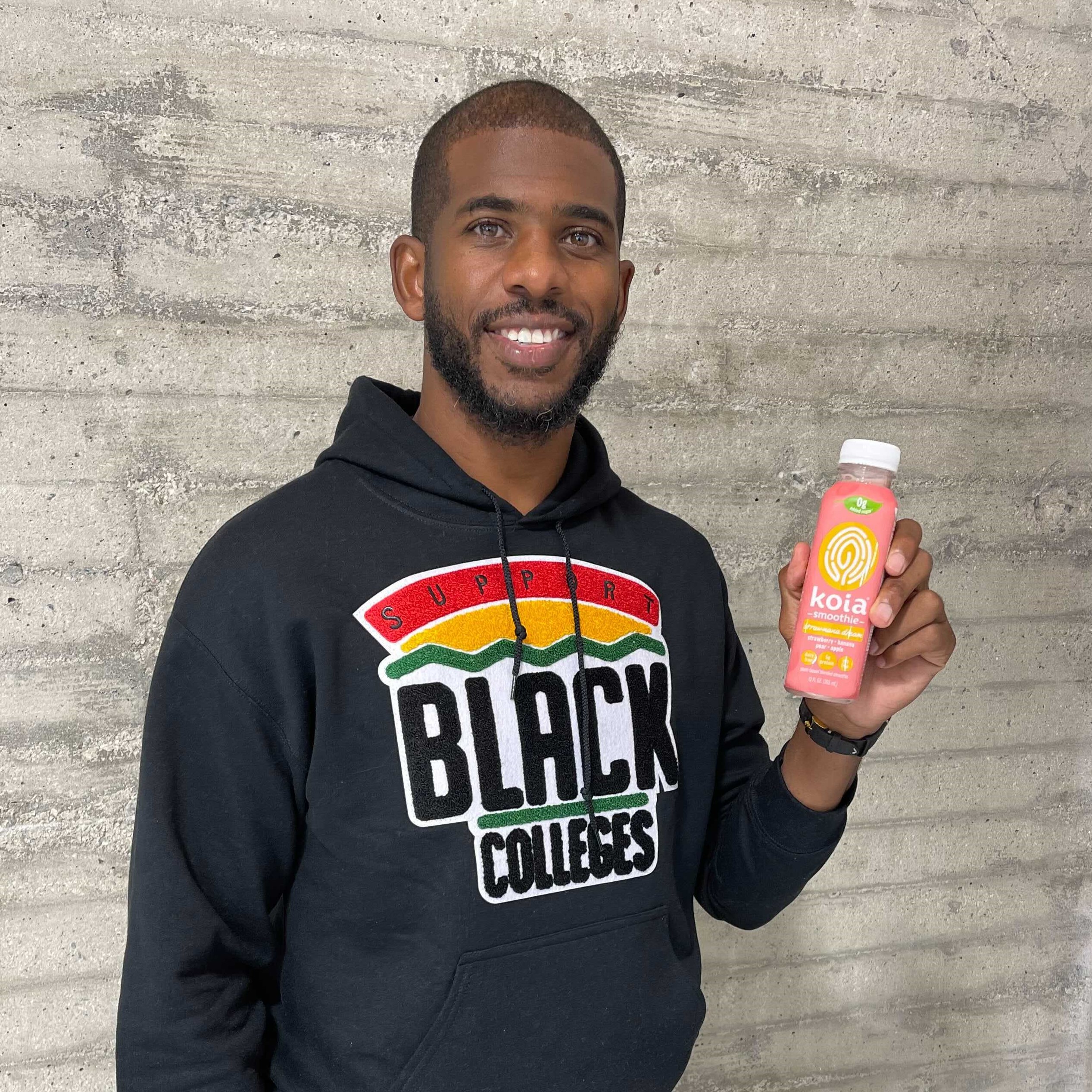 Koia
Paul is also an investor and supporter of plant-based nutrition brand Koia and is helping to get its shakes and smoothies into the hands of more people by setting up vending machines on-campus at HBCUs he has relationships with. A pilot program of this initiative was launched in 2021 and a wide rollout is expected this year.
For more about vegan NBA stars, read:
NBA Star DeAndre Jordan Went Vegan "Cold Turkey" To Save the Planet
Four-Time NBA Champ Urges "Smart" Athletes To Go Vegan
NBA Star Chris Paul Makes It Easier To Support Vegan Black-Owned Brands