Grammy Award-winning indie rock musician Phoebe Bridgers has teamed up with Los Angeles-based eatery HomeState to launch a limited-time vegan taco. The new menu item was created as part of the restaurant's Band Taco Program, which brings together music and tacos in support of neighboring communities. For each taco purchased, $1.25 goes directly to CASA/LA, a community-based organization advocating for children and families in LA County's overburdened child welfare and juvenile justice systems.
The children and youth served by CASA/LA come from historically underserved populations that have experienced racial disparities and structural inequality that lead to poverty, neglect, and abuse. CASA volunteers work with a child in foster care to form a trusting relationship, ensuring the children and their families have equitable access to support and resources in the areas of education, healthcare, and housing.
Benefitting CASA/LA, the vegan taco—dubbed "The Maxine" after Bridgers' pug, who often makes appearances alongside her in social media posts, interviews, and photoshoots—is made with black beans, shiitake mushrooms, avocado, caramelized onions, and crispy corn strips served on a Kernel of Truth corn tortilla. The limited-time menu item is available at all five HomeState locations in LA (Pasadena, Hollywood, Highland Park, Playa Vista and Sherman Oaks) until November 22.
"HomeState is one of my favorite local restaurants," Bridgers said in a statement. "Maxine and I should probably be cut off from their breakfast tacos by now."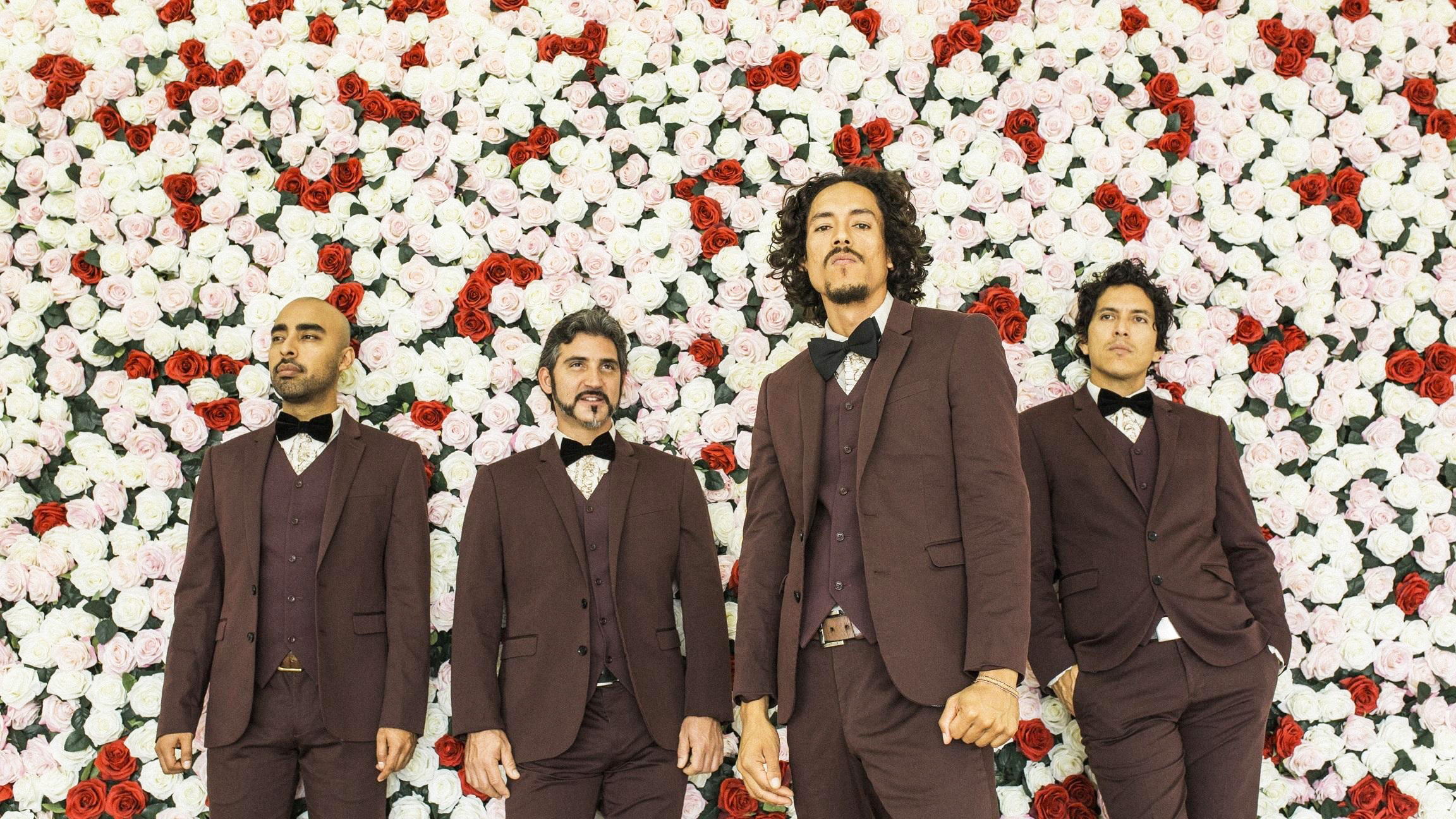 Vegan tacos to help people in need
Launched in 2015, HomeState's Band Taco Program brings together music and tacos, developed alongside an artist, and original artwork is commissioned by a local graphic artist. Since its inception, the program has partnered with Spoon, Questlove, The Marías, and Vampire Weekend, among others, and has raised over $250,000 for local charities.
In 2020, Los Angeles-based psych-soul band Chicano Batman also created a vegan taco in partnership with HomeState as part of the eatery's Band Taco Program. The Chicano Batman taco featured soyrizo, potato, guacamole, salsa verde, and was served on an organic corn tortilla.
This time, the partnership aimed to raise funds for organizations working to help communities in need: All profits from the taco benefited Los Angeles-based nonprofits Watts Empowerment Center (which helps low-income families and children living in the Watts Housing Projects) and No Us Without You (which works to feed undocumented workers, primarily those who work back-of-the-house positions at restaurants affected by COVID-19).
Celebs promote vegan products
In recent years, celebrity ambassadors of vegan products have become commonplace. Recently, vegan actress Daniella Monet invested in Italian comfort food brand Sunday Supper because of its family-style approach to frozen vegan meals. In addition to Sunday Supper, Monet is an investor in vegan snack brand Outstanding Foods and Sugar Taco, a growing vegan restaurant chain in the Los Angeles area.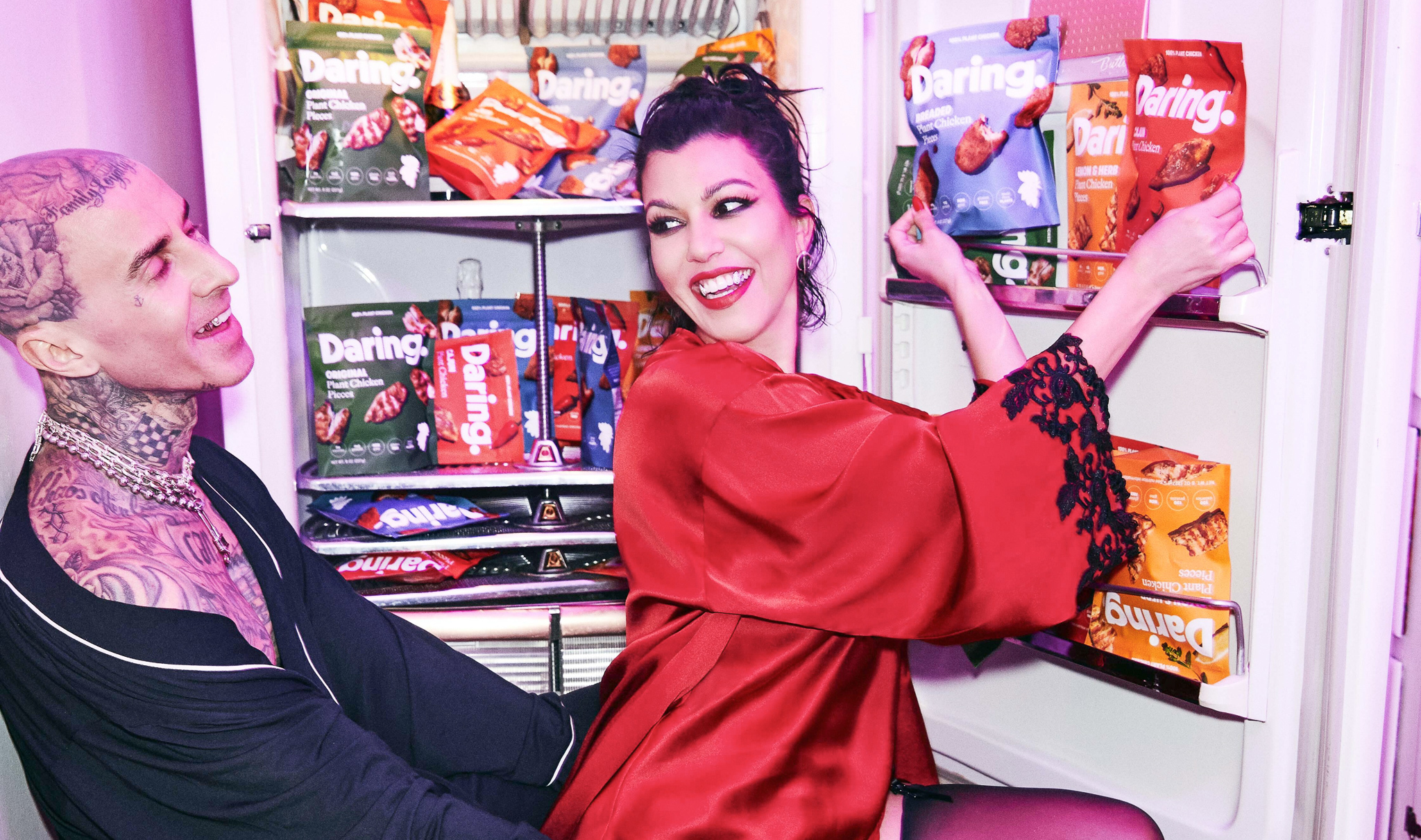 In June, Kourtney Kardashian and Travis Barker participated in vegan brand Daring Foods' new "Saucy" campaign for its vegan chicken. As part of the campaign, Barker and Kardashian had buckets of plant-based chicken in hand as they exited their limo to embark on their "staycation" at West Hollywood's famed Chateau Marmont. Once there, the duo feasted on Daring's vegan chicken. Both Kardashian and Barker share Daring's mission to create a better food system by replacing chickens with plant-based alternatives.
That same month, actress Laura Prepon—best known for her iconic roles as Alex Vause in hit series Orange Is the New Black and as Donna Pinciotti on That '70s Show—partnered with dairy brand Saputo Dairy USA to launch its first line of vegan cheese in stores nationwide this year. The international dairy company decided to venture into the world of vegan cheese after monitoring growing consumer trends toward dairy-free products.
Vegan actress and influencer Tabitha Brown launched her career by teaming up with brands to promote their products—which all started when she posted a video of herself enjoying a vegan TTLA (tempeh bacon, tomato, lettuce, and avocado) sandwich from Whole Foods. Brown has since parlayed her social media fame into multiple projects, including working with seasoning brand McCormick to develop her Sunshine Seasoning. The limited launch of this seasoning sold out immediately last year, inspiring McCormick to bring Sunshine Seasoning to stores in a wider rollout earlier this year to fill demand.
For the latest vegan news, read:
NYC Mayor Eric Adams Welcomes Slutty Vegan to the City
Billie Eilish and Maggie Baird to Receive Environmental Award for Vegan Work
Cutting Meat Consumption by 80 Percent Means Canada Could Hit Net Zero