It seems that every week in the world of vegan food news is more exciting than the last and this week is no exception. Vegan brand Daring Foods is ready for the new year with a new flavor of its realistic vegan chicken. Authentic Italian pizza company Talia Di Napoli just launched its first vegan pizza—complete with Italian-sourced vegan mozzarella cheese. And a new accidentally vegan, and very meta, The Most Oreo Oreo, is here. Read on for more.
1Daring's teriyaki plant-based chicken
Between its appearance with Lizzo on Hot Ones and its titillating campaign with Kourtney Kardashian and Travis Barker, vegan company Daring Foods had quite the year in 2022. And Daring is strutting into 2023 with a new vegan chicken flavor.
The company's new Teriyaki Plant-Based Chicken Pieces feature the same realistic chicken texture without any of the bird and a new flavor profile characterized by notes of garlic and ginger. The new teriyaki flavor is available at retailers such as Albertsons, Vons, Pavilions, Safeway, Jewel Osco, Shaws, Acme, Carrs, and Tom Thumbs.
Daring Foods
The company's new flavor continues Daring's mission to eliminate the need to exploit chickens by offering delectable plant-based alternatives that can be used as a one-for-one swap.
"It's important for us to set a high standard and continue to launch products that meet we feel truly offer the same experience as animal chicken," Ross Mackay, Daring founder and CEO, tells VegNews.
"We hope that consumers coming to the plant-based category will try Daring and understand how easy—and delicious—it is to adopt a more plant-based diet," he says.
Daring also offers its vegan chicken in Original Plant Chicken Pieces, Cajun Plant Chicken Pieces, Lemon & Herb Plant Chicken Pieces, Breaded Plant Chicken Pieces, and Fresh Plant Chicken Tenders.
2Meatless chorizo at Taco Del Mar
This week, Pacific Northwest-based chain Taco Del Mar—which operates 100 locations in the United States and Canada—added a new vegan protein option to its menu: the Spicy Chorizo Hash.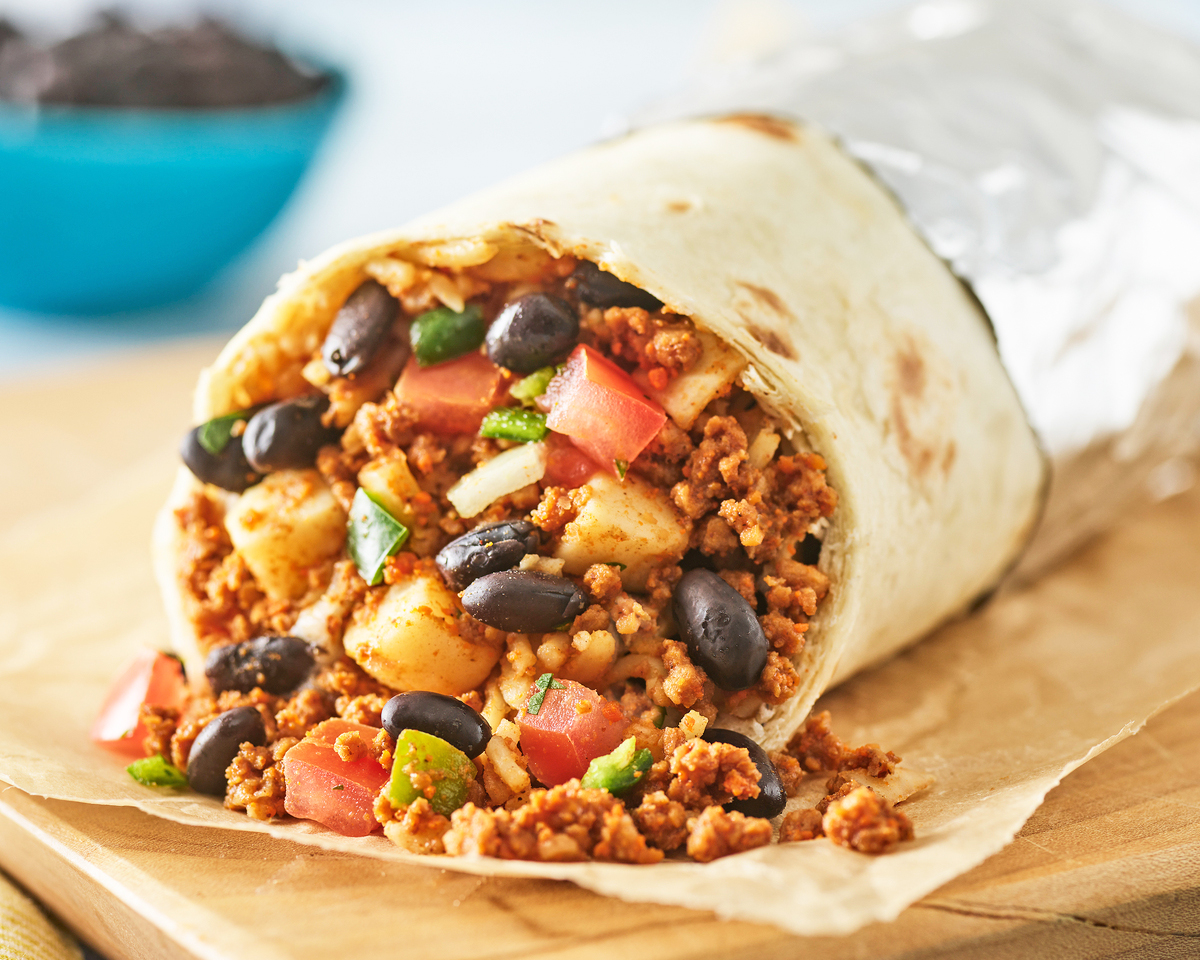 Tacos Del Mar
Made with plant-based chorizo, diced potatoes, chopped onion, and serrano peppers, the new vegan protein can be ordered at no additional cost as part of any entrée at participating locations of Taco Del Mar for a limited time.
"We prioritize guest satisfaction and menu innovation at Taco Del Mar in order to offer ingredients fit for everyone while providing our signature Baja flavors," Mike Gieseman, Vice President of Culinary and Innovation at Taco Del Mar, said in a statement.
"Our guests will love this adventurous new ingredient that meshes perfectly as a protein choice with our extensive menu and offers an exciting new dining experience without sacrificing flavor or quality," he said.
The chain's other vegan options include tortillas, rice, beans, made-in-house salsas, and guacamole.
3Authentic Italian vegan pizza
While we will gladly nosh on whatever kind of pizza is available as long as it's vegan, you know what type of pizza is the best? The kind that's made by Italians in Italy with its thin, crispy crust and simple, yet perfected, flavor profile.
That's why we're excited about the recent launch of frozen vegan Margherita pizzas by Talia di Napoli. How authentic are these? Well, each one of these pies is handcrafted by trained pizzaiolos in Naples using a sourdough crust that's topped with a signature pomodoro sauce, fresh basil, and a vegan mozzarella (made from cashews and almonds) sourced locally from Italy.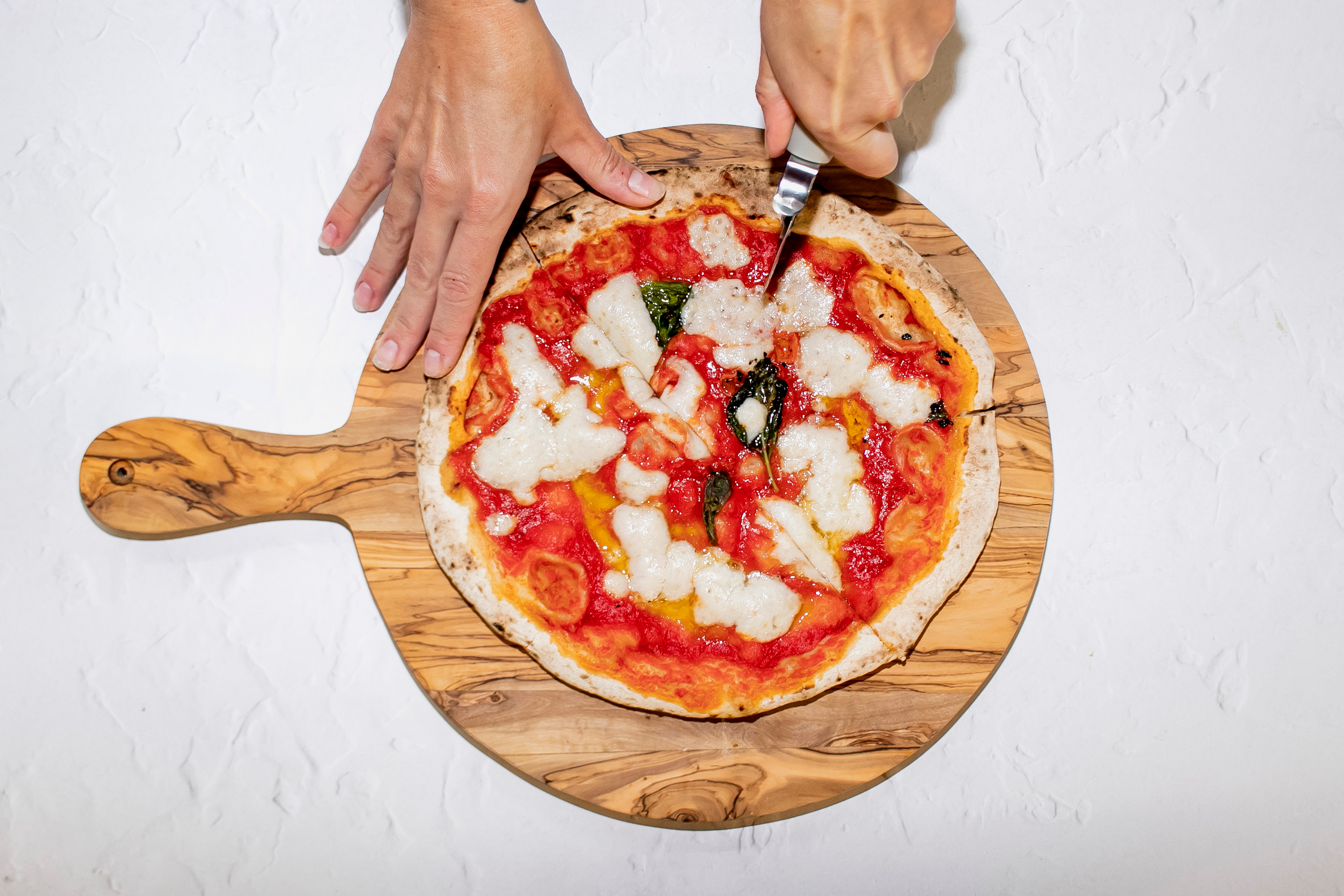 Talia di Napoli
"We've been sitting on launching a vegan margherita for years," Edouard Freda, Talia di Napoli founder & CEO, said in a statement. "While we knew this was an important pizza to have, we needed to make sure we found a plant-based mozzarella that matched the quality of the rest of our ingredients, which took a while."
"We finally found an Italian supplier of the best vegan 'mozzarella' we have tasted and knew we finally had what we needed to launch the vegan pizza everyone has been waiting for," he said.
Talia di Napoli's new pizza—its first vegan pizza offering—is available through its website in packs of six for $120 or eight for $144.
4Ritter Sport's chocolate tower
German confectionery brand Ritter Sport was one of the first major companies to get into vegan milk chocolate in 2017 when it launched two flavors—Dark Whole Hazelnuts Amaranth and Dark Almond Quinoa—made with hazelnut cream instead of dairy.
Since then, the company has been hard at work developing additional vegan offerings and resorts sales of its dairy-free products has more than doubled since 2018. This March, Ritter Sport is digging deeper into the world of vegan chocolate with the global launch of the TRE Vegan Tower—a specialty pack of five bars in an assortment of three flavors.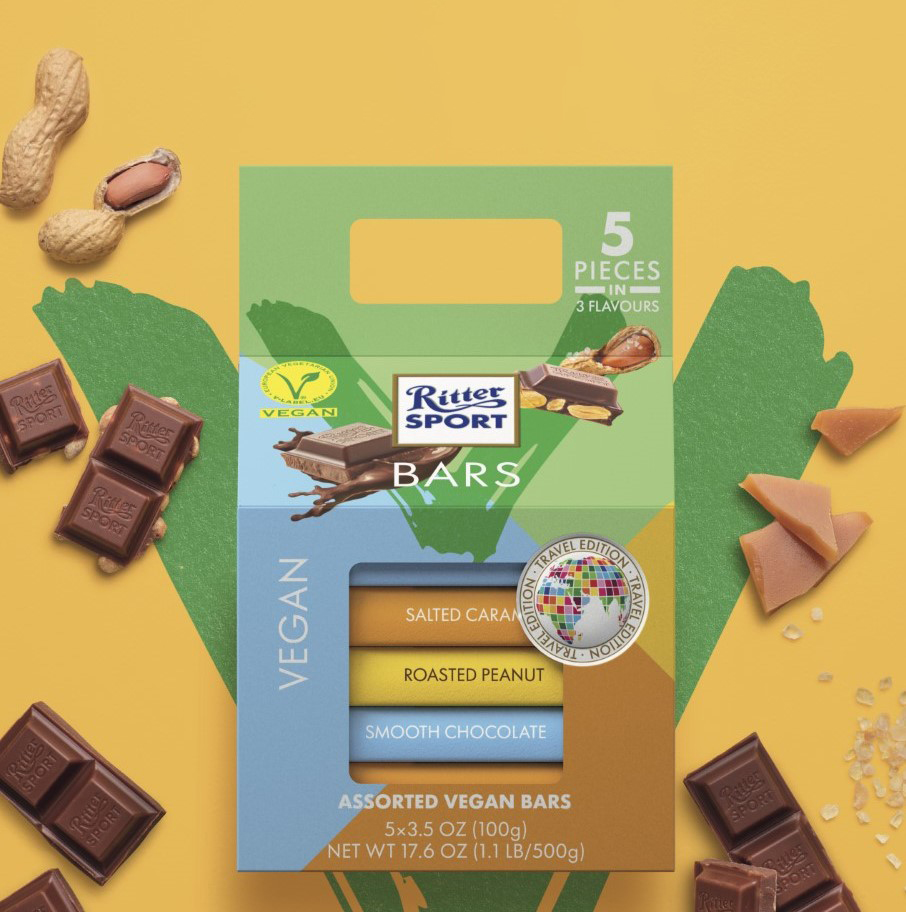 Ritter Sport
"When you eat chocolate, you want to enjoy it. Really enjoy it, with full flavor," Nicole Miltenberger, Marketing Manager Global Travel Retail at Ritter Sport, said in a statement. "We have worked extremely hard to ensure that our TRE Vegan Tower will offer consumers exactly that, combining the three varieties that we believe will have the most traveler appeal."
The TRE Tower features Ritter Sport's existing Smooth Chocolate flavor and two new flavors: Roasted Peanut and Salted Caramel.
"Vegan is here to stay and an increasing number of consumers—and therefore travelers—are looking for versions of familiar products that meet their dietary choices, for whatever reason they may be," Miltenberger said.
The launch of the new chocolate format is a way for Ritter to capitalize on a category it projects will continue to grow. "Chocolate is certainly a key product within the vegan sphere and we are seeing consumer demand growing globally with six out of 10 consumers willing to increase their consumption of vegan or vegetarian confectioner—that is a trend that we expect to grow," Miltenberger said. "It makes sense, therefore, to expand our travel retail offer, not just with a vegan offer, but one which has additional appeal by being exclusive to the channel."
5Oreo gets meta with its vegan cookies
What's better than an Oreo and (vegan) milk? What about an Oreo stuffed inside of an Oreo? That's the idea behind the newest flavor of the accidentally vegan cookie. The limited-edition The Most Oreo Oreo cookie features a classic cookie shell stuffed with the most creme filling of any other Oreo cookie, flavored with bits of Oreo cookies. Talk about meta.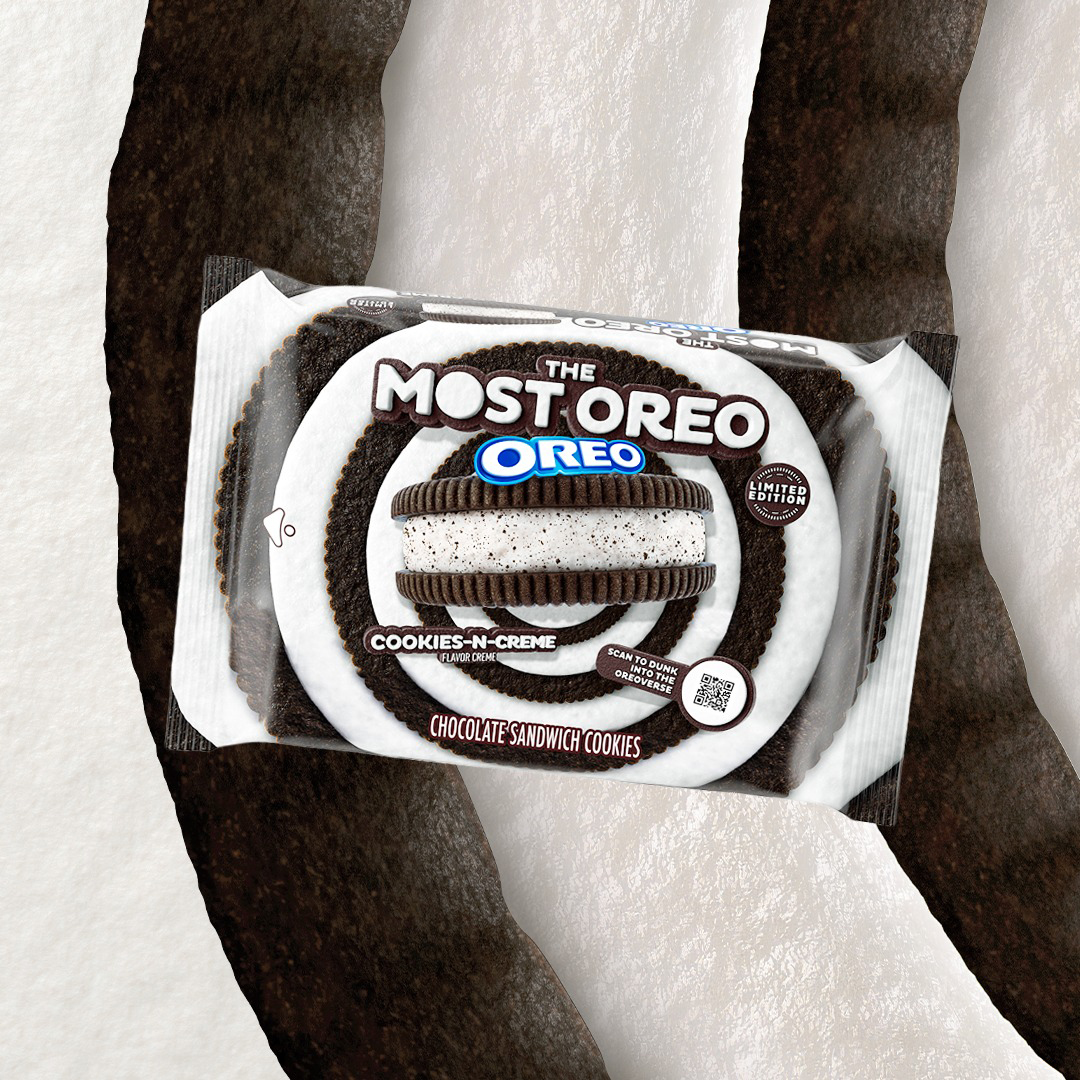 Oreo
"The Oreo Most Oreo Sandwich Cookies are the classic, original snack cookies you've always known and loved, but with the unforgettable twist of cookies-n-creme flavor creme you never knew you wanted," the company describes the new flavor. "These cookies and creme flavored Oreo cookies are full of themselves. Literally."
To complement the release of its new super-stuffed Oreo, the company also tapped into the Metaverse with the launch of a virtual "Oreoverse" where fans can explore world of six Oreo-themed games, mazes, and puzzles for a chance to win prizes, including $50,000.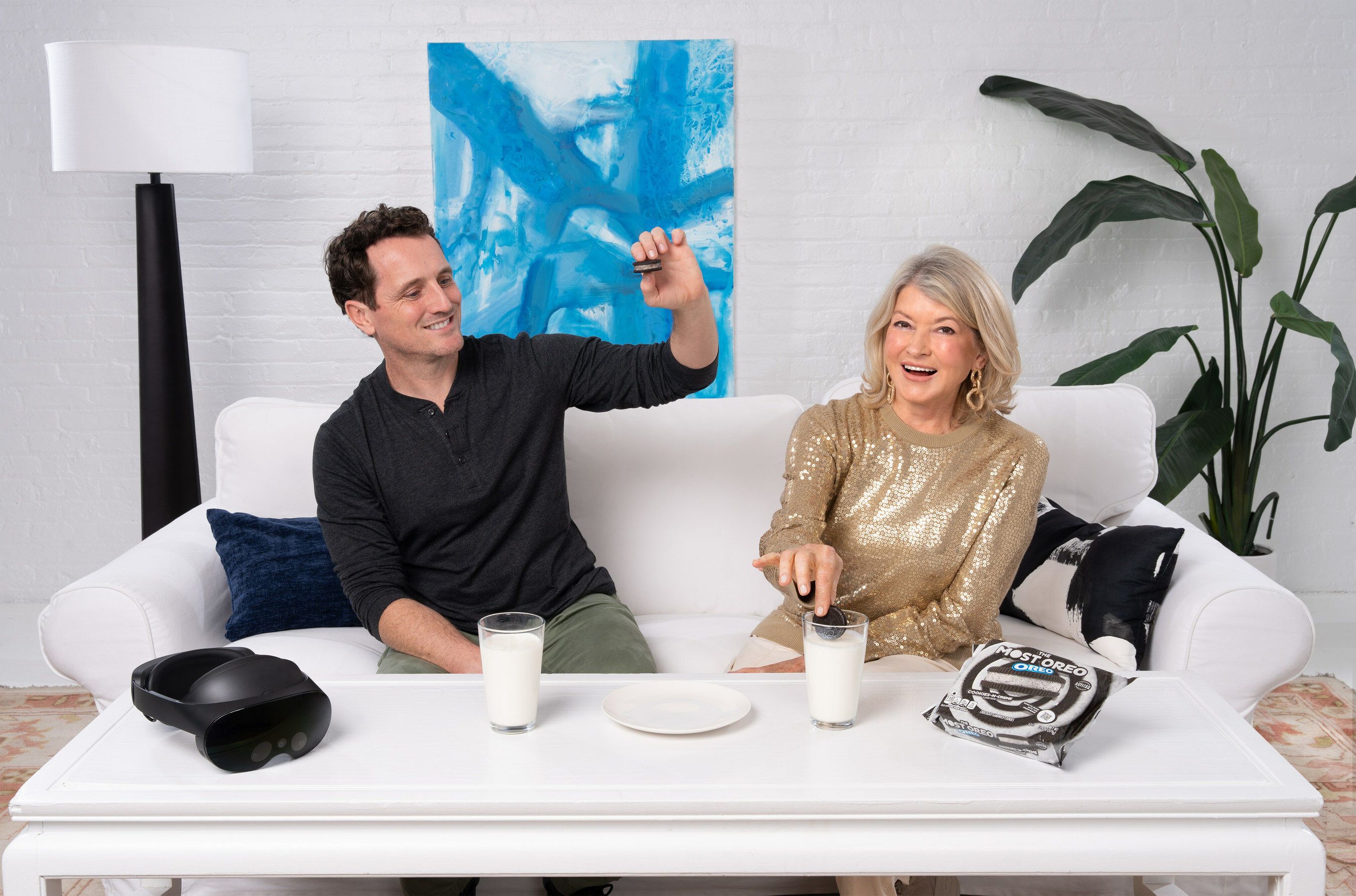 Oreo
To promote its new cookie and virtual world, Oreo partnered with lifestyle guru Martha Stewart and her friend and gardener Ryan McCallister. "I am excited to make my metaverse debut in partnership with one of my favorite cookie brands, Oreo, and having Ryan there with me will make it all the more fun," Stewart said in a statement. "The two of us have had our fair share of adventures over the last 10 years and have been able to navigate just about anything together, especially in the garden."
For the latest vegan news, read: