It seems that every week in the world of vegan food news is more exciting than the last, and this week is no exception. New burrito bowls from Somos hit Target shelves nationwide to make mealtime much easier. A vegan (and nut-free) version of Nutella from Voyage Foods is rolling out to Walmart. And the spooky season is in full swing with cheese puffs from Hippeas and haunted gingerbread houses from Sticky Fingers. Read on for more.
1Spooky cheese puffs
Halloween is all about candy. But if you're looking for savory snacks to give trick-or-treaters (or yourself) this spooky season, vegan brand Hippeas has just the thing.
The chickpea-based snack company just launched a limited-edition Halloween multipack of its Vegan White Cheddar Puffs, exclusively available at Whole Foods stores for the 2023 Halloween season.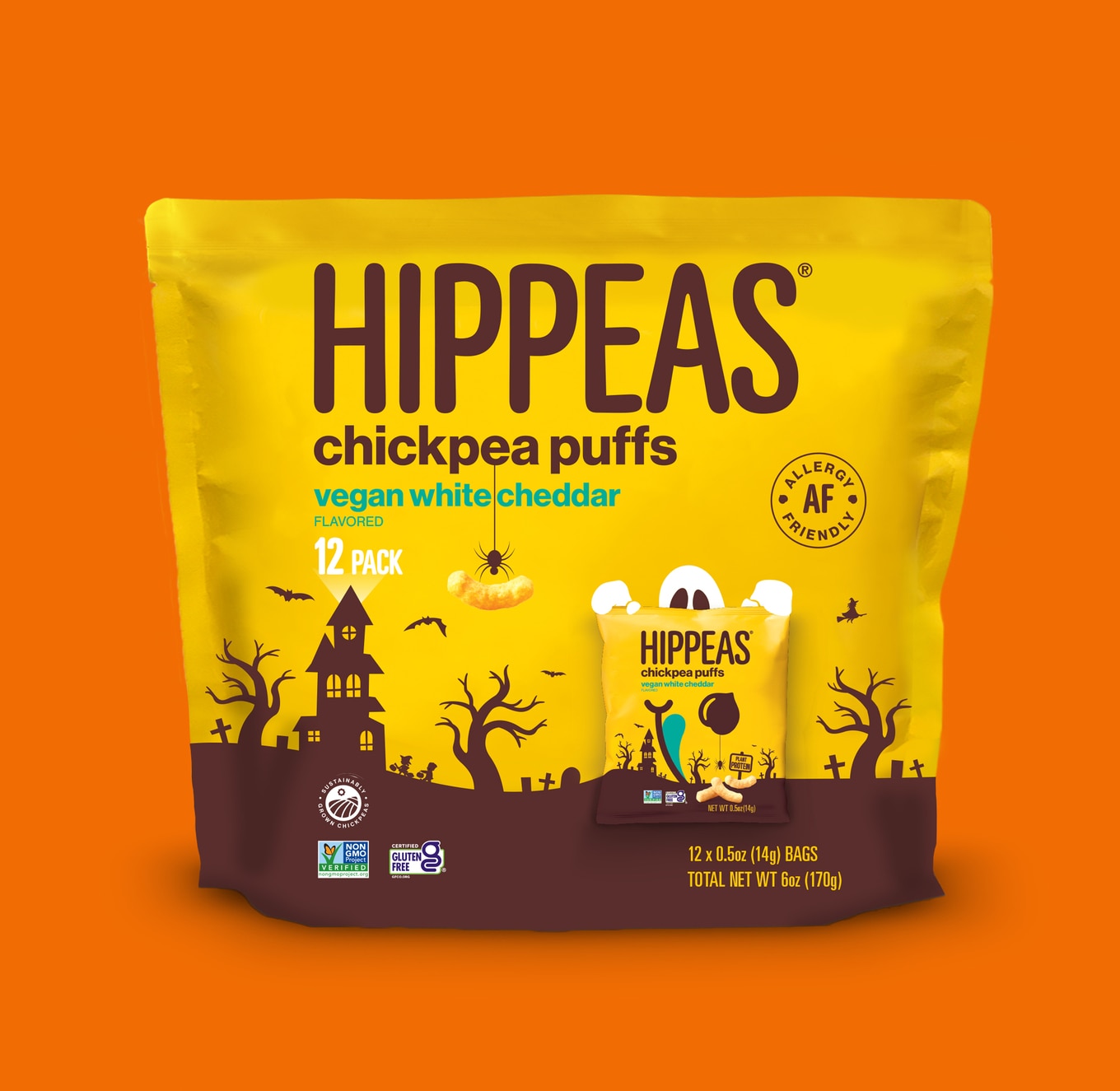 Hippeas
The Halloween multipack aligns with the brand's commitment to offering health-conscious, plant-based snacks and follows the same Non-GMO Project Verified, gluten-free, and vegan guidelines as its other products.
Hippeas offers its chickpea-based snacks in puffs, chips, and straws formats—in flavors such as Vegan White Cheddar, Bohemian Barbecue, and Rockin' Ranch—which are widely available at nationwide retailers such as Whole Foods Market, Wegmans, Kroger, and select locations of Target, Costco, and Walmart.
Who else loves Hippeas snacks? Actor Leonardo DiCaprio, who invested in the brand in 2017.
2New burrito bowls at Target
Looking for an easy weeknight meal? Head to your local Target because burrito bowls from Austin, TX-based company Somos—which specializes in Mexican ready-to-eat foods— just launched at 1,800 stores nationwide.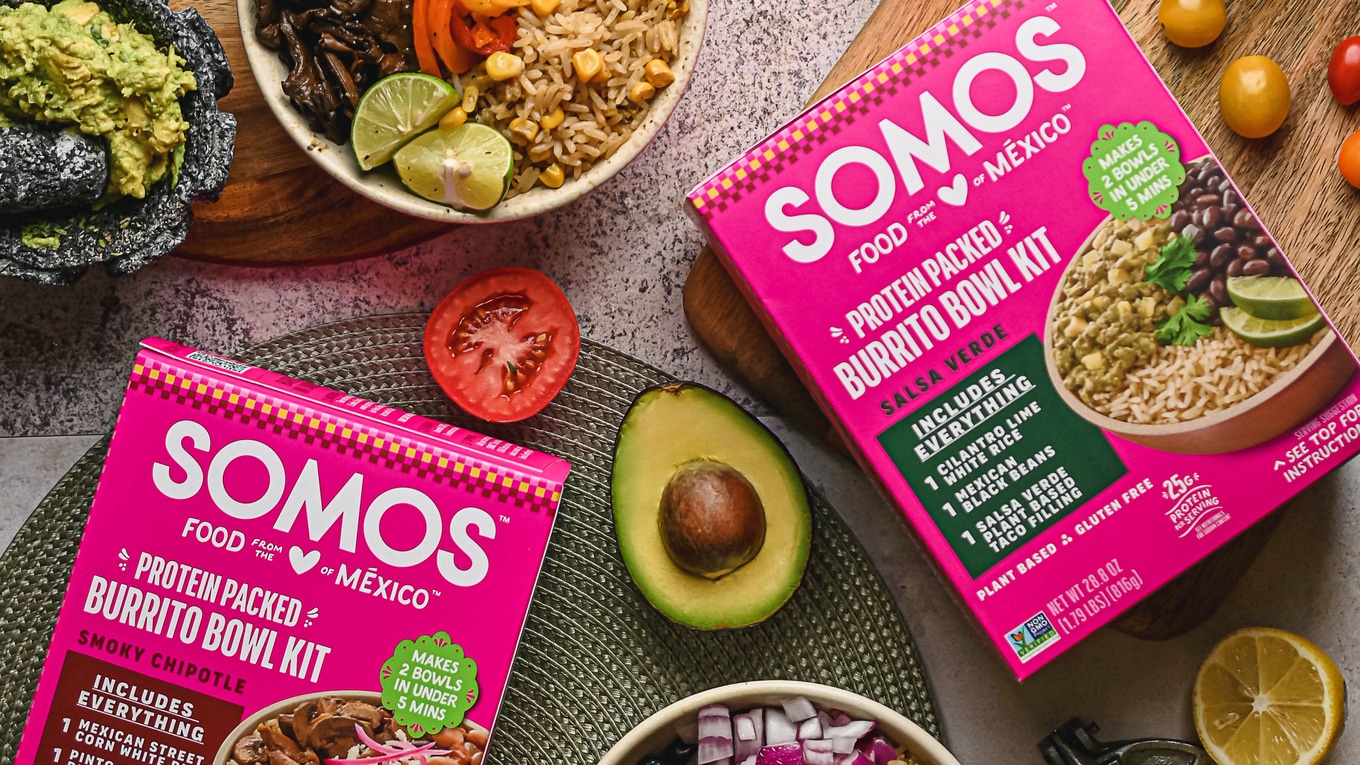 Somos
"The Somos team is honored to launch our products in Target stores, one of the country's most prominent and widespread retail chains," Miguel Leal, co-founder and CEO of Somos, said in a statement.
At Target, Somos now offers two exclusive kits: Salsa Verde Burrito Bowl and Smoky Chipotle Burrito Bowl, each priced at $7.99. The Salsa Verde kit includes a pouch of Peacadillo in Salsa Verde, Mexican Black Beans, and Cilantro Lime White Rice, while the Smoky Chipotle kit offers smoky chipotle mushrooms, pinto and black beans, and corn-based rice.
Both kits are intended for two servings and aim to offer quick and simple, yet protein-rich, plant-based Mexican meal options that can be prepared in less than five minutes.
"One of our goals with Somos is to get American consumers cooking Mexican food in their home kitchens with the same ease that they grab a box of pasta and jar of marinara sauce to cook Italian food," Leal said.
"Our Burrito Bowl Kits are the perfect solution to help people get comfortable cooking delicious Mexican food that showcases the richness of Mexican cuisine without spending hours in the kitchen," he said.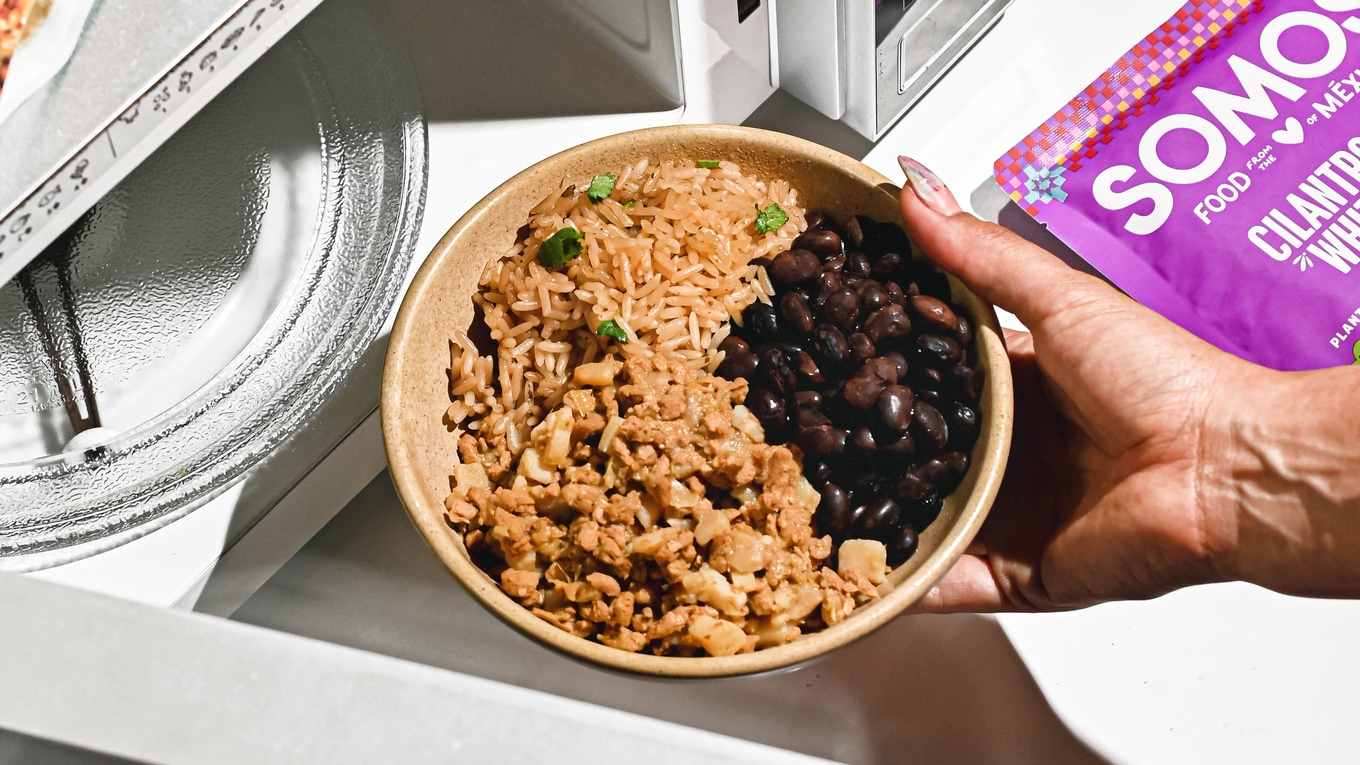 Somos
Target also offers seven individual Somos products that complement the Burrito Bowl Kits. These include various flavors of Salsa Macha, Mexican Street Corn White Rice, Smoky Chipotle Mushrooms, and other plant-based options.
3Nut-free "Nutella"
We love everything about Nutella, except for the dairy. That's why we love Voyage Foods' version of the chocolate-hazelnut spread, which does not contain any dairy or nuts, making it even more inclusive for people with nut allergies. The company also offers a peanut-free spread for all to enjoy.
Leveraging proprietary technology, Voyage Foods developed Hazelnut-Free and Peanut-Free Spreads that avoid nuts, cocoa, and dairy, yet deliver on taste and texture. Crafted from a mix of seeds and legumes, the spreads offer important nutrients like protein, calcium, and iron.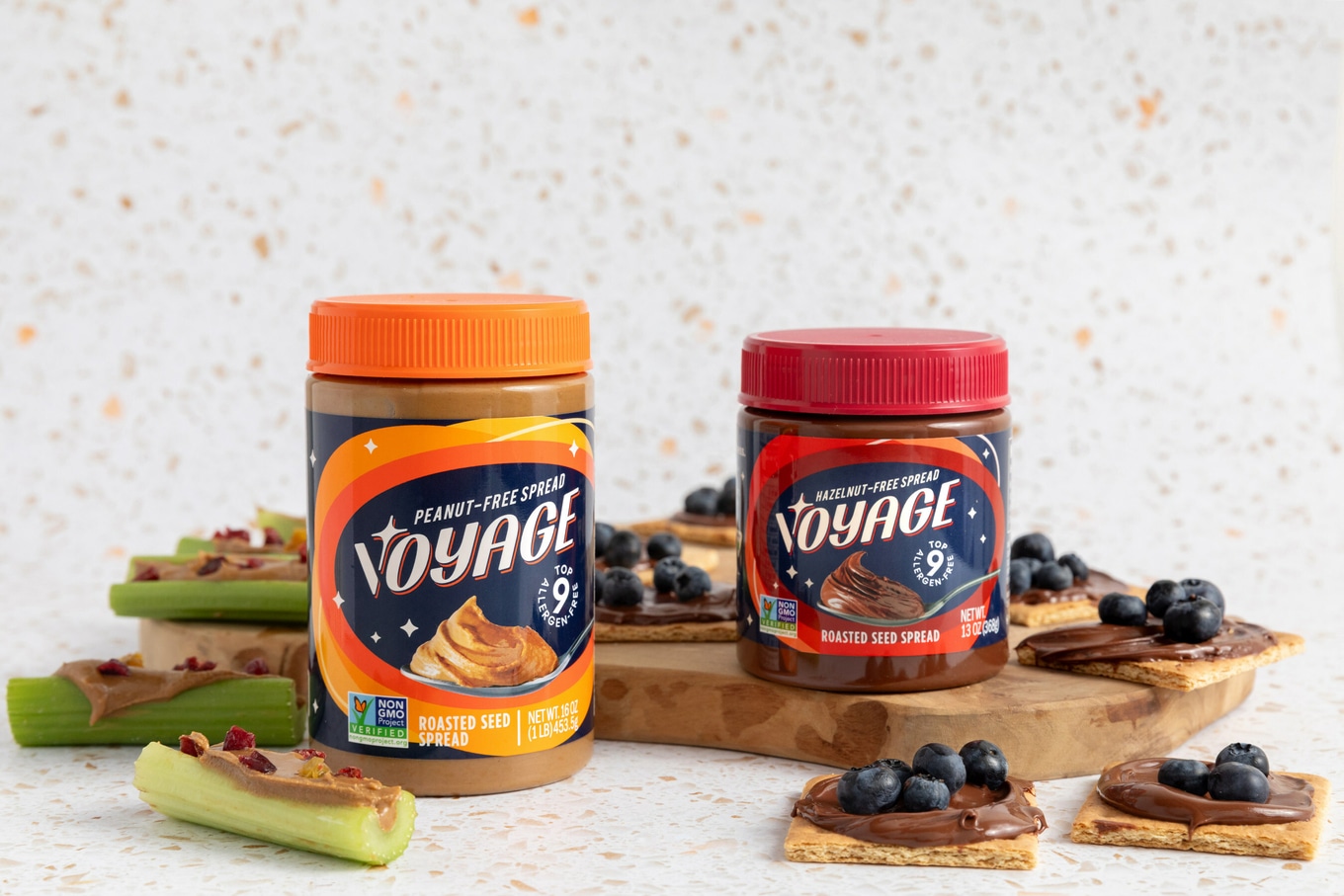 Voyage Foods
This week, Voyage Foods launches its Hazelnut-Free and Peanut-Free spreads—priced at $4.98 per tub—at more than 1,200 Walmart stores across the United States as well as online.
"Our launch at Walmart represents a significant mark in our journey to make allergen-free food accessible to a wider audience," Adam Maxwell, CEO and founder of Voyage Foods, said in a statement.
"We are proud to offer options that are allergy-friendly and more affordable than traditional nut spreads but still deliver on exceptional quality and flavor," Maxwell said.
With its Walmart launch, the company is extending its reach from approximately 350 stores to more than 1,600, positioning itself to cater to millions of consumers, including those mindful of the top nine allergens.
4Cereal milk-flavored shakes
Everyone knows that the best part of eating breakfast cereal is drinking the vegan milk at the end. And if you're looking for this nostalgic experience on the go, plant-based protein shake company Koia has a new line for you.
Available exclusively at Whole Foods Markets nationwide, Koia's new breakfast-inspired line includes three carefully crafted flavors: Fruity Cereal, Cocoa Cereal, and Cinnamon Cereal (which taste just like Fruity Pebbles, Cocoa Puffs, and Cinnamon Toast Crunch, respectively).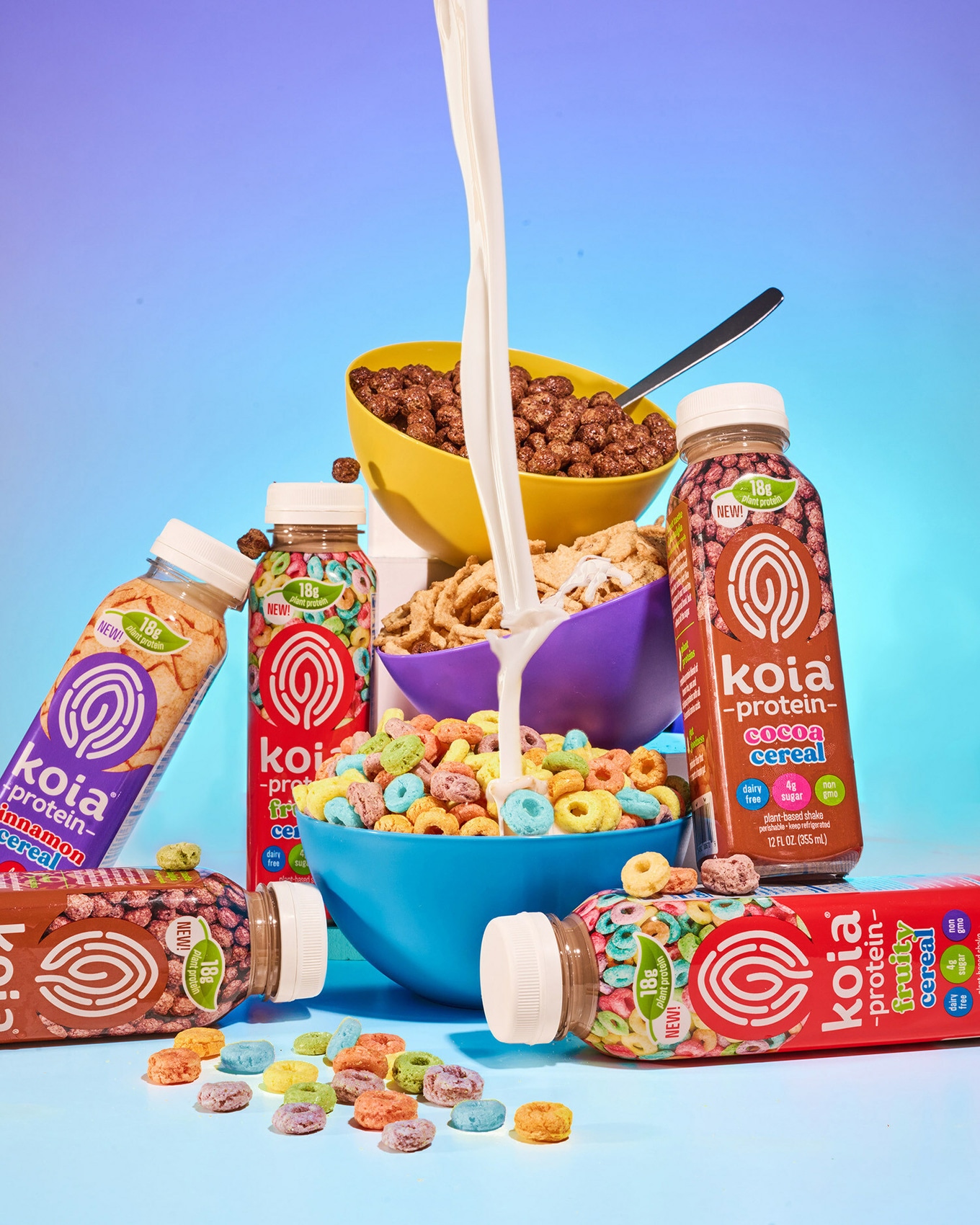 Koia
"Initiating the exclusive launch of our new cereal line with Whole Foods marks a full-circle moment for us, as it's where Koia got its start nearly a decade ago, and has since been the bedrock of our brand, bolstered by a strong and evolving retail partnership," Koia CEO Chris Hunter said in a statement.
Each vegan shake contains 18 grams of complete plant protein from a specialized blend of brown rice, pea, and chickpea proteins, along with nine essential amino acids. This means that you can feel satiated while slurping down what tastes like your favorite sugary cereal.
"Continuing to explore inventive avenues in our portfolio expansion, we draw inspiration from brands beyond our own industry, such as our friends at luxury streetwear brand Kith, which has brilliantly infused cereal into its brick-and-mortar Treats destinations, striking a chord with the contemporary nostalgia we all share for relishing our cherished cereals during childhood," Hunter said.
"We're riding that cereal wave and plan to have a lot of fun along the way," Hunter said.
5Halloween decorating kits
Want to take your spooky season to the next level? Our friends at vegan bakery Sticky Fingers have put together adorably spooky Halloween decorating kits that will ship nationwide in time for Halloween.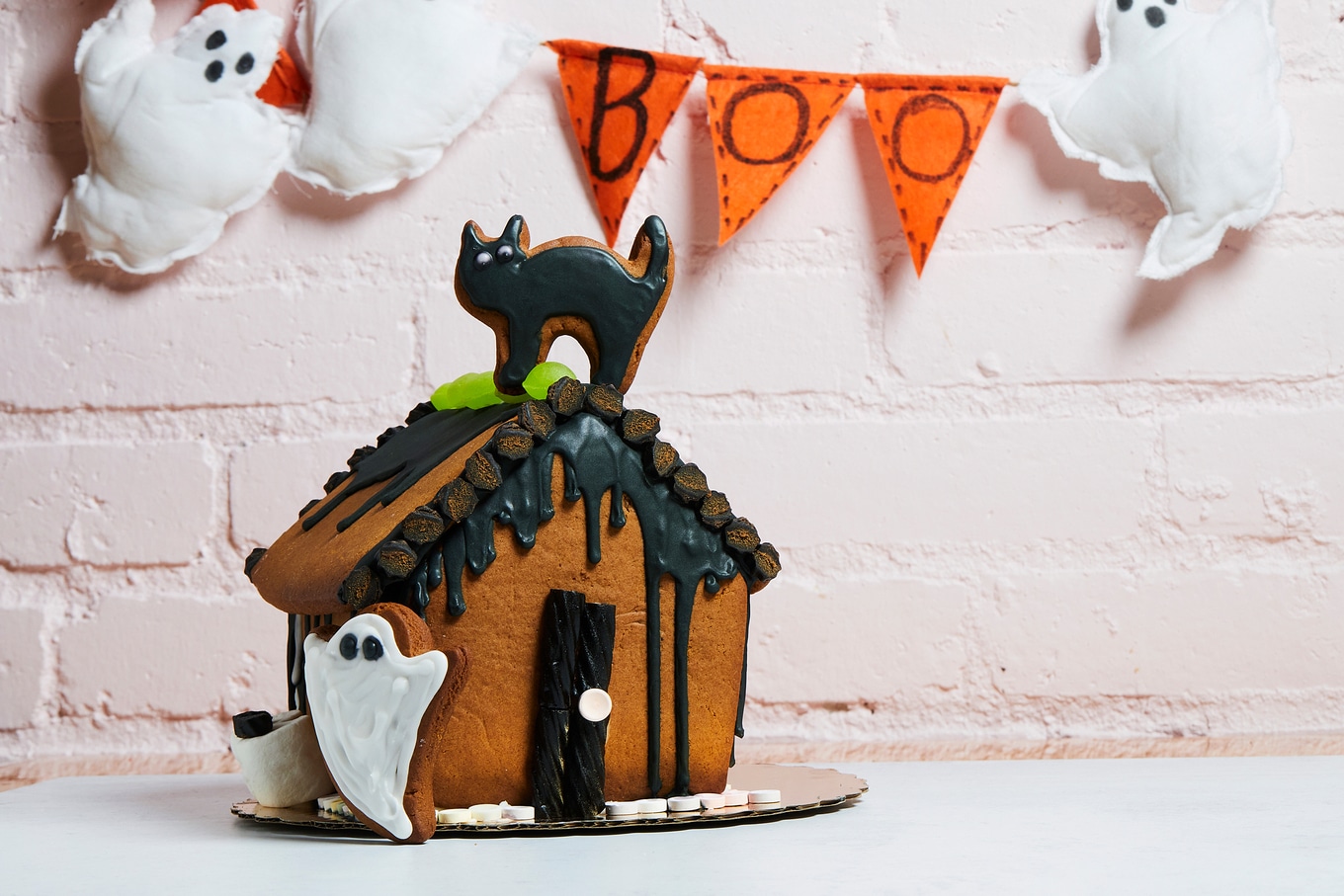 Sticky Fingers
This fall, a Haunted Gingerbread House Kit ($35) and Eyeball Cake Pops (three for $12) will be available at Sticky Fingers. Additionally, a Halloween Combo that includes both the Haunted House and Eyeball Pops is available for $45, so that you can build your dream gingerbread house (complete with royal icing and spooky candy decor) while snacking on cake pops.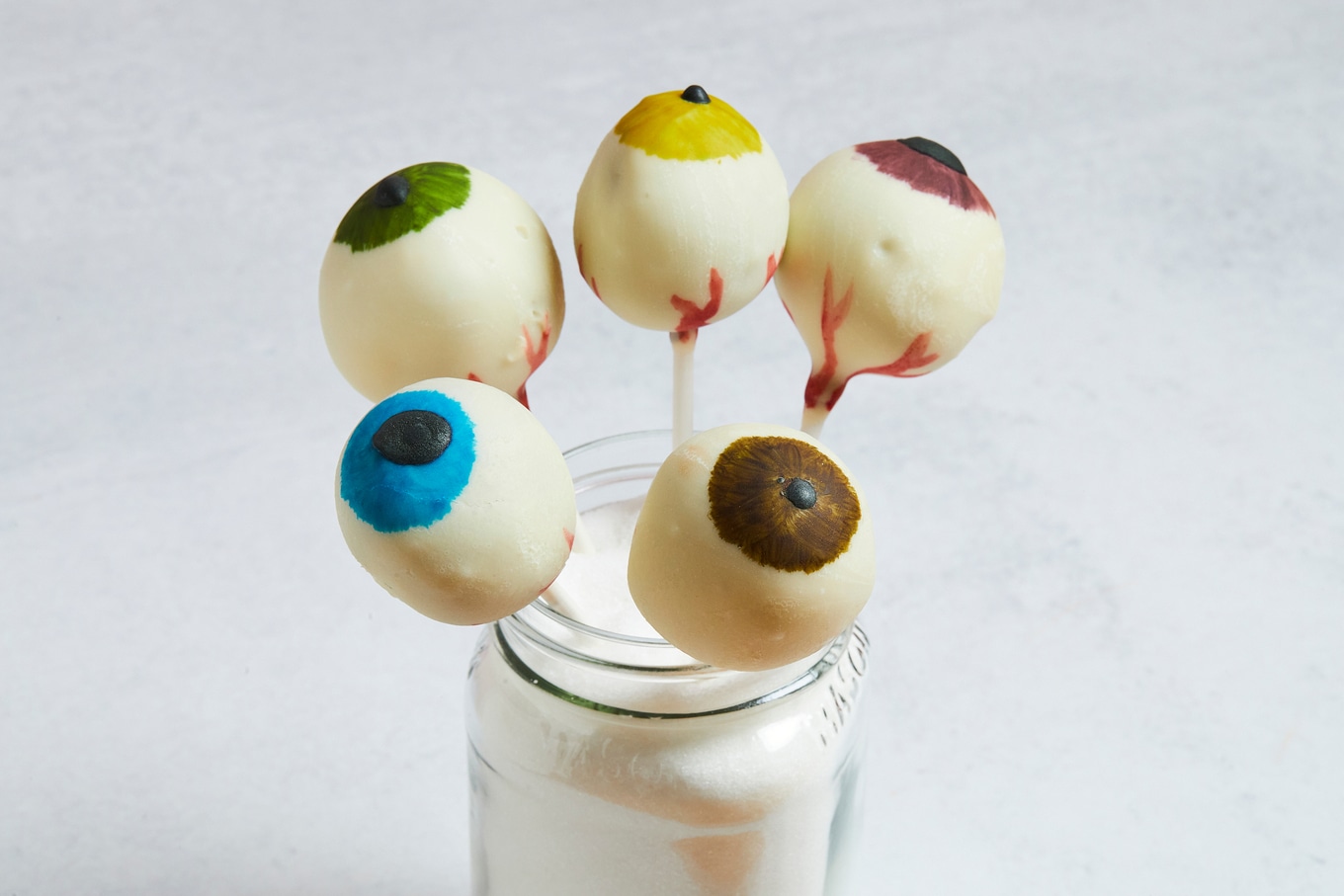 Sticky Fingers
"We think these are a fun alternative to the traditional gingerbread house that lets us be creative while we're getting in the plant-based Halloween spirit," Sticky Fingers Founder Doron Petersan tells VegNews.
"We include vegan candies and cookies to decorate, and the royal icing dries firmly with aquafaba in place of egg whites," she says.
The kits and pops are also available for local pick-up at Sticky Fingers in Washington, DC.