The days of boring salads are officially behind us with exciting vegan restaurant news cropping up every week. The classic fall combo of grilled cheese and tomato soup just got a Slutty Vegan spin. Halloween is creeping in on menus at Next Level Burger and Gregorys Coffee, which have both launched spooky and delicious specials to celebrate the holiday. And Monster Vegan—where Halloween is the theme all year round—just became the first restaurant in Philadelphia to serve Chunk Foods' realistic vegan steak. Read on for more.
1Just Salad launches vegan Caesar
Traditional Caesar salad features animal-derived ingredients such as anchovies in the dressing and is often topped with Parmesan. However, getting these umami flavors from plant-based ingredients is not only possible but can make for a healthy twist on the classic Caesar.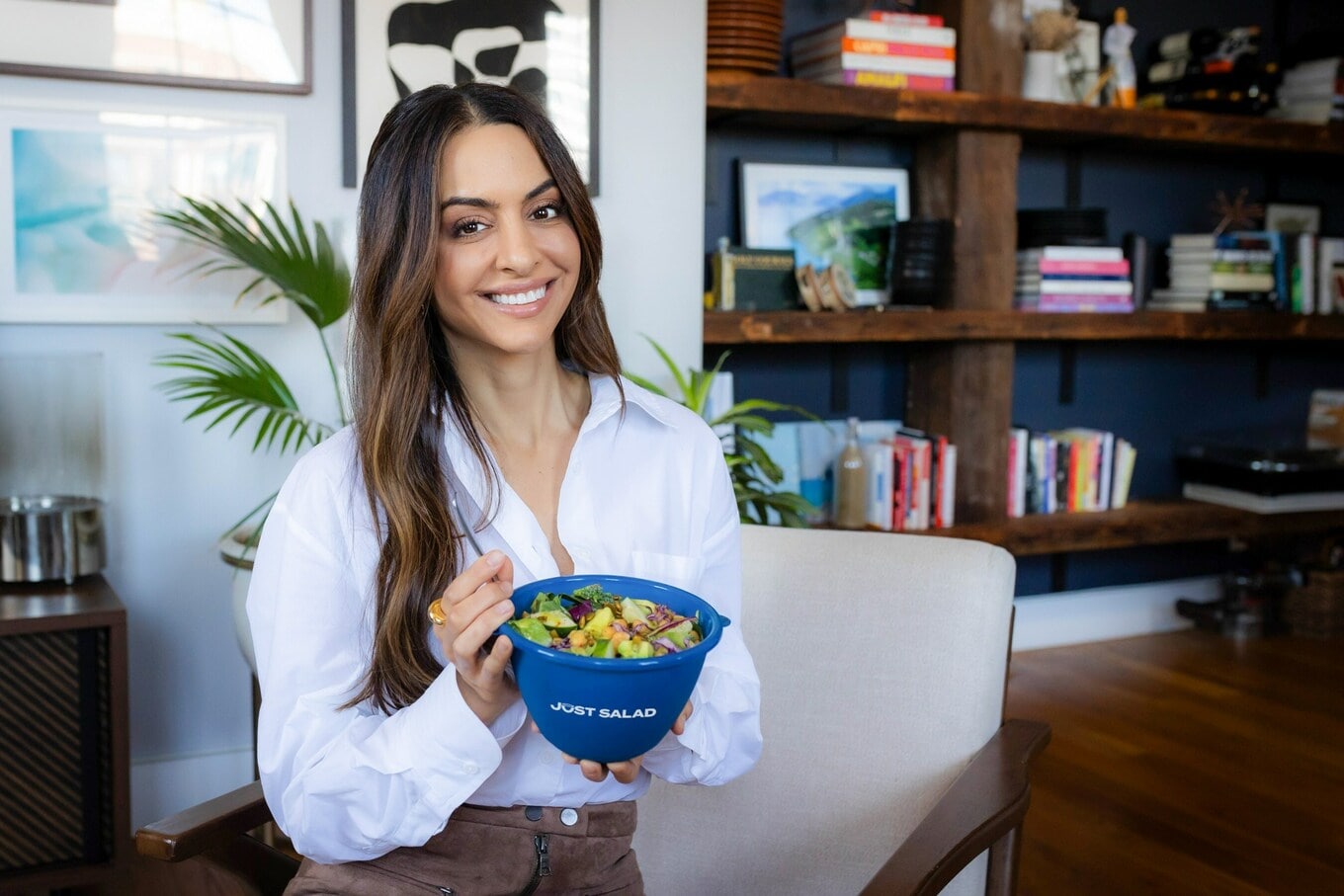 Just Salad
This week, national chain Just Salad is proving just that with a new menu item developed by wellness educator and entrepreneur Mona Vand.
Called "Mona's Dreamy Caesar," the new limited-time salad features ingredients selected by Vand to support gut health, reduce inflammation, and provide essential nutrients.
"I believe that food is a powerful medicine, and I live by that philosophy every day," Vand said in a statement. "This salad is exactly the way I like to eat—it incorporates a variety of healthy ingredients that all add their own unique nutritional benefits, while being extremely clean and packed with flavor and texture."
Available across Just Salad locations until October 31, the salad consists of a blend of romaine and super greens, shaved broccoli, cucumbers, Tajin spiced pumpkin seeds, organic chickpeas, avocado, and Mona's Vegan Caesar dressing.
"We're proud to partner with Mona Vand to share our combined passion for fresh, clean, feel-good food," Jhonny Castro, Culinary Director at Just Salad, said in a statement.
"At Just Salad, we're all about pushing culinary boundaries while making health accessible, and this partnership exemplifies our commitment to providing customers with plant-powered recipes that celebrate flavor and wellness," Castro said.
2Slutty Vegan gets into fall with a classic combo
As the weather gets a little cooler, nothing feels better than the combo of dipping a grilled cheese sandwich into tangy tomato soup. This week, Atlanta-based Slutty Vegan is putting its own spin on the combo with the addition of Cheesy Heaux in a Hawt Tub to its menu.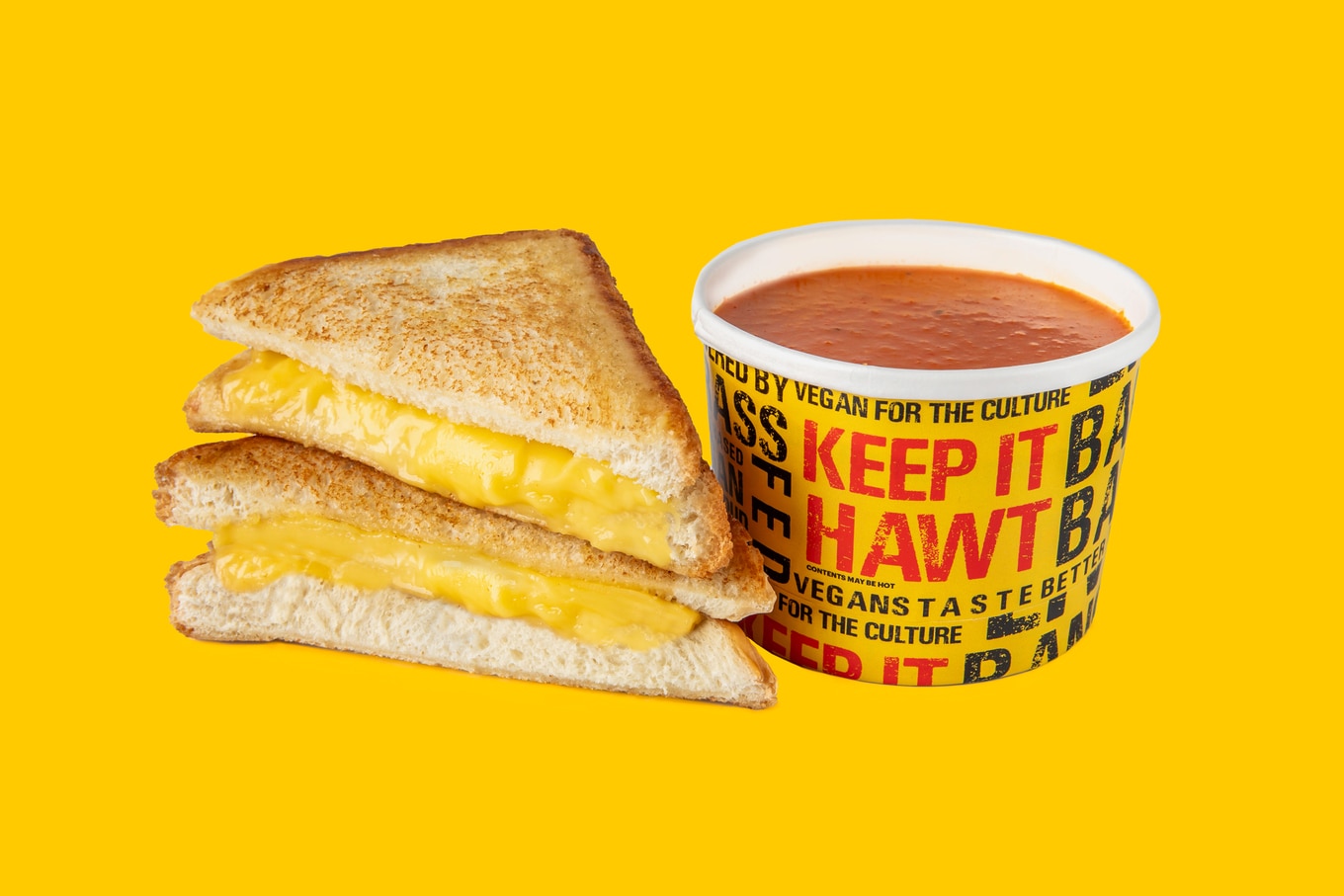 Slutty Vegan
The Cheesy Heaux in a Hawt Tub is a twist on the classic grilled cheese, featuring Texas toast buttered to perfection. The sandwich comes with a side of tomato soup enhanced with coconut milk and a mix of African spices. Priced at $9.99 for the combo, the sandwich and soup can also be purchased separately at $4.99 and $5.99, respectively.
The new offering will be available starting Friday, October 6, with early access provided to Slutty Vegan Rewards members on Thursday, October 5. The menu addition excludes the Truist Park location.
3Spooky burger specials
With Halloween just around the corner, we're ready for a little more spooky fun in our lives. Luckily, so is vegan chain Next Level Burger which just launched two menu items inspired by the ghoulish season at its 10 locations nationwide.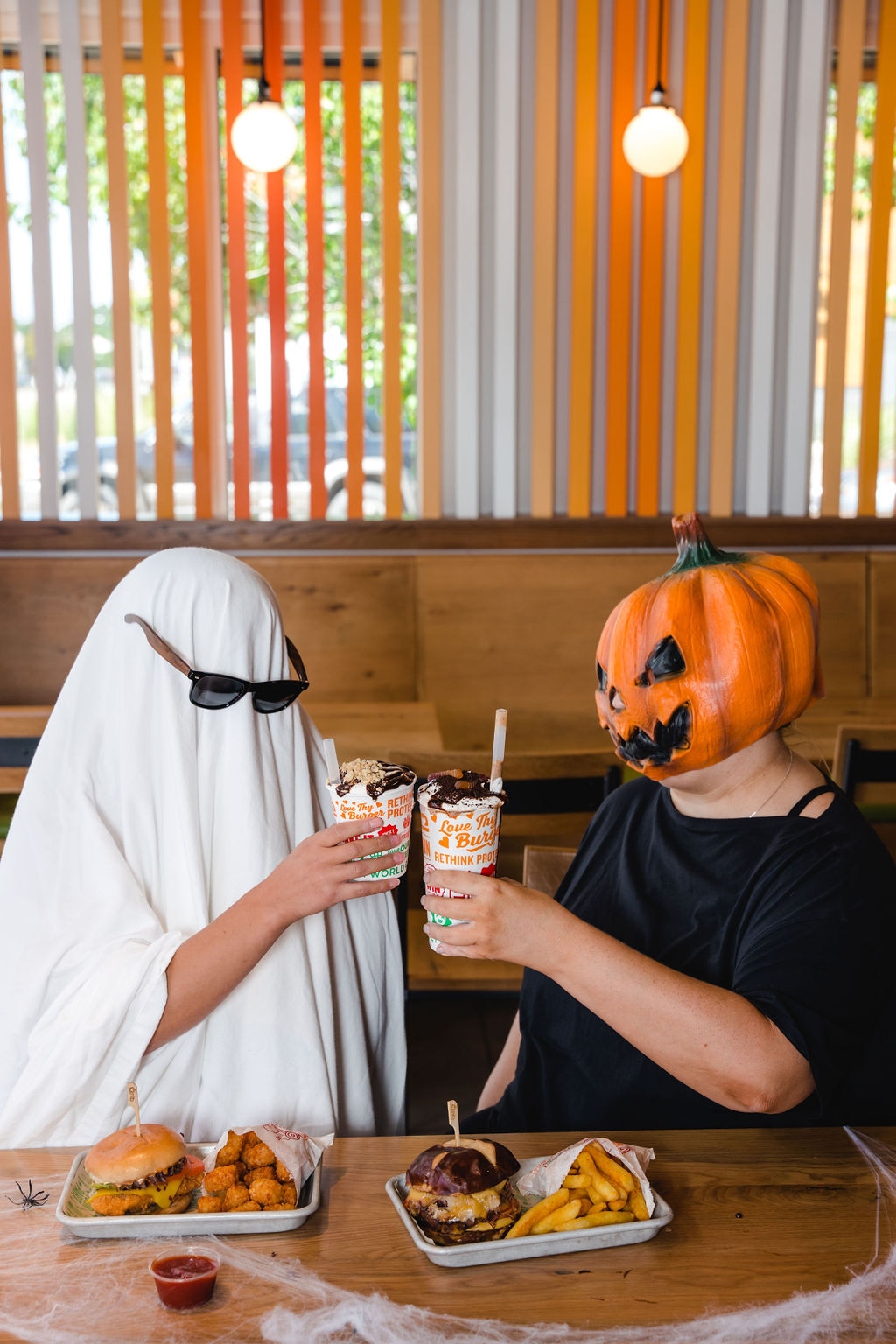 Stephanie Kelly Photography
The Mean Green Frankenburger features an Actual Veggies vegetable patty, crispy onion rings, smoked gouda cheese, organic lettuce, and tomato, and is topped with housemade black garlic mayo. The burger is served on a butter-toasted pretzel bun and is priced at $14.95.
Complementing the spooky burger is the Dirty Jack-o'-Lantern Shake, which consists of either organic soy or organic coconut soft-serve ice cream blended with organic pumpkin puree, fall spices, and gluten-free chocolate cookies.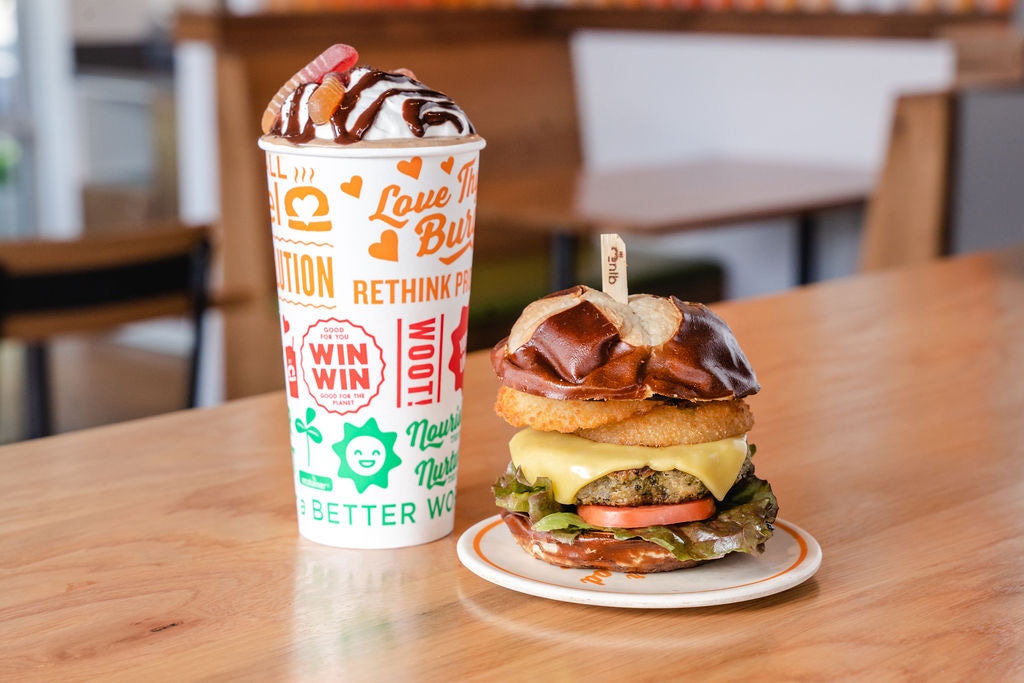 Stephanie Kelly Photography
The shake is topped with whipped cream, organic chocolate sauce, cookie crumbles, and sour gummy worms, with prices ranging from $7.45 for a small, $8.95 for a medium, to $11.45 for a large. A special offer is available on Friday the 13th, when guests can get the shake as a BOGO deal all day long.
4Jack-o'-lantern lattes
While we all wait on Starbucks to veganize its PSL, a spooky pumpkin beverage has launched at coffee chain Gregorys Coffee. From this week until November 7, the Jolly Jack-O is available at 37 Gregorys Coffee shops in New York, New Jersey, Connecticut, and Washington, DC.
Created in partnership with entertainment company VeeFriends, the seasonal drink blends chai tea with pumpkin spice and is enriched with Gregorys Coffee's signature pumpkin sauce.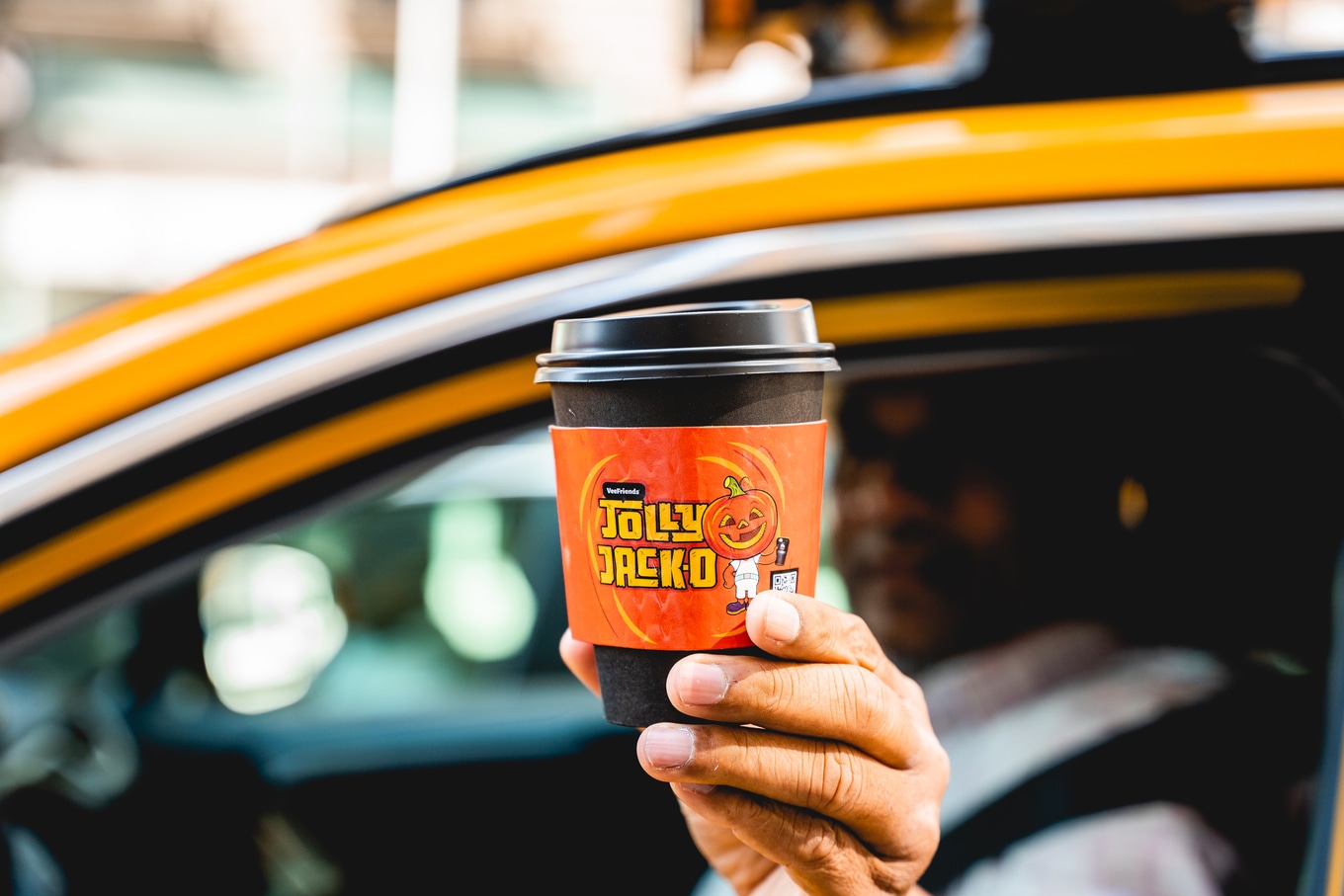 Gregory's Coffee
Here, customers looking for a vegan drink are in luck because the Jolly-O was made with them in mind. The beverage can be ordered completely plant-based with the simple request for vegan milk at Gregorys, which includes choices such as Táche Pistachio, Califia Oat, Califia Almond, and Califia Unsweetened Almond and Soy.
The drink also features custom VeeFriends-themed coffee sleeves, complete with a QR code that unlocks exclusive content and a chance to win $1,000 worth of gift cards from both companies. Select locations will also offer special Jolly Jack-O stickers with scannable QR codes, serving as a keepsake for the beverage.
5Monster Vegan's short rib ragu
This month, Chunk Foods—known for its celebrity-backed vegan steaks—made its way to Philadelphia, PA for the first time by way of Monster Vegan, an eatery that embraces the spooky vibe of Halloween year-round.
"Bringing Chunk steak to Philadelphia at Monster Vegan is a momentous occasion for Chunk Foods," Amos Golan, Founder and CEO of Chunk Foods, tells VegNews. "We are excited to introduce the vibrant Philadelphia food scene to our plant-based innovation.
"At Chunk Foods, we believe that everyone should have access to delicious dining options, and this partnership with Monster Vegan is a significant step towards that vision," Golan says.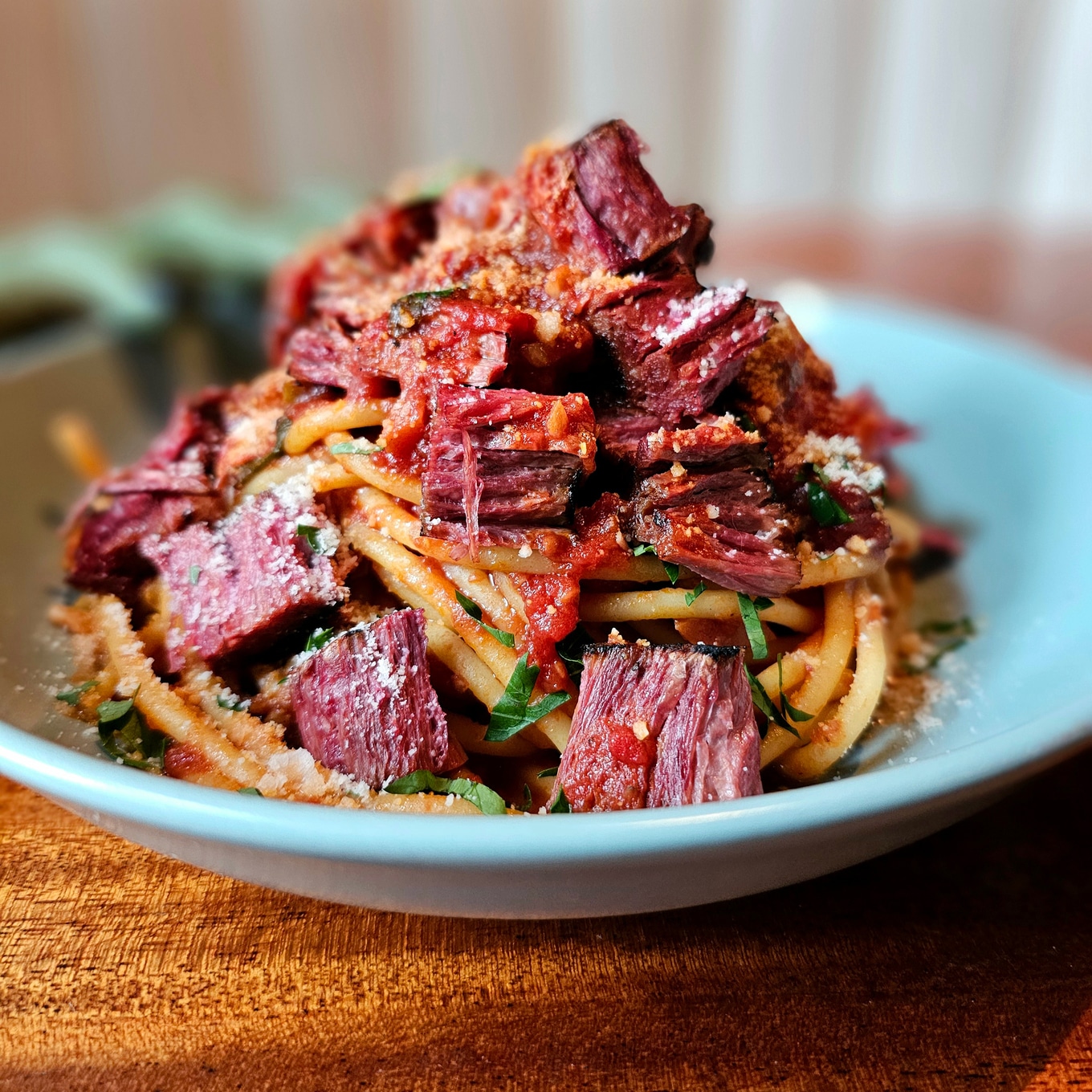 Chunk Foods
Monster Vegan will add Chunk Foods' plant-based steak to its menu as a permanent item, initially featuring a dish called Chunk Short Rib Ragu. Priced at $30, the dish consists of a 24-hour slow-cooked ragu, merlot-braised Chunk steak, fresh bucatini pasta, and shaved parmesan.
"Chunk directly embodies what Monster Vegan stands for: 'Eat what you want, just leave animals alone,'" Monster Vegan Chef Ron Tadeo tells VegNews.
"We've come a long way in making plant-based alternatives more accessible, and Chunk is the holy grail of vegan steak," Tadeo says.
This inclusion marks a milestone in Chunk Foods' nationwide expansion and highlights the company's proprietary technology that offers an authentic steak taste and texture.
The vegan steak joins a number of toothsome items on Monster Vegan's menu, including cheesesteaks made with shaved seitan (or Impossible Beef, if customers prefer); clams and linguine (where marinated oyster mushrooms serve as seafood stand-ins); and beignet sundaes (which feature either nut butter- or Oreo-flavored beignets).
"I've always loved meat and comfort foods like Italian sandwiches and pasta," Tadeo says. "When I went vegan, it was the realization that while I love cooking and enjoying all kinds of foods, I love animals even more. I want to provide exactly what you crave and remember, without causing harm to any friends in the process."
For the latest vegan news, read: