The days of boring salads are officially behind us with exciting vegan restaurant news cropping up every week. Vegan burgers are still hot with Ruby Tuesday getting in on the action with a new and indulgent option from Impossible Foods. Entrepreneur Pinky Cole is bringing her popular Slutty Vegan business home to Baltimore. And down under in Australia, Krispy Kreme is giving us two vegan doughnuts to clamor about. Read on for more.
1Ruby Tuesday's new indulgent vegan burgers
Back at the beginning of 2020, Ruby Tuesday got into the plant-based burger game with a limited test of the Awesome Burger—a vegan patty made by Nestlé-owned vegetarian brand Sweet Earth.
This month, the fast-casual chain is stepping up its plant-based burger game with its new option courtesy of Impossible Foods. New at Ruby Tuesday's 214 restaurants across 30 states is the Indulgent Burger, the newest iteration of Impossible Food's game-changing plant-based patty that is thicker, meatier, and juicer.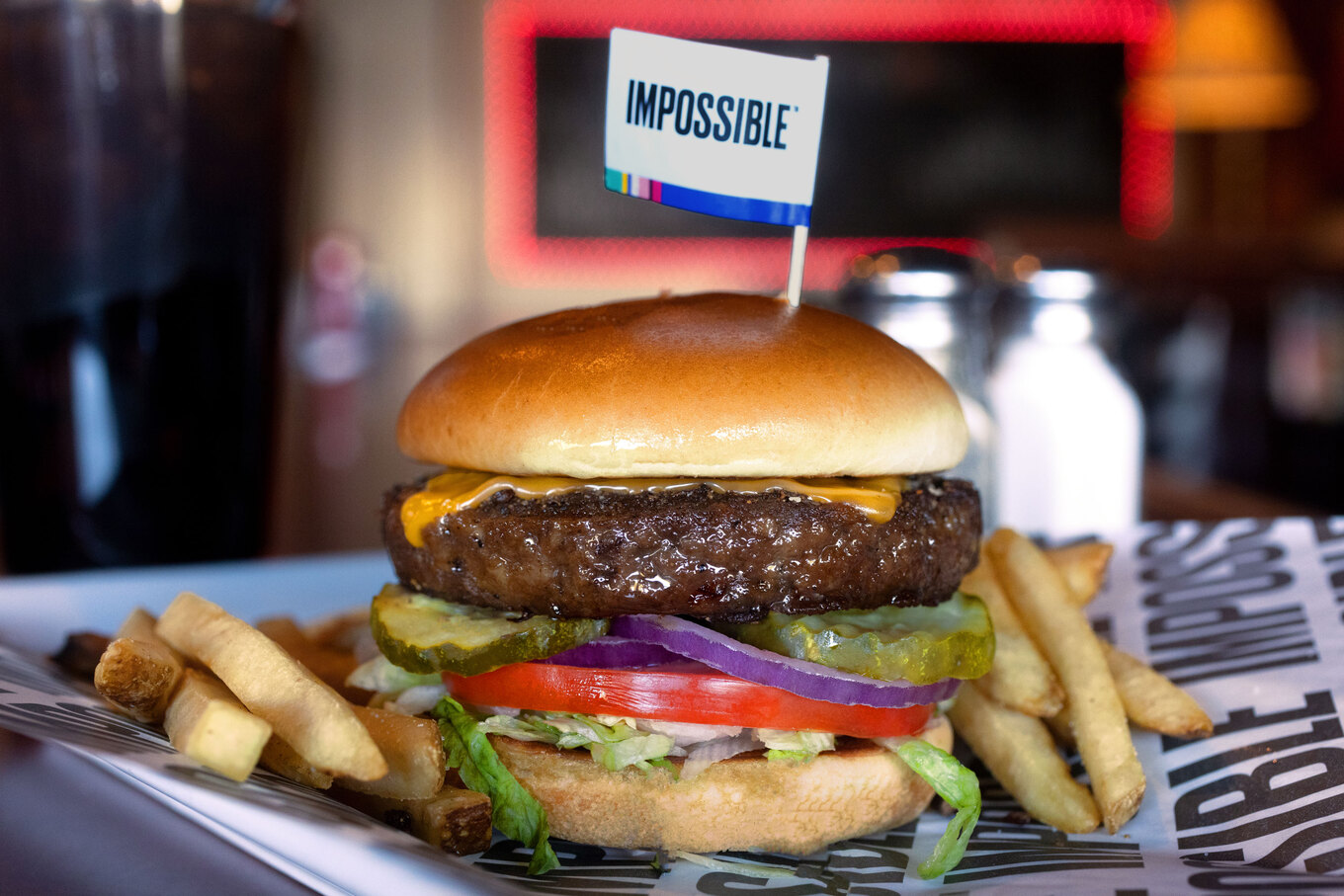 Impossible Foods
"Ruby Tuesday has been a fantastic partner to work with to bring our new Indulgent Burger to more consumers nationwide," Sherene Jagla, Chief Demand Officer at Impossible Foods, said in a statement. "This is our most premium burger patty yet, designed to replicate the experience of a gourmet, restaurant-style burger. It's juicy, meaty, and truly 'indulgent.'"
"We're excited for Ruby Tuesday diners and burger-lovers across the country to enjoy the delicious potential of meat from plants," Jagla said.
Customers can now savor this gourmet plant-based patty as an upgrade to any burger on Tuesdays, the chain now offers the Impossible Burger with fries or tater tots for just $6.99. This deal, part of their Tuesday Daily Deal promotion, is a savvy way for guests to enjoy a high-quality plant-based burger experience at a value price.
"We're excited to partner with the Impossible Foods team and be one of the first brands to bring their new Indulgent Burger to casual dining guests," Ruby Tuesday's CEO, Shawn Lederman, said in a statement.
"With this and our famous Endless Garden Bar, we cater to the growing consumer demand for plant-based options," Lederman said.
2Slutty Vegan comes home to Baltimore
Entrepreneur Pinky Cole announced a homecoming of her popular Slutty Vegan brand this month with a planned opening of both the popular burger shop alongside Bar Vegan (a boozy concept she operates inside Atlanta's Ponce City Market).
Sterling Pics
To bring the concepts to her home city, Cole is joining forces with the Baltimore Peninsula development team, which includes real estate firms MAG Partners and MacFarlane Partners, along with local investor Kevin Plank and his Sagamore Ventures, supported by Goldman Sachs Asset Management Urban Investment Group.
"My story began here in Baltimore, the streets of East Baltimore, to be exact," Cole said in a statement. "This is my homecoming and I could not be more excited to collaborate with Kevin Plank."
"I am looking forward to finally establishing my brands of Slutty Vegan and Bar Vegan in the city that raised me," Cole said.
Fellow Baltimore native Plank, known for his investment in Baltimore's future and the establishment of Under Armour's headquarters in the city, welcomed Cole's return.
"Pinky is an incredibly successful restaurateur and philanthropist, and it's an honor to welcome her back to her hometown," Plank said in a statement. "Her innovative concepts have taken over the nation, and I can't wait to see them thrive right here at the Baltimore Peninsula."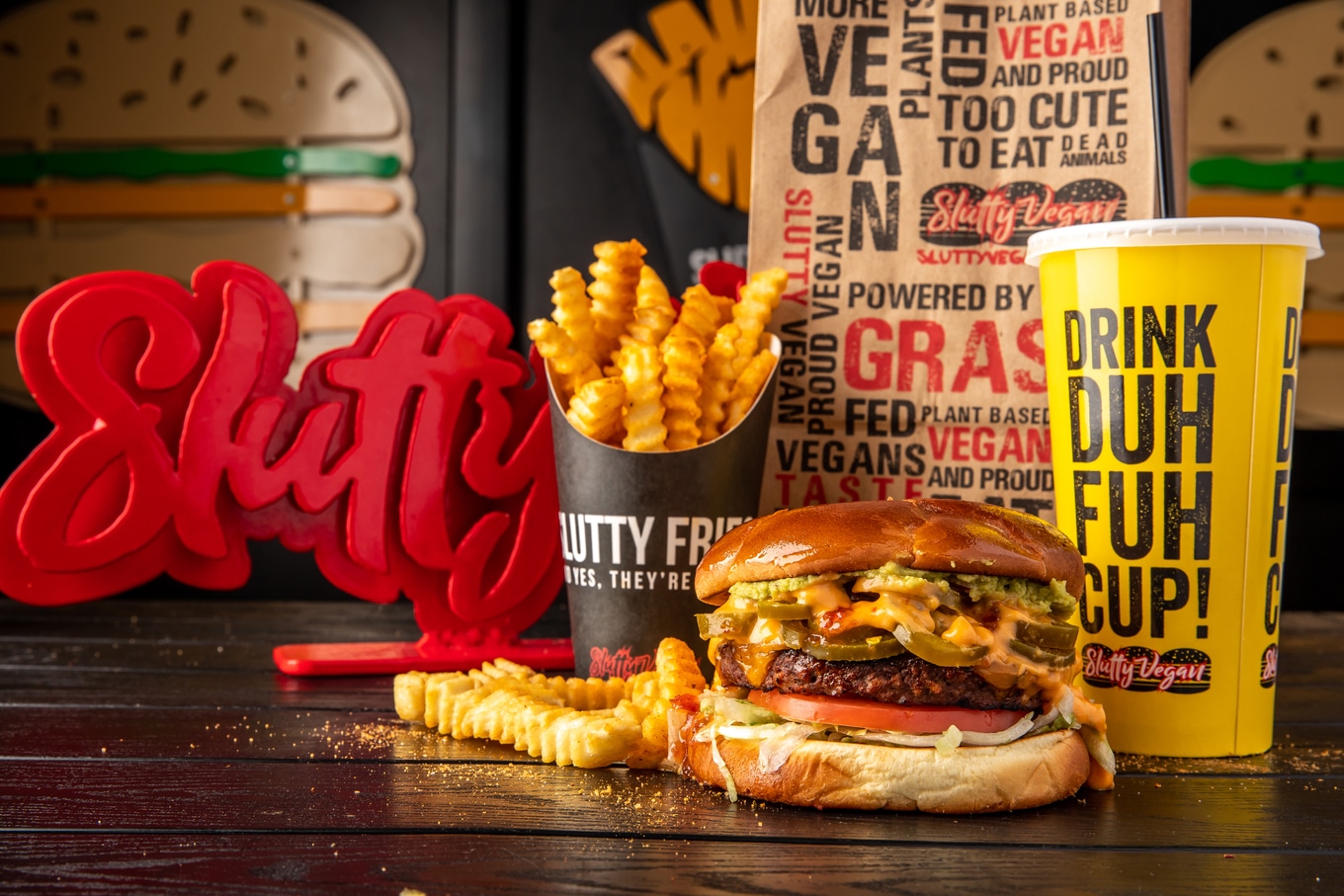 Madelynne Boykin
The partnership is expected to boost the local economy by creating more than 100 jobs and offering the community access to a plethora of vegan food options, which include over-the-top vegan burgers enjoyed by celebrities such as Snoop Dogg, Shaquille O'Neal, and many more.
Cole first opened Slutty Vegan in Atlanta in 2018 and has since expanded the concept across the city and to others, including New York City. In the coming years, Cole aims to open at least 20 Slutty Vegan locations nationwide.
3Vegan Thanksgiving kicks off at Next Level Burger
With Thanksgiving mere weeks away, we're already thinking about ways to make the feasting season more exciting this year. One way is taking the lazy route by eschewing all cooking and heading to our local Next Level Burger instead for the vegan chain's new Thanksgiving specials.
This season, the highlight at NLB is The Gobbler Burger, a meat-free version of holiday favorites, layering a crunchy turkey(less) cutlet with a blend of house-crafted herbed stuffing, organic cranberry sauce, and rich gravy, all nestled within an organic white bun.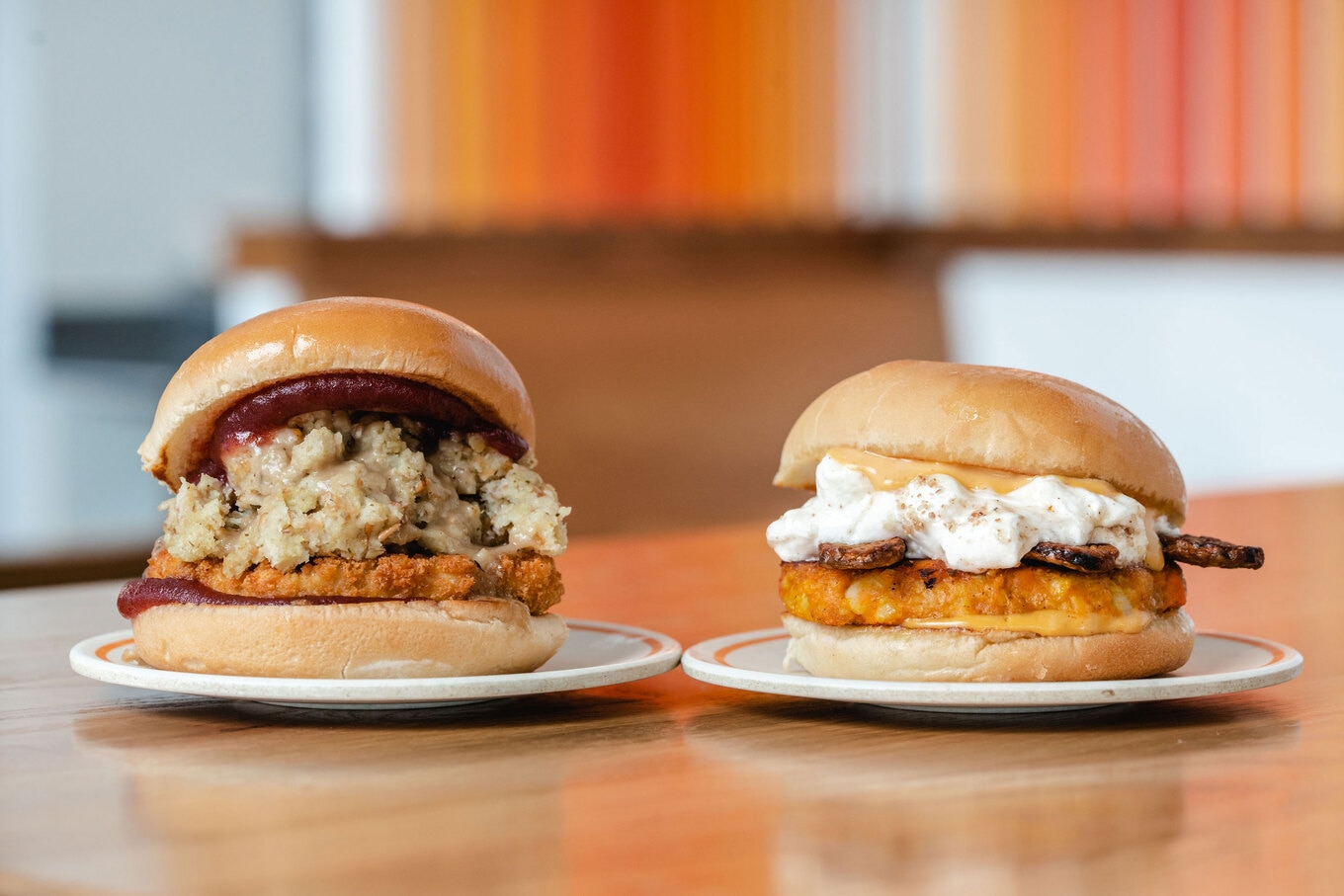 Next Level Burger
Joining the holiday lineup is the innovative Holiday Roots Burger, which features a hearty Actual Veggies patty of spiced sweet potato and cauliflower. It's garnished with crisp smoky tempeh bacon, a sprinkle of pecans, and a lavish topping of vegan marshmallows, served on a sprouted whole grain bun with a signature sweet potato mayo.
To complement the meal, customers can sip on a selection of Holiday Pie Shakes—Organic Sweet Potato Pie, Organic Pumpkin Pie, or Organic Apple Pie—all blended with a choice of organic soy or coconut soft serve.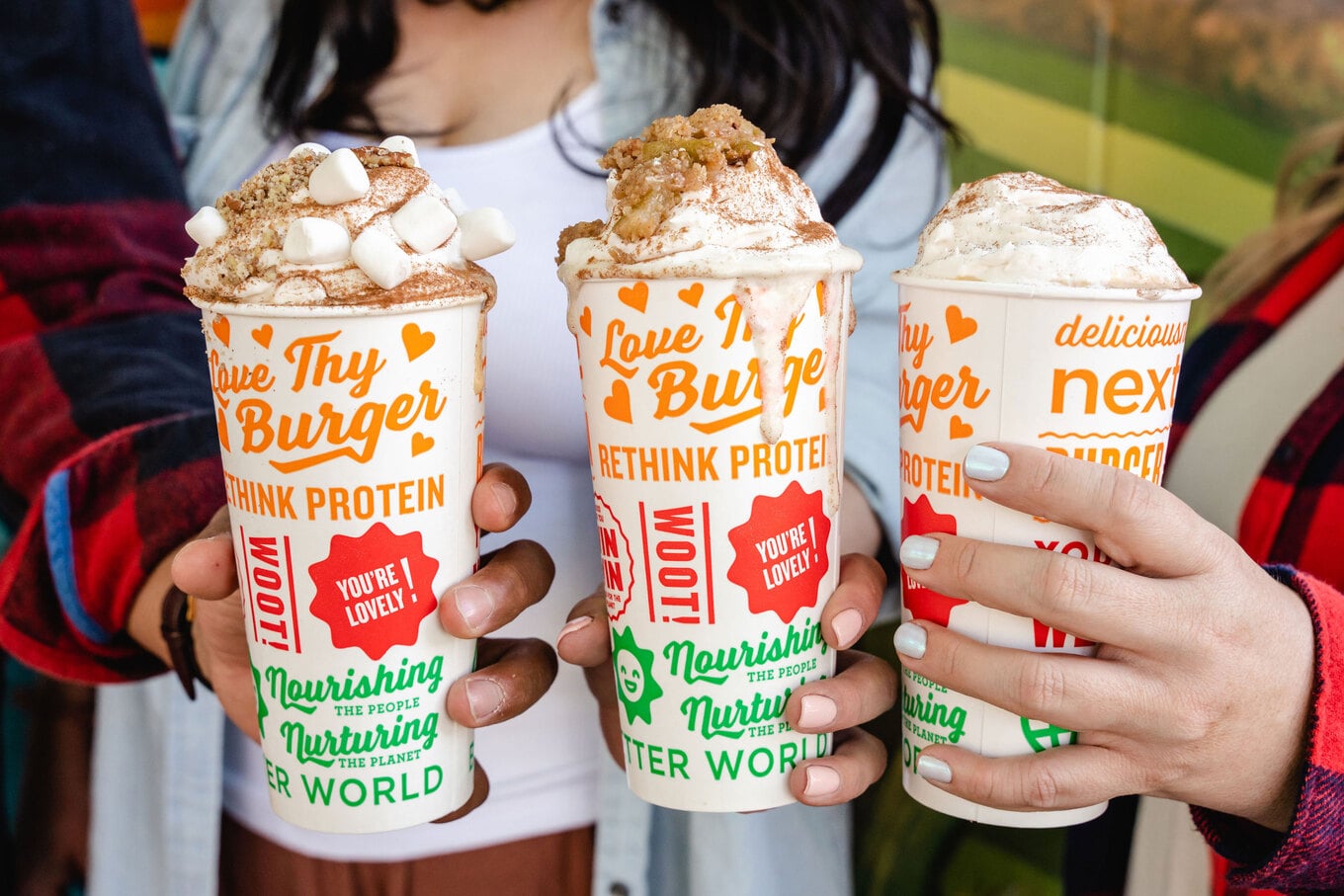 Next Level Burger
In a gesture of holiday spirit, NLB pledges to donate a burger to local food banks for each holiday burger sold through November 26.
4Ice cream shop with Michelin cred
Herndon, VA's ice cream scene just got a bit sweeter with the debut of Crème de la Crop, the brainchild of Michelin-starred pastry chef Olivia Green. After only a month in operation, the entirely vegan ice cream shop has already caught the eye of People for the Ethical Treatment of Animals, receiving national recognition from the prominent animal-rights organization.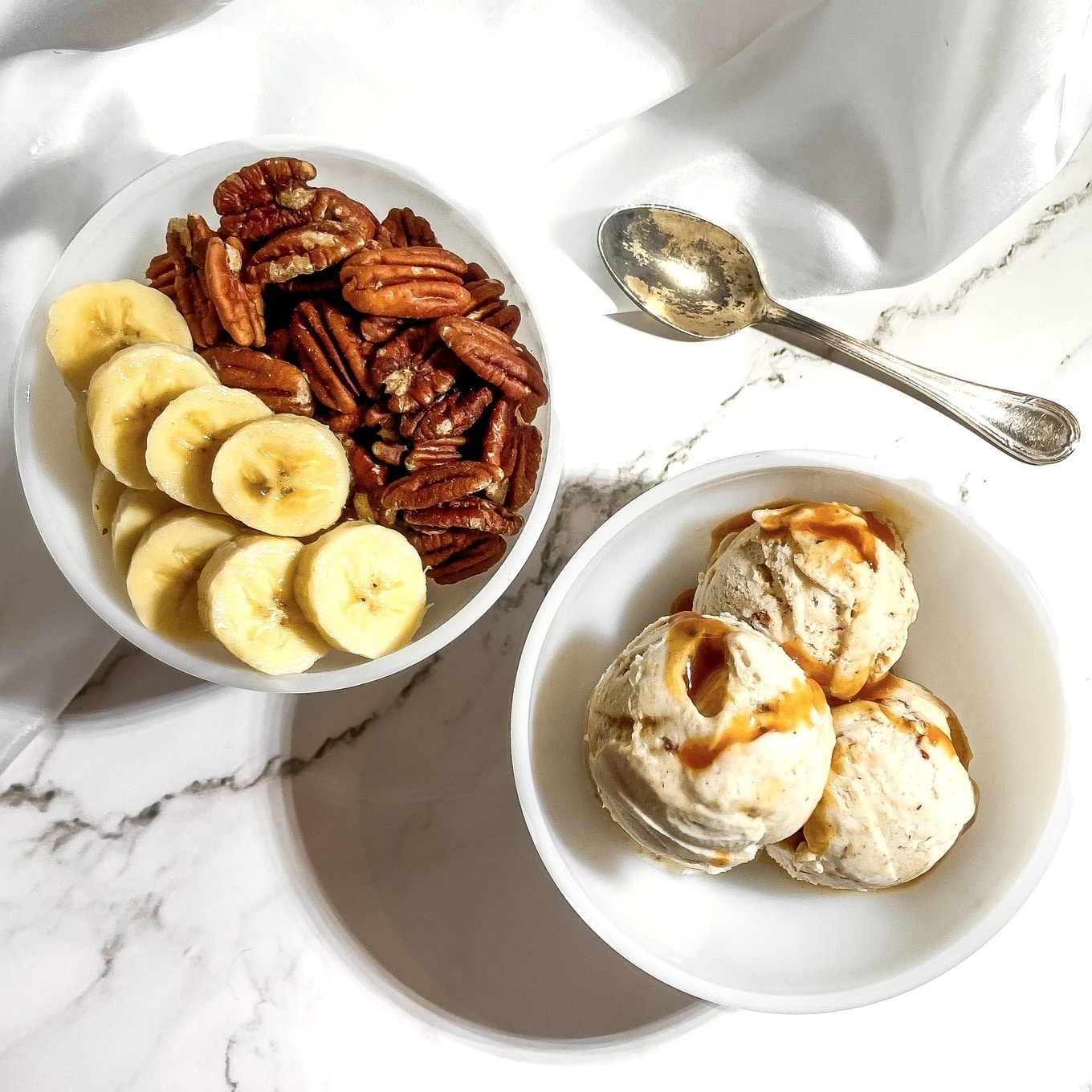 Crème de la Crop
"Crème de la Crop's creamy, decadent treats are proof that being kind to animals and indulging your sweet tooth are a match made in dessert heaven," PETA Executive Vice President Tracy Reiman said in a statement.
"PETA applauds Olivia Green's innovative ice creams and urges chefs everywhere to follow her lead and ditch dairy," Reiman said.
At Crème de la Crop, customers will find a variety of innovative ice cream flavors such as Tahini Caramel, Pumpkin Patch, and Apple Cider Sorbet, all made from gluten-free oat and coconut milk. The shop also offers indulgent ice cream sandwiches.
5Krispy Kreme's vegan doughnuts
While there is a lot to celebrate Stateside when it comes to new vegan options, it seems that other regions just want to give us FOMO anyway. This week, that's the case for Krispy Kreme and 7-Eleven locations in Australia.
There, Aussies can pick up two new vegan doughnut options: Fudge Brownie Bliss and Apple Custard Crumble. Freshly made every day, these doughnuts aim to maintain the classic Krispy Kreme taste and quality without any animal-based products.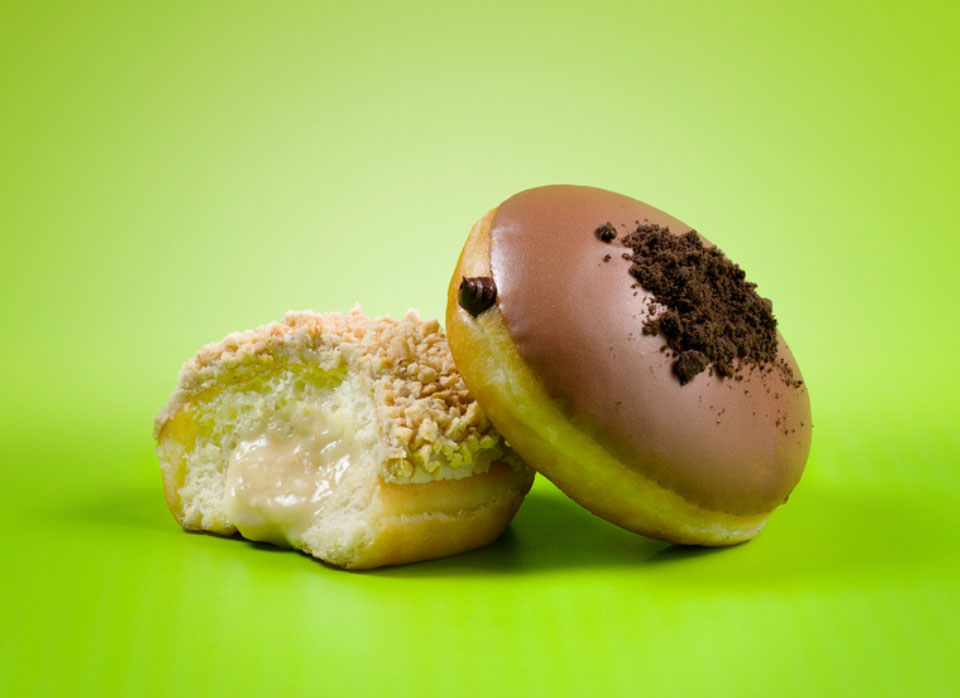 Krispy Kreme
"At 7-Eleven, we want to make every day easier for our customers, giving more choice to our customers across a range of iconic hero products," Adam Jacka, 7-Eleven Australia Marketing Lead, said in a statement. "A growing number of our customers have a vegan or plant-based diet, so we are thrilled to be stocking the new Krispy Kreme vegan-friendly range."
The doughnuts were initially introduced by Krispy Kreme on World Vegan Day (November 1) but were created to cater to all customers.
"Krispy Kreme has always been about creating moments of joy through our delicious doughnuts," Aimee Cutajar, Krispy Kreme ANZ's Head of Marketing, said in a statement. "We're thrilled to bring our vegan-friendly doughnuts to Australia for all to enjoy this World Vegan Day."
The Fudge Brownie Bliss is stuffed with a decadent brownie filling, dipped in smooth chocolate icing, and finished with a topping of chocolate cookie crumbs. This flavor is a limited-time offering, ending on December 4.
Then there's the Apple Custard Crumble for those yearning for a comforting, old-fashioned treat, that features apple custard, comes coated in spiced icing, and topped crumbed with vanilla cookies. This flavor is joining the permanent roster of Krispy Kreme's offerings.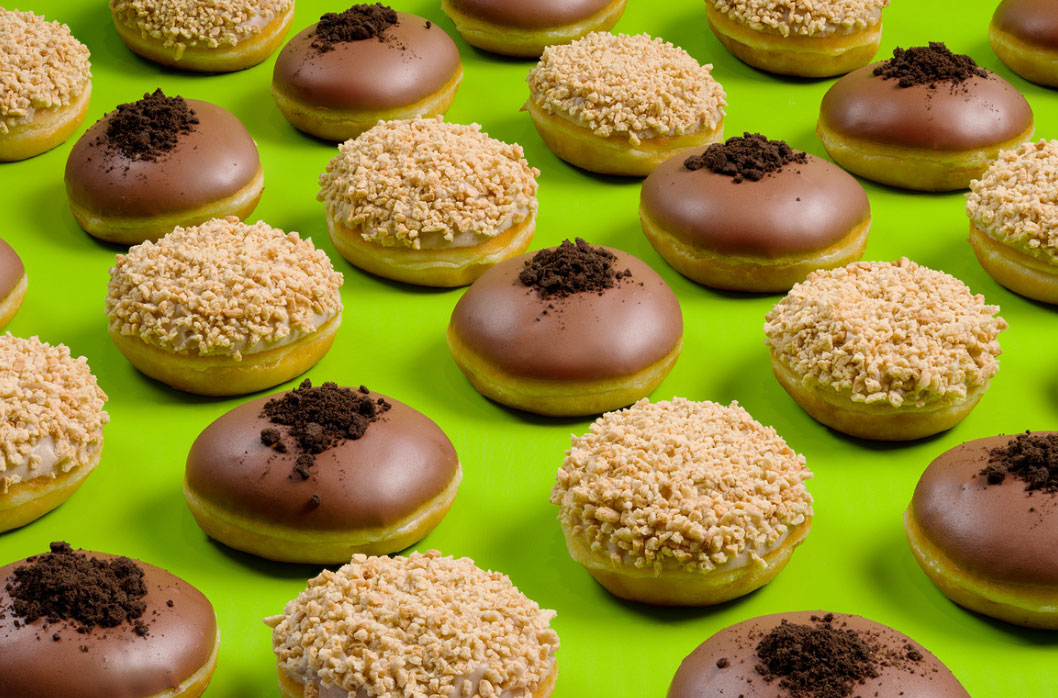 Krispy Kreme
"Fudge Brownie Bliss and Apple Custard Crumble are also a testament to our commitment to delivering incredible flavors to our customers, and I'm confident they will captivate the taste buds of vegans and non-vegans alike," Cutajar said.
Krispy Kreme previously launched vegan doughnuts in other regions, including two in the United Kingdom in 2021. Here's to hoping that 2024 is the year the United States gets its very own vegan Krispy Kreme doughnut (or 10).
For the latest vegan news, read: