This holiday season, Starbucks is embracing new dairy-free beverages—two of which are vegan without modifications. First up is a brand new beverage: the Oleato Gingerbread Oatmilk Latte.
Starbucks first unveiled the Oleato platform at select stores in February which features beverages made with arabica coffee infused with Partanna cold-pressed, extra virgin olive oil. The concept was inspired by Starbucks CEO Howard Schultz's love for Italian coffee culture and the Mediterranean tradition of daily olive oil consumption for vitality.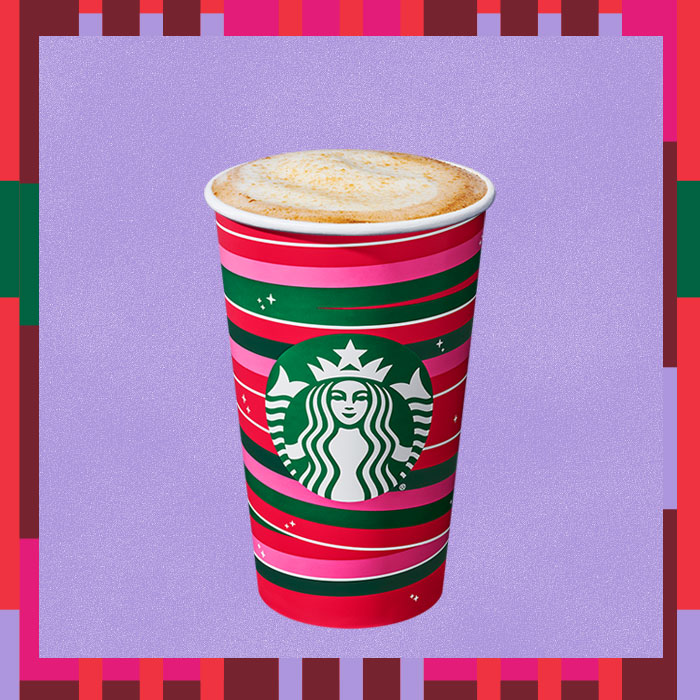 Starbucks
The Oleato Gingerbread Oatmilk Latte, the first vegan Starbucks holiday beverage under its new Oleato platform, was developed with the best of the holiday season in mind: gingerbread and freshly baked olive oil cake.
"The combination of the Starbucks Blonde Espresso with the steamed oat milk infused with olive oil is nice and balanced with the gingerbread syrup uplifting all those spice notes," Billy Altieri, senior product developer for Starbucks, said in a statement.
"It's cozy and warming with an enjoyable dash of holiday flavors," Altieri said.
This drink also features a dusting of ginger that contains notes of tangerine and gingersnap for a citrusy finish that evokes holiday cookies.
"A lot of Italian desserts use citrus flavors during the holidays," Alteri said. "It was an opportunity to blend the spices with the olive oil and the citrus was the ingredient that really brought these flavors together."
This vegan take on the popular Gingerbread Latte—first introduced at Starbucks during the 2000 holiday season—is available at locations where Oleato drinks are sold.
Starbucks' first vegan holiday drink returns
Also on the Starbucks menu this holiday season is the Iced Sugar Cookie Almondmilk Latte, a returning beverage Starbucks initially launched in 2021 as its first vegan holiday drink.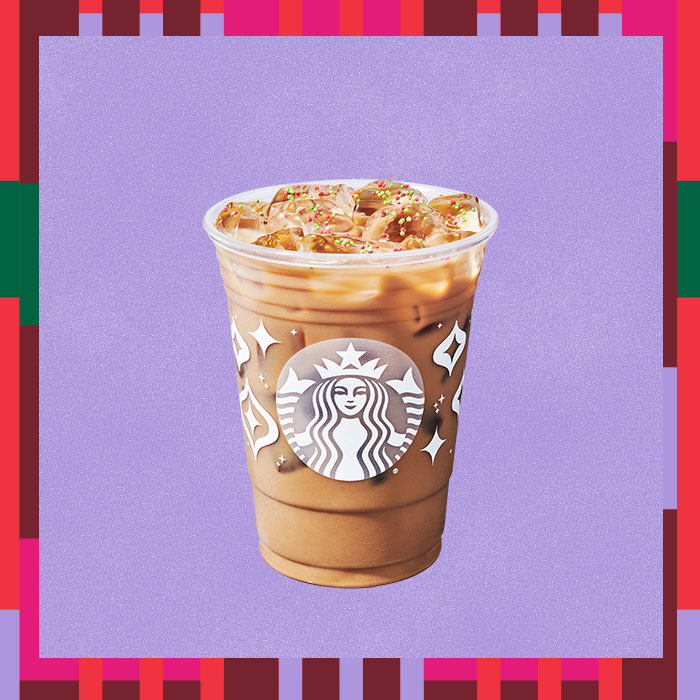 Starbucks
This beverage draws inspiration from German "spritzen" sugar cookies and is composed of sugar cookie-flavored syrup, Starbucks Blonde Espresso, and almond milk, garnished with colorful red and green cookie sprinkles. The drink was originally conceived by Erin Marinan from Starbucks R&D along with Starbucks employee Sara Bennett.
"Almond is used quite a bit in baking. The almond flavor from the almond milk makes for a natural pairing with the nutty notes in Starbucks Blonde Espresso," Marinan said. "We also wanted to harness the buttery and vanilla notes of the cookie, which you can pick up in the aroma from that first sip from the sugar cookie flavored syrup and sprinkles."
"It reminds me of making cookies with my mom and sisters growing up," Marinan said. "It gives me all the nostalgic feels of the holiday."
Also new to the Starbucks seasonal holiday beverage menu this year is the Iced Gingerbread Oatmilk Chai. While this beverage is not made with dairy, it contains honey in its core ingredients and cannot be ordered entirely free from animal products.
However, Starbucks' new seasonal Chestnut Praline Latte can be modified to be entirely plant-based by ordering it with vegan milk and no whipped cream, a Starbucks spokesperson confirmed to VegNews.
Starbucks' new seasonal beverages—and its famed holiday cups—will launch in-store on November 2. Even when they do not contain animal products, Starbucks notes that it does not label its drinks as "vegan" due to cross-contamination concerns.
Starbucks' vegan milk upcharge is still a roadblock
Starbucks is working toward becoming a resource-positive entity by 2030 and has been implementing various eco-friendly initiatives, such as its Greener Stores program launched in 2017.
While Starbucks' North American outlets have been slow to adopt an extensive plant-based menu, the company continues to experiment with plant-based offerings, including its new dairy-free holiday beverages. This year, Starbucks also brought back its first vegan fall drink, the Apple Crisp Macchiato, to its US stores.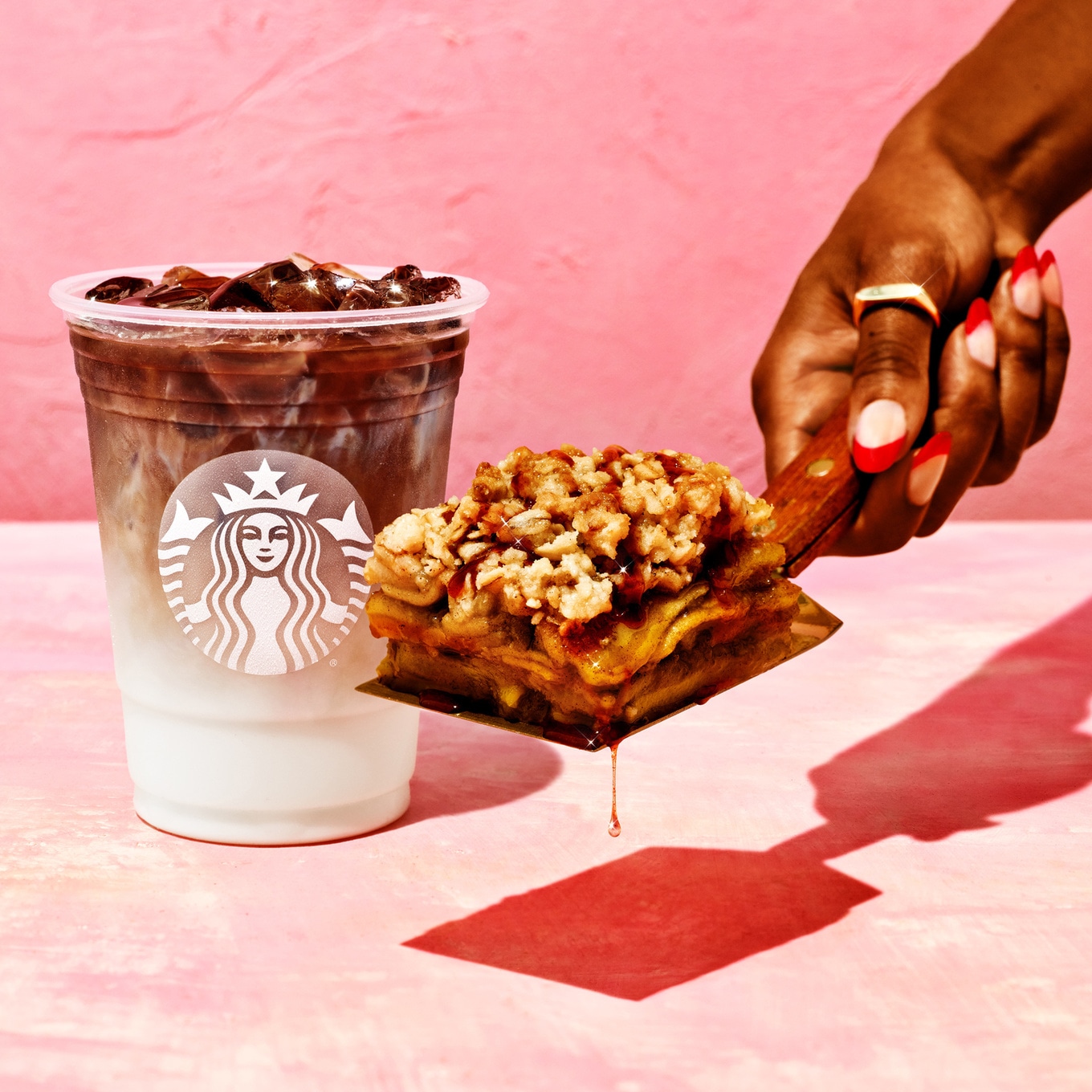 Starbucks
However, the bulk of its carbon footprint comes from the dairy it serves at its more than 35,000 stores worldwide. From Sir Paul McCartney to James Cromwell to Alicia Silverstone, activists continue to push for Starbucks to drop its vegan milk upcharge in the US—where it operates the majority of its stores—as a way to remove cost barriers for customers looking to make more eco-friendly milk choices.
The Carbon Disclosure Project (CDP) evaluates companies based on their response to the climate crisis and in 2023, People for the Ethical Treatment of Animals (PETA) is urging the company to consider Starbucks' vegan milk upcharge as a hindrance to its sustainability commitments.
In its recent letter to Paul Dickinson, founder and chair of the CDP, PETA highlights that cow's milk production results in nearly triple the greenhouse gas emissions, consumes nine times as much land compared to plant-based milk, and contributes to methane emissions equivalent to burning 125 gallons of diesel fuel per cow each year.
"Starbucks' upcharge discourages customers from choosing animal- and planet-friendly vegan milks and proves that the company is more concerned about its bottom line than its role in the climate catastrophe," PETA Executive Vice President Tracy Reiman said in a statement.
The letter also points to ethical concerns, including PETA's investigations revealing the cruel treatment of cows in the dairy industry, to support its request for CDP to account for Starbucks' practices in its climate evaluation.