It seems that every week in the world of vegan food news is more exciting than the last, and this week is no exception. Before we head full force into the holiday season, we must pause for a second for National Sandwich Day. Thankfully vegan deli meat company Prime Roots has a great giveaway to celebrate.
When it comes to holiday beverages, this year we're spoiled for choice with a returning favorite (Misunderstood Whiskey Co.'s Hard Oat Nog) and a newcomer (Califia Farms' Matcha Almond Latte).
Plus, dessert chain Milk Bar has a special sweet treat this year that pairs perfectly with whichever beverage you choose. Read on for more.
1National Sandwich Day, the vegan way
Today isn't just any Friday: it's National Sandwich Day and the good folks over at Prime Roots—which make delicious vegan deli slices—have conjured up the best way to celebrate.
The company will offer rebates for 1,000 free sandwiches made with its koji-based meats at select delis, grocers, and sandwich shops in the San Francisco Bay Area, Portland, OR, and New York City.
The company has collaborated with award-winning chefs to develop a range of vegan deli meats, including variations like cracked pepper turkey, black forest ham, salami, and pepperoni.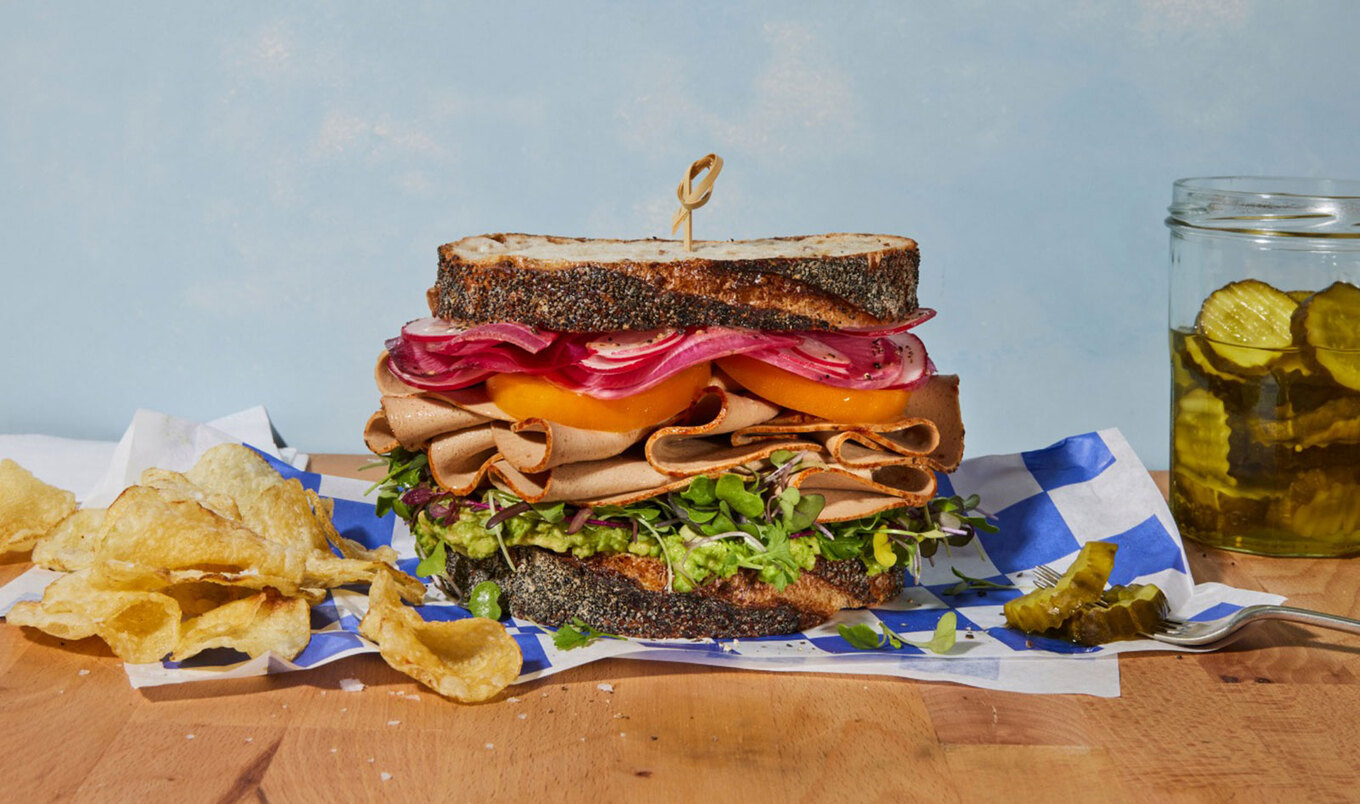 Prime Roots
These products are designed to replicate the taste and texture of traditional meats and are free from nitrates, hormones, antibiotics, cholesterol, and top nine allergens. They are also non-GMO and gluten-free.
"Every day is Sandwich Day at Prime Roots and now is the time to try plant-based deli cuts for an easy swap from conventional animal meat on your favorite sandwich," Kimberlie Le, co-founder and CEO of Prime Roots, said in a statement.
"Consumers want tasty, clean, and planet-friendly options and fresh, sliced-to-order is always best when it comes to making the most delicious sandwiches," Le said.
Customers can sign up and redeem this offer through Prime Roots' website, and a photo of the receipt is required for reimbursement up to $18.99.
2Korean vegan jerky
If you're craving more meaty news, Korean company Unlimeat has just the thing with the return of its toothsome vegan jerky. Back on Amazon nearly a year after the product sold out, the jerky comes in two flavors: Korean BBQ and Smoky Chili. Developed with soy protein, the snack aims to mimic the taste and texture of traditional animal-based jerky.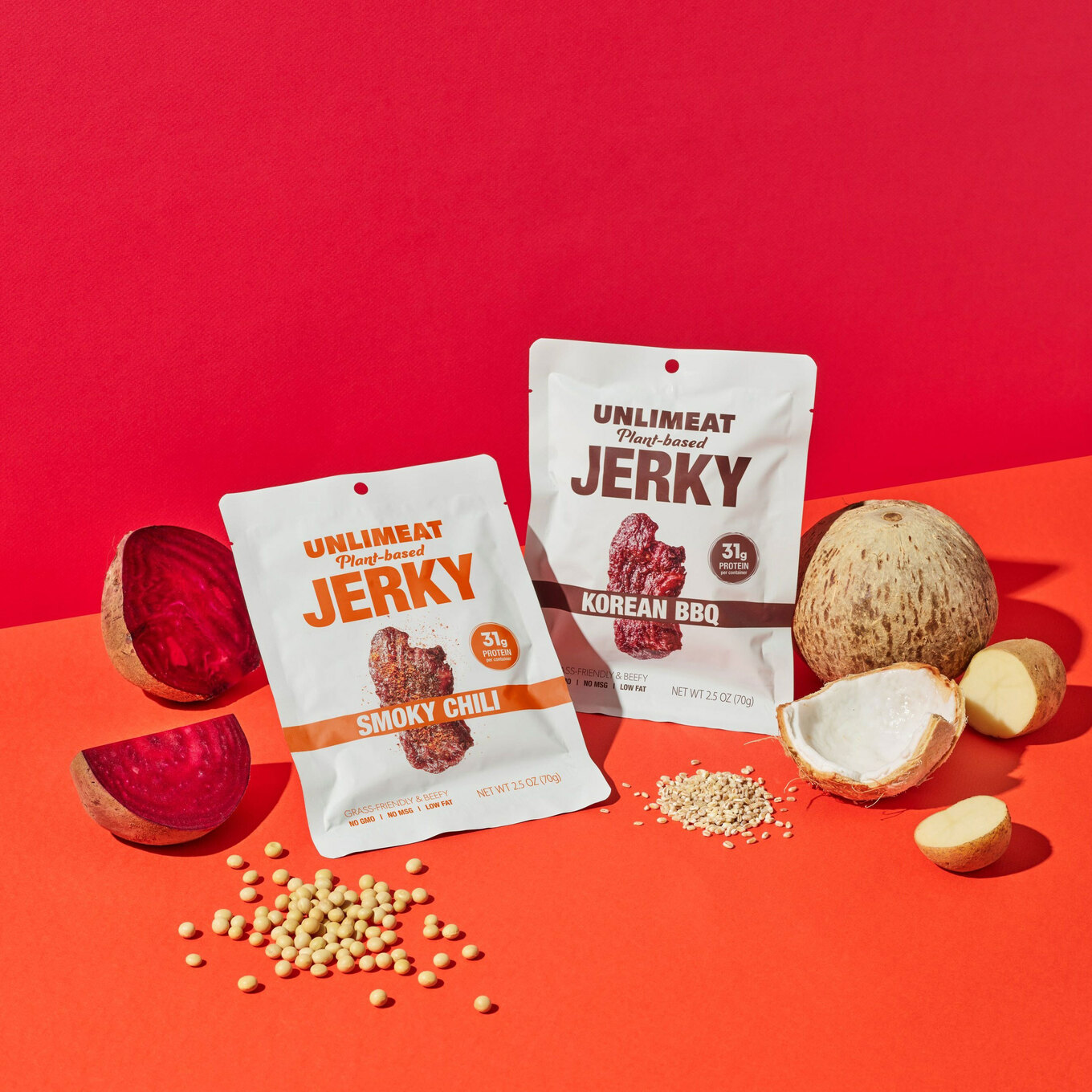 Unlimeat
Nutritionally, this vegan jerky offers 31 grams of protein per bag, similar to traditional beef jerky, and contains no trans-fat or cholesterol. The product is colored with natural ingredients such as beets and pomegranates and avoids artificial seasonings. It caters to various dietary preferences, including low-carb and paleo diets.
The relaunch comes as the jerky market, estimated to be worth $6.5 billion globally by 2027, faces challenges related to processed beef and artificial ingredients.
"We are thrilled to be back on Amazon with our upgraded gourmet jerky," an Unlimeat spokesperson said in a statement. "We dedicated additional time to testing and developing a safer and healthier product."
"We hope that not only people on plant-based diets but also meat lovers can savor our jerky," the spokesperson said.
Priced at $28.99 per box of six packs, the jerky is now double-packaged for added stability and is enclosed in an aluminum pouch for protection against sunlight and moisture.
3Milk Bar's new PB Crunch Pie
Milk Bar, a bakery chain founded by pastry guru Christina Tosi, has introduced a new vegan and gluten-free option to its national offerings: the Chocolate Peanut Butter Crunch Pie. A brand long associated with innovative desserts such as Compost Cookies and Cereal Milk, Milk Bar continues to stretch its creative boundaries with this new offering.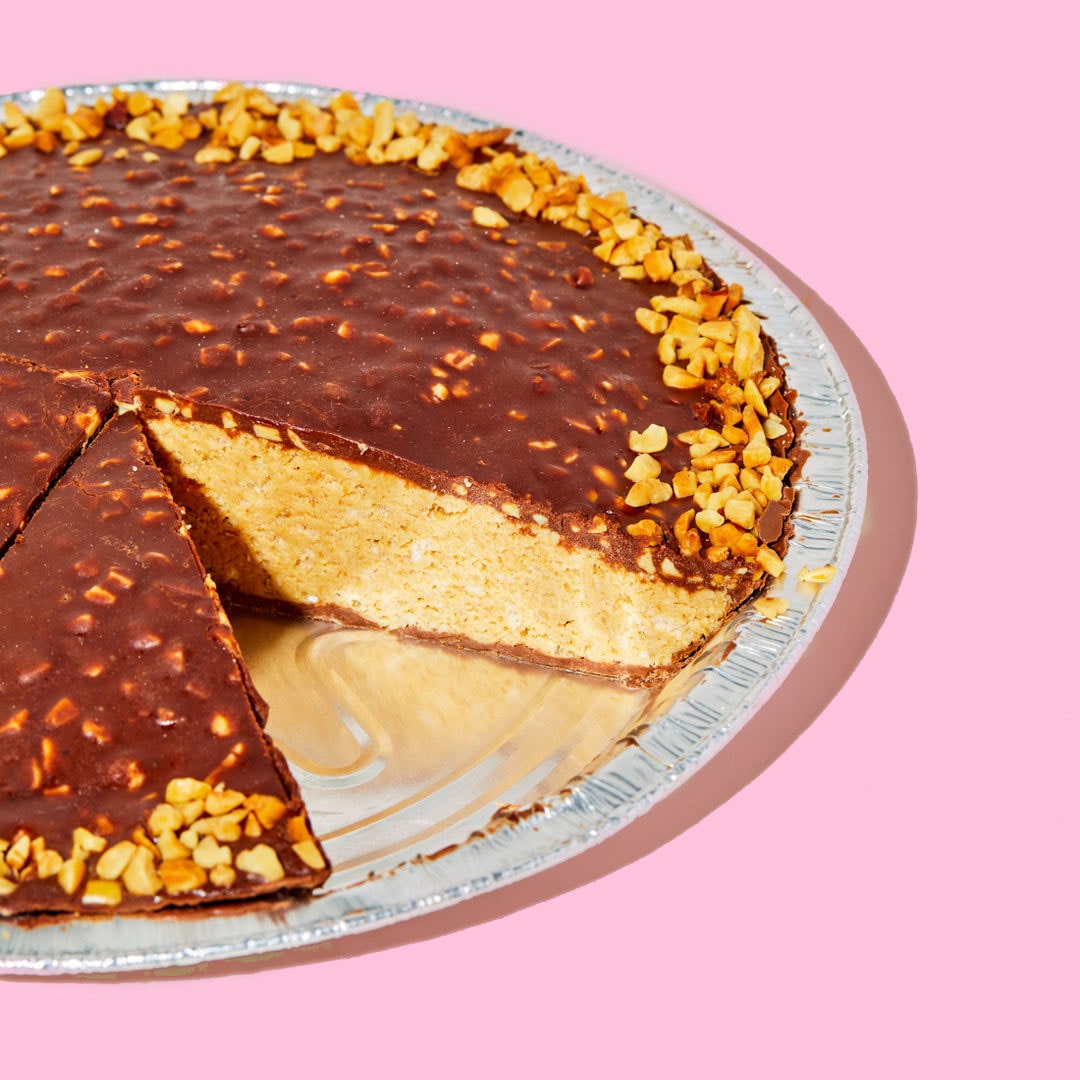 Milk Bar
Following the Tosi ethos of being "relentless to a fault," the Chocolate Peanut Butter Crunch Pie is crafted with a mix of high-quality ingredients such as creamy peanut butter, rice cereal, and cocoa paste.
The pie features a smooth chocolate shell filled with a crunchy combination of peanut butter and toasted rice cereal, topped off with a salty-sweet chocolate-peanut coating.
The Chocolate PB Crunch Pie reflects Tosi's personality as an "overachiever" and a "giver," presenting a pie that is vegan and gluten-free but uncompromising in taste and texture.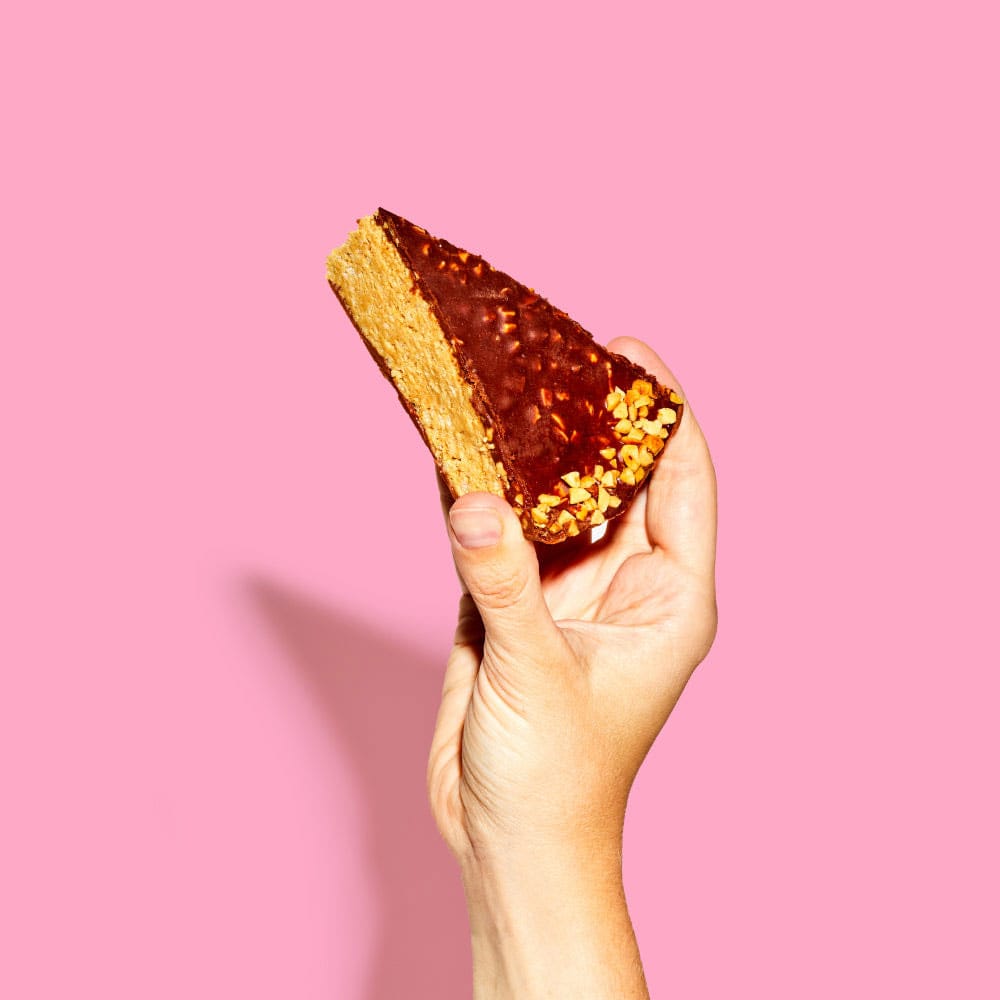 Milk Bar
With the new vegan offering, Tosi—who says she "believes in sharing more of the hilarious, magical, rule-breaking world"—has extended Milk Bar's appeal to a broader audience while staying true to its commitment to quality and creativity.
The vegan Chocolate PB Crunch Pie ($53, plus shipping and handling) is available for delivery nationwide through the Milk Bar store website.
4Hard oat nog
Milk and eggs in eggnog are out. What's in? Oat milk and a good dose of booze, according to Misunderstood Whiskey Co., maker of America's only vegan Hard Oat Nog—which is back this year after its sell-out success last holiday season.
"We're thrilled to relaunch our seasonal dairy-free hard Oat Nog and continue to redefine holiday celebrations to be more inclusive for those with dietary preferences," J.D. Recobs, co-founder of Misunderstood Whiskey Co., said in a statement.
The ready-to-drink beverage was first introduced in the fall of 2022 and contains 14 percent alcohol by volume. Created to cater to consumers with various dietary restrictions, including those who are dairy-free, gluten-free, egg-free, and nut-free, the Hard Oat Nog uses Misunderstood's Ginger Spiced Whiskey and sustainably sourced oat milk as its base ingredients.
Misunderstood Whiskey Co.
"We completely sold out last year so we're happy to have increased our production and make holiday entertaining easy by providing a delicious beverage that both dairy and non-dairy guests can enjoy," Chris Buglisi, co-founder of Misunderstood Whiskey Co., said in a statement.
The Hard Oat Nog is available for a limited time in select retailers and online for $23.99.
5Califia Farms' new matcha latte
As soon as we heard that Califia Farms launched a new Matcha Almond Latte, we ran to Target, where the green-hued beverage is stocked alongside other Califia favorites in the refrigerator section.
This new beverage is made with a blend of creamy almond milk and indulgent matcha green tea powder and is quite versatile. You can pour it over ice, blend it into a smoothie, froth it up into a hot drink, or incorporate it into a dessert—we think vegan matcha cheesecakes might be in the works.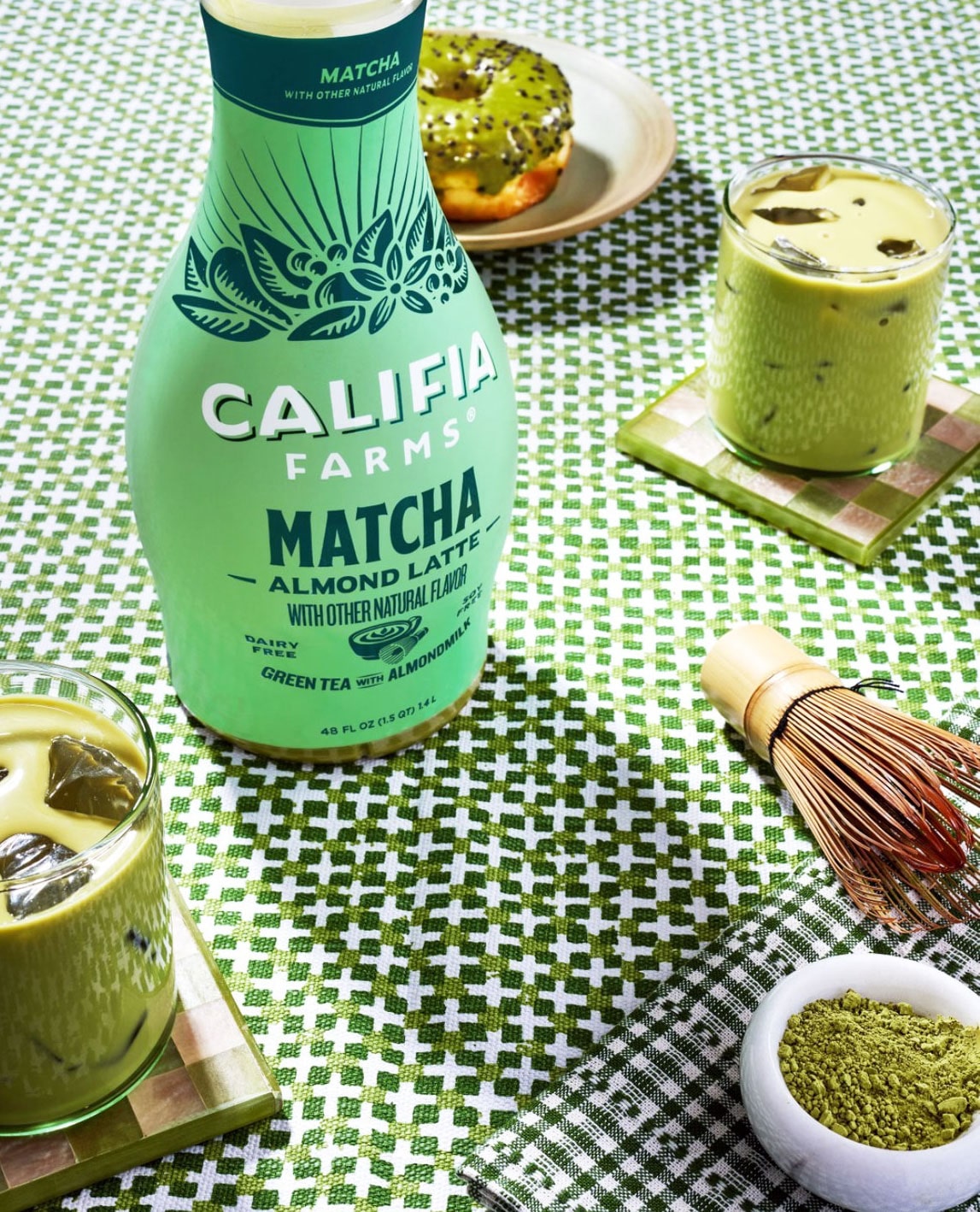 Califia Farms
Plus, this ready-to-drink format means no matcha whisk is required to get the full experience. We're just hoping that adding matcha to the holiday drink rotation won't make our peppermint or gingerbread lattes too mad.
For the latest vegan news, read:
Here at VegNews, we live and breathe the vegan lifestyle, and only recommend products we feel make our lives amazing. Occasionally, articles may include shopping links where we might earn a small commission. In no way does this effect the editorial integrity of VegNews.