Can vegan cheese ever mimic the taste of dairy? One company is convinced that it has cracked the code for dairy-identical vegan cream cheese and is helping consumers make the switch with a fun $200 sweepstakes. And this groundbreaking vegan cream cheese isn't made by just any company.
The company behind Nurrissh Incredible Dairy, the vegan cream cheese in question, is Bel Brands USA—known for The Laughing Cow, Babybel, and Boursin—and the US arm of French company Bel Group, which has been making dairy cheese products for more than 150 years.
"We know people are looking to make better choices every day, which is why we're excited to reward them for making one small switch to animal-free cream cheese with our Cream Cheese Credit," Florian Decaux, Plant-Based Acceleration Director at Bel Brands USA said in a statement. "Nurishh Incredible Dairy is perfect for flexitarians and dairy lovers alike who are looking for an alternative dairy option, without having to compromise on taste or texture."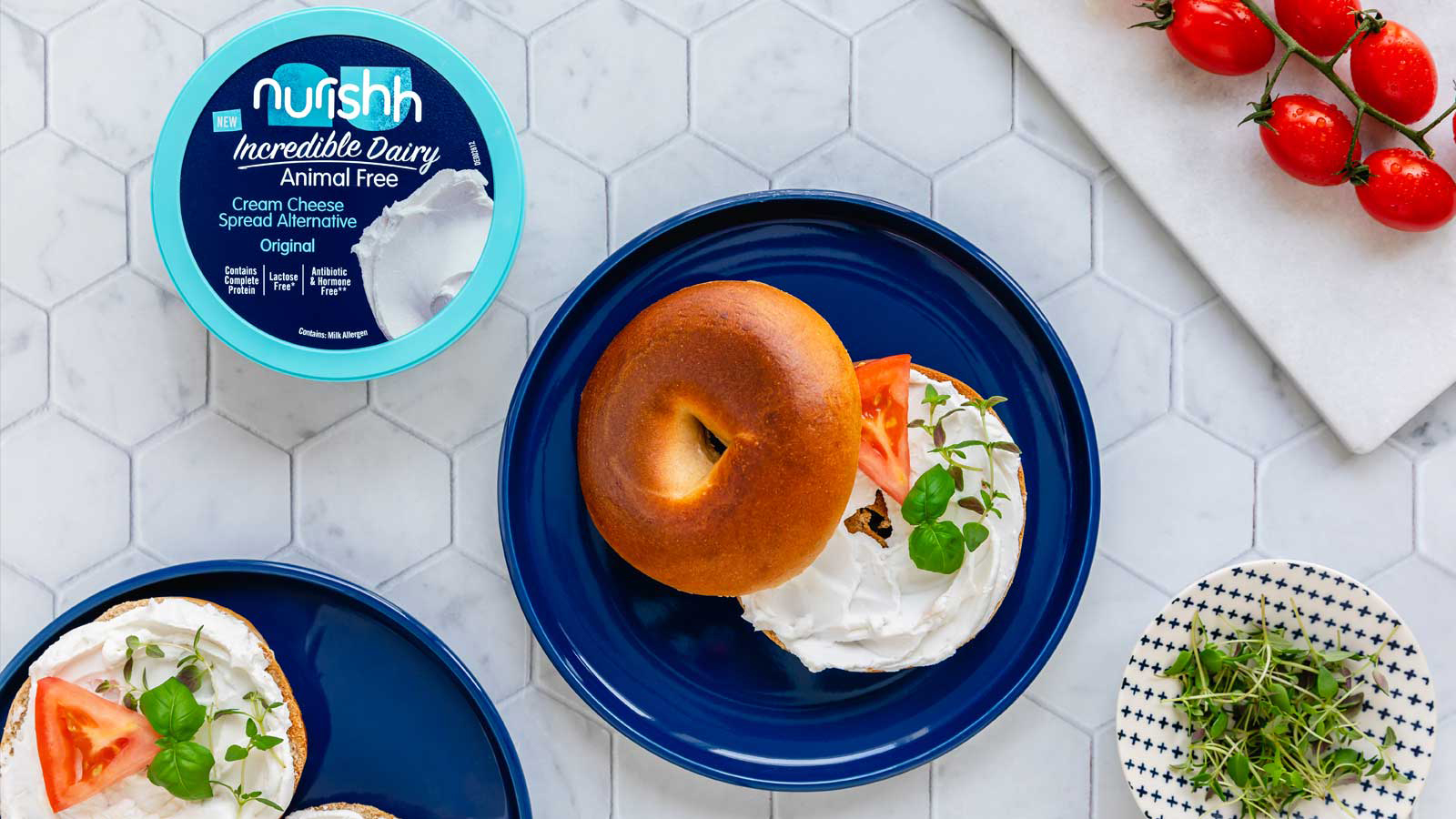 Bel Brands USA
An estimated 204 million consumers in the United States will eat a bagel this year and Bel hopes that its campaign helps at least some of these consumers to choose vegan cream cheese.
Interested in making the switch? Bel is giving away $200 (sent directly as a credit through Venmo or PayPal) and a year's supply of its Nurrish Incredible Dairy line to 250 customers who purchase one (or all three flavors) of the vegan cream cheese at Kroger and upload their receipts to CreamCheeseCredit.com by February 21.
An additional 2,500 winners will receive a free tub of Nurishh Incredible Dairy.
Cream cheese perfected with animal-free whey
How did this dairy-identical vegan cream cheese come to be? Bel Group announced in 2020 that it would create plant-based versions of its iconic cheese products. While exploring this space, its US arm also launched its own dairy-free brand Nurishh with six flavors in slices and shreds in 2021.
Bel has been expanding this brand since and last year, released its innovative line of Nurishh vegan cream cheeses made in partnership with Perfect Day—a California company that makes real milk proteins without the cow through precision fermentation. The vegan cream cheese line is now available in Original, Strawberry, and Chive & Onion flavors at Kroger stores nationwide.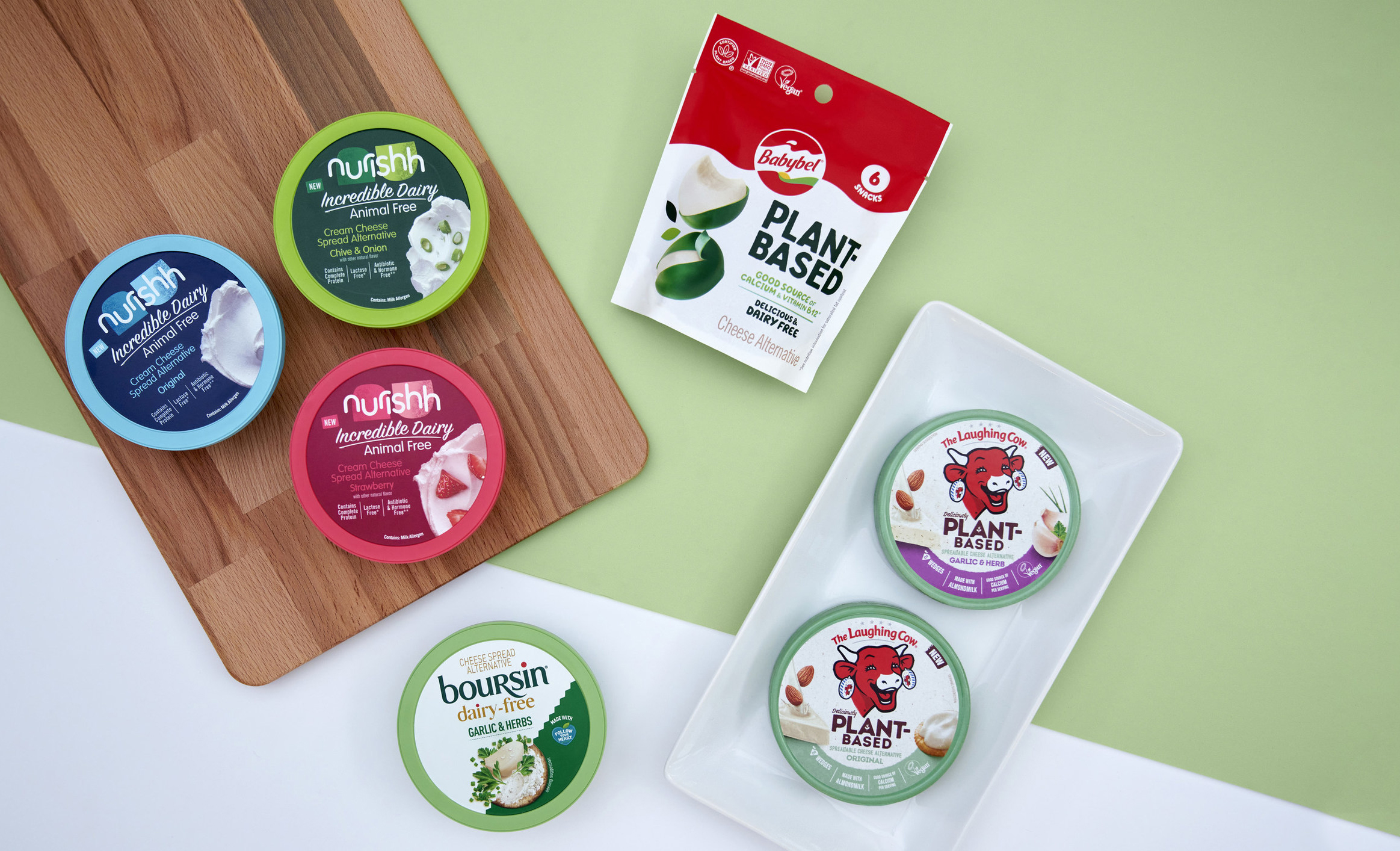 Bel Brands USA
The Nurishh Incredible Dairy cream cheese has already gained support from celebrity chef Spike Mendelsohn who has been exploring the product line since last year. Known for his appearances on Bravo's Top Chef, the chef also owns vegan fast-food chain PLNT Burger.
"As someone who practices a flexitarian diet, it's been tough to find plant-based alternatives that meet all of my expectations on flavor, texture, and usability in recipes. And that's especially true when it comes to cheese," Mendelsohn said in a statement.
"For a great cream cheese, I am looking for that delicious rich taste and spreadability," Mendelsohn said. "Nurishh Incredible Dairy Cream Cheese Spread hits on what I've been craving, not only for my morning bagels, but for my restaurant dishes, too."
Outside of its Nurishh brand, Bel is also exploring the wondrous world of microbial fermentation with another partner Superbrewed Foods. This Delaware-based company produces a fascination post-biotic microbe that works to improve dairy and dairy-free formulations in metrics such as functionality, nutrition, and sustainability.
Vegan Babybel for Valentine's Day
As promised back in 2020, Bel Brands released vegan versions of all their classics, starting with Boursin Dairy-Free (which it made together with vegan company Follow Your Heart. In 2021, Bel delighted fans with the launch of a plant-based version of its Babybel snackables cheeses and followed it up with a 2022 unveiling of almond milk-based Laughing Cow wedges in two flavors: Original and Garlic & Herb.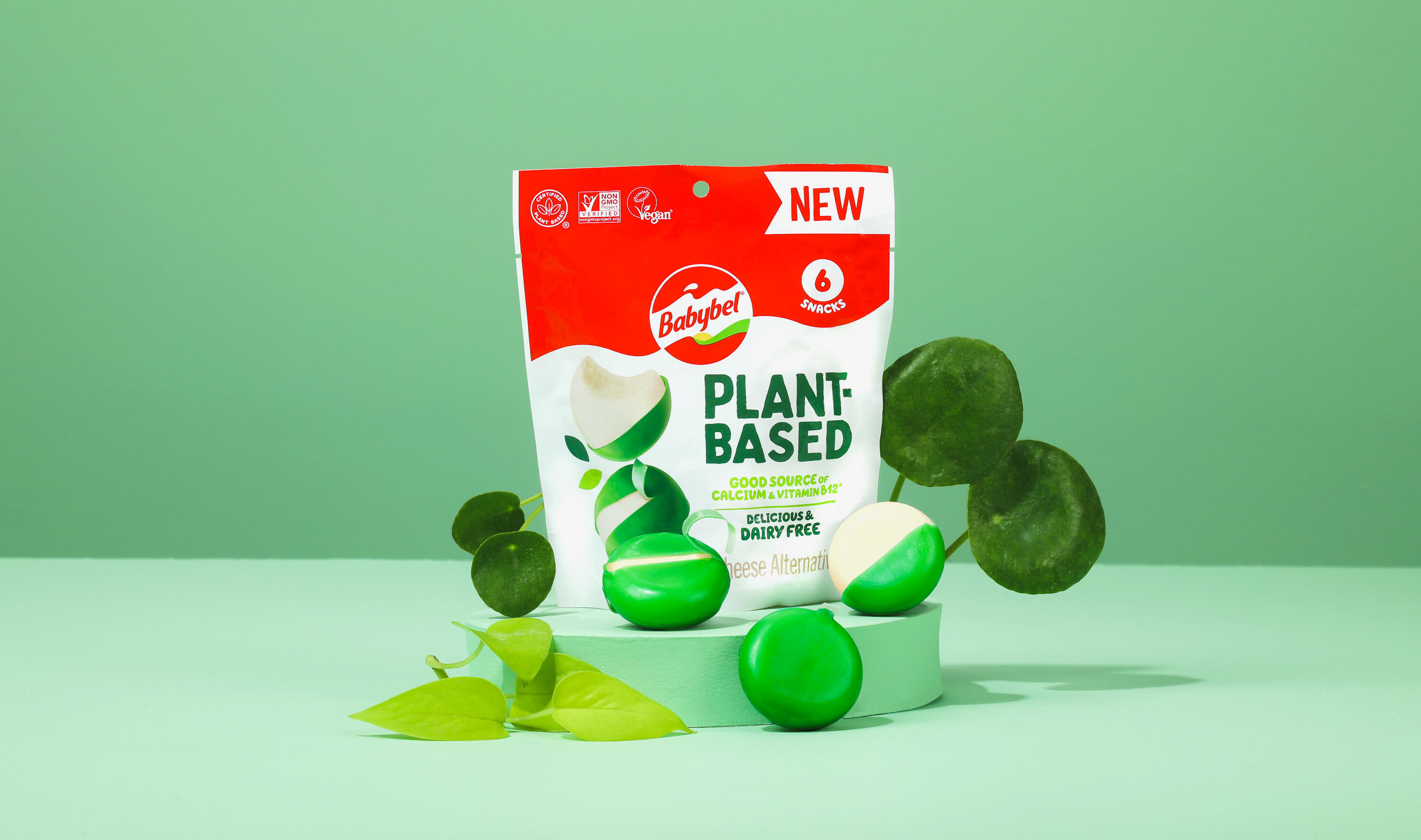 Bel Brands USA
And Bel is now investing in promoting these plant-based innovations with exciting campaigns. The Nurishh campaign comes on the heels of a Valentine's Day campaign Bel launched last week together with actor Jason Biggs (of American Pie fame) and wife Jenny Mollen.
Similar to the Nurishh campaign, the Babybel 'First Time' Experience was created to help consumers try the new Babybel Plant-Based with a sweepstakes that gives consumers a chance to win kits curated by Biggs, Mollen, and Babybel.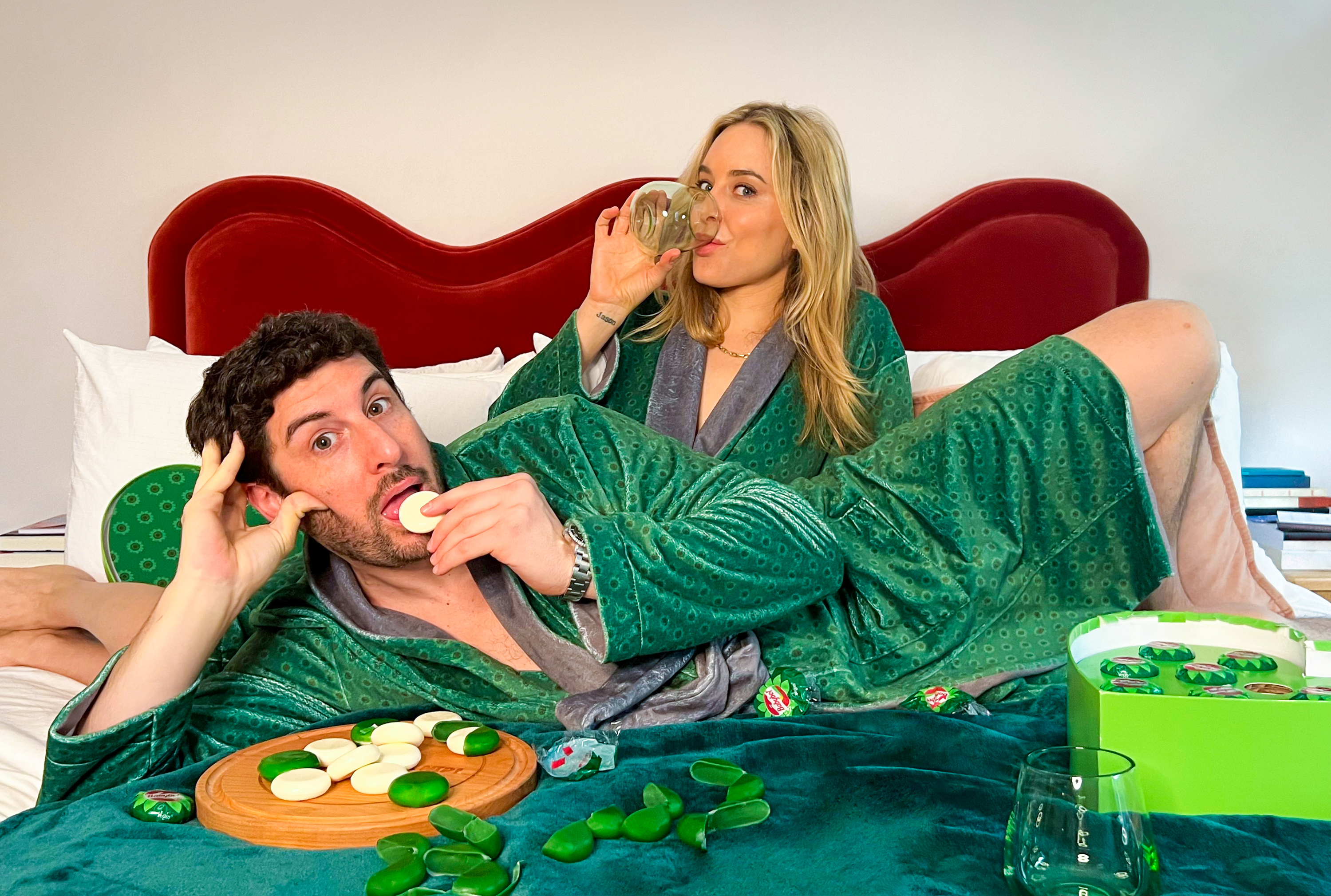 Bel Brands USA
Winners of the campaign (which ends on February 8 at 11:59pm) will receive an exclusive Babybel heart-shaped box filled with plant-based cheese, a set of wine glasses, cheese snacking board, two matching robes, and a cozy blanket. Bel hopes that this promotion helps get Babybel Plant-Based—which has already more than doubled sales expectation— in the hands of even more customers.
Together, these two campaigns represent a new era at Bel Brands, where both dairy and vegan cheeses get their time in the spotlight.
"It's been an exciting time for Bel Brands USA with the recent launches of both Babybel Plant-Based and Nurishh Incredible Dairy Animal Free—pioneering products that are advancing the alternative dairy category in terms of flavor, texture, and accessibility," Decaux tells VegNews.
"We've seen tremendous consumer response from cheese lovers and flexitarians alike, and now campaigns like the Nurishh Cream Cheese Credit and Babybel First Time Experience help us to inspire even more people to try these delicious offerings for themselves," Decaux says.
For the latest vegan news, read: