It seems that every week in the world of vegan food news is more exciting than the last and this week is no exception. Impossible Foods is expanding its vegan chicken line with spicy patties and nuggets (plus tenders) and we're excited for the snacking possibilities. Oatly's first vegan cream cheese is—and the company stresses—made in Philadelphia. And Coffee-Mate's Natural Bliss line is breaking out of vegan creamers into new oat milk territory. Read on for more.
1Impossible Foods expands vegan chicken line
Impossible Foods may best be known for its flagship Impossible Burger but its plant-based chicken line is becoming a big deal, too. The company first entered the category with Impossible Chicken Nuggets in 2021 in the foodservice sector with notable launches at popular restaurants and AMC theaters. The company unveiled fun wild animal shapes of the nuggets soon after and added a crispy patty to the line in 2022.
This week, Impossible is expanding its vegan chicken line even further with three exciting new products: Spicy Chicken Nuggets, Spicy Chicken Patties, and Chicken Tenders.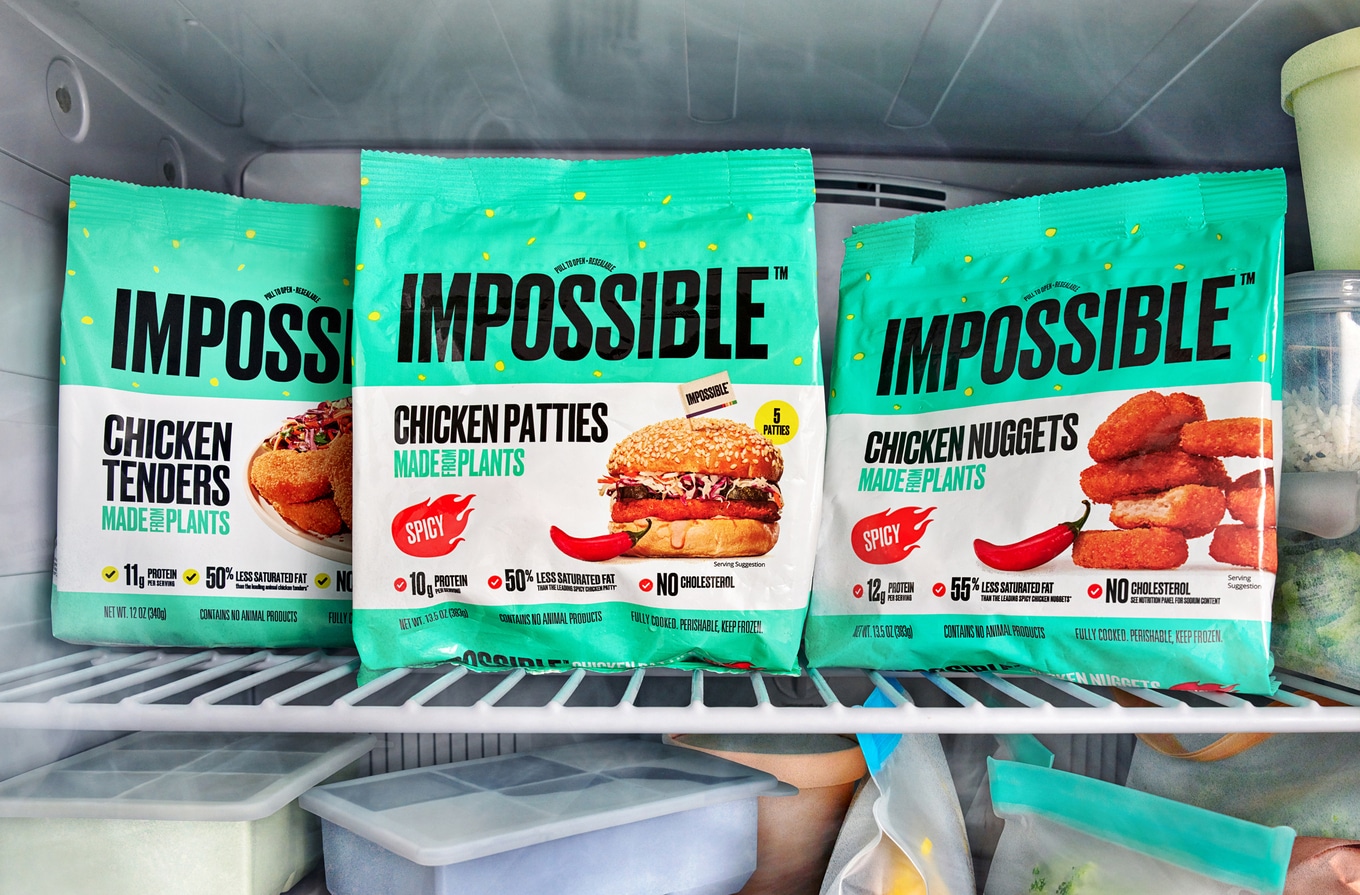 Impossible Foods
"Our chicken products caught on fast with consumers, and they've served as a successful entry-point to our brand," Sherene Jagla, Chief Demand Officer at Impossible Foods, said in a statement. "In retail, our original nuggets are leading the plant-based chicken category in dollar sales, and in food service, consumer."
The new vegan chicken products are hitting select retailers this month with a wider rollout planned for coming months. Impossible's new vegan chicken tenders will also hit select menus, including at vegan fast-food shop Honeybee Burger, at baseball stadium Trustmark Park (home of the Mississippi Braves), and at meat-centric restaurant WNB Factory.
2Oatly takes on Philadelphia with vegan cream cheese
Quirky vegan company Oatly is at it again with a fun new product and an equally fun way of announcing it. The brand is releasing its first vegan cream cheese in the US, which it stresses was developed in Philadelphia by a team based mostly in Philadelphia.
While a wider US launch is planned for later this year, Oatly made the announcement together with Olympic figure skating legend Tara Lipinski—a Philadelphia native—in the only city where it made sense to launch it: Philadelphia.
Patrons of Spread Bagelry and Philly's Bagels will be the first to taste Oatly's new vegan cream cheese which will be available at both of the local chains until March 31 or while supplies last.
"This cream cheese is an important step toward growing our portfolio of delicious plant-based products, and we want to first introduce it to the city it was invented in," Leah Hoxie, SVP of Innovation at Oatly North America, said in a statement.
"At its core, this is a cream cheese with deep and authentic Philadelphia roots," Hoxie said.
You know who else is making vegan cream cheese these days? Philadelphia, of course. However, it actually makes it in New York—a fact Oatly took and ran with all the way to Philadelphia.
3Macadamia milk for kids
While dairy milk continues to be limited to a few sources, the versatility of vegan milk is constantly expanding. This week, Hawaiian brand PlantBaby announced the launch of Mac Nut Kiki Milk, a kid-centric organic vegan milk made from macadamia nuts, cashews, brazil nuts, sprouted pumpkin seeds, oats, coconut sugar, coconuts, and Aquamin (marine minerals).
The new macadamia nut-based milk joins the company's portfolio of products developed to support growth from infancy to adulthood, including its original Kiki Milk which it developed specifically for children's nutritional needs.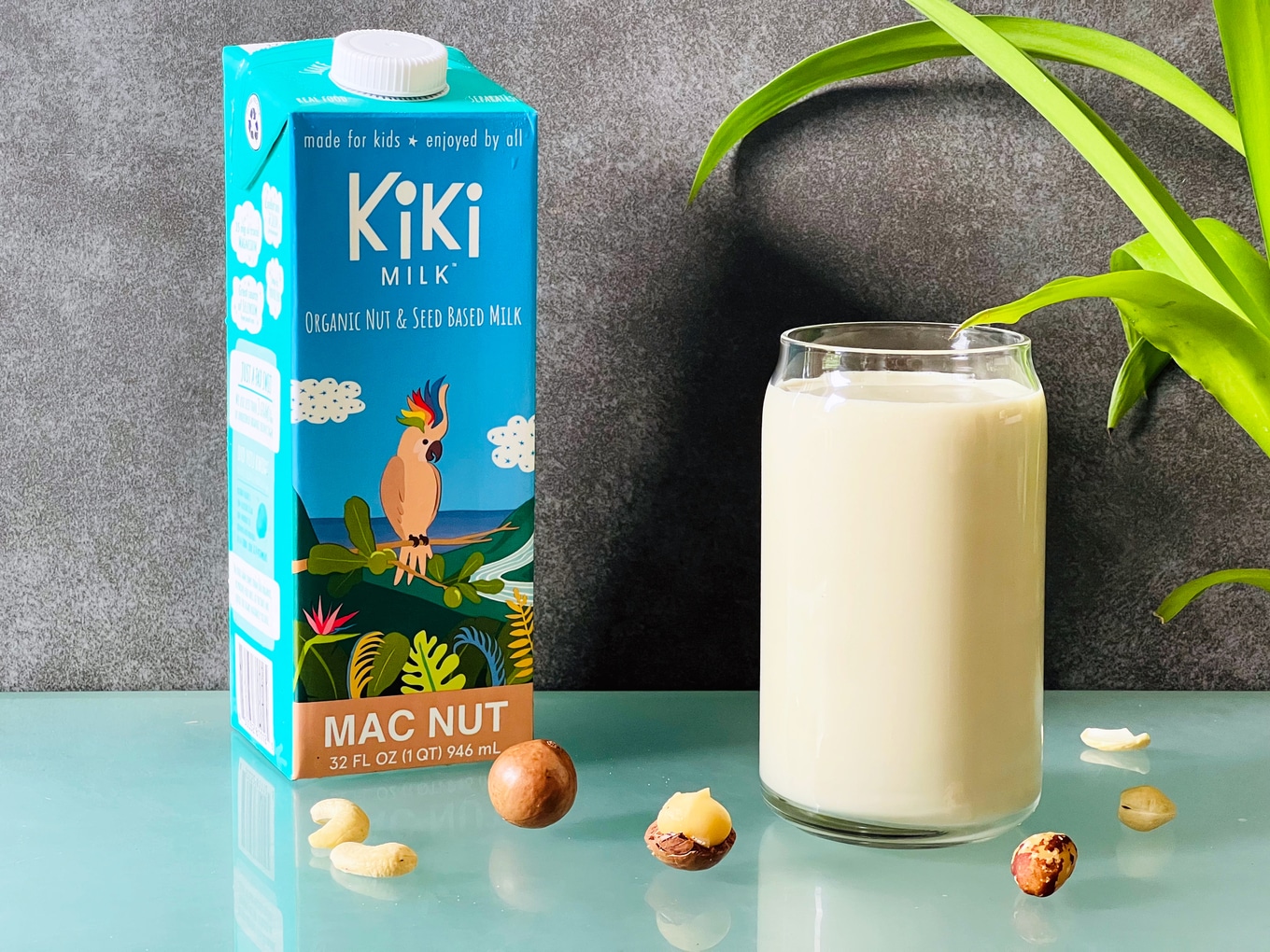 PlantBaby
"Since launching Kiki Milk in December of 2021, we've seen a consistent rise in demand for products that are free of gums, inflammatory oils, and fillers while boasting whole-food and nutrient-rich ingredients," Alex and Lauren Abelin, Co-Founders of PlantBaby, said in a joint statement.
"We realized no true, all-organic and real tasting mac nut milk has existed on the market so we wanted to change that and create a wildly delicious and nutritious product free of gums and fillers for everyone to enjoy," they said.
4Sesame Street vegan pancakes
Another company that is looking to make vegan food appealing to kids is Toronto-based Nola Baking Co., which partnered with iconic children's show Sesame Street on its newest product launch.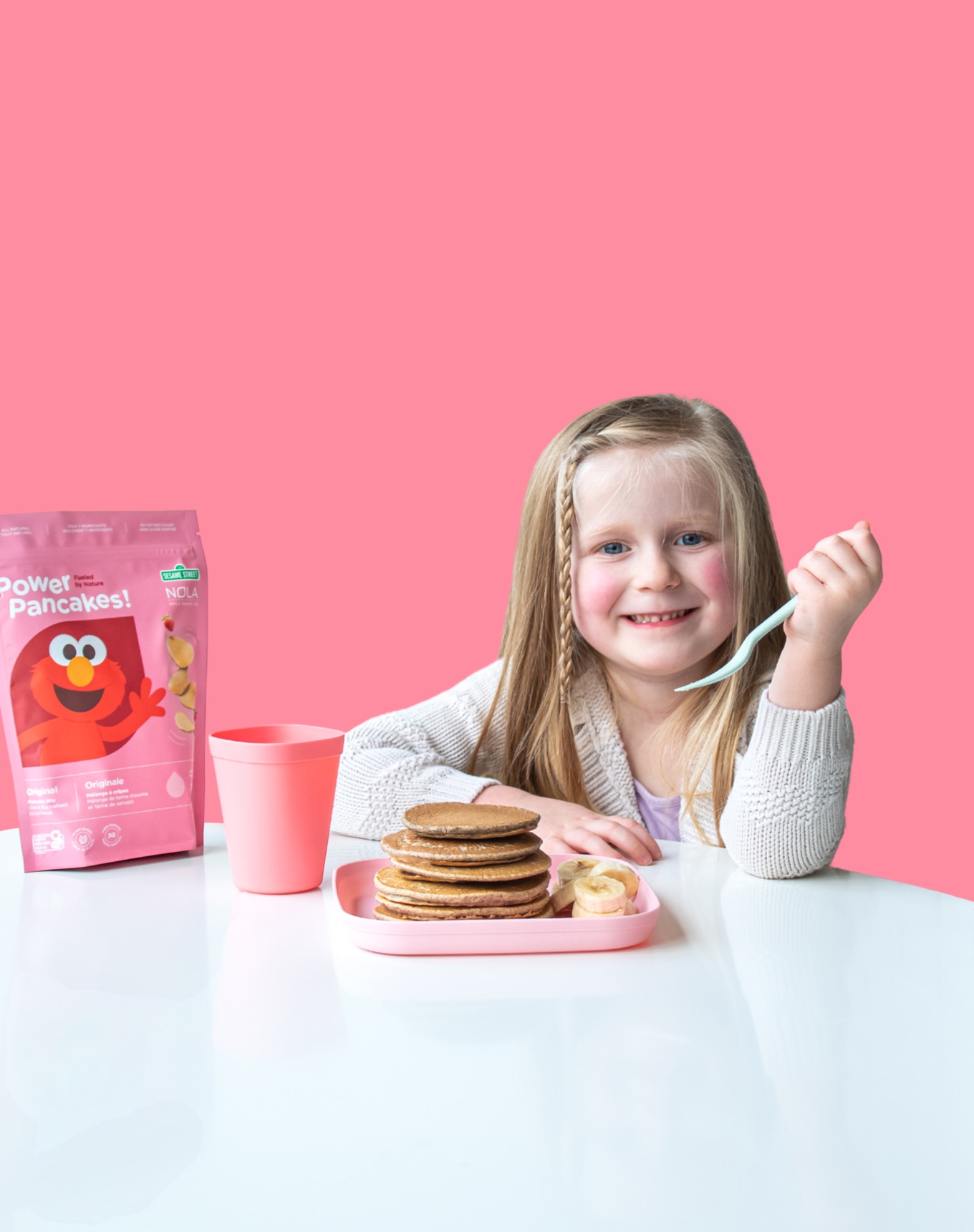 Nola Baking Co.
The company's new Power Pancakes (in Chocolate and Original flavors) and Boost Bars (made with fruit and veggies) are adorned with Sesame Street characters such as Elmo, Cookie Monster, and Big Bird and are formulated by nutritionists to help parents make healthy breakfast and snack choices for their kids.
"We're so excited to partner with Sesame Street to launch our new line of kids products," Julie Mitz, President and CEO of Nola Baking Co., said in a statement. "Beyond a love for the Sesame Street franchise, we share Sesame Street's values on the importance of good nutrition and educating families on establishing an early foundation of positive eating and lifestyle habits."
The new products are available at retailers across Canada.
5Natural Bliss gets into oat milk
Back in 2017, Coffee-Mate—a Nestlé-owned company—launched its first plant-based creamers under its Natural Bliss line in four flavors: Vanilla Almond Milk, Caramel Almond Milk, Hazelnut Almond Milk, and Sweet Crème Coconut Milk.
Since then, Natural Bliss has expanded its plant-based creamers with a variety of products, including cashew-based creamers and half & half.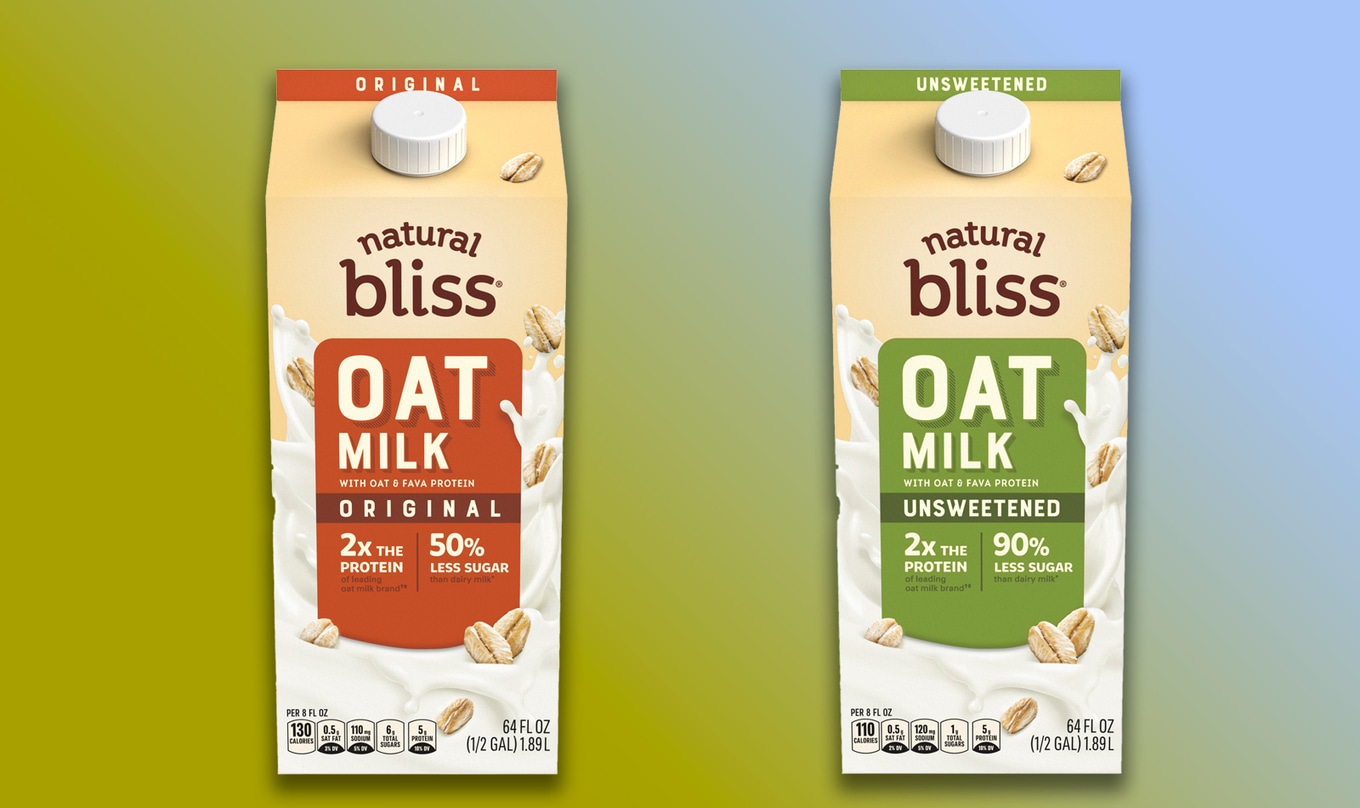 Natural Bliss
This week, the company announced its first product that is not a creamer: oat milk, a plant-based milk that just won't quit. The new line is also formulated with fava bean protein and will be available in Original and Unsweetened flavors.
"As interest in plant-based beverages continues to rise, we're thrilled to expand our natural bliss portfolio beyond the creamer aisle to introduce our first-ever ready-to-drink Oat Milk," Daniel Jhung, President of Beverage at Nestlé USA, said in a statement.
"We know our consumers seek products that are both delicious and nutritious, and this offering delivers with a first-to-market blend of oat and fava bean protein that has more protein than the leading oat milk brand, less sugar than dairy milk, and can be enjoyed in several ways, at any time of day," Jhung said.
The new Natural Bliss oat milk line will hit retailers nationwide in May 2023.
For the latest vegan news, read: