Any way you slice it, vegan meat is already a vast improvement on its animal counterpart, be it in terms of ethical considerations or carbon footprint. However, California-based vegan company Planetarians is working to further improve meat alternatives using unique processes and ingredients.
The company makes its vegan meat with a base of just two ingredients, both of which are upcycled. First, it sources soy flakes from the vegetable oil industry which give its meat a chewy texture. This is combined with an already fermented product, spent brewers yeast, creating a base that can be turned into a variety of whole-cut vegan meats.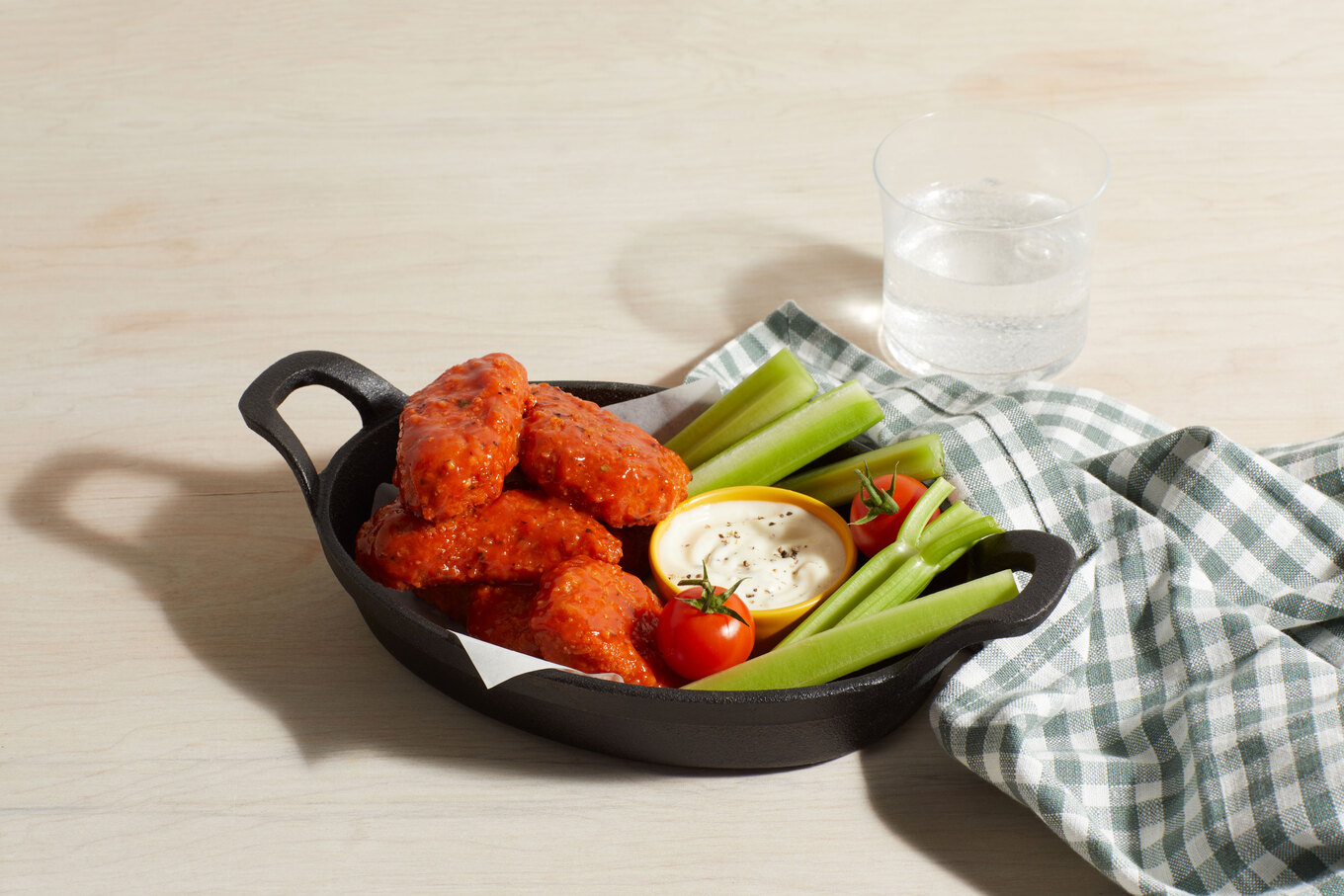 Planetarians
Not only is this process more affordable—which allows the final product to be cost effective—but the company's vegan meat has a carbon footprint that is 50 times smaller than animal meat and nine times smaller than most plant-based meat.
This month, Planetarians raised $6 million to fund its first full-scale commercial facility to meet the needs of its first customers, which are hospitality companies. Its target customers will be schools, senior care facilities, and other institutional food service providers.
"While the protein industry was developing new ways of manufacturing that poured money into expensive infrastructure," Ulvi Rashid, head of investments at capital firm Mindrock which led the funding round, said in a statement. "Planetarians acted from first principles to re-purpose already existing ingredients to create affordable and sustainable meat."
Additional investors in Planetarians' recent round include Traction Fund, Techstars, SOSV, and ZX Ventures. The latter is the corporate venture arm of beer giant AB InBev, an existing investor that already works with Planterians to upcycle its spent brewer's yeast.
Zero-waste vegan ribs
Last year, Planetarians began showcasing the possibilities of its sustainable vegan meats in a pilot product called "Planet Ribs" which are made to be just as succulent and juicy as their animal-based counterparts but with a much lighter footprint and half of the calories. The ribs came in a ready-to-reheat format so there is no need to bake them for hours and are priced comparably to animal ribs at $4.99 for a 16-ounce rack.
Planetarians sampled these ribs aboard a food truck, where they were served as part of plates with coleslaw, chips, and pickles, along with a "rib dog," a hot dog stuffed with the vegan ribs.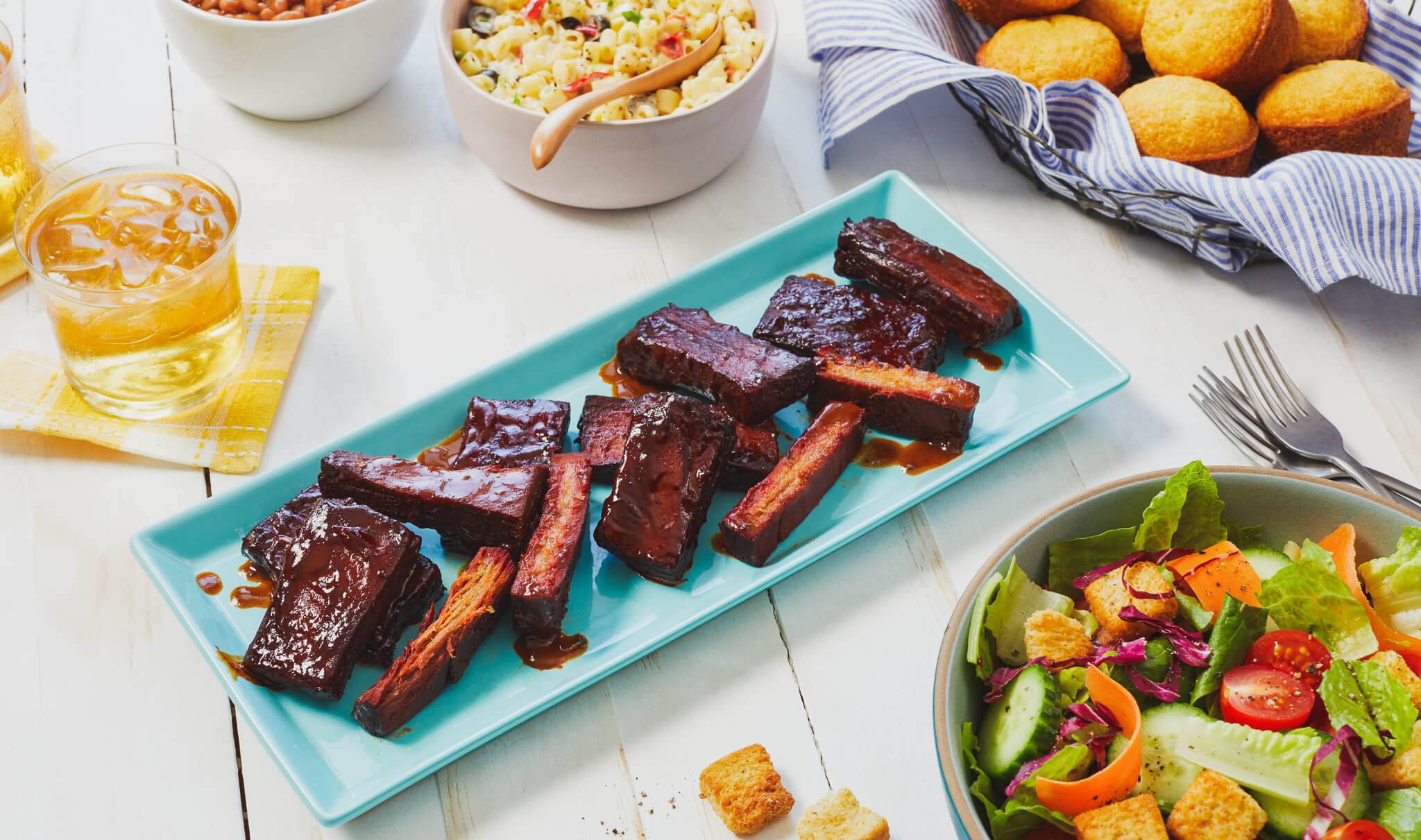 Planetarians
The company is foremost a technology company and the ribs are made from a marinated meat block that founder Aleh Manchuliantsau says is similar to tofu but with a fibrous meaty texture and flavor. The company typically sells its meat base through the business-to-business (B2B) channel but made a separate, consumer-ready Planet Ribs brand to test its market viability and within the first month, Planterians received 1,722 orders organically.
"We decided ribs would be a very good way to showcase the capabilities of our meat blocks," Manchuliantsau told VegNews. "You have a plant-based protein and a succulent mouthfeel the same as you would expect from ribs and you do not waste much time on cooking."
While Manchuliantsau is open to working with others to commercialize the vegan ribs if there is interest, the climate-focused innovator is looking to disrupt the food system with his plant-based meats on a larger scale.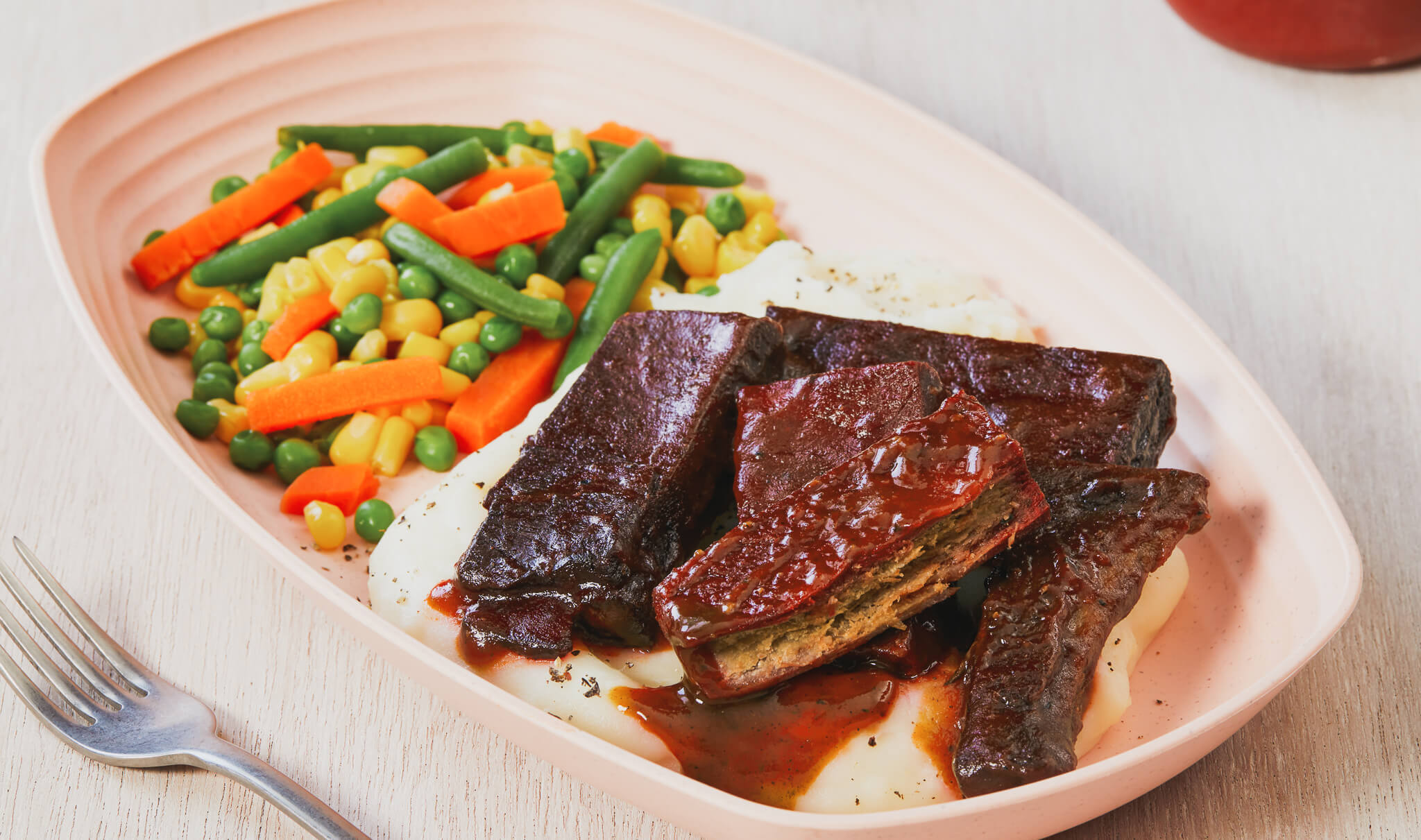 Planetarians
Sustainable vegan meat made from beer waste
Born in the former USSR, Manchuliantsau was inspired to create Planetarians after his travels led him to witness first-hand that countries around the world were not taking the climate crisis seriously. He also wanted to set a good example for his three teenage sons. "If you want to change something, we need to do it on our own," he said. "I was inspired to do something good for the planet."
He began thinking about how to create a plant-based meat alternative that would hit on three benefits: planet-friendly, people-friendly, and profitable for everyone who is involved. Since 2015, Manchuliantsau and his co-founders Anastasia Tkacheva and Max Barnthouse have explored the world of plant-based meat to unlock better, more affordable, healthier, and environmentally friendlier approaches to making meat.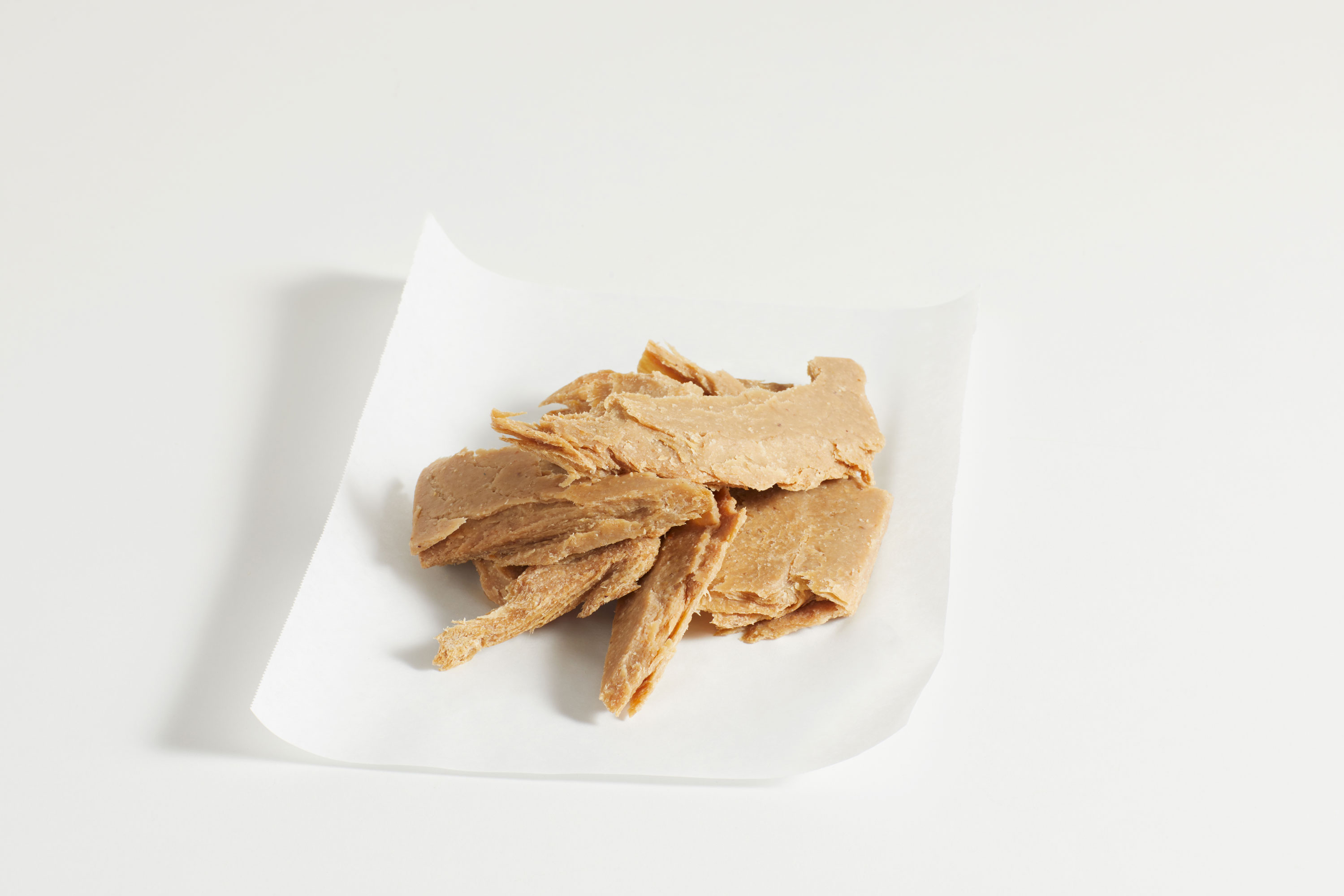 Planetarians
Making meat from isolated plant-based proteins such as peas requires the addition of secondary ingredients that act as maskers, blockers, flavorings, or colorants, which Manchuliantsau explains account for approximately 80 percent of the cost. "This is why plant-based meats are so expensive," he said. On the other hand, using precision fermentation—while favorable in umami taste and shorter ingredient list—can be expensive on the manufacturing side.
In 2020, the Planterians team arrived at the idea of extracting the benefits of fermentation by sourcing an already fermented product: spent brewer's yeast. When you ferment beer, the target product is the alcohol not the yeast and so it's "a pain point" for companies such as AB InBev to dispose of it. "But you cannot dump it into the sewage because it's bioactive but that yeast is a source of fermented protein," Manchuliantsau said. "That yeast is what we needed."
In the summer of 2021, Planetarians approached AB InBev, which was eager to upcycle its spent brewer's yeast into something with such potential. The beer giant agreed to give Planetarians its yeast under the condition that it could invest in the company, which AB InBev did in December 2021.
"Using their money, we built our facility and that is where we produce our ribs," Manchuliantsau said. "Now they can say that all their beers are sustainable. It's a zero-waste process."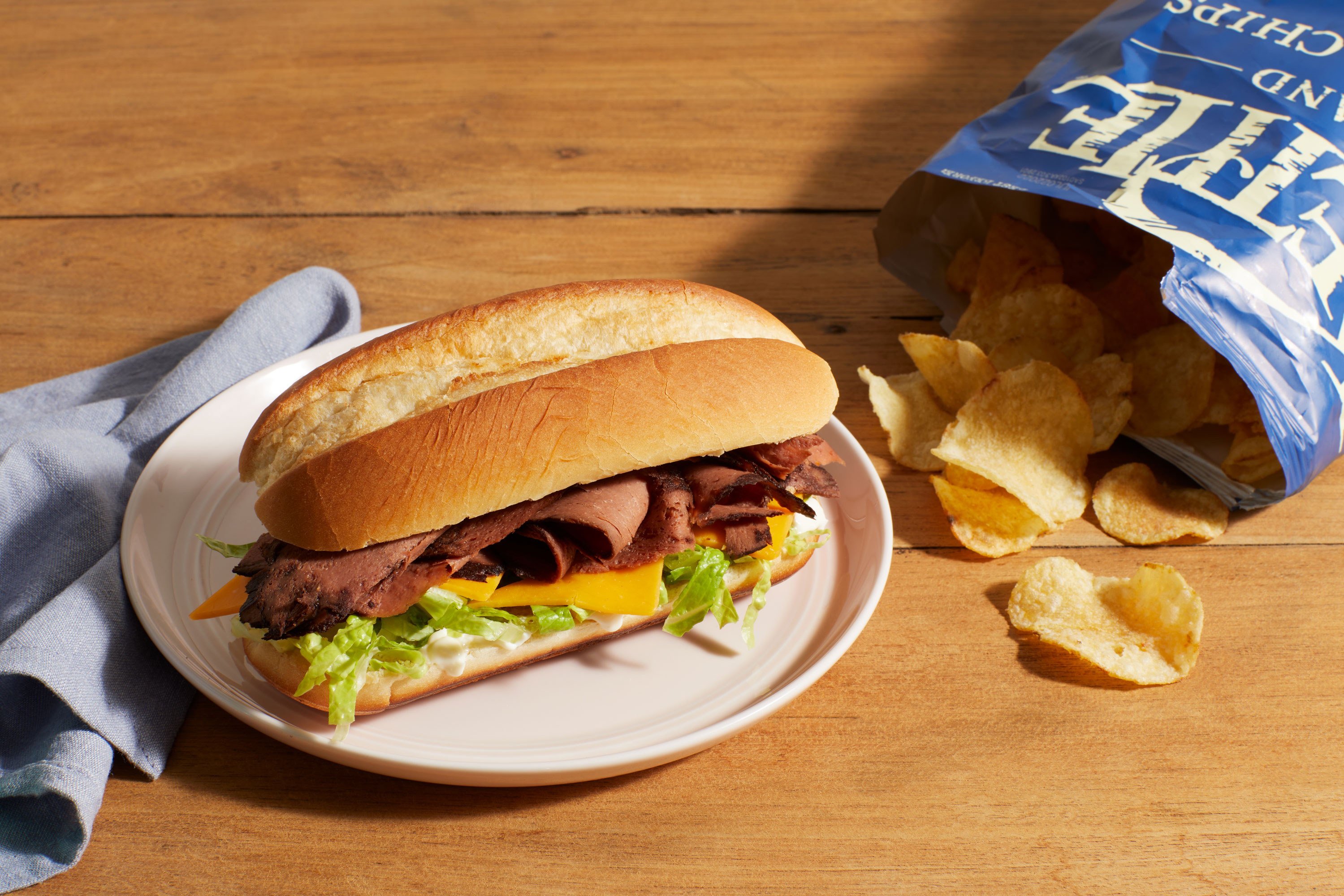 Planetarians
Planetarians further expands the sustainability of its plant-based meat by using soybean oilcake, the leftover mass from the oil industry. When combined, the resulting vegan meat base is incredibly versatile and can be used to create various applications. In addition to ribs, Planetarians can make plant-based deli slices such as roast beef, meatless chicken wings, sausages, ground meat, and more.
All of these products are substantially more environmentally friendly than both animal-derived beef and popular plant-based meats, according to a Life Cycle Assessment (LCA) conducted by a group of economists at IAMECON. At approximately 3,000 square feet, the compact size of Planterian's production facility allows the company to co-locate with brewers making the vegan meat-making processes even more sustainable.
"Like many other hard-working entrepreneurs and scientists, we have been trying to discover an alternative protein that hits all the marks," Barnthouse said in a statement. "I think we have finally found it."
"I cannot wait to see Planetarians' technology deployed across every brewery in the world," Barnthouse said.
After conducting consumer testing that yielded favorable results, Planetarians is now working with a large consumer packaged goods (CPG) brand in food service to bring its plant-based meat to market through its brands and their restaurants.
Turning beer waste into vegan meat, milk, and eggs
As Manchuliantsau pointed out, turning beer waste into vegan meat and milk products is a way for alcohol companies to be more sustainable. AB InBev's largest competitor, Molson Coors, recently launched Golden Milk, vegan milk made from leftover barley in Golden, CO. AB InBev's involvement with Planetarians is also not the first step the company has taken to find new uses for its byproducts.
In 2021, AB InBev announced its partnership with EverGrain, which is working to extract proteins and fibers from brewing grains to create nutrient-rich ingredients that have applications in a variety of products, including vegan barley-based milk. Through its ZX Ventures innovations arm, the beer giant is also working with THE EVERY COMPANY to help it scale its vegan egg whites—made using precision fermentation.
Its partnership with Planetarians is the latest way AB InBev is working to support innovation in the plant-based alternatives space, while at the same time reducing its own environmental footprint.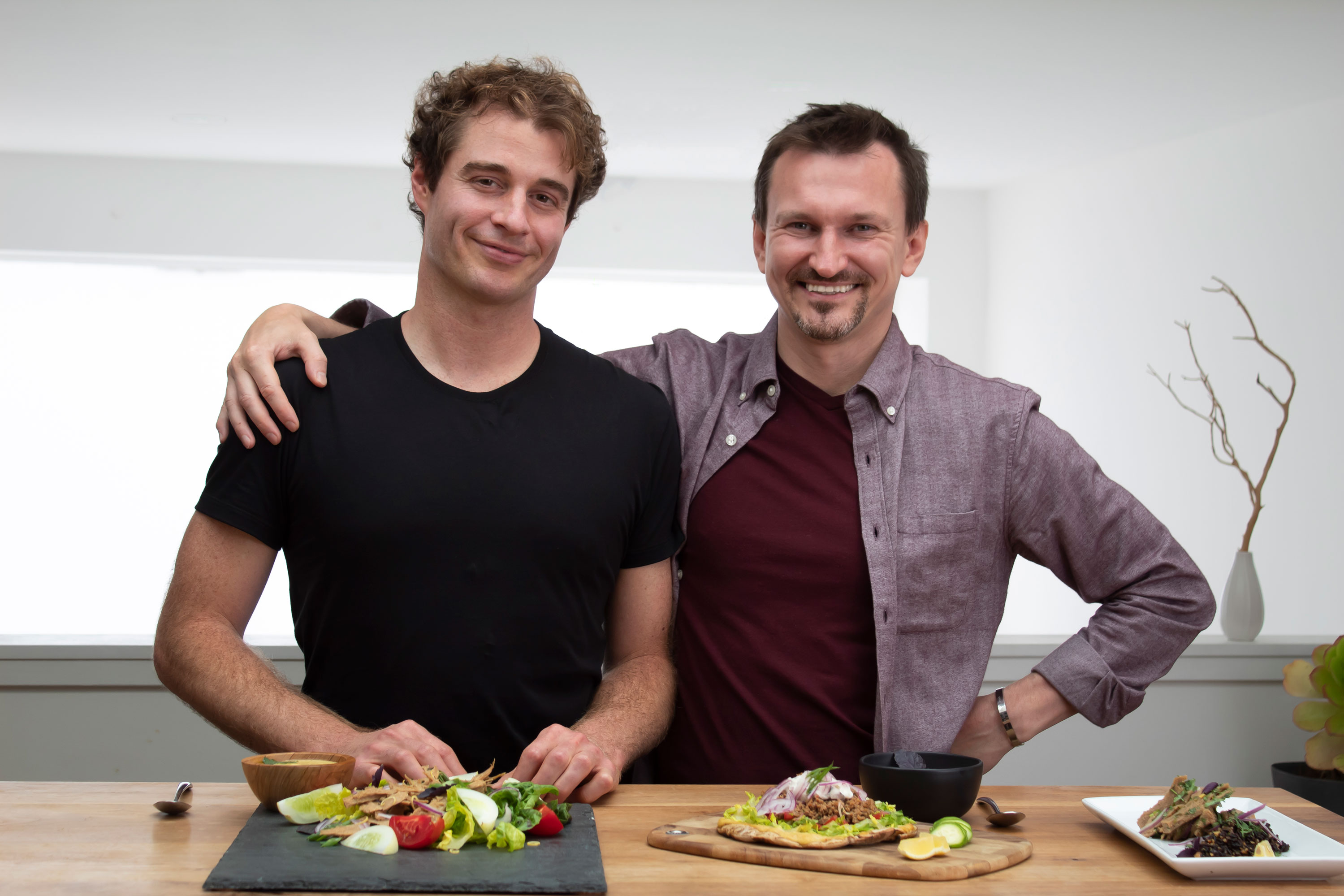 Planetarians: Max Barnthouse (left) and Aleh Manchuliantsau (right)
"ZX Ventures and AB InBev are committed to using our scale and expertise to support sustainable food system transformation. We're excited to support new ways to bring circular solutions to the center of the plate through upcycled ingredients and alternative protein innovation," Bernardo Novick, Head of ZX Ventures, told VegNews in an emailed statement.
"Using our brewer's spent yeast as a key input to their resource-efficient process, Planetarians is producing plant-based protein that tastes delicious," Novick said.
Manchuliantsau, a flexitarian himself, sees Planetarians and companies like his as innovators in a space that will soon produce the most common form of protein.
When asked to imagine the supermarket meat case of the future, he said, "Have a look at what's happened with the cigarette market. We still have cigar shops as premium versions but with cigarettes, they somewhat disappeared. Electronic cigarettes did not substitute that much. In 10 years, we will have our animal-based products occupy that premium spot for special occasions. While on a daily basis, we will be consuming better [plant-based] proteins for ourselves."
For the latest vegan news, read: