What does meatless chicken cooked by a robot taste like? Consumers are about to find out thanks to a partnership between robotic kitchen company Karakuri and mycoprotein pioneer Quorn. The companies will work to optimize Karakuri's FRYR system to ensure that Quorn's meatless nuggets, filets, and wings are cooked consistently at quick service restaurants (QSRs) from freezer to consumer, every time.
"Karakuri represents an exciting transformation of QSR and Fast Casual kitchens and Quorn is excited to be the first meat free company to be partnering with them," Phil Thornborrow, Foodservice Director at Quorn Professionals, said in a statement.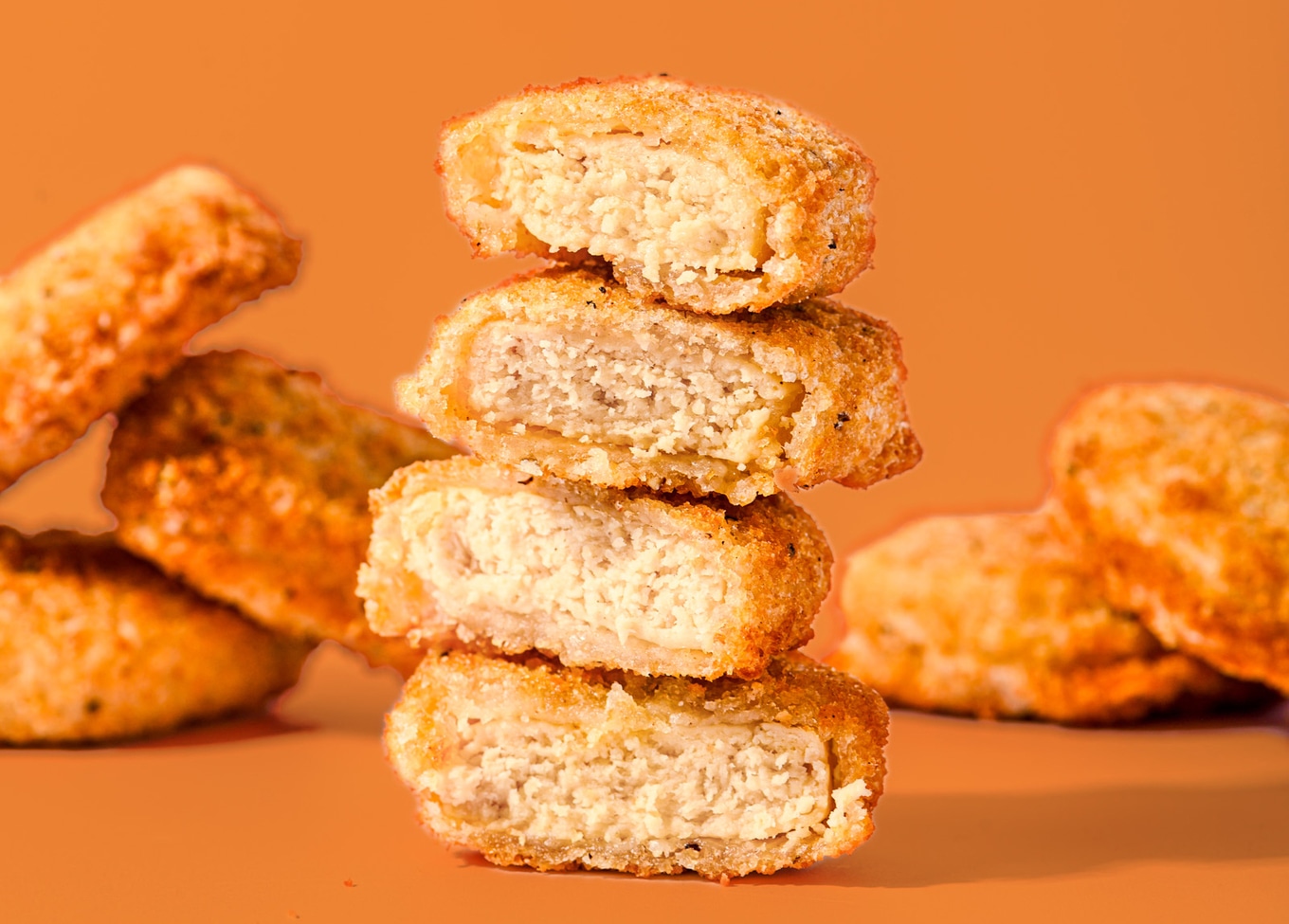 Quorn
"Through our partnership, Quorn will benefit from the development of cutting-edge technology in optimizing the quality offered to our customers," Thornborrow said. "Maintaining quality and consistency are the biggest challenges facing the fast-paced QSR and Fast Casual industry."
In working together with Quorn, Karakuri is allowing foodservice providers to meet growing demand for meat alternatives while at the same time cutting operational costs. In addition to Quorn, Karakuri will be announcing additional partners soon.
Do consumers want AI-powered food?
New technologies have the potential to transform food in many ways but are consumers ready to give AI-powered food a try? According to the 2023 FoodBytes report by market research firm Data Essential, the majority of consumers (77 percent) are interested in trying robot-made food.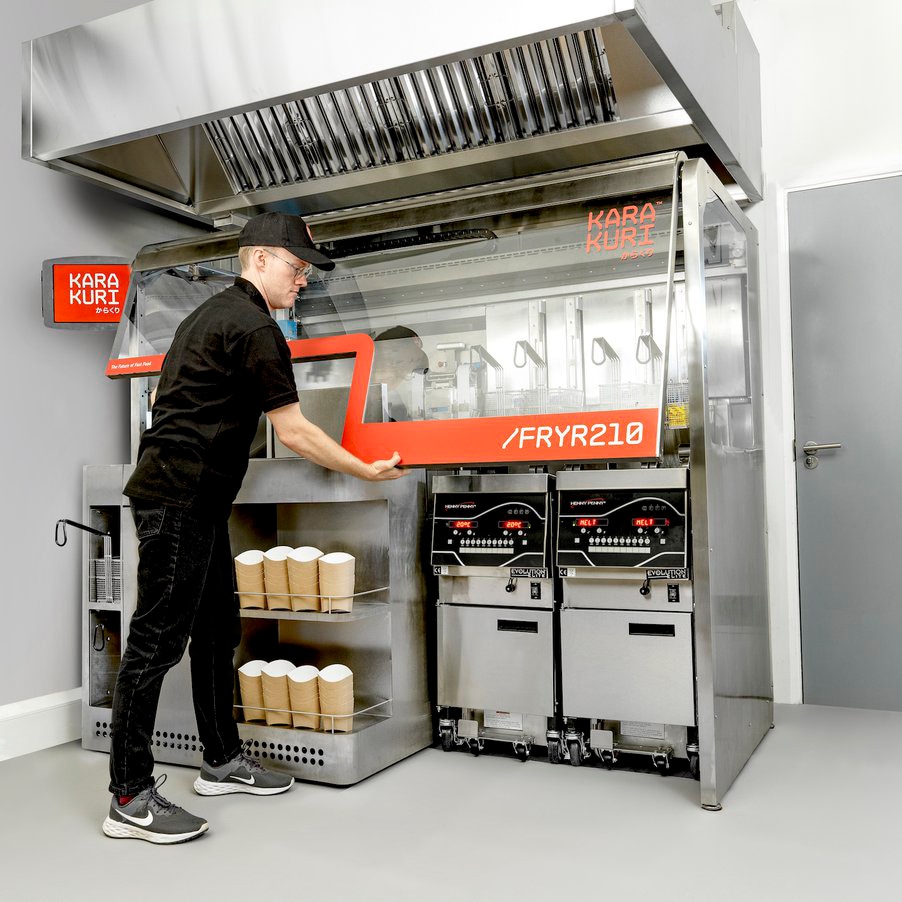 Karakuri
The partnership between Karakuri and Quorn answers this demand while allowing for a smoother experience for those first tasting meat alternatives, which are not always cooked optimally due to human error.
"Global demand for meat-free alternatives continues to grow and QSR and fast casual restaurants are increasingly adding vegetarian and vegan offerings to their menus," Barney Wragg, founder and CEO of Karakuri, said in a statement. "Ensuring the correct storage and preparation of these products is key to providing the best possible customer experience."
"Our partnership with Quorn will allow us to understand the optimal conditions needed for Quorn products, and to ensure our game-changing /FRYR fry lines cook and serve Quorn meat-free products exactly as intended," Wragg said. "The result is tasty and delicious products cooked perfectly every time."
AI and the future of food
AI is already used in the food industry for various things such as crop optimization, food waste reduction, and more. Companies at the forefront of new product development are using AI to reimagine staples like cheese, milk, and meat using solely plant inputs.
Over in Chile, The Not Company (NotCo) has been using its AI platform, affectionately called "Giuseppe," to help it recreate animal foods from plants. Using this tool, NotCo has developed a wide range of products such as NotMilk, NotBurger, NotChicken, and more. In addition to retail, NotCo's products can be found at some of the world's largest chains, including Starbucks, Burger King, and Dunkin'.
"We're looking to help other companies revolutionize the plant-based space, by becoming a powering tool for the industry," NotCo co-founder Karim Piachara previously told VegNews.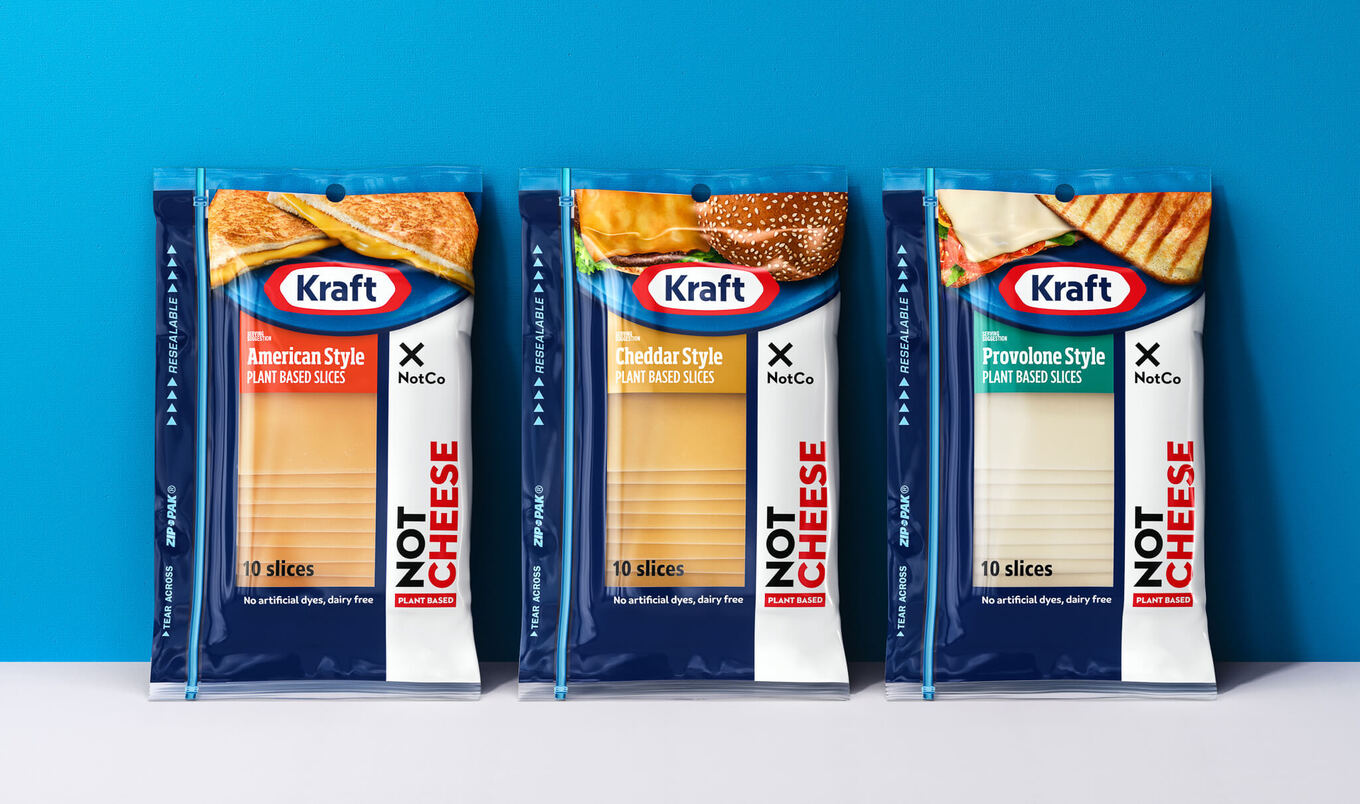 Kraft Heinz
In the United States—where the Chilean company's products are stocked at Whole Foods Markets—NotCo is also working on something exciting with a food industry icon. Last year, NotCo announced it had partnered with Kraft Heinz on joint venture The Kraft Heinz Not Company.
This joint venture has thus far resulted in a vegan version of Kraft Singles in three flavors (America, Cheddar, and Provolone) that are set to roll out nationally this year, with other innovations—including a vegan remake of Kraft's mayo—in the pipeline. All products are made possible thanks to Giuseppe.
AI is also coming to shake up the cheese industry in a different way thanks to a new partnership forged between French cheese giant Bel Group and Climax Foods—a startup that combines AI, data combines, and human intuition to create dairy-identical cheeses from plants.
Bel Group has already released several plant-based versions of its most iconic cheeses, including The Laughing Cow, Babybel, and Boursin. It has also launched a subsidiary brand, Nurishh, that focuses exclusively on vegan cheeses. Its new partnership with Climax Foods stands to transform all of these products with the help of AI to make them indistinguishable from their dairy counterparts in terms of taste and texture.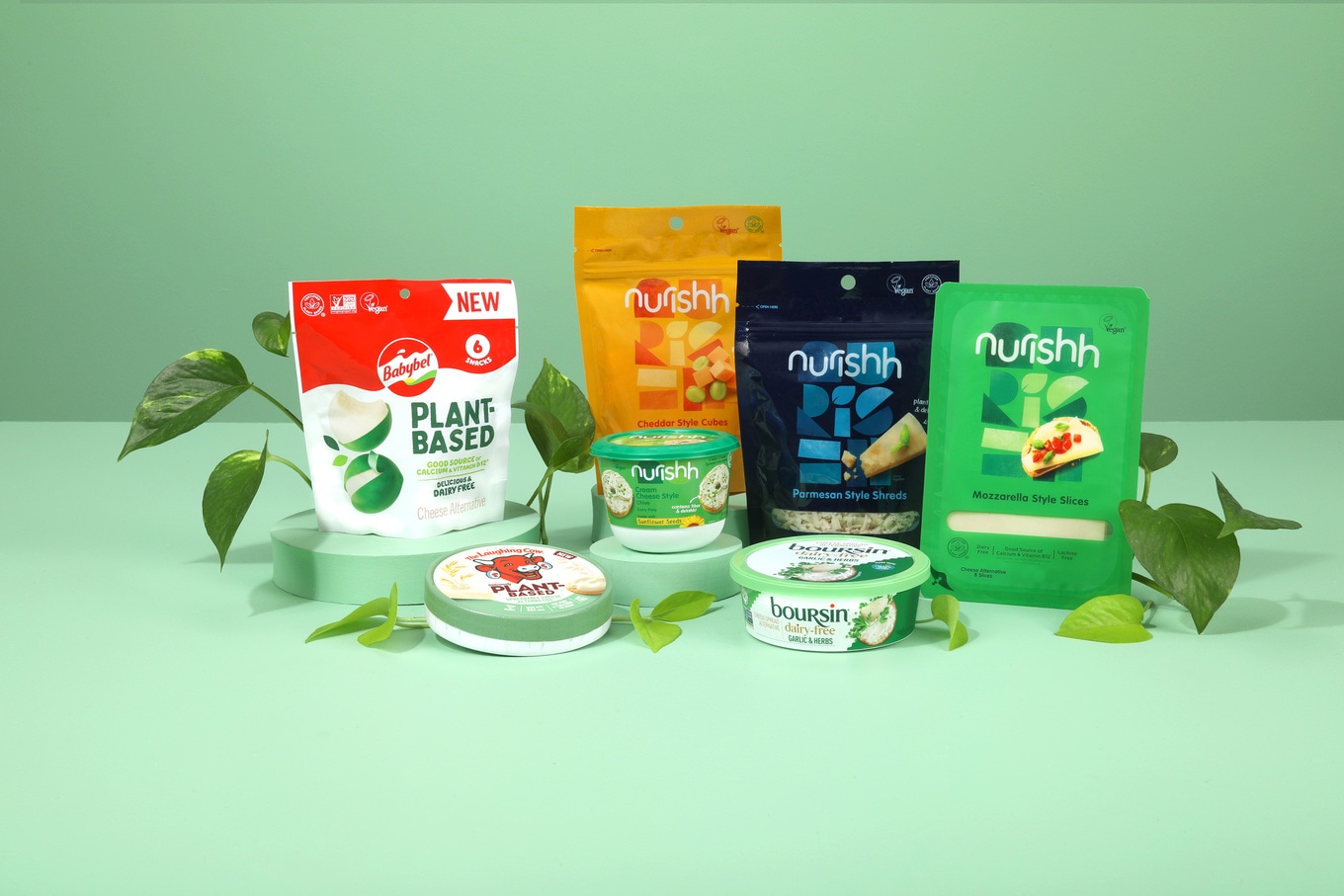 Bel Group
Bel's goal is to transition its global portfolio to 50-percent dairy products and 50-percent plant-based products.
"We have a strong ambition to be a key player within the food transition," Caroline Sorlin, Chief Venture Officer of Bel, previously told VegNews. "We have been in the cheese business for 150 years so we know perfectly that if we want to be a key contributor to feeding the next 10 billion people while preserving the planet's resources, we need to change the way we feed the population."