What if there was a sustainable, plant-based version of all of your favorite products and go-to orders at the most popular chains? Chile's The Not Company (NotCo) is making this fantasy a reality with the help of Giuseppe, its proprietary platform that uses artificial intelligence to recreate animal products from a library of more than 300,000 plant ingredients.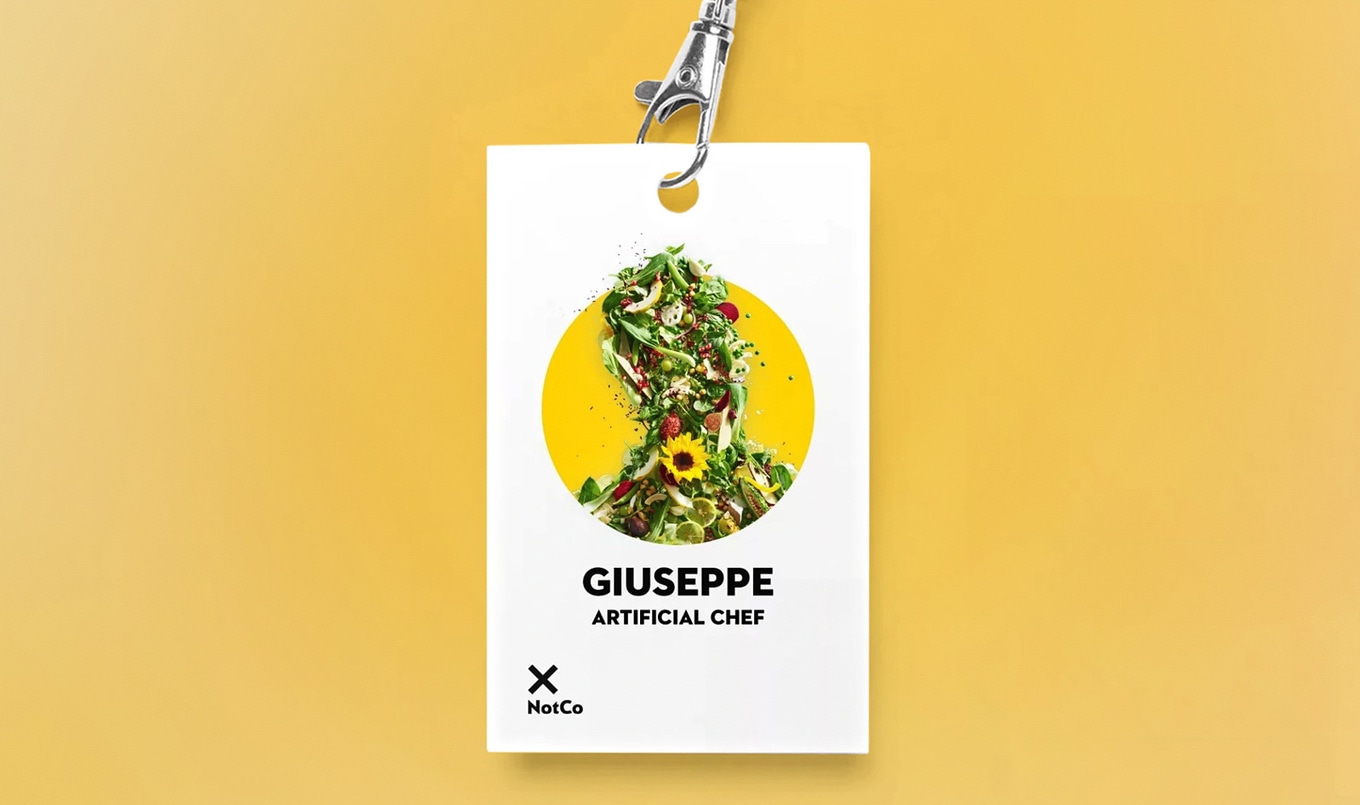 NotCo
What can Giuseppe do? In addition to helping NotCo approximate animal products for its own consumer packaged goods such as NotMilk and NotMeat, the "artificial chef" is helping recreate some of Kraft Heinz's best-known products—starting with Kraft Singles—under The Kraft Heinz Not Company joint venture.
And the fast-food industry is getting a taste of Giuseppe's capabilities by way of menu items at Starbucks, Dunkin', Burger King, Shake Shack, and more. "NotCo has become a powering tool for other companies looking to accelerate the advancement of the plant-based industry by having the means to exceed consumer expectations of plant-based options," Matias Muchnick, co-founder and CEO of NotCo, tells VegNews.
"Technology plays a role in improving the production of our plant-based foods—from taste to texture, function, discovering flavor combinations, and timelines," Muchnick says.
NotCo is currently valued at $1 billion and, with Giuseppe in its back pocket, the unicorn is pushing ahead to transform the food system as we know it.
Transforming fast food with artificial intelligence
What's the advantage of AI-powered food developments? With Giuseppe, NotCo can identify novel ingredients that mimic certain elements of animal products that human food scientists might overlook. For instance, for NotCo's vegan milk formulations, Giuseppe identified cabbage and pineapple as core elements—and the AI chef is capable of so much more.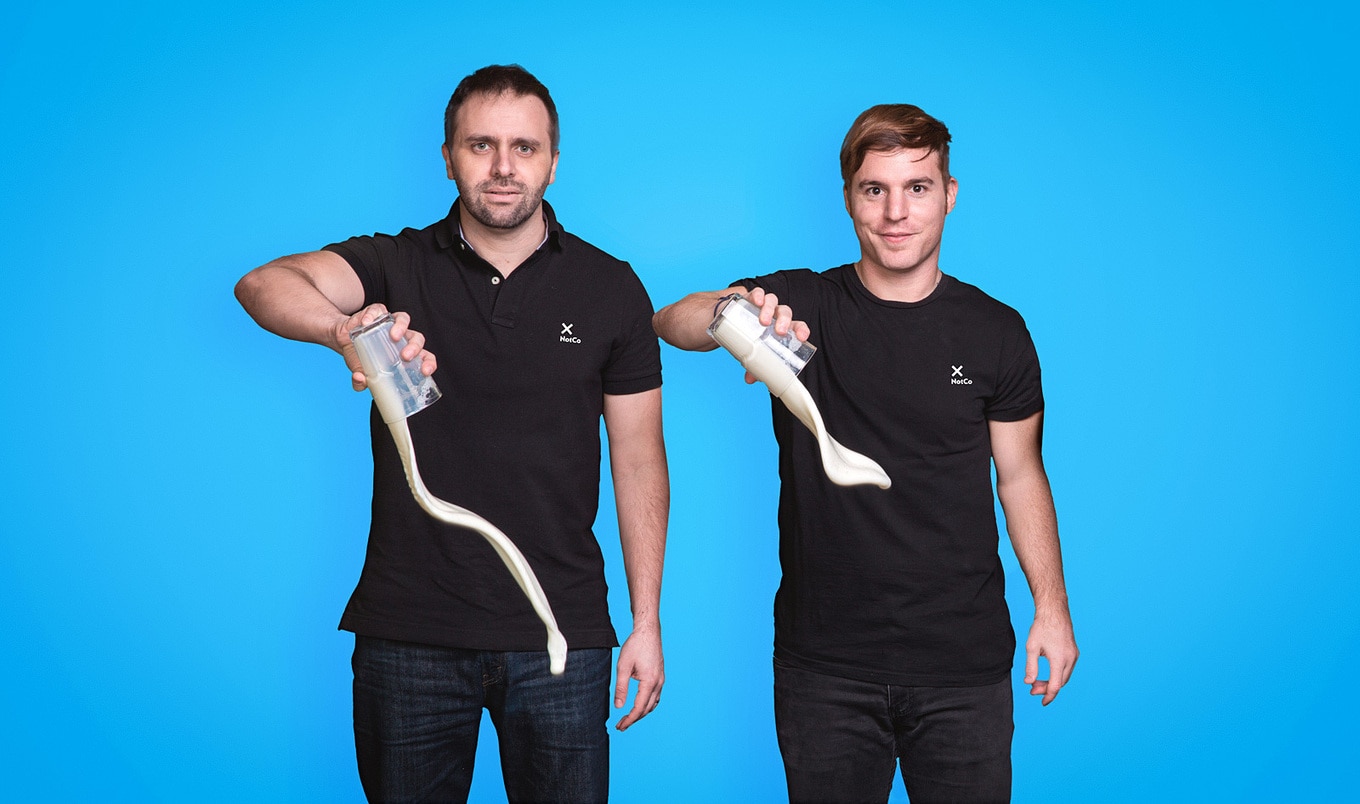 NotCo/Co-founders Karim Pichara (left) and Matias Muchnick (right)
"Since 2016, NotCo has been on a mission to continuously push the boundaries of sustainable food production through its one-of-a-kind tech and science," Muchnick says. "NotCo's AI technology offers the added benefits of extreme accuracy and speed, cutting R&D development timelines and reducing valuable resource inputs such as water, carbon emissions, and electricity."
Since its start seven years ago, NotCo has already changed the face of fast food in Latin America. At Burger King, NotCo has supplied the plant-based for its meatless Whopper in Chile since 2020 and last year, expanded its partnership with new NotChicken items, including King Vegetal, King Italiano Vegetal, and plant-based nuggets. A global pioneer in transforming the fast-food industry to meet the demand for plant-based foods, Burger King is a key partnership for NotCo.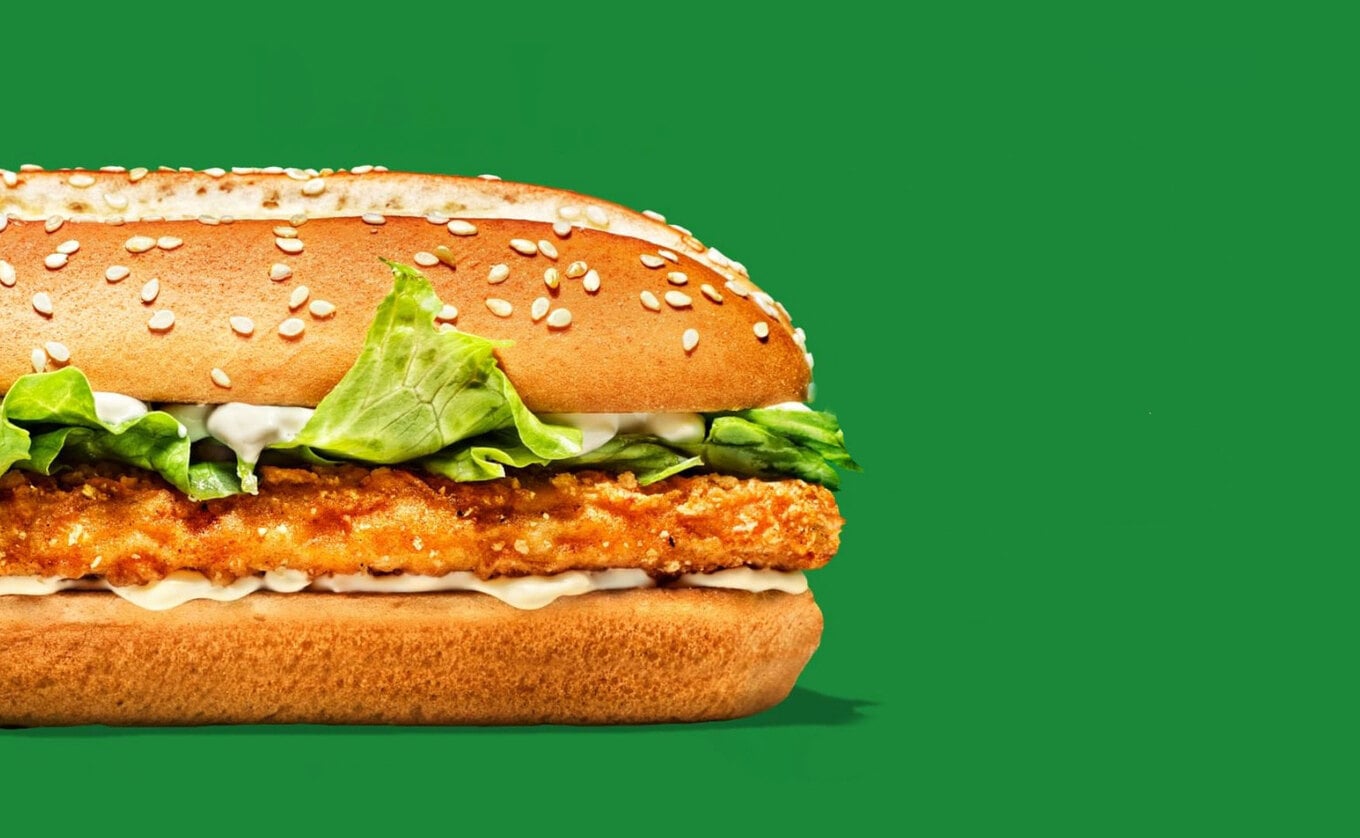 Burger King
"The partnership with Burger King is a milestone for us. Since the beginning, our mission has been to reinvent the food industry and it is necessary to penetrate the mass market," Muchnick said. "We don't want to make food for specific audiences, but to have a real impact by delivering the food that we love, taking care of the planet and for everyone."
Starbucks and Dunkin' get on board with AI, too
Like Burger King, Starbucks—the world's largest coffee chain—is aiming to slash its global carbon footprint and in multiple Latin American markets, NotCo is helping it do so with exciting products such as its AI-perfected NotMilk and sandwiches made with NotMeat (vegan beef) and NotMayo (vegan mayonnaise).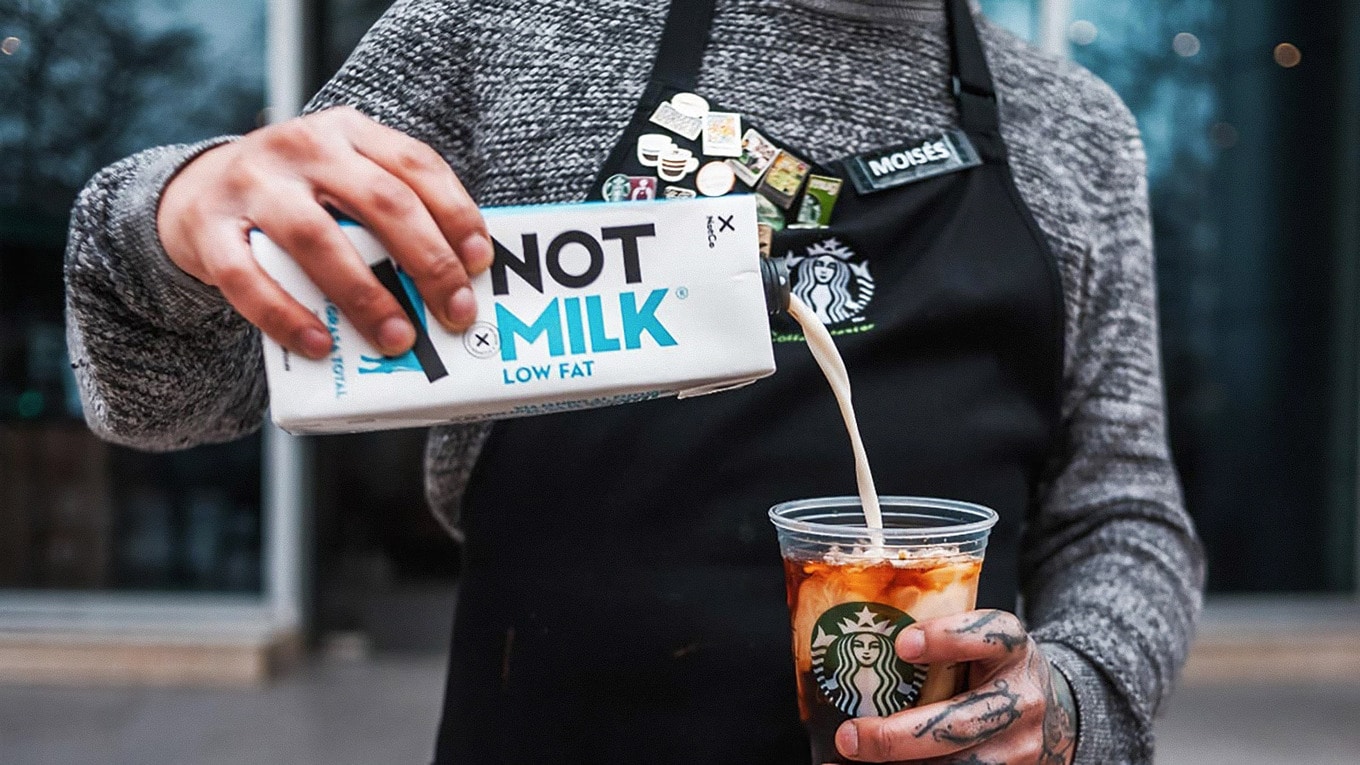 Starbucks
"Starbucks was a great step forward for us. It changed all the paradigms regarding partnerships within the industry established until then," Muchnick says. "The fact that the most important coffee shop brand in the world now has plant-based options was something that interrupted what was traditional, and that has always been the focus for these kinds of alliances."
"We started in Chile and it has been such a successful process that we have already reached new markets together with Starbucks. It's great to share the vision of reducing the environmental impact of the food industry on a large scale," Muchnick says.
One of NotCo's most recent major partnerships has been with Dunkin' where the plant-based company helped the chain introduce an exciting option with vegan "manjar"—which is similar to dulce de leche—to its menus in December.
"There's nothing more challenging for us than a giant brand like Dunkin' wanting to sit and work on something revolutionary like this. They wanted to think out of the box and we were ready to be part of that process," Muchnick says.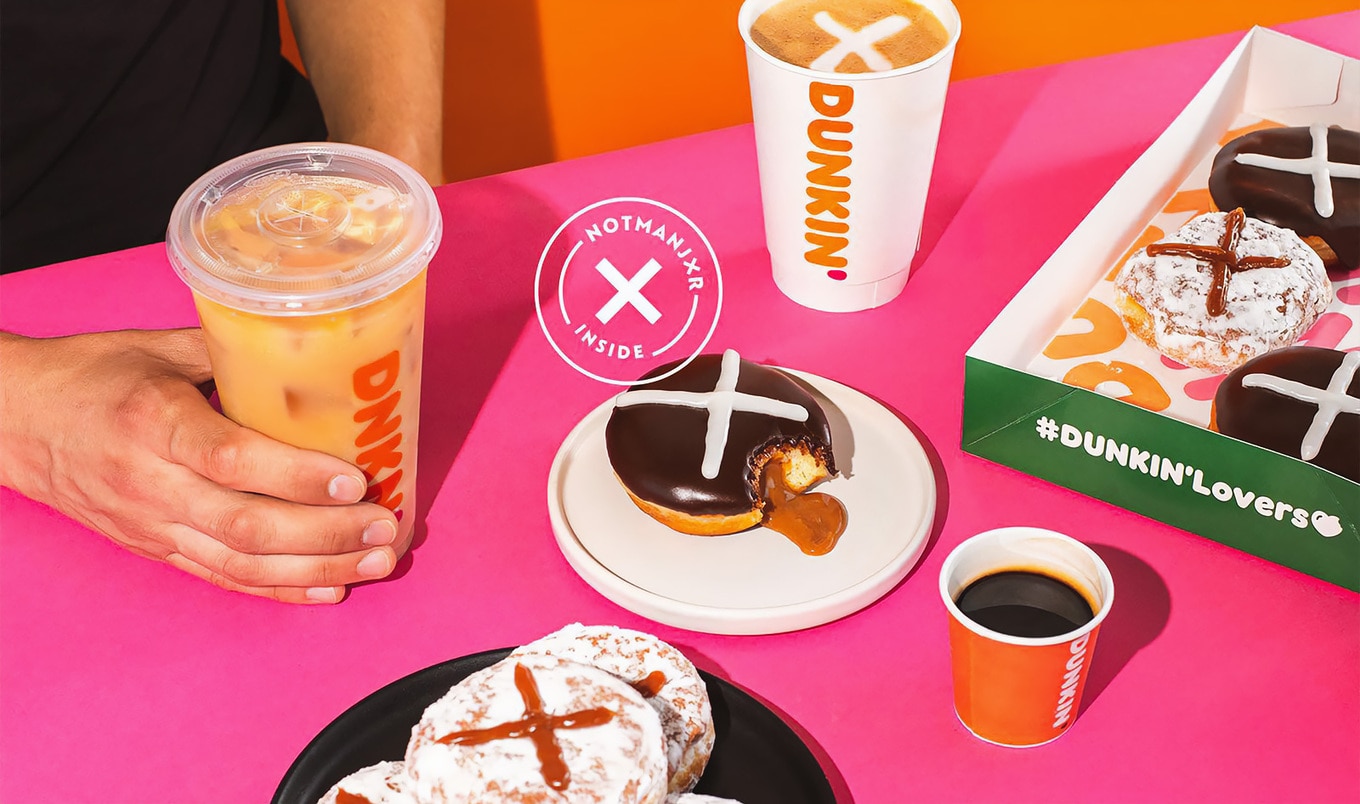 NotCo/Dunkin'
NotCo's version, Manjxr, is now a sweet stuffing in Dunkin's vegan Boston doughnuts, a top item that represents 40 percent of its sales. "While we wanted to continue to have a real impact on the food industry, they were looking for a way to develop plant-based alternatives for the Boston donuts, which are their most iconic and best-selling products," he says. "We sat down to work, test, and develop a delicious Manjxr in record time without altering the characteristic flavor of these donuts."
Overall, NotCo's approach is finding the most disruptive opportunities in order to make the greatest impact, and thus far, it has already left its mark on some of the world's biggest companies.
"Even though it's a great responsibility to partner with iconic brands like Burger King, Starbucks and Dunkin', it's an honor that they jumped on the boat so quickly and trusted NotCo and our way of doing things," Muchnick said.
"The only way to accelerate the change that we want to make in the world is to have more and more allies that share our vision in the field, in order to enter the mass market as fast as we can," he says.
World's biggest brands get a vegan makeover
While NotCo has retail distribution in the US via Whole Foods, many of the innovations it has thus far launched are with US brands in international markets. However, NotCo worked with Shake Shack to create its first plant-based custards and milkshakes which the chain tested in select US regions last summer.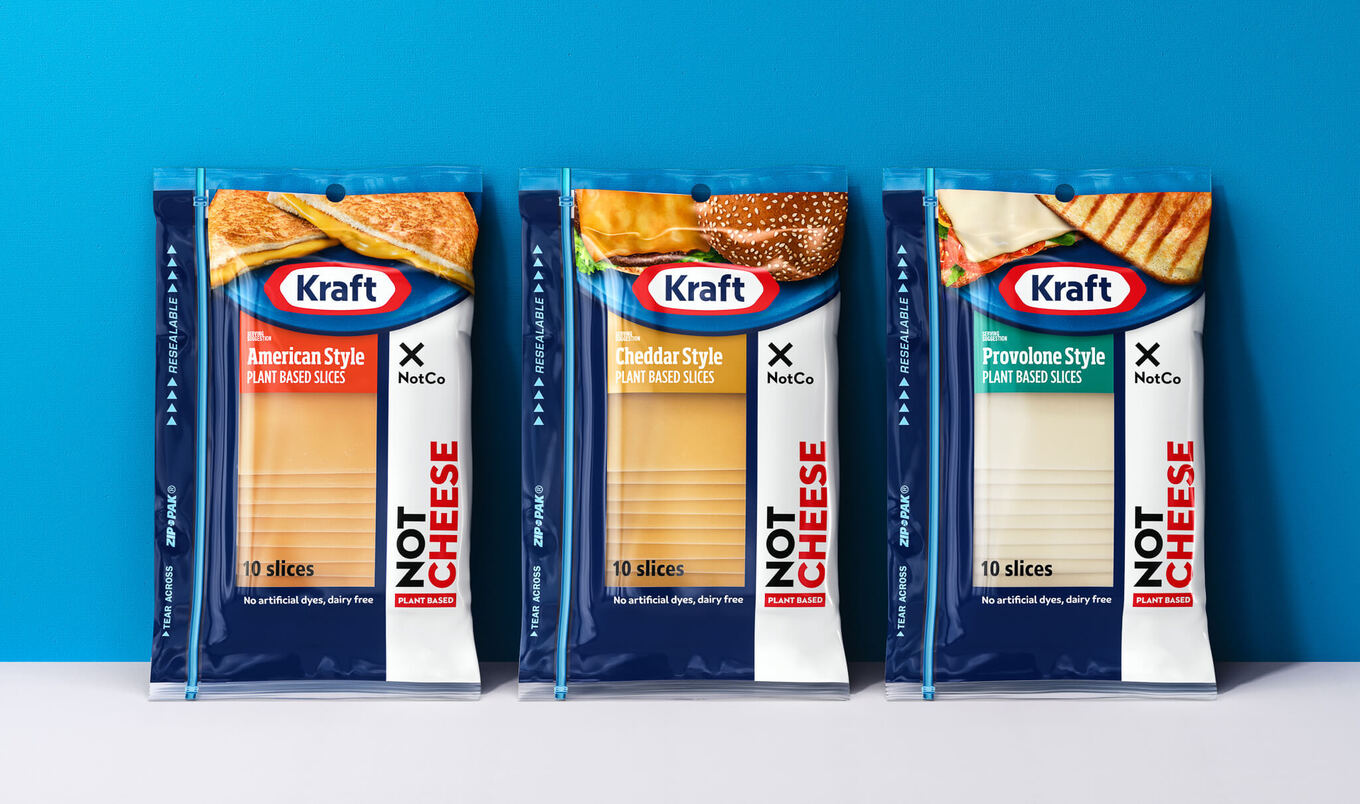 Kraft Heinz
Under its The Kraft Heinz NotCompany joint venture, NotCo is helping the legacy brand reimagine some of its most iconic products, starting with Kraft Singles cheeses which are currently in a test phase at select US retailers. Next, the venture will result in vegan mayonnaise—an opportune time to create an egg-free condiment given the ongoing avian flu disaster.
"When deciding which products to bring to market first, we analyzed different categories and taste and ingredient profiles, as well as the consumer need for a high-quality and great-tasting product—plant-based cheese slices and mayo rose to the top," The Kraft Heinz NotCompany tells VegNews. "This year, we aim to launch products across four categories. In 2024, we'll continue to scale across seven categories and begin our international expansion."
And while exciting launches are in store, will NotCo's innovations at Starbucks, Dunkin', or Burger King ever make their way up North to the US?
"We are always looking for ways to expand the plant-based industry as we know it, so we're excited to explore partnerships with additional foodservice brands in the United States," Muchnick says.
The company is also still heavily involved in innovating its own product lines. It recently added NotChicken Crispy Patties to its retail line and aims to expand its NotMilk line in the second half of 2023.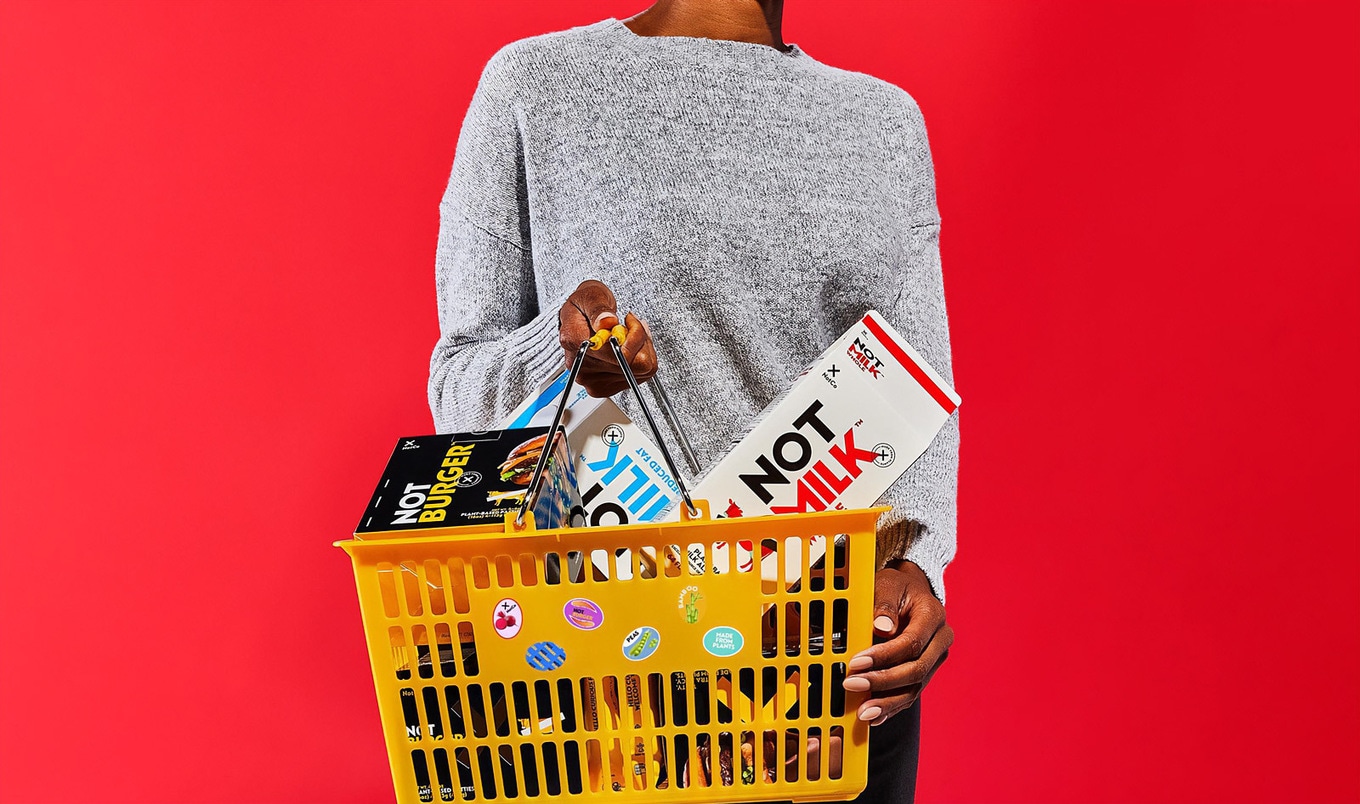 NotCo
NotCo is also transforming the food system with its recently announced B2B Unit which allows food industry players to leverage Giuseppe to help accelerate the development of new vegan food innovations.
"Following the early success of our new joint venture with Kraft Heinz last year, we knew this was the right time to welcome others into the fold and start accelerating the transformation of the plant-based industry," Muchnick said. "There's still a lot to come, but for now we can only say that at NotCo we really innovate, that there are many brands that share this philosophy and that we will not stop doing it."
For the latest vegan news, read: