The first Chipotle Mexican Grill opened in 1993 in Denver, CO and since then, the fast-food chain has gained a reputation for pioneering sustainable practices with its "Food with Integrity" program. Last year, Chipotle celebrated the opening of its 3,000th location and announced plans to open 7,000 outposts in North America.
But as the climate crisis rages on, how can Chipotle aggressively expand without burning up the planet? Plant-based proteins will play a part of the sustainability plan—which also includes using cactus leather for seating, recycled rice husks as art pieces, and more—to move the chain through its next growth phase.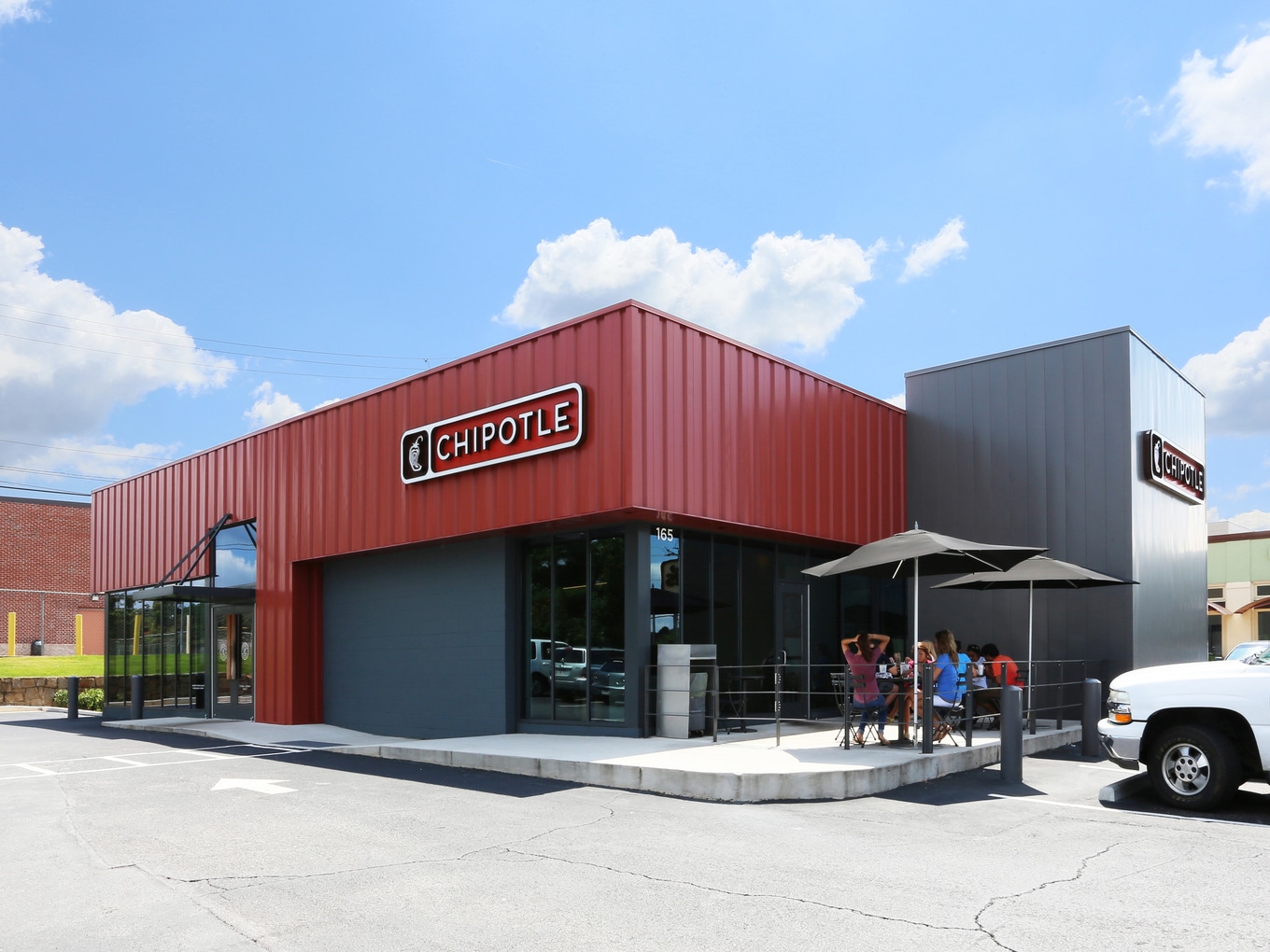 Chipotle
"We proudly offer sustainably-minded diners thousands of plant-based entrée configurations featuring Sofritas and Veggie (guac) protein options," Stephanie Perdue, Vice President, Brand Marketing, Chipotle, tells VegNews. "Growing our plant-based category's share of orders, which currently includes sofritas and vegetarian bowls featuring guac, can help reduce our carbon footprint."
Vegan proteins at Chipotle
While some chains have only recently added plant-based proteins, Chipotle has been at it for nearly a decade.
"In 2014, Chipotle was an early entrant into the plant-based conversation, introducing our delicious, vegan protein option, sofritas," Perdue says. "Made from organic tofu, sofritas is braised in a blend of spices, including poblano pepper, cumin and of course, chipotle chile, creating a delicious alternative to traditional meat without skimping on flavor."
"Chipotle's mission to Cultivate a Better World [a reference to its sustainability program] inspires our commitment to expanding access and convenience to real, fresh food and delicious plant-powered options," she says.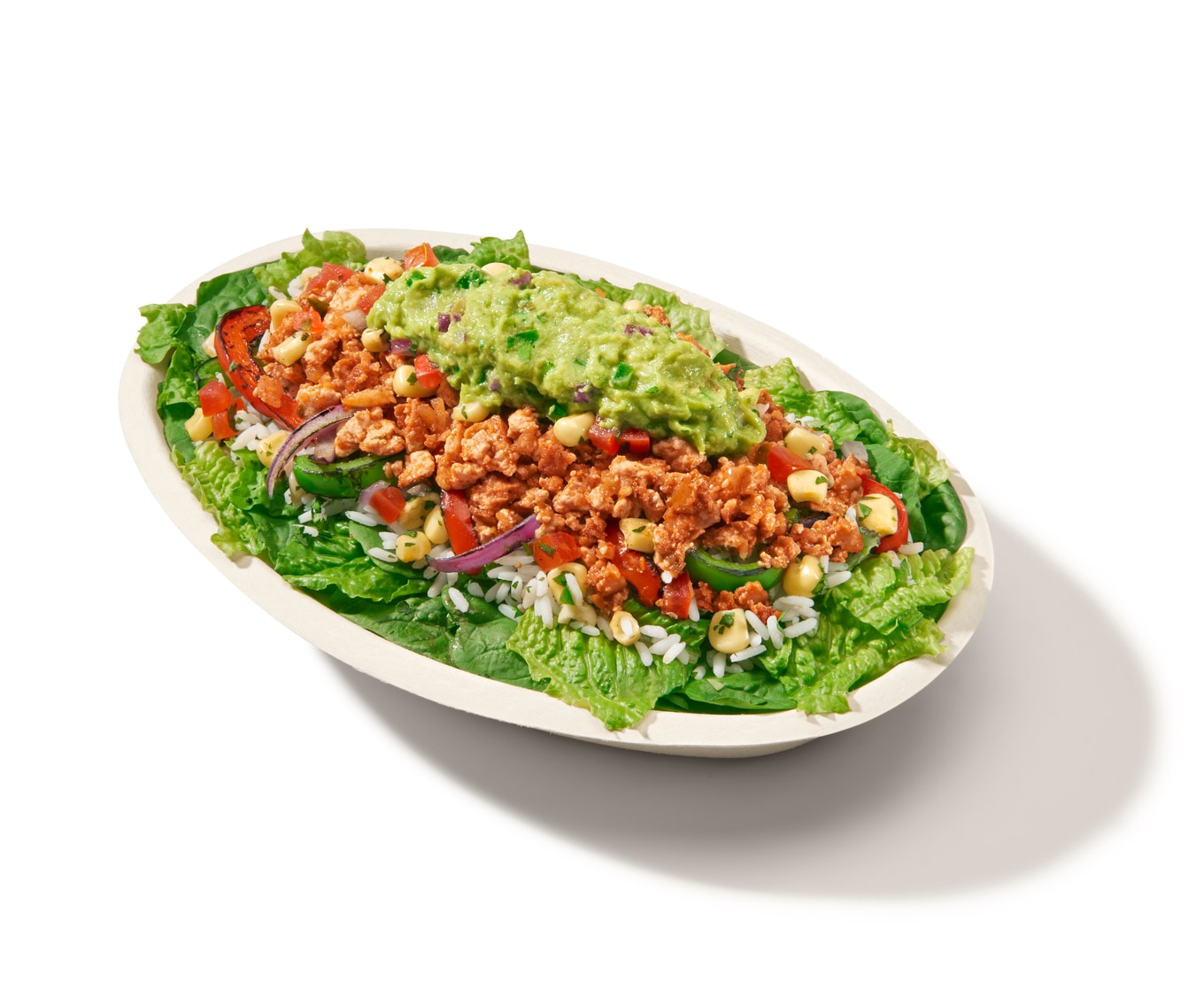 Chipotle
By 2018—a year before the Impossible Whopper launched at Burger King—sofritas became a popular mainstay at Chipotle, selling 7.5 million pounds that year alone.
"Sofritas is a core menu item at Chipotle," Perdue says. "We are working hard to expand access and convenience to this plant-powered protein as we execute on our aggressive long-term goal of having at least 7,000 restaurants in North America."
In 2019, Chipotle expanded its menu of plant-based options by introducing the Vegan Bowl, which is topped with Sofritas, and added new pre-configured menu items that cater to customers who follow specific diets such as paleo, keto, and Whole30.
This move was part of the company's efforts to offer more diverse and appealing choices for customers who prefer plant-based and diet-specific options.
In 2021, Chipotle experimented with Plant-Based Chorizo at select locations. Developed in-house, the vegan chorizo was a minimally processed meat alternative made with a base of pea protein flavored with ancho chilies and chipotle peppers, tomato paste, crushed garlic, Spanish smoked paprika, and extra virgin olive oil.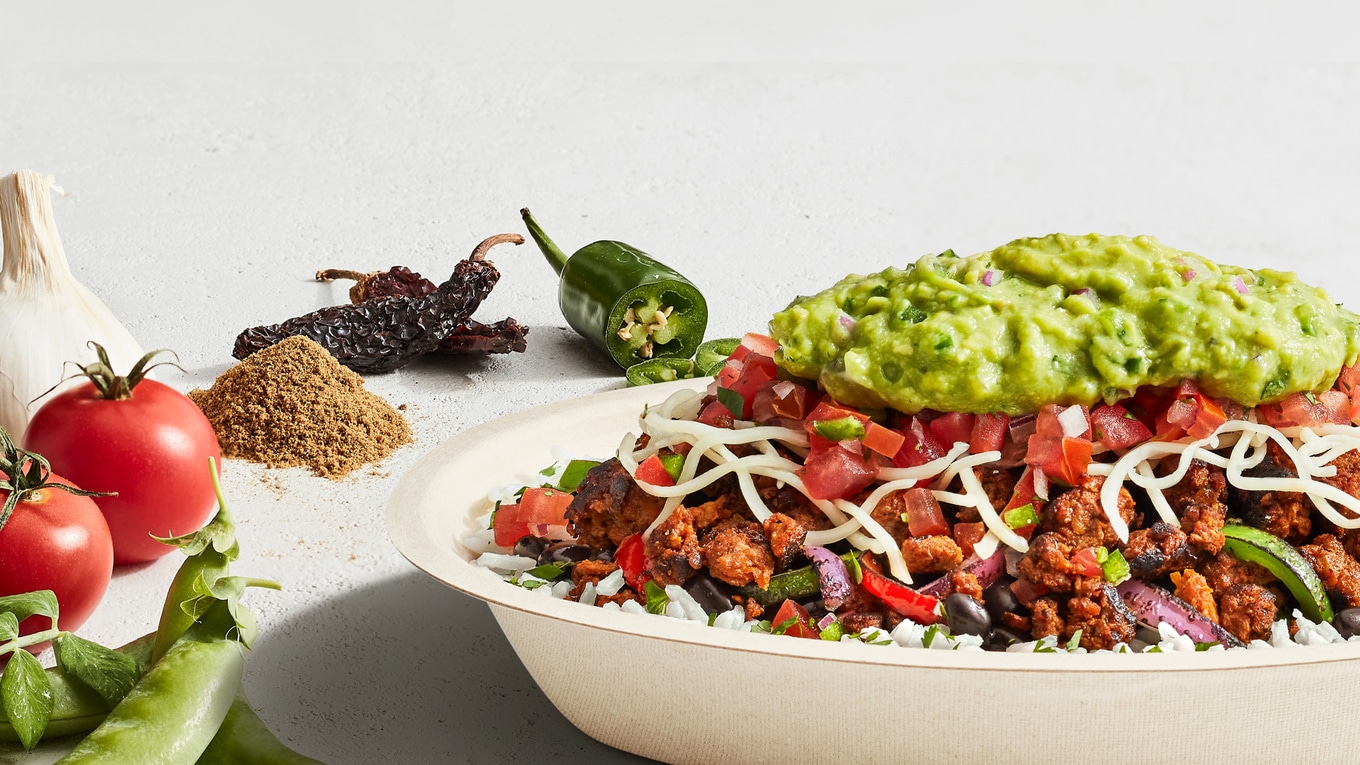 Chipotle
In January 2022, Chipotle expanded the Plant-Based Chorizo nationally for a limited time but removed it from the menu in February.
While this plant-based protein is no longer on the Chipotle menu, Perdue says that other innovations may be in the works. "Our culinary team is always exploring opportunities to bring real, fresh vegetables to the center of the plate with menu innovations that uphold our Food with Integrity standards," Perdue says.
Chipotle also recently opened the first location of spinoff bowl concept Farmesa, where the curated menu features six customizable bowls—four with animal proteins and two that revolve around vegetables.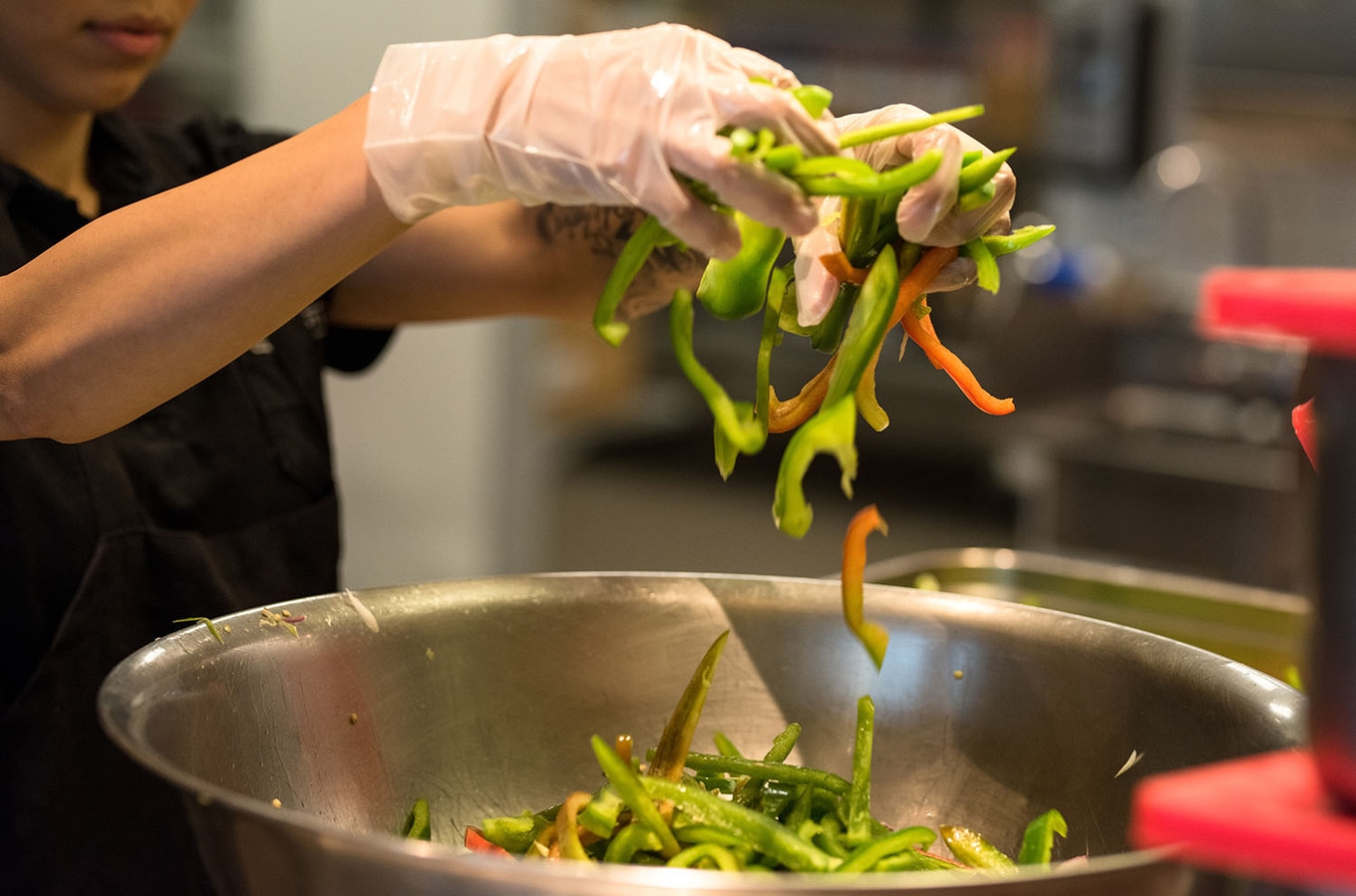 Chipotle
"Like Chipotle, Farmesa is committed to serving all real, fresh ingredients," Perdue says. "The new concept taps into the fresh eatery food trend, featuring a customizable menu of healthy made-to-order salads and bowls that appeal to a wide range of dietary preferences, including vegetarian."
Chipotle's vegan ventures
In-house developments are one part of Chipotle's support of plant-based innovation. Its venture arm, Cultivate Next—which it launched last year—is the other. Chipotle's investments are informed by its ethos of rebalancing food production with nature, which it captured in its "Human Nature" national television ad.
Last year, Cultivate Next made one of its first investments in fellow Colorado-born company Meati Foods, which grows whole-cut chicken and steak from mycelium—the fast-growing root systems of mushrooms. Chipotle participated in Meat's $150 million Series C round because, Perdue explains it "produces responsibly grown plant-based proteins."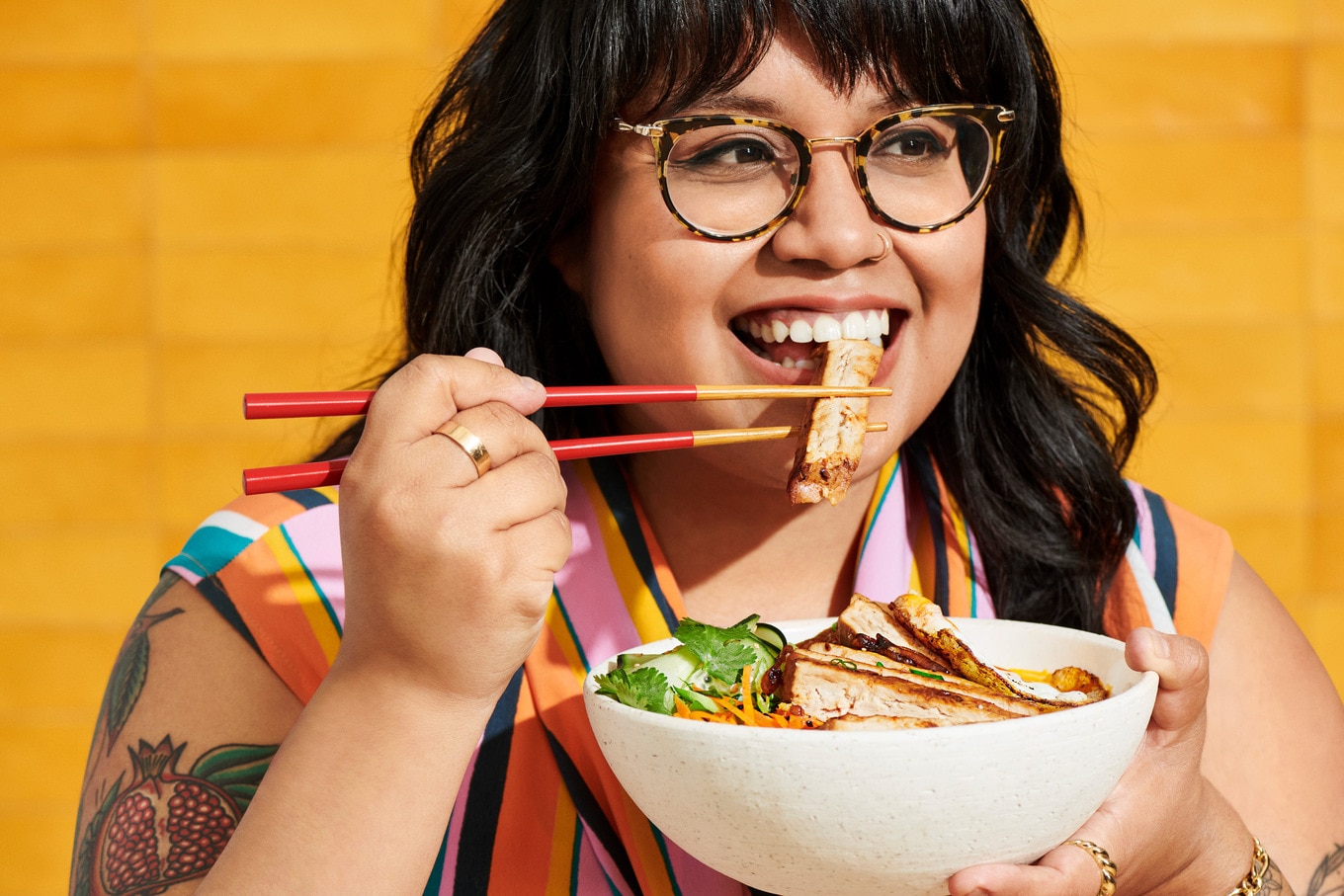 Meati
And Chipotle's investment in Meati is helping get mycelium meats into consumers' hands. Meati made its national retail debut at Sprouts Farmers Markets nationwide earlier this year and just landed on the menu at PLNT Burger—a vegan fast-food chain co-founded by celebrity chef Spike Mendelsohn.
Meati also recently opened Mega Ranch, a mycelium production facility that, at capacity, will produce 45 million pounds of vegan meat annually. That means it will produce more meat than any independent cattle ranch, all without the need to slaughter animals or pollute the environment.
For the latest vegan news, read: