For plant eaters, few things are more annoying than having to ask for holding the mayo on an otherwise vegan burger (looking at you, Impossible Whopper). But those days might soon be behind us thanks to DYMA Brands, an Atlanta-based foodservice condiment company that's getting into the plant-based space.
"As a company that is committed to bringing to market innovative foodservice products for changing consumer demands, DYMA constantly keeps its finger on the pulse of food trends," Jenna Adler, Director of Marketing at DYMA Brands, tells VegNews.
"One of the trends we have closely followed is the rapidly rising number of consumers searching for plant-based options, a preference that we believe will be here for the long-run," she says.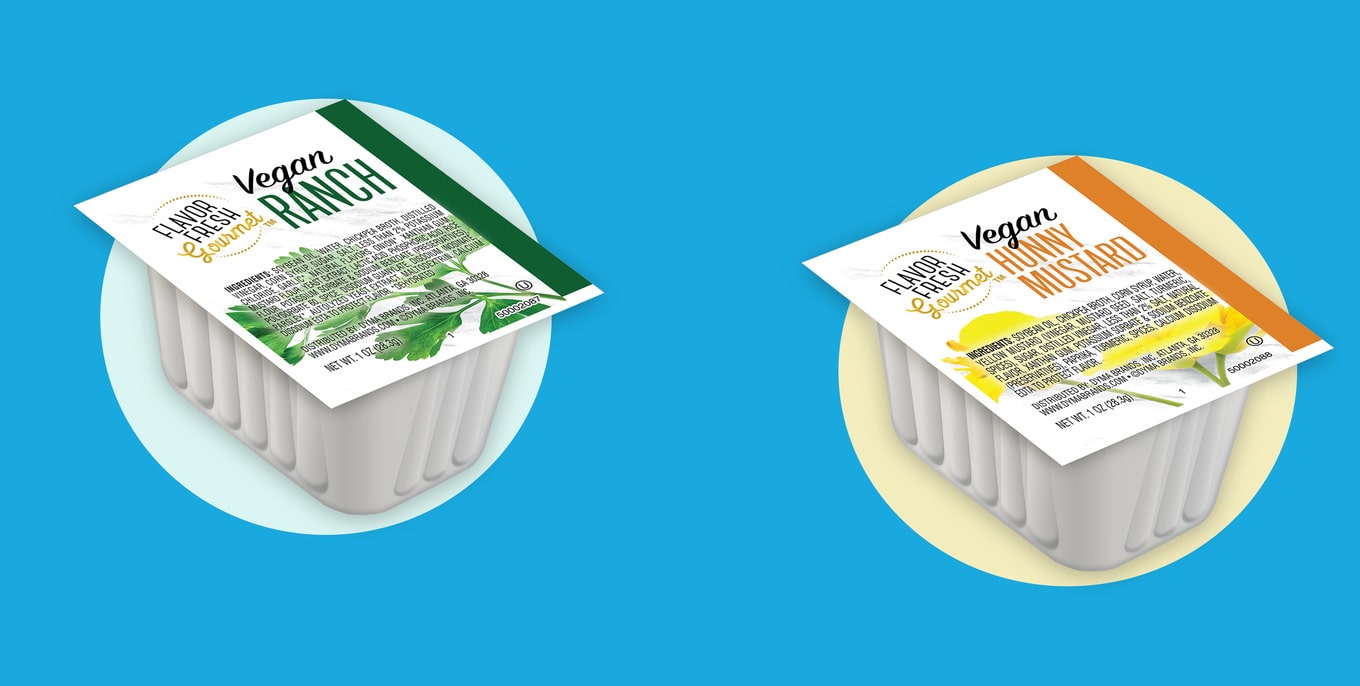 DYMA Brands
DYMA's new vegan condiment line focuses on three single-serve options: vegan mayo, ranch, and honey mustard, all three designed to be used in anything from burgers to salads and as dips.
"DYMA felt it was important to make vegan condiments available to more consumers, so that they have options when they are dining in, taking out, or ordering delivery," Adler says. "We are excited to provide a solution to all end users, whether they are vegan, flexitarian, or simply interested in better-for-you great tasting options."
"The future is very bright for plant-based options, especially when they taste as great as ours do," she says.
Vegan condiments to the rescue
Meatless options at fast-food restaurants have been on the rise since the national launch of the Beyond Famous Star and Carl's Jr. in 2018 followed by the Impossible Whopper at Burger King in 2019.
More recently, major chains such as Chick-fil-A have gotten into the meatless game. And while the latter is testing an option laden with eggs and dairy, DYMA's launch of plant-based condiments can give consumers more of the options they are looking for.
"Over the past few years, plant-based proteins, in the form of burgers or nuggets for example, have become readily available for most operators," Adler says. "However, oftentimes, the accompaniments to the center-of-plate option, including the condiments, have disqualified the offering from being truly vegan."
"Recognizing this gap, DYMA wanted to develop a solution that would meet the needs of consumers while remaining flavor-forward," she says.
DYMA will be showcasing this line— a first-of-its-kind within the single-serve category of the foodservice industry—at the National Restaurant Association trade show in Chicago this month, the largest gathering of foodservice professionals in the Western Hemisphere (read: a place where deals are made).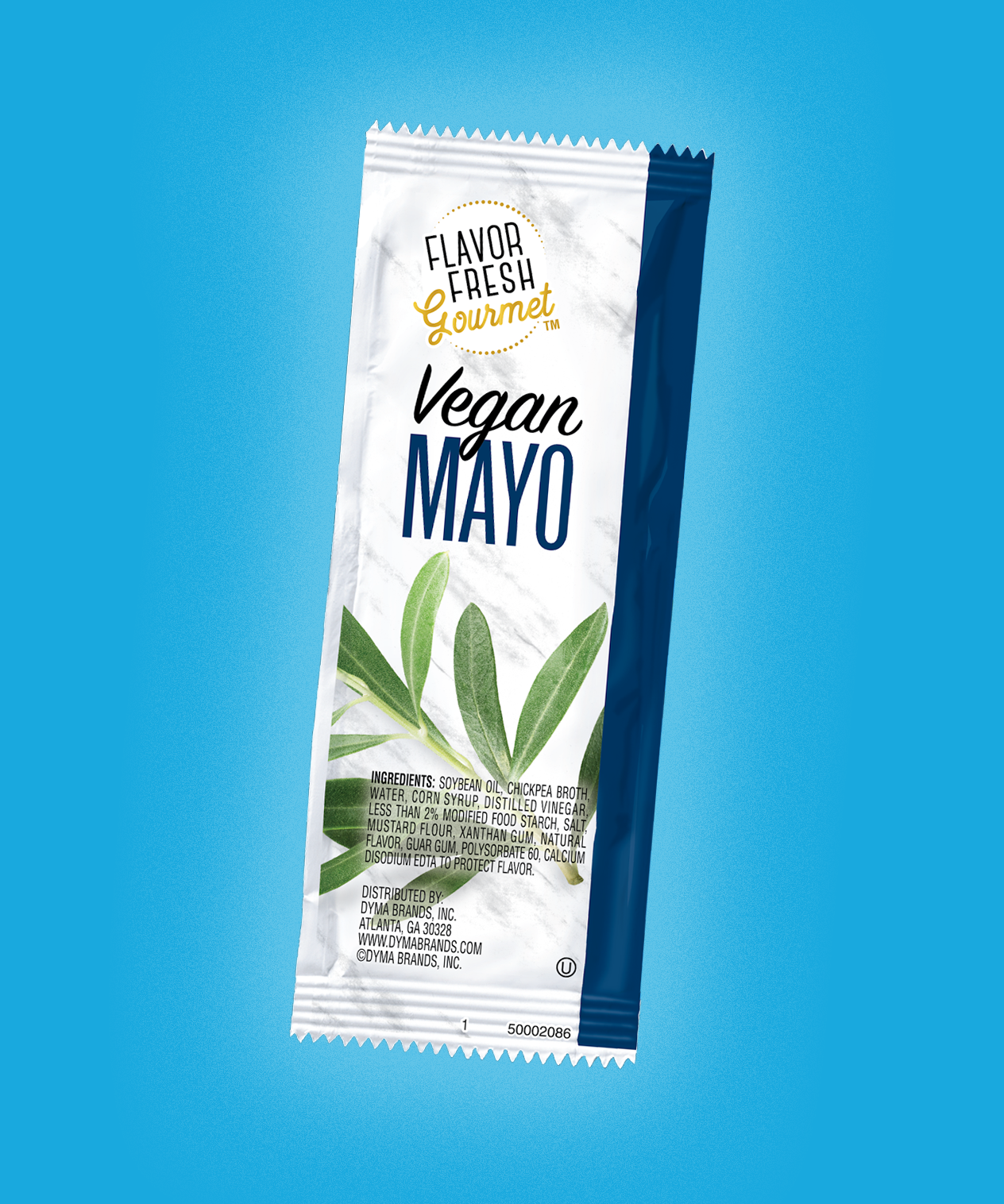 DYMA Brands
"With DYMA's new product line, operators can access vegan condiments and dressings that bring the flavor to plant-based proteins and help round out the offerings," Adler says. "DYMA is also a custom solution provider for foodservice, so it encourages operators to contact the company for any of their needs, including additional vegan condiment offerings they may have interest in."
Kraft's egg-free mayo
Vegan mayonnaise is not new, with Vegenaise holding down the fort since 1977. And the same company, Danone-owned Follow Your Heart, offers both vegan ranch and vegan honey mustard. However, a condiment tipping point of sorts is mounting to bring consumers a 360-degree eating experience as fast-food chains continue to explore meatless options.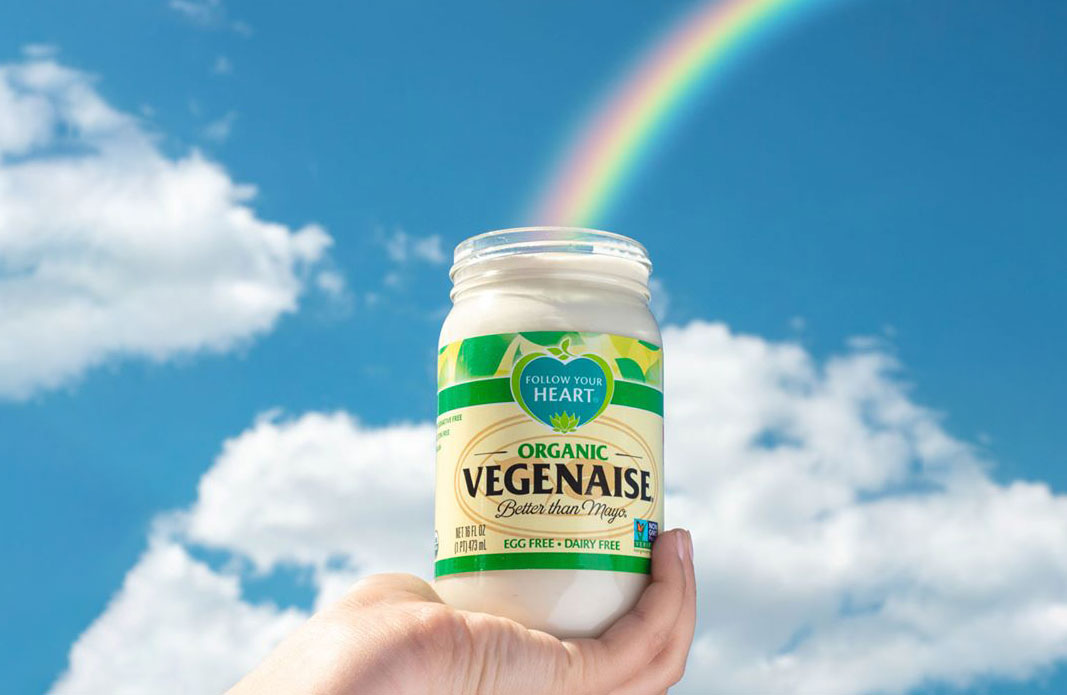 Follow Your Hert
A major player in the condiment game, Kraft Heinz, is also brewing up a vegan mayonnaise. Last year, the food giant entered into a joint venture with Chile's The Not Company (NotCo) called "The Kraft Heinz Not Company" under which it will explore how Giuseppe (NotCo's innovative technology) can transform its product portfolio.
Who is Giuseppe? He is an AI platform that helps NotCo—which counts Burger King, Starbucks, Dunkin', and more as partners in South America—identify plant ingredients to seamlessly recreate animal products on the molecular level. Thus far, the joint venture has resulted in last year's launch of dairy-identical vegan versions of Kraft singles in American, Provolone, and Cheddar flavors.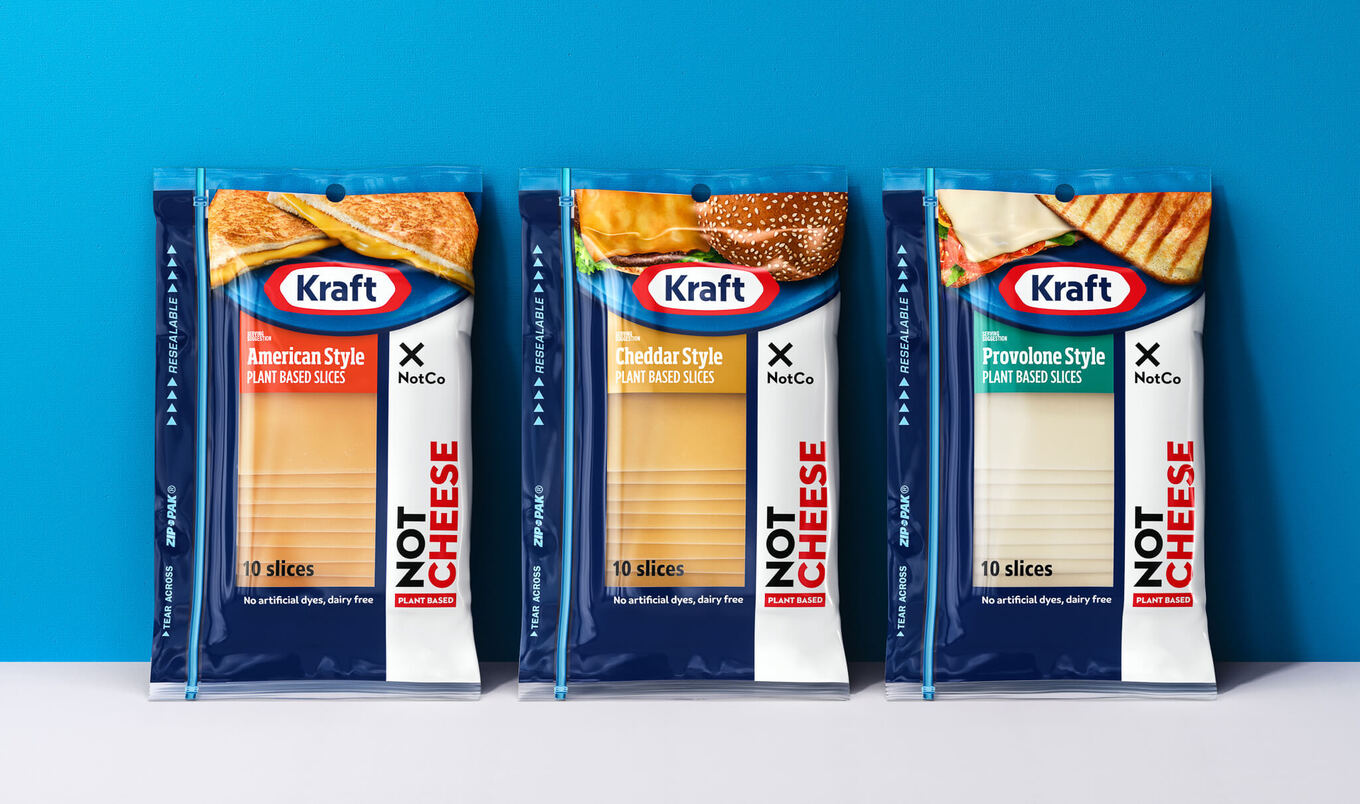 Kraft Heinz
In the pipeline for 2024 are new launches across seven categories, including a vegan version of Kraft's iconic mayonnaise. "When deciding which products to bring to market first, we analyzed different categories and taste and ingredient profiles, as well as the consumer need for a high-quality and great-tasting product—plant-based cheese slices and mayo rose to the top," a spokesperson for The Kraft Heinz NotCompany previously told VegNews.
Combined with DYMA Brand's venture into vegan condiments, this might just mean we can have a plant-based burger at fast-food joints and eat it, too.
For the latest vegan news, read: