Your summer vegan burgers are getting a melty cheese upgrade this year thanks to The Kraft Heinz Not Company. In time for the Fourth of July, the company is launching new vegan Kraft NotCheese Slices in three flavors nationwide.
The new vegan cheeses are a reimagining of classic Kraft Singles that the joint venture—between Chile's The Not Company (NotCo) and The Kraft Heinz Company—has been working on since forming last year.
The Kraft NotCheese Slices first debuted last fall in a limited-run test market in Cleveland, OH. How did shoppers like the vegan Kraft singles?
Katie Pekarek—Head of Marketing and Strategy for the Kraft Heinz Not Company—says the vegan cheese slices performed very well, informing the company's decision to launch them nationally.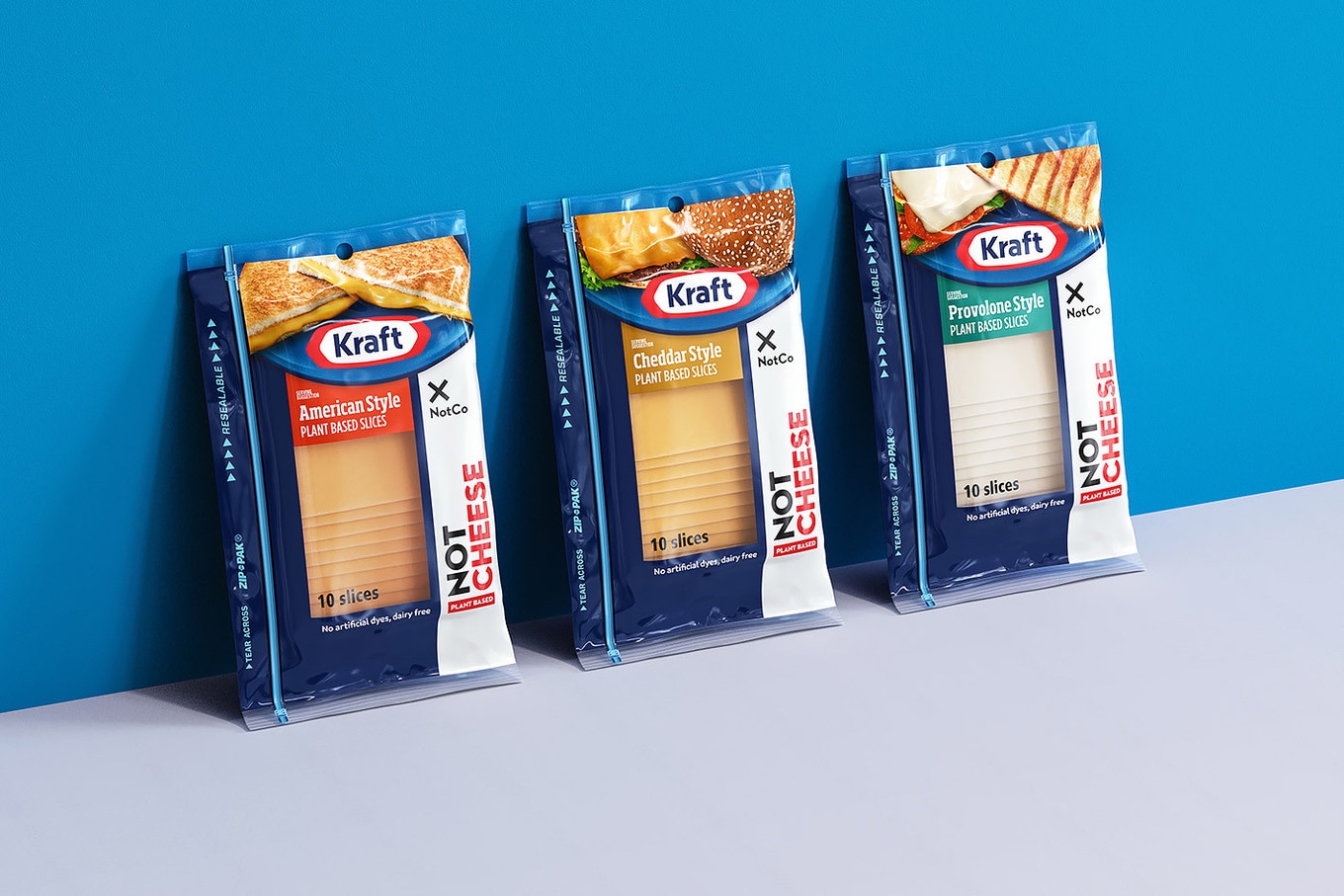 The Kraft Heinz Not Company
"The decision to expand nationally was based on our successful Cleveland test market that ran for 16 weeks starting in November 2022," Pekarek tells VegNews. "Kraft NotCheese Slices quickly became the #1 branded plant-based slice in dollar sales."
Pekarek explains that within eight weeks, repeat purchases of the vegan cheeses were at 20 percent and a majority of shoppers interviewed (91 percent) provided overwhelmingly positive reviews for the NotCheese slices.
"We wanted the rest of the country to have the opportunity to enjoy our delicious Kraft NotCheese slices," she says.
And the rest of the country can find the Kraft NotCheese Slices in American, Provolone, and Cheddar flavors at retailers nationwide in the coming months, both in the plant-based and dairy aisles.
Perfecting Kraft's classic cheeses with artificial intelligence
The Kraft Heinz Not Company was established to build a more sustainable future for the iconic Kraft Heinz company. Under the partnership, Kraft Heinz will meld its extensive industry knowledge, connections, and iconic brand portfolio with NotCo's technologies, namely its artificial intelligence-powered discovery platform that develops plant-based alternatives that mimic animal products on a molecular level.
The new Kraft NotCheese Slices were developed with this unique technology—which NotCo calls "Giuseppe"—and are made from water, coconut oil, modified corn starch, and chickpea protein as their main ingredients. The vegan cheeses are hitting the market at a competitive price that will help make them attractive to consumers looking to reduce their intake of animal products.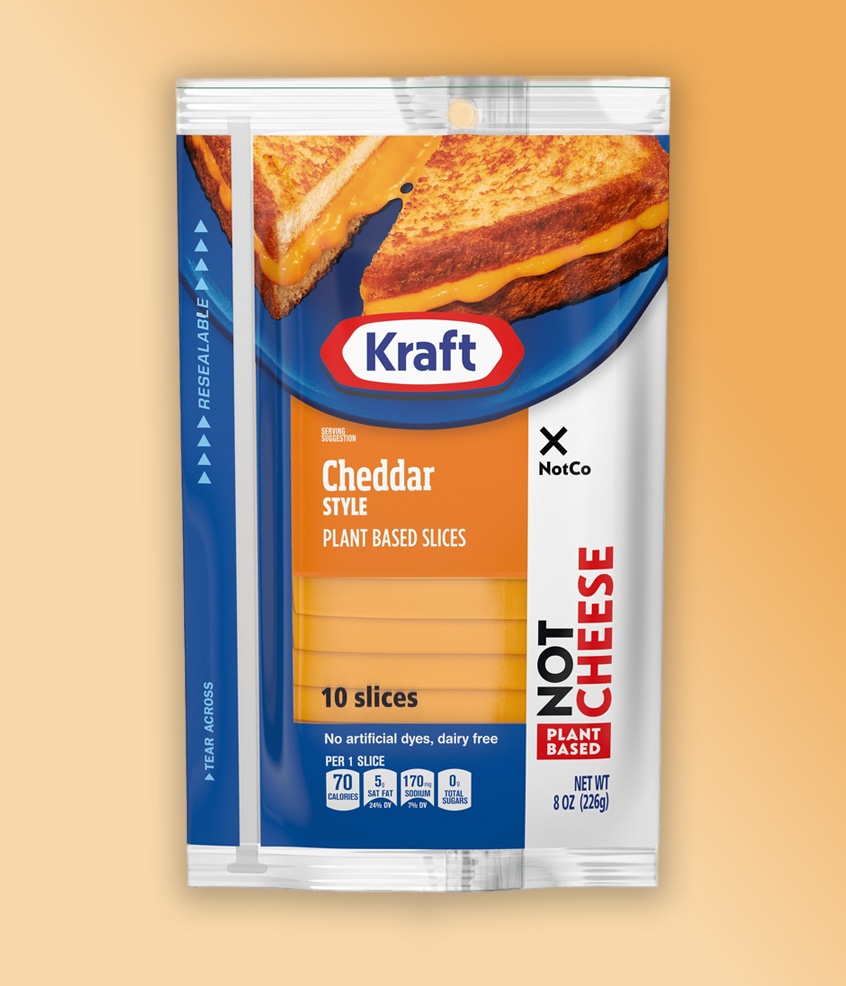 The Kraft Heinz Not Company
"Plant-based is one of the fastest growing segments in food and beverage, exceeding total food sales growth by three times, but there are significant barriers to entry such as taste, texture, variety, and availability that leave current consumers dissatisfied," Pekarek says. "The focus of The Kraft Heinz Not Company is to solve these barriers by developing mouth-watering plant-based foods for all."
Together, Kraft Heinz and NotCo will develop additional co-branded products at an accelerated pace and scale, making this joint venture one that could lead to major plant-based changes in the global food system.
"Our vision to be the indispensable plant-based food company has motivated us to deliver foods that fit with the way consumers are eating today," she says.
"Through focusing on product quality, leveraging consumer-loved brands, having a presence where consumers shop nationally, and offering an approachable price, we are confident that we can deliver great tasting, plant-based products that fulfill consumers' greatest pain points in these categories," Pekarek says.
The Kraft Heinz Not Company is headquartered in Chicago with research and development facilities in San Francisco. Overall, the goal of this joint venture is to "reshape the food landscape and set a new standard for plant-based innovation."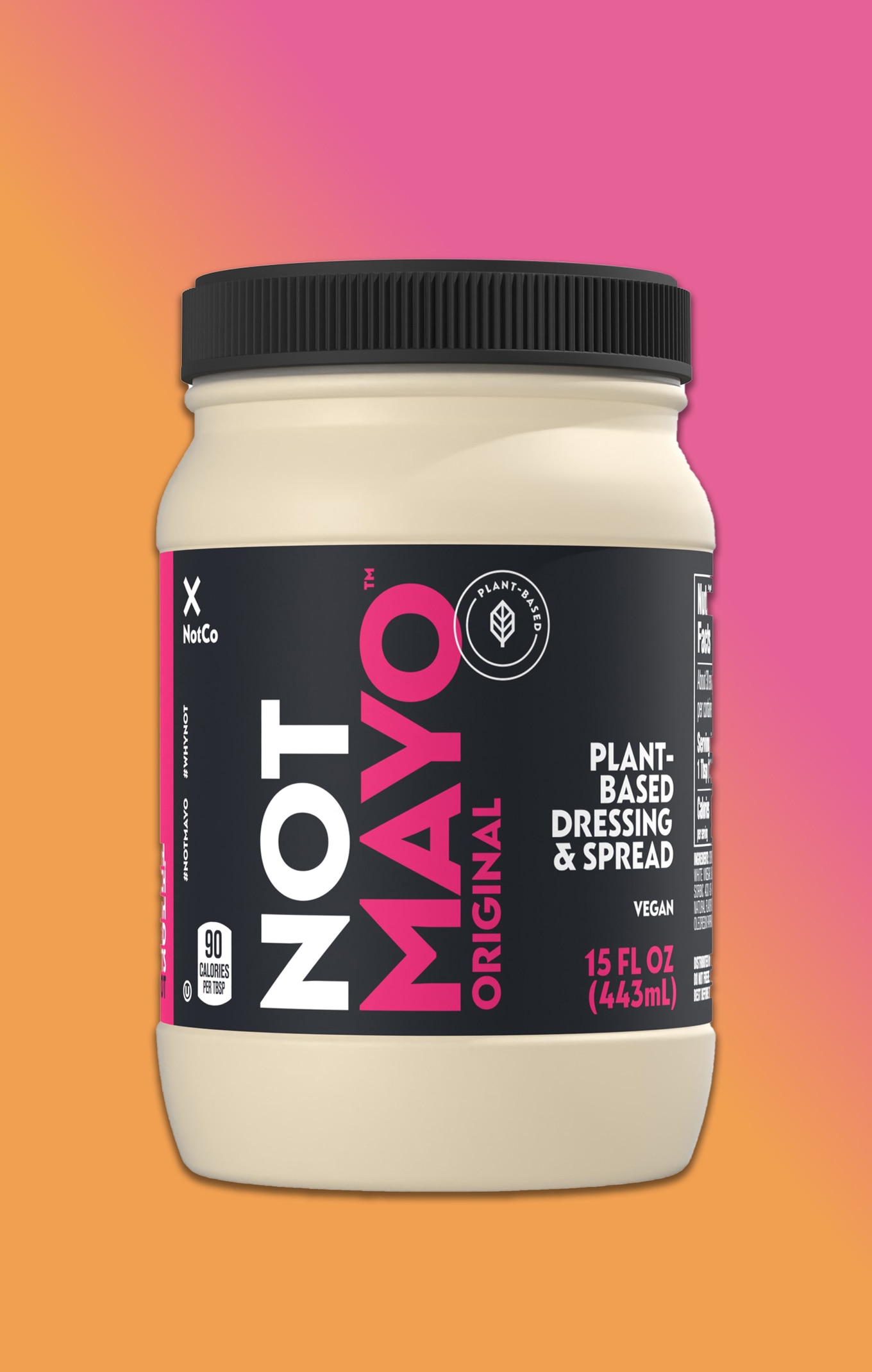 The Kraft Heinz Not Company
In addition to the new Kraft NotCheese Slices, the joint venture has thus far resulted in the launch of a vegan Kraft mayonnaise earlier this year.
Kraft Heinz looks to NotCo's technology to build the future of food
Founded in 2015 in Chile, NotCo uses its platform to analyze the properties of thousands of plants in a database and then creates unique ingredient combinations that aim to replicate the taste and texture of animal-based products.
Thus far, the startup has launched near-identical approximations of milk, meat, and mayonnaise made with unexpected ingredients such as pineapple, coconut, cabbage, peas, bamboo, beets, and chickpeas.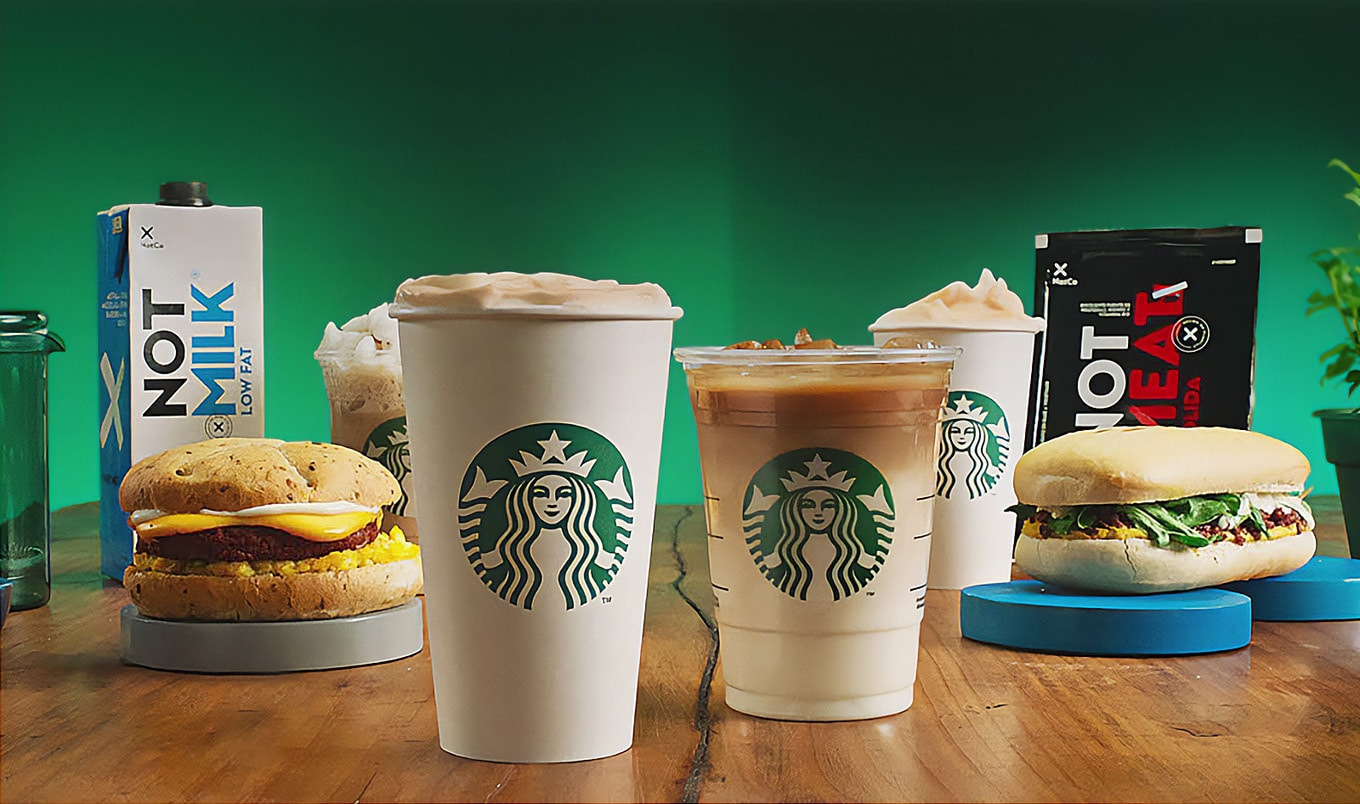 Starbucks
Backed by a long roster of top investors, including Amazon founder Jeff Bezos, NotCo has found wide distribution of its products such as NotMilk, NotMayo, and NotMeat in its home country. The brand's products are also available at major international chains in Chile, including Starbucks, Papa John's, Dunkin', and Burger King.
Stateside, shortly after forming its joint venture with Kraft Heinz, NotCo worked with Shake Shack to develop its first vegan desserts: the Non-Dairy Chocolate Custard and Non-Dairy Chocolate Shake. After a short test run in 2022, both items hit Shake Shack's more than 260 locations nationwide in May.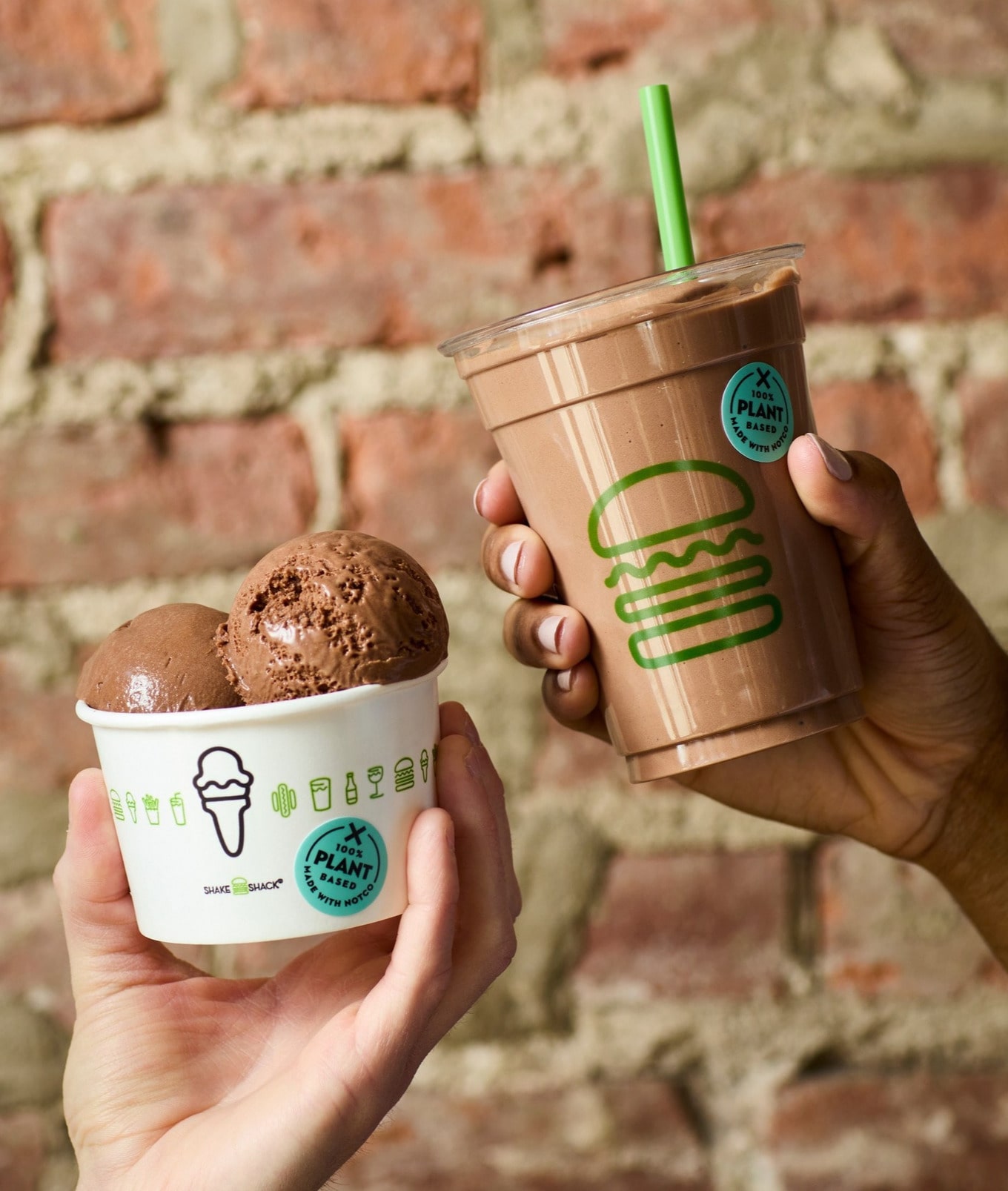 Shake Shack
"Following the early success of our new joint venture with Kraft Heinz last year, we knew this was the right time to welcome others into the fold and start accelerating the transformation of the plant-based industry," NotCo CEO and co-founder Matias Muchnick told VegNews earlier this year.
"There's still a lot to come, but for now we can only say that at NotCo we really innovate, that there are many brands that share this philosophy, and that we will not stop doing it."
Vegan Kraft Mac & Cheese and more
Prior to announcing its joint venture with NotCo, Kraft Heinz already began releasing new plant-based versions of its iconic products internationally. In Australia, Kraft Heinz launched a vegan version of its classic Kraft Mac & Cheese last year. The company developed the new product as a "contemporary" take on the classic boxed meal that is both gluten-free and vegan-certified with pasta made from rice flour and a dairy-free sauce.
Offered in the same classic blue box, Kraft even modified the cooking instructions for the new mac and cheese to suggest using soy milk instead of traditional cow's milk.
At the beginning of 2021, Kraft Heinz also released a vegan version of its best-selling Philadelphia cream cheese. Made from an oat and almond base, the Philadelphia cream cheese initially hit Tesco in the United Kingdom.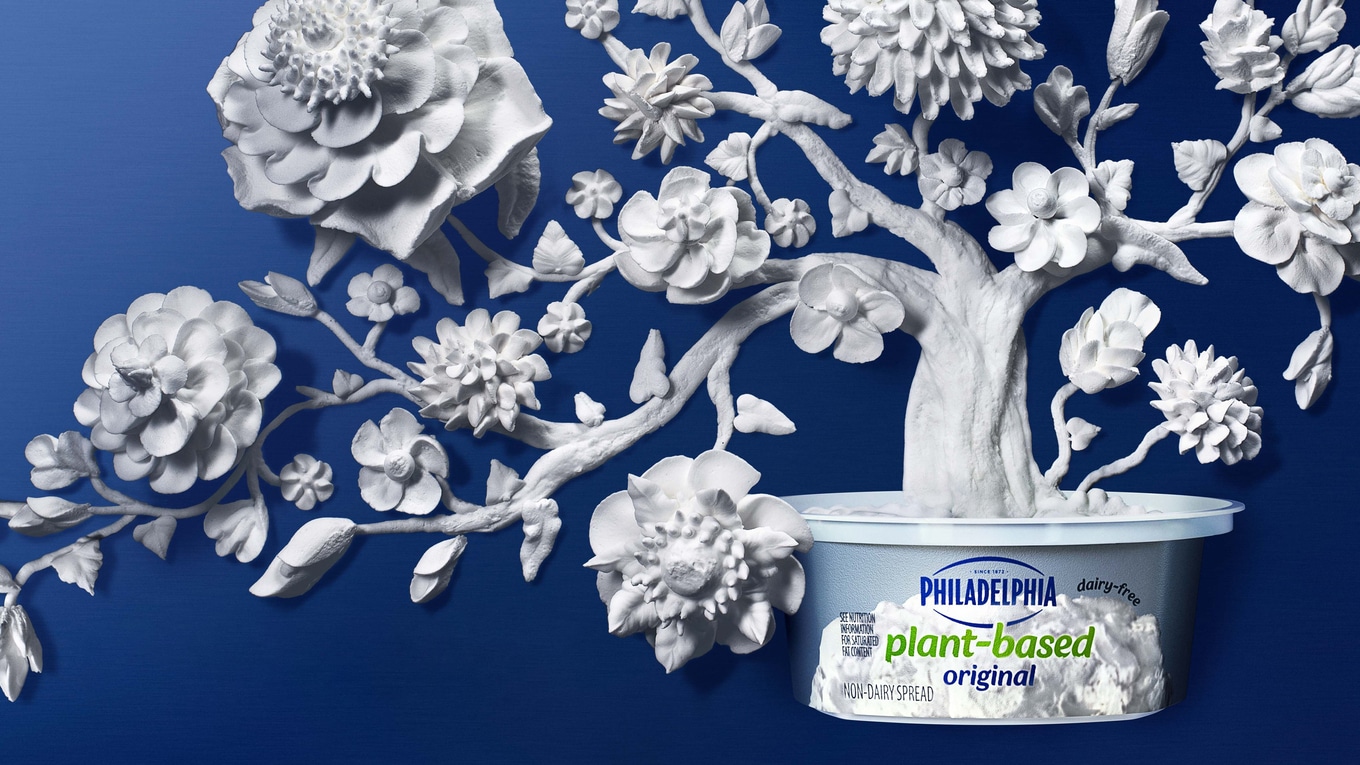 Philadelphia
This summer, Philadelphia is also launching a vegan version of its iconic cream cheese—made with coconut oil as a creamy base, along with potato starch and fava bean protein—at retailers across the United States.
Overall, the Kraft Heinz portfolio holds a lot of potential for new plant-based innovation. Some iconic meat- and cheese-heavy items that could benefit from a plant-based makeover are Oscar Mayer wieners, Lunchables, Velveeta, and Bagel Bites.
And with The Kraft Heinz Not Company, these might just get a modern vegan upgrade. This year, the joint venture aims to launch products across four categories. In 2024, it aims to scale across seven categories and expand products internationally.
For the latest vegan news, read: