French restaurateur and Michelin-starred chef Laurent Manrique is teaming up with vegan seafood startup Aqua Cultured Foods to perfect the flavor, texture, color, and culinary appeal of the startup's whole-muscle cut vegan tuna, whitefish, calamari, shrimp, and scallops.
Since its founding in 2020, Aqua Cultured Foods has been developing innovative technology that allows for the production of animal-free seafood using proprietary microbial fermentation processes that do not use any animal inputs, genetic altering, or modification.
The startup uses mycelium (the root systems of mushrooms) which allows it to retain naturally occurring fiber, protein, and other micronutrients.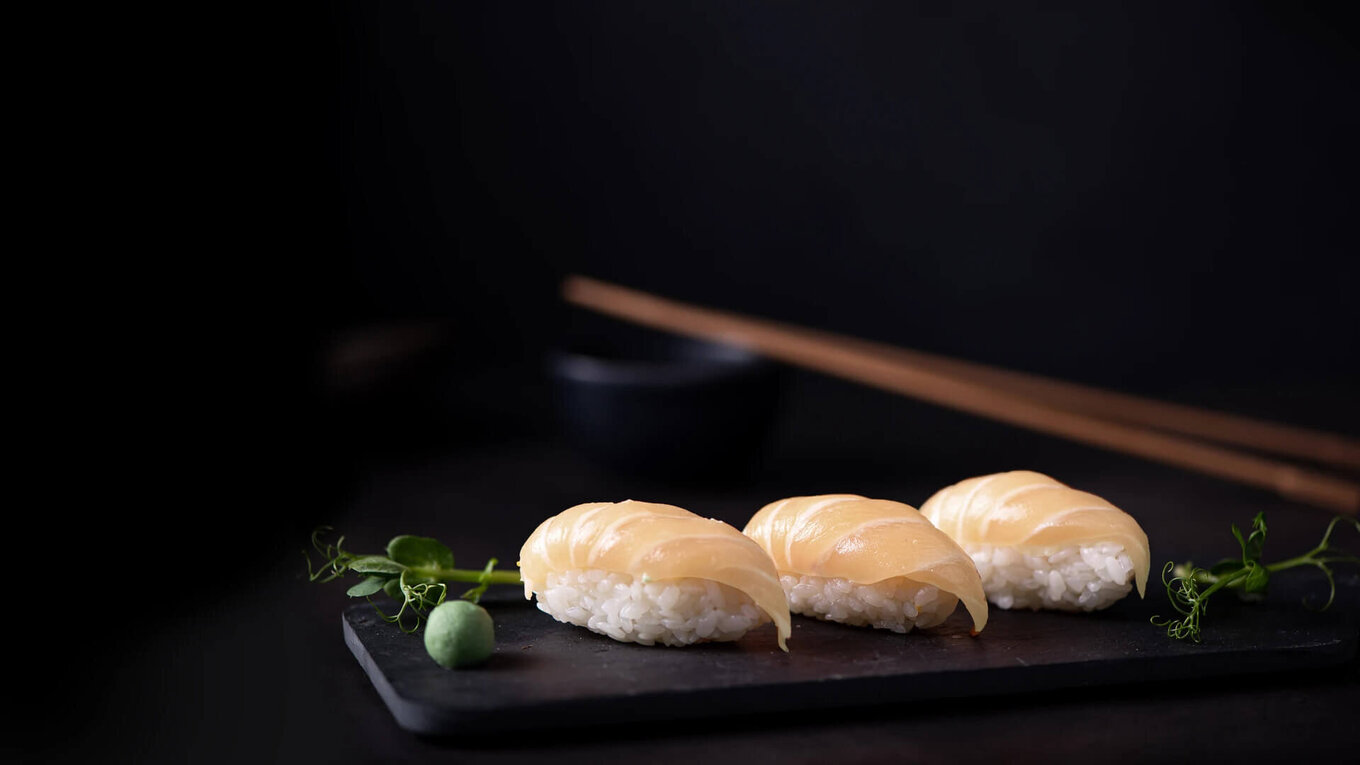 Aqua Cultured Foods
Earlier this year, Aqua Cultured Foods raised $5.5 million in seed funding to bring its ultra-realistic seafood alternatives to market. It is using the investment to equip its new facility, scale up production, add key talent, and expand its roster of restaurant and foodservice outlets for product introductions in 2024.
The startup has already done its first beta testing with consumers and had "tremendous feedback," according to Aqua Cultured Foods.
Before launching its seafood, however, Aqua Cultured Foods wants to ensure it's the best it can be. "Every day we are looking for ways to truly make our product exceptional and we realized that in order to achieve that mission, we had to surround ourselves with the best chefs in the world who are as obsessed with taste as we are," Anne Palermo, Aqua Cultured Foods co-founder and CEO, tells VegNews.
Perfecting vegan tuna, shrimp, and scallops
The partnership with Manrique came about somewhat serendipitously. "Chef Laurent's son learned about our company while doing research at his job, and then he connected us with his father," Aqua Cultured Foods co-founder and CGO Brittany Chibe tells VegNews. The end goal is to perfect the products so that top chefs—just like Manrique—around the world want to use Aqua Cultured Foods products in their dishes.
Interestingly, Manrique was previously the corporate executive chef of Aqua, an upscale seafood restaurant in San Francisco that had no previous relation to Aqua Cultured Foods. At Aqua, he was famous for his tuna tartare and earned two Michelin stars in 2006, and again in 2007 and 2008.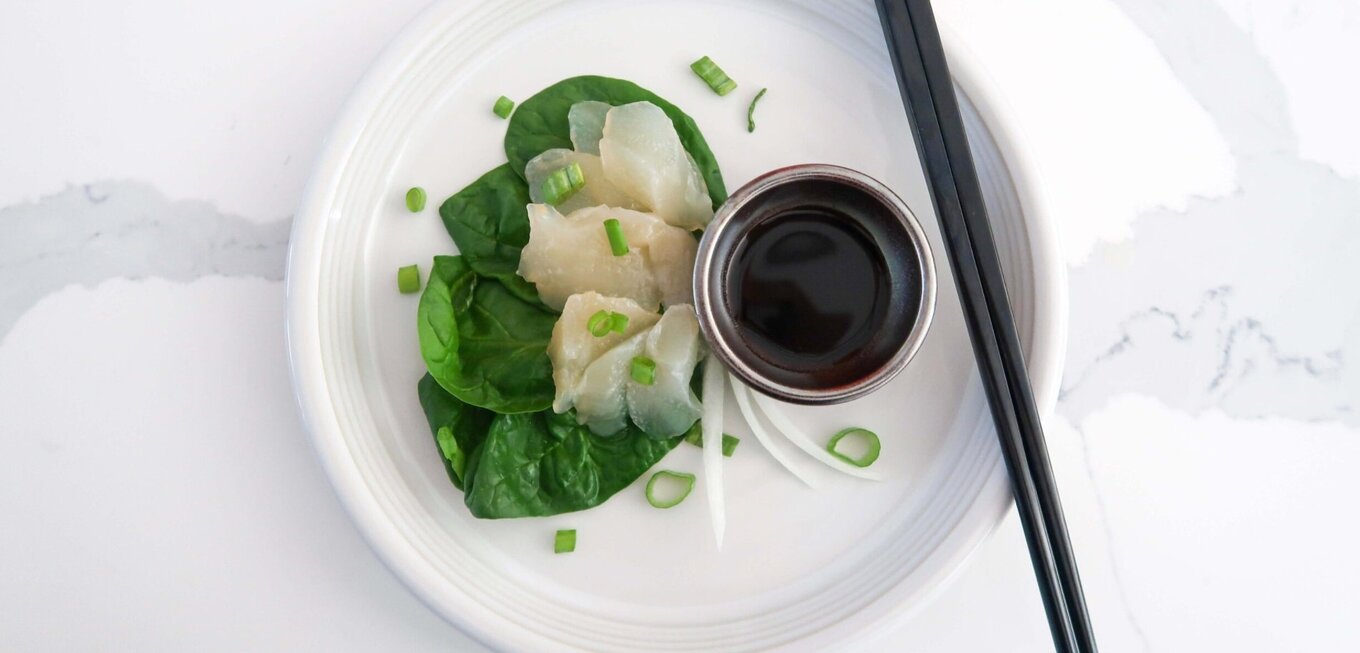 Aqua Cultured Foods
Upon his departure in 2009, the restaurant lost its Michelin status and later closed in 2010. Since 2005, Manrique has also owned Café de la Presse, a French restaurant in San Francisco.
As culinary advisor to the vegan seafood startup, Manqrique is bringing his decades' worth of experience to the Aqua Cultured Foods team with a goal to perfect its products for a January 2024 commercial launch of vegan tuna, shrimp, and scallops.
But what motivated a traditional chef to work with a vegan company? A passion to save the ocean, according to Manrique.
"I am always searching to learn more and I like to discover new products. When I first learned about Aqua, I was incredibly intrigued and excited by [its] offerings and passion to save the ocean," Manrique tells VegNews.
"When I first tried [its] product, I was beyond impressed with the look, texture, and moisture of the product; so much so, I sent pictures to a few chefs who were also in disbelief," Manrique says.
Vegan seafood to save the oceans
As part of the partnership with Aqua Cultured Foods, Manrique will be working with the company's product development team in person. "The goal is to get Aqua's products as close as possible to the real thing," Manrique says.
"On my first visit to work with the team in Chicago, I brought in real diver scallops and fresh tuna to work side by side," he says. "Now that we have set the standards for each product and how it should taste and look and feel, the team sends me new versions of the product to taste and provide feedback."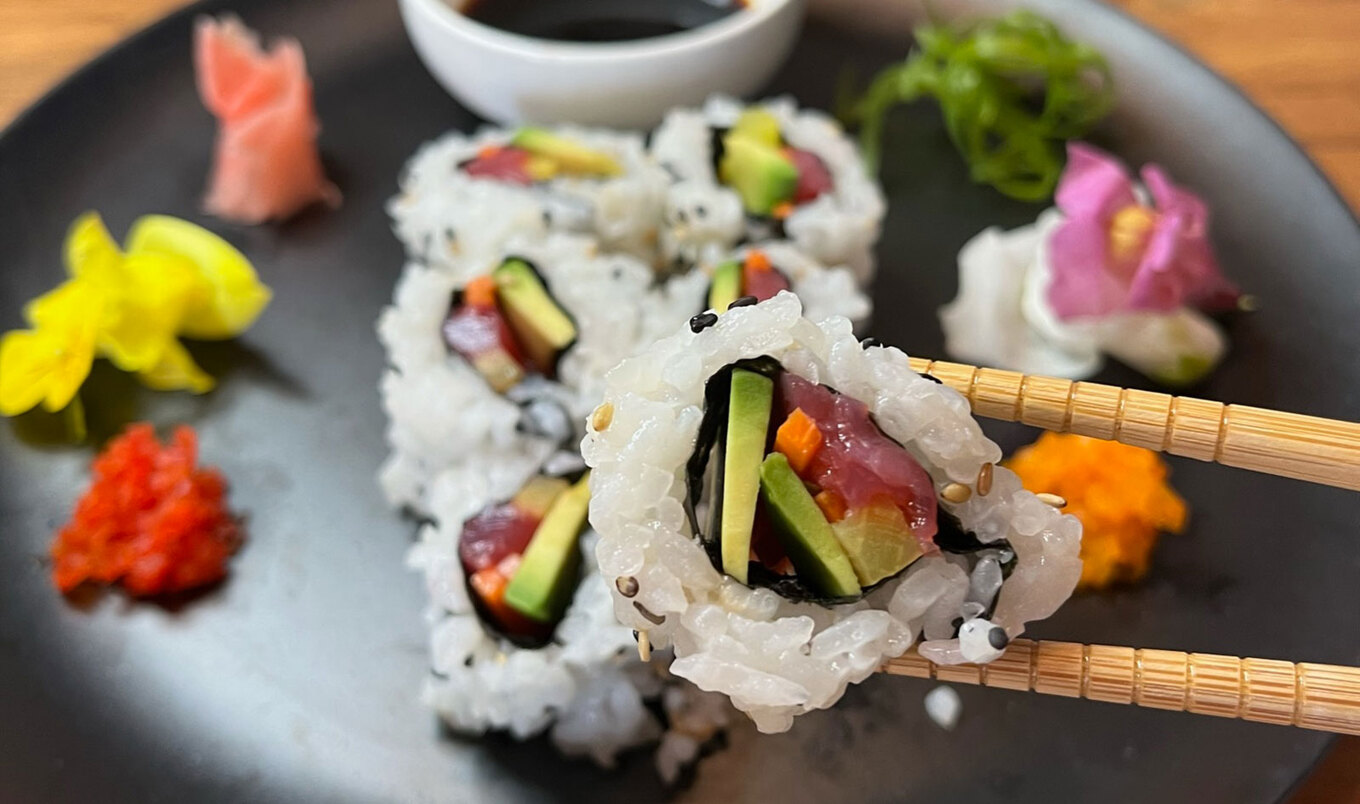 Aqua Cultured Foods
Ultimately, Manrique believes in Aqua Cultured Foods's mission to help save the oceans. "I am not a vegan, but as a chef, I am conscious about how we are feeding our children," Manrique says. "After being involved in high-end seafood restaurants for many years, I realized that at some point the ocean will not be able to provide seafood for future generations."
Manrique believes there will always be a demand for seafood, but the way it is produced will need to change. "We will never not have seafood on menus, but the way I see the future is that real seafood will become a rare delicacy," Manrique says. "It is important to have other options and to give people a choice. We want to bring those options."
For the latest vegan news, read: