It seems that every week in the world of vegan food news is more exciting than the last and this week is no exception. The summer is in full swing and we love frozen treats of every kind, from Menchie's new Cherry Rocket Pop sorbet to Flour Shop's vegan cakes made with Craig's cashew-based ice cream. There's a new outdoors inspired menu at Next Level Burger (which comes with a chance to win a summer adventure). And German chocolate brand Ritter Sport just launched four vegan chocolate flavors stateside. Read on for more.
1Vegan red rocket pop sorbet
We can all remember that nostalgic rocket pop (officially called a "Bomb Pop") that turned our mouths red, white, and blue. At frozen yogurt chain Menchie's, the classic treat just got new life as a vegan sorbet.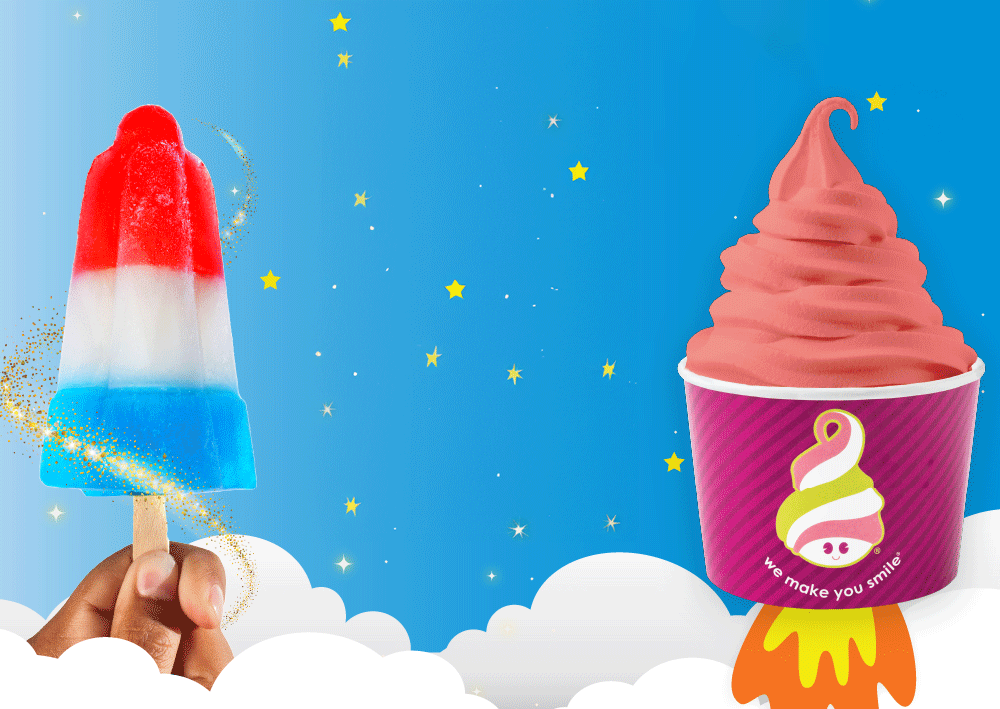 Menchie's
Menchie's new Vegan Cherry Rocket Pop flavor can be ordered in special edition cups and spoons that celebrate the chain's 16th anniversary.
"Sixteen years of Menchie's means 16 years of smiles across the globe," Elizabeth Berry, Menchie's Vice President of Marketing, said in a statement. "Menchie's is the perfect place for friends and family to spend quality time together and make memories."
"We look forward to continuing to provide delicious frozen desserts and, of course, serving many more smiles throughout local communities worldwide for generations to come," Berry said.
In addition to the new Cherry Rocket Pop flavor, Menchie's offers a selection of more than a dozen vegan options, including sorbet in Sweet Juicy Peach, Simply Mango, and Fudgy Chocolate flavors.
2Summer vegan burgers at NLB
Hot off Fourth of July barbecues but still craving some summer burgers? The good folks over at Next Level Burger have got you covered.
The new summer menu at the vegan fast-food chain is all about honoring the outdoors with three burgers dedicated to mountains, lakes, and forests. First up is The Redwood Truffle Burger, a shiitake mushroom and white truffle patty topped with smoked gouda cheese, sautéed herbed mushrooms, and house-made forest sauce on a sprouted grain bun with organic lettuce and tomato.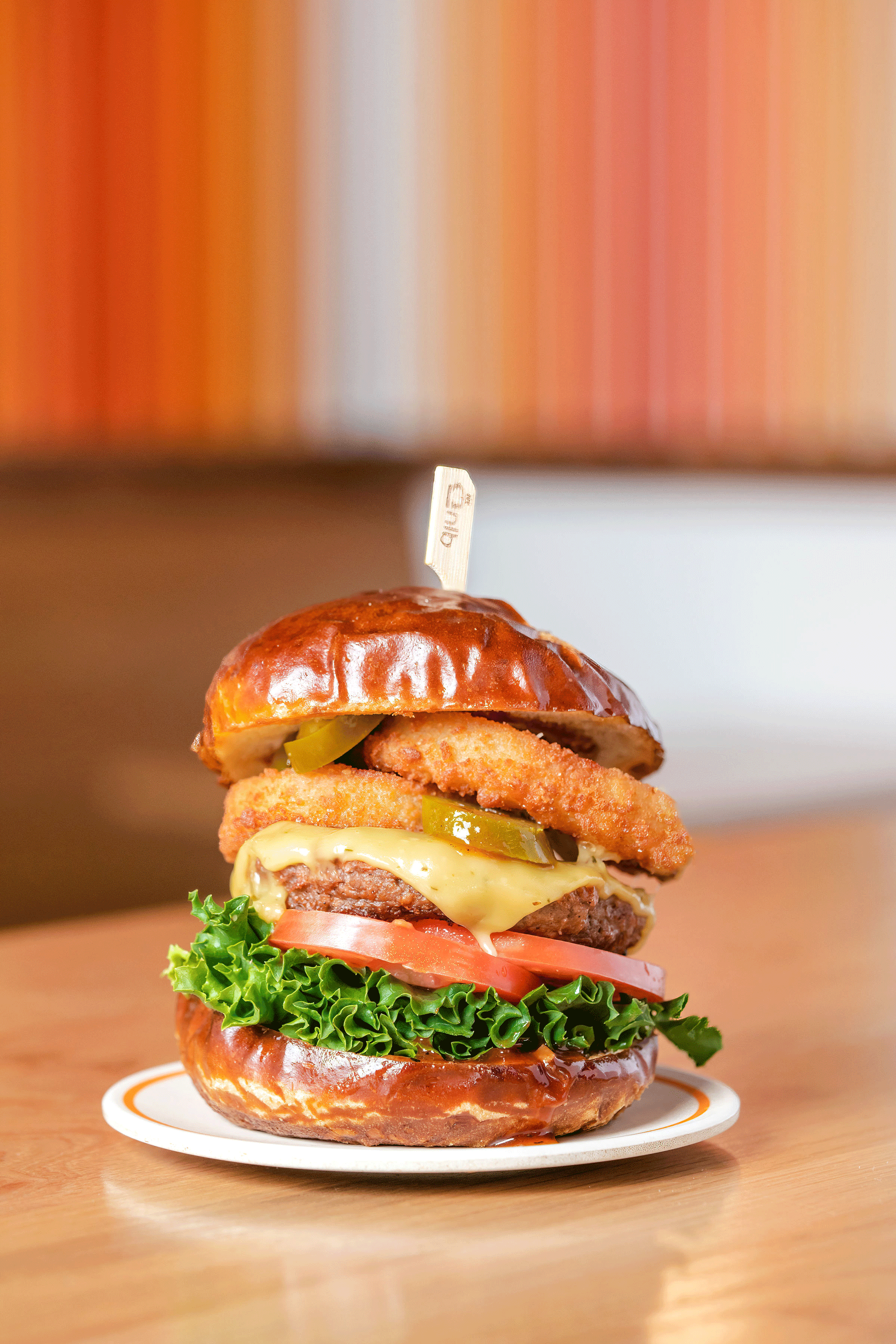 Stephanie Kelly Photography
Next is the stacked Smoky Mountain BBQ Burger, a quarter-pound Beyond patty topped with house-made Nashville Fire Seasoning, grilled jalapeños, pepper jack cheese, crispy onion rings, Memphis Sweet BBQ sauce, and organic lettuce and tomato on a butter-toasted pretzel bun.
And to honor our waterways, NLB created The Crater Lake Fish(less) Burger with two crispy fish(less) filets, dill pickles, and house-made tartar sauce.
Ordering any of these burgers comes with a chance to win prizes like hammocks, kayaks, and a trip to the Zion mountains to further celebrate the outdoors.
3Vegan rainbow ice cream cake
Craig's Vegan Ice Cream has gained a celebrity following since West Hollywood restaurant Craig's Restaurant introduced it in 2016. Packed into pints in 2018, the cashew-based ice cream is now available all over, including in its own scoop shop in Las Vegas.
What do you do when you've already impressed everyone from Lizzo to Kendall Jenner with your vegan ice cream? For Craig's, the answer is stuffing it into three vegan cakes—one doused in rainbow sprinkles.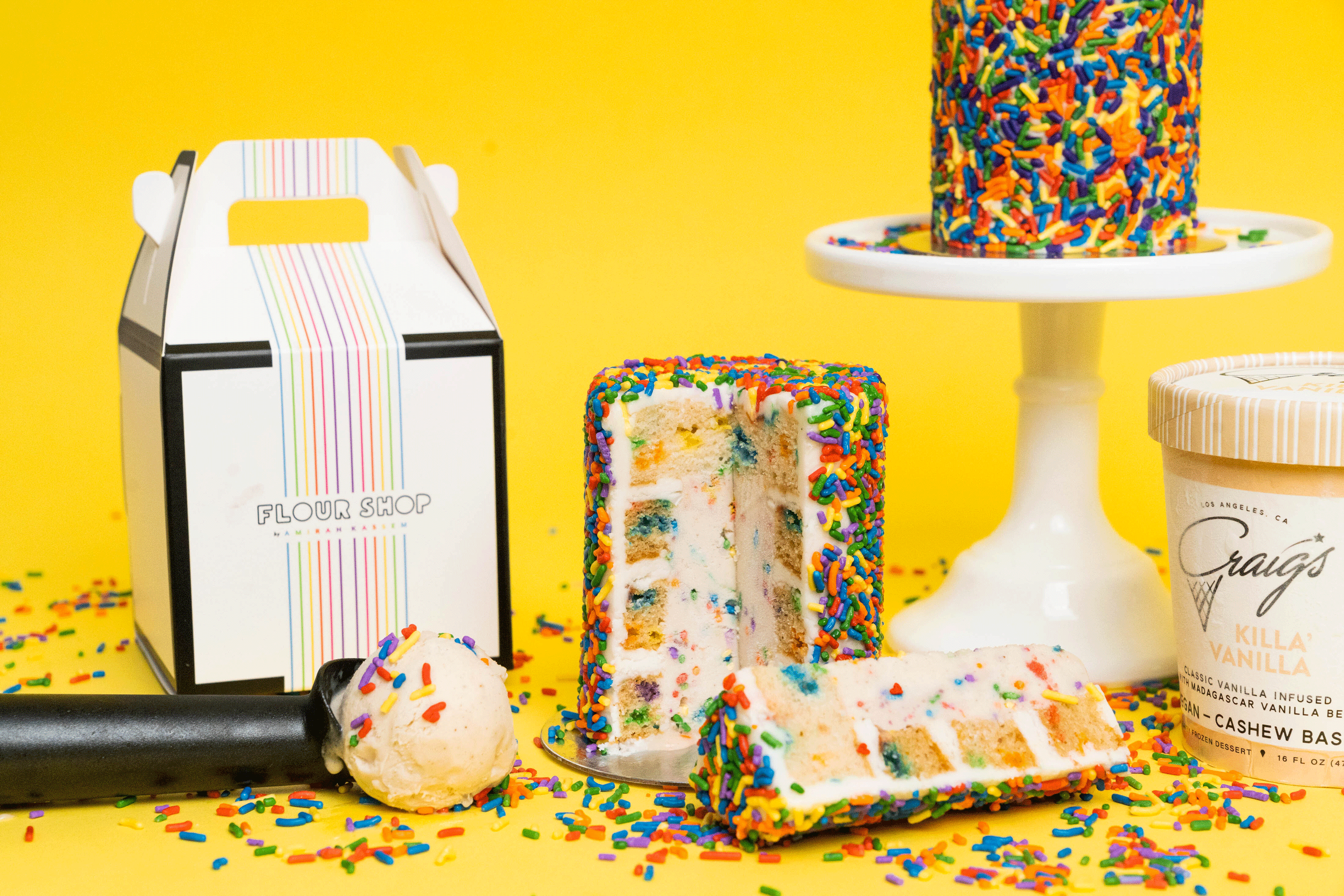 Craig's Vegan Ice Cream
These new creations are part of a collaboration between Craig's and artist-owned Flour Shop which developed three limited-edition vegan ice cream cakes: Vegan Rainbow Explosion, Sunset & Strawberry, and Kursten's Peanut Butter Crunch.
The vegan ice cream cakes are available for a limited time at Craig's restaurant and scoop shops and at Flour Shop's locations in both New York City and Los Angeles.
4Ritter Sport launches vegan chocolate line
Ritter Sport has always set itself apart from the bunch with its square chocolates. And now, the German confectioner continues to think outside the box with a new selection of vegan chocolates for its fans stateside.
The new vegan Ritter Sport chocolates are available in four flavors: Smooth Chocolate, Roasted Peanut, Salted Caramel, and Crunchy Almond. The first three flavors are made with an almond flour and hazelnut paste to deliver a smooth consistency without dairy.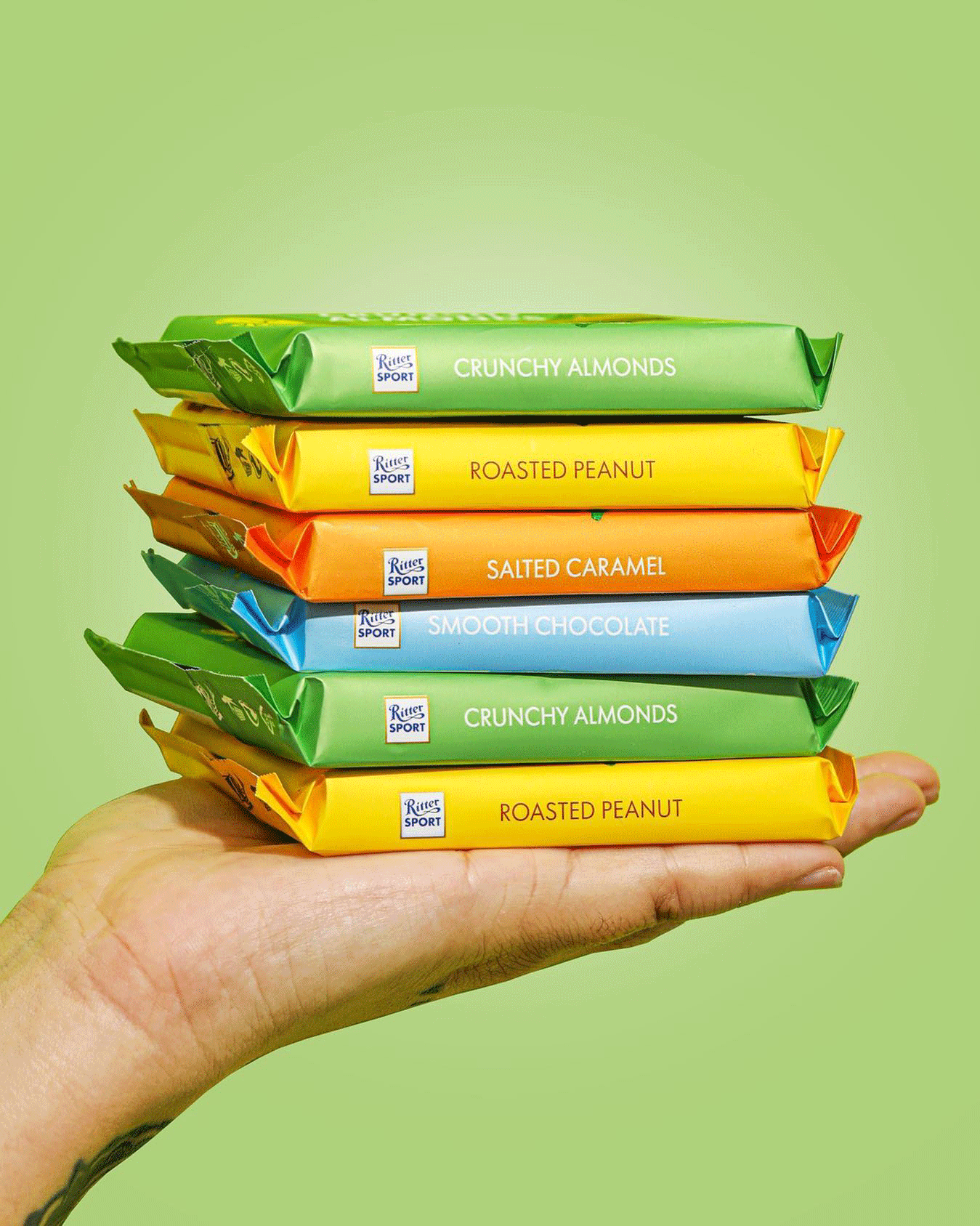 Ritter Sport
Anette Larsson, Head of Business Development & Marketing, explains that the US is one of the largest chocolate markets in the world and the new line was developed with flexitarians in mind, a growing consumer group that oscillates between eating vegan and non-vegan products.
"With our product, we focus on taste first and have found a recipe where being vegan does not need to compromise on taste," Larsson tells VegNews. "You can have really tasty chocolate bars even if they're vegan."
"We don't see this as an in-and-out product," Larsson adds, explaining that Ritter Sport sees its vegan chocolate business as an ongoing opportunity under which it will continue to develop new offerings.
This launch follows a limited-edition tower of vegan chocolate that Ritter Sport released in January, along with its existing vegan offerings overseas.
5Coconut water cold brew
We're big fans of Vita Coco's thirst-quenching coconut water but also love a strong cup o' joe. Luckily, there's a new beverage that combines both. Enter the Coconut Water Cold Brew, available now at Aussie-inspired Bluestone Lane coffee shops nationwide.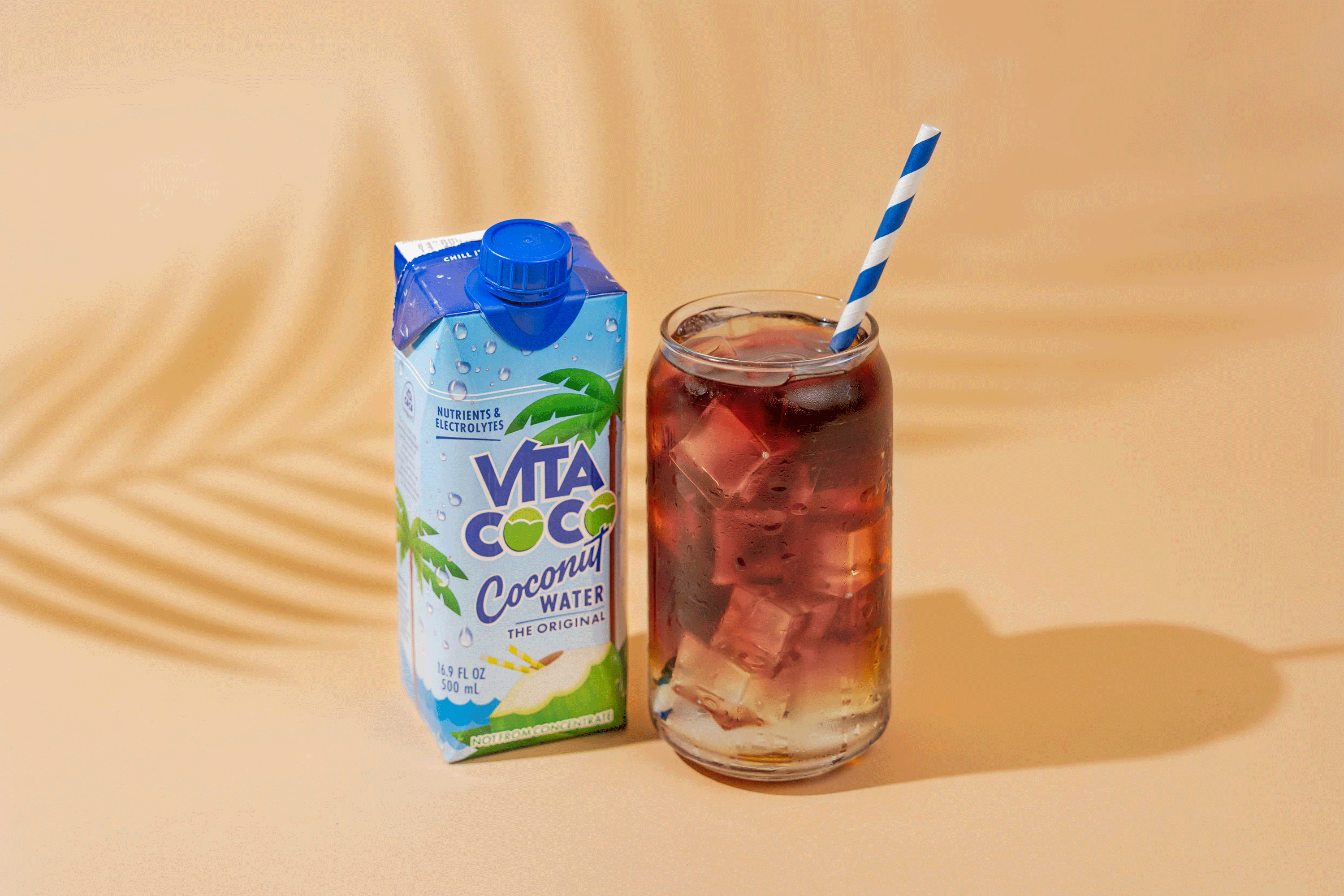 Vita Coco
"Coconut water is inherently versatile but integrating it into cold brew is a newer take for us—one we're eager to see enjoyed and celebrated all summer long," Mike Kirban, Executive Chairman and Co-Founder of The Vita Coco Company, said in a statement.
Bluestone Lane's first-ever specialty coconut water coffee drink, the Coconut Water Cold Brew blends the chain's signature Flagstaff brew with Vita Coco's Original Coconut Water in a refreshing drink with a caffeine kick.
We're thinking a splash of coconut milk might take this buzzy beverage over the top.
For the latest vegan news, read: