It seems that every week in the world of vegan food news is more exciting than the last and this week is no exception. Canada's Odd Burger is making its most popular vegan meats available in stores, including chicken patties and smash burgers. Veggie Grill just partnered with YoEgg to give three menu items a runny yolk upgrade. And do you want to savor hot honey-drizzled pizzas but don't want to hurt bees? There's a spicy new product from sugar maker In The Raw just for that. Read on for more.
1Hot honey but make it vegan
Drizzling hot honey on wings, pizza, and more is no longer off-limits to plant-based eaters thanks to In The Raw, a company known for its sweeteners.
This week, the company unveiled Organic Hot Agave In The Raw which delivers a unique blend of sweet and spicy flavors. Made from 100 percent raw blue agave nectar from Jalisco, Mexico, and enhanced with the heat of jalapeños and chili, it's perfect for adding a spicy kick to food or drinks.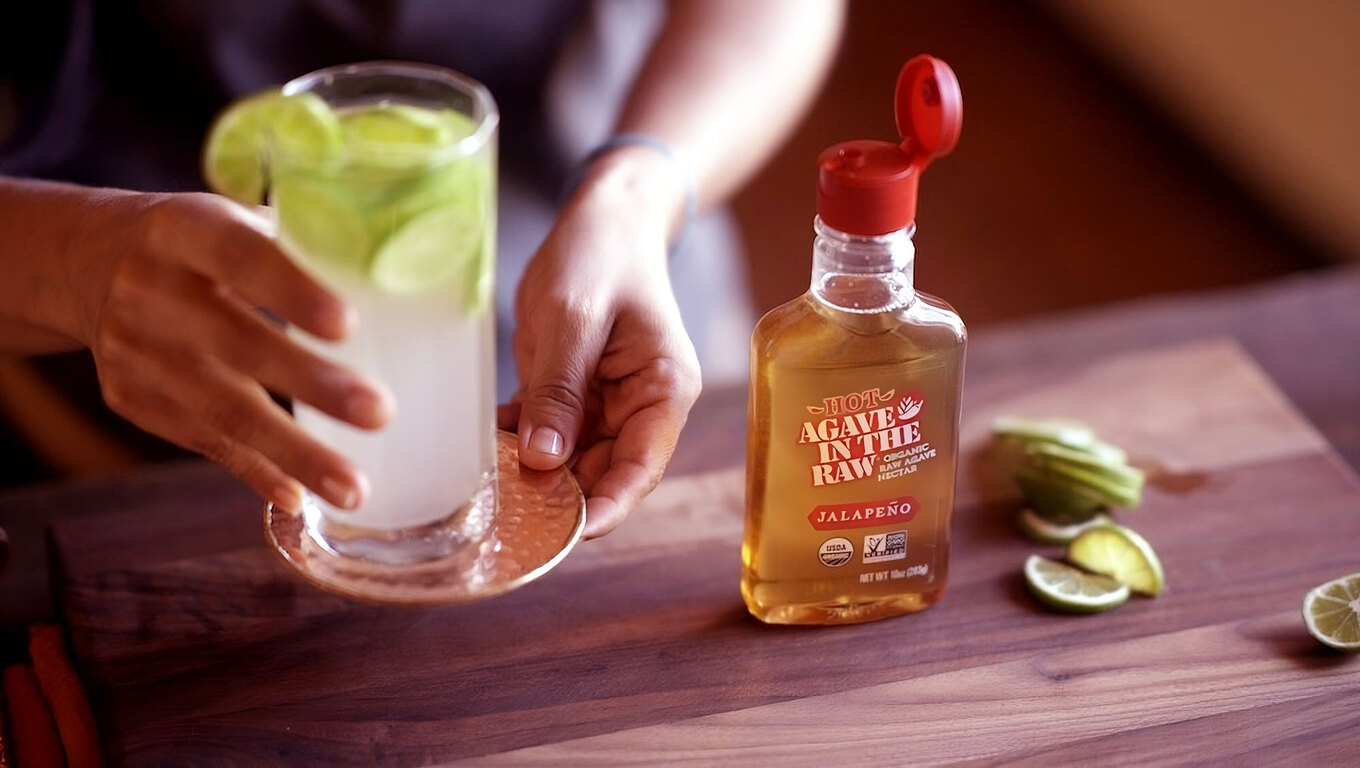 In the Raw
"We can't wait to see the creative ways our consumers will experiment with Hot Agave, and are excited to continue expanding our product line to bring sweet solutions for people's evolving lifestyles as we've done for the last 50 years," Steven Eisenstadt, CEO of In the Raw parent company, Cumberland Packing Corp., said in a statement.
Timed for summer and National Agave Day celebrations, this vegan, low-glycemic syrup will be available in convenient 10-ounce bottles starting July 31 on the company's website, online store, and Amazon.
2Oat milk-based vegan cheeses
Need a new melty cheese slice on your next vegan burger? South Korean food-tech company Armored Fresh has just the thing—and it's made with the trendiest base: oat milk.
Armored Fresh developed its new vegan cheese using fermented oat milk, which replicates the unique, sharp, salty, and nutty notes of dairy cheese without animal inputs.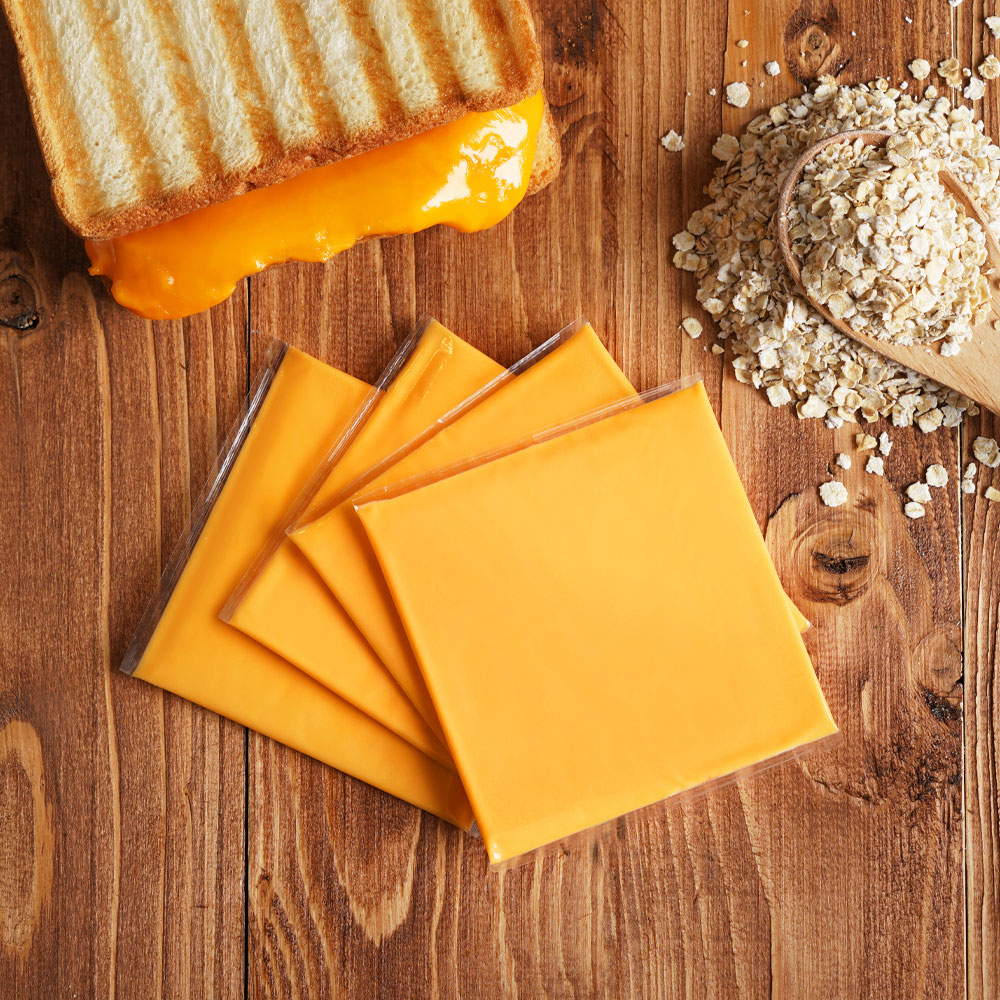 Armored Fresh
"It's our mission to prioritize consumers' well-being by creating delicious products that everyone can enjoy, which is why expanding into oat milk to provide a dairy-free option to give consumers a wider variety to choose from was a clear next step," Rudy Yoo, CEO and Founder of Armored Fresh, said in a statement.
"We've worked extensively with our R&D team to create an option that rivals traditional dairy cheese and are excited to expand our foodservice partnerships with this new offering," Yoo said.
Since its 2022 launch, Armored Fresh—which also offers almond milk-based cheeses—has expanded rapidly, with a presence in over 100 New York retailers and Kroger, plus direct-to-consumer availability in 16 states.
3Odd Burger launches vegan meat line
Canadian vegan fast-food chain Odd Burger is eyeing an expansion of its shops across Asia and North America, including its first United States outposts planned for Washington state, where it plans to open 20 locations by 2031.
Simultaneously, the company just launched a vegan meat line, produced by its consumer goods subsidiary Preposterous Foods, to give fans a way to enjoy Odd Burger favorites in the comfort of their home.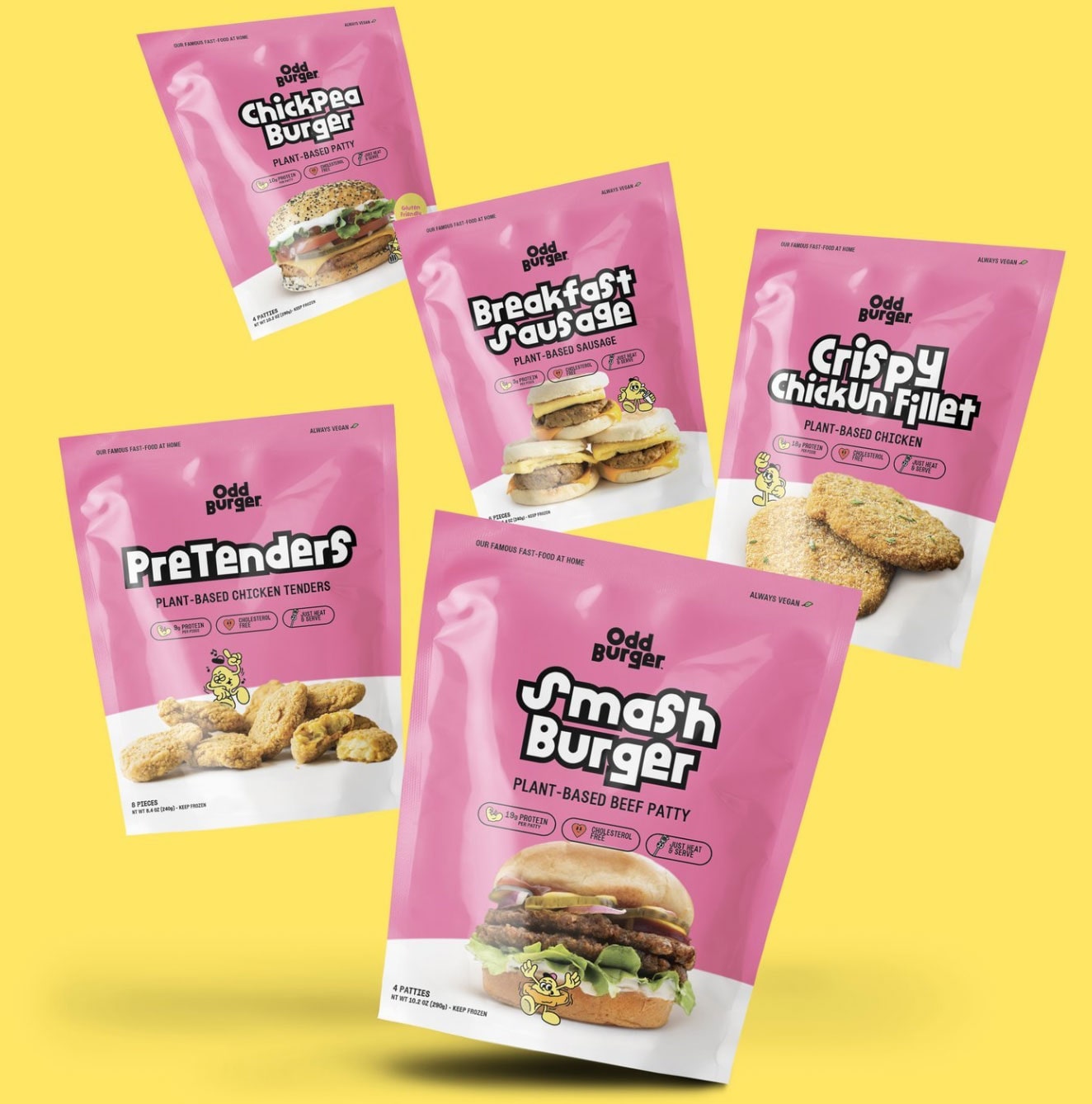 Odd Burger
Odd Burger's initial roll-out includes five unique plant-based proteins: Crispy ChickUn Fillet, Beefy Smash Burger, Allergen-Friendly Chickpea Burger, Breakfast Sausage, and ChickUn Pretenders.
We are incredibly excited to launch our products for home use and make our food even more accessible," James McInnes, CEO and co-founder of Odd Burger, said in a statement.
"We believe that the growth potential for our retail line is significant because customers already love our food and know our brand," McInnes said.
Slated for a September 2023 release, these products will be initially available at Odd Burger restaurant locations and selected Canadian retailers.
4Whole-cut vegan mushroom meat hits Whole Foods
Colorado-based vegan meat company Meati Foods has impressed a number of celebrity chefs—including Rachael Ray and David Chang with its whole-cut vegan chicken and steak, which it makes using "MushroomRoot" (mycelium or the fast-growing root systems of mushroom). However, consumers have had a hard time getting a taste as the vegan MushroomRoot meats were only available at limited retailers.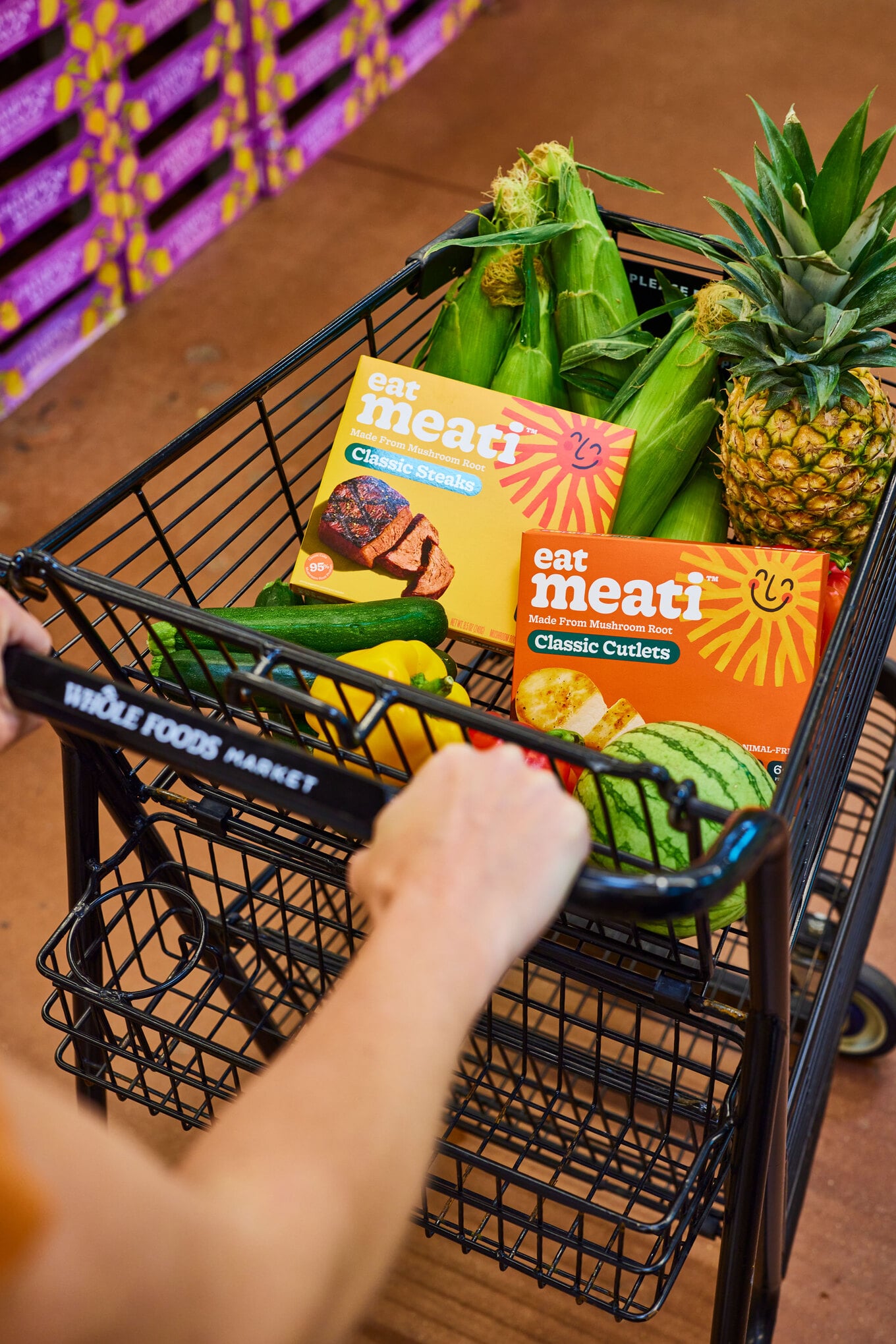 Meati
That all changes this week as Meati just announced that its coveted vegan meats are now rolling out to Whole Foods Markets nationwide, where the chicken cutlets and steaks will be available for an MSRP of $8.99 and $10.99, respectively.
"Since taking our first bites of Meati in Boulder last year, we've been excited to bring their differentiated, quality mushroom-root products to our shelves," Kara Maloney, Grocery Category Merchant for Whole Foods Market, said in a statement.
"We look forward to making it possible for shoppers across the country to access Meati for the first time and to bringing more delicious and nutritious options to our customers," Maloney said.
If you're looking for a taste of Meati but don't feel like cooking it yourself, head over to your local Next Level Burger. The vegan fast-food chain is launching the Sizzling Summer Duo: The Carne Asada Burger and Carne Asada Fries, featuring Meati's vegan steak.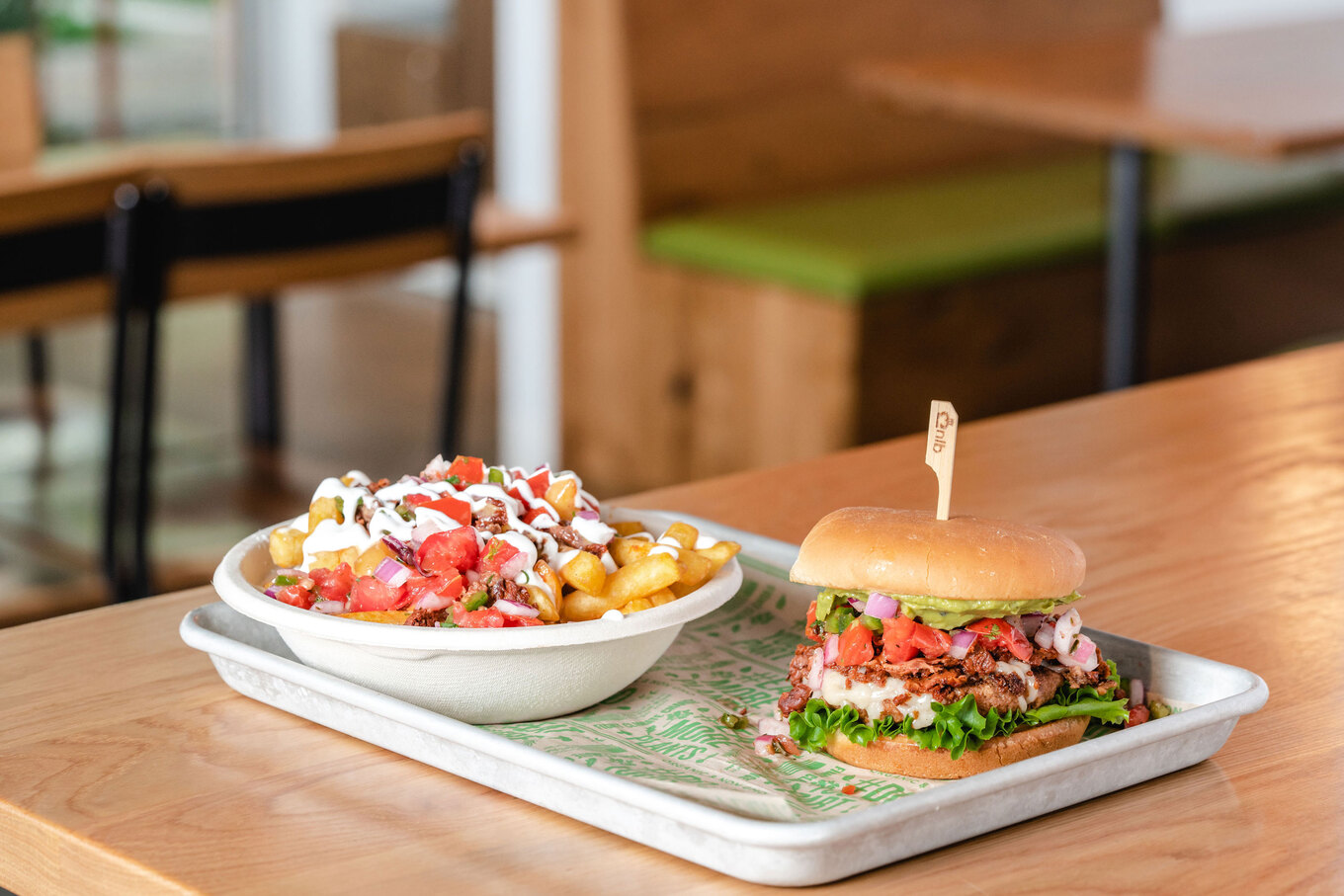 Next Level Burger
The vegan burger includes a smash patty, carne asada, pepper jack cheese, organic guacamole, pico de gallo, and chipotle mayo. The fries are topped with carne asada, vegan cheese sauce, sour cream, and pico de gallo.
Limited-time offers include free Carne Asada Burgers for the first 50 customers (July 28 to 30), a BOGO offer for the first 50 customers (August 11 to 17), and a similar offer for all app users (August 18 to 24).
5Runny vegan eggs at Veggie Grill
A runny yolk adds a certain unctuousness to just about anything and now, that "anything" includes vegan food. That's because this week, vegan chain Veggie Grill teamed up with Yo Egg, pioneers of plant-based sunny-side-up and poached eggs.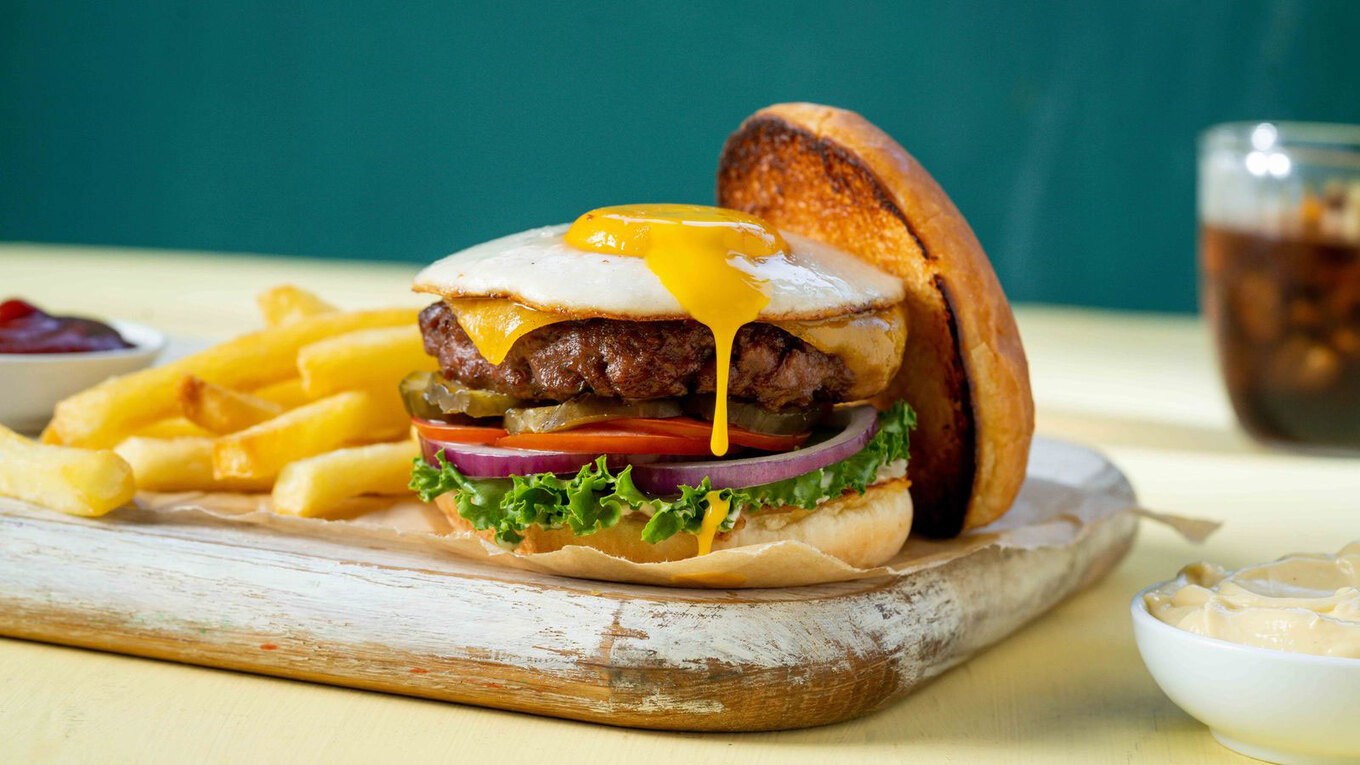 YoEgg
"We're thrilled to be partnering with Yo Egg," T.K. Pillan, Veggie Grill Founder and CEO, said in a statement. "Yo Egg's sunny-side-up and poached eggs create uniquely compelling additions to our 100 percent plant-based menu and further our goal to bring guests the best of the plant-based world."
At select New York and Los Angeles locations of Veggie Grill, the duo has crafted three innovative limited-time offerings featuring Yo Egg's award-winning plant-based eggs.
The Yo Poached Egg Avo Toast is Veggie Grill's vegan interpretation of the popular avocado toast trend. This delectable combination features toasted sourdough, avocado slices, diced tomatoes, and cucumbers, topped with a Yo Egg poached egg coated in everything bagel seasoning.
The Huevos Rancheros Bowl offers a fiery vegan twist on a traditional favorite, boasting a medley of brown rice, ranchero beans, fried corn tortillas, pepper jack cheese, a Yo Egg sunny-side-up egg, salsa roja, and salsa verde, finished with fresh chopped cilantro.
View this post on Instagram
Completing the trio, the Yo Egg Kimchi Burger comprises a seasoned Beyond burger layered with sesame aioli, shredded lettuce, pickled cucumbers, and kimchi, all ensconced in a sesame seed bun and crowned with a sunny-side-up Yo Egg.
"This collaboration with Veggie Grill exemplifies our mission to reinvent eggs and how foodservice operators use eggs in their menus," Eran Groner, CEO of Yo Egg, said in a statement. "We can't wait for consumers to taste these innovative dishes."
For the latest vegan news, read: