Sprinkles Cupcakes revolutionized dessert. The woman-founded business was the first bakery to specialize in cupcakes when it launched in 2005, and after proving itself successful, the cupcake trend took off. Like the fro-yo hype of the early aughts, not all cupcakeries survived past the end of the trend, but Sprinkles has endured and flourished. While no doubt innovative, the chain has yet to realize the staying power of the vegan diet. Its signature vegan red velvet launched in 2010 and while appreciated (and quite delicious), this has been the sole vegan option at Sprinkles for the last 12 years. On July 1, everything will change. Thanks to the star power of Stranger Things, the bakery is launching a deep chocolate, vegan cocoa hazelnut spread-infused cupcake in partnership with the hit television show's Noah Schnapp. Not only did we get a first taste of this new vegan flavor, we also nailed an interview with Schnapp and Sprinkles CEO Dan Mesches. Here is how this long-anticipated flavor came to be and how to order it before it's gone.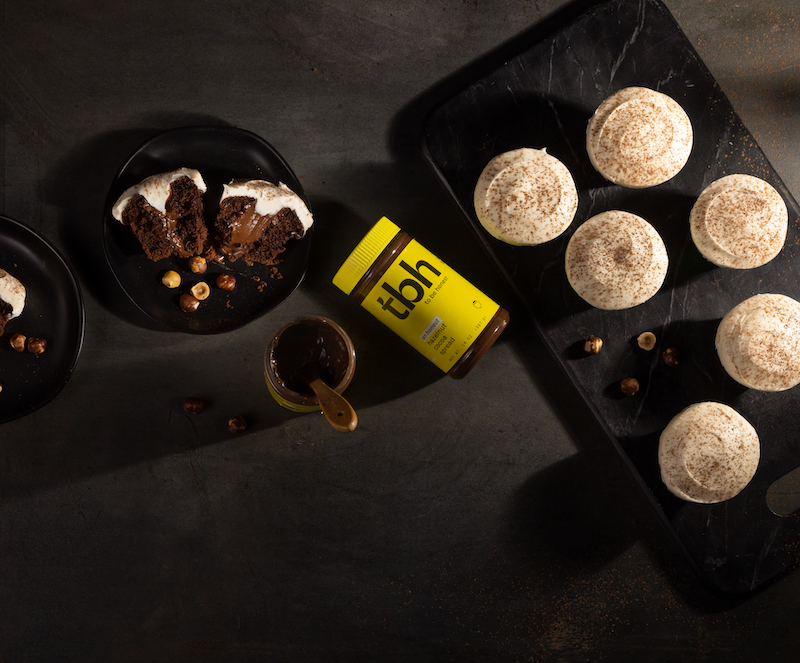 Sprinkles
It started with Nutella
Schnapp—or Will Byers, as Stranger Things fans may know him as—has always been a fan of chocolate hazelnut spreads. But really, what millennial or Gen Z kid wasn't? However, Schnapp decided to look deeper into the creamy, sugary spread so many of us grew up eating by the spoonful. Not only did he realize sugar—not hazelnuts or cocoa—was the first ingredient, he also saw palm oil on most ingredient lists. "I was shocked to learn that many of their ingredients were not only unhealthy for myself but also for the planet, too," Schnapp recalled. "I learned that harvesting palm oil is a leading cause of habitat destruction and deforestation which I don't think a lot of people know. It has such a devastating impact on a huge number of plant and animal species," he continued.
Schnapp quickly teamed up with Umana Venture Studios—a firm focused on creating purpose-driven brands—to create a healthier, more sustainable spread. Together, they came up with tbh (to be honest)—a vegan chocolate hazelnut spread with 50 percent less sugar than leading brands and absolutely no palm oil. He hopes others in his generation will also do their research and feel empowered to make more sustainable food choices. "As consumers, we have the ability to protect the planet through conscious choices so it's so important that we recognize this and choose products that align with our values. We can change the world by changing what's in our pantry. I would love to see Gen Z lead the charge here and start saying 'no' to big corporations who don't have the planet in mind," he explained.
Schnapp loves his tbh on toast and fruit, but with the highly anticipated release of new Stranger Things episodes on July 1, Sprinkles had another idea: stuff it in a cupcake.
Sprinkles
Sprinkles launches a new vegan flavor
When the cupcakery reached out to Schnapp's team to float the idea of a collaboration, Schnapp was thrilled. He was honored that the brand chose his product to create the first new vegan flavor in over a decade, and he had long been a fan of the brand. Schnapp isn't vegan, but he told us he tries to eat plant-based as much as he can. "With the long hours of filming and photo shoots, it's crucial that I have the energy to get through the day. I find that when I stick to a plant-based diet, my energy levels are so much higher and I don't crash at the end of the night," he explained.
Schnapp revealed that his team took care of tbh, and they entrusted the rest to the pastry pros at Sprinkles. "The Sprinkles team are experts at making cupcakes, and it was a treat to be a part of their experimentation process. Our goal at tbh is to make sure that the taste of the cupcake was as indulgent and delicious as tbh is on its own while letting the Sprinkles team concoct the perfect cake and frosting," he elaborated.
Sprinkles CEO Mesches' wouldn't reveal why the company decided the time was right to introduce a new vegan flavor, only that it was thrilled to partner with a like-minded, plant-based company like tbh. He did allude to the possibility of more vegan options in the pipeline, though.
"​​Sprinkles is constantly innovating, so don't be surprised to see more in this space in the future," Mesches hinted.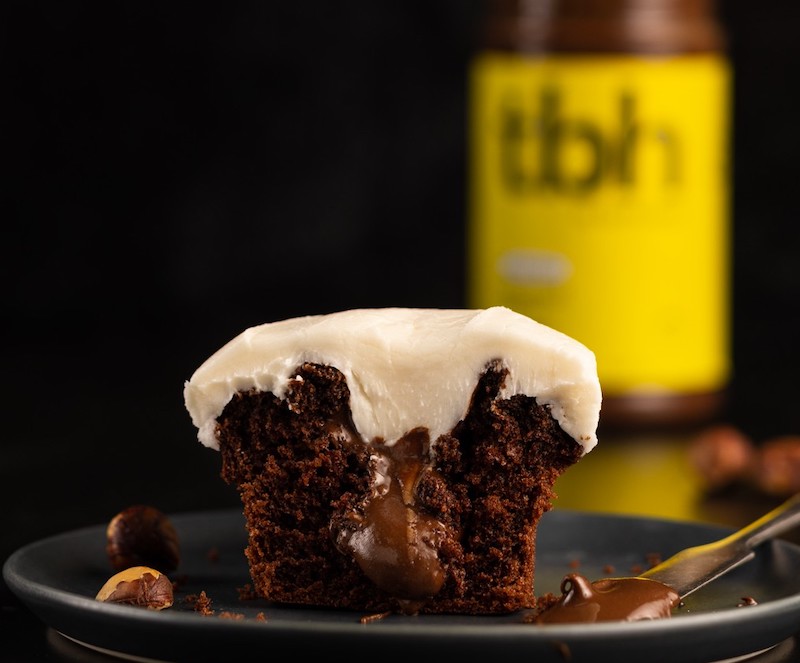 Sprinkles
The tbh Chocolate Hazelnut Cupcake
The new vegan Sprinkles flavor is classic yet deeply indulgent. It's a dark Belgium chocolate cake topped with Sprinkles' housemade vegan cream cheese frosting. If you're a baker, you know that red velvet is essentially chocolate with a bit of red food dye mixed in, so, producing a chocolate cake with the same vegan cream cheese frosting isn't all too different from the vegan red velvet option Sprinkles has provided for the last dozen years. What takes it from a perfectly fine cupcake to a decadent, swoon-worthy dessert is the tbh chocolate hazelnut filling. It's not just a dab of barely detectable spread—the entire core is pure chocolate hazelnut joy. We were thoroughly satisfied with the treat but needed to ask Schnapp his opinion. "The end result turned out even better than I expected. It's SO. GOOD." he emphasized. We couldn't agree more.
Here's the catch: this vegan flavor is only available for two days. In line with the Stranger Things release of a new batch of episodes on Netflix, the tbh Chocolate Hazelnut Cupcake is only on offer from July 1 to July 2. To ensure you take advantage of this extremely limited-time flavor, Sprinkles recommends pre-ordering for pickup or delivery on June 27 and 28. Our tip is to order more than one, because there's no doubt you'll crave a second cupcake.
For more on vegan 'Stranger Things', read:
Stranger Things Vegan Chick'n Nuggets
Stranger Things' Star Dishes About Veganism
Stranger Things' Sadie Sink Rocks Vegan Leather Dress at the Emmys