There was once a time when vegan holiday meals were extremely limited. Years ago, when celebrating amongst a mixed company of eaters, vegans had to make their own plant-based feast or scavenge through the few veggie sides that didn't include butter, cream, or meat drippings. But vegan Thanksgiving roasts are making the feast a lot easier.
The vegan food market has dramatically evolved since then and vegan holiday roasts start hitting mainstream shelves as early as mid-October. We've tasted them all and even tried our hand at making our own with the guidance of a few brilliant recipes. Whether you opt for store-bought or don an apron, here is your guide to the vegan holiday roasts everyone will enjoy.
Keep turkey off the table this Thanksgiving
Traditionally, turkey is served as the main dish on Thanksgiving. In 2021, one poll by CBS News noted that two in three Americans eat the bird for their main course. This means that every year, approximately 46 million turkeys are slaughtered in the run-up to the holiday. Most will have spent their lives on factory farms in cramped, industrialized conditions.
These farms are also an environmental nightmare. Every year, animal agriculture accounts for around 14.5 percent of global greenhouse gas emissions, which is more than the entire aviation industry.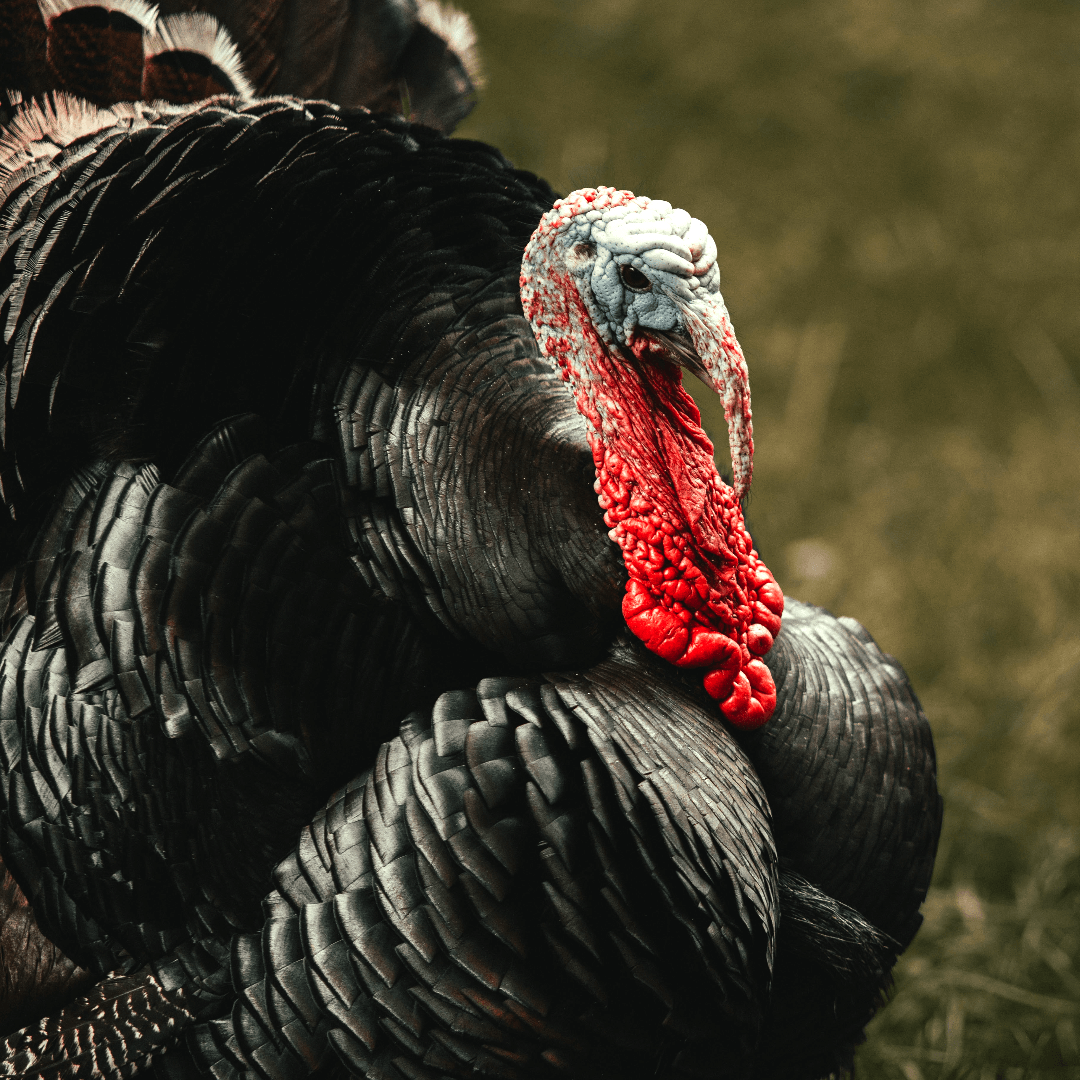 Jonathan Cooper/Unsplash
Those who attempt to make a more sustainable choice by purchasing from small family farms also contribute a significant climate footprint, as these birds are often raised and killed in middle America, packaged, and shipped via planes, trains, and automobiles to homes across the country.
In short, there is no such thing as an ethically slaughtered turkey, and there is no such thing as sustainable poultry. However, it's easier than ever to leave turkey off the table this Thanksgiving. Not only is this a more compassionate decision, but it's also better for the planet, too.
What are vegan Thanksgiving roasts made from?
The vegan Thanksgiving roast options have largely expanded from the inaugural Tofurky debut in 1997, but the vast majority of them have stuck to the original ingredients.
Seitan—a "meaty" plant-based food made from vital wheat gluten—and tofu are two of the most heavily used products to create the succulent plant-based roasts that are featured on many a vegan table. Most roasts are seasoned with spices such as thyme, sage, and rosemary, then stuffed with a wild rice or savory stuffing mixture.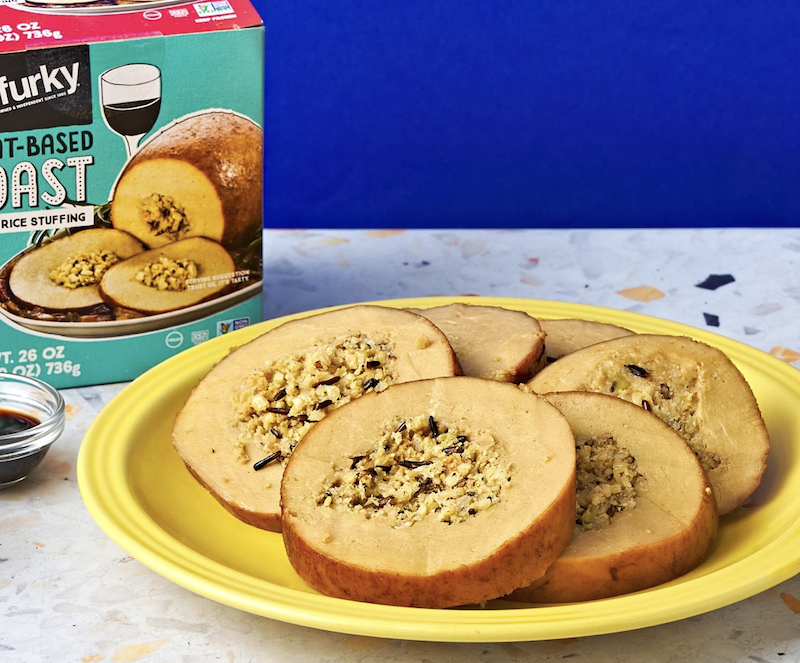 Tofurky
Like turkey, they're high in protein and often contain fair amounts of calories and fats. For example, a single serving of the original Tofurky contains 300 calories, 10 grams of fat, and 33 grams of plant-based protein.
Vegan Thanksgiving roasts to buy
We've listed several excellent homemade roast recipes farther down, but these are generally for the patient and adventurous cook. Those who prefer a heat-and-eat option should look to any one of these 10 fabulous store-bought vegan roasts.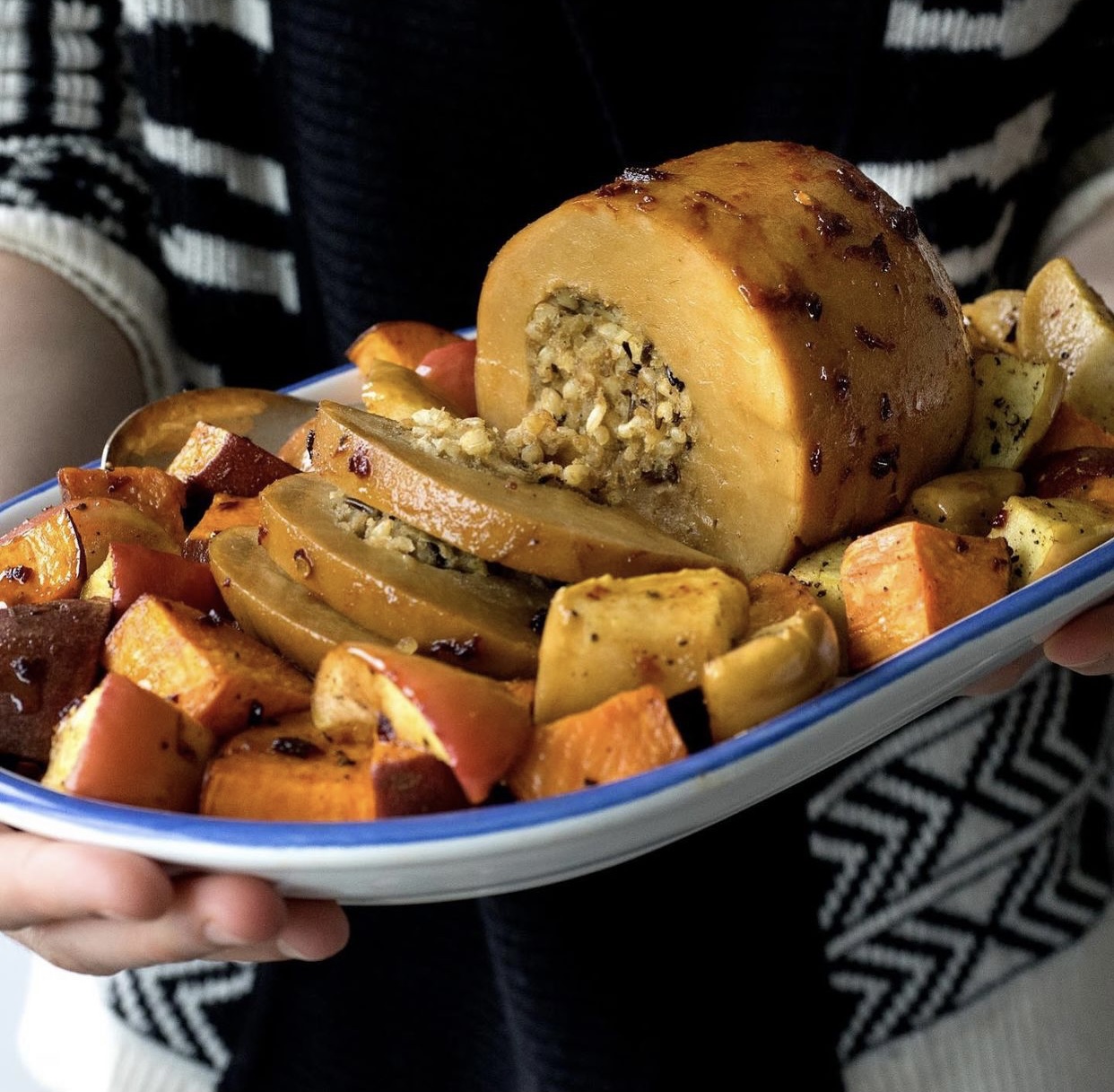 Tofurky
1 Tofurky
Founded in 1979, Tofurky is a veteran in the vegan roast market. The all-natural, plant-based company launched commercial production of its signature Tofurky Holiday Roast in 1995 and built a loyal fanbase throughout the decades.
The tender, savory roast is made of seasoned seitan and tofu, giving it a meaty chew and satisfying taste. The round is filled with wild rice and breadcrumb stuffing and comes with a side of vegan gravy. Beyond the original, Tofurky fans can opt for the seasonal Ham Roast with Amber Ale Glaze. If you're a fan of Tofurky products, you won't want to overlook this belly-satisfying holiday roast.
Find it here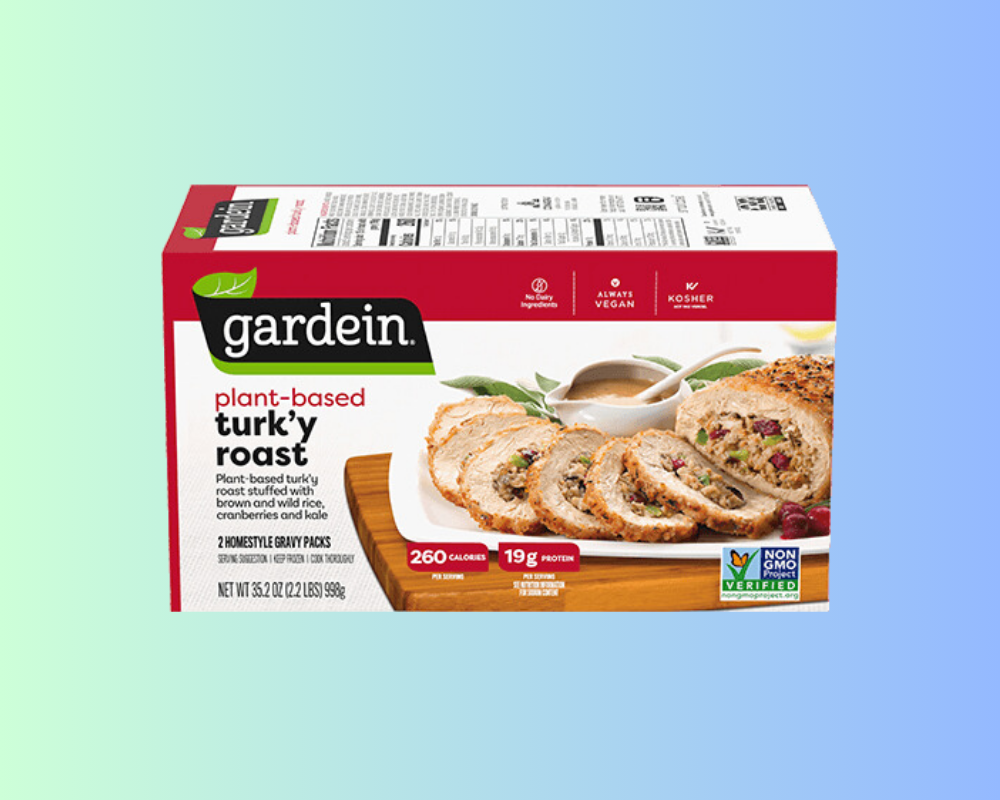 Gardein
2 Gardein
Like Tofurky, Gardein is another company that helped to popularize plant-based meat. Come holiday season, Gardein offers two outstanding main meal options.
The brand's more traditional Holiday Roast is large enough to serve eight and includes a cranberry wild rice stuffing and homestyle gravy. For smaller celebrations, opt for the Savory Stuffed Turk'y. This option includes two individual-sized breaded Turk'y roasts that are crispy on the outside and tender on the inside. Each is filled with cranberry wild rice stuffing and the box includes gravy, too. Pick up the Turk'y if it's just for you or choose the Roast to feed a crowd.
Find it here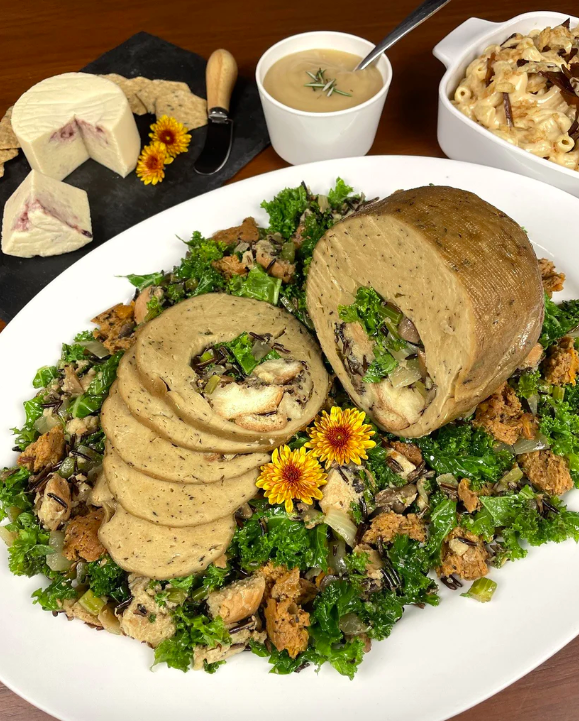 The Herbivorous Butcher
3 The Herbivorous Butcher
Based in Minneapolis, MN, The Herbivorous Butcher has garnered national attention. The growing brother-and-sister-run company was even featured on the Food Network's hit show, Diners, Drive-Ins, and Dives. The Turkey-Free Feast ships nationwide and contains an assortment of vegan holiday meats and cheeses including a 2.5-pound stuffed turkey, maple bacon, cranberry brie, Butternut Squasage, mac sauce, and Roads End Organics Quick Gravy. An unstuffed turkey roast, meatloaves, and a wide selection of cheeses are also available to purchase and ship à la carte.
Find it here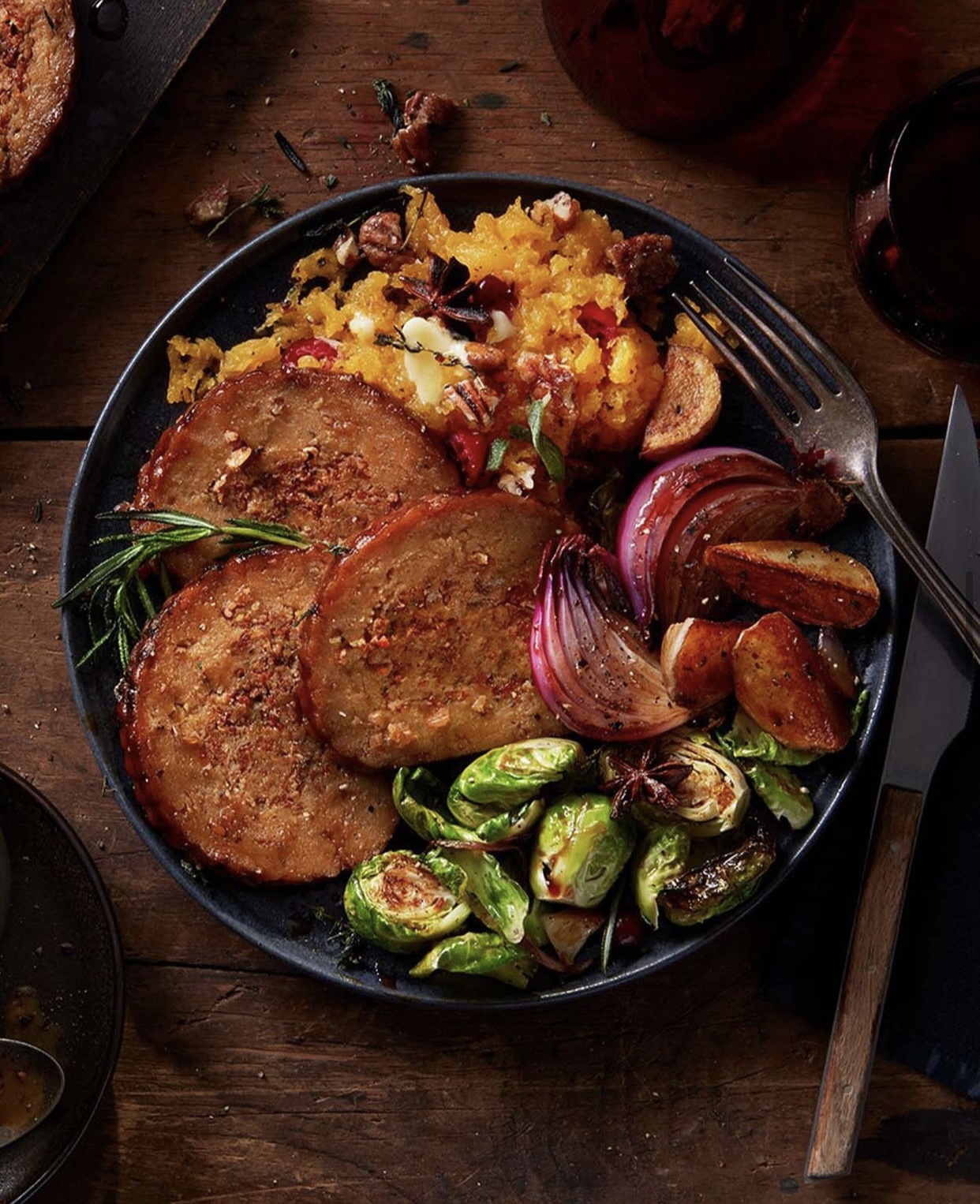 Field Roast
4 Field Roast
This cult favorite brand offers three plant-based roast options perfect for any vegan Thanksgiving dinner. The Celebration Roast is crafted with sage, garlic, and bread stuffing. A savory porcini mushroom gravy ties it all together for one delectable holiday main. The Sage and Garlic roast is made with butternut squash, onions, and lentils. Field Roast's Hazelnut and Cranberry Plant-Based Roast features hazelnut-infused vegan meat stuffed with rosemary, candied ginger, and sausage stuffing, all encased in a layer of buttery, flaky puff pastry. The company's three options are equally appealing, just with different flavor notes. Can't decide between all three? Get them all. They freeze well.
Find it here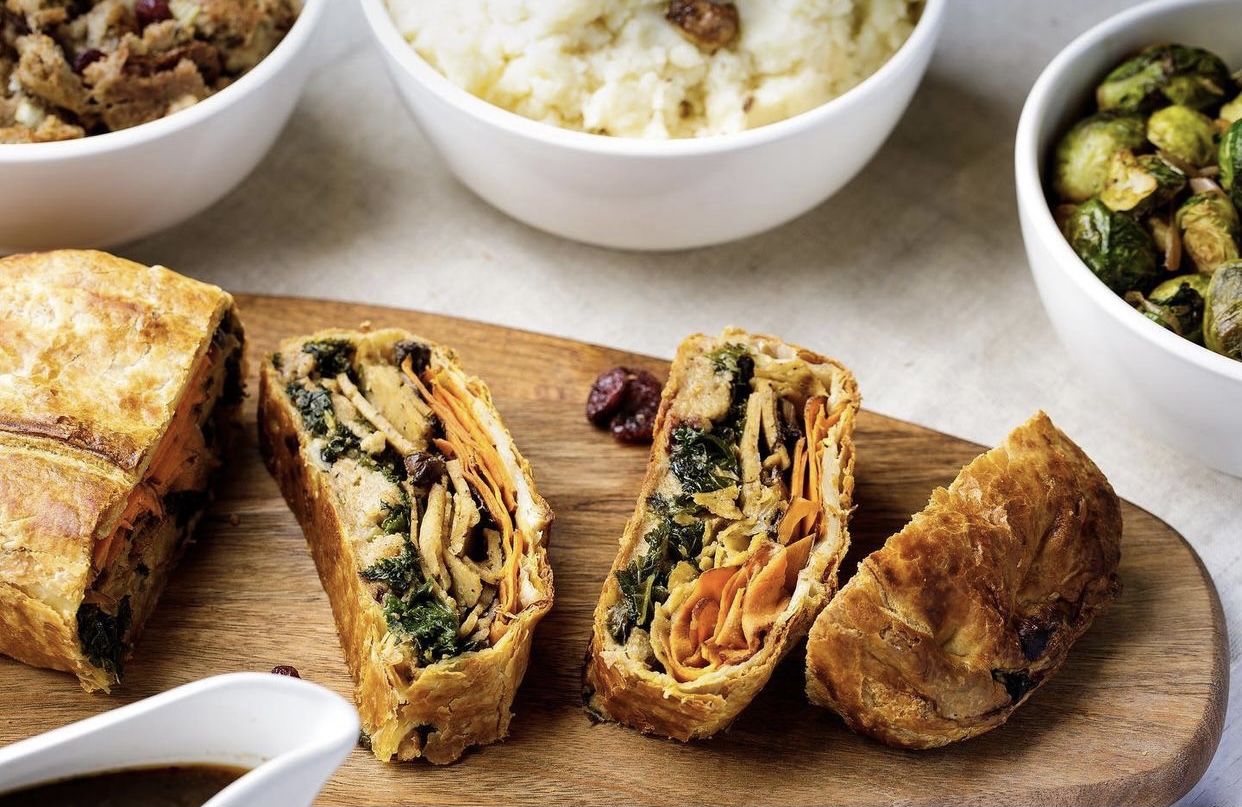 Native Foods
5 Native Foods
The beloved Original Native Foods Wellington isn't a roast—it's better. The puff pastry-encased main is layered with juicy seitan, sliced sweet potatoes, savory stuffing, tart cranberries, and tender steamed kale. It comes with a side of mushroom gravy, but the Wellington is so moist and flavorful on its own that you really don't need it. Stock up for Friendsgiving, Thanksgiving, Christmas, and any other winter celebration you can imagine. Note the Wellington is available at all locations except for Glendale, CO.
Find it here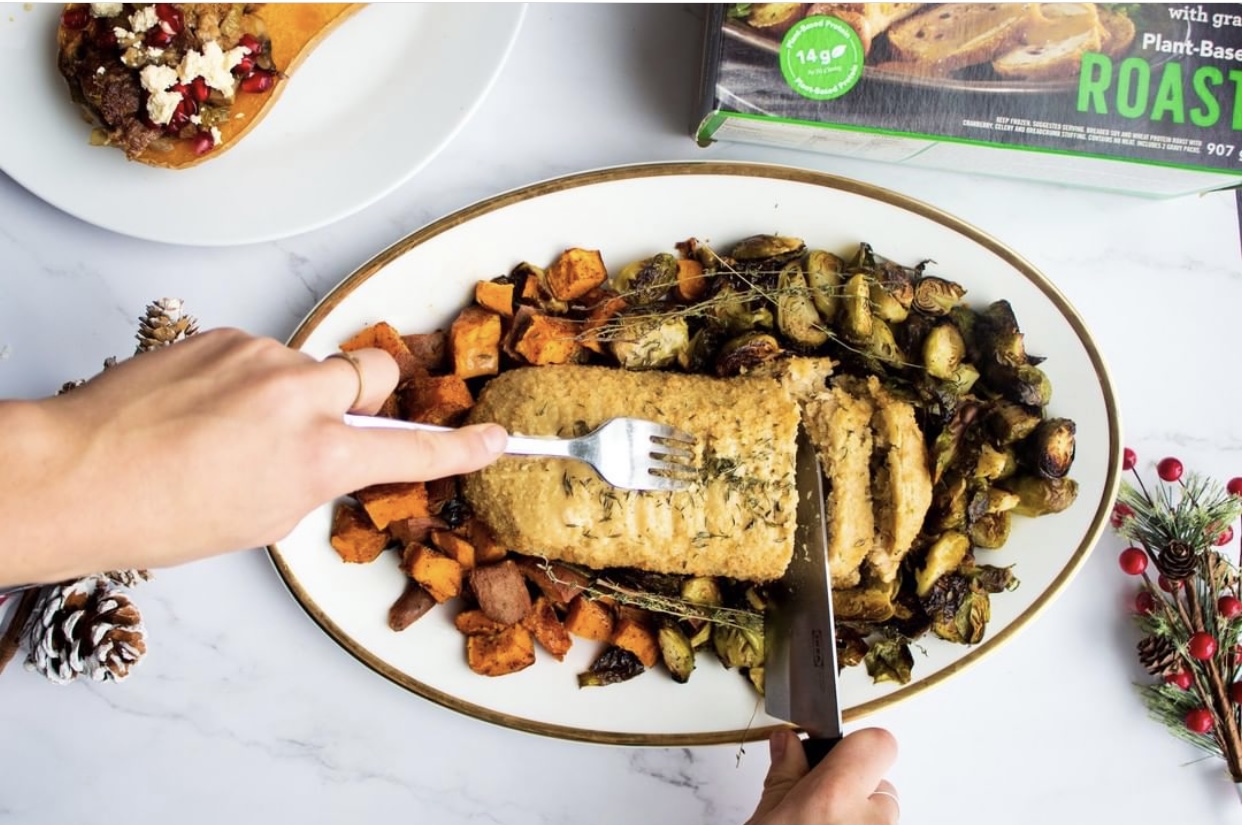 Sol Cuisine
6 Sol Cuisine
Canadian Thanksgiving has passed, but this limited-edition Stuffed Turk'y Roast with Gravy can certainly be served for the winter holidays. This juicy, breaded seitan centerpiece is packed with cranberry-studded stuffing and is best served in a pool of warm, silky gravy. While some Sol Cuisine products are available in the US, this latest item is only available in Canadian stores.
Get the recipe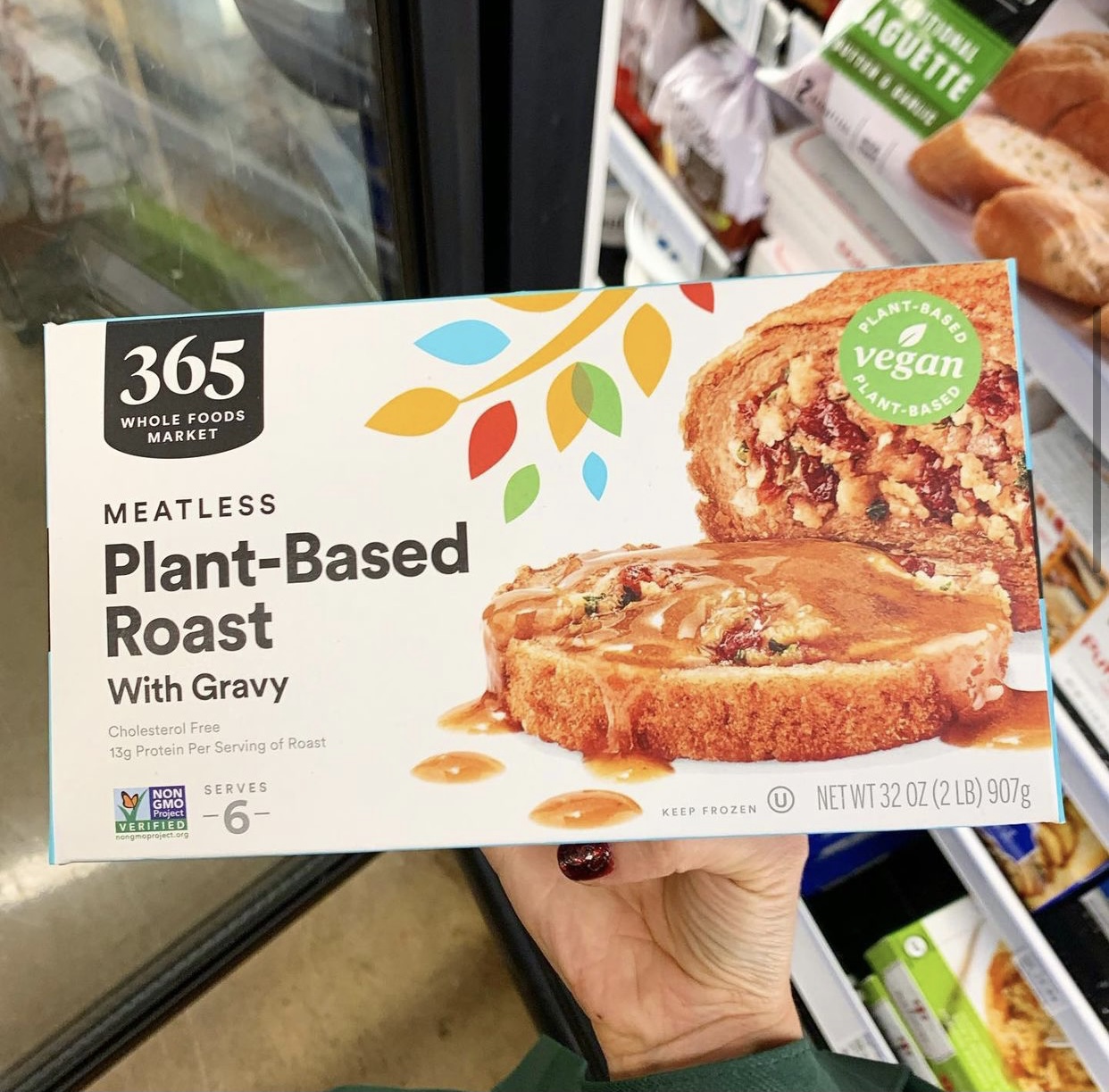 VegNews
7 Whole Foods Market
Decided to throw a last-minute Friendsgiving? Head to the freezer aisle and pick up a 365 by Whole Foods Market Plant-Based Roast. The breaded, seitan-based centerpiece is filled with cranberry-speckled stuffing and includes a packet of vegan gravy. This vegan-friendly grocer is also offering a comprehensive vegan meal for two that includes a mushroom and root vegetable en croûte with mushroom gravy, sea salt and cracked black pepper green beans, roasted butternut squash with cranberries and sage, roasted fingerlings with garlic and parsley, and pumpkin curry soup. If you prefer this latter option, remember to order in advance.
Find it here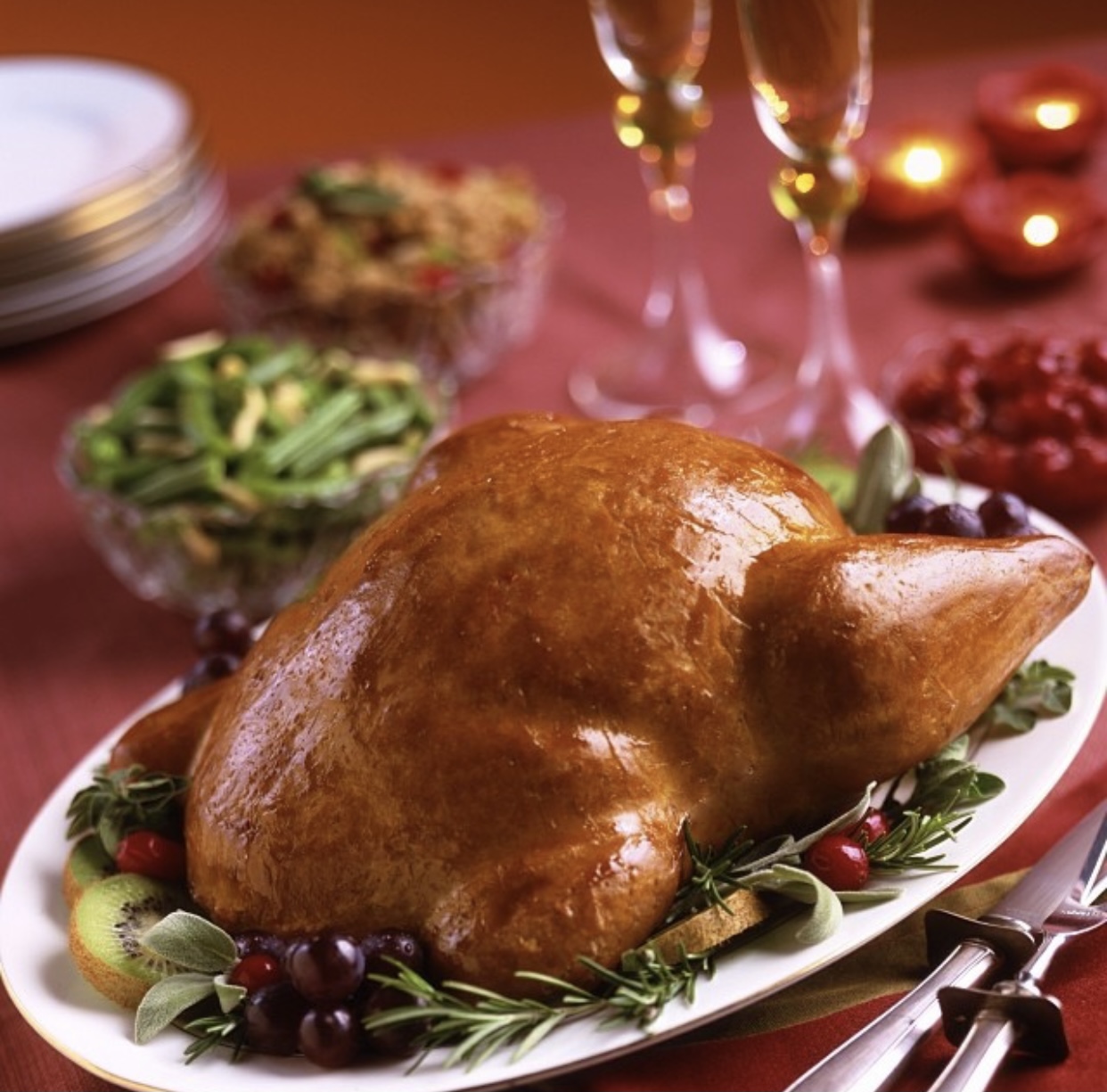 Vegetarian Plus
8 Vegetarian Plus
Expect a few double-takes from your guests as you plant this golden vegan turkey on the table. It's entirely plant-based, but it looks like a traditional bird right down to the golden crispy "skin." Carve it up to reveal its juicy interior and serve with a side of tender stuffing and gravy—both included in the box.
Find it here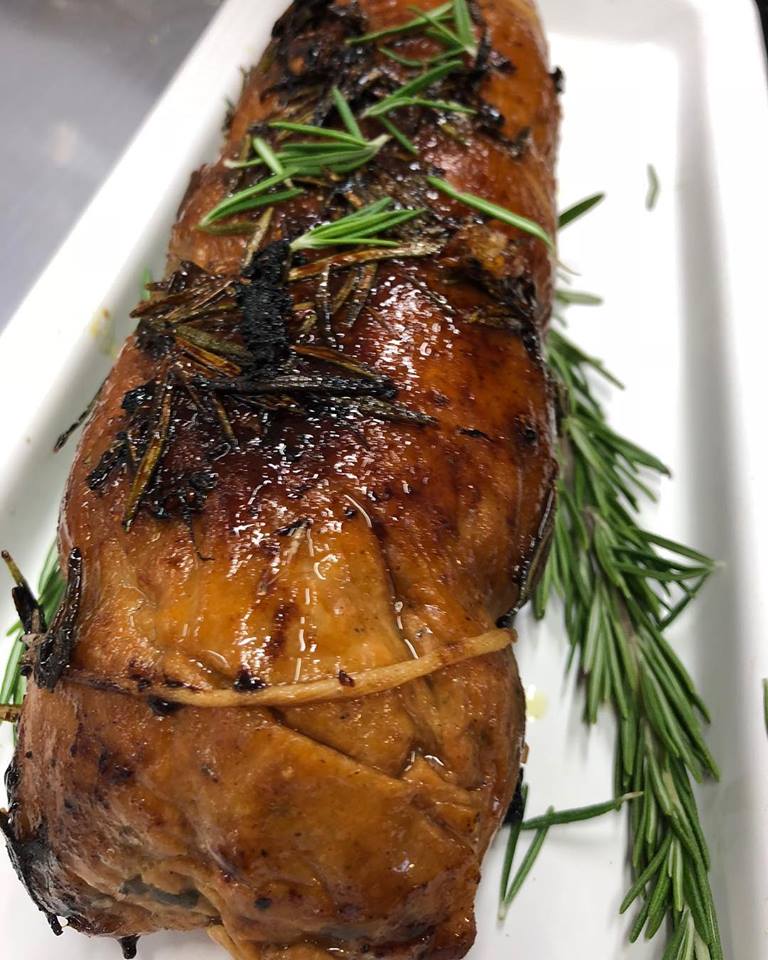 Three Girls Vegan Creamery
9 Three Girls Vegan Creamery
Sink your teeth into this savory, chewy holiday roast. Crafted with a base of seitan, this filling main features herby stuffing made with apples and sausage. The roast comes with a side of mushroom gravy made in the "Italian culinary tradition" that fans of Three Girls Vegan Creamy can't get enough of.
Find it here
Vegan Thanksgiving roast recipes to make
Preparing your own vegan roast is ideal when hosting a potluck—you make the main and ask others to bring the sides. Here are five solid plant-based roast recipes to impress all your guests.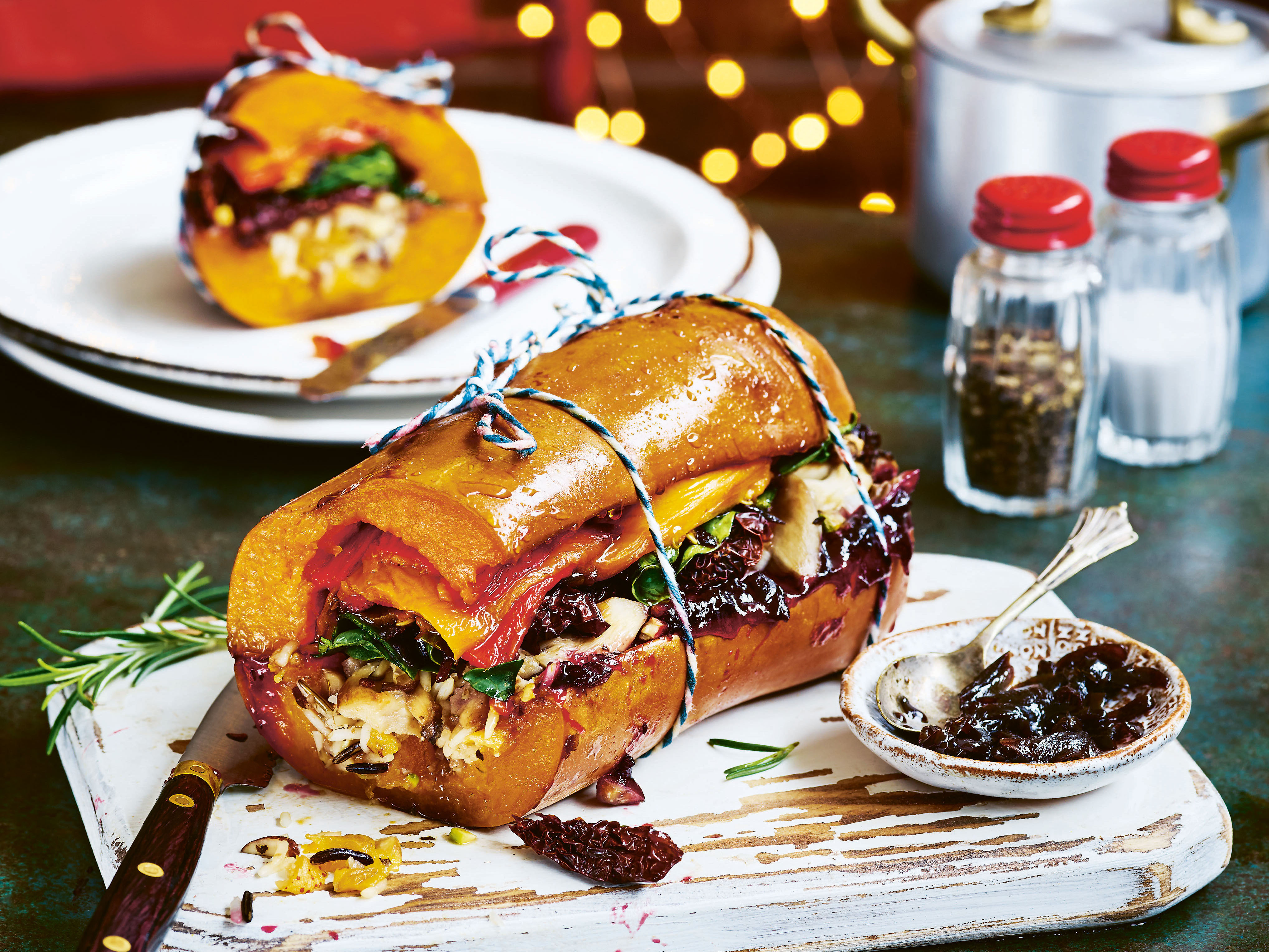 Simon Smith
10Vegan Stuffed Squash Roast With Cranberry-Orange Sauce
This vegetable-forward main is not a roast in the traditional sense. No one will take a bite and believe it's meat. However, it's a stunning and delicious centerpiece, and it's roasted, so there you go. Playing off the grotesque yet popular Turducken trend, this more compassionate dish involves a fork-tender butternut squash stuffed with layers of wild rice, sauteed mushrooms, glazed onions, roasted red peppers, and lightly wilted spinach.
Get the recipe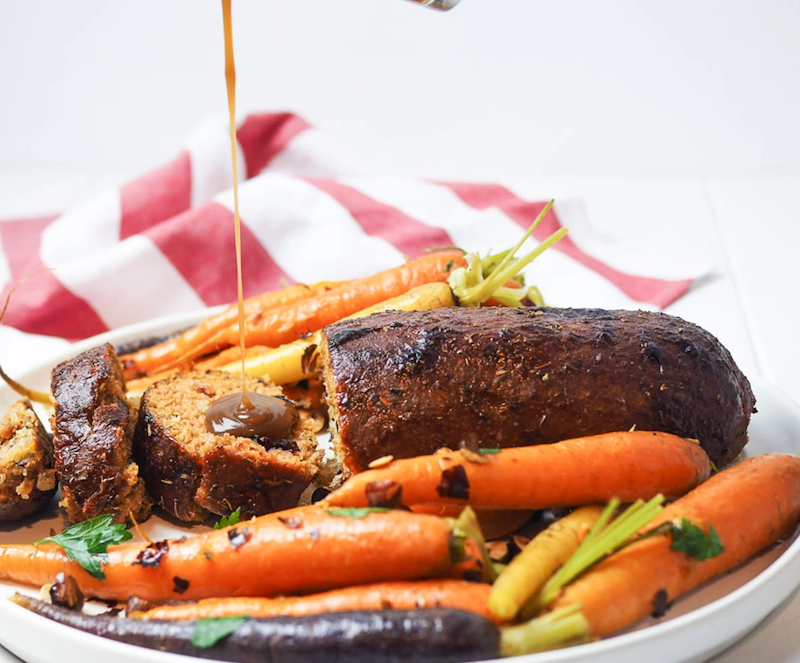 LIke a Vegan
11Vegan Holiday Roast With Cranberry Walnut Stuffing
If you prefer a meatier roast but don't want to serve up any animals this Thanksgiving, this impressive vegan roast recipe will give you the best of both worlds. Made with a mix of vegan beef grounds and herbs, it's satisfyingly meaty but 100 percent plant-based.
Get the recipe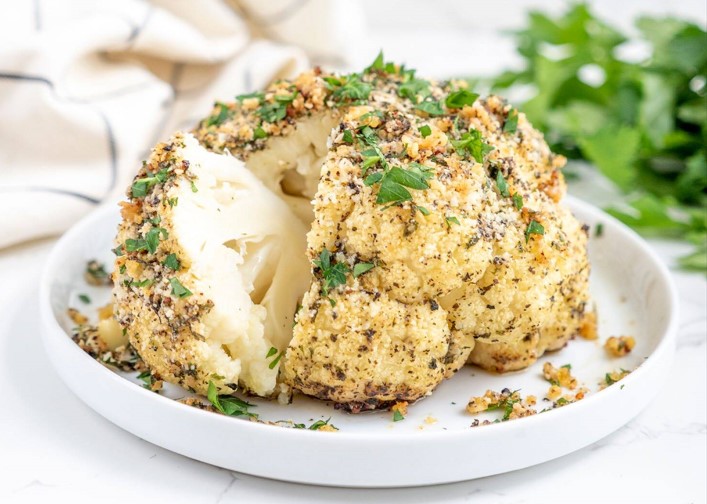 12Vegan Garlicky Herb-Roasted Whole Cauliflower
Don't underestimate the humble cauliflower. When roasted whole in a garlicky, cheesy, herbed oil, there's no doubt that this former side vegetable will become the star of the Thanksgiving table.
GET THE RECIPE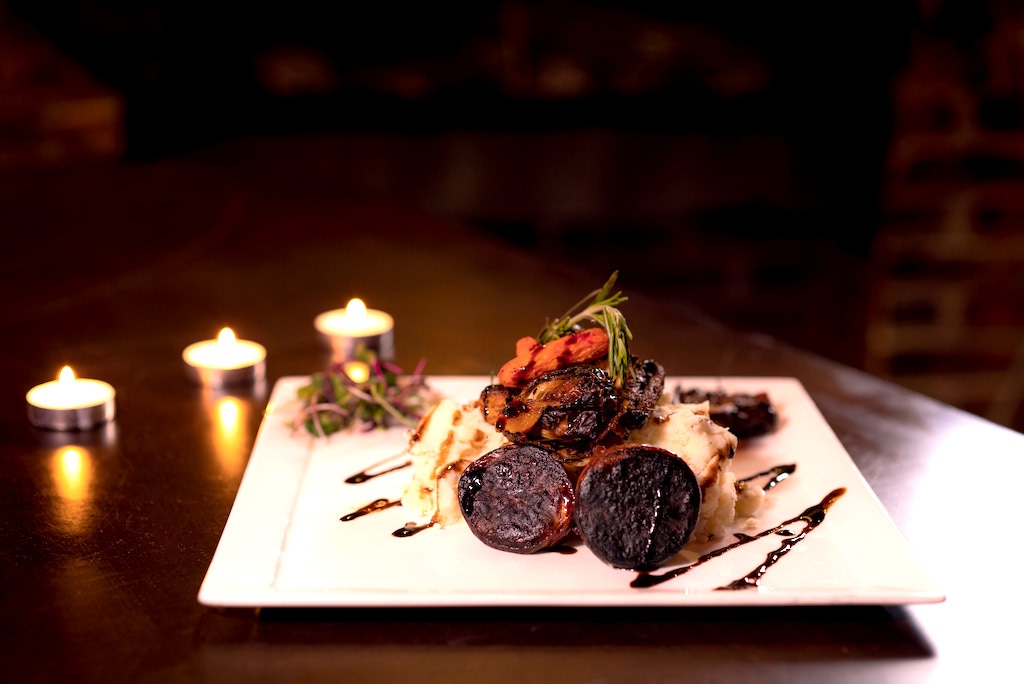 13Herbed Vegetable Roast With Garlic Mashed Potatoes
Keep things simple this Thanksgiving by swapping out a big centerpiece for a plate of flavorful roasted vegetables, like red potatoes, baby carrots, portabello mushrooms, and butternut squash. Served with creamy garlic mash, they're easy to make and bursting with flavor.
GET THE RECIPE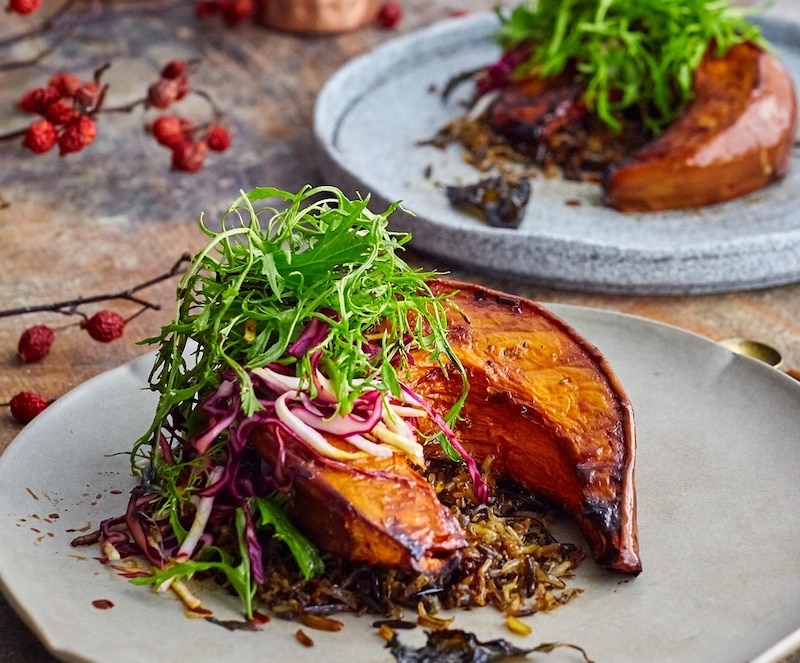 Sara Kiyo Popowa
14Vegan Roasted Sweet Basil Squash
This roasted sweet basil squash might not be a traditional Thanksgiving dish, but when your guests try the buttery, intense, autumnal flavors, they're guaranteed to be asking for it year after year. Serve with traditional side dishes, or change things up by offering wild rice and salad, instead.
GET THE RECIPE
For more vegan Thanksgiving ideas, read:
Here at VegNews, we live and breathe the vegan lifestyle, and only recommend products we feel make our lives amazing. Occasionally, articles may include shopping links where we might earn a small commission. In no way does this effect the editorial integrity of VegNews.