Eighties movie When Harry Met Sally is known for some of the most iconic scenes in rom-com history. There's the grand monologue at the end and the four-way phone call, for example. But for most, it's Sally's fake orgasm that sticks in the brain. Played by Meg Ryan, Sally's moaning is so convincing, it leads the woman at the next table to say that memorable line: "I'll have what she's having."
Last year, that iconic sentence was even the title of a New York Historical Society exhibition celebrating Jewish deli culture and history. It seems like an odd choice, but it actually makes perfect sense: Sally and Harry are sat in Katz's Delicatessen, one of New York's oldest Jewish delis, and the fake moaning takes place over a sandwich that is loaded with pastrami, a Jewish deli staple.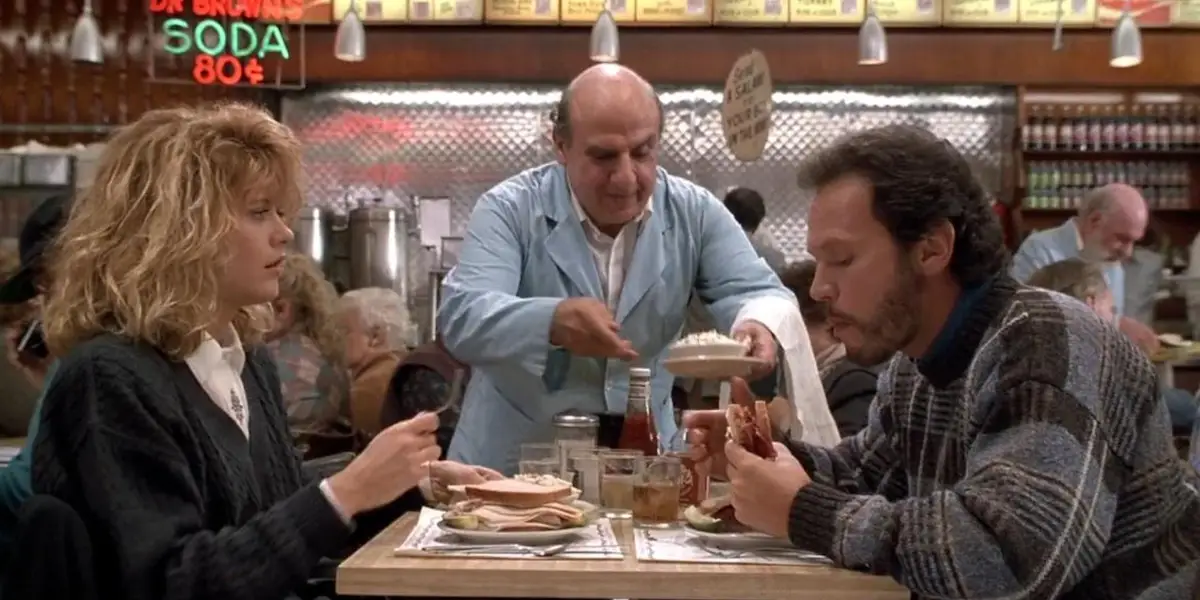 When Harry Met Sally/Columbia Pictures
When Harry Met Sally was released in 1989, but to this day, Jewish deli meat—which includes pastrami, but also roast turkey, corned beef, and lox—is still popular across the US. But for vegans who love the taste and don't want the animal products, is it still possible to have what she's having? The short answer is yes.
From Los Angeles to New York, a handful of Jewish delis across the country are proving it's possible to honor tradition and ethics at the same time by offering exclusively vegan food. Here's more about what they're serving and where to buy it, but first: a little bit more context on the evolution of the now-iconic Jewish deli.
The history of the deli
Jewish delis are, ultimately, a product of late 1800s immigration. During this time, millions of people from central and eastern Europe made their way to the US in search of new opportunities and a better life. But when they got there, they had to find a way to survive and make their own money.
Many German immigrants in New York, some of whom were Jewish, started selling their traditional foods, like Frankfurters and cold cuts, in storefronts that mimicked the fine food delicatessens from home. This is, of course, where the word "deli" comes from. And over time, as more Jewish people arrived from countries like Romania, they opened up similar stores and added their own traditional meats.
Roman Arkhipov/Unsplash
"Between 1881 and 1914, in particular, some 75,000 Jews left Romania and settled in New York City," notes the food and drink website Serious Eats. "As these immigrants arrived on the Lower East Side, they began to open delicatessen stores that resembled those of their German predecessors, but featured kosher products alongside some of the more popular delicacies from their homelands."
In the decades that followed, these delis became important spaces for people from US Jewish communities to gather and connect. "Food is a wonderful vehicle for cultural exchange," Laura Mart, one of the New York Historical Society exhibition's co-curators, told TimeOut. "The deli is a community based on food where everybody is welcome. It's often been said the deli is a secular synagogue."
What's served at Jewish delis?
Just like in When Harry Met Sally, most Jewish delis serve pastrami, as well as corned beef and roast turkey sandwiches. The menu at Katz's lists everything from brisket to cow tongue, which has been eaten in Jewish communities for generations. There's also salami, German sausages, like Frankfurters and knockwurst, and matzo ball soup, which is an Ashkenazi Jewish dish that features matzo meal dumplings.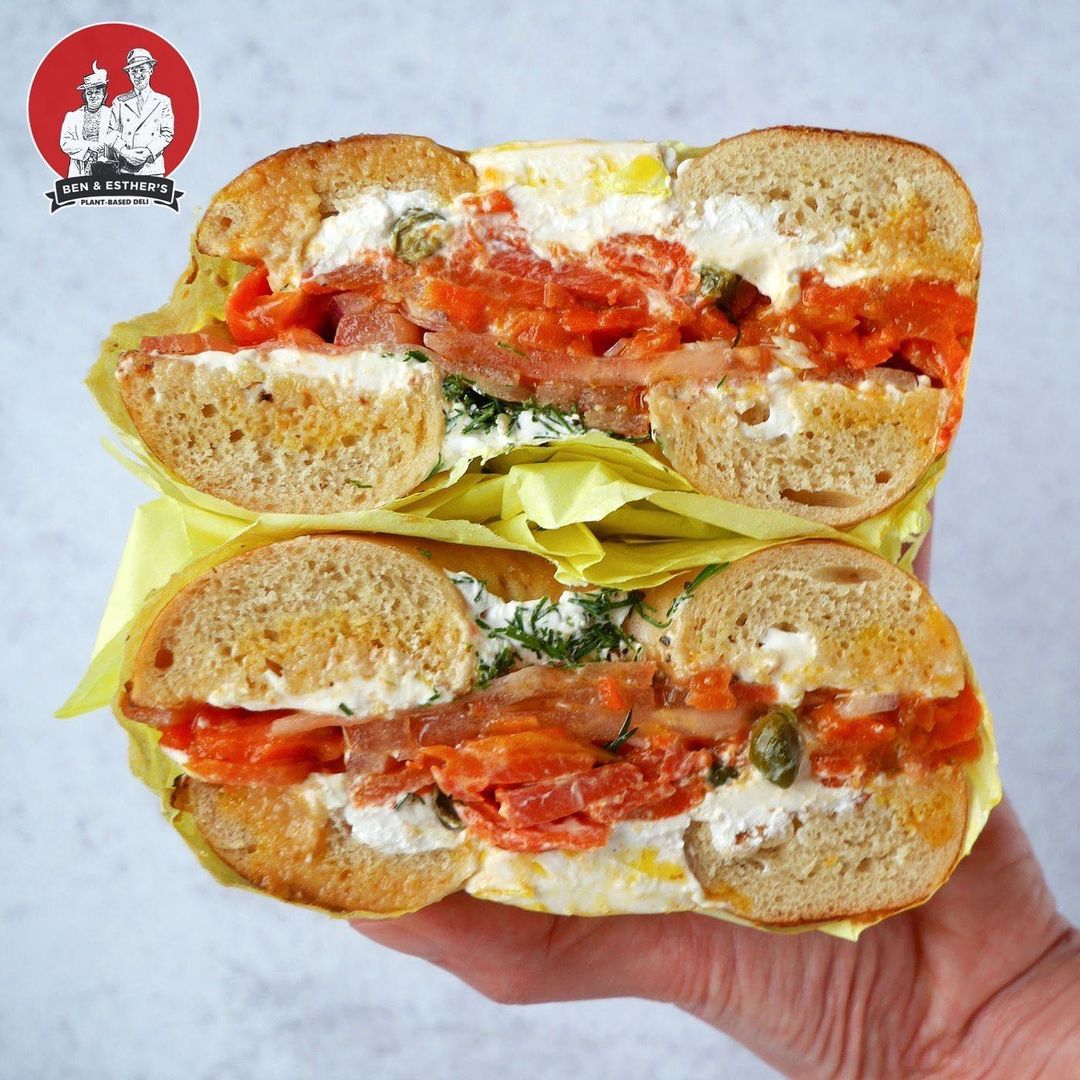 Ben & Esther's/Instagram
What's served at vegan delis?
For the most part, the menu at most traditional Jewish delis is pretty meaty. But, Jenny Goldfarb believes that it is possible to enjoy this type of food without any meat at all.
Goldfarb is the founder and CEO of Mrs. Goldfarb's Unreal Deli, a plant-based deli meat company. In 2018, she made an appearance on Shark Tank and walked away with a deal with billionaire entrepreneur Mark Cuban to expand her company. But as the great-granddaughter of Romanian Jewish immigrants, it was a craving for nostalgia and the foods of her community that motivated her to succeed.
"My great-grandfather Morris Gross immigrated to NY from Romania in 1907 and worked his way up from dishwasher to owning several NYC delis," Goldfarb told VegNews. "Growing up in that rich family deli history, nothing that was currently on the market satisfied my palette. So I made what became Unreal Corn'd Beef in my tiny home kitchen and it ended up on the menus of all my local iconic delis—menus that hadn't changed in over 100 years."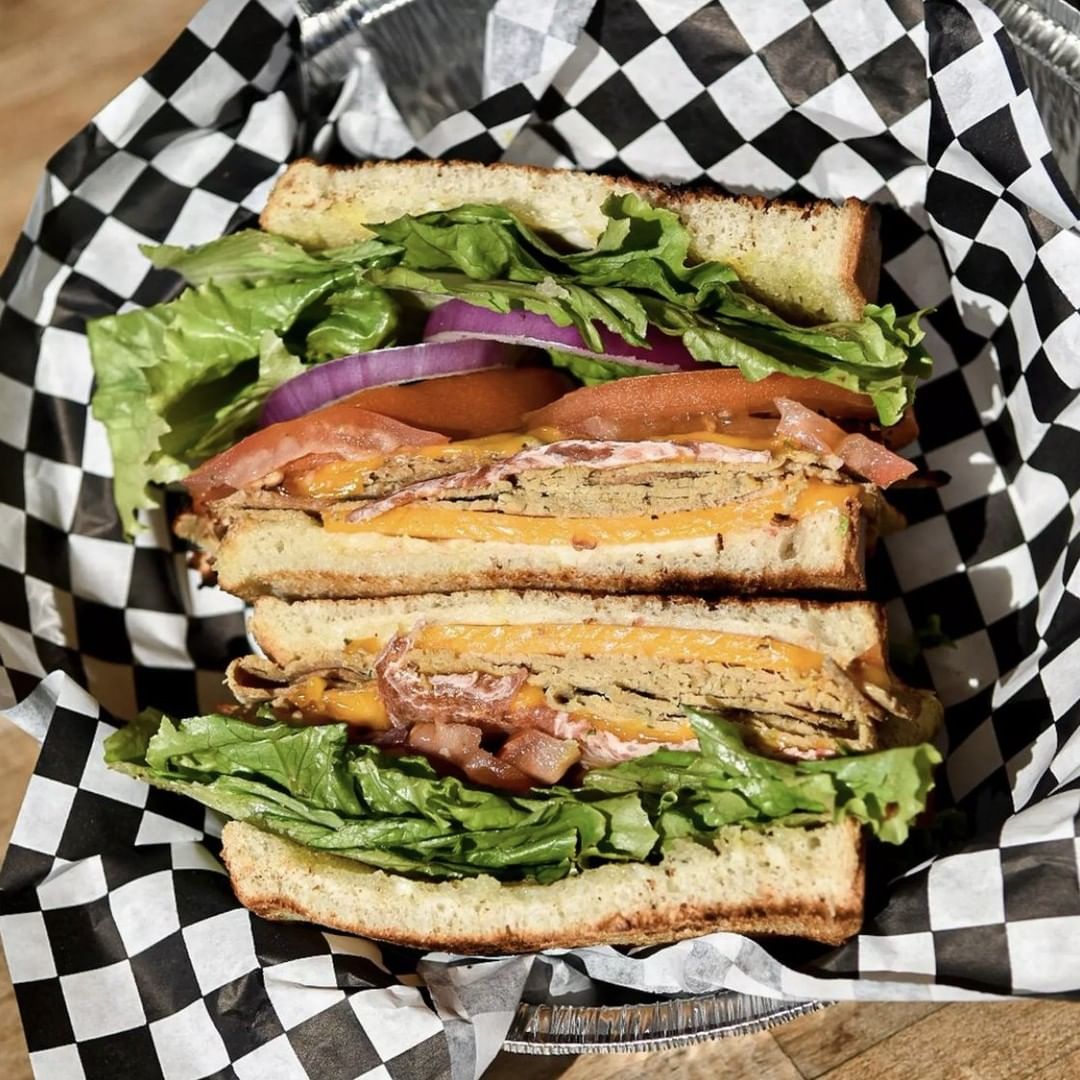 Mrs. Goldfarb's Unreal Deli
Now, she's steadfast in her mission to transform the deli landscape. You can find her range of vegan meats—which includes plant-based Turk'y Slices, Corn'd Beef, and Steak Slices—in thousands of restaurants and retailers all over the US, including Whole Foods and Sprouts Farmer Markets.
But she's not alone. Vegan deli chain Ben & Esther's currently has three locations in Portland, OR; Seattle, WA; and San Diego, CA, all of which serve up plant-based lox bagels, brisket, latkes, Reubens, and more. In Chicago, there's Sam & Gertie's, which claims to be the world's first vegan Jewish delicatessen and focuses on veganizing "Ashkenazic delights," including matzo ball soup. Plus, Los Angeles is home to Mort & Betty's Vegan Deli, while Orchard Grocer is based in New York City.
All serve exactly what you'd expect to find in a Jewish deli, only their meats and cheeses are made with plants, not animals. Each proves that embracing tradition doesn't have to also mean resisting change. In fact, as Goldfarb states, "evolution is integral for survival," especially when it comes to cultural food cornerstones.
"I think for anything to remain relevant, it must find the perfect balance between evoking nostalgia and still speaking to the modern consumer's needs and desires," she said. "People want to feel transported, to be reminded of those classic flavors they used to love while still honoring who they are now. I feel that we've found that balance by remaining authentic to my deli history, but also bringing into the modern age with a plant-based twist."