According to one survey, more than 20 percent of Americans would eat bacon every single day for the rest of their lives if they could. The reason that people just can't get enough of this particular processed meat is because of its signature umami, and salty taste, research suggests. But there's a huge downside to bacon. It's bad for our health (processed meat is a Group One carcinogen, according to the World Health Organization), and it's bad for the environment (see: new documentary, The Smell of Money).
But the delicious taste and texture of bacon isn't exclusive to pork meat. With the right ingredients, you can create your own vegan bacon from home. Sure, it's not exactly the same as bacon from a pig, but it's far better for your health and it's delicious in its own right.
If you're looking for an almost identical replica, there are plenty of vegan bacon brands on the market to choose from, each offering a plant-based product that looks, cooks, and tastes just like the real thing. But if you're in the mood for something a little more whole-food-based, and you're down to spend a little more time in the kitchen, we argue that making your own is a satisfying and delicious way to get your vegan bacon fix.
What are the benefits of making your own vegan bacon?
Most of the ingredients below are whole foods, which are much better for our health than processed foods. Research suggests that a predominantly whole food, plant-based diet is associated with a reduced risk of chronic disease, including heart disease, type 2 diabetes, and different types of cancer. This is largely because whole foods are rich in vitamins and minerals, as well as antioxidants and fiber.
A whole food, plant-based diet is also better for the planet, too. Animal agriculture is a leading driver of deforestation, and it's responsible for around 14.5 percent of global greenhouse gas emissions. In 2022, one study from the University of Bonn in Germany suggested that to tackle the climate crisis, Western countries must move towards plant-based foods, and reduce their meat consumption by 75 percent.
9 ways to make your own vegan bacon
A delicious breakfast of planet-friendly, nutritious vegan bacon awaits. Check out our recipes below for nine different ways to make your own from home, using simple, whole food ingredients, many of which are best served with vegan eggs and a steaming cup of coffee.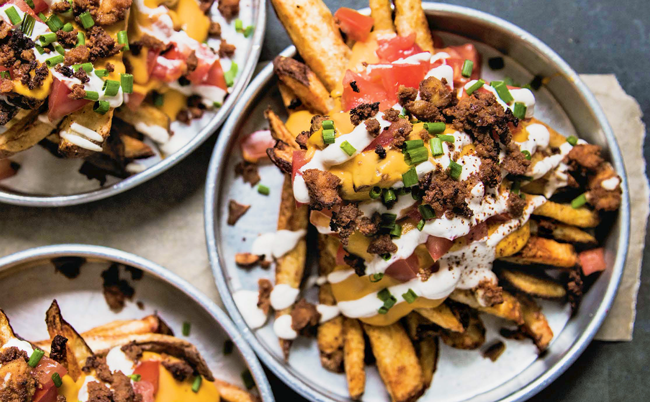 Lauren Toyota
1 Tofu
Tofu is an incredibly versatile ingredient. It can take the form of virtually whatever food you're craving, including bacon. Marinate it with a mix of tamari, maple syrup, liquid smoke, and paprika, and then bake until crispy for delicious vegan bacon crumbles—perfect on loaded fries, a salad, or a baked potato.
Get the recipe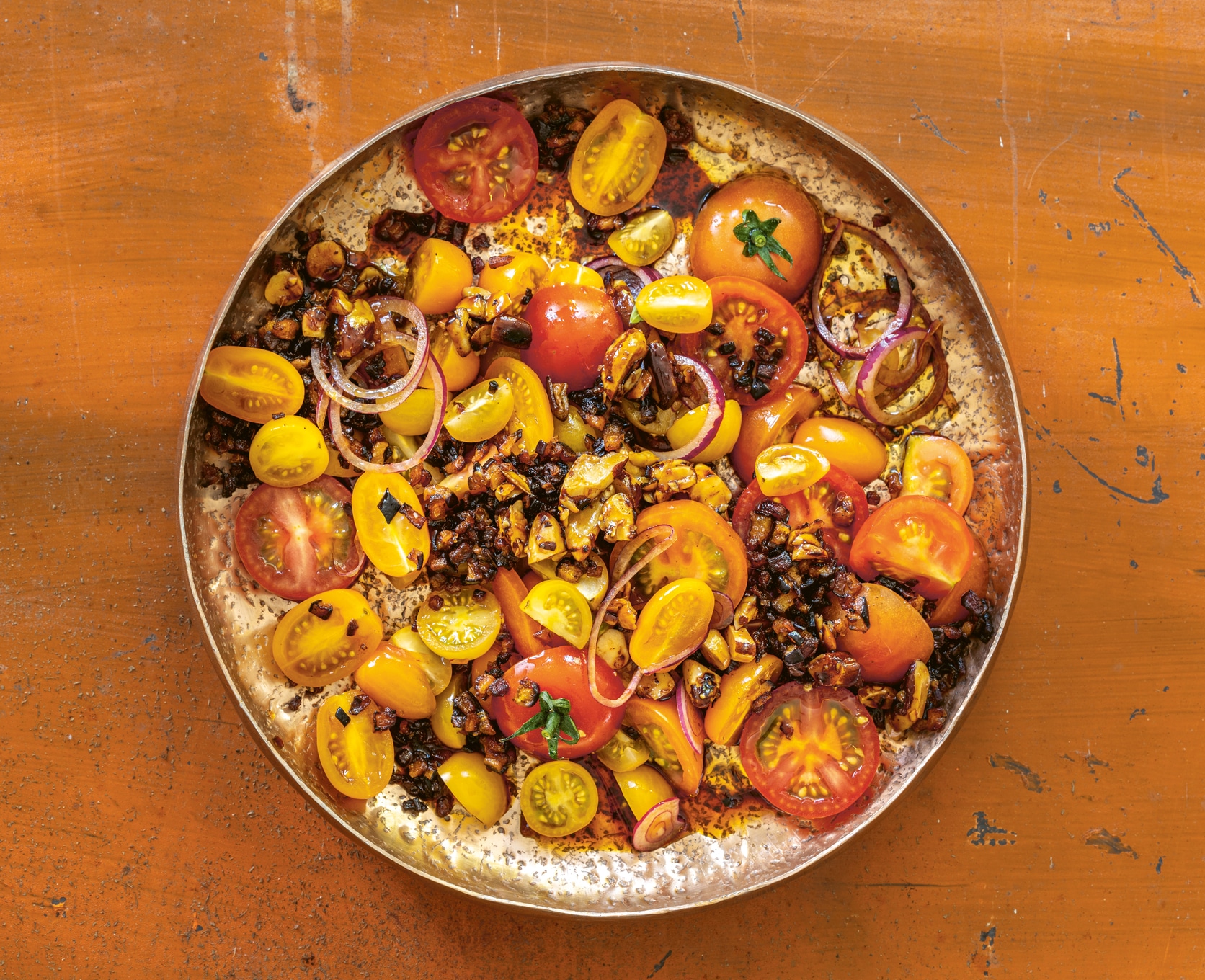 2 Eggplant
Eggplant might not be the first ingredient you think of when you're craving that bacon taste, but trust us—when mixed with ingredients like smoky paprika and smoky salt, this vegetable offers a delicious, flavor-packed alternative to meat. And it's nutrient-rich, too.
Get the recipe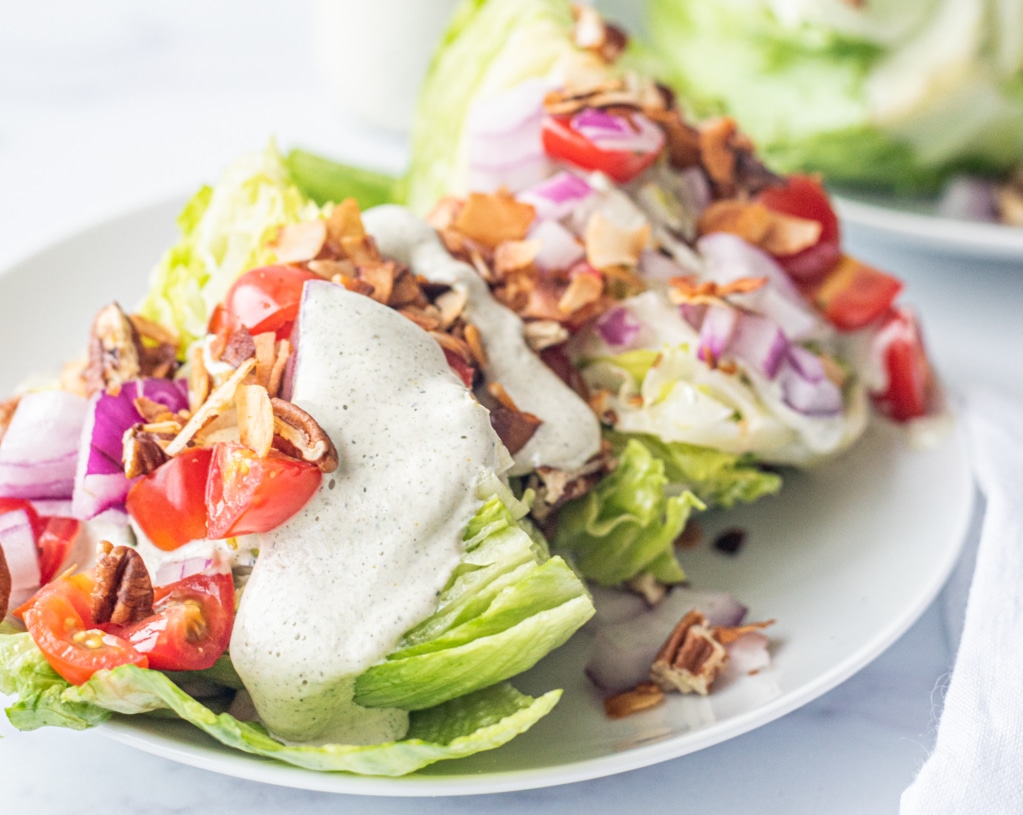 HealthyGirl Kitchen
3 Coconut
Coconut is one of the more popular vegan bacon alternatives used in plant-based whole-food recipes, and for good reason. When mixed with soy sauce, liquid smoke, salt, and maple syrup, coconut flakes can give you that same salty, smoky, crispy taste and texture you're craving. And the best part? It's super easy to make.
Get the recipe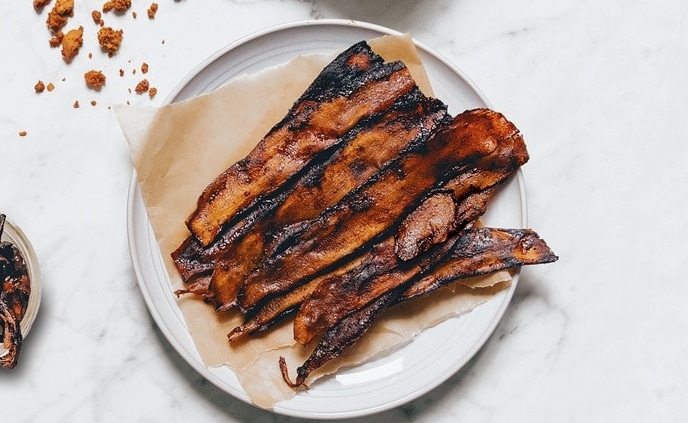 Lauren Toyota
4 Cassava
Cassava root is slightly sweet and nutty, but overall, the flavor is pretty mild. This means that it's the perfect base for a bacon marinade of tamari, maple syrup, liquid, smoke, and smoked paprika. When sliced into strips, it even looks like the real deal, too.
Get the recipe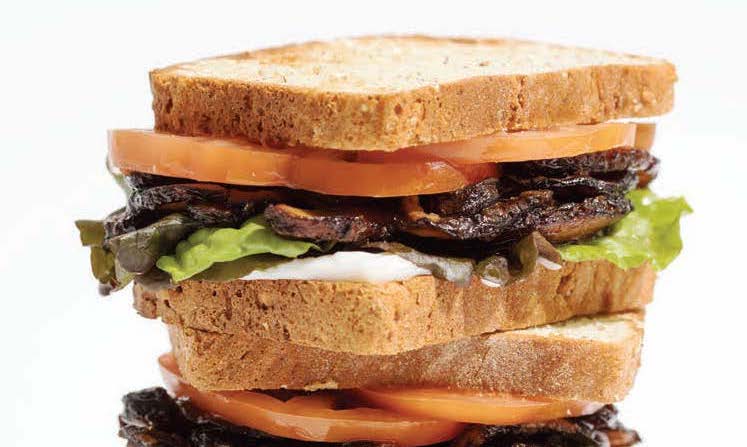 Desiree Nielsen
5 Mushrooms
A BLT is a classic brunch choice, and it's easy to make vegan. In this recipe, crispy, smoky, succulent mushrooms take the place of bacon. Combine them with creamy vegan mayonnaise, juicy tomatoes, and crisp romaine lettuce for the ultimate sandwich.
Get the recipe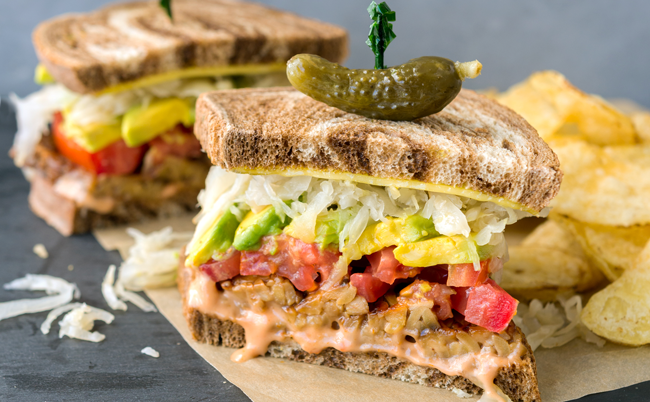 6 Tempeh
Another iconic sandwich has to be the New York-style Reuben. Traditionally, of course, it's made with corned beef and Swiss cheese, but this recipe offers a delicious, plant-based take on the classic. It combines meaty tempeh bacon strips with non-dairy Swiss cheese, avocado, and sauerkraut with succulent, moist results. This is a sandwich you'll want to make again and again—trust us.
Get the recipe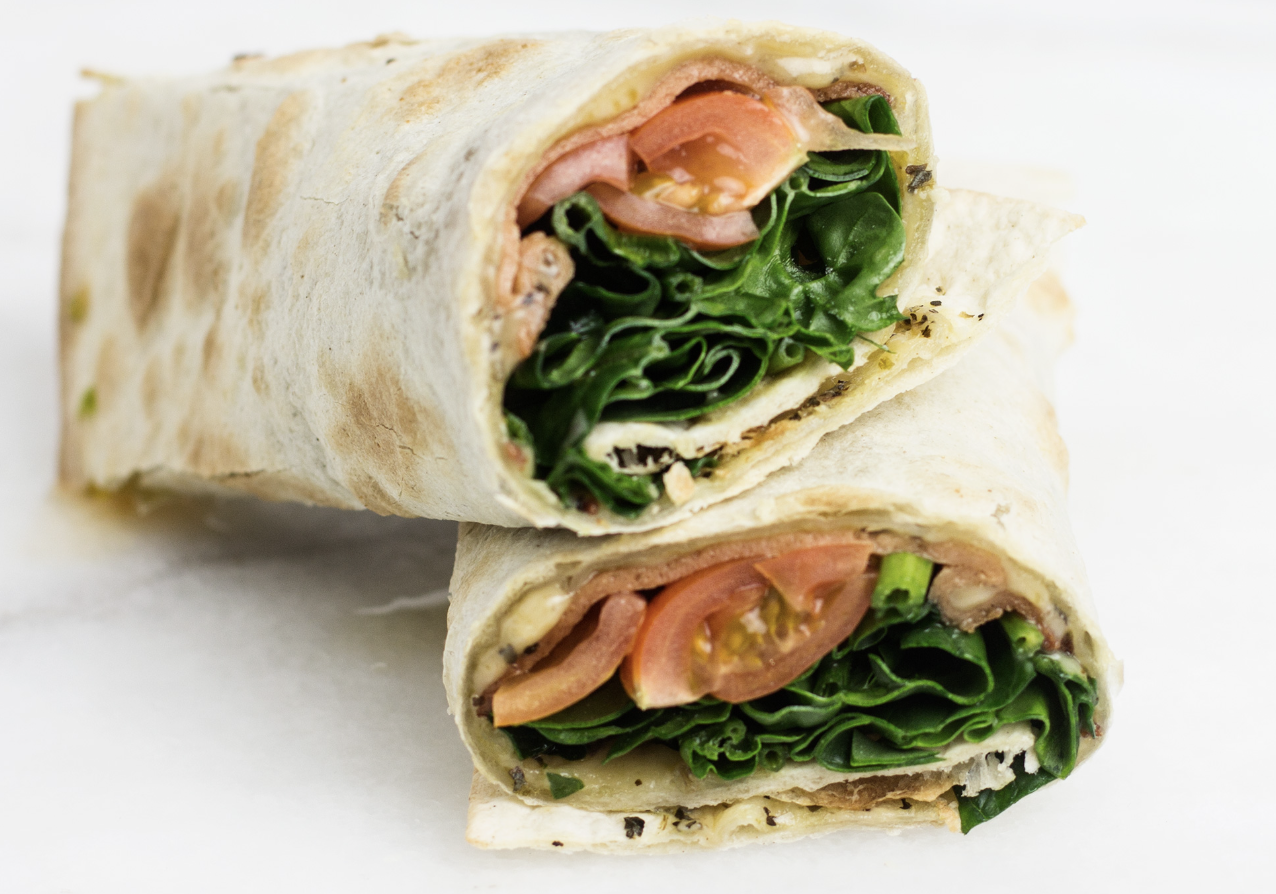 7 Seitan
Sometimes, eggplant and mushrooms just don't cut it. And that's okay because if you're craving something really meaty, you can always choose seitan. Made with vital wheat gluten, seitan forms the base of many vegan meat products, and in the case of bacon, it can certainly give you that crispy, chewy, salty mouthfeel you're craving. Give this recipe a try and see for yourself.
Get the recipe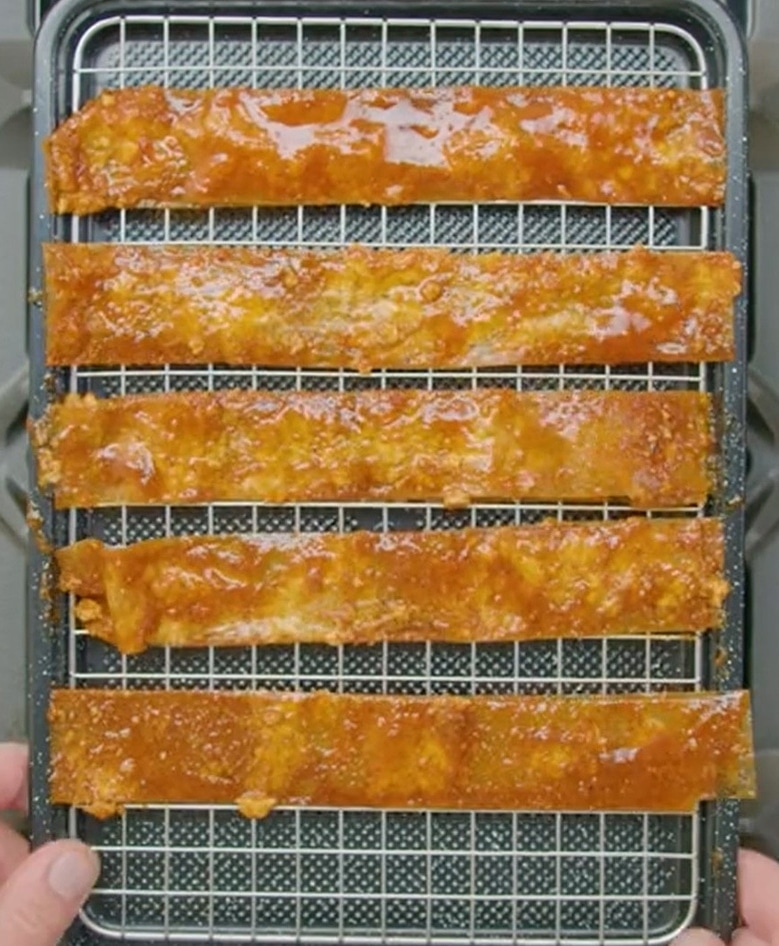 8 Rice paper
For the perfect crispy bacon, many recipe developers use rice paper. In fact, even Gordon Ramsay makes vegan bacon this way. The British celebrity chef uses a marinade of granulated garlic, nutritional yeast, paprika, cayenne pepper, maple syrup, soy sauce, sriracha, and vegan butter and combines it with crumbled tofu and rice paper for truly mouthwatering results.
Find out more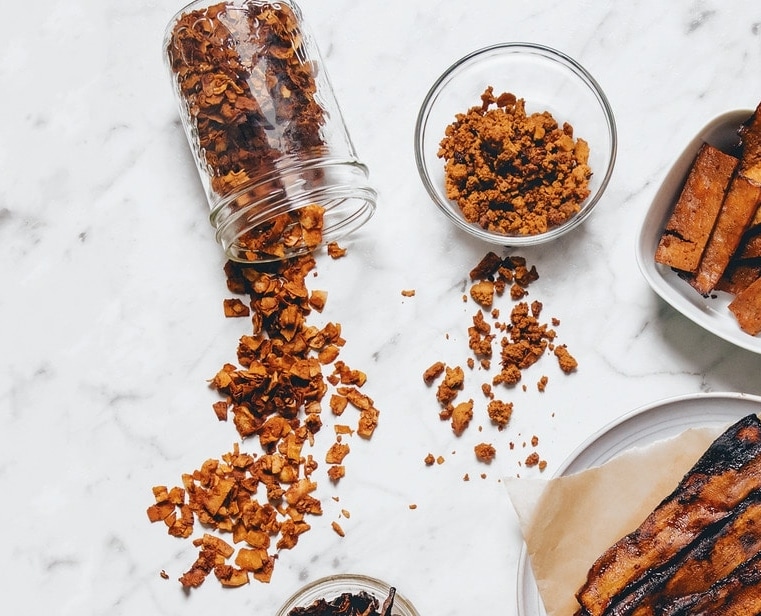 Lauren Toyota
9 Almonds
Crispy, crumbled bacon bits are the ultimate salad topping. And while the types you find at a salad bar are often vegan (because they're made with soy protein!), we think that this smoky almond recipe is a clear contender for the top spot. They're crispy and delicious, and a great source of protein, too.
Get the recipe
For more vegan recipes, read: