Finding supermarket products with the terms "vegan" or "plant-based" used to be pretty unusual—especially if they looked exactly like meat or dairy. But now, in 2022, most consumers wouldn't blink an eye at a beef-like burger made with peas, chicken-style nuggets made with soy, or milk made from oats.
The global plant-based food market is booming like never before. In 2020, it was valued at just over $23 billion, and by 2028, it's predicted to hit more than $61 billion. This growth is being driven by conscious consumers, but also by brands that continue to provide customers with new, innovative, and exciting plant-based products.
It's been a big year for vegan food, and next year is going to be even more exciting. Here, we lay out our vegan food predictions for 2023. But first, let's take a closer look at growing demand, and reflect on some of the biggest trends of 2022.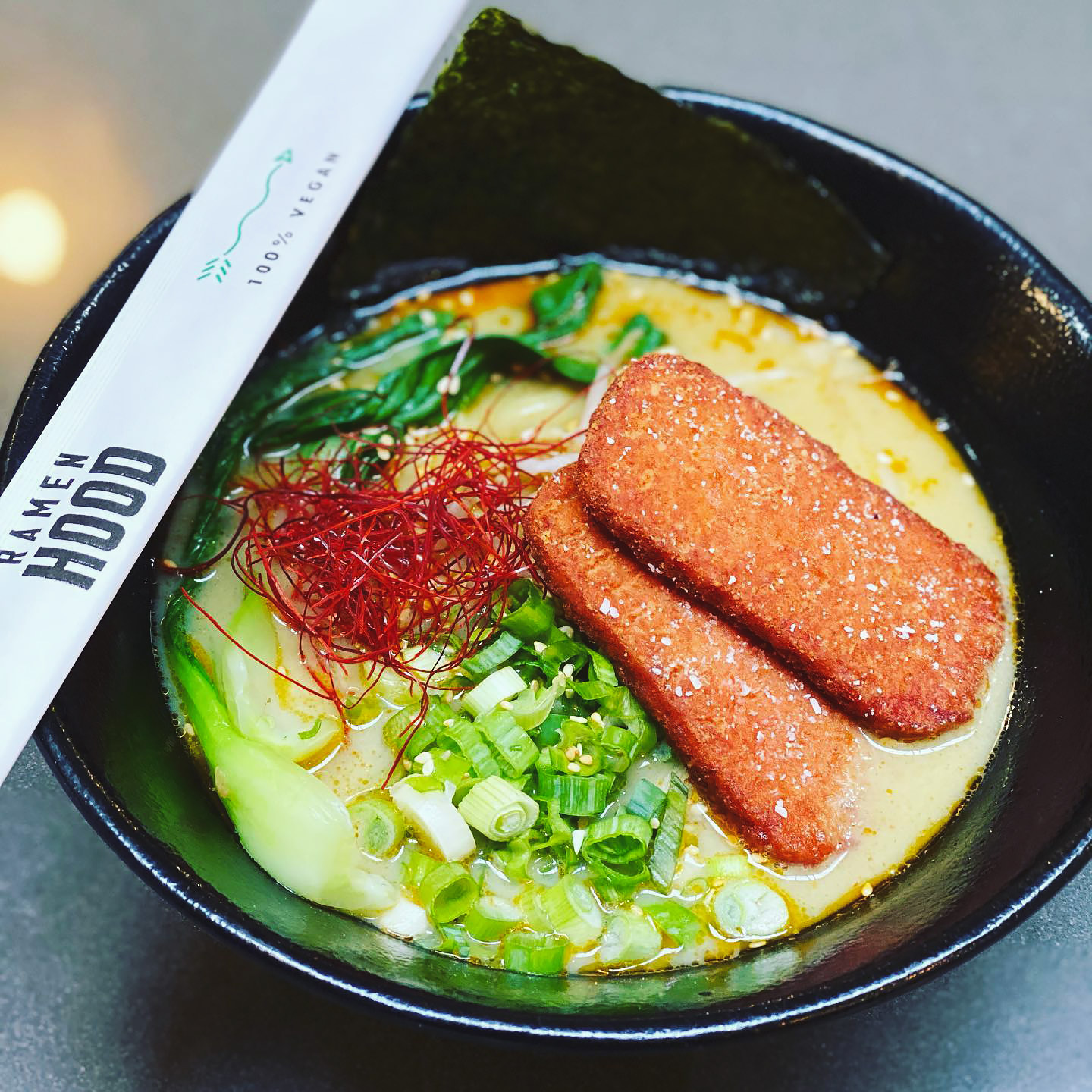 Ramen Hood
Vegan food demand
It's no secret: meat and dairy are bad for the planet. Animal agriculture is responsible for 14.5 percent of global greenhouse gas emissions, drives deforestation, and uses up valuable resources. To produce just one standard hamburger, it takes more than 3,000 liters of water, for example. And, of course, the industry is also bad for the animals. Every year, billions of cows, pigs, fish, chickens, turkeys, and sheep are slaughtered for food, and most of them (more than 90-percent globally) are kept in cramped, industrialized factory farming conditions.
These truths about the way most of the world's food is produced have led many to change the way they eat. While some have gone 100-percent vegan, most people have opted to go flexitarian, which means they are actively reducing the number of animal products they consume. Earlier this year, one study found that more than half of young Americans describe themselves as flexitarian. Further research by Dopsu found that more than 50 percent of Brits aged over 65 are reducing their meat consumption.
This spike in demand has led individual plant-based markets to grow. According to Fortune Business Insights, changing diets will push the dairy-free alternatives market to a value of more than $61 billion by 2029. Likewise, Research and Markets expects the plant-based meat market to exceed $15 billion by 2027. And in 2021, the vegan egg industry accounted for $1.5 billion.
Vegan food trends in 2022
From a surge in vegan chicken options to Burger King's meat-free locations, 2022 was the year the plant-based movement went to the next level. It's safe to say: it's officially mainstream.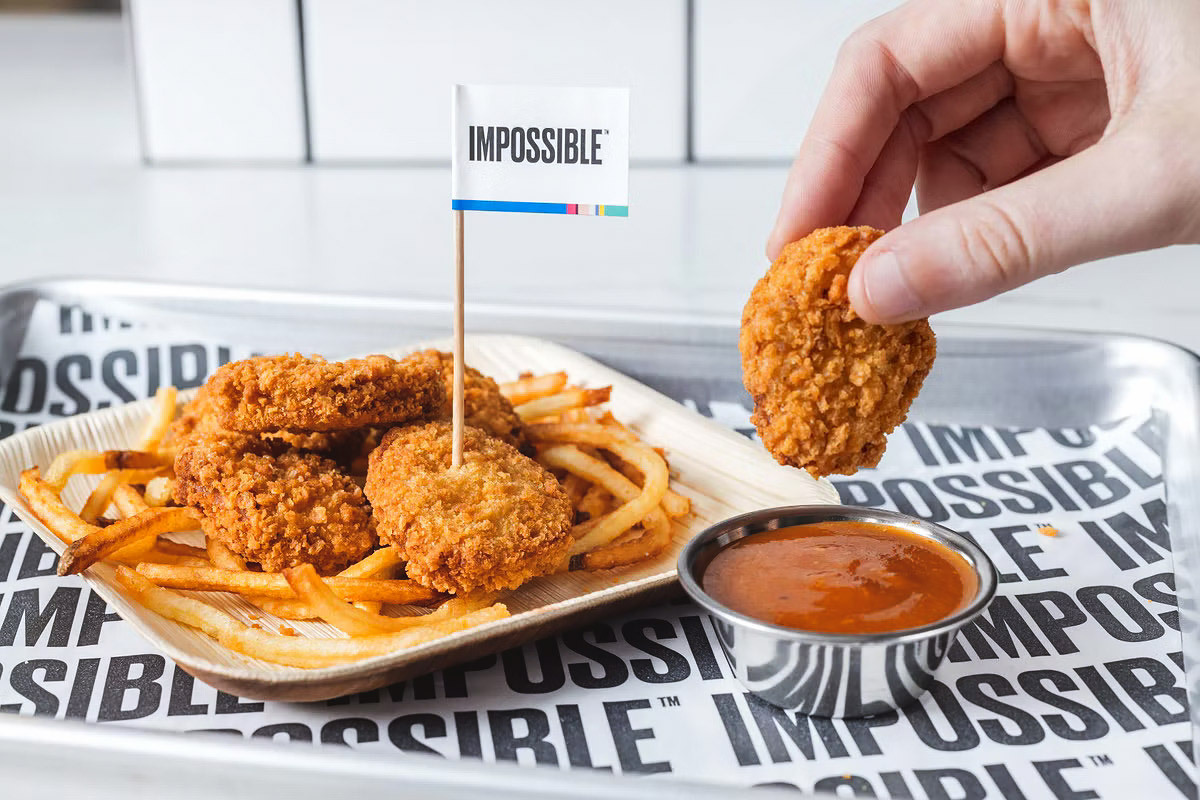 Impossible Foods
1 Plant-based chicken
When plant-based meat started to hit the mainstream, the talk of the industry was burgers. Specifically, burgers that "bled" and mimicked beef so well they could fool even the staunchest of carnivores. But this year, the market evolved from red meat-style products to embracing the most popular meat in the US and the UK: chicken. Vegan chicken was everywhere in 2021, from Impossible Foods' nugget launch in the UK to new brand Daring launching not one, but two vegan chicken campaigns with two of the most famous people in the world: Kourtney Kardashian and Travis Barker.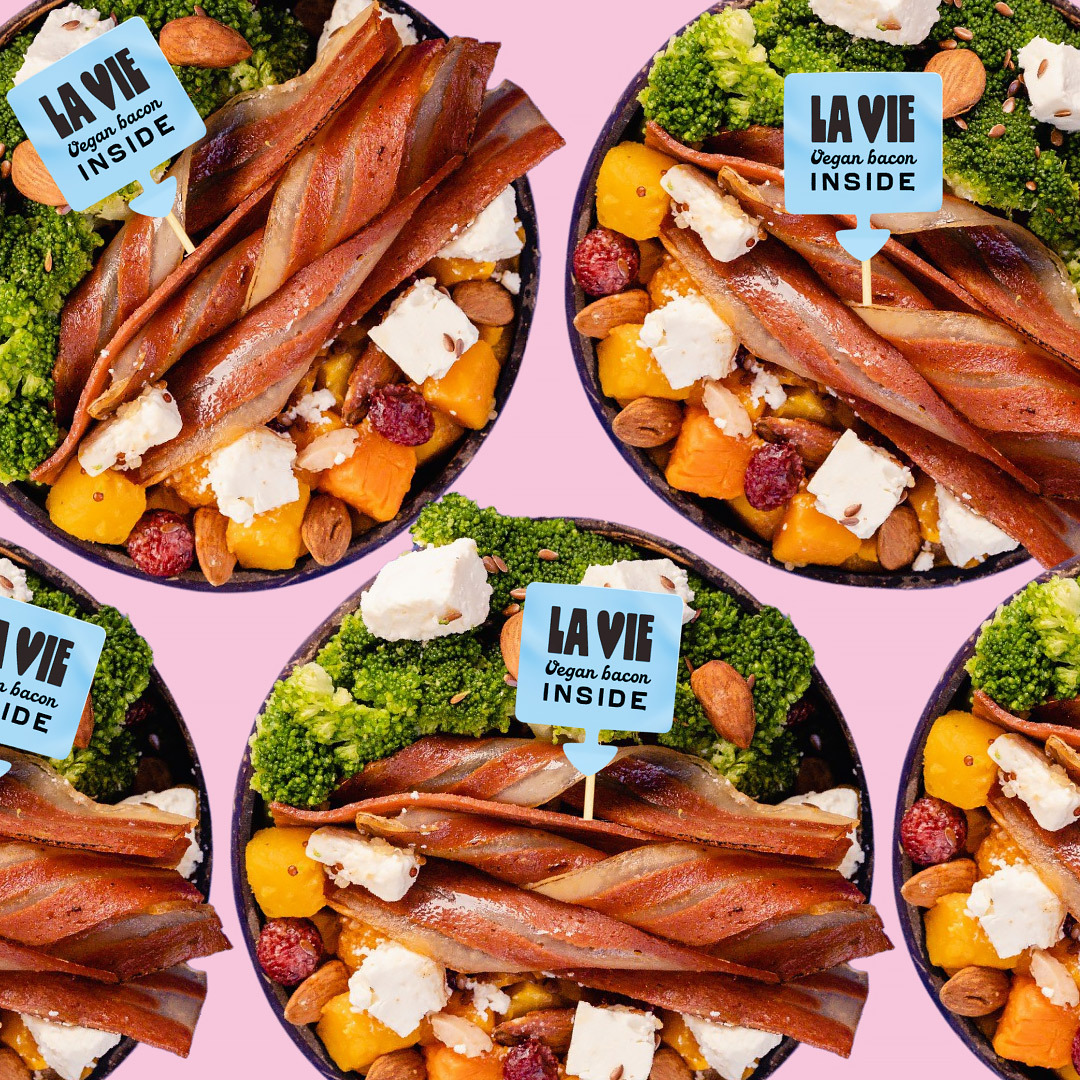 La Vie
2 Plant-based bacon
Chicken wasn't alone this year. As one of the most loved products in the meat world, plant-based brands have also been taking on bacon, and so far, they've been doing pretty well. French vegan bacon brand La Vie successfully managed to campaign its way onto Burger King's menu and launched its products in UK supermarkets. And MyForest Foods' vegan bacon, which is made with mycelium, got a shout-out on TIME's annual 2022 Best Inventions list.
According to Fact MR, the plant-based bacon market will keep soaring in the coming years, with brands like THIS.co, Lightlife, Upton's Naturals, and The Vegetarian Butcher leading growth.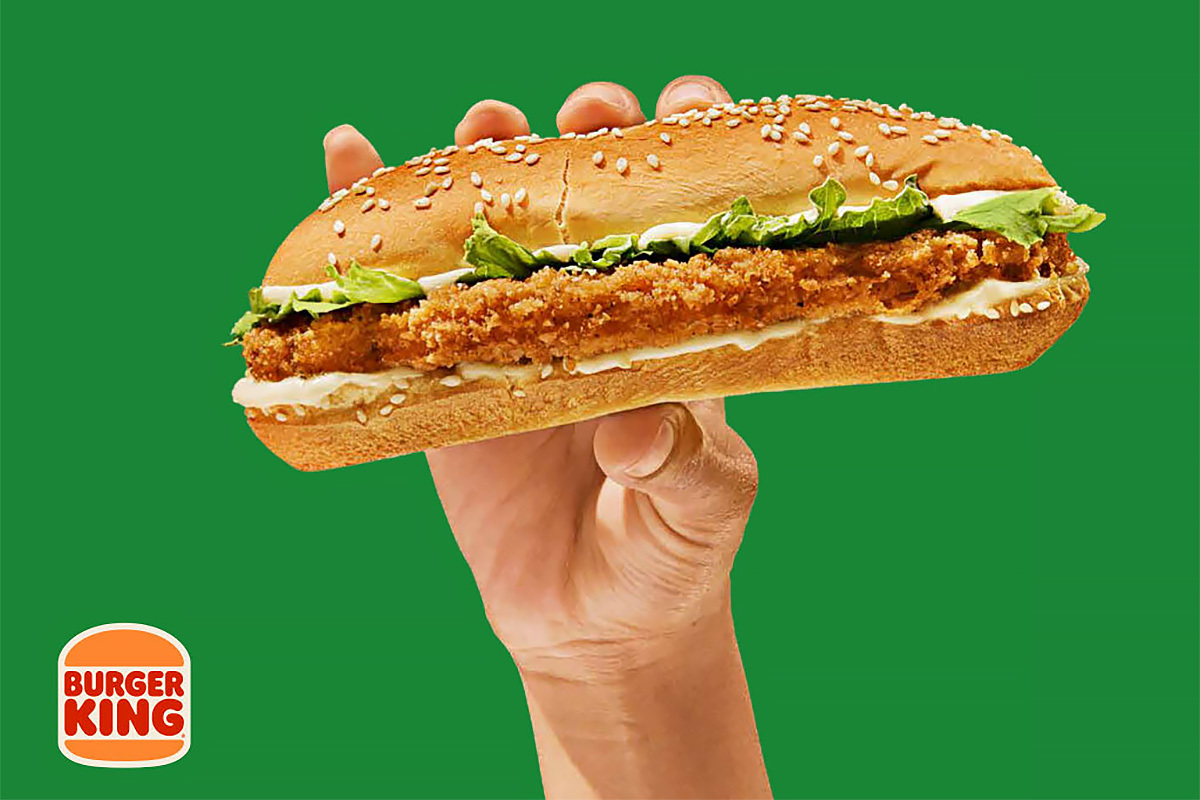 Burger King
3 Mainstream vegan fast food
There's no doubt, 2022 was the year fast-food brands really sunk their teeth into vegan food. Burger King led the pack, and for the first time ever, even opened temporary 100-percent plant-based locations in a number of countries, including the UK, Austria, Portugal, and Chile.
McDonald's also added the vegan McPlant to its permanent menu in the UK and Ireland and started trialing the patty in Australia. US locations also trialed the burger, although there has been no mention of whether the option will be made permanent in the country. Elsewhere, McDonald's added a vegan KitKat McFlurry to the menu in Germany, as well as plant-based SPAM in Hong Kong.
KFC, Panda Express, and Taco Bell were among the other fast-food chains that trialed new vegan options this year.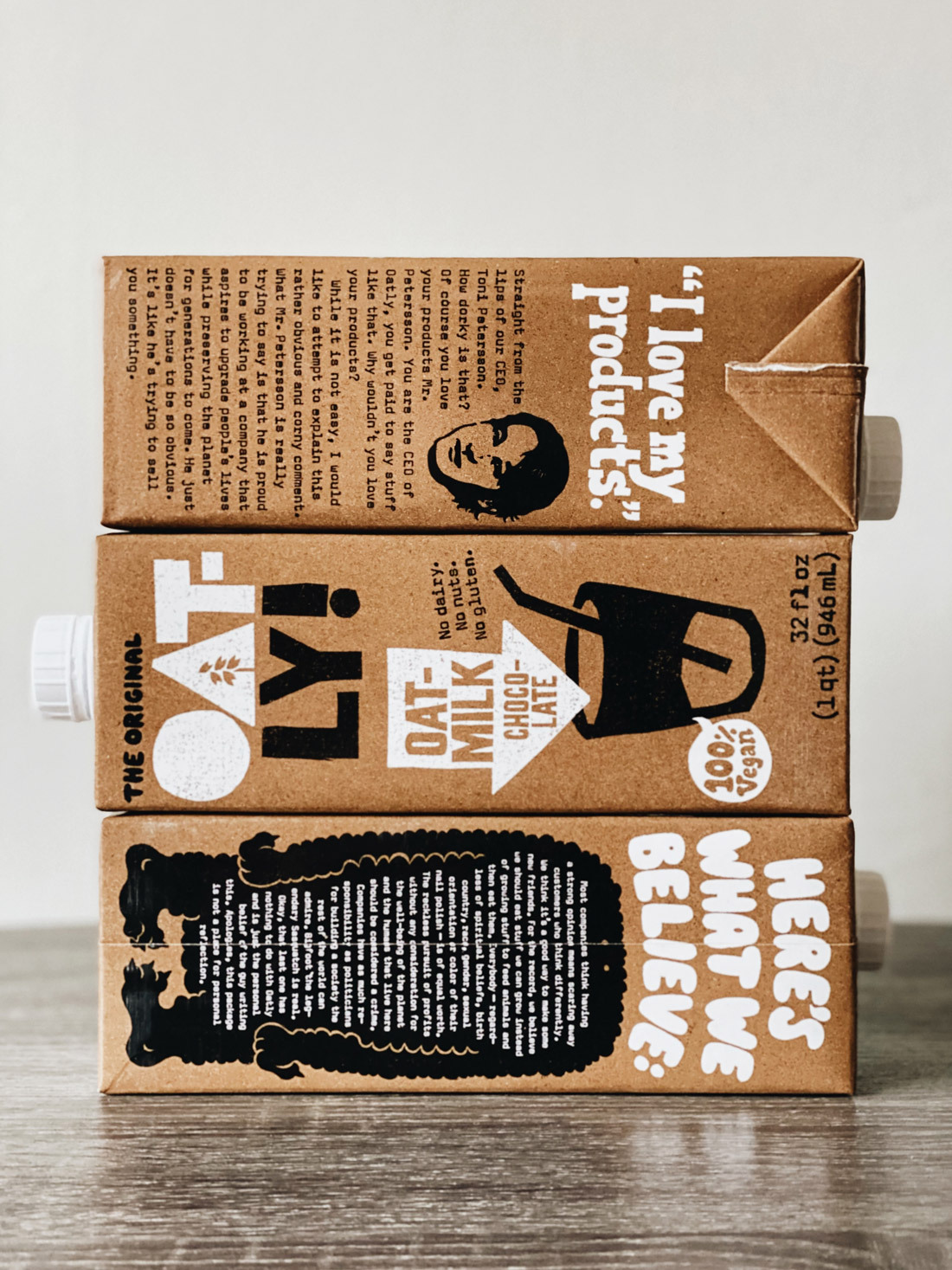 Oatly
4 Vegan milk domination
The vegan milk market has been steadily growing for a while. But this year, it seemed like it reached saturation point. In May, one survey by UK dairy brand Arla even discovered that nearly half of Gen Z now feel "ashamed" to order cow's milk in public. It also showed that around 57 percent are planning to give it up. This prompted Arla to launch a "don't cancel the cow campaign," but it may be too late.
Dairy consumption is firmly in decline. In the US, 50 years ago, milk consumption stood at around 247 pounds per person. Today, stats show it is now at 144 pounds. Even coffee giants like Starbucks have shown solidarity with the dairy-free market, by dropping the surcharge for vegan milk. (For now, though, this is only in the UK.)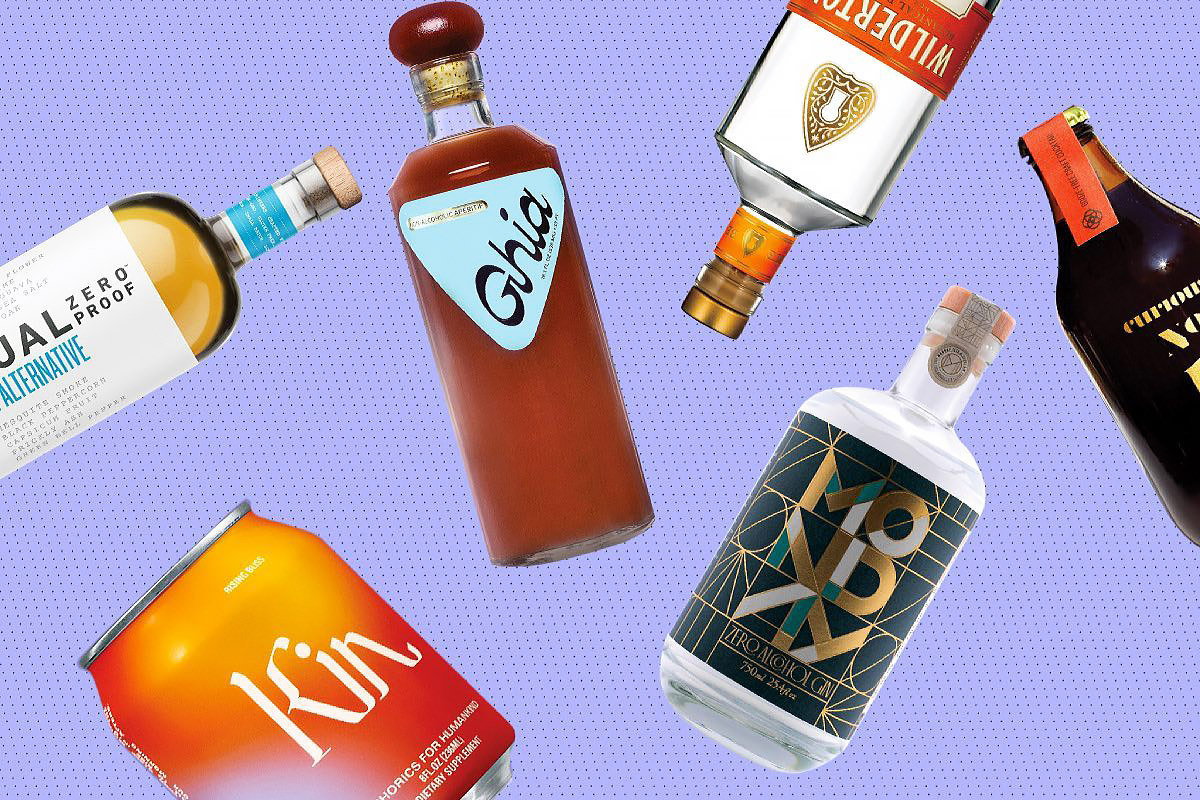 Soft Spirits
5 Vegan, alcohol-free booze
When it comes to drinking, another new trend started to take hold this year: low- and non-alcoholic beverages, many of which are also vegan. A new report released in October 2022 predicted that the market will reach nearly $69 billion by 2030. Another UK-focused report released this year found that nearly 30 percent of pub visits are now alcohol-free.

Just recently, the first international competition dedicated to non-alcoholic drinks was announced. The World Alcohol Free Awards will award specific trophies for products in Organic, Ethical, Halal, Gluten-Free, and Vegan categories.
Vegan food predictions for 2023
This coming year, we predict we're going to see more innovation than ever in the vegan food industry. Seafood and mushrooms are two big stars of the show. But sustainability will also become increasingly important, and food companies and chefs will be looking at new creative ways to reduce waste. Plus, vegan restaurant menu options are going to get an upgrade. We can't wait!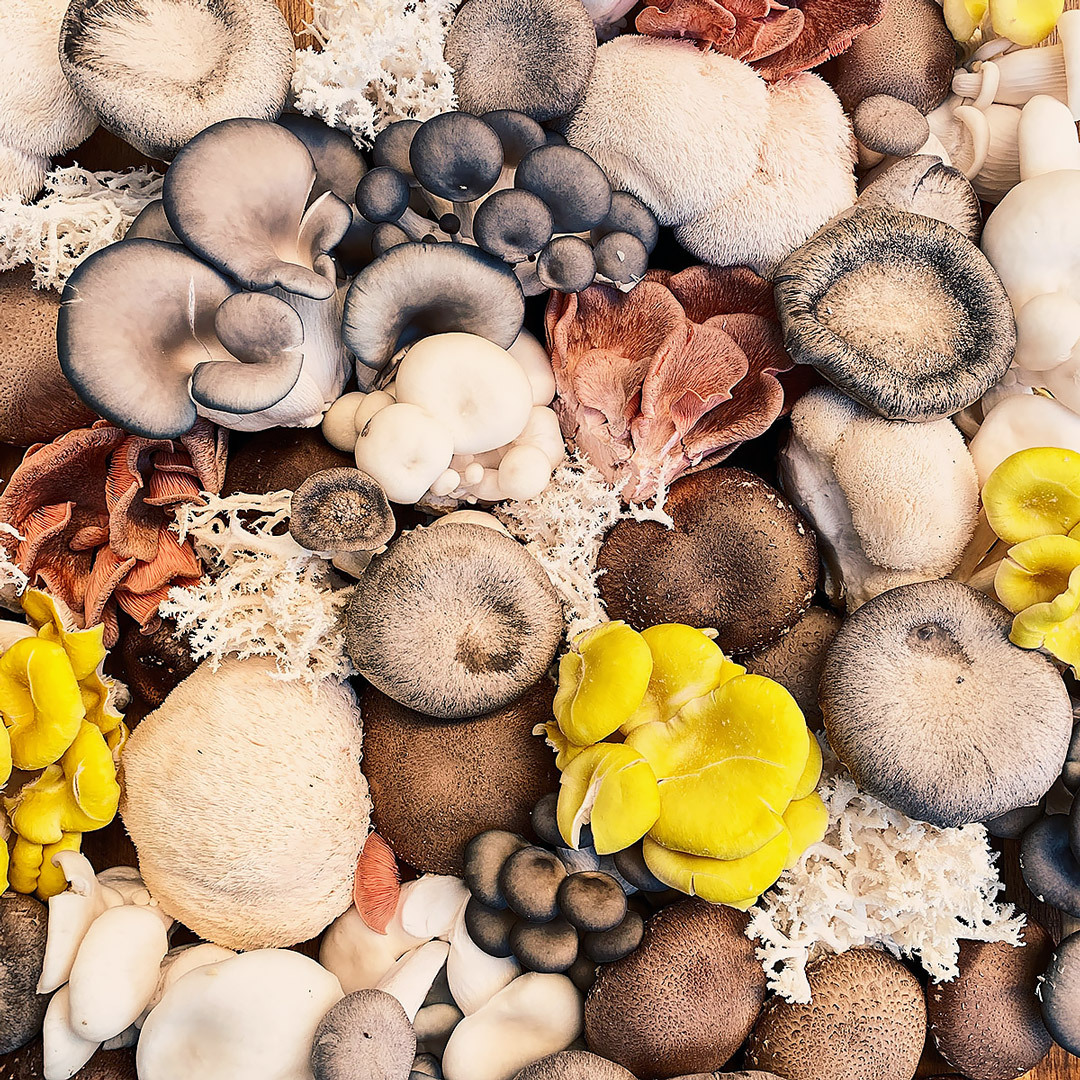 Ashleigh Shea/Unsplash
1 Mushrooms
Mushrooms, known for their nutritional content and meaty, umami taste and texture, have been a plant-based cooking staple in cultures around the world for centuries. But this year, more people are going to stray from the humble chestnut and portabello varieties and embrace options like oyster (the market of which is already growing), lion's mane, chicken of the woods, maitake, enoki, and shiitake.
According to Data Bridge Market Research, there are a few factors driving growth in the "functional mushroom market," and these include a "positive outlook towards organic personal care" as well as "the emerging role of mushrooms in the food industry."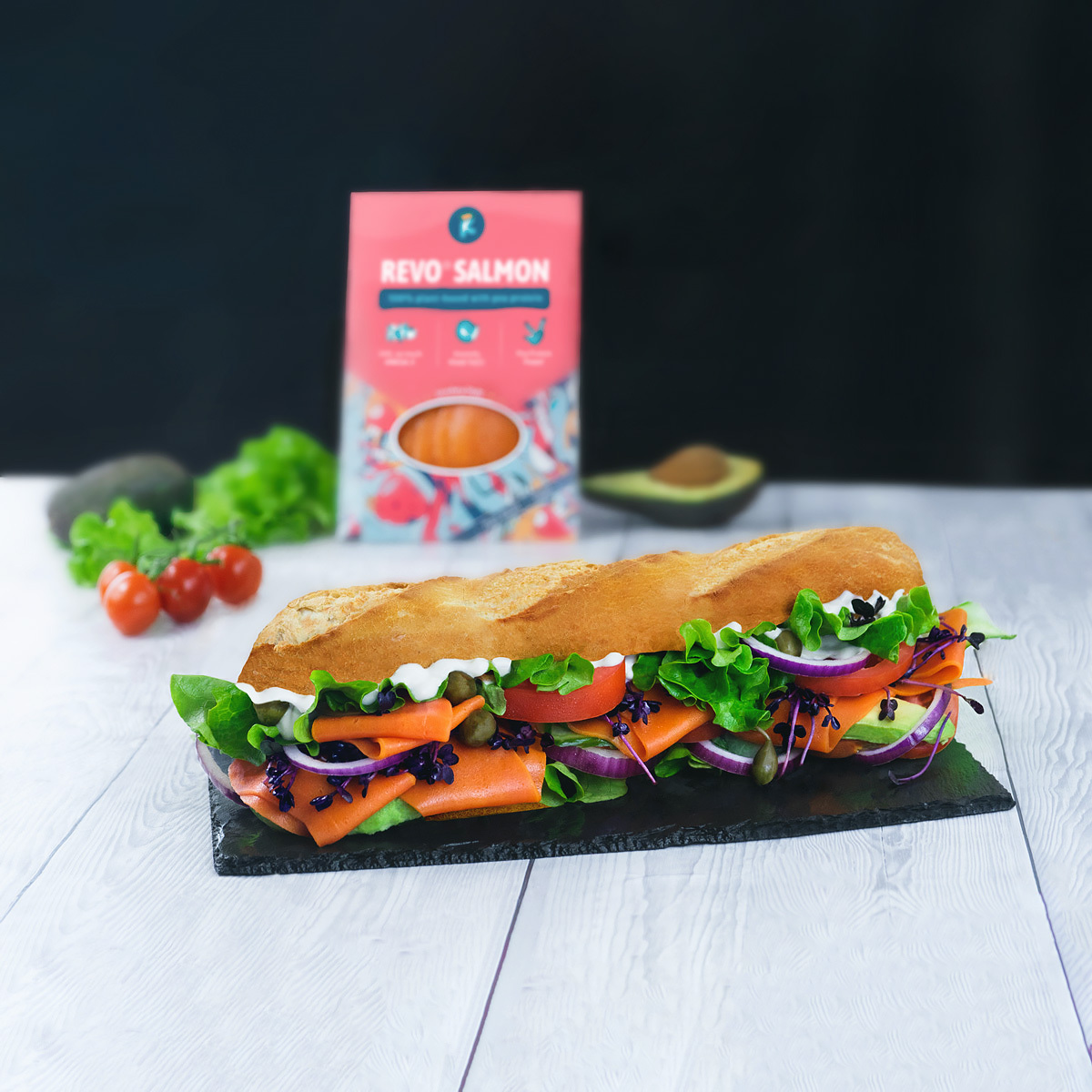 Revo Foods
2 Plant-based fish
This year may have been vegan chicken's year, but 2023 is going to see the vegan fish and seafood market thrive. The range of options on the market has already started to grow, but with new emerging brands like Austria's Revo Foods (which has created a whole-cut vegan salmon fillet with 3D-printing technology) and Aqua Cultured Foods (which makes seafood alternatives with fungi-derived mycoprotein), the industry is going to become even more popular. According to Fact.MR, the plant-based shrimp sector, in particular, is about to surge.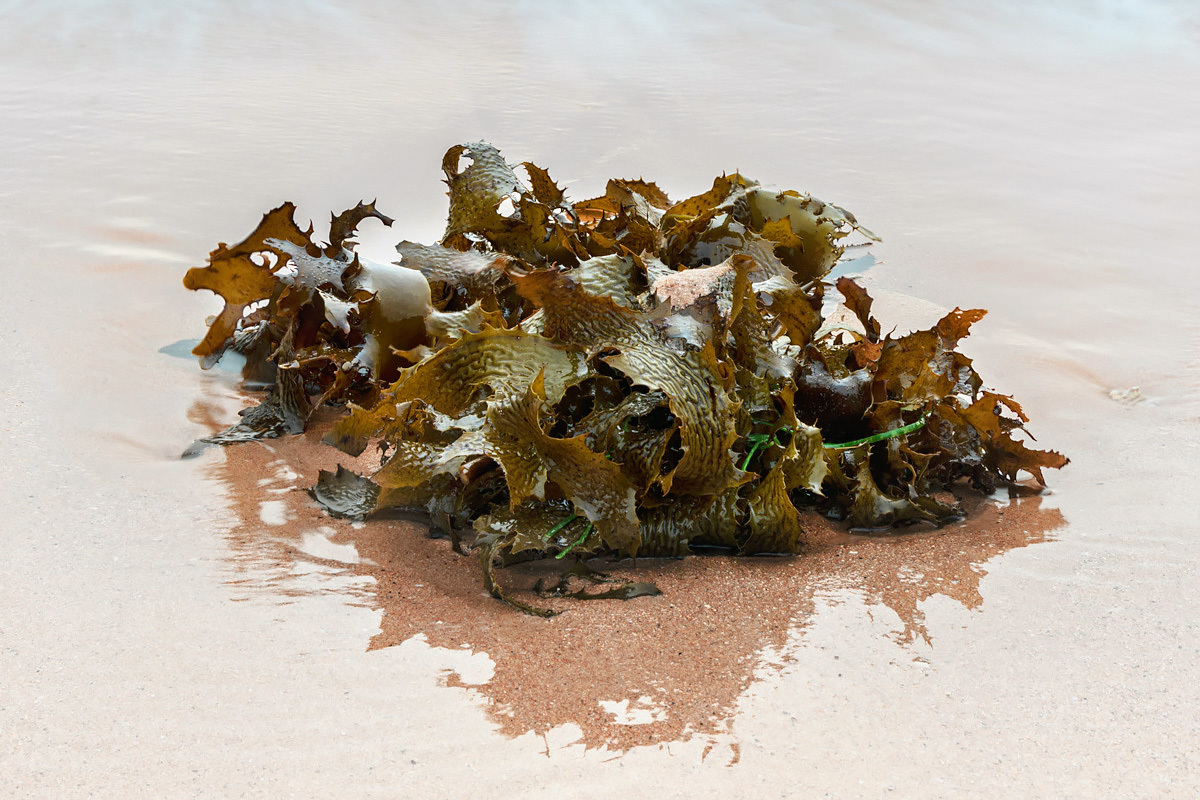 Rosie Steggles/Unsplash
3 Seaweed
Under the sea is definitely a theme for 2023, as simple seaweed is also going to rise in demand. The ingredient is versatile; it can be eaten by itself dried, fresh, or added to vegan fish recipes or products to up their fishy flavor. It's also nutritious, as it contains a number of antioxidants, as well as iodine, and it's sustainable. Seaweed requires very few resources to grow (no fresh water or soil!) and farming it sequesters carbon. Fortune Business Insights names environmental awareness and fast-growing veganism as two key driving factors behind the seaweed market.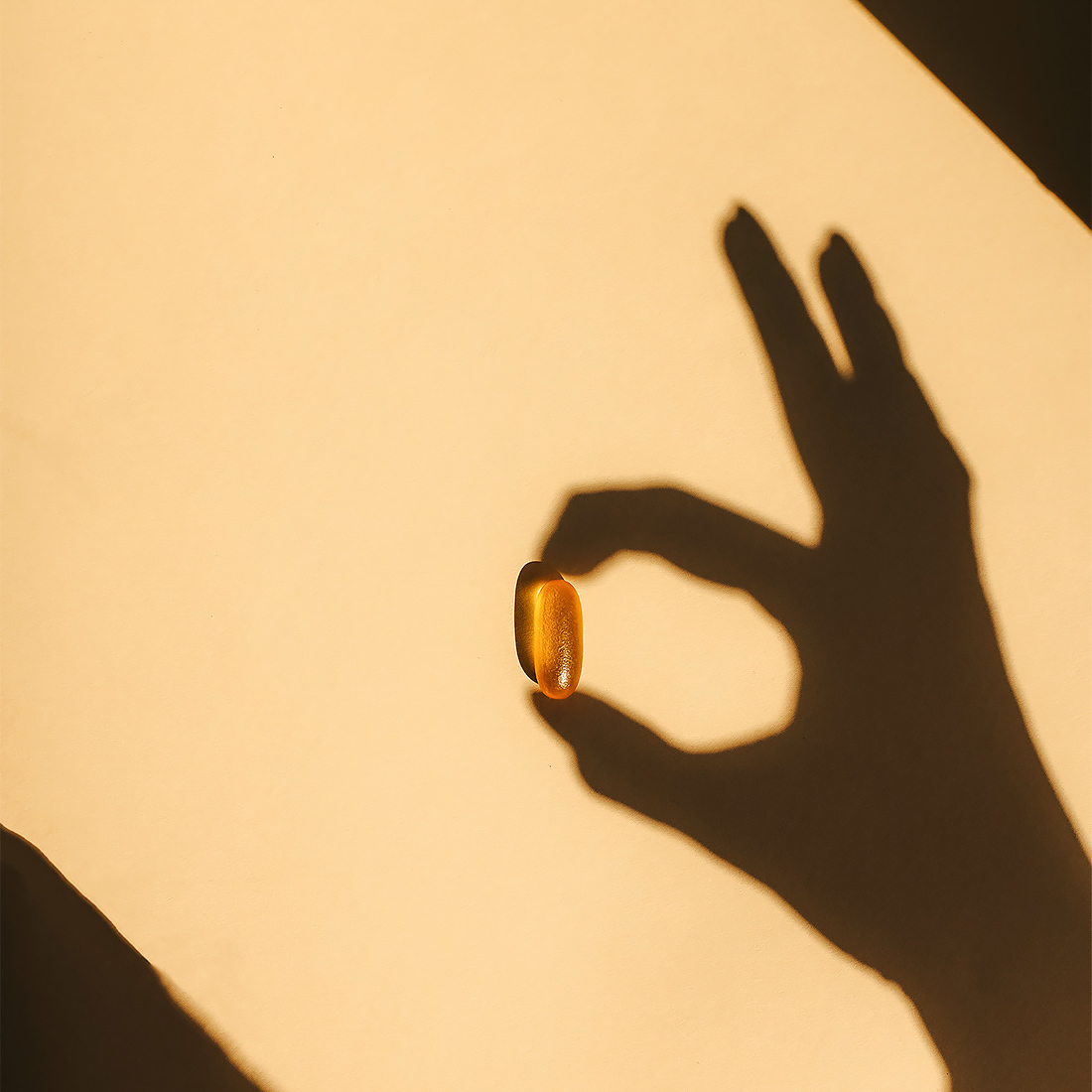 Natali Hordiiuk/Unsplash
4 Upcycling & zero-waste
Food waste is a big problem. Every year, 2.5 billion tons of food is wasted globally. This contributes to greenhouse gas emissions because when old food rots, it produces methane. But next year, more brands are going to work to solve the problem.
Whole Foods Market predicts there will be more upcycling of excess from the dairy-free milk industry, in particular, with oat, soy, and almond pulp becoming the bases of flour and baking mixes. Fact.MR has even valued upcycled ingredients as a market in their own right and estimates that right now, the $275 million industry will see year-on-year growth of 5.9 percent. "Market growth is high on the back of rising concerns about food wastage and growing demand for more plant-based ingredients," the market research platform notes. Key upcycled ingredient categories include flour, oils, vitamins, and protein powder.
Low- and zero-waste is also becoming more popular in the restaurant world. Italian chef Giuseppe Geraci, for example, has been holding MasterClasses on sustainable, zero-waste cooking, with mostly plant-based dishes.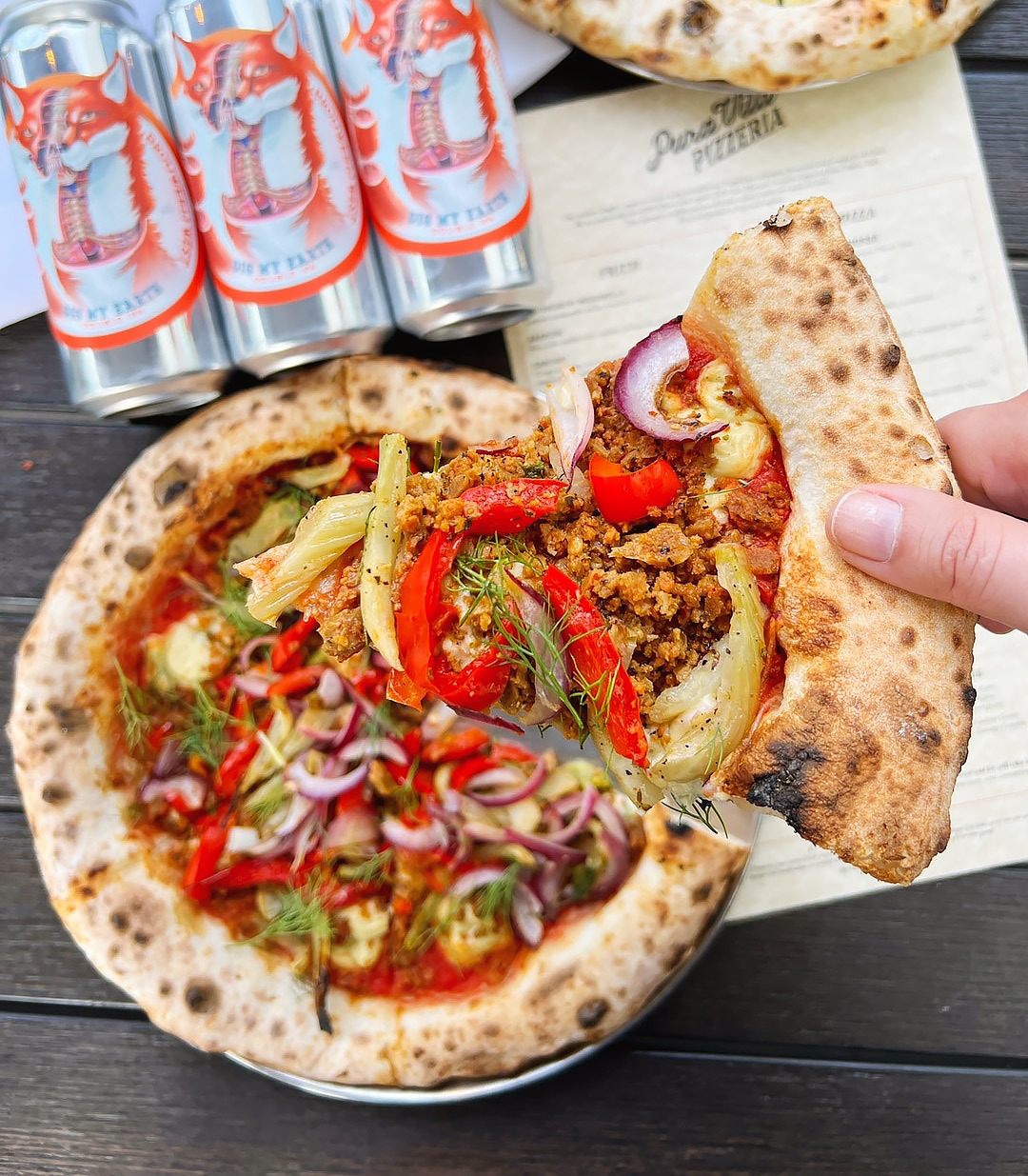 Pura Vita
5 More vegan restaurant options
After the COVID-19 pandemic and lockdowns, restaurants started to bounce back in 2022. And with more flexitarian diners than ever, more eateries have been catering to plant-based demand. As we've established, plant-based fast food is already taking off, but, across the board, the vegan-friendly restaurant industry is going to keep getting stronger. International data and insight consultancy CGA confirms that it expects to see more vegan pizza options (pizza was the most popular takeout food in 2022), as well as more vegetable-based dishes in general, with plants "increasingly being used as hero ingredients."
For more on some of these vegan food predictions, read: