Trader Joe's does many things well, but the way it marries healthy convenience with accessibility is unparalleled. With a tub of Trader Joe's vegan pesto, a box of pasta, and a few fresh picks from the produce section, anyone can whip up a satiating meal on the busiest of weeknights without subscribing to pricey meal subscriptions or opting for delivery. Trader Joe's vegan staples empower us to make semi-homemade meals—it's not heat-and-eat easy, but the fact that these dishes take even the smallest amount of effort instills a sense of pride and accomplishment. You boiled that water to make cauliflower gnocchi? Good for you! Sautéed a bowl of pre-chopped stir fry veggies with a simmer sauce? That's real cooking right there.
Trader Joe's products open the door to getting creative and making something delicious in a minimal amount of time. From vegan pesto to pre-made pizza dough, here are 13 Trader Joe's staples to make a meal in minutes.
What is Trader Joe's vegan pesto made of?
Search for "pesto recipe," and you'll find the same four ingredients: pine nuts, fresh basil, olive oil, and hard cheese like pecorino or Parmigiano Reggiano. This is pesto in its most basic form. However, there are countless iterations on this foundation—including vegan options. We've seen pine nuts swapped for almonds, arugula subbed in for basil, and of course, plenty of recipes that omit the cheese.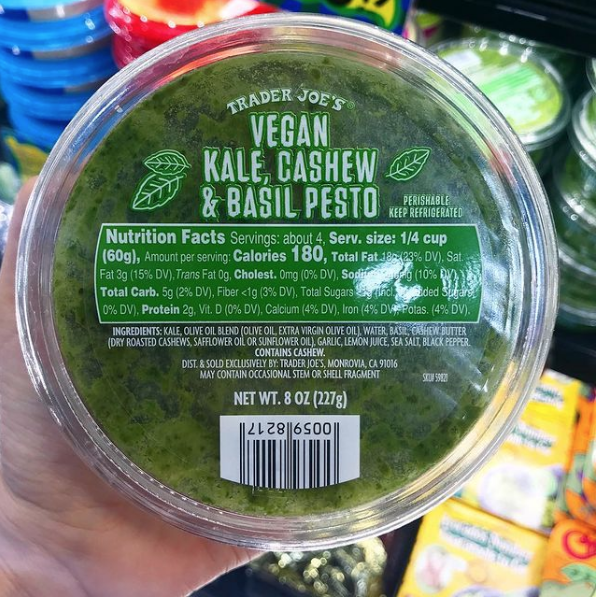 VegNews
Trader Joe's vegan pesto takes its own liberties on this traditional sauce. Officially labeled Vegan Kale, Cashew & Basil Pesto, the spread combines both kale and basil to obtain its earthy green hue, substitutes cashew butter completely for pine nuts, and adds a squeeze of lemon for brightness. The result is a bit lighter, less umami than pesto in its traditional sense, but it's still something we'll happily douse noodles with and liberally spread over pizza.
13 vegan Trader Joe's staples
In the mood for something other than pesto? Trader Joe's vegan products make thousands of meals possible through countless combinations. Here are just a handful of our go-to picks.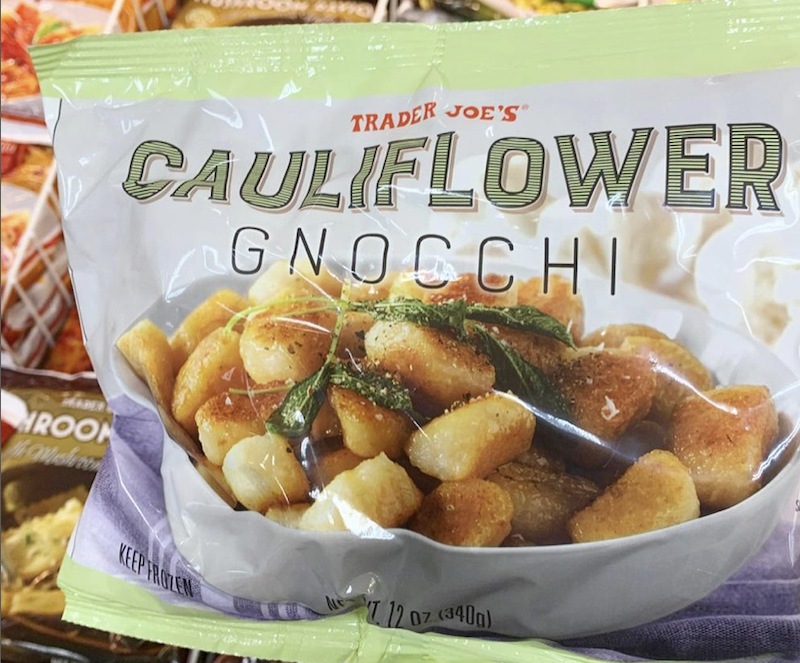 @traderjoesveganitems/Instagram
1 Cauliflower gnocchi
Beyond its pillowy bite and fluffy texture, we love gnocchi for its quick cooking time. You can boil it in about half the time it takes for wheat-based noodles or pan sear it in a flash … literally, it takes three minutes. We'd advise the pan-sear route for this product, as it can get a bit mushy when boiled. Toss with Trader Joe's vegan pesto or marinara sauce and serve with a pre-made side salad for a hearty meal on a cold evening.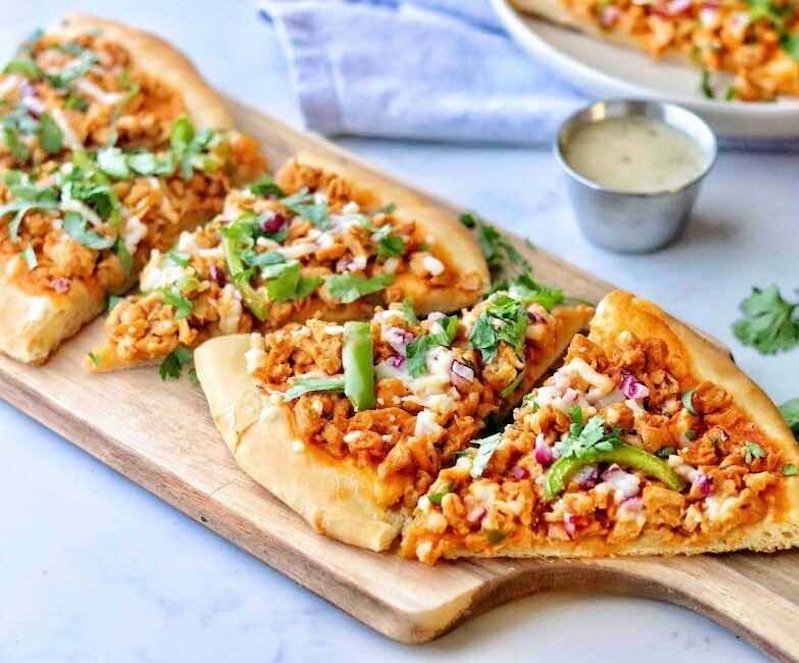 Abbot's Butcher
2 Pizza dough
All three of Trader Joe's pizza doughs—plain, garlic & herb, and wheat—are vegan by default. Let it rise on the counter for 20 to 30 minutes while you wind down from the day, then quickly roll it out, spread on a jar of Trader Joe's marinara or pizza sauce, and top with whatever veggies looked good to you in the produce section. Sprinkle on some nutritional yeast or TJ's vegan mozzarella shreds if you like. In a 450-degree oven, it takes less than 15 minutes to bake. We challenge any delivery service to beat that.
Baked Tofu
3 Baked tofu
Tofu can be crave-able, but you have to do it right. You have to press it for 20 minutes, come up with a flavoring element, then cook it. All of that takes time we don't have on a busy evening. Trader Joe's baked tofu varieties are ready to go. Try sautéing the Sriracha flavor with TJ's Asian Vegetable Stir Fry or place the Organic Teriyaki option over sticky rice and steamed bok choy. Sometimes, we even slice up these blocks of flavored tofu and enjoy them as a protein-packed snack!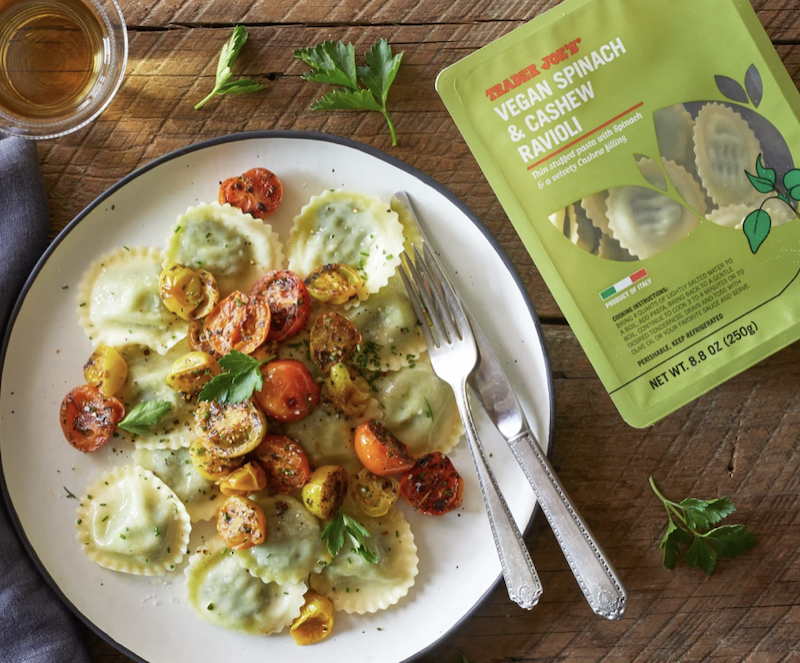 Ravioli
4 Vegan Spinach & Cashew Ravioli
Vegan-friendly filled pasta isn't very common when eating out, so we grab for it when we see it on retail shelves. These spinach-and-cashew-stuffed pasta morsels take four minutes to cook in boiling water, giving you just enough time to heat up some marinara or take off the annoying plastic cling on a fresh tub of vegan pesto. Pair with a side of steamed broccoli to round out the meal.
@milennialmomkitchen/Instagram
5 Soyaki
For many dishes, it's all about the sauce. Having a flavorful finish helps us eat healthier, too. Cover anything in this sweet and tangy Soyaki, and we'll happily eat a mixing bowl-sized serving of steamed vegetables and air-fried tofu. Use this as a marinade, stir-fry, or dipping sauce for TJ's Sliced Korean Rice Cakes or vegetable gyoza.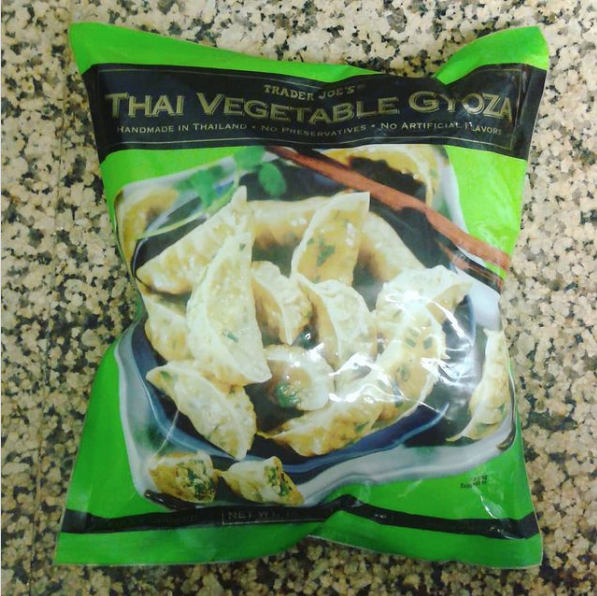 Trader Joe's
6 Vegetable Gyoza
Investing $20 in a bamboo steamer basket is worth it for these gyozas. They steam from frozen in about 10 minutes and always hit the spot if you've craving takeout. Sear a bag of frozen Asian Vegetables with Beijing-Style Soy Sauce while they cook and reserve some of the sauce packet for dipping the dumplings.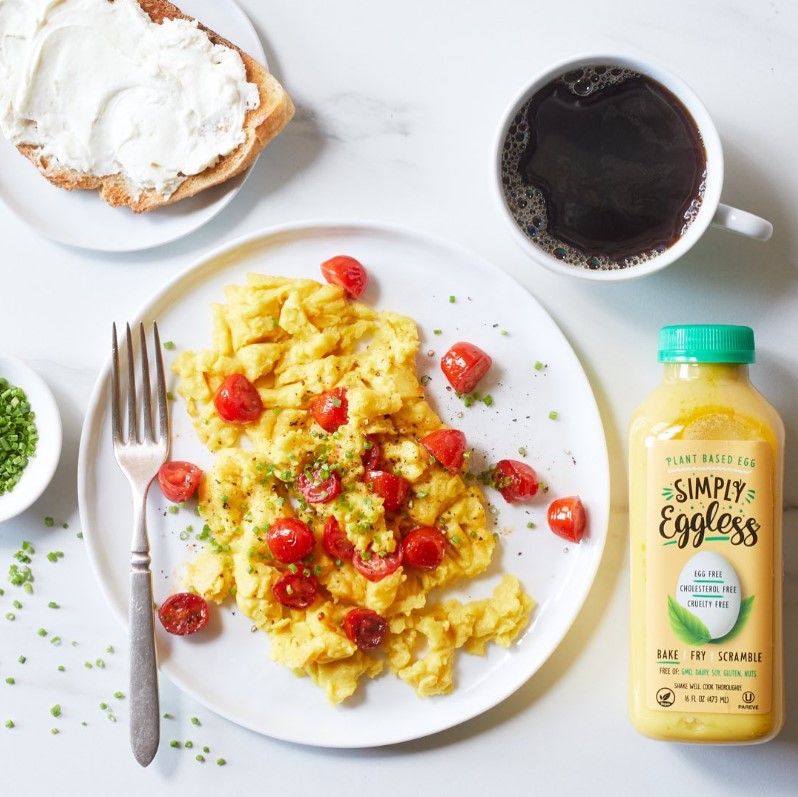 Simply Eggless
7 Simply Eggless Egg Scramble
You won't find JUST Egg at TJ's, but in lieu of private labeling this innovative plant-based breakfast staple, the grocer brought in Simply Eggless. The pourable vegan egg works for scrambles, omelets, and baked applications like quiches and egg bites. Of course, enjoy it for breakfast, but don't rule out a phenomenally fast breakfast for dinner. From bagel egg sandwiches to soyrizo scrambles with steamed kale, there are plenty of meals you can make in under 15 minutes.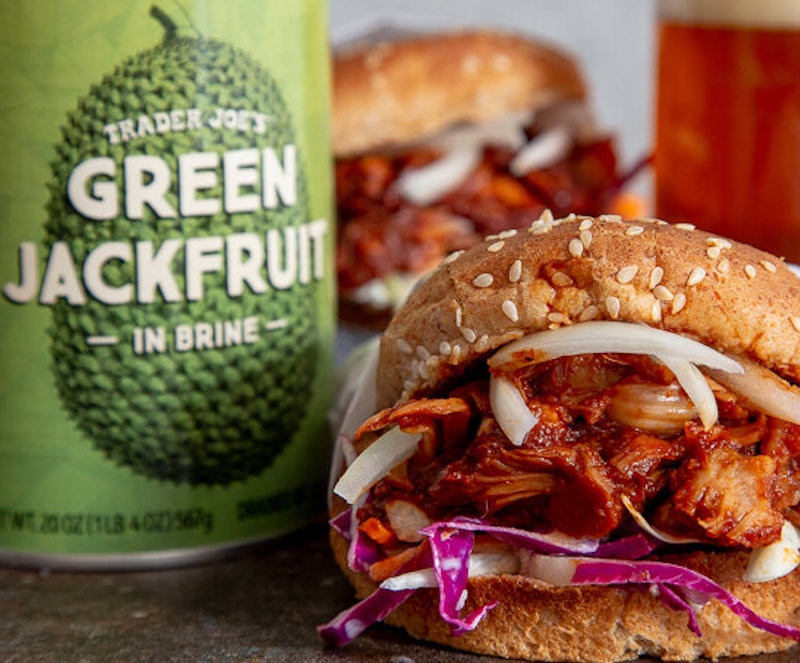 Trader Joe's
8 Green Jackfruit in Brine
For the longest time, we didn't know what to do with jackfruit. Like tofu, we enjoyed it when eating out but were always too intimidated to attempt to prepare it at home. It's time to leap over that hurdle. To cook Trader Joe's canned jackfruit, all you do is drain the brine, pat the jackfruit dry, and sauté with a touch of cooking oil. It's then ready to take on any flavor you crave, though barbecue sauce is the obvious choice thanks to jackfruit's natural pulled pork consistency. Add a bag of Organic Broccoli Slaw, Kansas City Style BBQ Sauce, and Classic Hamburger Buns to make lighting-fast barbecue jackfruit sandwiches on any given day.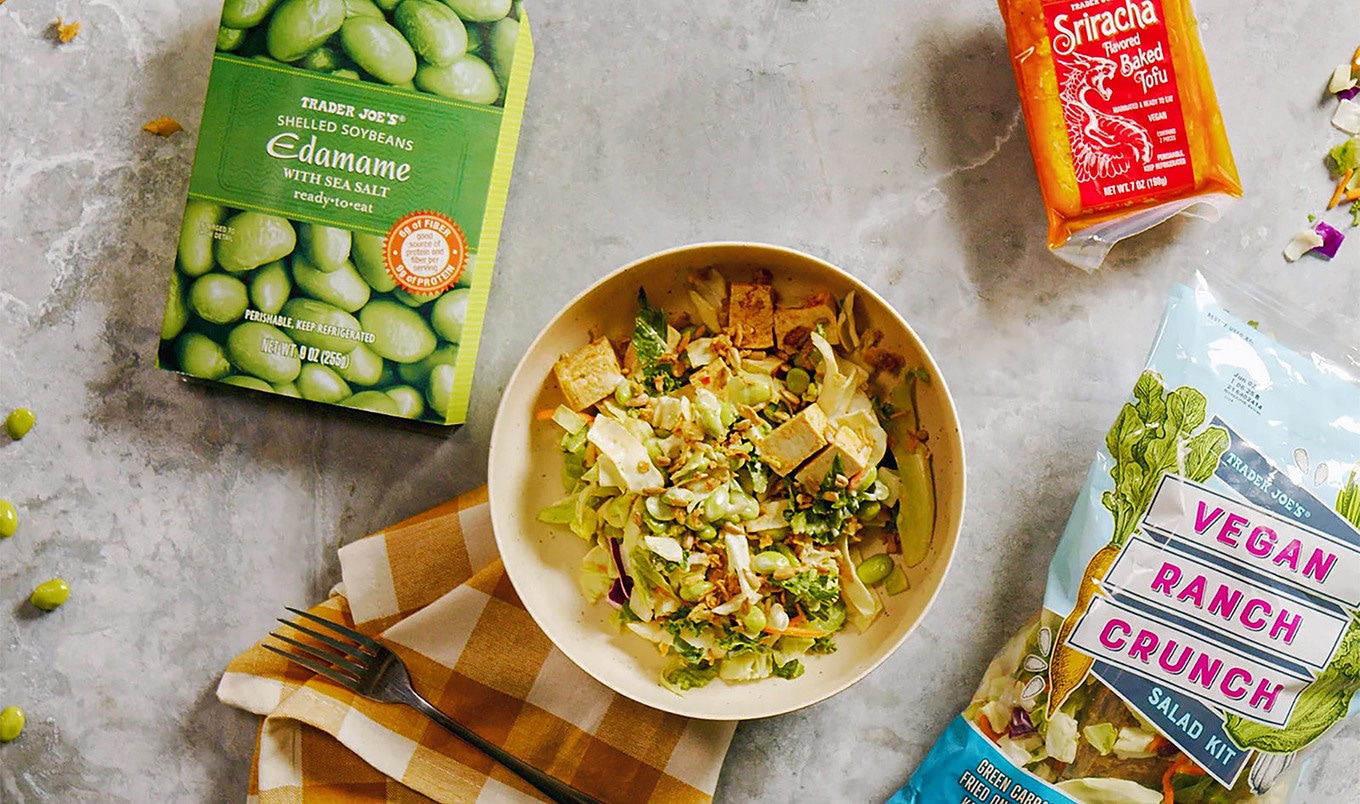 Trader Joe's
9 Vegan Ranch Crunch Salad Kit
You could easily pick up a bottle of Miso Carrot or Vegan Caesar dressing and pair it with a bag of chopped romaine, but this all-in-one salad kit makes getting your greens even easier. A mix of romaine, kale, and cabbage; carrots, sunflower seeds, crispy onions, and a packet of vegan ranch dressing are included in the bag. Add a few Chickenless Crispy Tenders to make this a meal-sized salad.
Trader Joe's
10 Vegan Bolognese Style Pasta Sauce
Trader Joe's basic marinara is perfectly fine, but for a sauce with more heft and added protein, pick up a jar of this sauce instead. The bright tomato base is infused with meatless crumbles made from pea protein, adding texture and a bit more satiety than the average jar of sauce. Serve over your favorite pasta noodles or spiraled zucchini noodles.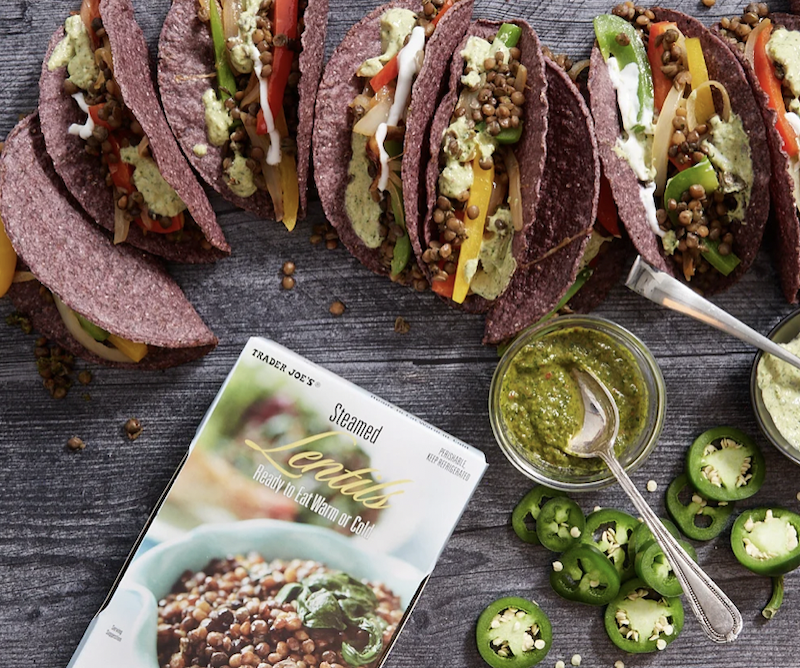 Trader Joe's
11 Steamed Lentils
Lentils are a nutritional powerhouse and add substance to any dish, but they can take a while to cook, and we simply don't have time to watch water boil on most weeknights. These pre-packaged lentils are ready to go. Toss them on a salad, stuff them into a baked bell pepper, or mix in to a warmed pot of jarred marinara and serve over Trader Joe's Hearts of Palm Pasta.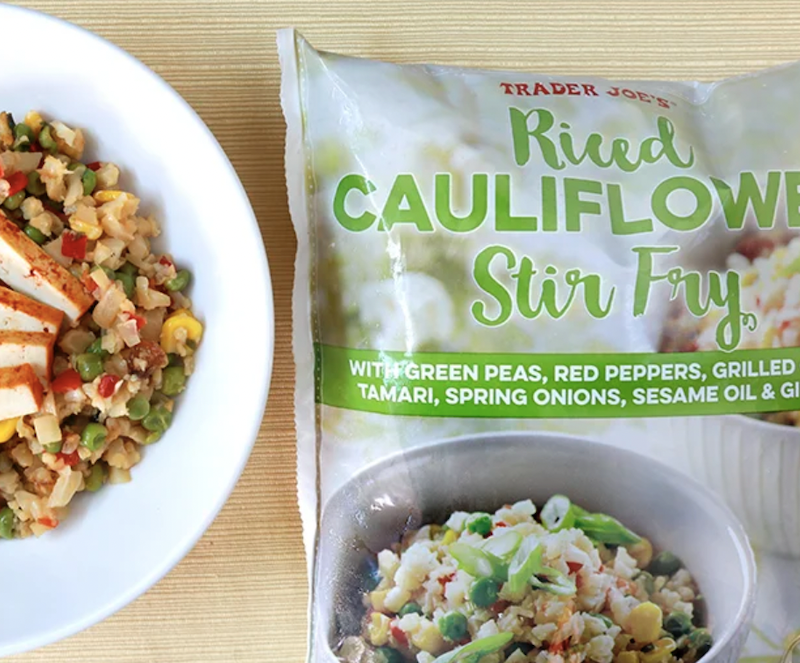 Trader Joe's
12 Riced Cauliflower Stir Fry
One can easily stick to the frozen aisles of Trader Joe's and walk away with the makings of a meal that goes above and beyond the basic TV dinner. From frozen vegetables to complete entrées, TJ's frozen section is a bounty of mouthwatering eats. This cauliflower rice stir fry is just one of these many options. You could venture out of the frozen section to pair it with baked tofu, or stick to the frozen bunkers and pick up a package of Korean Beefless Bulgogi for some protein.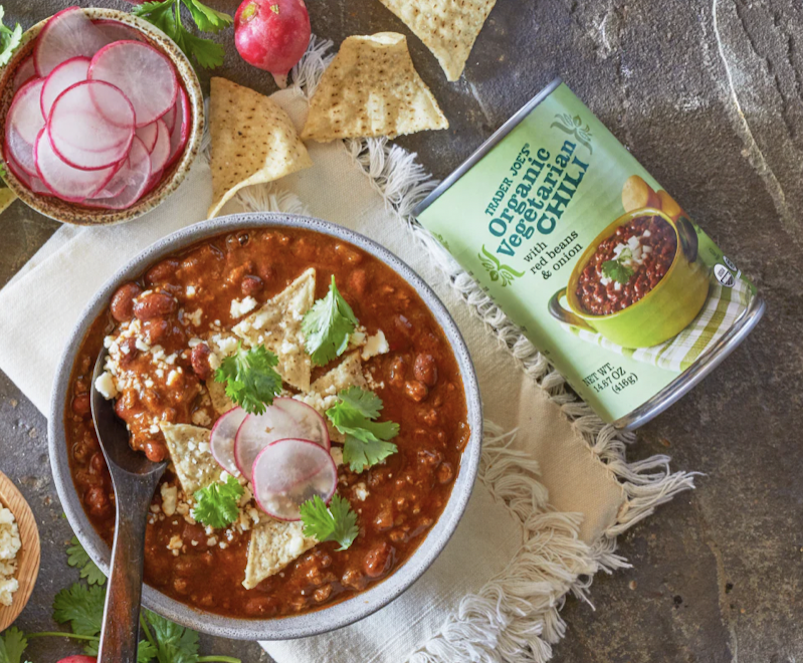 Trader Joe's
13 Organic Vegetarian Chili
Simple yet hearty, a can of vegan chili fills a need when you want something warm and comforting, fast. Scoop it up with a Trader Joe's French roll liberally slathered with Vegan Buttery Spread, plop on the couch, and enjoy.
For more vegan Trader Joe's finds, read: