The traditional winter holidays may be over, but we still have an entire month of celebration—Veganuary! Unlike most New Year's-related resolution campaigns, Veganuary isn't about restriction or deprivation. The month-long event is one of abundance, improved health, and utterly delicious food. Veganuary offers everyone the opportunity to step into the wonderful world of vegan eating, and with these 31 tips provided by culinary extraordinaire and VegNews Food Editor Eddie Garza, you can commit to the 31 days with confidence. From vegan basics to plant-based baking substitutes, here is everything you need to know to celebrate this month of health, vitality, and plant-based living.
1 Start with familiar favorites
Completely eliminating animal products can feel extremely overwhelming, but thanks to vegan culinary innovation, you don't have to give up the tastes and textures you love—just swap it for a vegan version. There are plenty of quality vegan alternatives in most supermarkets. Check out our VegNews guides to find plant-based versions of cheese, meat, sweets, and more.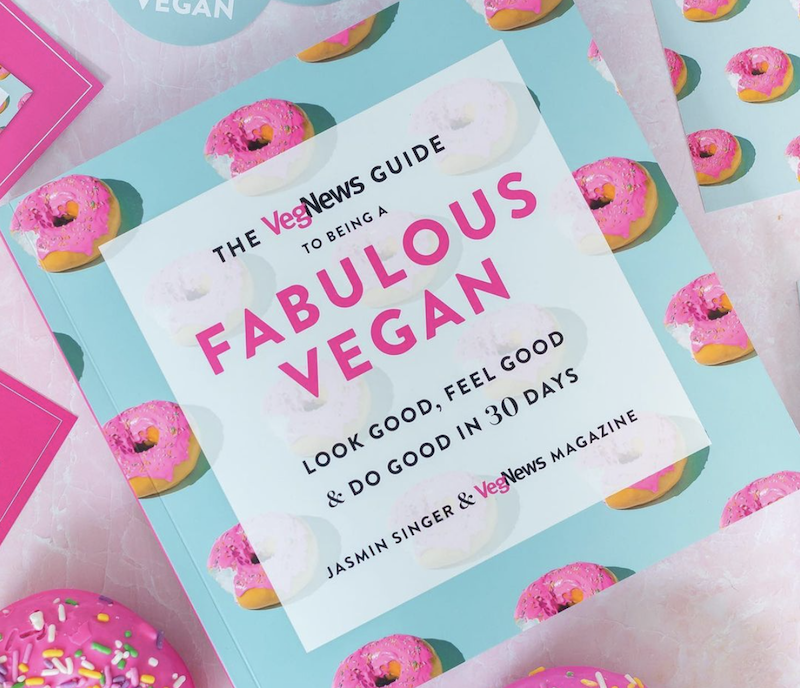 VegNews
2 Pick up a copy of Fabulous Vegan
Written by our very own VegNews Editor-at-Large, Jasmin Singer, the VegNews Guide to Being a Fabulous Vegan is a crystal-clear roadmap to adopting a vegan lifestyle. Outlined in 31-digestible mini chapters, you'll discover new reasons to be vegan and swoon over the recipes at the end of each section. Grab your copy today.
3 Learn to love beans
Beans—black, pinto, garbanzo, kidney, navy, etc.—are natural sources of protein that add flavor and fiber to any dish (unlike animal protein, which is devoid of fiber). If you're concerned about beans' gassy reputation, thoroughly rinse canned beans before adding them to your salad, soup, stew, or burrito. Also, start small—enjoy a half-cup serving a day and add up to three servings a day gradually. Here is a super simple Spanish-Style Smoky White Bean recipe you can tuck into with a hunk of bread on a brutally cold January night.
4 Master tofu
If you don't like tofu, you haven't had it prepared properly. Not liking tofu is akin to not liking tacos—this soy-based protein is infinitely versatile and you just need to find the right recipe for you. Tofu can transform into vegan fried chicken, umami-rich morsels, or the best scramble you've ever had. Check out our 9 Fabulous Ways to Prepare Tofu for inspiration.
5 Load up on grains and pseudograins
Grain-based bowls are the new "it" meal of 2023 and for good reason. Brown rice is full of fiber, black rice is rich in antioxidants, and pseudograins (seeds that are used as grains) like quinoa and amaranth are packed with protein. Load your bowl with your favorite grain or pseudograin and add a hefty serving of beans, greens, and a delectable vegan sauce for a healthy and hearty vegan meal. Try this Vegan Warm Lentil, Sweet Potato, and Arugula Salad to get started.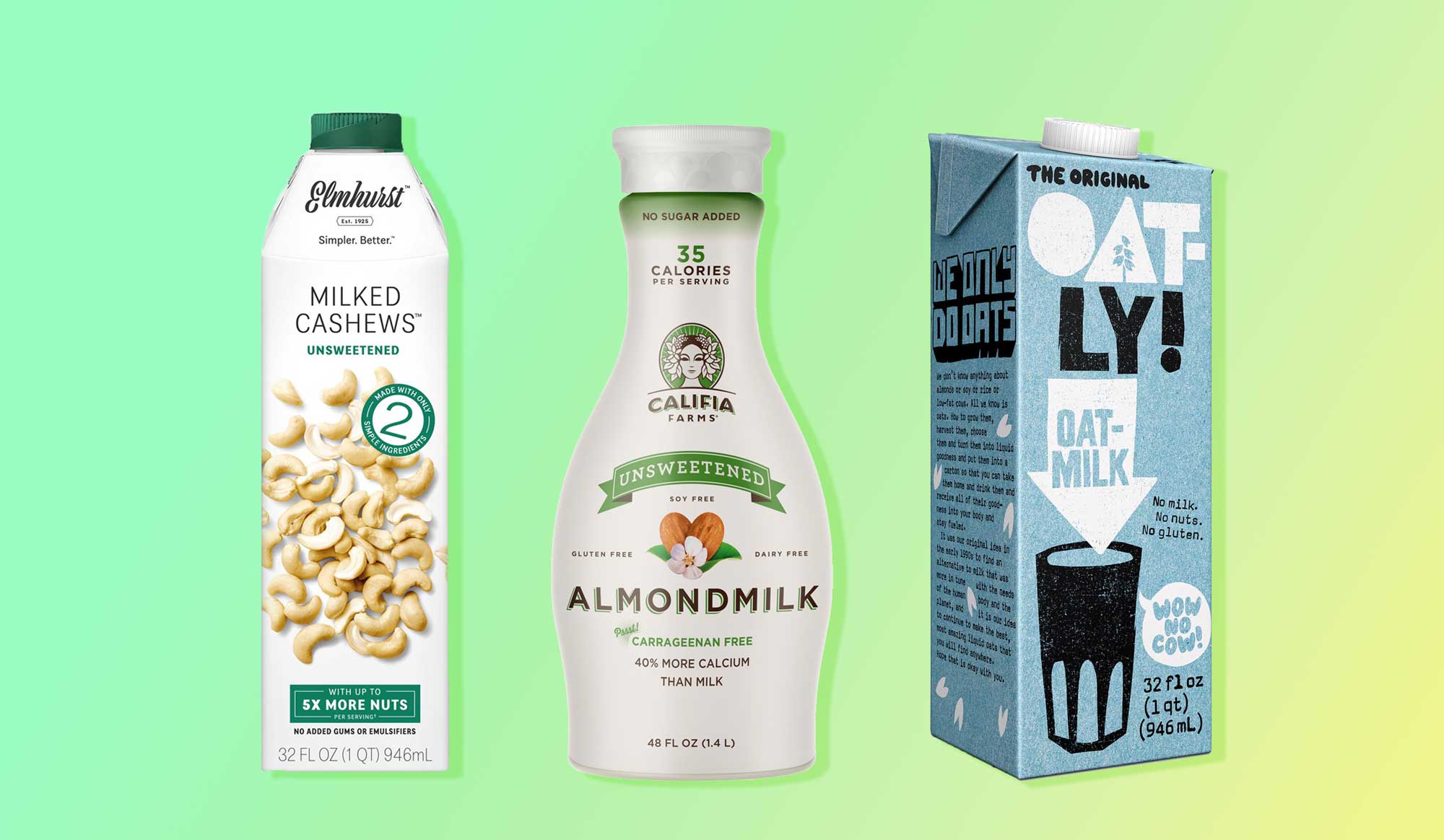 Elmhurst, Califia Farms, Oatly
6 Ditch dairy
Dairy is a highly inflammatory food meant for baby animals, but most adults can't get enough. Wean yourself off the cow's milk by simply swapping it for vegan alternatives. From gourmet vegan cheese to plant milk that foams for perfect lattes, there is a quality vegan alternative for any dairy product you may crave. To find the perfect vegan milk for you, check out our comprehensive guide to plant-based milk.
7 Bake like a (vegan) boss
Typically, we recommend sticking to vegan recipes for the sake of simplicity. Baking is a science, so if you do want to veganize Grandma's famous chocolate cake, there is a little bit of brainwork involved. Here are a few basic rules when baking vegan: To replace eggs in quick breads, brownies, or cookies, swap one chicken egg with a "flax egg" (mix one tablespoon flax meal with three tablespoons of water and let it congeal). For lighter baked goods, aquafaba works extremely well. Egg replacers can also get the job done. For more on vegan baking, see our guide.
8 Find your perfect vegan coffee creamer
It's going to be a long month if you go without coffee. For years, the plant-based coffee creamer game was lacking—many products curdled on contact with a fresh cup o' Joe. Fortunately, we've discovered standout products that produce that same swirly cloud of creamer goodness. Check out our Ultimate Guide to Non-Dairy Creamers to find your match.
9 Become a grocery store wanderer
Turn grocery shopping into a treasure hunt by taking your time to peruse the items along the aisles. New vegan products are launching all the time, and you may discover something old that you never knew existed. Vegan chipotle mayo, lox-style cream cheese, soft-baked snickerdoodles … There is an endless stream of vegan products to try, you just need to keep your eyes and mind open.
Oat Canada
10 Know what's good at Costco
The vegan options at Costco have grown exponentially over the years, and one trip at the beginning of January could easily stock you up for the whole month. Our VegNews Guide to Costco is full of yummy vegan products.
11 Try a vegan meal plan
If you're feeling very overwhelmed at the prospect of going vegan for a month, let the professionals handle the meal planning. We tried 13 vegan meal kits, so we know what's good. Depending on the service, you can have ready-to-eat fresh or frozen meals delivered, or you can gain some culinary confidence by opting for a brand that sends pre-measured ingredients and instructions to create nourishing vegan meals. With a vegan meal kit, you don't have to do this on your own.
12 Get your friends involved
Vegan food is exceptional—no doubt about it—but it's even more divine when shared with others. Recruit friends and family members to try Veganuary with you and make a point to get together regularly to cook a meal together, grab a non-dairy cappuccino, or enjoy a dinner out.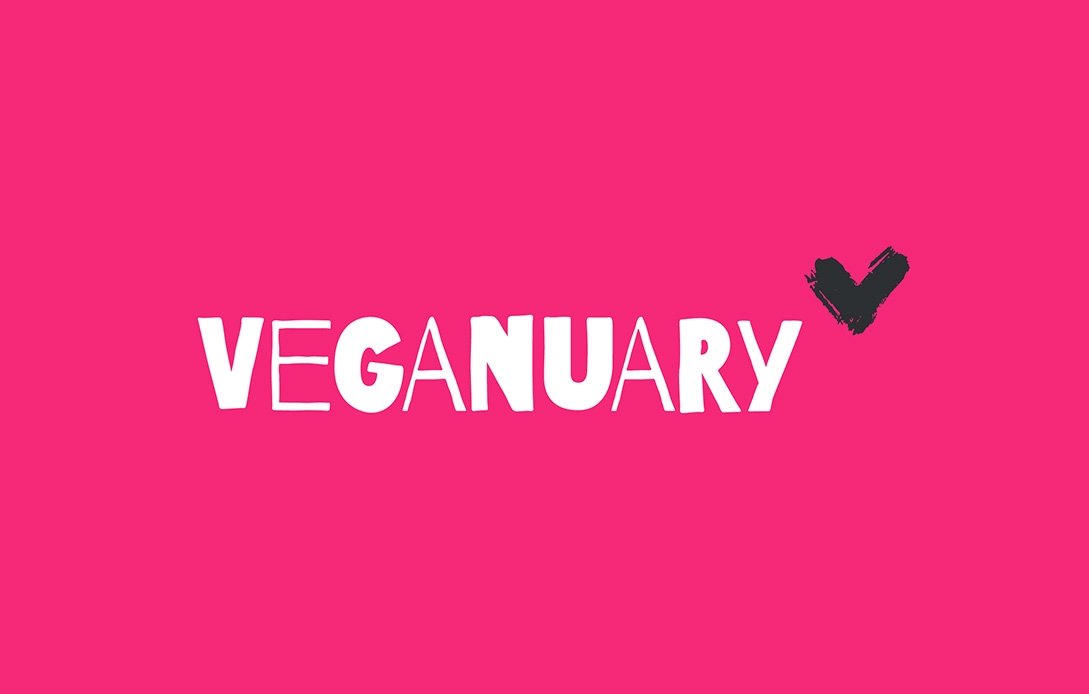 Veganuary
13 Look for Veganuary deals
Vegan and non-vegan restaurants are creating special dishes and deals for the month of Veganuary. Follow the campaign on Instagram (@weareveganuary) for the latest participants.
14 Bring vegan treats to work
Veganuary isn't just about individual change—it's about spreading the vegan message. It's been said countless times before, but the best way to introduce omnivores to veganism is to entice them with vegan sweets. Bake cookies or simply swing by your favorite vegan-friendly doughnut shop and treat your co-workers to a baker's dozen.
15 Support vegan restaurant weeks
January tends to be the month of restaurant weeks. If your city or town is participating, seek out vegan options at omnivore restaurants and let the general manager know how much you appreciate the plant-based dishes! Further, if you're in the Las Vegas, Portland, or New York City areas, check out Vegan Dining Month for delicious deals.
16 Keep your eye on VegNews.com
We publish the latest vegan news and helpful guides on VegNews.com on the daily. To stay up to date on vegan celebrity news, the newest vegan product launches, or learn how to order vegan at Starbucks, check our homepage regularly.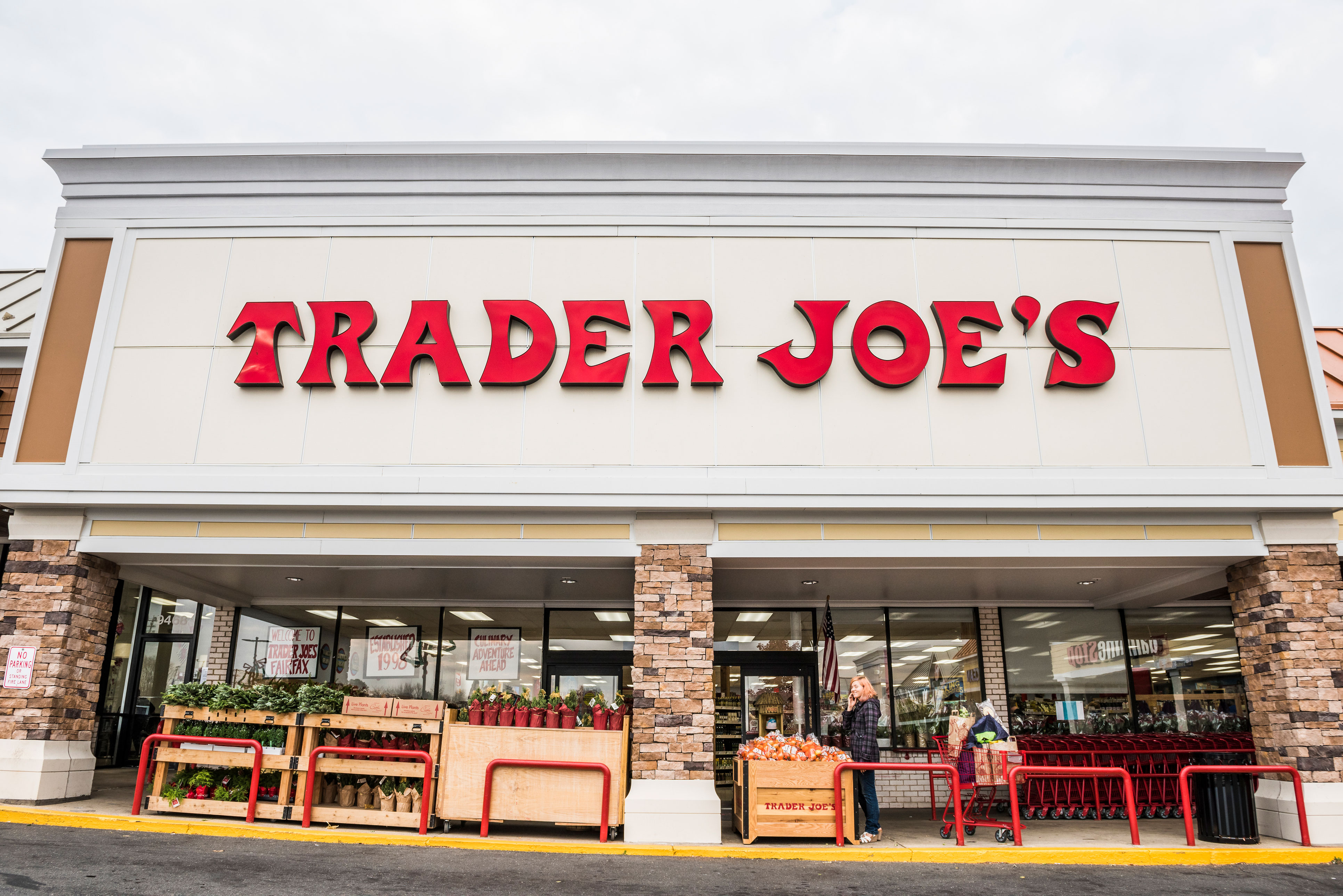 Trader Joe's
17 Shop at Trader Joe's
This tiki-themed grocer is well-stocked when it comes to plant-based products. From the classic Joe-Joe's to vegan mac and cheese, there's always something new and tempting on TJ's shelves.
18 Treat yo'self
Not everyone is a baker, and even if you are, we don't always have the time to make flaky vegan croissants or a multi-layered cake. Go out and support a local vegan bakery, and if you don't live near one, check out these businesses that ship nationwide.
19 Scroll through Goldbelly
This virtual marketplace is meant for foodies. Tons of vegan businesses use Goldbelly to sell and distribute their products to those who live outside of reasonable driving distance. From deep-dish plant-based pizza to frozen, flaky-crusted pot pies, Goldbelly is a vegan mecca for unique and divine plant-based eats. See our guide to Goldbelly to get started.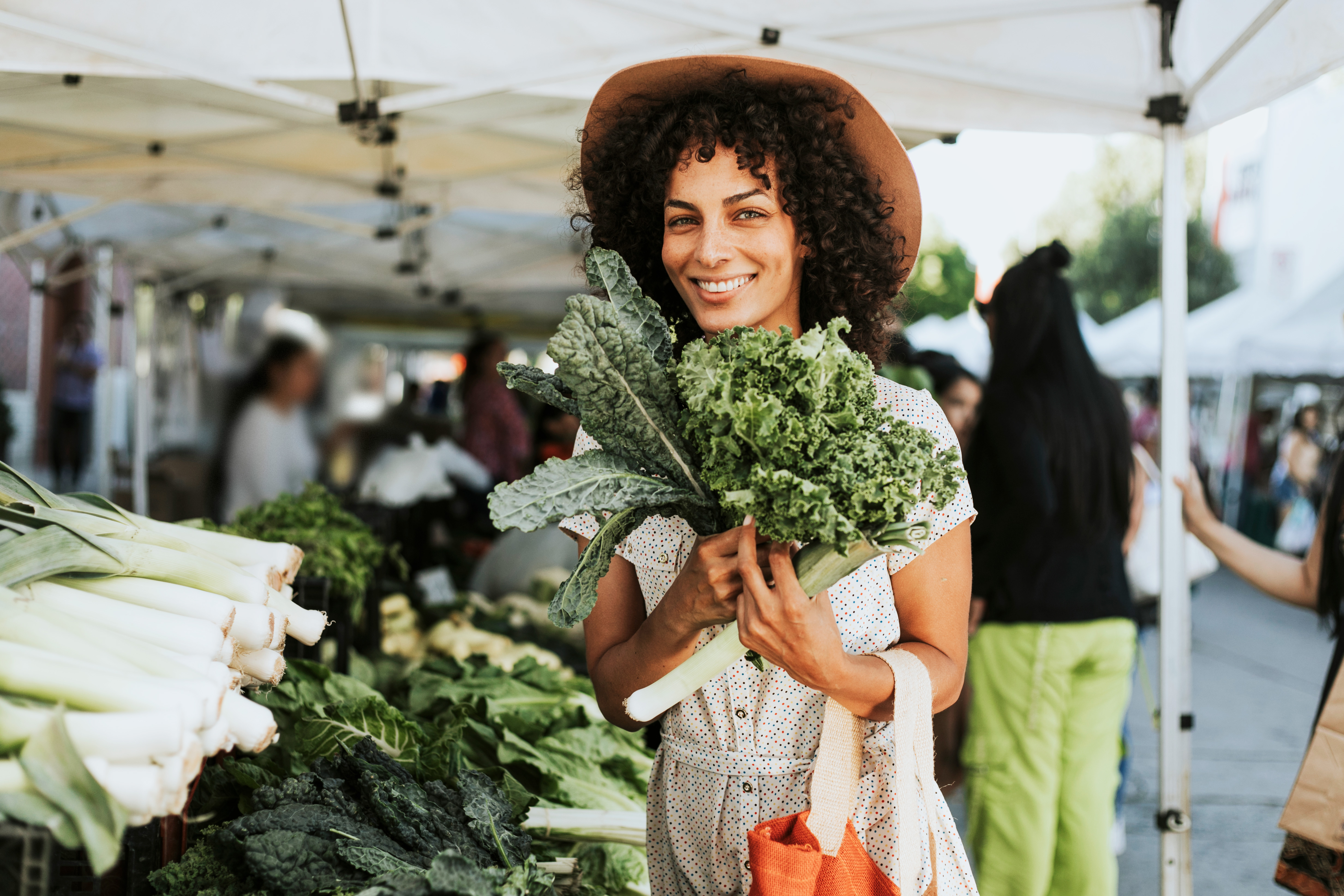 20 Find a farmers' market
Local farmers' markets are the best place to find seasonal produce as well as up-and-coming vegan businesses. Many plant-based entrepreneurs launch with a humble stall with hopes of eventually making it into retail—just like the Abbot's Butcher plant-based meats. Bring your reusable tote bag to stock up on fruits and veggies, then scan the booths for vegan-friendly baked goods, condiments, kombucha, and one-of-a-kind finds!
21 Seek out vegan events
Vegan events are no longer restricted to major metropolitan areas—suburbs and mid-sized cities have fully embraced the monthly or weekly vegan gathering of vendors. Search "vegan event" or "vegan fair" in your area or check the HappyCow events calendar for pop-ups near you.
22 Download HappyCow
While initially meant for traveling, the HappyCow app can help you discover vegan-friendly eats right in your backyard. Think of it as vegan Yelp, except it's international and the comments tend to be much nicer!
23 Bookmark recipes
Check out our extensive collection of vegan recipes! From savory to sweet, 15-minute-prep to afternoon culinary projects, there's something for everyone at any skill level. Scroll through now and pick one new recipe a week that excites you.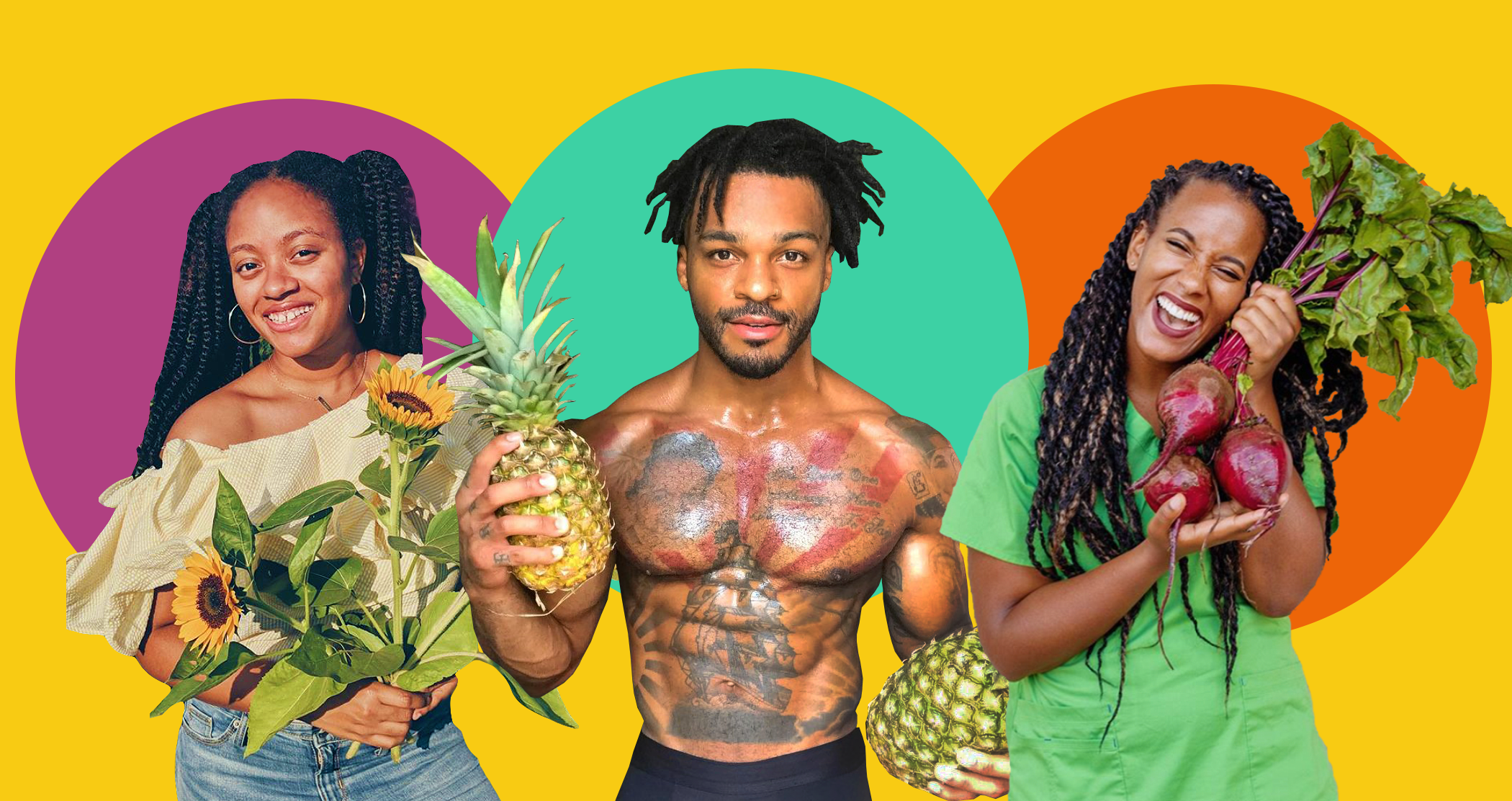 Haile Thomas, Berto Calkins, Brooklynne Palmer
24 Follow positive vegan role models
The best way to stick with something is to surround yourself with positive influences. On Instagram, we constantly post new articles, fun memes, and easy recipes to keep your plant-based interest engaged. We also love to spotlight other vegan influencers to introduce you to the wonderful and diverse world of vegan social media.
25 Shop virtual
Virtual vegan markets have taken off in the last few years, and they're ideal for stocking up on staples and discovering new plant-based products. From vegan meats like Beyond Meat and Impossible Foods to rare finds not yet available at the supermarket, virtual marketplaces like PlantBelly and GTFO It's Vegan are great places to check off your Veganuary shopping list.
26 Batch cook
If you plan to cook mostly at home, batch cooking is a huge stress relief and time-saver. When you have an hour or so, make enough grains, beans, and roasted veggies to last three or four meals. This will make mealtime far more efficient. All you have to do is toss some mixed greens in a bowl and top with your pre-cooked grains, beans, roasted veggies, and sauce of your choice (store-bought is totally fine here).
27 Find your favorite sauce
A stellar sauce can transform a basic bowl into something you crave nightly. Try out a few store-bought options or master your own at home. Sauces such as tahini, sesame or peanut, chimichurri, vegan ranch, and maple mustard complement a wide range of flavor profiles.
28 Eat enough calories
Plant-based foods are generally less calorically dense than animal-based foods, but because they're full of fiber, they fill you up faster. Because of this, you may naturally consume fewer calories after you make the switch. If you're hungry or experience a drop in energy levels, make sure you're taking in the same amount of calories as you were before starting Veganuary.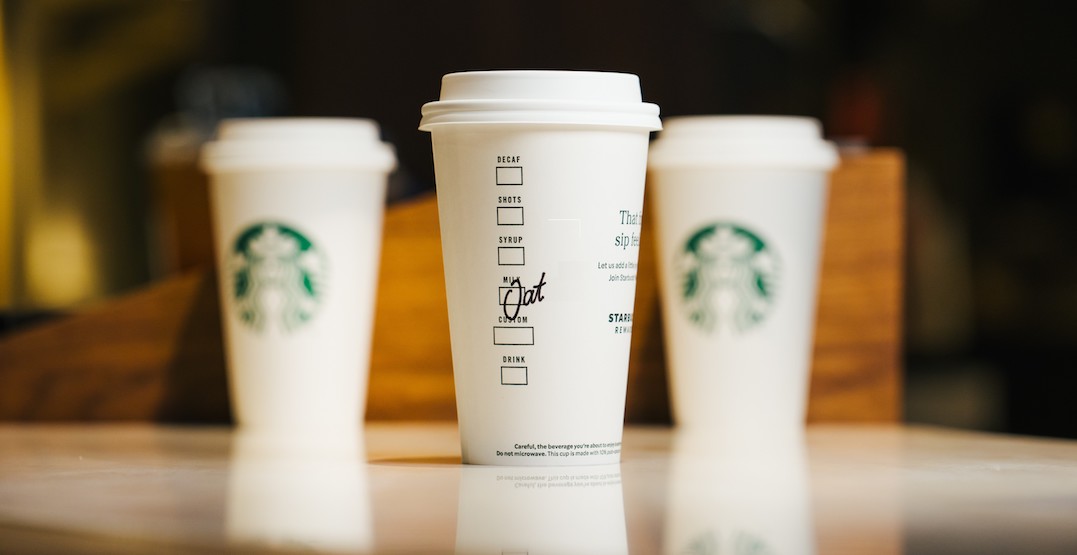 29 Veganize your coffee order
Yes, you can still have your Starbucks and participate in Veganuary. With four different plant milks to choose from (oat, almond, coconut, and soy), along with some vegan-as-is options (hello, Iced Chocolate Almondmilk Shaken Espresso), you're not limited when it comes to options. Check out our How to Order Vegan at Starbucks guide to ensure your next latte or frappuccino is dairy-free.
30 Dig in to a pint of vegan ice cream
Chances are, your favorite ice cream brand makes a vegan version. Brands like Ben & Jerry's, Häagen-Dazs, and even Baskin-Robbins are churning out exceptional dairy-free pints. There are also dozens of plant-based brands to try such as NadaMoo, Eclipse, and So Delicious Dairy Free. It may be January, but it's never too cold for vegan ice cream!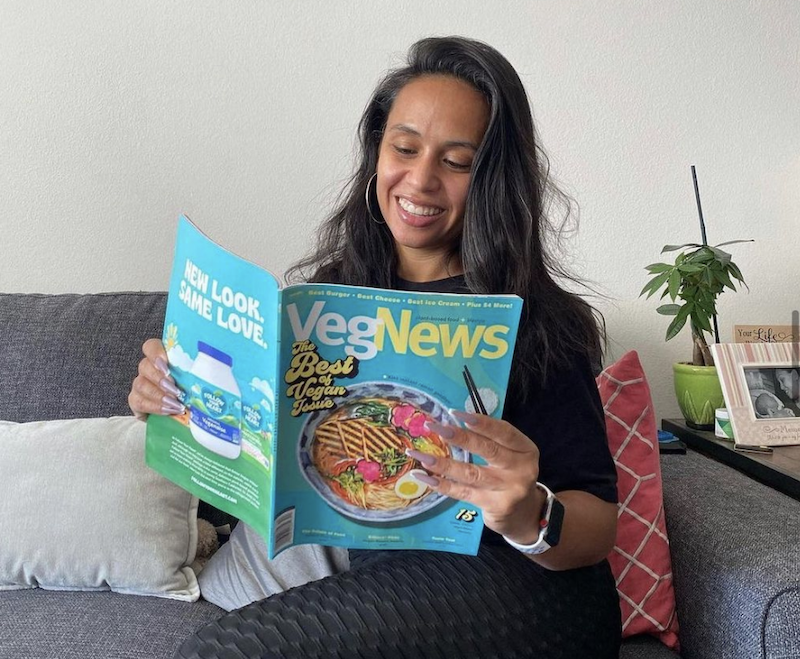 Vegan Street Fair
31 Subscribe to VegNews
Our quarterly print magazine is filled with vegan inspiration and helpful tips. From veg-friendly eats to apparel to relationships, our issues have everything you need to get excited about being vegan. Subscribe today!
For more resources to win Veganuary, read: