They're sweet, tangy, strong, and divisive—when it comes to pickles, you either love them or you hate them. If you belong to the former camp, you're far from alone. According to Statisa, nearly 246 million Americans ate pickles in 2020. And the global pickle market was valued at nearly $11 billion in 2022. But what actually are pickles? And are they a healthy addition to our diets? They are a vegetable, after all. Here's what you need to know, plus some of the best brands and recipes to try!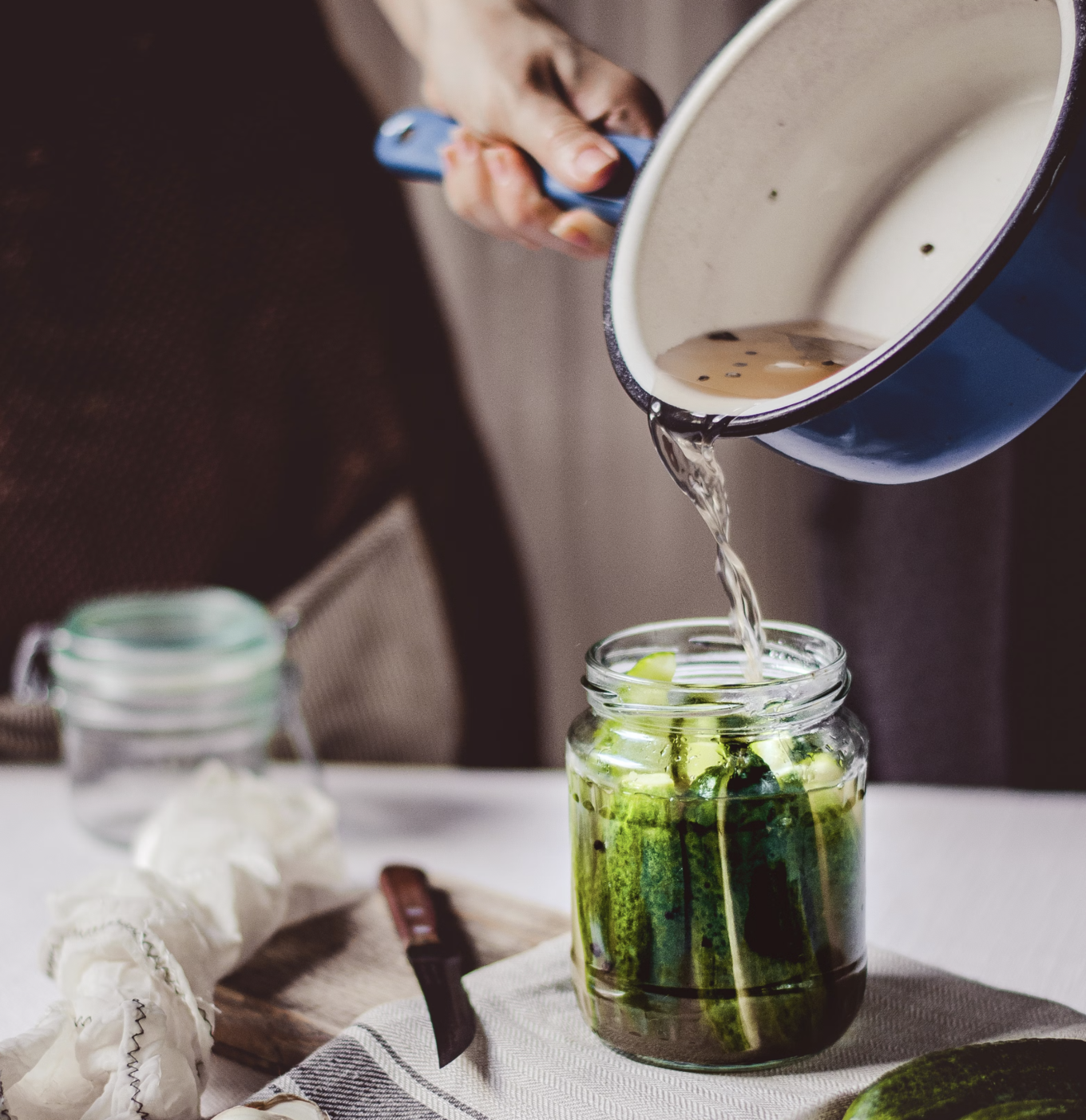 Unsplash
What are pickles?
It seems like a relatively simple question, but actually, pickles can take many different shapes and forms. That's because most foods can be pickled, which refers to the process of preserving fruits or vegetables in an acidic brine solution, giving them a more sour flavor.
But usually, when people refer to pickles, they're talking about the cucumber variety, which is the type you'll find in your fast-food hamburger or in a jar on the grocery store shelf. In the UK, a small pickled baby cucumber is often referred to as a gherkin.
Are pickles healthy?
Most people love pickles for their tang, but they also come with a few health benefits, too. They contain natural antioxidants, just like most fruits and vegetables, as well as fiber, vitamin A, and vitamin K. Plus, they're high in vinegar, which is associated with a drop in cholesterol and blood sugar control, according to Healthline. If a pickle has also been fermented, this means it's also a good source of probiotics, which is beneficial for gut health.
But that said, pickles are very high in salt, so it's important to consider how many you're eating in one go (so it's best not to eat the entire jar). And this also means they might not be a suitable snack at all for everyone. "One large dill pickle has more than two-thirds of the ideal amount of sodium that an adult should have in a whole day," Devon Peart, RD, MHSc, BASc, told the Cleveland Clinic. "If you have high blood pressure, or any cardiovascular or heart health issues, then pickles are not the best choice. That's because of the sodium levels."
Best pickle brands
There are many different brands out there waiting to fulfill your pickle cravings, but which one to choose? We can't do that for you, unfortunately, but to make things easier, we have listed some of the best below, in no particular order.
Trader Joe's
1 Trader Joe's
Trader Joe's Spicy Kosher Dill Pickles come all the way from Bulgaria, according to the chain. There, the dill pickles—so-called because the recipe uses the dill herb–are grown and hand-harvested by local farmers. Just 24 hours after the cucumbers have been picked, the pickling process begins. That means by the time you open the jar, the flavor will be off the chart. Expect a bit of spice, too, as these pickles are preserved with pfefferoni peppers.
get it here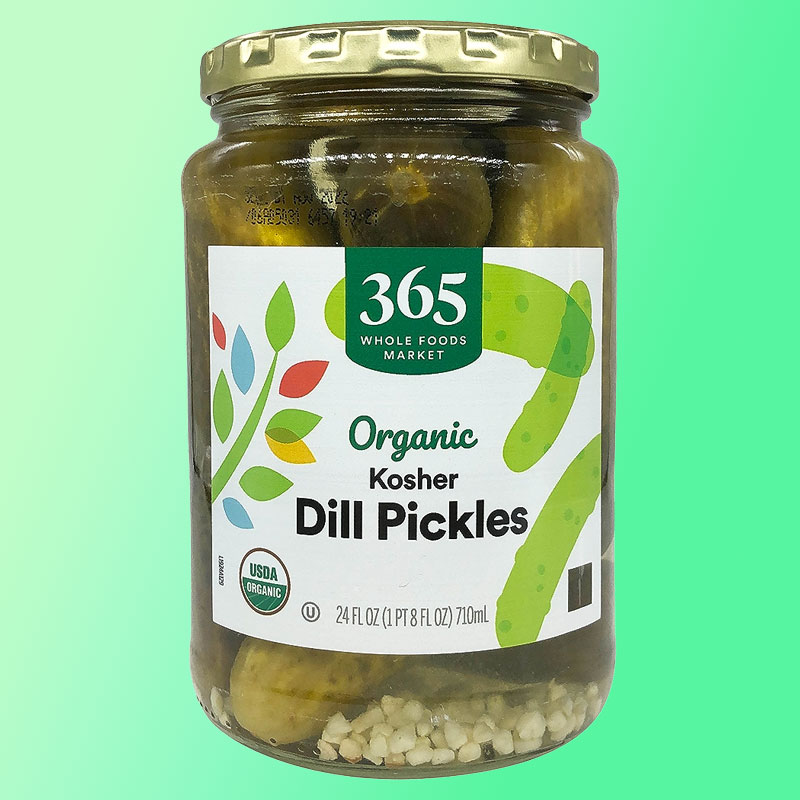 Whole Foods
2 Whole Foods 365
If you're after garlicky, crunchy dill pickles, then stop by Whole Foods Market. The brand's 356 range, which is slightly more affordable than its other products, offers simple, no-fuss (and no-spice!) organic kosher dill pickles, which are harvested in Mexico.
Get it here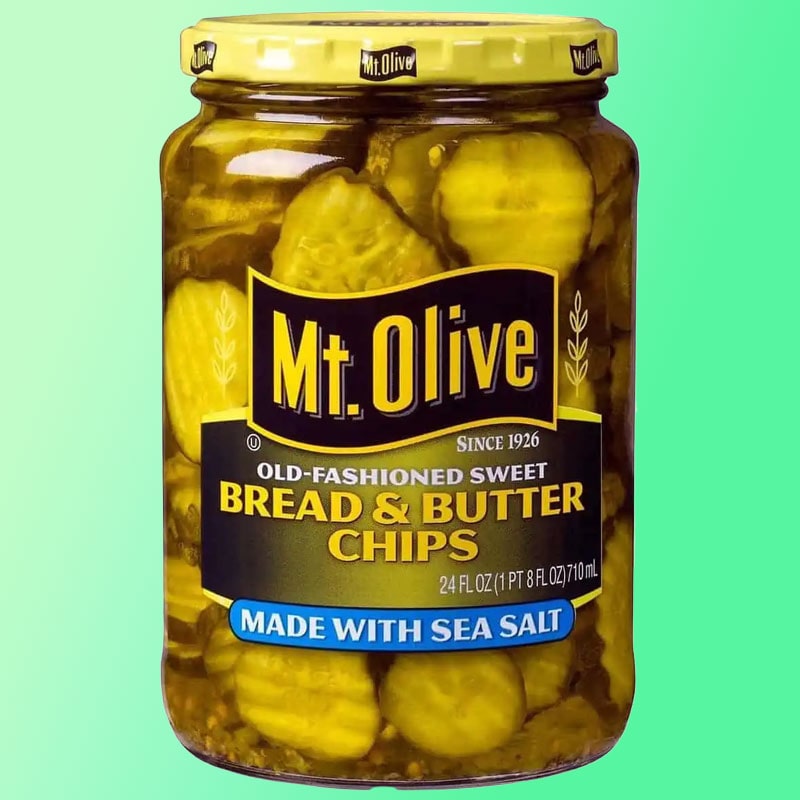 Mt. Olive
3 Mt. Olive
Mt. Olive is a hardcore pickle lover's dream. The brand offers everything from dill pickles to gherkin pickles to specialty pickles, like Bread & Butter Chips with Sea Salt and Sweet Gherkins Made with Sugar.
get it here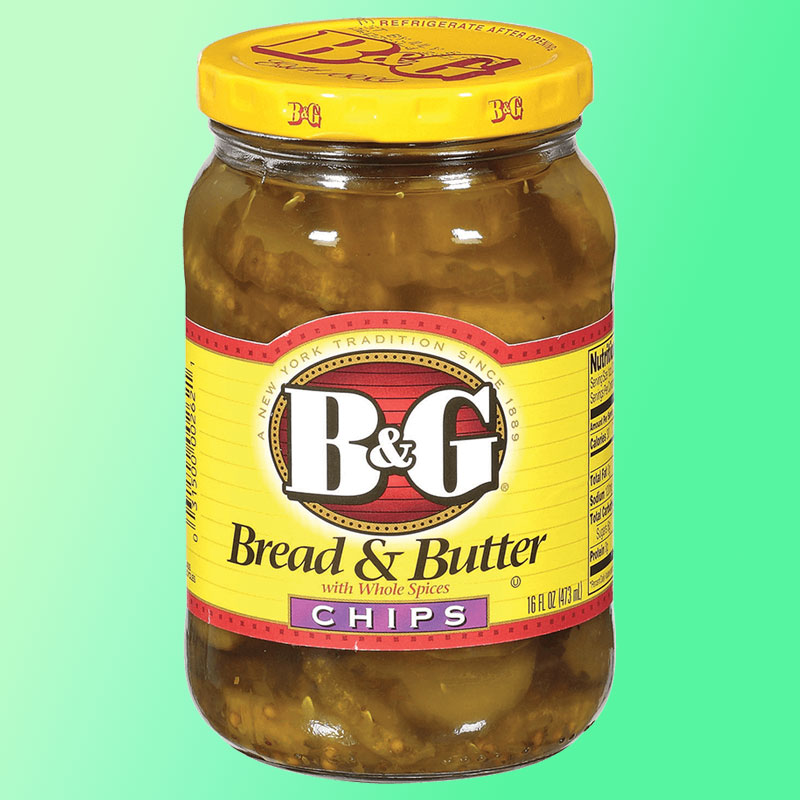 B&G
4 B&G
Pickles are often associated with New York City (and that's largely because, in the late 1800s and early 1900s, they were introduced to the city by Eastern European Jewish immigrants). B&G celebrates that food history and offers a wide range of pickles, as well as peppers, olives, relishes, and sauerkraut.
get it here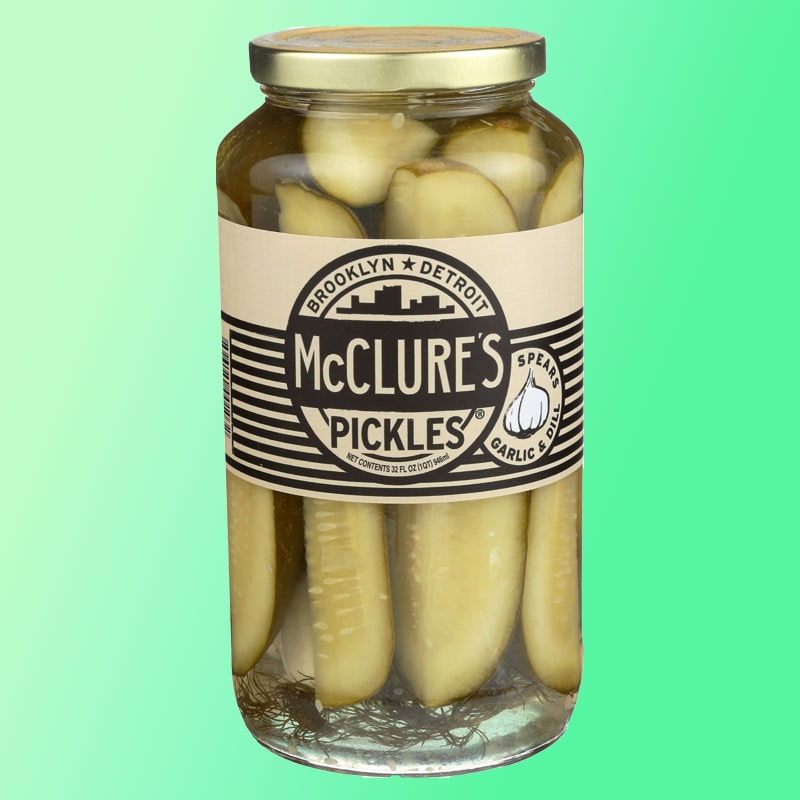 McClure's
5 McClure's
Artisanal pickle brand McClure's doesn't just sell pickles in various flavors (choose from options like Garlic & Dill, Bread & Butter, and Sweet & Spicy), but it also uses its pickle brine to make other tasty products, like the brunch-worthy, super tangy, Bloody Mary Mix.
get it here
Vlasic
6 Vlasic
Vlasic's pickles have been on the market since just after World War II when Eastern European immigrant Frank Vlasic decided to start selling Polish pickles in glass jars across Detroit. Since then, the business has risen in popularity, and you can now find Vlasic's pickles—which include standard Kosher Dill Spears, Bread & Butter Chips, and Xtreme Heat Chips—in retailers across the country.
get it here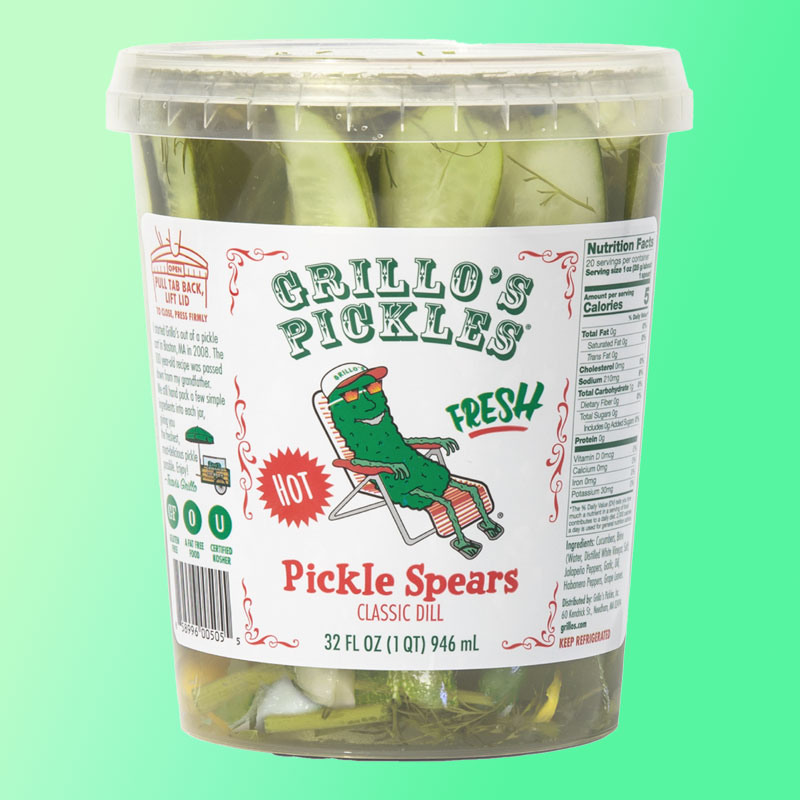 Grillo's
7 Grillo's
While most pickles are sold in shelf-stable jars, which means they can be stored at room temperature until opened, Grillo's are made and sold cold in the refrigerated section. According to the brand, which was founded from a simple Boston street cart, doing so means the pickles are fresher and can be preserved without chemicals.
get it here
Vegan recipes with pickles
Pickles can be eaten by themselves, of course. But you can also add them to some of your favorite recipes, like burgers, hot dogs, and sandwiches. For inspiration, here are some of our top vegan recipes to enjoy with pickles.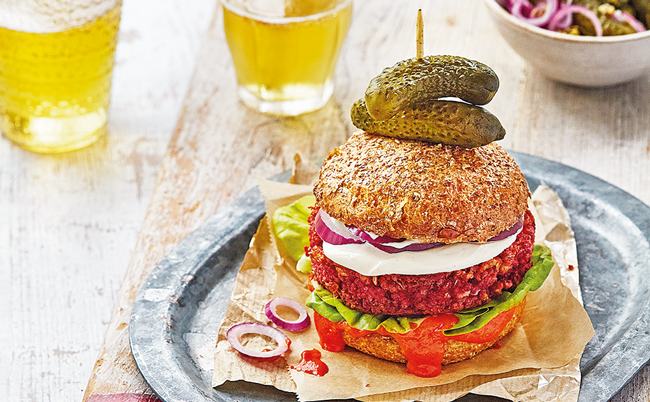 Tim Aitkins
1 Charred Mediterranean Falafel Burger
The only thing that can make this nutritious, delicious Mediterranean falafel burger even better is to serve it with a side of pickles. Whether they go inside or outside the bun? That part is up to you.
get the recipe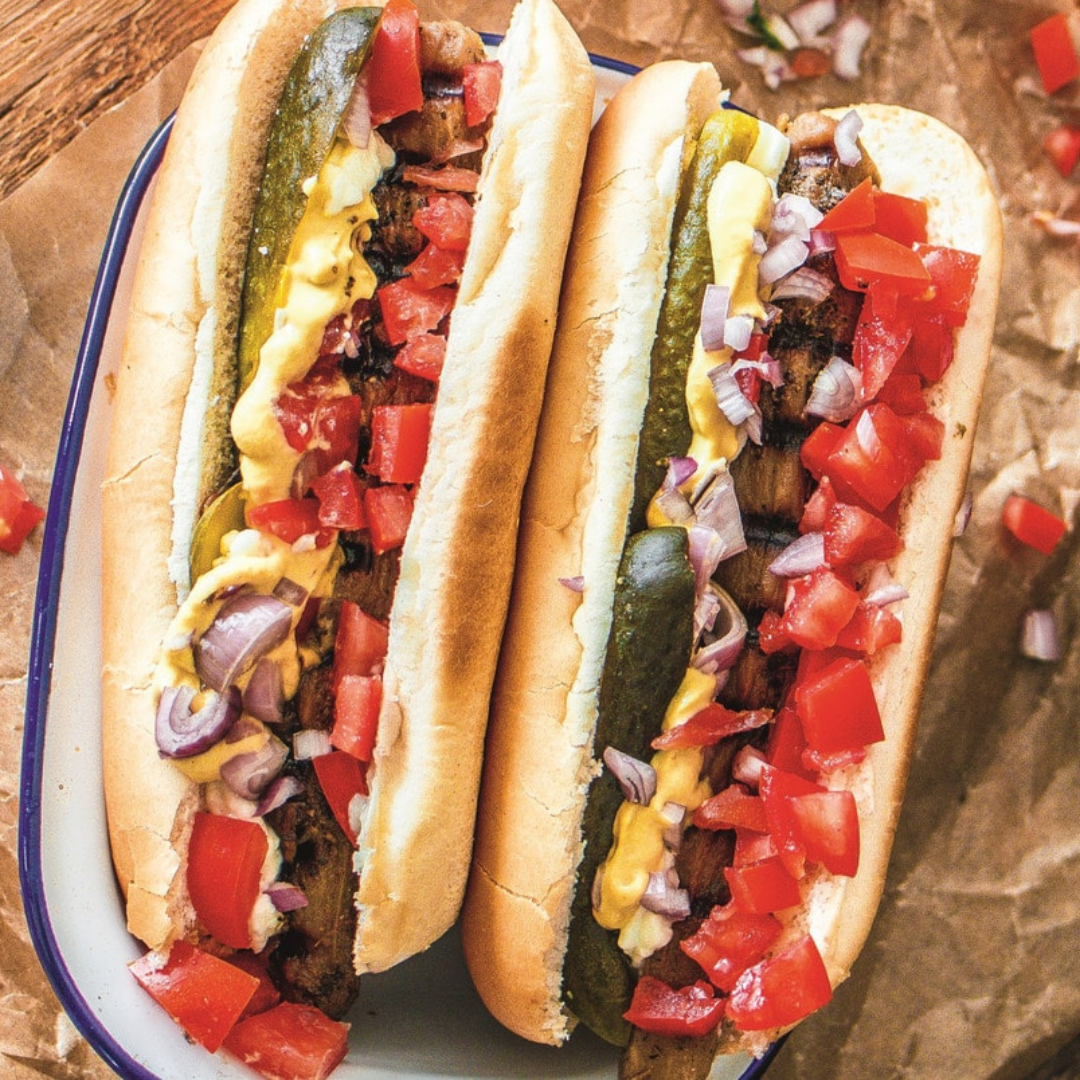 Nadine Horn and Jörg Mayer
2 Smoky Grilled Eggplant Ballpark Hot Dogs
Stay with us, eggplant might not sound like a great hot dog swap, but you'll be totally converted after trying this juicy recipe. To garnish, don't forget the sweet bread and butter pickles.
get the recipe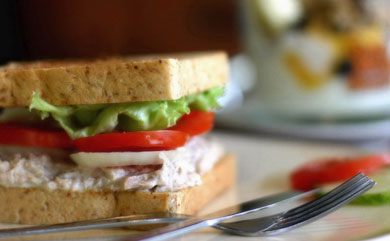 Allison Rivers Samson
3 Tuna-less Sandwiches
The flavors of tangy pickles and fishy tuna are a match made in heaven. But don't worry, you don't have to eat real fish to enjoy this iconic combination. Instead, swap tuna for garbanzo beans and nori seaweed. It's the same fishy flavor, just without the actual fish.
get the recipe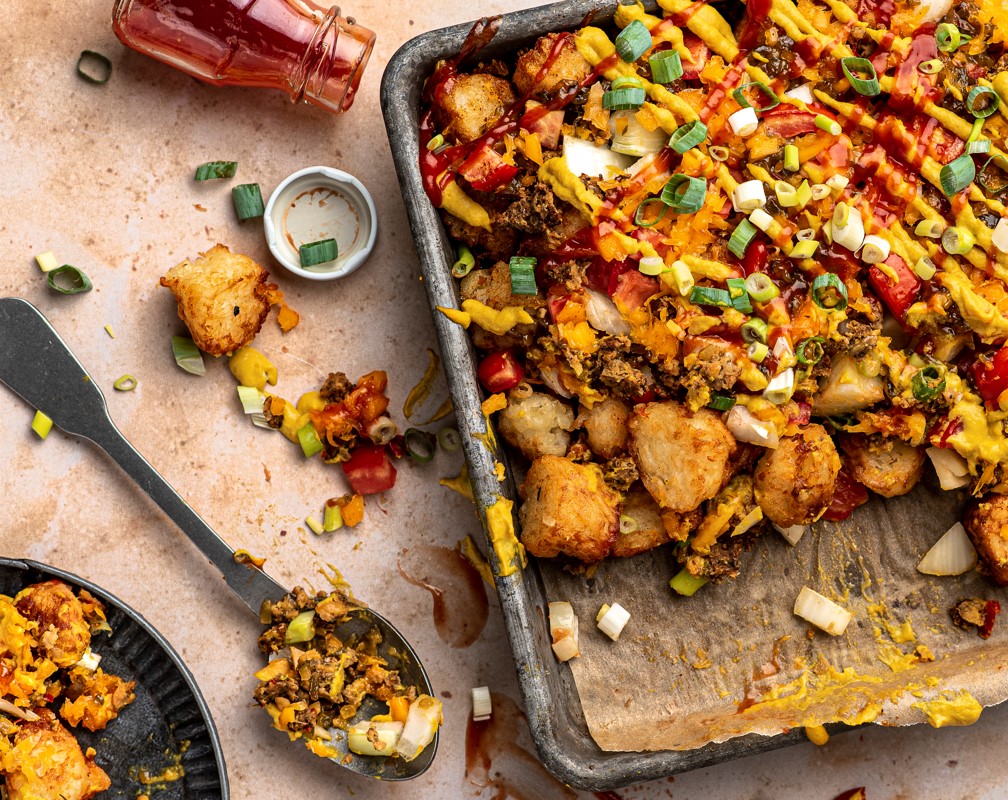 Dustin Harder
4 Cheeseburger Tater Tots With Cashew Cheddar Sauce
Sweet pickle relish is one of the key ingredients is this ultra-comforting, super tasty cheeseburger tater tot recipe. Make it for your friends next time your hosting, or just make a tray for yourself. We're not here to judge.
get the recipe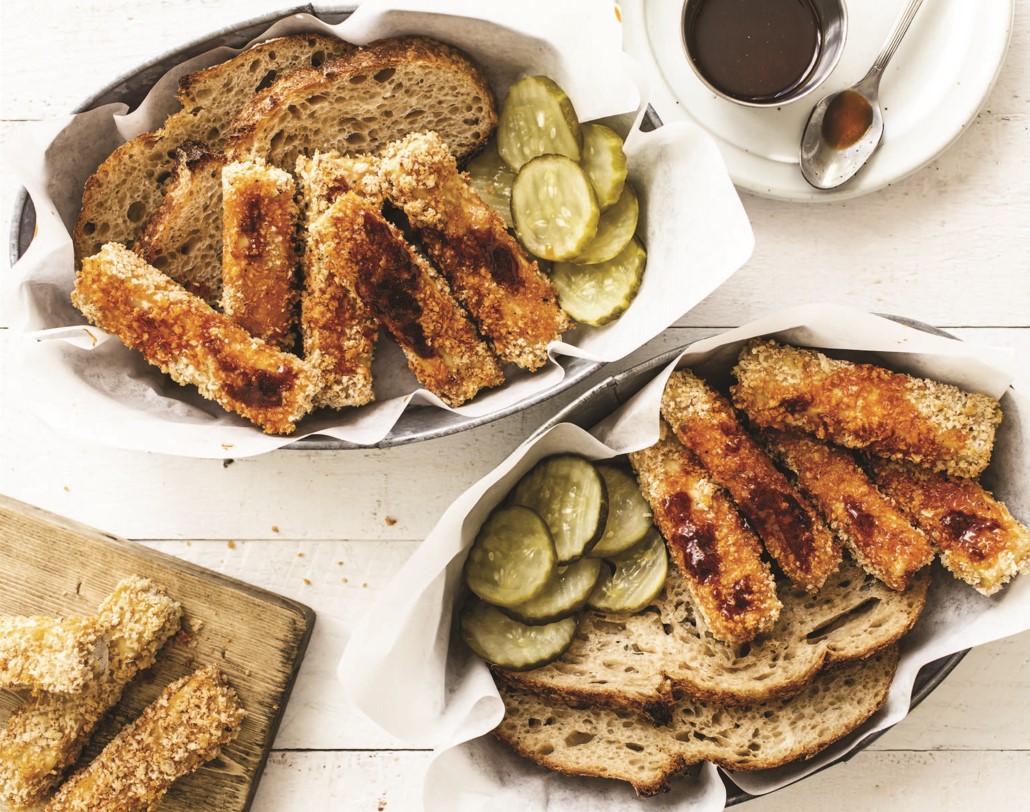 Ashley McLaughlin
5 Nashville-Style Hot Tofu Chicken
If you like things spicy, this Nashville-style hot tofu chicken is right up your street. It's crispy, fiery, and very tasty. For extra tang and crunch, don't forget to serve your favorite pickles on the side.
get the recipe
For more on vegan ingredients, read:
Here at VegNews, we live and breathe the vegan lifestyle, and only recommend products we feel make our lives amazing. Occasionally, articles may include shopping links where we might earn a small commission. In no way does this effect the editorial integrity of VegNews.